New Age Islam News Bureau
24 Oct 2017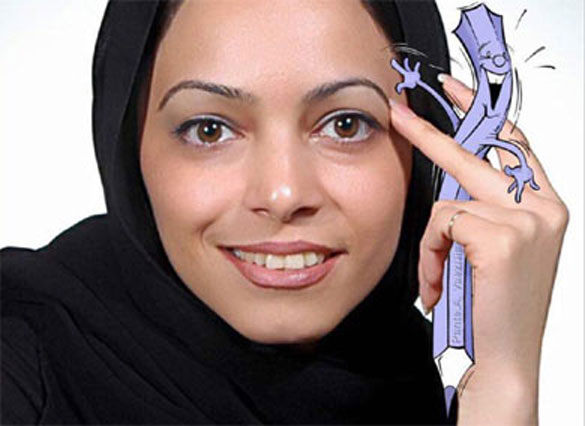 An exhibition of cartoons on women's rights in Iran will be held in Paris during January 2018.
-----
• Chhath Puja: Muslim Women Clean Roads Leading To Ganga Ghats in Patna
• Cartoon Exhibit to Spotlight Women's Rights In Iran
• Middle East Feud Looms over Jailing of Egyptian Woman
• Kerala: Muslim Family Boycotted for Girl's Inter-Faith Marriage to File Complaint
• Educationists Call For More Opportunities for Female Students
• Female Students Protest Discrimination at IIUI
• Court Files: Witch Doctor Cons Childless Woman of Dh60, 000
Compiled by New Age Islam News Bureau
URL: https://www.newageislam.com/islam-women-feminism/chhath-puja-muslim-women-clean/d/113002
--------
Chhath Puja: Muslim women clean roads leading to Ganga ghats in Patna
Oct 24, 2017
Patna: Ahead of Chhath puja, several Muslim women on Monday evening gathered together to help with the preparations. The women cleaned the roads leading to the ghats near River Ganga.
Armed with brooms and large bins, the women started sweeping the floor.
Chhath Puja is a four-day festival observed in Bihar, Jharkhand and parts of Uttar Pradesh.
Tuesday marked the first day of Chhath Puja, known as Naha Kha or Nahaye Khaye. Devotees observing Chhath keep a fast till taking a bath. Post bath, they prepare traditional food items incluging chane ki daal (Split chickpeas soup/gravy), kheer (Sweet dish made of milk and rice), etc.
http://zeenews.india.com/bihar/chhath-puja-muslim-women-clean-roads-leading-to-ganga-ghats-in-patna-2051716.html
--------
Cartoon exhibit to spotlight women's rights in Iran
October 23, 2017
The cartoons have been created by Pantea Vaeznia for the exhibit, which is part of the 1st Persian Speakers in Europe Art Festival, the organizers announced in a press release on Monday.
"This exhibition gives a real insight into women's status and their rights in modern Iranian society," said Vaeznia who has worked with Gol Aqa, a Persian satirical magazine, and several Iranian newspapers.
"Despite all the misinformation about Iran from foreign media, Iranian women are active in various cultural, social and political fields," she stated.
"Iran's patriarchal society has not only failed to keep women in homes, but also has caused them to strive for greater success," she added.
"By this exhibition, I intend to change the improper views of Iranian expatriates about women's status in Iran and convince them to be more realistic," she noted.
Vaeznia said that her exhibition will familiarize visitors with women's problems as well with their successes in Iranian society.
The Persiana Media Group is the main organizer of the festival, which will be held from January 13 to 20, 2018. The event is designed to introduce Persian art and culture to the world.
http://www.tehrantimes.com/news/417851/Cartoon-exhibit-to-spotlight-women-s-rights-in-Iran
--------
Middle East Feud Looms Over Jailing of Egyptian Woman
By DECLAN WALSH and NOUR YOUSSEF
OCT. 21, 2017
CAIRO — Confined to a tiny windowless cell without a mattress or a toilet, denied visitors and held in solitary for months on end, Ola al-Qaradawi is being subjected to harsh treatment even by the grim standards of Egyptian prisons.
Ms. Qaradawi, 55, was arrested in June when national security officers swooped in on her family's summer villa on the Mediterranean coast. Since then, her lawyers say, she has been denied the most basic privileges, and is allowed a single, five-minute bathroom break every morning.
What crime merits such tough conditions is unclear. The Egyptian authorities have yet to formally charge Ms. Qaradawi, who works in an embassy and is a permanent American resident, or her husband, Hosam Khalaf, who is being held in similar conditions at a separate Cairo prison. State news media outlets say they are accused of belonging to the banned Muslim Brotherhood.
But the true reason for Ms. Qaradawi's punishment, supporters and human rights activists say, is more likely tied to a bruising geopolitical feud between the biggest and wealthiest countries in the Middle East, in which Ms. Qaradawi may have become a hapless pawn.
"A big part of this is about Qatar," said Aayah Khalaf, Ms. Qaradawi's daughter.
In June, four Arab countries, including Egypt and Saudi Arabia, imposed a punishing air, sea and trade blockade on Qatar. Among their demands is that Qatar's gas-rich royals halt their support for prominent Islamists like Ms. Qaradawi's father, Yusuf.
Mr. Qaradawi is one of the Arab world's most popular televangelists. For years, his regular appearances on "Shariah and Life" on Al Jazeera attracted tens of millions of viewers. His popularity stemmed from his folksy, religiously inflected guidance on a wide range of subjects, from oral sex and the morality of lottery cards to when it is acceptable to own a dog.
Mr. Qaradawi, a longtime resident of Qatar, is less popular among Western governments: Britain, the United States and some European countries have refused him visas because of his pronouncements in favor of violent attacks on American soldiers in Iraq, and in favor of suicide bombings in Israel.
In television terms the bespectacled cleric, 90, is a waning force: His last broadcast was about four years ago. But he still widely viewed as the spiritual father of the Muslim Brotherhood, and his presence in Qatar is a longstanding irritation for President Abdel Fattah el-Sisi.
After the Egyptian military ousted the Muslim Brotherhood's Mohamed Morsi in 2013 as the elected president of Egypt, Mr. Qaradawi urged Egyptians to rise up against Mr. Sisi.
Egypt stepped up its demand for Mr. Qaradawi's extradition as one condition for the lifting of the anti-Qatar boycott, shortly after it was imposed in early June. Qatar's leaders, who have a longstanding relationship with Mr. Qaradawi and have given him Qatari citizenship, refused to comply.
Then, on June 30, Egyptian security forces seized his daughter and her husband, Mr. Khalaf, 58, at their vacation home on Egypt's Mediterranean coast. The security forces raided their Cairo apartment and confiscated money, jewelry and documents. In August, the authorities froze the couple's assets which, they said, were being used to finance the Muslim Brotherhood.
Ms. Qaradawi insists she has never been active in politics, and Human Right Watch and other groups have denounced her arrest as politically motivated. While Mr. Sisi has imprisoned thousands of Brotherhood supporters since 2013, their female family members have generally been left alone. To critics, the couple's arrest smacks of a vendetta linked to the wider Qatar crisis.
"It is unbelievable that we are now living in the era of taking hostages from the families of opponents," Mostafa al-Naggar, a former lawmaker, wrote in a Facebook post.
Ms. Qaradawi and her husband were already under official scrutiny before their arrest. Mr. Khalaf was imprisoned in 2014 for his ties to a small Islamist political party, and released without charge two years later. Ms. Qaradawi is employed as a researcher at the Qatari Embassy in Cairo.
They hope their status as American residents, which they obtained last year, might help persuade the White House to take up their case. Although President Trump has hailed Mr. Sisi as a "fantastic guy," his administration in August cut or withheld $291 million in aid in response to Mr. Sisi's woeful human rights record.
Last spring, in one of his administration's most clear-cut foreign policy achievements, Mr. Trump helped secure the release of Aya Hijazi, an Egyptian-American aid worker imprisoned in Egypt.
But the Muslim Brotherhood, never popular in Washington, is an especially tough sell right now. Mr. Trump considered designating the Brotherhood as a terrorist organization this year, holding back only on the advice of intelligence officials and diplomats.
And Mr. Qaradawi, the preacher, evokes limited sympathy in policy circles even if he has been one of the most popular clerics in the Muslim world since the 1960s. In the early weeks of the Arab Spring, in 2011, Mr. Qaradawi addressed huge crowds in Cairo's Tahrir Square. He has published over 100 books and has 1.8 million followers on Twitter.
Although he denies being a member of the Brotherhood, his sermons are hugely influential in Egypt, where Mr. Sisi's government has charged him with terrorism. Some sermons are tinged with sectarianism — he once said that Christians in Egypt have sided with the military and the West against the Brotherhood.
The Egyptian prosecutor's office did not respond to requests for comment.
https://www.nytimes.com/2017/10/21/world/middleeast/egypt-qaradawi-prison.html?mtrref=www.google.co.in&gwh=5E72D8BC2B8BB24FA5AD9EDAFED02618&gwt=pay
--------
Kerala: Muslim family boycotted for girl's inter-faith marriage to file complaint
October 24, 2017
The Kerala Muslim family facing boycott in their community after their daughter married a Christian has said they will file a police complaint.
Last Friday, the mosque committee at Kondiparamba in Malappuram district urged the faithful not to cooperate with Kunnummel Yousuf and his family after the daughter Jaseela tied the knot with Christian youth Tiso Tomy of Nilambur in Malappuram.
Jaseela and Tomy, both IT professionals in the Middle East, had got their marriage registered at an office of the Registration Department last Thursday.
The next day, the decision of the masjid committee to boycott Yousuf and his family was announced. A notice was issued at the mosque urging the local community "not to cooperate with the family which had married off the daughter to a non-Muslim".
Yousuf and his wife, C P Najma, had planed a reception for the newly-weds last Saturday, but because of the committee's restrictions, members of the Kondiparamba masjid boycotted the meal where 600 people were invited.
Najma, a CPI(M) area committee member, said the decision of the masjid committee (mahallu) had pained the family. "As a result of the boycott call, none from the Muslim families under the Kondiparamba masjid turned up. Even, Jaseela's friends did not attend the event fearing the diktat of the community leadership. However, our other Muslim friends, a section of relatives, party workers and lot of non-Muslims attended the function."
Najma said the direction from the community had showed them in poor light. "We could not even go to Muslim homes to invite people. In the future, no family should be humiliated over an inter-faith marriage. We would move a complaint with police against the boycott," she said.
The masjid committee has activists of Indian Union Muslim League, a Congress ally and right-wing political outfit Social Democratic Party of India as its members.
http://indianexpress.com/article/india/kerala-muslim-family-boycotted-for-girls-inter-faith-marriage-to-file-complaint-4903613/
--------
Educationists call for more opportunities for female students
Sanjay Mathrani
OCTOBER 24, 2017
HYDERABAD: Female students have tremendous potential and need opportunities to harness their confidence and knowledge based on modern social concepts, was said by educationists during intra-school competitions held in nine government girls high schools (GGHS) of Matiari District. Sindh Community Foundation (SCF), in cooperation with Small Grants and Ambassador's Fund Programme (SGAFP), organised events at GGHS Bhanot, GGHS Khyber, GGHS Udero Lal, GGHS Hala Old, GGHS Hala New, GGHS Bhit Shah, GGHS Udero Lal Station, GGHS Matiari city and GGHS Bakhar Jamali.
The competition aimed to provide a space for girls to share their ideas of entrepreneurship. SCF head Javed Hussain conducted the nine events, attended by 255 students of seventh, ninth and tenth classes. Around 95 groups presented their respective ideas and in a jury selected 3 best and innovative ideas of entrepreneurship for an award in each school.
https://dailytimes.com.pk/129540/educationists-call-opportunities-female-students/
--------
Female students protest discrimination at IIUI
October 24, 2017
Islamabad - International Islamic University (IIUI) female students on Monday staged a protest against gender discrimination by the university administration.
Dozens of female students early in the morning held a protest walk from the female campus to security office, where they blocked the main avenue for one hour demanding an end to gender discrimination in the campus.
This is the first time in the history of IIUI that female students challenging the conservative laws of administration came out and asked for relaxation in the rules.
The female students protested against the newly-introduced dress code, restrictions imposed on their movement and different rules for male and female students.
The students viewed that they are continuously being victimised by the university administration and humiliating rules are being introduced creating a suffocating environment for them in the university.
Students were seen holding placards with the statement "Uber and Careem (online taxi service) are drivers not our boyfriends".
The university recently issued circular barring female students from wearing see-through dresses, 'deep necks', sleeveless shirts, skinny jeans, tights, capri pants, makeup, heavy jewellery and high heels.
According to the IIUI's new dress code, the students have been directed to wear shalwar kameez with a shirt that is at least knee length and trousers with long shirts, and dupatta or scarf is mandatory with all dresses.
The students said that such shameful rules are not only confiscating the freedom of female students at the campus but also similar to their character assassination by the university administration.
The students complained the administration does not allow them to go outside the university leaving them on the mercy of security guards.
A student Ammara while talking to The Nation said that female students have to take permission on the slip from chairman while going outside.
She said that on entry and exit points security guards have been given free hand to misbehave with female students.
"In case of emergency, female students are running for a permission slip and fighting with security guards," she said.
Another student, Mahnoor Fatima said that administration repeatedly issues humiliating notifications for female students which they cannot defend in society. "This is a higher education institute where adults are studying, they do not need directions what to wear," she added.
Talking to The Nation, Rector IIUI Prof Dr Masoom Yasinzai said that the administration has withdrawn the notification of issuing the permission slip system after listing to the students.
He said that female students were facing difficulties in their movement and the administration withdrew the slip-issuing system until a new mechanism is devised. "One window operation system will be introduced for the facility of students to get permission slip," he said.
The university rector also said that administration has not imposed any dress code on students as only they have been asked to wear the attire according to the norms and culture of the society.
He also said that female students are being given best facilities. The new cafeteria has been built which will be soon inaugurated, he added.
Rector University also said that best gym facility has been provided to female students.
However, he said, the female students have equal liberty like the male students in the campus.
http://nation.com.pk/islamabad/24-Oct-2017/female-students-protest-discrimination-at-iiui
--------
Court Files: Witch Doctor Cons Childless Woman of Dh60, 000
October 23, 2017
He claimed to offer services such as treating jinns, infertility and fixing rocky relationships
A childless woman was cheated out of Dh60,000 by a 'witch doctor' who promised her fertility using sorcery, an Abu Dhabi court has heard.
The Arab defendant - who claimed to be offering services like treating jinns, infertility and fixing rocky relationships - is on trial at Al Ain Criminal Court of First Instance for practising sorcery and defrauding the woman.
Official court documents stated that after spending six years in marriage without having children, and having tried many fertility treatments, the woman's friend advised her to seek the help from the 'witch doctor'.
The pair contacted the Arab man who agreed to give 'treatment' to the woman at her friend's house in Al Ain.
As part of the 'treatment', the defendant smeared some powder-like substance on her face and body. He also gave her a bottle of "special water" and asked her to shower with it at her home.
"The man gave the woman an egg and asked her to break it at the main door of their home on a Saturday during dawn," said prosecutors.
He had told her to take the egg shell back to him. "He claimed that after he buries the shell at a cemetery, the woman would be able to conceive."
The woman's husband secretly followed her when she woke up during the night and caught her as she was breaking the egg at the main door of their house.
The husband lodged a complaint with Al Ain Police after his wife told him that the defendant had taken Dh60,000 from her for the 'treatment'.
The police then arrested the defendant, who confessed to practising witchcraft. He said most of his customers were women and that he wasn't taking money by force from anyone.
However, in court, the man denied the charges.
https://www.khaleejtimes.com/news/crime/arab-sorcerer-in-court-for-defrauding-infertile-woman-of-dh60000
--------
URL: https://www.newageislam.com/islam-women-feminism/chhath-puja-muslim-women-clean/d/113002
New Age Islam, Islam Online, Islamic Website, African Muslim News, Arab World News, South Asia News, Indian Muslim News, World Muslim News, Women in Islam, Islamic Feminism, Arab Women, Women In Arab, Islamophobia in America, Muslim Women in West, Islam Women and Feminism