New Age Islam News Bureau
4 Oct 2017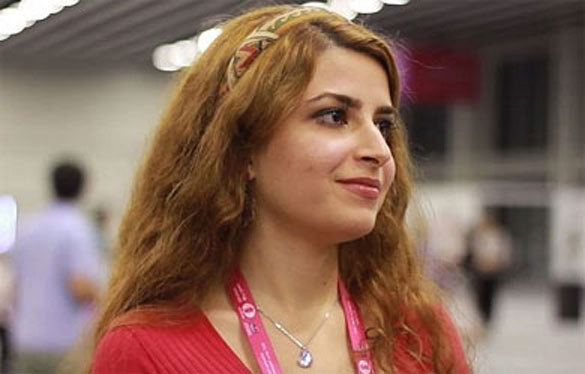 Iranian master chess player Dorsa Derakhshani. (YouTube screenshot)
-----
• Miss World Bangladesh Turns Out To Be Mrs
• Allowing Saudi Women to Drive Will Save SR20bn: Official
• Saudi Woman Driver Hurt, Companion Dies in Jeddah Traffic Accident
• Saudi Woman Named In WHO Leadership Team
• Pakistan Minister Lists Efforts to Protect Women
• Young Egyptian Man Caught Wearing 'Niqab' To Meet His Girlfriend
• Lebanese Security Official Dismissed Because Of 'Like' Against Saudi Women
Compiled by New Age Islam News Bureau
URL: https://www.newageislam.com/islam-women-feminism/chess-player-banned-iran-wearing/d/112765
--------
Chess player banned by Iran for not wearing a hijab switches to US
Leon Watson
3 OCTOBER 2017
A chess player banned from the Iranian national women's team for attending an international competition without wearing an Islamic headscarf has joined the US team.
Dorsa Derakhshani refused to wear the headscarf, known as the hijab, during the Tradewise Gibraltar Chess tournament in February, and joined the U.S. national team.
Since the 1979 Islamic Revolution, Iran has required women to wear the hijab in public places.
Dorsa's registration has been altered on the world governing body Fide's website and the switch to the United States Chess Federation confirmed by the president of Iran's chess federation, Mehrdad Pahlevanzadeh.
Pahlevanzadeh added that she was not a member of Iran's national chess team. "She played for Iran only one time in 2014," he clarified.
Dorsa left Tehran and moved to Barcelona in 2015 after she received an invitation by a chess club that also supported her studies, according to ISNA.
She was awarded the titles Woman Grandmaster and International Master by the World Chess Federation in 2016.
At the February competition in Gibraltar, her brother Borna Derakhshani, also a chess player, was paired up by a computer against Israeli grandmaster Alexander Huzman.
Pahlevanzadeh later announced that Borna was banned from playing for Iran, and that Dorsa was also banned for not wearing the hijab at that competition.
Iran has a policy of not competing against Israeli athletes. The country does not recognize Israel and supports anti-Israeli militant groups like Hamas and Hezbollah.
Shohreh Bayat, the general secretary of Iran's chess federation, said Dorsa was now studying in the U.S., according to Tasnim, another semi-official Iranian news agency.
"(Dorsa) Derakhshani has not become a member of the U.S. national chess team, she just changed her federation to the United States," Bayat said.
Dorsa will join Nazi Paikidze-Barnes, the former US champion, who refused to participate in the Women's World Chess Championship held in Tehran, Iran, in February to protest against the country's hijab law that makes it mandatory for all women to wear hijab in public places.
"I think it's unacceptable to host a WOMEN'S World Championship in a place where women do not have basic fundamental rights and are treated as second-class citizens.
"For those saying that I don't know anything about Iran: I have received the most support and gratitude from the people of Iran, who are facing this situation every day," Paikidze wrote in an Instagram post in September 2016.
http://www.telegraph.co.uk/news/2017/10/03/chess-player-banned-iran-not-wearing-hijab-switches-us/
--------
Miss World Bangladesh Turns Out To Be Mrs
October 02, 2017
According to sources, yet another change is likely to be made in terms of the winner of Lovello Miss World Bangladesh 2017.
Winner Jannatul Nayeem Avril is set to be disqualified, with trusted sources confirming that Jessia Islam, who was in top three on Friday's show, is going to be crowned the winner.
Recently, photographs allegedly from Avril's wedding surfaced on social network sites. If they are truly hers, Avril would be disqualified as per the competition rulebook.
A member of the show's jury panel, who asked to remain anonymous, claimed that Jessia was the original winner according to the judges. Rumour has it that Avril was announced the winner because of the organisers' preference and not that of the judges.
Antar Showbiz Chairperson Swapan Chowdhury previously claimed in a statement that both the participants' names started with "Jannatul," which was probably what caused the confusion in the first place. But if the winner had indeed been Jessia all along, it is unclear how the mistake was made.
To clarify the matter, the show's organisers will arrange a press conference at Hotel Pan Pacific Sonargaon on Tuesday, October 3, 2017.
http://www.dhakatribune.com/showtime/2017/10/02/miss-world-bangladesh-turns-mrs/
--------
Allowing Saudi women to drive will save SR20bn: Official
4 October 2017
MADINAH: Abdullah Ahmed Al-Moghlooth, a member of the Saudi Economic Association (SEA), praised King Salman's decision to allow women to drive, saying he believes this can save the Kingdom SR20 billion ($5.3 billion) per year.
Expatriate drivers, who now number 1.38 million, are annually paid SR33 billion in the form of salaries by Saudi families. In addition, there are recruitment, iqama and work permit fees that must be paid by the employer for a foreign worker.
There are groups in society such as widows, divorced and single women who cannot pay an expatriate driver's salary or the accompanying fees, and this move of allowing women to drive can relieve the financial burden on this sector of Saudi society.
In addition, Saudi women will now be able to enter the market as professional drivers, which can also accommodate the country's cultural considerations about mixing the sexes.
"I believe that this decision approximately saves the Kingdom SR20 billion annually, if it can be assumed that 50 percent of the existing drivers are not needed. Some Saudi families will choose not to recruit new expatriate drivers," Al-Maghlooth said.
The goals of Vision 2030 and the National Transformation Program (NTP) 2020 aim to reduce the large number of expatriate workers and hire Saudi citizens.
Al-Moghlooth praised the decree of allowing women to drive as step toward enhancing their rights, and as a social, economic, and legal protection for women.
"This is a wise and positive decision that has dimensions, not only for the freedom of women and to assurance their rights, but it also serve as an economic momentum," Al-Maghlooth said.
http://www.arabnews.com/node/1171946/saudi-arabia
--------
Saudi woman driver hurt, companion dies in Jeddah traffic accident
October 04, 2017
JEDDAH — A Saudi woman, who was driving her car early Monday, was seriously injured and her 13-year-old male companion died following a traffic accident on Huda Al-Sham road between Makkah and Jeddah, Makkah daily reported on Tuesday quoting traffic police sources.
The sources said that women at driver's seat is still considered a traffic violator as the Royal decree enabling them to drive will take effect from June 2018.
Yacoub Al-Mutair, a lawyer and a legal consultant, agreed with the traffic police, saying the Royal decree stipulated the constitution of a committee to study the necessary arrangements for its implementation.
He said women taking driving lessons or driving on the streets is illegal and will be considered a traffic violation. The lawyer said if a woman driver caused injuries to the others, she will have to bear the legal responsibility of her action.
http://saudigazette.com.sa/article/518606/SAUDI-ARABIA/Saudi-woman-driver-hurt-companion-dies-in-Jeddah-traffic-accident
--------
Saudi woman named in WHO leadership team
October 04, 2017
NEW YORK — World Health Organization Director-General Dr. Tedros Adhanom Ghebreyesus announced his senior leadership team on Tuesday in which Saudi Arabia's Professor Lubna A. Al-Ansary was named as one of the Assistant Director-General appointees.
The new team, according to the WHO press release, includes former ministers of health, some of the world's leading physicians, scientists and researchers, and programmatic experts in universal health coverage, health emergencies, communicable and non-communicable diseases, climate and environmental health, and women's, adolescents' and children's health.
Individually and collectively, they have a wealth of experience across government, private sector, multilateral, civil society and academic organizations, the release added.
"The team represents 14 countries, including all WHO regions, and is more than 60 percent women, reflecting my deep-held belief that we need top talent, gender equity and a geographically diverse set of perspectives to fulfill our mission to keep the world safe," said Dr. Tedros.
Dr. Soumya Swaminathan will be Deputy Director-General for Programs (DDP) and Jane Ellison will be Deputy Director-General for Corporate Operations (DDC). In addition, Dr. Peter Salama will remain in his role as the Executive Director of the Health Emergencies Program.
Among the Assistant Director-General appointees, Professor Al-Ansary has been appointed Assistant Director General for Metrics and Measurement. Well-known for her extensive experience promoting and supporting evidence-based health care in Gulf countries, Professor Al-Ansary is a Professor of Family Medicine at the College of Medicine and head of the Clinical Practice Guidelines Committee at King Saud University (KSU).
In addition, she currently holds the Bahamdan Research Chair for evidence-based health care and knowledge translation at KSU, which focuses on evidence-generation and implementation.
In eight years, the Bahamdan Chair has published more than 40 papers. Along with her team, she has also provided in-depth training on local adaptation of clinical practice guidelines (CPGs) for different organizations in KSA, Tunisia and Kuwait and collaborated with WHO-EMRO toward establishing a regional initiative on CPGs.
In 2013, Professor Al-Ansary became a member of the Shoura Council in recognition of her work in health care in KSA and other Gulf countries as well as on human rights. She was one of the first women deputies, and she represented women MPs at the Inter-parliamentary Union for two years.
The other Assistant Director-General appointees are:
• Dr. Bernhard Schwartländer, Chef de Cabinet
• Dr. Naoko Yamamoto, Assistant Director-General for Universal Health Coverage and Health Systems Cluster
• Dr. Svetlana Akselrod, Assistant Director-General for Noncommunicable Diseases and Mental Health
• Ambassador Michèle Boccoz, Assistant Director-General for External Relations
• Dr. Ranieri Guerra, Assistant Director-General for Special Initiatives
• Dr. Ren Minghui, Assistant Director-General for Communicable Diseases
• Dr. Mariângela Batista Galvão Simão, Assistant Director-General for Drug Access, Vaccines and Pharmaceuticals
• Dr. Princess Nothemba (Nono) Simelela, Assistant Director-General for Family, Women, Children and Adolescents
• Stewart Simonson, Assistant Director-General for General Management
• Dr. Joy St John, Assistant Director-General for Climate and Other Determinants of Health
All of these appointees will be transitioning into their new roles over the next several weeks. — SG
http://saudigazette.com.sa/article/518618/SAUDI-ARABIA/Saudi-woman-named-in-WHO-leadership-team
--------
Pakistan Minister Lists Efforts to Protect Women
October 04, 2017
LAHORE - Women Development Department Minister Hameeda Waheeduddin said the promotion of women's employment was necessary for development and prosperity.
She was addressing a seminar on promotion of women's employment on Tuesday. Representatives of Japan International Cooperation Agency, Ms. Magumi Fujita, Former Chairman, PHMA, Chairman FGCC, Secretary General PTEA Aziz Goher and others also participated and highlighted the importance of female employment.
The minister said the Punjab government had established Violence against Women Centre, Crisis Centres and Shelter Homes for Women. Ombudsperson had also been appointed to specifically deal the harassment at work place cases, she said and added that harassment awareness volunteer programme had started in collaboration with local NGOs to create awareness about the issues of harassment. Strict laws were being promulgated to deter people from exploiting women in public and private life, she added.
Hameeda Waheed-ud-Din said almost half of the total population of Pakistan consists of women and girls, without their active participation in economic development, Pakistan could not move forward.
She said in order to bring women at par with men, the government of Punjab introduced special women empowerment packages to target the areas where there was a need for improvement. She said the Women Development Department was the central organization coordinating with all other departments. From establishment of the Women Development Department till today, more than 85 incredible initiatives for women empowerment had been executed through the Punjab Women Empowerment Packages, she added.
The minister said that under Chief Minister Self Employment Scheme, small interest free loans across Punjab were being extended to those who want to start business and more than 54 percent beneficiaries were women.
Similarly, women were provided exclusive space in Sunday bazaars to set up their stalls, and distribution of livestock and establishment of cottage villages was also another step to encourage women entrepreneurship, she added.
Hameeda Waheed-ud-Din said in order to increase women employment, "We have to consider the need for skilled labour, for which Punjab skills development fund has been established."
She said training to workers wives, domestic workers, and minority community was also being provided for their capacity building, adding vocational, technical, veterinary and daycare training was also provided to enhance labor force participation rate of females in different industries.
She said several measures had been taken to amend the employment policies and make them more favourable for females, like quota for public services jobs, age relaxation, additional chance of transfer, house rent, equal remuneration, maternity and paternity leaves and inclusion of women in selection committees. Career counseling centers are established in colleges to provide advisory services to female students to encourage their active participation in economy upon graduation, she added. She stated that enabling environment at work place was crucial for success of women in their professional life. Separate washroom facilities at public places and in government organization were being provided. Daycare centers, working women hostels were also available to facilitate working women. More than 400 urban buses had a ladies only compartment, facilitating female passengers, she added.
Hameeda said women in senior positions in 2874 public organizations were provided training from the topnotch management institutions of the country to empower them to lead their organizations.
She said the government of Punjab had planned to hold Women EXPO and establish Business Facilitation Centers for Women to provide outlet to display their products.
A survey of the private sector to find prospects for women employment would also be conducted, she said. "A lot has been done to achieve women empowerment in Pakistan but it still requires sustained efforts towards this end. Government is determined to continue struggle to make Pakistan a women friendly place to live and prosper," concluded the minister.
http://nation.com.pk/lahore/04-Oct-2017/minister-lists-efforts-to-protect-women
--------
Young Egyptian man caught wearing 'niqab' to meet his girlfriend
3 October 2017
A young Egyptian man was caught wearing "niqab" as he went to his girlfriend's house to meet her, but the villagers beat him up and handed him over to security.
Major General Redha Tablia, head of security of Al-Sharqeya governorate, received a report stating that a number of residents of the village of Sowada Abu Shalabi held a man wearing "niqab" to sneak into his girlfriend's home in the absence of her family. The villagers noted the young man's way of walking and his shoes before stopping him and removing the veil.
They beat him up and took him on a humiliating tour around the village.
The young man, Ahmed, 22, said that after returning from a vacation outside Egypt, he went to see his friend in the absence of her family because he loves her and her father refused his marriage proposals many times.
However, the neighbors caught him and he was arrested by the police to continue investigations.
https://english.alarabiya.net/en/variety/2017/10/03/Young-Egyptian-man-caught-wearing-Niqab-to-meet-his-girlfriend-.html
--------
Lebanese security official dismissed because of 'like' against Saudi women
3 October 2017
Lieutenant Colonel Suzan al-Haj, Dirtector of the Office for Combating Cyber Crime and Protection of Intellectual Property at Lebanon's Internal Securuty Forces (ISF), lost her job despite being dubbed "the most powerful woman in Lebanon," after liking a tweet that was derogatory to Saudi women.
Maj. Gen. Imad Othman, Director General of the Internal Security Forces, dismissed al-Haj from her position and assigned Lt. Col. Albert Khoury in her position, according to local media reports.
The tweet posted on September 29, belonging to controversial Lebanese television producer Charbel Khalil was a comment on a Saudi royal decree issued last week lifting a driving ban on Saudi women.
Khalil tweeted, "the decree comes lacking, as it allowed Saudi women to drive only if the car is booby-trapped."
Despite al-Haj unliking the tweet, twitter user Zyad Etany copied and shared her post widely. Al-Haj also filed a coplaint against Etany, media reported.
https://english.alarabiya.net/en/features/2017/10/03/Lebanese-most-powerful-woman-dismissed-because-of-like-against-Saudi-women.html
--------
URL: https://www.newageislam.com/islam-women-feminism/chess-player-banned-iran-wearing/d/112765
New Age Islam, Islam Online, Islamic Website, African Muslim News, Arab World News, South Asia News, Indian Muslim News, World Muslim News, Women in Islam, Islamic Feminism, Arab Women, Women In Arab, Islamophobia in America, Muslim Women in West, Islam Women and Feminism