New Age Islam News Bureau
2 Jul 2018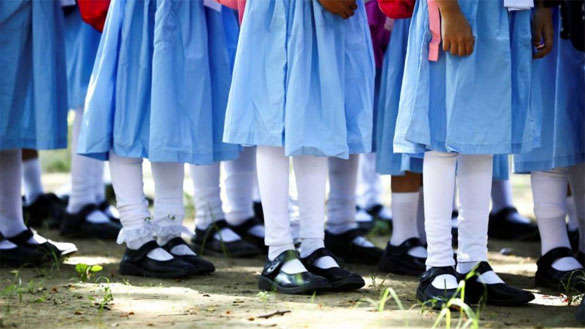 Child marriage is currently in the spotlight after a 41-year-old Kelantanese man took an 11-year-old Thai girl as his third wife in southern Thailand last month. — Picture via Facebook
-----
• Malaysia Investigating Marriage of Man to 11-Year-Old Girl
• Egyptian Website Seeks To Combat Female Genital Mutilation
• Pakatan Misses 30pc Women's Quota for Ministers and Deputies
• 240% Increase in Licenses Granted To Saudi Women Lawyers in Three Years
• Forgiven By Her Native Chechnya, a Woman Is Returned From Islamic State
• Saudi Teenager Jailed for Drifting, Impersonating Woman
• OIC Prepares for Ministerial Conference on Women's Role in Development
Compiled by New Age Islam News Bureau
URL: https://www.newageislam.com/islam-women-feminism/change-state-shariah-laws-ban/d/115707
-----
Change State Shariah Laws to Ban Child Marriage, Say Lawyers
02 July 2018
KUALA LUMPUR, July 2 — A uniform legal age of marriage at 18 will only become a reality if all state legislative assemblies amend their respective Islamic Family Law Enactments, legal experts said.
Constitutional lawyer Lim Wei Jiet said this was because jurisdiction on Muslim marriage fell under Item 1 of the State List in the Federal Constitution, making it solely the purview of the state governments.
"It means that the rest of the individual states (with the exception of Labuan, Kuala Lumpur and Putrajaya) would have to amend their respective enactments governing Muslim marriages," he told Malay Mail.
According to federal civil law, the legal minimum age of marriage is at 18 for both genders, but non-Muslim girls aged 16 can still get married with approval from the mentri besar. Non-Muslims however cannot marry below 16.
Under state Islamic laws, the marriageable age is 18 for boys and 16 for girls, but the Shariah courts hold the authority to give consent to those under the permitted age to get married. There is no minimum age of marriage for Muslims.
Lim said Parliament can make a similar amendment to Section 8 of the Islamic Family Law (Federal Territories) Act 1984, which governs Muslim marriages in the Federal Territories.
The Section reads: "No marriage may be solemnised under this Act where either the man is under the age of eighteen or the woman is under the age of sixteen except where the Shariah Judge has granted his permission in writing in certain circumstances."
Lim said the amendments to the state Islamic Family Law Enactments and to the Islamic Family Law in the Federal Territories should seek to remove the Shariah courts' power to grant special exceptions to underage marriage.
"The state legislatures are already in the same spirit, setting the minimum age for females at 16 years old but the only step now is to not allow any exceptions by the Shariah courts.
"There should be no exceptions if the principle is to protect a child from entering into a life-changing, irreversible relationship which he or she has no agency to decide in the first place," he said.
Lim said if Pakatan Harapan (PH) was truly committed, the amendments could "easily be done" in PH states including Selangor, Penang, Negri Sembilan, Johor and Melaka.
"State legislatures only require a simple majority to amend state enactments governing Islamic family law.
"It may be a bit tricky in Kedah and Perak where there is only a slim majority and where PAS may actually object to such amendments," he said.
Besides those seven states governed by PH that also has federal power, an alliance of PH and Parti Warisan Sabah controls Sabah. Kelantan and Terengganu, on the other hand, are governed by PAS and do not have a single state or federal representative from PH.
Another lawyer, Nizam Bashir, echoed the same sentiment, adding that the government should impose an equal, if not more, scrutiny on laws governing marriages.
"Legally a person below the age of 18 cannot smoke, drink or vote. Marriage is something more weighty as compared to that, yet we seem to be more prepared to countenance the marriage of a child.
"If it is feasible to place a minimum age for smoking, drinking and voting, then it would be equally feasible to place a minimum age for marriage.
"A child should be encouraged to explore all opportunities that the world has to offer especially where education is concerned," he said.
Lawyer Surendra Ananth said Parliament should instead enact a criminal law to prohibit child marriage, which would then render all state Shariah laws unconstitutional.
"Child marriage cannot be considered as 'personal law'. If such a criminal law is enacted, all state Shariah laws would contravene a federal law, rendering them unconstitutional.
"Amending each Shariah law in each state is one way but it would fall within the discretion of each state legislative assembly.
"My view is that it is better for Parliament to take a stand by way of a criminal law to prohibit child marriage," he told Malay Mail.
He said another way to impose a total ban on child marriage was by arguing that any state Shariah law that allowed the marriage was a contravention of Articles 5, 8 and 10 of the Federal Constitution.
The three Articles speak about Malaysians' fundamental rights to liberty, equality and freedom of speech, assembly and association, respectively.
"State Shariah laws that are inconsistent with fundamental rights are void. However, this required a pronouncement from the civil courts. It requires judicial intervention," he said.
Child marriage is currently in the spotlight after a 41-year-old Kelantanese man took an 11-year-old Thai girl as his third wife in southern Thailand last month.
https://www.malaymail.com/s/1647621/change-state-shariah-laws-to-ban-child-marriage-say-lawyers
--------
Malaysia Investigating Marriage of Man to 11-Year-Old Girl
July 2, 2018
Kuala Lumpur, Jul 2 (AP) Malaysian authorities are investigating the marriage between an 11-year-old Thai girl and a 41-year-old Malaysian Muslim that has sparked public outrage and calls for child brides to be banned.
Rubber scrap dealer Che Abdul Karim Che Abdul Hamid secretly married the girl as his third wife in Thailand, and the union became public after one of his wives lodged a complaint with police.
Muslims under the minimum legal marriage age of 16 can wed with the consent of the Shariah court and their parents. Muslim men in Malaysia can marry four wives.
Deputy Prime Minister Wan Azizah Wan Ismail has said the marriage was illegal as it had not been approved by the Shariah court. (AP) PMS PMS
https://www.indiatoday.in/pti-feed/story/malaysia-investigating-marriage-of-man-to-11-year-old-girl-1274922-2018-07-02
--------
Egyptian Website Seeks To Combat Female Genital Mutilation
July 1, 2018
A new website, titled "Enough with FGM" has been launched to combat Female Genital Mutilation (FGM), as a part of a wider campaign to raise awareness of the pratice, Vivian Fouad, coordinator of the National Strategy against FGM announced.
The website includes religious, health and medical materials seeking to educate readers on the dangers of FGM. It includes video clips from accomplished obstetricians and gynecologists, alongside religious figures, discussing the severity of FGM risks.
Fouad told Egypt Independent that the website received anonymous posts from people reporting FGM attempts or revealing the locations of doctors who illegally preform the operation, so the website can cooperate with the general prosecution to investigate.
"We've received a recent notice of a doctor in Al-Giza governorate who was secretly performing FGM on girls in his clinic. We communicated with the Ministry of Health who they notified the prosecution. The clinic was and the doctor arrested," she explained.
The website frequently receives questions from parents skeptical if FGM really is unhealthy, illegal and forbidden by Islamic sharia.
"These are actually the most calls we receive," Foud said, "We answer all their questions comprehensively with scientific proof, explaining pure in a factual manner without exaggeration to maintain their trust."
"For instance, if I tell a father planning to take his daughter for FGM that she may die, it's certainly a very real risk, but he still wouldn't believe us as he would know several examples of girls who have come through FGM alive," Fouad explained.
The site also receives stories from women who went through FGM. They anonymously dictate their bad experiences, such as how it's affected their sex lives, as a way of discouraging parents from going through the practice with their girls.
In 2016, Egyptian parliament approved a bill to tighten the criminality of FGM, with a penalty of five to seven years in prison for those who carry out FGM. The penalty would reach 15 years if it caused permanent disability or death, and those who also escorted the girl would receive one to three years in prison.
"Ever since FGM was criminalized people have become much more willing to speak out against it. According to the general prosecution indices, the number of complaints received doubled after the new year, as from 2012 to 2016 they only received three cases, while 2016-2018 saw 10 complaints," Fouad said.
She added that cultural awareness and education are the most pivotal tools in shaping the minds of future generations who will one day be parents themselves.
Supporting Fouad's statements, PM Nadia Henary praised the website, saying that it will help monitor most FGM attempts. She believed that raising awareness is the solution to ending the practice, since with the new law efforts from women who have undergone FGM to put an end to it are skyrocketing.
"Unfortunately even though doctors are being arrested, legal procedures still don't always go smoothly, and so they continue easily being released," Henary told Egypt Independent.
Henary is currently working on a bill to protect people who report on FGM attempt or on a doctor who practice FGM operations, not to be subjected to legal accountability.
http://www.egyptindependent.com/egyptian-website-seeks-to-combat-female-genital-mutilation/
--------
Pakatan Misses 30pc Women's Quota for Ministers and Deputies
02 July 2018
KUALA LUMPUR, July 2 — The Pakatan Harapan (PH) coalition has officially broken its pledge for 30 per cent women's representation in its administration now that all its ministers and deputies have been sworn in.
Following the appointments of the remainder of the Cabinet this morning, the coalition will now have just five women as full ministers and four as deputies.
The ministers are Datuk Seri Dr Wan Azizah Wan Ismail, who is both deputy prime minister and women and family development minister, Rina Harun (rural and regional development), Zuraida Kamaruddin (housing and local government), Teresa Kok (primary industries) and Yeo Bee Yin (technology, science, climate change and environment).
The deputy ministers are Hannah Yeoh (women and family development), Teo Nie Ching (education), Isnaraissah Munirah Majilis (technology, science, climate change and environment), and Fuziah Salleh (Islamic affairs).
Yeo and Isnaraissah's selections will make their ministries an all-women's affair, however.
With five women among the 26 ministers, the gender's representation is 19 per cent of the Cabinet.
The representation is lower still among deputy ministers, at just 16 per cent.
PH previously said it would be difficult to deliver on its 30 per cent election manifesto pledge, and today's development confirms this.
https://www.malaymail.com/s/1647774/pakatan-misses-30pc-womens-quota-for-ministers-and-deputies
--------
240% Increase in Licenses Granted To Saudi Women Lawyers In Three Years
By Tamara Abueish
1 July 2018
Saudi Arabia's Ministry of Justice represented by the Department of Lawyers, reported an astonishing 240% increase in the number of licenses granted to women lawyers in the past three years.
According to Saudi Press Agency, the number of women lawyers saw a sharp rise since the Ministry of Justice began offering licenses in 1434H.
In the past three years alone, the ministry issued 77.5% of the total number of licenses.
In the first year since the ministry began granting licenses to women, only 10 licenses were approved. However, this year saw 95 licenses granted to women so far.
Randa Hissain Arif, a licensed Saudi lawyer who trained recent graduates in a law office in Jeddah, said over the years she noticed an improvement in the level of professionalism of the trainees.
Saudi women "continuously prove their strength" in numerous fields and have an "ability to accomplish extraordinary goals," she said.
According to Arif, there has also been a noticeable difference in the professional presence of women in the courts and law offices.
Arif, who regularly submits legal articles to a local newspaper, told Al Arabiya that a large number of Saudi women lawyers publish articles and books on law.
She added that Saudi women "are half of the society and undoubtedly play a major role" in prospering the country.
Empowering women to join the workforce
Women's increasing role in judicial affairs comes with the Minister of Justice and the President of the Supreme Judicial Council of Saudi Arabia Waleed Bin Mohammed al-Samaani's attempt to empower Saudi women.
Al-Samaani was instructed to provide more opportunities for women to obtain an authenticated license so that they could practice law.
As part of the government's Vision 2030 goal to raise women's participation in the workforce, new job opportunities have become increasingly available to women.
The ban on women drivers, which was officially lifted on June 24, is also expected to increase the influx of women joining the workforce. An estimated 3 million women are expected to be driving in Saudi Arabia by 2020, according to research by audit firm PwC.
https://english.alarabiya.net/en/features/2018/07/01/240-increase-in-licenses-granted-to-Saudi-women-lawyers-in-three-years.html
--------
Forgiven By Her Native Chechnya, a Woman Is Returned From Islamic State
By Amie Ferris-Rotman
July 2, 2018
GROZNY, Russia — She's a mother of seven who married an Islamic State fighter and was captured in Syria, but Madina was lucky. She is a Chechen, and that means she got to come home.
Last November, the 36-year-old was pregnant, her small children jumpy at the slightest noise, when they were packed onto a plane and sent from Syria to Grozny, the capital of Russia's mainly Muslim republic of Chechnya.
Taking the family out of Syria was an act of clemency on the part of Chechen authorities, who say it is their duty to bring back the women and children stranded in Islamic State territory after their insurgent husbands or fathers have been imprisoned or died.
"The Chechen government says if we take back the women and children, and give them the best things, treat them the best way we can, we can try to let them forget who they used to be in Syria," said Madina, who agreed to speak on the condition that her family name not be disclosed. "And this is the best method, in my eyes."
Short and intense, Madina had framed her small face with a thick black covering, a khimar, that stretches over her elbows and below the waist, like a cape. Not a whisp of hair could be seen. She spoke solemnly yet without remorse, relaying her life story as a series of unforeseen events connected to each other by sheer circumstance.
Madina's geographical footprint and life trajectory seem to reflect the international reach and allure of the Islamic State. She left a war-wrecked Grozny in the late 1990s, settling in the Netherlands, where she met, married and divorced two men. Her third husband, with whom she traveled to Syria, is from Tunisia, which has sent more Islamist fighters abroad than any other country. Russia has provided the second-largest contingent, at 5,000, according to President Vladi­mir Putin.
Following the men from around the world were their wives. It is estimated that hundreds, if not thousands, of Russian-speaking women accompanied men to the caliphate.
A month before she was returned to Chechnya, Madina and her family were captured in a raid by the American-backed Syrian Democratic Forces. Her husband is in prison in Syria, and the two do not speak. He doesn't know that she gave birth, in Chechnya, to his third, and her seventh, child.
The family was held in a camp in Qamishli, near the border with Turkey, with women from Russia, Central Asia and elsewhere. Madina said she was regularly beaten and denied the toilet, and her children were starved.
The Kurdish women guarding them had taunted the prisoners, telling them they would be sold to Iraqi Shias. "They will rape you, and take your children away," Madina recalled them saying. So when Madina was blindfolded and led to a car, she was sure they were heading to their enslavement.
Instead, they were met by Chechen officials at an airport.
Kheda Saratova, one of those overseeing the repatriation program, corroborated Madina's account. She said Madina and her children were flown back from the Hmeimim air base, which Russia operates.
In Grozny, they live in a temporary refuge given to her by the government, a Soviet-era apartment on the outskirts of the capital, one of the few buildings to have survived the city's flattening during its two doomed wars for independence from Russia.
Last year, 13 women of Chechen origin and their 35 children, including Madina and her family, were taken back to Chechnya, Saratova said.
"The men go off to fight in ISIS, but the women and children were not involved in this," Saratova said. "They made a mistake by following these men to Syria, and they know that."
Ramzan Kadyrov, the strongman leader of the tiny republic in Russia's North Caucasus, uses Islam to further his own interests, from rebuilding mosques in Syria to aggressively stamping out Islamist militancy at home. This is key to currying favor with the Kremlin, on which he relies for money and a large degree of autonomy. Rehabilitating Chechen wives who went astray in the clutch of the Islamic State sends a signal, analysts say, that alternatives to extremism exist. And Madina said she's grateful for that.
Compared with similar repatriation programs in France or the United Kingdom, Chechnya's is by far the most lenient, so much so that other regions in Russia refuse to follow suit, instead bringing women to trial and placing the children in foster homes.
When Madina fled Chechnya in 1999, as Russian troops entered the breakaway republic, she headed with her sisters and mother to Maastricht, a hilly town in the southern tip of the Netherlands.
In Maastricht, Madina studied psychology and married a Dutchman, a non-Muslim. When that relationship soured, she moved back in with her mother and started working odd restaurant jobs. For a brief moment, her eyes clouded over with memory as she joked about Maastricht's riverside barges selling cannabis, before her glance turned steely.
"I have no interest in seeing that country again," she said, abruptly.
Madina married two more times, and has seven children, ranging from six months to 12 years old. As she reeled off their ages, the children who are with her, including two from her first marriage, timorously came into the living room, where they gathered by her feet, hidden under the folds of a floor-length gray skirt. Madina effortlessly slipped in and out of four languages with them: Dutch, Arabic, Russian and Chechen.
Her second husband was a Russian Muslim, her third is the Tunisian. She pointed to her three smallest boys, his children. "See, they look Arab, don't they?" she said saucily.
She met him in Turkey in 2014, and they left for Syria a year later.
They lived all over Islamic State territory together, from Raqqa in the north to Deir ez-Zor in the south. Most of the family's time was spent in Tabqa, a city on the Euphrates River.
During the heaviest battles between the Islamic State and the American-led coalition, in the second half of 2016, an explosion ripped through the side of their house in Tabqa.
"My children were sleeping on the mattress, so they were okay," she said. But still, her two little Syrian-born boys, Abdullah and Isaaq, are often on edge.
"If he hears loud noises," she said of 2-year-old Abdullah, who was sitting on the floor trying to navigate a fidget spinner, "he is searching, looking, all around him. When he hears fireworks, he starts to cry and cry, and I cannot stop him."
A tiny scrap of a boy with eyes like chestnuts, Abdullah is still sickly from their time in prison. When he arrived in Chechnya, he weighed barely 11 pounds.
Madina wouldn't say she misses Syria, as there wasn't much she could actually see. "We women, we were just sitting at home making children, taking care of the house and the husband," she recalled. But she often wonders about the fate of her friends there, a group of women from Trinidad and Tobago, with whom she shared a great deal of laughter-filled gossip.
Memory of their spell in the Islamic State returns each morning by way of a green tub of halva. The treat is the family's one keepsake from Syria, and they take turns scraping out a thin shaving to savor.
When Madina talked about how she got to Turkey, and why she took her two oldest children with her, while leaving her middle children behind in the Netherlands with her mother, she declined to get into the details. The Dutch government is treating Madina as a terror suspect. She has been accused in the Dutch press of kidnapping the two Dutch-born children who are with her.
"I can never enter Holland again, I am not welcome there," she said.
Madina said she went to Turkey for eye surgery. She insisted her Tunisian husband was not a fighter, and that the pair had been duped by Islamic State recruiters who promised them a better way of life.
"That was my mistake. I took my children to Syria," she said.
Being back in the city she grew up in can be disorienting. Where before there were "just stones," now there are immaculately kept gardens and polished avenues. Madina said she cannot recognize anything in rebuilt Grozny, whose skyline is punctuated by glistening skyscrapers. But there is one constant.
"I've always wanted to live in a Muslim country. I want my children to live in a Muslim country."
https://www.washingtonpost.com/world/europe/forgiven-by-her-native-chechnya-a-woman-is-returned-from-islamic-state/2018/07/01/d839dc4a-6fdb-11e8-b4d8-eaf78d4c544c_story.html?noredirect=on&utm_term=.ef44a495e9d3
--------
Saudi Teenager Jailed For Drifting, Impersonating Woman
July 2nd, 2018
A teenager in Saudi Arabia has been arrested after pretending to be a woman whilst drifting in his car.
The teenager was spotted by officers when they initially thought they had caught a female driver drifting earlier this week - an illegal act in the kingdom - but soon realised the person behind the wheel was a 19-year-old man impersonating a woman in the northern city of Tabuk, close to the Saudi-Jordanian border.
The teenager, along with one other person, were both arrested at the scene, according to the spokesperson for the Tabuk traffic authority, for committing what many are interpreting as a stunt to defame the kingdom's new women drivers.
Saudi women celebrated taking the wheel for the first time in decades on Sunday after the kingdom overturned the world's only ban on female motorists.
The much-trumpeted move is part of Crown Prince Mohammed bin Salman's plan to modernise the conservative petrostate - but it has been dented by the jailing of female activists who long opposed the driving ban.
However, much of the initial optimism over Prince Mohammed's reforms appears to have been knocked by a major crackdown on women driving activists.
Authorities have said nine of 17 arrested people remain behind bars, accused of undermining security and aiding enemies of the state.
The detainees include 28-year-old Loujain al-Hathloul - also held in 2014 for more than 70 days for attempting to drive from neighbouring United Arab Emirates to Saudi Arabia - and Aziza al-Yousef, a retired professor at Riyadh's King Saud University.
https://www.albawaba.com/editorchoice/saudi-teenager-jailed-drifting-impersonating-woman-1153088
--------
OIC Prepares for Ministerial Conference on Women's Role in Development
July 2, 2018
JEDDAH — The Organization of Islamic Cooperation (OIC) held a two-day workshop in Ouagadougou, capital of Burkina Faso, as part of the preparations for the upcoming seventh ministerial conference on the role of women in development in member states. The workshop was inaugurated on June 28 (Thursday) by Helene Marie Laurence Ilboudo Marchal, Burkina Faso's minister for women, national solidarity and family.
Marchal stated in her inaugural address that the OIC member states have successfully created legal and institutional environment to promote women's fundamental rights nearly 10 years after the adoption of the first OIC Action Plan for the Promotion of Women in Cairo, however many challenges remain.
In this regard, she urged the member states and the OIC institutions to take appropriate measures to address these challenges.
Ambassador Hesham Youssef, OIC Assistant Secretary General for Humanitarian, Social and Cultural Affairs, read a written speech of OIC Secretary General Dr. Yousef Al Othaimeen, in which he highlighted the efforts undertaken by the OIC through its various institutions in promoting the role of women in development in the member states and the progress made in this area. He also lauded the spirit of selflessness that characterized women in the member states, particularly in Palestine where they pay a heavy price due to the oppression of the Israeli occupation. He further reaffirmed the availability of the General Secretariat to work in collaboration with Burkina Faso and the OIC institutions for the success of the upcoming ministerial conference on women.
The workshop touched on the themes, documents and projects to be submitted to the ministerial conference which is scheduled to be held on Nov. 28 in Burkina Faso. The workshop brought together representatives of relevant OIC organs and institutions, members of the Advisory Committee on Women as well as a number of Burkina Faso's institutions. – SPA
http://saudigazette.com.sa/article/537997/SAUDI-ARABIA/OIC-prepares-for-ministerial-conference-on-womens-role-in-development
--------
URL: https://www.newageislam.com/islam-women-feminism/change-state-shariah-laws-ban/d/115707
New Age Islam, Islam Online, Islamic Website, African Muslim News, Arab World News, South Asia News, Indian Muslim News, World Muslim News, Women in Islam, Islamic Feminism, Arab Women, Women In Arab, Islamophobia in America, Muslim Women in West, Islam Women and Feminism