New Age Islam News Bureau
2 Jan 2016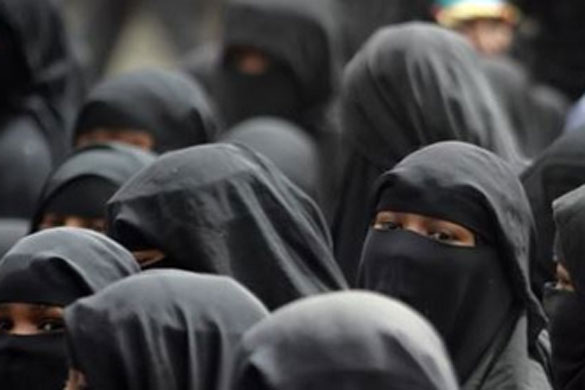 Photo: No Ban on Hijab by Muslim Women – Nigerian Presidency
----------
• No Ban on Hijab by Muslim Women – Nigerian Presidency
• Pakistani Women Stage Protest against 'Rigging' In Turbat By-Poll
• Brush With Talent: Blind Saudi Female Artist In Limelight
• Filipino Looking For His Saudi Father for 15 Years
• Election Commission of Pakistan Issues Notices to Fehmida, Her Son
Compiled by New Age Islam News Bureau
URL: https://www.newageislam.com/islam,-women-and-feminism/new-age-islam-news-bureau/catfights-on-the-rise-—-violent-saudi-women-blurring-gender-norm/d/105845
---------
Catfights on the Rise — Violent Saudi Women Blurring Gender Norm
Jan 2, 2016
It is true that women are often the victims of domestic violence, abused by husbands, fathers, brothers and other relatives. However, there has been of late an abundance of videos in circulation showing women beating other women up, sometimes in public.
One recent video clip doing the rounds on social media websites showed a woman trying to throw a chair at another woman in a café. The other woman seemed to be furious. While it is true that men can be violent and throw punches, it is difficult imagining the same regarding women, especially in public.
Why are women, perceived to be the gentle sex, often becoming so violent? What causes them to lose control and lash out at other women without feeling an ounce of remorse?
Women who work in schools report an increase in violent behavior among schoolgirls in the Kingdom with some teachers also exhibiting violence and getting into altercations with students and colleagues, Al-Riyadh newspaper said in a recent report.
"The problem has roots at home because many families are inclined not to punish their daughters if they do something wrong or use physical violence," said Maha Abdullah, a teacher who has seen firsthand girls fighting with each other with some as young as 12.
"These parents dismiss the matter as something trivial and feel that their daughters will grow out of it once they go pass the teenage years," she added.
Abdullah called on schools to give social and psychological counselors more active roles to deal with and resolve these issues. "Currently, most schools do not have counselors and select certain teachers to play this role, which is wrong. It is shocking to see some girls threatening teachers in front of other students without a shred of fear," she added.
Lamia Al-Naeem feels women have a tendency to create problems out of nothing or out of trivial matters. "They then shout at both men and women in public. The video clip of the woman throwing a chair at another woman in a café stemmed from a disagreement over the table — both women wanted to sit at the same table," said Al-Naeem.
"Female security guards jumped in to break up the fight but could not as both women were going at each other like crazy. Violence does not befit women because women are supposed to be gentle. Unfortunately, we have lately seen numerous acts of violence involving women," she added.
Uhood Al-Faseel is a female trainer. She blames the pressure of modern life on why women lose their composure and resort to violence. "The woman of today does a lot of things. She is a mother, a wife, a female employee and often the sole breadwinner of her family. She has so many responsibilities and in some cases more than what a man can handle," she said.
"It is men who are supposed to shoulder all these responsibilities, not women. Because of pressure, some women can no longer be gentle human beings who love to be pampered and taken care of," she added.
Dr. Shaikha Al-Ouda, a counselor in human, social and psychological development, said women are gentle and shy by nature. However, when a woman is provoked, she can be violent and lash out at others.
"Women should be able to get a grip on their feelings and control themselves. There are soaps on TV depicting women being violent in public. These programs influence how we think and act in public, especially with the subliminal and hidden messages some series send to viewers," she added.
Even women in Western countries may find themselves in situations where they end up using violence against others. "Any woman can lose her composure when she feels jealous, and jealousy is not just about marital relationships. It can take place inside a mall. Let's take the example of a woman who is buying an item which is then grabbed by another person from her, she would lash out," said Al-Ouda.
http://saudigazette.com.sa/saudi-arabia/catfights-on-the-rise-violent-women-blurring-gender-norm/
---------
No Ban on Hijab by Muslim Women – Nigerian Presidency
January 01, 2016
The Presidency has dismissed the insinuations that the Federal Government had banned the use of Hijab, the Muslim women's dressing symbol of modesty.
This is contained in a statement issued in Abuja on Friday by the Senior Special Assistant on Media and Publicity to the President, Malam Garba Shehu.
Giving a clarification on the pronouncement of the President on the issue during last Wednesday's Presidential Media Chat, Shehu said that the speculations were unfounded.
He said that the Buhari-led Federal Government would always respect the rights of Muslims to protect their modesty and allow religious freedom.
Shehu said that the Hijab was being abused by terrorists to carry out suicide attacks on innocent people, which violated the teachings of Islam.
He, however, said that Buhari would not take any decision on the issue without due consultation with all the stakeholders.
He said that the government would address the security challenge in consultations with Muslim leaders with a view to finding a workable solution.
"Everything will be done to balance national security requirements with the rights and obligations of citizens under their religions as protected by the constitution,'' he said.
http://www.vanguardngr.com/2016/01/no-ban-on-hijab-by-muslim-women-presidency/
---------
Pakistani Women Stage Protest against 'Rigging' In Turbat By-Poll
January 01, 2016
GWADAR: A large number of women held a sit-in in front of the offices of District Election Commissioner on Friday in protest against alleged rigging in the by-election held for PB-50 Turbat-3 on Thursday.
The protesters said that Akram Dashti, a former speaker of the Balochistan Assembly and National Party candidate, had won the election according to the unofficial result, but later PML-N candidate Akbar Askani stuffed ballot boxes with bogus votes and claimed victory.
They women chanted slogans against the election commission and alleged that it wanted to declare Mr Askani winner. The women refused to call off the protest.
Meanwhile, a spokesman for the National Party, Mir Jan Muhammad Buledi, alleged that efforts were under way to declare the PML-N candidate winner. He claimed that according to unofficial results issued late on Thursday night Mr Dashti had won the by-poll. He said that NP would strongly react if results were manipulated. He also criticised the role of security forces and asked them to remain impartial.
http://www.dawn.com/news/1230268/women-stage-protest-against-rigging-in-turbat-by-poll
---------
Brush With Talent: Blind Saudi Female Artist In Limelight
2 January 2016
RIYADH: A female Saudi artist with a visual disability has stunned people attending an exhibition here with the display of several paintings, including one which sold for SR8, 000.
Noorah Al-Majrashi has been showing her artwork at the "Muntijoon 3" exhibition at the Riyadh convention center.
She has now produced 300 paintings during her short career.
Al-Majrashi, who has entitled her exhibition "White Glass," said that she began painting at the age of just nine, encouraged by her mother and family.
She loves painting scenes from nature, and uses special tools for her work.
She recently produced a special painting to honor one of her close friends who died of cancer, according to the report.
Al-Majrashi said that she was taking part in the exhibition because she found it a suitable place to showcase her talent.
There have also been requests from some members of the public for her to produce special paintings.
Muntijoon 3 is an annual exhibition organized by the Riyadh Chamber of Commerce and Industry, known for showcasing the talents of Saudi women and assisting them to sell their products.
http://www.arabnews.com/featured/news/859051
---------
Filipino Looking For His Saudi Father for 15 Years
ABDUL HANNAN TAGO
2 January 2016
RIYADH: A 31-year-old Filipino, Elayan Kris Allafi or "Olayan Al-Afi," does not know that he bears a Saudi name given by her mother. It was to cherish the memory of her Saudi husband who he claimed abandoned her in Riyadh.
According to him, his mother met her father in Manila in 1983-84 through a Filipino friend, who was a business partner of his father. He has been searching for his father for 15 years, he said.
"I retained my official name with the hope to see him again, although the Filipino community does not have such a name. Yet, everybody knows my status there as an "Arabian son".
Allafi, already married, told Arab News that he has been searching for his father when he 17 or 18 years old, and reported the case to the Saudi Embassy in Manila. He has been contacting the embassy off and on but to no avail. "I was told to wait for their call," he said.
Allafi also visited the Saudi Embassy in Malaysia, where he is now working with all the details. In the absence of any response from his father, he has now switched over to the social networking media, hoping to trace his father.
"I am a Philippines' citizen, my father left us during my mother's pregnancy and never came back again. I've never seen him and am really very keen to meet him," said Allafi in his letter to Arab News.
He said, he was raised by Christians and has since embraced Islam in 2005 in Malaysia. "The only evidence I have is my father's "love letter" to my mother with his full name from Riyadh. I am willing to go for DNA testing if required," he said.
"I named my two children after my Saudi father — Elayan Rasheed Allafi and Zainah Hadiyyah Allafi — to keep his name alive in our memory. Please help me see my father. I am willing to go through every process," he said.
The Filipino man has been trying to trace his missing father for the last 15 years. As a last resort, he has sought help from Arab News hoping that his dad would one day see 'sonrise' and realize what he had been missing for decades.
He is willing to provide photos, old letters and addresses through Arab News to those who could help him.
"I am confident to see my father some day, so that I can visit the Two Holy Mosques with my wife to perform Umrah," he said from Malaysia.
http://www.arabnews.com/featured/news/859061
---------
Election Commission of Pakistan Issues Notices to Fehmida, Her Son
January 01, 2016
ISLAMABAD: The Election Commission of Pakistan (ECP) has issued show-cause notices to Dr Fehmida Mirza and her son Hasnain Mirza, both elected representatives from their native area of Badin, for alleged use of force during the second phase of local government elections.
The notices have been issued on the basis of allegations made by the general secretary of Pakistan People's Party, Latif Khosa, in a letter sent to the ECP on Dec 17, 2015.
Mr Khosa alleged that Ms Fehmida, MNA from Badin-cum-Tando Mohammad Khan, had been leading the election campaign of some independent candidates during the second phase of local government elections in Badin.
The ECP in the notice also said: "Moreover, you had posted armed supporters outside as well as inside the polling stations."
The show-cause notice issued to Hasnain Mirza, MPA from PS-57 Badin–I, contained the same allegations.
According to the notices, the acts of both legislators tantamount to violation of the code of conduct issued by the ECP for political parties and candidates contesting the local government polls in Sindh.
Ms Fehmida and Mr Hasnain have been asked to submit replies to the notices by Jan 7.
http://www.dawn.com/news/1230272/ecp-issues-notices-to-fehmida-her-son
URL: https://www.newageislam.com/islam,-women-and-feminism/new-age-islam-news-bureau/catfights-on-the-rise-—-violent-saudi-women-blurring-gender-norm/d/105845
New Age Islam, Islam Online, Islamic Website, African Muslim News, Arab World News, South Asia News, Indian Muslim News, World Muslim News, Islam, Women and Feminism