New Age Islam News Bureau
18 March 2016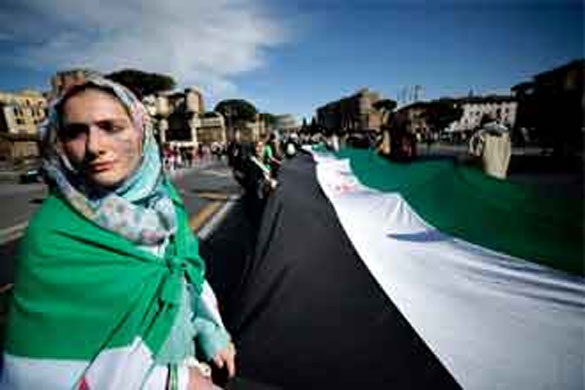 Photo: Syrian women are taking a greater role than ever before at the peace talks in Geneva, although the extent of their influence in the discussions remains to be seen.
----------
• 'ISIS Barbarism Forcing Women to Join Them'
• After Years of Being Sidelined, Syrian Women Aim To Make History At Peace Talks
• Bradford West MP Naz Shah Tells Of 'Smear Attempts' By Party Members
• Afghan Rights Activist, Entrepreneurs Included In Young Global Leaders List
• Women's Group Demands Better Protection of Indonesian Migrant Workers
• Winner of Great British Bake Off Proud To Represent Muslim Women
• Pakistan Committed To Women Empowerment across All Development Sectors
• Not Easy For Women to Pursue Music in Pakistan: Zoe Viccaji
• Laura Bush on Afghan Women, U.S. Interests And 2016
• Footprints: 'Afghanistan Has Become Hell for Women'
Compiled by New Age Islam News Bureau
URL: https://newageislam.com/islam,-women-and-feminism/new-age-islam-news-bureau/caritas-spain-is-helping-more-than-2,000-women-leave-prostitution/d/106695
-----------
Caritas Spain is helping more than 2,000 women leave prostitution
Madrid, Spain, Mar 17, 2016
According to a recent report from Caritas Spain, more than 2,200 women are receiving help in exiting prostitution thanks to the group's concentrated efforts in fighting human trafficking and supporting immigrants.
But, the group says that it's the support of public officials that is still desperately needed.
"We are appealing to elected officials and the public authorities to not turn a deaf ear or look the other way from the shame of this modern slavery that is prostitution and that is in plain sight," Caritas emphasized in its report.
Hilda Daems, who is in charge of the female prostitution program with Caritas, pointed out that the better part of the solution to this problem begins by focusing on the women and respecting their human rights.
Caritas Spain representatives presented their document entitled "Prostitution As Seen in the Experience of Caritas" at a recent press conference held at its Madrid headquarters.
The 80-page document analyzes the reality of prostitution as an area of social exclusion and examines how the Social Doctrine of the Catholic Church can, based on Caritas' 30-year experience in the field, be best applied to help.
The report looks the reality of this grave social phenomenon from the life experiences of the women who are being ministered to by different Caritas projects all over Spain. Some women in the report are still out working on the street and in clubs while others are recovering in care centers and shelters.
Among its findings, the report determined that these women have a similar profile: many are less than 25 years old, foreign-born, have little education, and dependent children. Less than 20 percent of them are Spanish.
The publication concludes with an extensive chapter containing proposals that would make it possible to transform the social reality underlying the persistence of this problem, namely poverty and organized human traffickers.
The report calls for educating young people in values, conducting public campaigns warning about the serious harms of prostitution, and supporting the needs of foreign women involved in prostitution in Spain by granting them access to the healthcare system.
Another proposal supports penalizing those who are profiting from human trafficking – a business which involves as much money on the international level as the arms trade or illegal drugs – as well as creating a comprehensive law against trafficking.
catholicnewsagency.com/news/caritas-spain-is-helping-more-than-2000-women-leave-prostitution-18389/?utm
------
'ISIS Barbarism Forcing Women to Join Them'
17th March 2016
NEW DELHI: At least 800 women from Iraq, Jordan and Syria were forced to join the Islamic State terrorist group recently, a US based Iranian journalist Azabeh Moaveni said at the India Today conclave here on Thursday.
"All these women had to join the terrorists as they had no other choice," Moaveni said claiming she talked to six of these fighters in Syria.
"IS have reintroduced the concept of sex slavery and they have been justifying it under the name of Islam," Moaveni said.
"This was the first Jihad where you can have female companion that maybe the reason why many people from Europe ended up joining IS. Later they realized that it gave no autonomy to the women," she said.
She said many of IS's top leaders are of British origin. Azabeh Moaveni covered the Middle East for Times magazine.
Counter-terrorism expert Daniel Benjamin said "they use women as temporary comfort for their fighters," adding that fear remains the most effective weapon of the IS to control its people."
"Other militia groups who don't impose barbarism are being endured by the people in Syria and other affected countries these days as it has evolved as another reason of worry for the global security establishment," he added.
A freelance photographer from Denmark Daniel Rye Ottosen who escaped from IS captivity after paying a ransom said, "The world has become a difficult place to live in as there (was) no space for freedom of expression."
"People who are joining IS from these countries believe that media is Islamophobic and it is lying to them."
newindianexpress.com/nation/IS-Barbarism-Forcing-Women-to-Join-Them/2016/03/17/article3332330.ece
-------
After Years Of Being Sidelined, Syrian Women Aim To Make History At Peace Talks
03/17/2016 02:54
Syrian women are taking a greater role than ever before at the peace talks in Geneva, although the extent of their influence in the discussions remains to be seen.
Every week, we bring you one overlooked aspect of the stories that made news in recent days. You noticed the media forgot all about another story's basic facts? Tweet @TheWorldPost or let us know on our Facebook page.
For five years, women have protested, fought, delivered aid, brokered peace and documented atrocities on the ground in Syria.
Yet, when Syrians tried to end the war, women were sidelined. They have been largely absent from the negotiating table in rounds of failed talks since 2012.
Fresh United Nations-brokered peace talks kicked off in Geneva this week, and many hope that a mostly observed cessation of hostilities and partial withdrawal of Russian troops are signs that the negotiations will be more successful than those of the past.
One aspect of the talks has already inspired some cautious optimism: More women are involved than ever before, but it remains to be seen how much influence they will wield over the discussions.
Last month, the U.N. announced the formation of the Syrian Women's Advisory Board — a group of 12 Syrian women from different professional, political and religious backgrounds to advise the U.N. special envoy overseeing the peace talks. The formation of the group, which is the first-ever formal women's advisory board to a U.N. envoy, is a "historic moment," said U.N. Women.
On the eve of the talks, Staffan de Mistura, the U.N. special envoy on Syria, made a point of meeting with the women's board.
"I strongly believe that this is a golden opportunity for Syrian women," Mouna Ghanem, founder of the Syrian Women's Forum for Peace and a member of the advisory board, told The WorldPost. Now it's crucial for the board to be able to influence all parties at the peace talks, and bring the women's agenda to the table, she said.
U.N. mediators plan to meet with the advisory board daily as they shuttle between negotiations with the opposition and regime teams. Each of those 15-person negotiating teams has three female delegates, a higher proportion of women than they have had during previous talks. The opposition team also set up its own all-female team of advisers last month.
The increased female participation in the talks is the result of years of tireless pressure by Syrian women.
Before the last major attempt at peace talks in 2014, Syrian women set up a network of civil society organizations called the Syrian Women's Initiative for Peace and Democracy, or SWIPD, to advocate for their ability to play a greater role in the negotiations.
The talks didn't go anywhere, but SWIPD continued to keep up the pressure, as did other prominent Syrian women's groups, including Ghanem's organization and a network called I Am She.
"Women are bearing the brunt of the war and keeping the country together," Randa Slim, the director of the Middle East Institute's Initiative for Track II Dialogues, told The WorldPost. "They are keeping the narrative of a united Syria alive."
One sign of the advocates' success came in December, when the U.N. Security Council adopted a road map for peace in Syria and emphasized the importance of women participating in negotiations.
De Mistura has also made the inclusion of women a much higher priority since taking over from previous U.N. special envoy Lakhdar Brahimi in 2014, experts said.
Yet many say the progress is long overdue and doesn't go far enough.
Several women's advocates said they're concerned about how much the advisory group will be able to influence the negotiations, arguing it should be a third party to the talks or directly advise the opposition and regime teams rather than just the U.N. envoy.
"It is a small step in the right direction," the Middle East Institute's Slim said. "As long as we keep women in a separate group their impact is limited... they need to be at the heart of the negotiation."
"We don't want this group to be a rubber stamp to what's agreed by a roomful of men," she said.
Several advocates also argued that women need to make up 25 or 30 percent of the negotiating teams to really have clout, and that much depends on whether women get leadership positions on committees that may be formed to work on specific issues, like detainees, if talks progress.
Research shows that peace agreements that include women have a better chance of succeeding.
The future of Syria depends on women having seats at the negotiating table, advocates say. International studies show that peace agreements reached with women's involvement are more likely to last.
"Peace processes are not only about dividing the pie, but about reconciliation, economic development, education, transitional justice," Slim said. "Women are already dealing with these issues, so they are in the best position to come up with practical solutions."
"It's not just good will to include women, it's pragmatic," she said.
Women have played a prominent role in protests and documenting human rights violations since the beginning of the Syrian uprising in 2011. Men make up the majority of fighters in Syria, and women in refugee camps and communities across Syria have increasingly taken on leadership roles in their absence — including working in field hospitals, keeping schools open and brokering local ceasefires.
Yet, peace talks tend to overlook how important women are in Syrian society, Ghanem said.
"Are we going to let those who destroyed Syria, who committed huge human rights violations against women and children, destroyed the country infrastructure, created with their actions the horrible ISIS — are we going to let them design the future of Syria?" she asked.
Allowing Syrian women to strongly influence the talks could set an important precedent for other conflicts in the region, said Mohammad Naciri, the regional director for U.N. Women in the Arab world.
If women take a prominent role in the Syria talks, it could provide a model for other conflicts in the region, said the regional U.N. Women director.
These efforts come 16 years after the U.N. Security Council passed resolution 1325 urging the inclusion of women in conflict resolution and peace-building. In reality, little progress has been made.
"It's time we women take our rightful place," Zainab Bangura, the U.N. Special Representative on Sexual Violence in Conflict, said Wednesday at a U.N. breakfast meeting on peace and equality, lamenting the huge efforts that were needed just to get Syrian women a role at the peace talks.
"You cannot have half a peace. ... There is no way you can actually have anything if half of the population is left out," she said.
huffingtonpost.com/entry/syria-women-peace-talks_us_56e9cdeae4b0860f99db7d7c?cps=gravity_5020_-1044734259837214430&kvcommref=mostpopular&section=india
--------
Bradford West MP Naz Shah Tells Of 'Smear Attempts' By Party Members
Naz Shah
Mar 18, 2016
A Labour MP claims she has been the victim of "damaging" attempts to smear her reputation by some members of her local party.
"Clan loyalties" within parts of her community saw women blocked from political office, Naz Shah, MP for Bradford West, told BBC Newsnight.
A Muslim women's group has made similar claims of "systematic misogyny".
Labour said it had the best record of any of the parties in selecting female and ethnic minority candidates.
But Ms Shah said in her experience of some areas, "the kind of misogyny that exists is quite shocking".
On one occasion she was excluded from a meeting where party members agreed to look for "evidence to desecrate my character", she said.
One person had a print-out of a photograph of Ms Shah at a party which was used to suggest she drank alcohol, she said.
"Because I'm a Muslim woman who lives in Bradford, that would really be very damaging for me culturally," she said.
"It was just a picture of a friend and me at a party, and that was it - there was a bar behind, but I've not got a drink in my hand. I don't drink alcohol. But it's damaging."
'Power politics'
She added that there were some "very dubious practices" within some wards within her constituency where there was "a higher volume of Pakistani membership. That is a fact."
"It's a culture of gatekeeping. It's a culture of power politics for the sake of having power, and that power resides with men," she said.
"It's family loyalties, it's clan loyalties, it goes back to a Pakistani model of doing things."
She said some "good guys" in the community had advised her not to challenge it, saying "they will ruin you, just back down".
But she had felt compelled to speak out because "politics needs women, and women deserve better".
"We should be transparent and open and if there is anything that we need to be doing, including an inquiry, we should be doing it," she said.
She had had the utmost support from Labour leadership, and would be meeting party leader Jeremy Corbyn soon, she added.
'Pressured to be silent'
Newsnight has previously reported claims by Muslim women within the Labour party that they are blocked and intimidated out of local politics by cliques of men within the party from south Asian communities.
Gavin Shuker, MP for Luton South, previously told Newsnight he had felt "extremely pressured to be silent on the things I know to be true".
"I've been disappointed with the response from the Labour Party".
Last month the charity Muslim Women's Network UK wrote to Mr Corbyn claiming women have been stopped from becoming councillors by Muslim men in the party.
The Labour Party says it has been "at the forefront of the fight for women's equality". It added: "We have transformed the representation of women in politics."
"Any complaints or evidence of sexism or intimidation received by the Labour party are dealt with fairly according to our procedures and the law"
bbc.com/news/uk-politics-35839823
-----
Afghan rights activist, entrepreneurs included in Young Global Leaders list
By Khaama Press - Fri Mar 18 2016
A prominent women's rights activist and ex-member of the parliament Farkhunda Zahra Naderi has been included along with two prominent entrepreneurs among the 2016 class of the Young Global Leaders by World Economic Forum.
World Economic Forum is a Geneva-based non-profit foundation which selects the most enterprising, innovative, socially minded, and exceptional leaders under the age of 40, each year.
Miss Naderi has been selected among the 2016 class of Young Global Leaders for her role as one of the youngest elected members of the Afghan parliament and well regarded social activist.
The foundation recognized her for advancing women's rights in Afghanistan and participation in politics.
The two other young Afghan entrepreneurs included in the list are Fahim Hashimy, the Chief Executive Officer of Hashimy Group, and Hassina Syed, the owner of Syed Group.
Hashimy has been recognized as a successful businessman despite challenges he faced in an extremely volatile environment in Afghanistan where has has risen from a boy who was beaten by the Taliban.
He is running a powerful conglomerate of Afghan businesses, including a TV channel, an airline, and a supplier of fuel and boots to the Afghan National Army.
Meanwhile, Hassina has been recognized for her role in as one of the most successful entrepreneurs in Afghanistan who found the Afghan National Women's Organization.
"She is the only female member of the 3,000-strong Afghan Chamber of Commerce and she runs her business despite threats made against her and time spent in a crowded Kabul jail for failing to pay protection money to the police," according to a brief introduction of Hassina listed by World Economic Forum among the 11 Young Global Leaders.
The Geneva-based foundation introduced the 2016 class of the Young Global Leaders in a release on Wednesday, saying "As global industry, government and civil society evolve to confront a world defined by the Fourth Industrial Revolution, these new members of the Young Global Leaders (YGL) include scientists opening up their data to the world, a member of parliament fighting for gender equality in Afghanistan, an entrepreneur who is redefining nuclear energy production with circular economy models, pioneers from the sharing economy, and an actor who gives a damn and puts his money behind it."
Women represent a majority in this year's class, and with over half the intake coming from emerging economies, the world's future leadership is becoming more broad-based in terms of both gender and geography. Alongside 28 selected from North America and 26 from Europe, the YGL class of 2016 includes 15 YGLs from East Asia, 10 from South Asia, 10 from Greater China, 10 from Sub-Saharan Africa, 12 from the Middle East and North Africa, eight from Latin America, and four from Eurasia.
khaama.com/afghan-rights-activist-entrepreneurs-included-in-young-global-leaders-list-0375
-------
WINNER OF GREAT BRITISH BAKE OFF PROUD TO REPRESENT MUSLIM WOMEN
THE GREAT BRITISH BAKE OFF WINNER NADIYA HUSSAIN PROUD TO REPRESENT MUSLIMS, BENGALIS, AND STAY-AT-HOME MUMS
Mar 18, 2016 6:00am
BY LISA TWANG
As the first female Muslim contestant on British reality TV culinary series The Great British Bake Off, Nadiya Hussain naturally attracted a lot of attention.
And even more so since winning the sixth season which aired in the UK last October, where she beat 11 other amateur bakers competing each week in signature, technical and showstopper challenges.
The 31-year-old mother of three children aged nine, eight and five, who is a British citizen of Bangladeshi descent, has become a food columnist, TV show panelist and author, with two cookbooks due later this year.
The Great British Bake Off 6 is currently airing on BBC Lifestyle (StarHub Ch 432) on Wednesdays at 7.10pm. The finale airs on April 27.
HIJAB
"I was concerned about my hijab, and was afraid people would pre-judge me and think I couldn't bake," Nadiya told The New Paper over the phone from her home in Milton Keynes, England.
"But me being Muslim did not in any way restrict me on the show. All the ingredients, like powdered gelatine, were halal, so it was never an issue."
Despite having to fast during Ramadan for the show's final few weeks of filming, Nadiya took it in her stride.
"It was hot in the Bake Off tent, but I was running on adrenaline and didn't need food or water.
"I didn't even get to taste my bakes, but I'm used to that. If I tasted everything I made, I would be the size of a house!"
Nadiya gained a legion of fans for her impressive creations, quirky facial expressions and inspiring winner's speech.
"I'm never gonna put boundaries on myself ever again. I'm never gonna say I can't do it... I can and I will," she declared during the finale, moving the show's judge Mary Berry to tears.
Still, Nadiya attracted her fair share of haters because of her faith.
"A lot of people commented online that I shouldn't have won, because I'm Muslim and not British enough," she said. "They think a British person cannot wear a hijab or turban.
"It did upset me, and I was more sad than angry. I was born and raised in the UK, and I feel absolutely British."
As people around her were concerned for her safety due to anti-Islamic threats on Twitter, the police even went to the Hussains' home for a few days to check on them, but Nadiya remained unfazed.
"We had a great time when the police came, actually," she said. "I even baked for them every day."
She admitted she has gone from being a shy, anxious person to a confident woman as a result of being on The Great British Bake Off.
"I was a housewife for about 10 years, and used to be afraid of going on public transport and leaving the house without my husband or children. I used them as a crutch, I think.
"It was my husband who encouraged me to apply for the show. He said, 'You're a really good baker, and you need to do this for yourself'."
During the final episode, Nadiya's husband Abdal, a 34-year-old IT professional, also caught the eye of several viewers who described him as a "stone cold hottie" and a "dreamboat".
"It was a bit unfair, because I won and he ended up getting all this attention from women," she joked. "It would've been easier if he had just been ugly.
"He got a massive shock, but we're used to the attention now. I understand people's need to give their opinions on social media, and I don't mind sharing some of the limelight with him."
Ultimately, Nadiya is grateful for the chance to inspire others through her win.
"I came into the competition as an individual, but I've ended up representing Muslims, Bengalis and stay-at-home mums.
"I am so happy now because I feel like I'm finally the mum I wanted to be. Now when I tell my kids to have confidence in themselves, and not to be afraid of being Muslim or brown-skinned, I can really mean it."
I was a housewife for about 10 years, and used to be afraid of going on public transport and leaving the house without my husband or children... It was my husband who encouraged me to apply for the show.
- Nadiya Hussain, winner of The Great British Bake Off
I didn't even get to taste my bakes, but I'm used to that. If I tasted everything I made, I would be the size of a house!
- Nadiya Hussain on having to fast during Ramadan for the show's final few weeks of filming
tnp.sg/news/singapore-news/winner-great-british-bake-proud-represent-muslim-women
-------
Pakistan committed to women empowerment across all development sectors
March 18, 2016
NEW YORK (Staff Report) – Pakistan told the world body that women empowerment in the country has been included in the long-term national planning framework, known as Vision 2025.
Speaking in the 60th Session of the Commission on the Status of Women at the UN Headquarters, Leader of Pakistan delegation, Barrister Zafarullah Khan, Minister of State for Human Rights said that Vision 2025 commits to pursue women empowerment as a key priority area across all sectors of planning and development.
"It focuses on providing an enabling environment to every woman to develop her full potential and to equally share benefits of economic and social development", he added.
Barrister Khan said that various existing laws have been changed and new laws have been enacted to protect and enable women to realize their rights on equitable basis.
Pakistan, he said, has established autonomous Commissions on the Status of Women at the federal and provincial levels. Women Development Departments have been set up at provincial levels to work for betterment of women. Ombudsperson mechanisms have been set up to exclusively deal with cases involving women rights.
Barrister Khan told the Commission that Pakistan has undertaken practical measures to convert dream of gender equality into reality. "The Prime Minister has launched special initiatives for women development including provision of interest free loans, better educational facilities, skill development, and health cover", he added.
Speaking about the National Action Plan, he said that the government has recently approved an ambitious plan to promote human rights in the country. The Plan, he said, sets out four key priority areas of gender equality, with special focus on protection of women from all forms of violence.
"These practical measures demonstrate a strong commitment of Pakistan to protect, promote and empower women to become equal and dignified citizens".
Pakistan, he said, had supported Goal 5 of the Sustainable Development Goals, that concerns gender equality and women empowerment, from the very beginning. "We are determined to achieve it", he emphasized.
The Government of Prime Minister Nawaz Sharif, Barrister Khan said, is pursuing an integrated policy, which, is underpinned by legal, institutional, and administrative measures, to ensure timely and effective progress in all areas of concern.
He concluded by assuring the international community of Pakistan's unequivocal and unambiguous determination to fulfill all its national and international obligations regarding women empowerment.
en.dailypakistan.com.pk/pakistan/pakistan-committed-to-women-empowerment-across-all-development-sectors/
-------
Not easy for women to pursue music in Pakistan: Zoe Viccaji
March 17, 2016
Singer-songwriter Zoe Viccaji said there are few things that women can do freely in Pakistan and pursuing music is not one of them. "It was only because I had faith in what I was doing that I was able to make strides in my career," she said.
She was speaking at a panel discussion, titled 'Women In Music', at the US Consulate in the city on Wednesday. Flanked by Pakistani tabla player Abeir Shan, American musician Laura Jorgenson and University of Texas at Austin Associate Professor Sonia Tamar Seeman, Viccaji said that she can be an inspiration to other Pakistani girls who want to chase their dreams. That doesn't mean it's all a bed of roses for the Coke Studio star. "I can travel and make my way around Pakistan because I have travelled alone. But if I were to ever visit Afghanistan, or Chitral for that matter, I would have to take a male companion with me," she said. Viccaji said repeatedly being told by parents that there is a risk involved in whatever she does is not easy to deal with.
"Then there is another problem. The male musicians I meet are not always interested in my music. They end up being interested in me," she said.
"I was once doing this jingle for a telecommunications company alongside Ali Zafar who wanted me to adjust my vocal scale, instead of him altering his own. I ended up not doing that project." Drawing parallels with her experience of working with Strings, she said, "Bilal Maqsood was very understanding when it came to Bichra Yaar and the song did well."
The session was arranged as part of the Women's History Month. PHOTO: PUBLICITY
Fawad, Jimmy, Zoe make Lahore laugh, cheer and clap
Also speaking on the event that was arranged as part of the Women's History Month, Shan said she was always mocked for taking up table playing. While some questioned her taking a different career route after graduating from the Pakistan Institute of Fashion and Design, others discouraged her by saying that her interest is more of "pehelwaanon ka kaam" (a wrestler's job). However, she seldom paid attention to the naysayers. "It was always about following my passion and not about where I would be paid," she said, adding, "Society needs to revise the perception about girls that they are useless, weak and scared creatures."
While Seeman also believes it is important for every woman to follow her heart, she highlighted the limited opportunities for female musicians as compared to those at the disposal of their male counterparts. "Knowing how to use the equipment [instruments] itself, is very inspiring. People in general feel women are not as physically capable as men. They hence are more sensitive to power relations and get exploited," she said. The academic said restricted opportunities are not the only problem; safety in public spaces is another important issue.
Would love to collaborate with Sajjad Ali: Zoe Viccaji
Jorgensen said for women, working in a male-dominated society makes it even more difficult for them to perform. "There's a lot of difference between what we as women can do and cannot do. There are too many stereotypes assigned to both genders in every society."
Renowned ghazal singer Tina Sani was also among those present at the event. She raised the question about whether marriage deters women from their musical careers or not. "If a mother can do everything for the child, the father too can fill her boots at times," responded Seeman.
tribune.com.pk/story/1067655/not-easy-for-women-to-pursue-music-in-pakistan-zoe-viccaji/
-------
Laura Bush on Afghan Women, U.S. Interests and 2016
Mar 17, 2016
Former first lady Laura Bush has written the introduction for a new book, We Are Afghan Women: Voices of Hope, published this month by Scribner. She sat down this week with USA TODAY's Capital Download to discuss why she hopes the United States will maintain a troop presence and continue reconstruction aid in Afghanistan despite the public's weariness about America's longest war. She also touched briefly on the 2016 presidential race and Donald Trump. Questions and answers have been lightly edited for length and clarity.
Q: There's no shortage of causes that vie to get the attention of the first lady. The cause of Afghan women and girls is something you adopted weeks after the 9/11 attacks and have kept up for the 15 years since then. Why?
A: Because they needed help, I think. I think American women were shocked after Sept. 11 when the spotlight turned on Afghanistan and we saw a country where women were brutalized, really, and were marginalized. And what we saw in a country where half of the population is left out, is a failed country. And that's what Afghanistan was. ...
Q: Last October, President Obama changed course and decided to keep a significant number of U.S. troops there. You thank him for that.
A: Yes, I think that's really important — that we give them that stability that security forces there give them as they try to build their country.
Q: What would have happened?
A: I think they would have been set back. I think it would be very, very difficult for Afghanistan, like it has been for Iraq. And I think things that have happened in Iraq would start to happen there.
Q: Things like?
A: Still brutal attacks by the Taliban. They're not gone. What happens when we stay there is we just give them the security that allows them the stability to be able to form the institutions that they have to form to support a democracy. ...
Q: When there's a new president in January, do you see a role for yourself in making this case to the new administration?
A: I hadn't thought about that but certainly I would be happy to talk to anyone about why I think it's important. That's why I wrote the book. The women from Afghanistan didn't have a voice. You couldn't hear from them. They didn't speak up. In fact, women were in prison for speaking up or for laughing out loud. ....
"We Are Afghan Women: Voices of Hope" "We Are Afghan Women: Voices of Hope" (Photo: Scribner)
Q: Afghanistan is America's longest war. We've spent so much there in lives and treasure, now spending more on reconstruction there than in the Marshall Plan in Western Europe after World War II. Some Americans say: It's time for us to get out. It's up to the Afghan people.
A: And it is up to the Afghan people. There's no doubt about them. It's up to them to build their country or rebuild their country. And in this book, there are many women who want to do that. A lot of them left Afghanistan. They left when the Soviets came in in 1979 with their parents; they went to Pakistan. A lot of them immigrated to the United States. Some are now U.S. citizens. But they still felt called after Sept. 11 to go home. And many of them are the ones who have founded a lot of the programs that are supporting women in Afghanistan now. ...
Q: Why should the U.S. continue to invest so much there?
A: I think it's in our interests. It's in our security interests. We don't want to see another failed country there. That's what we saw on Sept. 11, and we don't want to see that now. I know Americans are impatient. But we just need to look at our own history, and we need to stay with these countries and help them as long as it takes, and to have them as an ally.
We stayed in Japan for years after Pearl Harbor and after World War II. In fact, I think we still have bases in Japan. But now Japan is one of our closest allies. They're one of our best friends. And certainly when George (W. Bush) was president and Prime Minister (Junichiro) Koizumi was prime minister, George marveled at the idea that his father and Prime Minister Koizumi's father had been sworn enemies, and now Prime Minister Koizumi was the very first one that called us to offer help after Sept. 11.
Q: Your new book is titled "Voices of Hope." But in some ways it's hard to be hopeful about Afghanistan. The Taliban now control more territory than they have since the war began. Are the gains pretty fragile?
A: Yes, absolutely. That's why we need to stay engaged. That's the very reason we need to stay engaged. If we thought they were secure, then we wouldn't need to be there and be engaged, but they're not. ...
Q: Do you have a favorite "Voice" in the book?
A: One that I was with yesterday – a woman who talked about how she daydreamed as a child, and she daydreamed that she was going to be different from all the other women there, that she was not going to have to be like they were and never say anything and never be anywhere, and in fact she was going to be a surgeon. And she spent her childhood daydreaming. And I felt, I kind of could empathize, because as an only child I did a lot of daydreaming as a child, too, and thought about what would my life be like, too. I'll have to say I didn't daydream what actually happened.
She ended up getting a scholarship to go to college through our program to educate Afghan women, and went to college. She's an economist. She works for a big accounting firm now. But just her whole idea of not wanting to be like everyone else, all those other women, not being able to speak and not being able to uncover, and then having that opportunity to go to college. We as Americans gave her that opportunity. ...
Q: You're a Republican.
A: That's right.
Q: If Donald Trump is the Republican nominee, will you vote for him?
A: Susan, I'm not going to answer. Don't ask that.
Q: You've stayed on the sidelines in politics since leaving the White House, and so has President Bush. ...
A: We got off the sidelines for Jeb (Bush). He was our candidate.
Q: But in your book it's clear that you don't think Islam hates America, or that all Muslims should be banned from entering the United States. Is there a point where you would feel compelled to come off the sidelines to speak out?
A: This is what I want Americans to remember -- what our real values are. And one of the very first things, one of the reasons we're a country is because we believe in freedom of religion. We believe that people could be religious. They could choose any religion they wanted to, or they could not worship, if they didn't want to. We don't have any religious test in the United States. And that's what we need to remember. We need to remember what our own values are.
We have a tendency in the United States, and it's happened other times in our history, to become sort of isolationist and xenophobic and, you know, we're just going to stay here together and not pay attention to the rest of the world. And it's something that we have to pay attention to now because our world is so small. And it's important for us — even though we've gone through these stages many other times in our history — to pay attention to the rest of the world.
myfoxzone.com/story/31496163/laura-bush-on-afghan-women-us-interests-and-2016
-------
Footprints: 'Afghanistan has become hell for women'
ALI M. LATIFI,Mar 18, 2016
KABUL: When news first spread last year that a young woman had been beaten to death in one of the Afghan capital's most famous shrines, it left many in the nation with conflicting feelings of anger and confusion.
In the initial hours, the woman — still anonymous in her black chador — had been accused of burning pages of the Quran in central Kabul's Shah-Do Shamshira shrine. This left many, including the mullah of one of the capital's most famous mosques and a female deputy of the ministry of information and culture, praising the mob of angry men and women who beat her to death.
By the evening, the family of the woman identified as Farkhunda Malikzada had been coerced by security officials to claim their daughter suffered from an unspecified mental illness, leading to further confusion among the public.
The next day saw the spread of false rumours that Malikzada had run away from home and came to the shrine with 20 verses of the holy book in her hand.
However, by the following evening security and religious officials had declared that the papers Malikzada — a 27-year-old student of Islamic Studies — was accused of burning were in fact Dari-language tawiz, charms, and not pages of the Muslim holy book.
Suddenly, the conflicted feelings of the people turned to outright anger.
A young woman who dared to speak out against the commercialisation of religion and traditional superstitions had been viciously murdered after the guardian of the shrine — whom she accused of being a charlatan — falsely claimed she had desecrated the Quran.
In the following weeks, a massive public outcry, including a protest of nearly two thousand people outside the Supreme Court, was supposed to mark a red line in the sand.
No longer would the Afghan people stand for the abuse and harassment of women across the country.
However, in the year since her death, activists and politicians deride the trial that was meant to punish the dozens of people who beat Malikzada and dragged her dead body from a car before ultimately setting it on fire in one of Kabul's most-trafficked areas.
What's more, attendees at an event meant to inaugurate a monument in Malikzada's honour say the impunity of people accused of abuses against women persist.
The red line quickly faded and the status quo has been maintained.
"It should have set a precedent, but what we've seen is that nothing has changed," said one young woman in attendance at the gathering.
The woman, who would not disclose her name due to security concerns, said what happened to Malikzada is the ultimate embodiment of failed Western efforts to help Afghan women.
"In the 15 years since the US occupation we've seen small changes, but nothing meaningful or foundational," said the 20-something who hid her face with a blue surgical mask.
When the US-led coalition first set out to topple the Taliban government in 2001 the condition of women during the group's six-year rule was often heralded as one of the main impetuses behind the invasion.
"Rather than helping the Afghan people, including women, the foreign presence shows that the West has only driven our own people apart and led to more death and destruction."
Others say the government itself failed to do their duty and protect Malikzada at the time of her murder.
"There's no way a dozen or so police could have controlled a crowd of hundreds by themselves, but why was there no backup sent, why didn't the higher ups intervene and send re-enforcements," said Selay Ghaffar, spokeswoman for the Solidarity Party of Afghanistan, who organised the gathering.
Looking at the dozens of police in riot gear standing watch over the 200 attendees, Ghaffar said the police failed to do their jobs on that day.
Last year, a court handed 11 police officers one-year sentences for dereliction of duty and acquitted eight others.
The police sentencing once again ignited anger among the public as amateur mobile phone footage captured at the scene seemed to show police doing little to stop the mob who beat Farkhunda with large stones and sticks and ran over her body twice with a Toyota hatchback.
The verdicts for the men accused of taking part in her death — including the guardian of the shrine who initially provoked the mob — proved even more disenchanting.
Initially, the three-day trial resulted in death sentences for four of the men and 16-year terms for eight others. However, earlier this month it was confirmed that the death sentences were commuted to three 20-year terms — including an intelligence agent who had bragged about his role in the killing in a now deleted Facebook post — and one 10-year term.
A police commander, who did not want to be named because he was not allowed to speak to media, said it was a tragedy that never should have happened and it showed how stretched the police are everywhere. "At that time they were especially under pressure because there were preparations for Nowroz, the Persian New Year, the following day."
For Ghaffar the verdicts along with other cases of violence and abuse against women in the last year — including the public stoning of a 19-year-old woman accused of adultery in the central province of Ghor — prove the situation for the nation's women has only gotten progressively worse.
Though cases like Malikzada's received massive public attention, thousands of other cases of abuse against women go unreported each year.
According to the United States Institute for Peace, 87 per cent of Afghan women have been subject to domestic abuse at least once in their lifetime.
"Afghanistan has become a hell for women."
dawn.com/news/1246405/footprints-afghanistan-has-become-hell-for-women
URL: https://newageislam.com/islam,-women-and-feminism/new-age-islam-news-bureau/caritas-spain-is-helping-more-than-2,000-women-leave-prostitution/d/106695
New Age Islam, Islam Online, Islamic Website, African Muslim News, Arab World News, South Asia News, Indian Muslim News, World Muslim News, Womens in Islam, Islamic Feminism, Arab Women, Womens In Arab, Islamphobia in America, Muslim Women in West, Islam Women and Feminism