New Age Islam News Bureau
16 November 2020
• Female Breadwinner Crafters To Receive Support in Tehran
• Movies From Iran Line Up For Herat Women's Festival
• Emily Kristine Pedersen wins Aramco Saudi Ladies International
• Women's Inclusion In Industries Vital For Progress: Pakistan First Lady
• Turkey: Where Women Against Femicide Stand Trial
Compiled by New Age Islam News Bureau
URL: https://www.newageislam.com/islam-women-feminism/caritas-pakistan-examines-forced-conversion/d/123481
--------
Caritas Pakistan Examines Forced Conversion, Child Marriage
November 15, 2020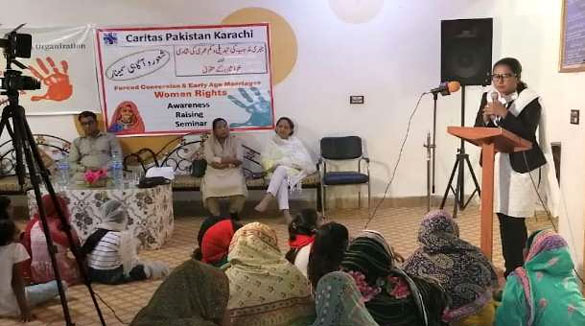 The seminar held by Caritas Karachi and the Catholic Women's Organization on Nov. 13. (Photo supplied)
------
Caritas Pakistan's Karachi chapter and the Catholic Women's Organization (CWO) jointly organized an awareness seminar with women and girls on forced conversion, child marriage and women's rights.
The event took place in Kausar Naizi Colony, a Christian neighborhood of St. Jude's Parish of the Archdiocese of Karachi, on Nov. 13.
The objective of the seminar was to create awareness in the context of the Arzoo Raja case.
Arzoo, a 13-year-old resident of Karachi's Railway Colony, was abducted, married off to a 44-year-old Muslim man and converted to Islam. Her family are fighting a legal battle for her custody.
The case sent shockwaves throughout Pakistan, prompting religious minorities, particularly Christians, to hold nationwide protests.
"Mothers play a very important role in family building to protect young girls from falling into the trap of wolves who prey on young girls and change their religion," said Sister Catherine Qasir, a CWO coordinator.
"We must daily pray with all family members to spiritually strengthen and renew our faith in Jesus Christ and to fight against the forces of evil."
Tabassum Yousaf, a high court lawyer and counsel for Arzoo, shed light on the legal rights of minority girls as per the constitution of Pakistan.
"Although abduction of an individual for the purpose of forced marriage is a criminal offense in Pakistan, it is one of, if not the most, widespread reported crimes against women in the country," she said.
Yousaf advised girls about how to keep themselves safe. She urged them to memorize the cellphone numbers of their parents and siblings. She called on mothers to spend time with their daughters, befriend them, patiently listen to their problems and address them with love, care and respect.
"We must reinforce our commitment to provide quality education and equal opportunities to our young girls and children and start this from our family," she added.
Mansha Noor, executive secretary of Caritas Karachi, said the Arzoo Raja case provides a useful opportunity for mothers and girls to learn about the menace of forced conversion and child marriage and their negative impact on society.
"What we learned from this seminar we must share with others and start implementation from our family if we have to save and protect young girls and children," Noor said.
"We must remember the most beautiful quote of St. Mother Teresa on the family that 'the family that prays together stays together, and if they stay together they will love one another as God loved each one of them.'"
https://www.ucanews.com/news/caritas-pakistan-examines-forced-conversion-child-marriage/90304#
--------
Female Breadwinner Crafters To Receive Support in Tehran
November 15, 2020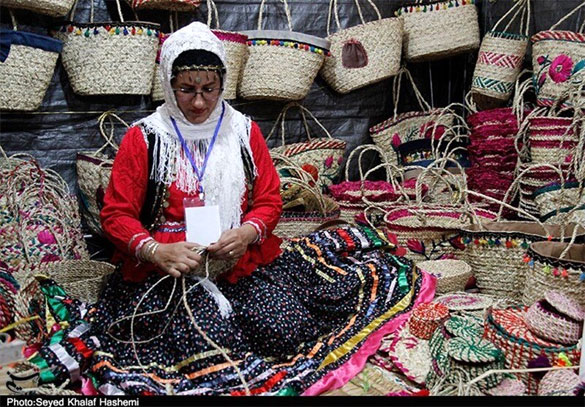 The ministry has secured an agreement with the Keramat Razavi Foundation to cater to low-interest loans, grants, domestic markets, and online sales to craftswoman in particular breadwinner ones.
A memorandum of understanding was inked in this regard by the deputy tourism minister Pouya Mahmoudian and the CEO of Keramat Razavi Foundation Mohammad Hossein Ostadaqa on Saturday.
According to deputy tourism minister Pouya Mahmoudian, establishing handicraft markets will be one of the most important measures to create sustainable jobs for artisans. "In this line, an online exhibition of handicrafts will be held in which all artisans from across the country can offer their products without the need to pay any fees."
The first phase of the plan will address women-headed households, whose jobs have been affected by the coronavirus pandemic in the eight provinces of Khorasan Razavi, South Khorasan, North Khorasan, Kordestan, Sistan-Baluchestan, Khuzestan, Lorestan, and Golestan, CHTN reported.
It aims to create and maintain jobs for 1,500 people through allocating 80 billion rials (some $1.9 million) to around 400 women breadwinners, the report added.
Back in May, Mahmoudian noted that due to the outbreak of coronavirus, suitcase exports of handicrafts were completely stopped since the month of Esfand (the last month of the year), and official exports of handicrafts experienced a steep decline.
"Some 295 fields of handicrafts are currently practiced across Iran with more than two million people engaging, majority of whom are women… Handicrafts also play an important role in the economy in our rural villages," she said.
In Iran, there are 3 million women-headed households, out of a total of 22 million families, and most of them can be found in less developed areas of the country.
The country exported $523 million worth of handicrafts during the past calendar year 1398 (ended March 19). Of the figure, some $273 million worth of handicrafts were exported officially through customs, and about $250 million was earned via suitcase trade (allowed for customs-free and tax-free transfer) through various provinces, according to data provided by the Ministry of Cultural Heritage, Tourism and Handicrafts.
Support package approved for corona-affected tourism businesses
The National Headquarters for Coronavirus Control has recently approved a new support package to pay loans to businesses affected by the coronavirus pandemic.
Depending on the type and activity of the businesses, they could benefit from at least 160 million rials ($3,800 at the official rate of 42,000 rials) to nine billion rials ($214,000) of bank loans with a 12-percent interest rate, deputy tourism chief Vali Teymouri announced on late in October.
The loans are planned to be allocated to tourist guides, travel agencies, tourism transport companies, tourism educational institutions, eco-lodges and traditional accommodations, hotels, apartment hotels, motels, and guesthouses as well as traditional accommodation centers, tourism complexes, and recreational centers.
In September, Teymouri pointed to the 1.3 million tourism workers in the country, who are facing several issues due to the coronavirus crisis and said "This number, in addition to their households, includes a significant population that makes a living through tourism, who are needed to be considered in ministry's decisions."
Back in April, the government announced it will support those which are grappling with fiscal problems by offering loans with a 12-percent interest rate. The Ministry of Cultural Heritage, Tourism and Handicrafts also suggested a rescue package for tourism businesses. The government has also allocated a 750-trillion-rial (about $18 billion) package to help low-income households and small- and medium-sized enterprises suffered by the coronavirus concerns.
https://www.tehrantimes.com/news/454674/Female-breadwinner-crafters-to-receive-support
--------
Movies From Iran Line Up For Herat Women's Festival
November 14, 2020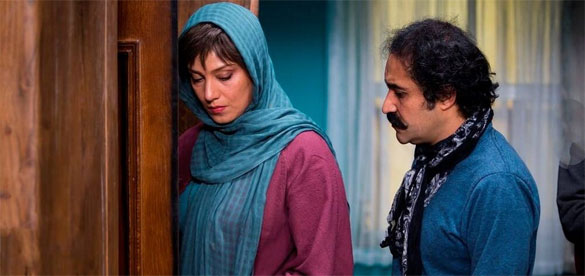 "Axing" by Behruz Shoeibi will be screened in the International Narrative Feature Films Competition. It is about Mahsa, an addicted woman who thinks that her girl is dead but when she finds out that her daughter is alive and lives with her father (Mahsa's ex-husband), she decides to take her back. This forces her to face her ex-husband and his new wife.
"Goodbye Shirazi Girl" by Afshin Hashemi and "Just 6.5" by Saeid Rustai will also compete in this section.
"Khatemeh" by Hadi Zarei and Mehdi Zarei and "Wedding of Zinat's Son" by Farhad Varahram have been selected to be screened in the International Documentary Feature Films Competition.
"Khatemeh" is about a 14-year-old Afghan girl named Khatemeh living in Iran with her family. She is forced to marry the husband of her late sister who died by suicide, but after a while, she escapes from home to save her life from her husband and her brother's torture and takes refuge in the Welfare Organization of Shiraz.
"Wedding of Zinat's Son" is the story of the wedding of Zinat's son, which is held over six days in Salkh Village on Qeshm Island in the Persian Gulf.
"Birthday" by Atefeh Khademorreza, "A Trip to the Moon with High Heels" by Fatima Momeni, "On Foot" by Shokufa Karimi, "Funfair" by Kaveh Mazaheri, "The Visit" by Azadeh Musavi and "Beloved" by Yasser Talebi will be competing in the short film category.
In the animation film competition, "This Side, Other Side" by Lida Fazli and "Tangle" by Maleha Gholamzadeh will be screened.
"Anahid" by Hamidreza Alipur is the sole Iranian film selected to be screened in Special Screenings, a non-competition section of the festival, which is an iconic and the most prestigious women's film event in the region.
https://www.tehrantimes.com/news/454643/Movies-from-Iran-line-up-for-Herat-women-s-festival
--------
Emily Kristine Pedersen wins Aramco Saudi Ladies International
CHITO P. MANUEL
November 15, 2020
KING ABDULLAH ECONOMIC CITY: Danish star Emily Kristine Pedersen won a playoff against England's Georgia Hall on Sunday in a fitting climax to the first-ever women's golf tournament staged in Saudi Arabia.
Pedersen claimed the inaugural Aramco Saudi Ladies International at the Royal Greens Golf & Country Club in style with a birdie on the extra hole after Hall dumped her second shot into the water that led to a bogey on the par-5 No. 18.
"It's stressful being in playoff because it's head to head but gives you opportunity to go for everything. And I think I did and I'm really happy," a beaming Pedersen told the media after the awards ceremony for the tournament, presented by Public Investment Fund (PIF).
The event will segue to the Saudi Ladies Teams International on Tuesday, completing a historic week for women's golf in the Kingdom.
Hall, who shot a course record 7-under 65 in the first round — matched by Sweden's Caroline Hedwall the following day — started the fourth round of the 72-hole Ladies European Tour event in the last group with overnight co-leaders Lydia Hall of Wales and Pedersen.
Georgia hit the turn with the lead after back-to-back birdies from No. 6. She bogeyed the 12th hole, but regained her edge with another birdie on the next, setting the stage for a virtual match play the rest of the way with Pedersen, as her Welsh namesake unraveled with a triple-bogey seven and bogey on holes 14 and 15 for a 76.
Pedersen and Georgia Hall both had chances of outright victory in regulation play, but blew it. Under pressure, Pedersen flubbed a 12-footer for eagle and Hall a 6-footer for birdie. They finished 72 holes tied on 10-under 278, with final round cards of 71 for Hall and 72 for Pedersen.
Pedersen came back with greater resolve in the playoff.
"After the eagle miss, my caddy and I decided to go for the win. It was a little right (second shot), a difficult chip and I pulled it off," said Pedersen.
After hitting a perfectly executed chip shot from 20 yards, Pedersen was left with a tap-in birdie putt and raised her arms in triumph after sinking the winning three-footer.
"It's really great to come here, and people have been so helpful and nice. It has been a great experience," she added.
Hedwall closed with a 68 for 8-under total of 280 in third place. Dutchwoman Anne Van Dam was tied fourth with Stephanie Kyriacou of Austria on 7-under, followed by a four-way logjam at 6-under that included Hall, Spain's L. Sobron Galmes and Charley Hull of England.
After a day's rest on Monday, the players will return to the premier championship golf course at King Abdullah Economic City for the $500,000 Saudi Ladies Team International (Nov. 17-19), a first-of-its-kind tournament where 36 team captains recruit their players using a live NFL-style draft system, before competing for a share of $500,000 prize money.
https://www.arabnews.com/node/1763486/sport
--------
Women's Inclusion In Industries Vital For Progress: Pakistan First Lady
16 Nov 2020
ISLAMABAD: Quaid-i-Azam Mohammad Ali Jinnah believed that the only way for Pakistan to progress was to ensure participation of women in industrial activities along with men.
This was stated by First Lady Samina Arif Alvi while speaking at the opening ceremony of a three-day craft exhibition titled 'Embroidering Dreams' organised by Behbud Association.
She also appreciated Serena Hotel's management for supporting the non-profit organisation, which has been providing employment to thousands of women artisans for over 50 years at the grassroots level and also reaching out to underprivileged women in the urban slums.
Handmade products were displayed at the event which showcased traditional needlework, embroidery and patchwork.
Craft from different regions of the country, done in several styles including ralli, kantha, chikankari, block printing, smocking, cutwork, cross stitch, taarkashi, phulkari and crochet were exhibited.
Master artisans were also present at the stalls to show off their skills and techniques to visitors.
The event was attended by notable members from the diplomatic corps along with foreign dignitaries, people from the corporate and business sectors as well as members from the civil society.
Stringent compliance with Covid-19 standard operating procedures was observed.
https://www.dawn.com/news/1590568/womens-inclusion-in-industries-vital-for-progress-first-lady
--------
Turkey: where women against femicide stand trial
Ceren Karlıdağ
Nov 15 2020
"The patriarchy is a judge
That judges us for being born.
And as women we are punished
By the violence you don't see."
Do you remember these lyrics? They are from the song titled "A Rapist in Your Path", brought to life last fall by Chilean feminist collective Las Tesis. The song has been replicated 367 times on every continent, except for Antarctica, in 52 countries, including Turkey, as a stirring resistance act that is part of a new global movement to address transnational violations of women's rights, sexual assault and femicide.
In 2019, some 440 women were murdered by men in Turkey, and six women are standing trial for performing the Las Tesis dance, whose lyrics Turkish authorities maintain constitute a crime.
Women who stand against femicide, abuse, harassment and rape are put on trial in Turkey, where three women were killed in one day, on Oct. 27, because they were looking to divorce their husbands or break up with their boyfriends.
Turkey was the only country where police broke up Las Tesis demonstrations and now it is the only country that pursues legal proceedings against women over the protests.
And riot police have broken groups of hundreds of women across the country gathering to perform the song and dance "A Rapist in Your Path," as part of protest that have swept the world.
According to Turkish media reports, a total of six women were killed by men this week alone.
Last September, a petty officer named Köksal Doğru killed his wife Handan Doğru, who was in the process of getting divorced from him. Doğru also killed Alper Rapuroğlu, who was delivering supplies to the beauty salon run by his wife in Aegean city of Izmir, before committing suicide. Gizem Önal, who was in the shop at the time of the incident, held on to her life for 55 days before losing her life on Oct. 27.
In the central province of Konya, Ömer İ. fatally shot his ex-fiancée Büşra Gizem Güzelsoy and her mother Gülya Barutçu. Later, it was revealed that Büşra went to the police station two hours before the attack to file a complaint about Ömer and applied for a protection order. The state could not protect Büşra and her mother, who had been worried about their lives and trusted the state and the laws. We later found out that that Büşra died in her mother's arms.
On Oct. 28, this time in the central province of Çankırı, a man named Mesut Açıkgöz killed Gülay Güneş, a month after the couple was divorced. The couple had three children. Açıkgöz, who returned to his hometown of Adana after the killing, turned himself into the police there. Would we be surprised if we hear the news that the perpetrator was offered a remission for surrendering to the police?
Kübra B., a 25-year-old art teacher, died suspiciously in the northern province of Samsun on Oct. 29. She was found hanging on a gas pipeline in a house she went to as a guest. The cause of her death is still being investigated.
We heard the name Nuran Söğütlü on Oct. 31, in a news article where the words "a husband suffering from insanity" were mentioned. However, the perpetrator called his daughter and told her to "take the corpses" before he shot Nuran and himself. Nuran was 52 years old.
"The crime is femicide.
The judges let the killers go.
They make the women disappear,
The crime is rape.
And the fault it wasn't mine,
Not where I went or how I dressed.
And the fault it wasn't mine,
Not where I went or how I dressed."
This is how the song continues… A week of justice in Turkey that judges women:
Yağmur Önüt was shot by Egemen Vardar with a hunting rifle in 2016. The allegation of the perpetrator was they were merely "joking" and the rifle was broken. However, in the forensic report, it was noted that the rifle was functional, and no dispersion of buckshot was observed, as Vardar fired at close range, creating a coin-sized hole in the neck of Önüt.
Despite the report, Vardar was sentenced to five years and 10 months in prison. Despite all the objections made, this week the Supreme Court asked for the sentence to be upheld.
"This case is an illustration of women's problems in Turkey," her mother said earlier in an interview.
The indictment against Mehmet Kaplan, who was arrested in connection with the death of 17-year-old Duygu Delen in the southeastern province of Antep, included an aggravated life sentence on charges of "deliberate murder of a child", while seeking various prison sentences for "sexual abuse of a child", "harassment" and "house plundering" at various rates. The indictment was sent to a High Criminal Court. A lawsuit will be filed against the Kaplan if it is accepted after the examination of the court committee.
Casim Ozan Çeltik, who seriously injured 19-year-old Berfin Özek in Iskenderun district of the southern province of Hatay on Jan. 15 last year, faced life imprisonment for "attempted premeditated murder," but was instead sentenced to 13 years in prison for "deliberate injury". The ruling was upheld by the Court of Appeals on Sept. 23, despite all objections.
Çeltik threw sulphuric acid at Berfin, severely disfiguring her face and leaving her partially blind.
Six women who say, "You will never walk alone" and "We will stop femicide" will be put on trial in Istanbul... The rest of the song will be sung at the courthouse...
"We know the rapist is you.
We know the rapist is you.
It's the cops.
The judges.
It's the state.
The President."
https://ahvalnews.com/femicides/turkey-where-women-against-femicide-stand-trial
--------
URL: https://www.newageislam.com/islam-women-feminism/caritas-pakistan-examines-forced-conversion/d/123481
New Age Islam, Islam Online, Islamic Website, African Muslim News, Arab World News, South Asia News, Indian Muslim News, World Muslim News, Women in Islam, Islamic Feminism, Arab Women, Women In Arab, Islamophobia in America, Muslim Women in West, Islam Women and Feminism