New Age Islam News Bureau
10 Jul 2016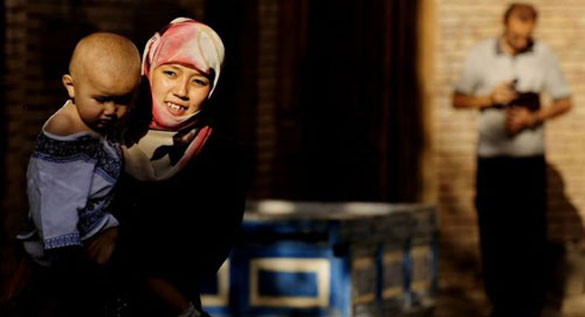 Egyptian Manar Sarhan takes notes as she watches a Euro 2016 match, at her home in Cairo. (AFP)
----------
• Car torched, 2 men, a woman beaten over adultery in west of Kabul
• Burqa bans: The countries where Muslim women can't wear veils
• 3,000 abusers, rapists avoid jail time by marrying their victims in Turkey: Appeals court
Compiled by New Age Islam News Bureau
URL: https://www.newageislam.com/islam,-women-and-feminism/new-age-islam-news-bureau/car-torched,-2-men,-a-woman-beaten-over-adultery-in-west-of-kabul/d/107910
-----
Car Torched, 2 Men, A Woman Beaten Over Adultery In West Of Kabul
By KHAAMA PRESS - Sun Jul 10 2016
car torched in KabulA vehicle was torched and two men with woman were beaten over alleged adultery in the western part of Kabul city, it has been reported.
Security sources in the 13th police district of the city have said they are aware of the incident and an investigation has been launched.
The sources further added that the local residents started beating the three individuals after accusing of adultery.
The incident has taken place in the main road of Dasht-e-Barchi area with the local resients claiming that they caught the two men and the women as they were busy in acts of adultery.
The security officials are saying that the men and the woman were taken out of the vehicle, were beaten and their vehicle was set on fire.
According to reports a number of people have also been arrested in connection to the incident are in police custody for investigations.
The two men and the woman are also kept in police station and their health condition has been reported satisfactory.
khaama.com/car-torched-2-men-a-woman-beaten-over-adultery-in-west-of-kabul-01445?utm
---
Egyptian Dentist Country's First Woman Football Guru
THE ASSOCIATED PRESS | Sunday 10 July 2016
CAIRO: Manar Sarhan disinfects her hands after filling a patient's tooth, readying to catch the Euro 2016 match and analyze it for a newspaper as Egypt's first woman expert on football.
Sarhan, 27, appears weekly on the private CBC television channel to comment on matches in the competition, a rare sight in a field monopolized by former football players, all of them men.
"I chose dentistry as a career with my mind, but football is my passion and love," Sarhan tells AFP in a private clinic where she freelances as a dentist.
"I tried to play football in the beginning but I didn't find a good opportunity in Egypt and I think specializing in analyzing football makes up a lot for it," she says after examining a patient.
Sarhan began working in journalism as a volunteer in 2002, using a basic camera to capture footage for the website of her favorite Egyptian club: Zamalek.
Sarhan began writing for the independent Al-Masry Al-Youm newspaper and the popular Fil Goal website before she was picked up by satellite sports programs.
By day, Sarhan works in a government medical center and chips in at a clinic owned by one of her friends. At night, she clears her schedule to follow games and to read the latest in the world of football.
"I'm a dentist by day, and a football commentator by night," Sarhan says, laughing as she packs her medical instruments.
"The effort put into commentary is more in spite of the return being lower," she says.
A profitable profession, dentistry is respected by Egyptians. It was not easy to enter the sports commentary world, especially as a woman.
"The field is already difficult for male youths, so what about a girl?" says Sarhan, who decorates her bedroom with posters of Egyptian and European football players.
"I was mocked in the beginning. They would tell me 'Girls belong in kitchens'," she says.
Her large following on Twitter suggests otherwise.
Top European clubs and their games are popular viewing in Egypt, and Sarhan has proven to be an expert in the field.
Ibrahim Fayek, an anchor at CBC, says hosting Sarhan was "very strange" in the beginning because she is "a lady and a dentist."
Now, he says, he is doing his best to keep her on his show as competitors try to poach her.
"Manar has an expansive and deep understanding of football and she presents a different type of football analysis. Her explanation of the different teams' plans and tactics surprised me," Fayek tells AFP.
At home, Sarhan sits close to a large screen broadcasting Belgium against Wales, jotting down statistics on passing and the players' movements.
http://www.arabnews.com/node/951241/middle-east
----
Burqa Bans: The Countries Where Muslim Women Can't Wear Veils
Radhika Sanghani
8 JULY 2016
For the first time in Switzerland's history, the country has enforced a ban on the full-face veil - which means women wearing a burka (full body covering with mesh over the eyes) or niqab (full body covering with a slit for the eyes) could face fines of almost 10,000 euros.
But it is not the only country to introduce such a controversial law. Here's where Muslim women stand on wearing the veil across the world...
France
France was the first European country to ban the burqa in public. It started in 2004, with a clampdown on students in state-run schools displaying any form of religious symbol. But in April 2011, the government went further by bringing in a total public ban on full-face veils. President Nicolas Sarkozy saying they were "not welcome" in France.
Women can be subjected to 150 euro fines and instructions in citizenship for breaking the ban. Anyone who forces a woman to cover her face risks a 30,000 euro fine.
Human Rights Watch warns against Belgium's vote to ban burkasPlay! 00:36
Belgium
Belgium followed closely in France's footsteps by introducing its own ban on full-face veils in 2011. It outlaws any clothing that obscures people's faces in public places.
A woman caught wearing a veil can be jailed for up to seven days or forced to pay a 1378 euro fine. The government passed the law almost unanimously.
The Netherlands
Last year the Netherlands approved a partial ban on the full veil, meaning women cannot have their faces covered in schools, hospital and on public transport.
It doesn't completely outlaw the veil in public, but forbids it in "specific situations where it is essential for people to be seen" or for security reasons.
Italy
Italy does not have a national ban on the full-face veil, but in 2010, the town of Novara imposed restrictions – though there is currently no established fines system. In some parts of Italy, local authorities have banned 'Burkini' or full Islamic swimming costumes.
Spain
Several parts of Catalonia in Spain have laws against burkas and niqabs. In 2013, Spain's Supreme Court overturned the ban in some parts, ruling that it "limits religious freedom". But other areas have carried on - thanks to a 2014 ECHR (European Court of Human Rights) ruling that banning the veil does not breach human rights.
Chad
Women have been banned from wearing a full veil in Chad since two suicide bomb attacks in June 2015. The government banned it two days later. The Prime Minister Kalzeube Pahimi Deubet called it 'camouflage' and said all Burqas seen on sale would be burnt. People could be arrested and sentenced to jail time for wearing them.
Cameroon
Cameroon followed suit a month after Chad by banning burkas following suicide bombings by people wearing veils. The ban is now active in five of the country's provinces.
Niger
The veil is banned in Diffa, a region that has been hit by Boko Haram, and the president suggested the hijab – or headscarf – could also be banned.
Congo-Brazzaville
The veil has been banned here since 2015 in public places to "prevent any attack of terrorism."
Turkey
Turkey has a predominantly Muslim population, but until 2013, there were rules banning women from wearing headscarves in the country's state institutions. Women can now wear the veil everywhere bar in the judiciary, military and police.
Switzerland
The latest country to pass a ban on the full-face veil, though it only stands in the region of Tessin. The law came into force on July 1, 2016 and anyone caught wearing a veil can be fined up to 9,200 euros.
http://www.telegraph.co.uk/women/life/burka-bans-the-countries-where-muslim-women-cant-wear-veils/
---
3,000 Abusers, Rapists Avoid Jail Time by Marrying Their Victims In Turkey: Appeals Court
ANKARA: July/08/2016
The testimony of a Turkish Supreme Court of Appeals representative has revealed the sad truth about the practice of victims of sexual abuse being married to their assaulters.
Mustafa Demirdağ, the head of the Supreme Court of Appeals department which oversees sexual crimes, said the number of such marriages which were officially registered had reached nearly 3000, according to daily Milliyet.
Speaking to a parliamentary commission formed to investigate and prevent sexual crimes, Demirdağ said children from 5 to 18 years old could be subjected to sexual abuse, adding that girls between the ages of 12 and 15 were more easily tricked by abusers.
Demirdağ mentioned several cases, one of which was similar to the story of a TV series called "Fatmagül'ün suçu ne?" (What is Fatmagül's Crime?), which became highly popular a couple of years ago. "Three persons kidnaped a girl. Three of them raped her. When one of them married her, the sentences for all three were lifted. That type of marriage is not acceptable. It is cruel to force someone to marry a person she does not want [to marry] and force her to spend the rest of her life with him," he said.
16-year sentence in cases of child abuse
While talking about the practice of abusers marrying their victims, Demirdağ said the number of such marriages had reached some 3000, adding that sentences of 16 years and eight months in prison were given if there was a complaint in these types of cases. As an example, he talked about the case of a 15-year-old girl who fell in love with a boy in her neighborhood. "She called the boy on the phone that night and said she would commit suicide if he did not come to kidnap her. Then the boy kidnaps her. Afterwards they get married according to the norms of the neighborhood. When the case came to us, they were already married officially and they had three kids. Before the law numbered 6545 came into force, the boy would have been sentenced to a minimum eight years and four months [in prison]. Now it is 16 years and eight months. Do I find this fair? No I don't. But I am the implementer of the law. But not all the cases fit the same pattern. Yet we do not make categorizations among them."
hurriyetdailynews.com/3000-abusers-rapists-avoid-jail-time-by-marrying-their-victims-in-turkey-appeals-court.aspx?
---
URL: https://www.newageislam.com/islam,-women-and-feminism/new-age-islam-news-bureau/car-torched,-2-men,-a-woman-beaten-over-adultery-in-west-of-kabul/d/107910