New Age Islam News Bureau
20 Aug 2019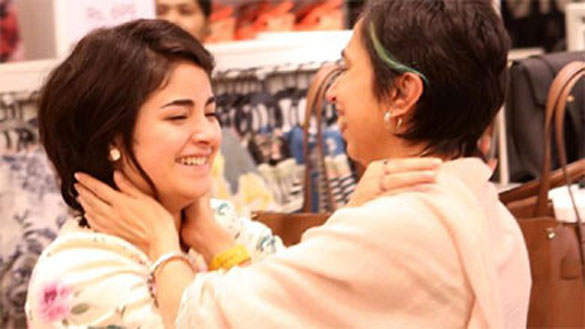 Sky is Pink director Shonali Bose with Zaira Wasim.
----
• End Child Marriage 'Hell' for Indonesian Girls, Lawmaker Urges
• Al Owais Praises Growing Role of Women In UAE's FNC Elections
• Protests by Different Strata in Various Cities Across Iran
• London Man Attempted To Punch Disabled Muslim Woman and Ran Off Shouting "P*Ki"
• Indian Woman Beaten To Death over Triple Talaq: Family
• Sexual Harassment Law Urgently Needed, Says Sisters in Islam
• Turkish Red Crescent Leads With Women Humanitarians
Compiled by New Age Islam News Bureau
URL: https://www.newageislam.com/islam-women-feminism/cant-reach-baby-sky-pink/d/119514
--------
'Can't Reach My Baby': 'Sky Is Pink' Director, Shonali Bose Worried For Zaira Wasim
August 19, 2019
After the abrogation of Article 370, filmmaker Shonali Bose is worried that she is not able to reach out to film's lead actor Zaira Wasim, who belongs to Kashmir.
In a lengthy Instagram note, the 'Sky Is Pink' director called Zaira her "child" and her "baby" and show her disapproval on the abrogation of Article 370 that gives special status to Jammu and Kashmir.
Sharing an image with Zaira, the filmmaker wrote, "#NotMyIndia. "I'm besides myself with worry at not being able to reach her. To give her strength at this difficult time. To wish them Eid Mubarak. I'm sure they couldn't celebrate it. We parted with the promise to stay in touch every day. Echoing a promise she and her brother make to each other in the film in a brilliantly acted and moving scene. But I can't reach my baby right now."
Bose went on, "Leave Article 370 aside for a moment and answer that honestly. For me the shock and anger at this unconstitutional act is laced with sorrow at how our own people must be feeling in this part of our country. Feelings we can only imagine – as there is still a blackout!" (sic)
Read the filmmaker's full post here…
Zaira rose to fame with films like Dangal (2016), Secret Superstar (2017). The Sky Is Pink is Zaira's last film.
When Union Home Minister Amit Shah, on August 5, 2019, announced the decision to revoke Article 370 in Jammu and Kashmir, and bifurcate the state into two Union Territories – Jammu and Kashmir, and Ladakh, Zaira wrote on Twitter, "This too shall pass."
It has been two weeks since the Valley remained cut off from rest of the country.
https://www.siasat.com/cant-reach-my-baby-sky-pink-director-worried-zaira-1588480/
--------
End Child Marriage 'Hell' for Indonesian Girls, Lawmaker Urges
August 19, 2019
KUALA LUMPUR - Indonesia must change its laws to end child marriage in the world's most populous Muslim country where thousands of girls are trapped in a kind of "hell," an Indonesian lawmaker said on Monday.
Indonesia has one of the worst records for under-age marriage - its high number of child brides puts it among the top 10 countries worldwide, according to campaign group Girls Not Brides.
The Constitutional court ruled last year to change the minimum marriage age for girls, currently at 16, in a move applauded by women's rights groups.
The ruling did not specify an increase and gave legislators three years to decide what the new minimum age should be.
But a senior lawmaker from the ruling party of Indonesian President Joko Widodo said there have been no progress.
"Why has there have been a lack of response on the child marriage issue? It is as if we don't care," said Eva Kusuma Sundari from the Indonesian Democratic Party of Struggle.
Sundari wants a minimum marriage age of 18 introduced urgently and has the support of 20 lawmakers from different political parties.
"It is like living in hell when a child gets married and made to carry another child," the 53-year-old told the Thomson Reuters Foundation by phone from Jakarta.
"They lose their freedom, their rights to education and their future. It kills their dreams especially for the girls who cannot continue school," she added.
Campaigners say the law should be changed because it discriminates against girls, who can marry at 16 whereas the legal age for men is 19.
Poverty and tradition often lead families to marry their children in the Southeast Asia archipelago of 260 million people where one in four girls is wed before they turn 18, according to the United Nations' children agency, UNICEF.
On average over 3,500 Indonesian girls are married every day and in some cases religious courts have endorsed the marriages of Indonesian girls younger than 16.
Globally, 12 million girls become child brides each year, according to Girls Not Brides, exposing them to greater risks of exploitation, sexual violence, domestic abuse and death in childbirth.
https://www.voanews.com/east-asia-pacific/end-child-marriage-hell-indonesian-girls-lawmaker-urges
--------
Al Owais Praises Growing Role of Women In UAE's FNC Elections
August 19, 2019
Samir Salama
Abu Dhabi: A top official praised the growing role of women ahead of October's Federal National Council (FNC) elections, on Monday.
There will now be 20 elected female, as well as 20 elected male representatives, it was announced earlier this month, raising the participation of women to 50 per cent up from 5 per cent at the last election in 2015, when just one female representative was elected alongside 19 men.
"Fifty per cent female representation is a fitting goal for a nation that has long prioritised gender equality, and is keen that women play a leading role in all fields especially in advancing parliamentary work, serving the country and representing their fellow citizens," said Abdul Rahman Al Owais, Minister of Health and Prevention, Minister of State for Federal National Council Affairs, and Chairman of the National Election Committee, during a tour of the Abu Dhabi FNC Candidate Registration Centre in the Abu Dhabi Chamber of Commerce and Industry on Monday.
"The UAE's leadership has long prided itself on setting a unique parliamentary experience that matches its rich heritage and values, but imitates none," he added.
Rwanda, Bolivia and Cuba currently boast the highest female representation in parliament and the UAE plans to join these countries, said Al Owais.
In October, the UAE will hold its largest election to date, with more than 337,000 Emiratis eligible to vote and elect 20 of the 40-member House. The remaining 20 members will be hand-picked by the Rulers of the emirates.
Dubai and Abu Dhabi are allocating two seats for women out of the total number of seats designated for each emirate by election, while Ajman, Fujairah and Umm Al Quwain are each designating one seat for a female candidate following the election from two seats designated to each emirate. Sharjah and Ras Al Khaimah have not dedicated any seats for women through the election mechanism, but will follow the appointment approach to comply with the 50 per cent stipulation.
Electoral roll also increases
Al Owais said in keeping with directives, the UAE will continue to empower women, pointing out that the electoral roll also represents a 50 per cent increase in voters compared with the previous election.
During the last FNC election in 2015, about 224,000 Emiratis were eligible to vote, up from 129,000 in 2011 and from fewer than 7,000 in 2006.
Al Owais reiterated that the surge in the pool of voters is yet another step in the UAE's political empowerment and engagement journey.
"It reinforces the keen interest of the country's leadership in enabling citizens to participate in decision-making," he said.
The rolls of voters also include more women and young people, with Emirati women representing 50.62 per cent and people aged 21 to 40 making up 61.32 per cent.
Mozah Humaid, 36, a hopeful candidate of the FNC, told Gulf News she would seek to change HR laws to help strike the perfect balance between career and family, which has always been a challenge for Emirati workers — men and women.
"Our schedules are getting busier than ever before, which often causes our work or our personal lives to suffer, but modern employees demand greater control over their lives and a bigger say in the structure of their jobs," she said.
Humaid, a mother of two and a life coach, said she highly appreciated the latest move to increase Emirati women's participation in politics
She added she would take the opportunity to help create a family-friendly work environment that has proven to benefit both employers and employees in a variety of different industries.
Abdullah Mohammad Nakhira Al Daheri, 29, said the FNC acts as the voice of the people and he sought to relay this voice to the Government.
"As a member of the House I hear what the people are saying and relay those concerns to the Government. That way, the FNC identify problems and help the Government find solutions," he said.
Al Daheri added that the public must engage more.
"For FNC members to succeed in acting as the citizens' eyes and ears they must see and hear members of the public," he said, before adding that improving education, health and the judicial system are his top priorities.
https://gulfnews.com/uae/government/al-owais-praises-growing-role-of-women-in-uaes-fnc-elections-1.65894949
--------
Protests by Different Strata in Various Cities Across Iran
Aug 19, 2019
In recent days, protests by different strata, along with the participation of women, have taken place in various cities across Iran.
A group of defrauded creditors who have lost their money to the Revolutionary Guards affiliated Caspian Credit Institution gathered in front of the central bank in Tehran on Sunday, August 18, 2019, to demand their plundered savings.
The protests by depositors of financial and credit institutions in Iran began three years ago and so far the mullahs' regime and the Central Bank have not responded to their rightful demands. Women, in particular, have had an active and significant presence in the protests of defrauded creditors.
On Sunday, August 18, 2019, a group of animal rights advocates, including women, gathered at the waste site in Kahrizak and protested against killing dogs. The protest was held against the municipal authorities for killing dogs with acid.
On Saturday, August 17, 2019, a group of parents of two girls' elementary schools in Hamadan held a gathering in front of the Hamadani Azad School building in protest to the lack of attention to their demands. More than 250 parents participated in the protest.
On August 17, 2019, a group of students who were admitted to the 2018 notary examinations, gathered in front of the building of the Iranian Organization for Registration of Deeds and Estates in protest against the order to suspend the interview processes and recruiting the admitted students. The protesters stated that our job prospects, which we had prepared ourselves for months to take the examinations, have been destroyed by this vote. (The state-run ILNA News Agency – August 17, 2019)
In another protest, a group of people from the village of Temeliyeh in Firuzabad District, gathered on August 17, 2019, in front of the Division's Office to protest against the suspension of the watershed management operation. The Head of Firuzabad District confessed the allocated amount for the project for Temeliyeh was more than 2 billion riyals (approx. 600,000 USD), which has not been allocated. (The state-run IRNA News Agency – August 17, 2019)
https://women.ncr-iran.org/2019/08/19/protests-by-different-strata-in-various-cities-across-iran/
--------
London Man Attempted To Punch Disabled Muslim Woman and Ran Off Shouting "P*Ki"
Aug 19, 2019
"I was shocked to hear the word P*ki, I've not been called it in years", said Shiria Khatun, as she described the racist abuse she faced from a fellow customer at a branch of the Co-Op in London on August 13.
"It took me back to the dark days of the National Front, who would bang on my front door and shout 'P*ki'", she added.
The 47-year-old wanted Tell MAMA to share her experience without anonymising her identity.
She was queuing to pay for her goods, which she had dropped several times due to her disability, and a man, who she described as white, bald, and middle-aged, sporting a high-visibility jacket, loudly tutted at her for dropping her goods.
Shiria turned to the man, offering her apologies, and patiently began to explain how her disabilities meant she was unable to hold onto her items without dropping them.
His response, however, was of a man gripped by paroxysms of racist anger and entitlement, as replied: "You P*ki. You disabled P*ki". Adding, "You lot think you can do anything".
But Shiria challenged him, adding that there was no need for that language, nor was it her role to justify or explain herself to him.
His racism continued, and he made a crude remark about her hijab, stating: "Can you even see with that thing on your head? Probably why you're dropping things".
And, again, Shiria challenged the man, who then attempted to punch her in the face, which was blocked by her teenage son.
A member of staff then intervened, but the man fled the store, shouting "P*ki" as he left.
Shiria reported the incident to the Metropolitan Police, who took her statement three days later, on August 16.
The racialisation of Muslim identity means that Muslims, irrespective of ethnicity, face racist abuse, including the slurs directed at Shiria, who is not Pakistani. It also impacts non-Muslims, including Hindus and Sikhs, who have, according to some academics, had their faiths 'othered and delegitimised' through the reconfiguring of their religions through a racial lens.
Academics have contended that the visibility of the hijab serves to reinforce the "age-old stereotypes about Muslim women as meek and submissive" amongst perpetrators.
Tell MAMA continues to document the gendered nature of this issue. In the 2017 reporting cycle, more than half of those reporting incidents to Tell MAMA were female. And, a clear majority of perpetrators were male (64.6 per cent), with 69 per cent of all male perpetrators identified as white (where the perpetrator data was available and verified). In the interim reporting cycle, between January and July 2018, 58 per cent of those reporting incidents to Tell MAMA were Muslim women.
Grounding any understanding of this issue, therefore, in a framework of intersectionality, is imperative. This concept of black feminist thought presents a framework to stop the essentialism of difference. Writing in Living a Feminist Life, the scholar Professor Sara Ahmed noted that "Intersectionality is messy and embodied" in the hope of broadening the discussion to recognise certain privileges, like being able-bodied, but still face structural and personal forms of oppression. Ahmed argues: "It is easy for me to forget to think about it [able-bodied privilege], which is what makes a privilege a privilege: the experiences you are protected from having; the thoughts you do not have to think".
Shiria's case is another example of how this issue harms the mobility of Muslim women, curtailing the right to shop free from abuse, discrimination, or attempts of violence. Tell MAMA continues to document other examples where fundamental rights of religious expression have been hindered or curtailed in employment and education.
It was a fear that fewer Muslim women are speaking out about their experiences of racism, Islamophobia, and anti-Muslim prejudice, which encouraged her to not only contact Tell MAMA but agree to have their story told.
Tell MAMA, in partnership with CATCH (Community Alliance to Combat Hate), works to support those who face abuse or discrimination, due to various protected characteristics, meaning that someone who experienced an Islamophobic and anti-disability hate crime or incident, can be referred to the appropriate support service.
https://tellmamauk.org/man-attempted-to-punch-disabled-muslim-woman-and-ran-off-shouting-pki/
--------
Indian Woman Beaten To Death over Triple Talaq: Family
Aug 20, 2019
A 22-year-old woman was allegedly beaten to death and the body set on fire by her husband and in-laws here, police said on Monday, claiming it was a case of dowry death but her family insisted she was killed because she had refused to accept triple talaq given to her on phone.
According to superintendent of police Ashish Srivastava, the incident was reported on Friday from Gadra village.
He said a case of dowry death has been registered against eight persons on the basis of the complaint of the victim Saeeda's family and her husband and father-in law have been arrested. "So far no talaq angle has emerged. If it emerges, action will be taken accordingly." Saeeda and Nafees, both residents of the same village, married about six years ago. Nafees works in Mumbai and they have two children.
Saeeda's father Ramzan told reporters on Saturday that his daughter was often beaten up by her husband and in-laws. On August 6, Nafees divorced Saeeda on phone, he said.
The practice of triple talaq has been criminalised by a law passed by Parliament last month.
The father said Nafees had returned home for Eid-al-Adha and they had approached police for a compromise. This Friday, both sides reached an agreement and Nafees took Saeeda home.
He and his family members then killed Saeeda and burnt her body, Ramzan said, adding this was done in presence of his six-year-old grand daughter.
They allegedly poured kerosene on the body to set it on fire.
Police, however, denied Saeeda's family had approached them for any compromise and said it was a case of dowry death.
"Saeeda's husband and her father-in-law have been arrested," SP Srivastava said, adding action against others will be taken based on investigation.
https://www.hindustantimes.com/india-news/woman-beaten-to-death-over-triple-talaq-family/story-9y7Ztt6Zwonae1XmrxwjbL.html
--------
Sexual Harassment Law Urgently Needed, Says Sisters in Islam
Nicholas Chung
August 20, 2019
PETALING JAYA: Women's rights organisation Sisters in Islam (SIS) has urged the government to expedite its work on a law against sexual harassment following a molest case in which the perpetrator was fined RM3,000.
SIS communications manager Majidah Hashim told FMT it highlighted the urgency for a sexual harassment act.
She said men too often believed harassing women would cause no harm. "Some even feel entitled to it," she added.
Last Thursday, a magistrate's court in Kuala Lumpur found P Naveendran, 39, guilty of outraging the modesty of a 22-year-old woman after their cars collided along the Federal Highway. He grabbed her at the hips and a shoulder while they were engaged in conversation.
He told passers-by who stopped to help her that he was her boyfriend but she said they had never met before.
He was charged under a section of the Penal Code that provides for a jail term of up to 10 years or a fine or whipping or any two of the penalties.
The magistrate, in deciding on a fine, said Naveendran did not touch any sensitive part of the woman's body and this was his first offence.
"Any and all unwanted touch is a violation," said Majidah. "The trauma experienced by the survivor is just as intense, and this came on top of the fact that she had been involved in a traffic accident."
Women's Aid Organisation spokesman Melissa Mohd Akhir told FMT she believed a jail sentence would not be a complete solution to the problem because it would not address the root cause of the crime.
She said there was a need for intervention programmes for offenders to bring about an understanding of accountability and a change in behaviour.
Last month, senator Mohd Imran Abdul Hamid of PKR sparked outrage after proposing a sexual harassment act to protect men from the actions, words and clothing of women which could seduce them.
After brickbats were thrown at him, he issued an apology and retracted the proposal, which he made in the Dewan Negara.
In February, Deputy Women, Family and Community Development Minister Hannah Yeoh announced that a feasibility study on a sexual harassment bill had been completed but she said the government would consult NGOs and victims of sexual harassment for their feedback before tabling it in the Dewan Rakyat.
She said the bill would, among other things, seek to improve the mechanism used in lodging reports, shorten investigation procedures and punish those who fail to act on sexual harassment complaints.
https://www.freemalaysiatoday.com/category/nation/2019/08/20/sexual-harassment-law-urgently-needed-says-womens-group/
--------
Turkish Red Crescent Leads With Women Humanitarians
20.08.2019
The theme of this year's World Humanitarian Day, an occasion dedicated to humanitarian aid workers, is female humanitarians. The Turkish Red Crescent, an international charity based in Turkey, prides itself on the number of women humanitarians it has recruited. Red Crescent President Kerem Kınık said they had 3,104 female workers, roughly 45% of the total number of employees and are among the leading humanitarian organizations in the world in the number of female employees. "I am grateful to our female employees and volunteers who empowered our humanitarian aid efforts for 151 years," Kınık said.
Kınık said they wanted to increase the number of women humanitarians to at least 50% from 45% in the International Federation of Red Cross and Red Crescent Societies Europe where he served as vice president. He pointed out that the proportion of female executives in the federation was only 17% and this needed to be increased. "Women, with their resilience, will certainly have better results in the resolution of many problems," Kınık said.
World Humanitarian Day originally marks the day of a terrorist attack in Iraq in 2003 that killed 22 people including Sergio Vieira de Mello, the United Nations' top representative in Iraq. This year's theme is also meant to highlight the efforts of women humanitarian workers across the world. Some 250,000 aid workers in the world are women, a number which corresponds to more than 40% of the humanitarian workforce, according to the United Nations.
https://www.dailysabah.com/turkey/2019/08/20/turkish-red-crescent-leads-with-women-humanitarians
--------
URL: https://www.newageislam.com/islam-women-feminism/cant-reach-baby-sky-pink/d/119514
New Age Islam, Islam Online, Islamic Website, African Muslim News, Arab World News, South Asia News, Indian Muslim News, World Muslim News, Women in Islam, Islamic Feminism, Arab Women, Women In Arab, Islamophobia in America, Muslim Women in West, Islam Women and Feminism