New Age Islam News Bureau
12 Apr 2016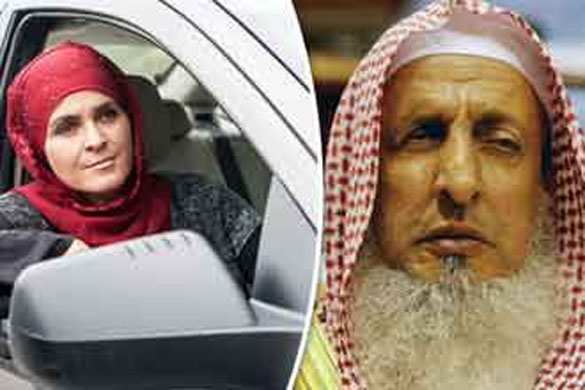 Photo: Grand Mufti Sheikh Abdul Aziz bin-Abdullah al-Sheikh defended the driving ban
--------
• Driving 'Exposes Women to Evil' Claims Saudi Arabia's Top Islamic Cleric As He Defends Ban
• Religious Parties Stall Women Protection Bills Again In Pakistan
• Tajikistan: Fashion at Heart of Anti-Islamic Culture War
• SNP MPs' Idea for a Muslim Women's Summit Gets a Boost from UN
• Muslim Contestant Walks Off Bear Grylls Reality TV Show Because He Couldn't Handle 'Living with Half-Naked Women' Wearing Bikinis
Compiled by New Age Islam News Bureau
URL: https://newageislam.com/islam-women-feminism/canadian-sikh-woman-carry-terror/d/106962
-------------
Canadian-Sikh Woman Could Carry Out Terror Strikes in Delhi, Reveals Intel
April 12, 2016
A Sikh-Canadian woman, suspected to be an ISIS agent, may carry out terror strikes in Delhi along with other associates who are already in the Capital, according to a specific intelligence input.
Agencies have the name and passport details of the woman who they suspect is travelling to Delhi. An alert has been sent to airports, intelligence and investigating agencies tracking activities of terror group ISIS that the 35-year-old woman can carry out strikes along with other ISIS members.
According to the input, the woman's passport is due to expire in December 2016.
Mail Today has details of her passport but her identity is being withheld since the information is part of an ongoing intelligence operaiton.
The National Investigation Agency (NIA), which has arrested 25 recruits and is probing several cases related to ISIS, has also been roped in.
Sources said the information regarding the possible entry of the Canadian-Indian woman was shared with Indian intelligence agencies by their counterparts in another country.
Intelligence reports have recently raised fears of Indians living abroad getting attracted to the Sunni jihadi group that has lured hundreds of youth from the West.
Sources say over forty, suspected of having links with the ISIS, have been arrested from across the country. A total of 24 Indians have so far joined the ISIS, out of which six were reportedly killed in different incidents. While two returned, 16 are still reportedly part of the ISIS. Several Indian youth aspiring to be part of the ISIS have been stopped from travelling abroad.
"In the past, Adil Fayaz Wada, an Indian living in Australia, travelled to Syria to be part of jehad. This is the first time though that information has been generated of a Sikh living abroad and suspected of having links with ISIS," said an intelligence official.
One of the Indians reportedly killed fighting in Syria, Atif Vaseem Mohammed, who was a resident of Hyderabad, also lived in USA for a brief period before returning to India and travelling to Syria.
Also, some Indians living in UAE have been identified for their alleged ISIS links.
In January, three Indians who were based in Abu Dhabi were deported and later arrested by NIA on suspicion of being involved in activities linked to the Islamic State. The growing influence of ISIS on Indians living in the Gulf has alarmed the security establishment. The concern was flagged at a recent meeting chaired by union Home Minister Rajnath Singh to combat the ISIS threat. "Several Indians living in the Gulf are getting attracted to ISIS. These are Indian citizens and the threat of them coming back and carrying out strikes in the name of ISIS cannot be ignored," said a government official.
Sources said it is feared that many members of home-grown terror group Indian Mujahideen who fled the country following a crackdown ended up fighting on the Afghanistan-Pakistan border or the Af-Pak region before joining ISIS.
Earlier in the year, NIA busted an Indian module drawing inspiration from ISIS called Janoodul-Khalifa-e-Hind or the Army of Caliph in India after countrywide raids leading to several arrests.
India adopted a unique strategy to combat the ISIS threat by carrying out a de-radicalisaiton programme for the youth attracted by ISIS ideology. Not all were arrested, some went through counselling sessions. The hardened ones were arrested.
indiatoday.intoday.in/story/canadian-sikh-woman-could-carry-out-terror-strikes-in-delhi-reveals-intel/1/640508.html
-----
Driving 'exposes women to evil' claims Saudi Arabia's top Islamic cleric as he defends ban
Tue, Apr 12, 2016
SAUDI Arabia's top Islamic cleric has defended the country's controversial ban on women driving claiming driving is "a dangerous matter that exposes women to evil".
Grand Mufti Sheikh Abdul Aziz bin-Abdullah al-Sheikh attempted to justify the ban on religious television channel Almajd.
He warned "weak-spirited" men who are "obsessed with women" could hurt female drivers.
The cleric added family members would not know where their female relatives were if they were allowed to drive.
Saudi Arabia is the only country in the world where women are not allowed to drive.
Despite no law actually forbidding women from driving the authorities do not issue women licenses and in the past women's rights activists have been arrested for driving.
Loujain al-Hathloul, 25, was stopped by border guards when she attempted to cross the border last year with a UAE driver's licence in an act of defiance.
She was detained for a month and border guards confiscated her passport for more than 24 hours.
In 2011 and 2013 the 'Women2Drive' campaign encouraged women to defy the authorities
Women posted images and videos of them driving on social media in a bid to reverse the ban.
Women's rights have long been under scrutiny in Saudi Arabia with women forbidden from marrying, travelling, applying for a passport from a male relative or guardian.
The male guardianship rules also means women cannot open bank accounts or apply to go to university withot permission
Only this year were women allowed to vote and to stand for election to municipal councils for the first time.
The ultra-conservative country is governed by a strict interpretation of Islamic law with the majority of women forced to wear an abaya and a head scarf.
Religious police also stop women from exposing too much flesh or wearing too much make up and police social media accounts for lawbreakers
The sheikh is known for being outspoken and in 2014 claimed Twitter was "the source of all evil".
He has also spoken out on animation films, reportedly issued a fatwa allowing men to eat their wife if they are starving and banned Muslims from playing chess.
express.co.uk/news/world/660124/Driving-exposes-women-evil-Saudi-Arabia-cleric-female-driving-ban
--
Religious Parties Stall Women Protection Bills Again In Pakistan
April 12th, 2016
ISLAMABAD: If Monday's joint sitting of the parliament was anything to go by, political parties across the board lack the spine to face conservative forces who again managed to defer two bills meant to stop honour killings and sexual abuse in the country.
Although women parliamentarians from the PPP, PTI and PML-N tried their best to push the legislation through the house, they were left to face humiliation in the hands of a JUI-F lawmaker. Jamaat-i-Islami (JI) was the other party which opposed the passage of the bills and sought their vetting by the Council of Islamic Ideology.
The two bills have been deferred until the next sitting of the parliament, and sent back to a committee for further discussion.
It was Dr Shireen Mazari of the PTI, who urged the National Assembly speaker not to defer the bills for long because in that case the heinous crimes of honour killings and rape would continue to destroy the lives of women in the country.
While she was seeking her turn to speak on the issue, Maulana Ameer Zaman of the JUI-F also raised his hand to take on the floor. Speaker Sardar Ayaz Sadiq in a lighter tone quipped: "I don't give time to lawmakers on the basis of their weight," in reference to the heavy build of Maulana Zaman and allowed Dr Mazari to take the microphone.
In a quick reaction, however, Maulana Zaman said: "If not on the basis of weight, why not on the basis of height," making an obvious allusion to Dr Mazari. It was then that the entire women parliamentarians, except those belonging to the JUI-F and JI, stood up and demanded a formal apology from the JUI-F leader.
"Maafi, Maafi, Maafi," they all chanted in unison but to no avail. As a result, the opposition, including women from the treasury, staged a token walkout against what they said the derogatory remarks of the JUI-F lawmaker.
Naeema Kishwar Khan of the JUI-F argued that his fellow party lawmaker had made the comment in a lighter vein. "I offer my apologies on behalf my party lawmaker."
While the women parliamentarians were raising slogans against the JUI-F MNA, the speaker announced that Maulana sahib had taken his words back.
A mediaperson in the press gallery said the speaker was responsible for triggering the controversy by first making a joke over the weight of Maulana Zaman.
dawn.com/news/1251556/religious-parties-stall-women-protection-bills-again
--
Tajikistan: Fashion at Heart of Anti-Islamic Culture War
April 11, 2016
Even with his country falling into economic ruin, the deputy head of Tajikistan's central bank found time recently to talk about women's clothes.
Jamoliddin Nuraliyev revisited a theme favored by many top officials of late.
"We must resist improper mimicry of foreign cultures. We must protect and observe our genuine national, spiritual, religious and cultural values," 39-year old Nuraliyev, who is also President Emomali Rahmon's son-in-law, told a staff meeting on March 7, on the eve of International Women's Day.
Nuraliyev did not need to spell it out. Authorities have for several years been waging a rearguard campaign against fashions perceived to be overtly Islamic: Dark clothing and anything covering the face for women; beards for young men.
The official clamor around clothing habits began to intensify early last year, when Rahmon used a speech on Mother's Day to discourage women from adopting foreign customs.
In the immediate wake of those remarks, police mounted a series of raids on markets and city streets to detain women wearing hijabs and men wearing beards. The customs service banned the import of black clothing, hijabs, and police officers confiscated any such suspect clothing from bazaar traders.
When enforcing these arbitrary rules, police typically cite a non-existent law or presidential decree.
Since the rules are informal, local officials are given a lot of room for arbitrary interpretation and overzealous enforcement.
In January, the head of police in the southern Khatlon region boasted that 13,000 bearded men had been forcibly shaved and 2,000 women had their hijabs confiscated over the course of 2015.
The apparent scale of those efforts bore hallmarks of similar undertakings in the 1920s, when Soviet authorities carried out a drive to reinvent the role of women in Central Asian society, including an aggressive campaign to abolish veils. The trade-off pledged to women by Soviet authorities was greater participation in the workplace and the inexorable chipping away of traditional patriarchal oppression in the home.
Tajikistan's authorities have offered no bargain and are reluctant even to admit there is any anti-Muslim clothing policy in place.
Interior Minister Ramazon Rahimzoda on January 25 summoned a press conference to downplay the news coming out of Khatlon. The wave of detentions happening there was simply a security measure, he explained.
"During checks it often emerges that people's appearances do not correspond to that in their documents. In that case, we are obliged to take the person to the police station and work out ways to properly identify them," Rahimzoda said. "We do not forcibly shave beards or take off hijabs. But we do have information, and you've seen this on television yourselves, about how criminals wear hijabs and try to evade capture in this way."
There is only a vague understanding about what traditional local dress should constitute, and no objections are ever made about European-style apparel.
According to Idigul Kosimzoda, head of the government committee for women and family, the style of dress that the authorities wish to see is that worn by Tajik people in the past. As it is, most women in rural areas adopt the style preferred by Kosimzoda — long, bright and colorful and simply woven dresses worn over wide-cut pants. Headscarves are commonplace but do not, as a rule, cover all the hair. Turkish-style headscarves incorporating a band obscuring the top of the forehead appear to be tolerated, judging by the frequent appearance in the capital, Dushanbe.
Kosimzoda said that her preference was to see Tajik women adopting the styles of their "mothers and grandmothers," although evidently not the paranja (veil) outlawed by the Soviets. As for European styles, Kosimzoda said they should be accepted as a "trend of the modern world."
Opening yet another front in the anti-veil battle, officials like Kosimzoda argue that styles popular in the Middle East might even be unhealthy.
"Women in Saudi Arabia wear black to protect themselves from dust and preserve their beauty," Kosimzoda said.
But conditions in Tajikistan are different, so the health ministry has issued guidelines stating that shrouding the skin in fabric could lead to skin conditions, Kosimzoda said.
Husein Shokirov, a member of the State Committee for Religious Affairs and Regulation of Traditions, meanwhile, said that he objected to clothes that created problems in identifying their wearer. That could apply equally to the burka and the niqab, which are customary items of clothing in the Middle East and Afghanistan, and cover the entire face.
As soon as a person becomes recognizable, then all issues are resolved, Shokirov said.
Despite this welter of official views, the people tasked with enforcing the informal rules remain confused about what they are doing, and why for that matter.
Dushanbe resident Ramesh Ibragimov illustrated the point with an account of his own strange run-in with the police.
"The police wanted to know who I was and why I was wearing a beard. And they told me that there was a presidential decree that beards could only be worn by individuals over the age of 45, that this was not acceptable, that this is radicalism and is the kind of behavior one might expect of a terrorist. And then they carried on about other aspects of my outer appearance and my piercings, so I answered that that was how I liked things and that I like my beard because… well, I just like it, and that's that," Ibragimov said.
The conversation did not end there, however.
Ibragimov said one policeman demanded to know whether he was a Muslim. The answer Ibragimov offered — that he was an atheist — provoked even more indignation.
"He said: 'You're not a Muslim? You're not worthy to wear this beard!'" Ibragimov recalled.
Rustam Gulov, a blogger, who said he had his own beard forcibly shaved off, said it was particularly hypocritical that campaigns about clothing tend to be focused almost exclusively on women.
"But they [officials] themselves have no intention of giving up Western style — ties, shirts, suits. But customs change and wasting resources on protecting them, particularly at a time of crisis, is more than foolish. And especially when what the government calls the protection of culture is nothing but conservatism, the freezing of a primitive form and nothing more," Gulov said.
In an unusual gesture of defiance, Gulov attempted to bring the police to account for the loss of his own beard. That effort failed.
"If the Interior Ministry internal security service hadn't messed about and investigated properly, they would have managed to accumulate a lot of evidence, including surveillance camera footage, showing that I was in the right," he said.
"And yet I didn't get so much as an apology, despite promises made by top Interior Ministry officials," Gulov said.
eurasianet.org/node/78241
--
SNP MPs' idea for a Muslim women's summit gets a boost from UN
APRIL 12TH, 2016
AN SNP MP's plans to organise a global summit for Muslim female parliamentarians and Muslim women in politics has been given a boost by the UN.
Tasmina Ahmed-Sheikh, along with fellow SNP MPs Lisa Cameron and Stuart Donaldson, discussed the idea with UN Women, the UN Development Programme (UNDP) and the US State Department during a visit to New York in the Easter recess.
Now both UN Women and the US State Department have asked the politicians for further discussion. Ahmed-Sheikh said the idea of the conference would be able to discuss issues around terrorism, Syria, the refugee crisis, and gender equality.
The Ochil MP said it was also important that Muslim men saw Muslim women leading.
Ahmed-Sheikh said: "Muslim women have valuable contributions to make – particularly in the fight against terrorism – and the SNP have been in discussions with the UN and US State Department to ensure these voices can be heard.
"Our talks with UN Women, UNDP and the State Department were extremely positive and we are looking forward to taking the areas we discussed in depth forward.
"We hope that with UN Women and UNDP's support, we can organise an international summit for Muslim female parliamentarians and women working in politics to share best policy practice. I believe passionately that having more women, and in particularly more Muslim women involved in politics is essential in any conflict resolution attempt."
Cameron explained why the conference was important: "I recently visited north east Nigeria where I visited girls' education projects.
"Girls' education in the region is virtually non-existent due to Boko Haram, so it is important we continue to work together with international organisations to stop oppression of young women."
thenational.scot/news/snp-mps-idea-for-a-muslim-womens-summit-gets-a-boost-from-un.16222
--
Muslim Contestant Walks Off Bear Grylls Reality TV Show Because He Couldn't Handle 'Living with Half-Naked Women' Wearing Bikinis
Apr 12 2016
A Muslim man has walked out of Bear Grylls's reality TV show after he became uncomfortable because the female contestants were wearing bikinis all the time.
Rizwan Shabir, a married father of three, will be seen leaving The Island tonight, saying he is 'not used to living with women who are half-naked'.
The 27-year-old from Bradford, West Yorkshire described his time on the show as 'the best thing and the worst thing' he has ever done, after viewers saw emotional scenes of him breaking down in tears because he missed his family.
Several young women on the Channel 4 show have been shown wearing bikini tops while foraging for supplies and attempting to build a camp.
The current third series of The Island is the first time that men and women have been mixed together, after the first series was male-only and the second put men and women on separate islands.
Mr Shabir, a mobile phone shop owner, said when he entered the show last year that he hoped to be a role model for other British Muslims.
He also predicted that his experience on the survival programme would help him get closer to his faith, and could be seen praying five times a day while on the island.
But in the end he could not handle the stress of being on the island, and left the show after just 11 days in an incident set to be broadcast on this evening's episode.
Mr Shabir, a former cage fighter with a black belt in karate, says in the episode: 'At the end of the day I am a Muslim - I'm not used to living with women who are half-naked. This is harder than what I thought it would be.
'Basically I'm around a group of women who are half-naked, which in my religion and culture I shouldn't really be.'
In an earlier episode, he was seen weeping after a long swim which left him exhausted and desperate to see his wife Kalsoom and his children Amirah, three, and nine-month-old twins Adam and Isa.
Mr Shabir said that he was 'really emotional' after the dangerous swim in Pacific waters, and found himself thinking about his family.
He was called a 'softie' by some viewers, but he told the Bradford Telegraph & Argus: 'I don't mind them saying I'm a softie. We all cry, we all get emotional. The only difference is that millions were watching it.'
Mr Shabir is not the only contestant to have left the show early this year - former Army corporal Hannah Campbell, who lost a leg in Iraq, was airlifted off the island after being bitten by a scorpion.
She also suffered PTSD flashbacks during a lightning storm, which brought back memories of mortar attacks which she experienced during war.
Viewers have complained about the amount of swearing on the programme, which is hosted by devout Christian Bear Grylls, the UK's Chief Scout - one episode featured 95 swear words, more than two a minute.
dailymail.co.uk/news/article-3533561/Muslim-contestant-walks-Island-Bear-Grylls-not-handle-women-wearing-bikinis.html
URL: https://newageislam.com/islam-women-feminism/canadian-sikh-woman-carry-terror/d/106962
New Age Islam, Islam Online, Islamic Website, African Muslim News, Arab World News, South Asia News, Indian Muslim News, World Muslim News, Womens in Islam, Islamic Feminism, Arab Women, Womens In Arab, Islamphobia in America, Muslim Women in West, Islam Women and Feminism, Moderate Islam, Moderate Muslims, Progressive Islam, Progressive Muslims, Liberal Islam, Liberal Muslims, Islamic World News