New Age Islam News Bureau
8 Jul 2019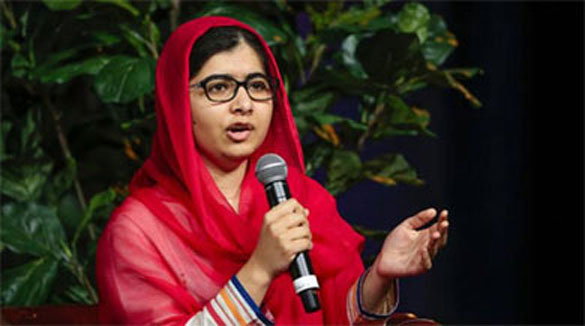 Nobel Peace Prize winner Malala Yousafzai can teach in the Canadian province of Quebec if she removes her hijab, Quebec Education Minister Jean-Francois Roberge said.
----
• Women's Soccer Rejected As 'Haram' By Islamic Groups and Scholars in Aceh
• Aligarh: Muslim Woman Asked To Vacate House After She Joins BJP
• 'Let a Muslim Woman Challenge It': SC Dismisses Hindu Mahasabha Plea on Mosque Entry
• Sh Qaradawi's Daughter Remanded In Egypt Again
• By Breaking Taboos, This Urdu Writer Helped Poor Women Gain Control over Their Lives
• 'Equality of Women' Motto Adopted By Saudi Arabia for Haj 2019
• Libyan Women Ignore Barriers to Launch Businesses
Compiled by New Age Islam News Bureau
URL: https://www.newageislam.com/islam-women-feminism/canada-malala-teach-quebec-if/d/119117
--------
Canada: Malala Can Teach In Quebec If She Removes Hijab
Barry Ellsworth
07.07.2019
Nobel Peace Prize winner Malala Yousafzai can teach in the Canadian province of Quebec if she removes her hijab, Quebec Education Minister Jean-Francois Roberge said.
Quebec recently enacted Bill 21 that bans government employees from wearing religious symbols when dealing with the public, including teachers, nurses and bus drivers.
Roberge posted a photo on Twitter Friday that showed him standing with the hijab-wearing Pakistani activist, an honorary Canadian citizen. The picture was taken at a G20 planning session they attended recently in France. Ironically, the pair discussed access to education.
The picture drew cries of hypocrisy and Twitter outrage, given the Bill 21 law.
"Mr. Roberge, how would you respond if Mme Yousafzai wanted to become a teacher in Quebec?" asked a reporter, Salim Nadim Valji, over Twitter.
Roberge responded to the question by saying it would be a "huge honour" if Malala taught in Quebec, but as in other "open and tolerant countries, teachers can't wear religious symbols while they exercise their functions."
Yousafzai survived a bullet in the head by the Taliban in 2012 for daring to speak out for girls' education. The brazen attack on Yousafzai, who was 15 at the time, sparked outrage in Pakistan and internationally.
"Did you tell her that in Quebec, women dressed like Malala do not have access to certain jobs in the public service? Thanks to your government," another Twitter user said in a post that reflected the posts of many.
However, late last month Roberge said while the law must be respected in schools, there will be no inspectors sent around to enforce Bill 21.
A legal challenge to Bill 21 has been launched by the Canadian Civil Liberties Association and the National Council of Canadian Muslims.
The groups contend that Bill 21 unfairly targets Muslim women.
https://www.aa.com.tr/en/americas/canada-malala-can-teach-in-quebec-if-she-removes-hijab/1525582
--------
Women's Soccer Rejected As 'Haram' By Islamic Groups and Scholars in Aceh
Jul 8, 2019
Even as soccer fans around the world watched and celebrated the incredible performances of the gifted athletes at this year's recently concluded Women's World Cup (congrats Team USA!), Islamic organizations and ulema (Islamic scholars) in the ultra-conservative region of Aceh in Indonesia have been denouncing plans for a women's soccer league in the region, arguing that women playing soccer is haram (forbidden) under Islamic sharia law.
Indonesia's Ministry of Youth and Sports (Menpora) had previously announced plans to hold a national-level U-17 women's soccer competition at Perta Arun Gas Stadium in the city of Lhokseumawe in Aceh from July to September of this year. But, last Thursday, an organization calling itself the Communication Forum for Community Organizations and Youth Organizations Guarding Islamic Law in the City of Lhokseumawe came out to protest the competition, saying that soccer violates the dignity of Acehnese women.
"The league under the Indonesian Ministry of Youth and Sports is very contrary to the dignity, virtue and honor of Acehnese women," one of the group's representatives, Teungku Sulaiman Lhokweng, said on Thursday as quoted by Kompas.
The protesters asked that Menpora and the Indonesian Student Football League Agency (BLiSPI) cancel the competition in Aceh, and also demanded apologies from the organizations.
"We urge BLiSPI to openly apologize to the people of Aceh because their actions have hurt our feelings and local wisdom by exploiting Acehnese women in the field of soccer," Sulaiman continued.
The group's calls were quickly reiterated by the Aceh Ulama Consultative Assembly (MPU), considered the highest clerical body in the region, which declared women playing soccer to be haram. An MPU representative, Teungku Faisal Ali, told Viva that in Acehnese culture, soccer is a sport that is generally only played by men, because women who play are in danger of showing their "aurat" (parts of the body that need to covered in Islam) by displaying their bodies and being watched by a large group of people.
Faisal acknowledged that soccer was played by women openly in other parts of Indonesia, but said such a thing was not yet possible in Aceh.
"It may be different from other regions, soccer in other regions are sometimes held on a closed field, with female referees, female line judges, female viewers. But not us (in Aceh), we are not ready for that," he said.
But, in actuality, there are already numerous women's soccer teams in Aceh. In fact, the weekend prior (June 29-30), four U-17 women's teams from Langsa, Banda Aceh, Lhokseumawe, and Central Aceh had competed for the chance to represent their region in the planned national tournament, with the Langsa team emerging the winner.
BLiSPI Aceh selection coordinator Ishak Rizal said that they had not received any rejection from the local community previously and said that the players wore uniforms that were compliant with sharia law.
"[They used] sharia and Muslim clothing that also covered their aurat more neatly than other sports. There was no rejection of the tournament," Ishak said Friday as quoted by Kumparan.
Despite that, the same day Ishak issued a statement on behalf of the BLiSPI selection committee, saying they "apologized profusely" if they had acted in a way that was contrary to the values of Islam".
Although there has been no official announcement regarding whether the U-17 national competition will still take place in Aceh, it seems unlikely after MPU declared it haram and prominent Aceh politicians said they would demand that Menpora cancel it.
Aceh is the only region of Indonesia that has special autonomy from the national government to implement explicitly sharia-based laws such as public canings for adulterers and those criminalized for their sexual orientation.
Aceh has also been much in the news recently over the regional government's controversial proposal to legalize and regulate the practice of polygamy, a proposal Aceh politicians argue is needed to protect women's rights but which women's rights activists say will only hurt their position in society.
https://coconuts.co/jakarta/news/womens-soccer-rejected-as-haram-by-islamic-groups-and-scholars-in-aceh/
--------
Aligarh: Muslim Woman Asked To Vacate House After She Joins BJP
July 8, 2019
A Muslim woman in Uttar Pradesh's Aligarh was asked to vacate the house by her landlord after she joined the Bharatiya Janata Party (BJP), news agency ANI reported. The woman has been identified as Gulistana. She joined the BJP officially on Saturday, the day Prime Minister Narendra Modi launched the BJP's nationwide membership drive.
According to Gulistana, she lives in a rented house in ADA Colony. The owner of the house also is a Muslim. Gulistana said that she joined the BJP on Saturday at an event organised by the BJP Mahila Morcha's Mahaveer Ganj Mandal unit at Raghunath Palace in the city. She and a few others joined the saffron party in the presence of BJP's women wing leader Rumi Asif Khan.
The photo of the event was published in local newspapers on Sunday. When Gulistana's landlord came to know that she has joined the BJP through media reports, he misbehaved with her and then asked her to move out of the house immediately. Reports even say that Gulistana and her child were assaulted by the owner and his family.
"I joined BJP yesterday, when my landlord came to know of it she misbehaved with me and asked me to vacate immediately," Gulistana said, adding that she reported the matter to the police.
Akash Kulhary, Senior Superintendent of Police, Aligarh, informed that the matter was brought to the notice of police and a case has been registered against the landlord. The accused has been identified as Sultan. His wife Madina was also booked by the police under relevant sections.
"Prima facie it appears that the mother of the landlord had demanded Rs 4,000 from Gulistana for an electricity bill, following which they had an argument over Gulistana joining a political party. A case has been registered against the owner of the house," he said.
PM Modi launched the BJP's membership drive on Saturday from Varanasi,m his Lok Sabha constituency. The saffron aims to add over 2.2 crore or 20% more workers to its strong base of 11 crore, making it the largest political party in the world.
https://www.financialexpress.com/india-news/aligarh-muslim-woman-asked-vacate-house-joins-bjp/1636141/
--------
'Let a Muslim Woman Challenge It': SC Dismisses Hindu Mahasabha Plea on Mosque Entry
July 8, 2019
New Delhi: The Supreme Court has dismissed a petition filed by the Akhil Bharat Hindu Mahasabha seeking an order to permit Muslim women to enter mosques and to ban the purdah.
According to LiveLaw, while dismissing the order, Chief Justice Ranjan Gogoi remarked, "Let a Muslim woman challenge it."
The special leave petition was filed by the president of the Kerala unit of the Hindu Mahasabha, whose petition was previously dismissed by the Kerala high court in October 2018. The Supreme Court referred to the high court's judgment while dismissing the plea.
The original petition was filed before the Kerala HC soon after the Supreme Court's historic judgment allowing women of all ages to enter the Sabarimala temple.
Dismissing the Mahasabha's plea, the Kerala high court dubbed it as a "publicity exercise". It also noted that there was a lack of "substantial evidence of the claim that women were being denied entry into mosques". Observing that the apex court's Sabarimala ruling would not be applicable in this case, the high court said if Muslim women felt discriminated against, they were "free to move the court".
On the issue of purdah, the petition claimed that it has enabled "anti-social elements" to misuse it and commit crimes. This encroached the personal liberty of Muslim women and social security, it said.
The Kerala HC was not conviced about the locus standi of the petitioner. "The averments in the writ petition do not suggest that the petitioner is a person who should be ordinarily concerned with the rituals and practises of Islamic religion and, in particular, the alleged denial of entry of Muslim women in masjids. He has also not satisfactorily established his credentials as a person who has a history of espousing such causs before superior courts in our country," it noted.
In April this year, the Supreme Court issued notices to the Centre, the Waqf Board and the All India Muslim Personal Law Board in another PIL filed by a Pune-based Muslim couple seeking to uphold the right of Muslim women to enter mosques and offer namaz. The petitioners said that the authorities at the Mohmdiya Jama Masjid in Pune denied permission for women to enter and pray in the mosque, because such a practice did not exist. The Supreme Court noted that it was hearing the plea "only because of the Sabarimala verdict", which was cited in the PIL.
https://thewire.in/law/supreme-court-hindu-mahasabha-plea-muslim-women-mosque-entry
--------
Sh Qaradawi's Daughter Remanded In Egypt Again
by Ibn Khaldun
July 8, 2019
The daughter of world-renowned Egyptian born and Qatar-based scholar, Prof Dr Yusuf Al-Qaradawi has started a hunger strike following Egyptian prosecutors decision to ascribe new charges. [1]
Ola al-Qaradawi has now been held for more than two years. She was taken into custody again on Thursday just a few hours after she was released from a previous case.
The Egyptian security forces arrested Ola al-Qaradawi and her husband Hossam Khalaf in early July 2017. They were later accused of having links to the Egyptian Muslim Brotherhood. She had been held in solitary confinement in al-Qanaater Women's Prison. Human rights organisation, Amnesty International has already concluded that the way the Egyptian state has dealt with her case amounts to torture by international standards. [2]
Sheikh Qaradawi who is the former Chairman of the International Union of Muslim Scholars, has protested the injustice that she has been suffering, and how his heart burns at her being subjected to a "deliberately slow execution".
Sheikh Qaradawi said: "For an entire year in solitary confinement, in one of the world's worst prisons, my daughter Ola al-Qaradawi has been subjected to terrible treatment in her tragic imprisonment. This unceasing abuse and humiliation is a deprivation of her most basic rights."
Sheikh Qaradawi addressed his daughter in a letter saying:
"Oh my daughter I have not forgotten what you look like, and I still remember you in my mind, and I ask Allah in my supplications, prayers, and in my seclusion that He saves you from these oppressors, and every father feels the pain of his heart burning and making his eyes overflow whenever his daughter suffers an injustice or transgression". [3]
According to Egyptian law, these fresh charges on Ola al-Qaradawi means that she could potentially be held again for another two years in pre-trial conditions.
Her lawyer, Ahmed Magdi, said that Ola had begun a hunger strike again to protest against the Egyptian authorities' decision. Ola's daughter, Aayah said that her mother has "reached the point where she is not able to take it any more…She's been in solitary confinement for the past two years; she's not even in contact with other prisoners," [4]
Sheikh Qaradawi in his letter said:
"This is how an innocent person in Egypt is thrown into prison, and this is how they are consigned to their oppression" adding "If I thought that putting in an appeal to them (the Egyptian authorities) would have worked, I would have done so, but they are completely heartless with rotten organs. Allah has removed mercy from their hearts, and their morals from their behaviours, while all of this is the case, I resort only to Allah who has lordship over the heavens and the earth, and sufficient is Allah as a guardian."
He further added:
"Every free person in this world should do what they are able to do save you and the tens of thousands of other unjustly imprisoned individuals from the abuse and oppression. So, to Allah is my complaint, and there is no power or ability to do anything except with Allah the Majestic, and I place you and your husband in the trust of Allah in who trust is never misplaced."
Ola is amongst thousands of others that have been put into solitary confinement and even denied much needed medical assistance as prisoners health rapidly deteriorates over the years. Since the 2013 military coup, the regime has cracked down on all channels of legal dissent and opposition, arresting many supporters of Morsi, the Muslim Brotherhood, and those who are simply against the military coup, with many more being killed. The regime has systemically tortured many political prisoners and has denied them the right to fair representation and a fair trial.
https://www.islam21c.com/news-views/sh-qaradawis-daughter-remanded-in-egypt-again/
--------
By Breaking Taboos, This Urdu Writer Helped Poor Women Gain Control over Their Lives
Jul 8, 2019
Hyderabad: From being a special education teacher to winning the Lifetime Achievement Award from the Telangana State Urdu Academy for her contribution to promotion of Urdu language through informative articles, 64-year-old Farida Raj has traversed a long and arduous but satisfying journey in her endeavour to empower women.
An encounter with a Muslim woman in the mid-90s helped Farida find her life's purpose.
Beating all odds, Farida decided to wield the pen to help her fellow women gain control over their lives. "I used to cater to children with learning disabilities and cerebral palsy, and I knew the importance of genetic counselling. I settled in Hyderabad post marriage and used to visit the National Institute of Mental Health (NIMH). One day, I saw a lady there with a baby who was mentally challenged. The baby was her seventh child and all her other children had the same problem too. I found that the woman had never gone for genetic counselling as she was unaware of such a thing. The woman belonged to a poor Muslim family in Musheerabad," Farida, who was born and brought up in Mumbai, told TOI.
The encounter prompted Farida to reach out to such women to go for genetic counselling before conceiving another child. "The articles in Urdu papers for women were either about cookery or beauty tips. So, I decided to reach out to them and the best medium was the newspaper," said the wife of former cricketer Vijay Mohan Raj, said.
Farida began writing for the Urdu daily Siasat, which she says, was quite a challenge even though she spoke the language. "There were times when a reader didn't even buy the paper because it had a piece written by me on subjects considered taboo," she said.
Farida also organises lectures by oncologists about cancer and has taken to writing on children and dyslexia.
"I have written two books on dyslexia. Last year, Cambridge published one of my books," she signs off.
https://timesofindia.indiatimes.com/city/hyderabad/by-breaking-taboos-this-urdu-writer-helped-poor-women-gain-control-over-their-lives/articleshow/70120042.cms
--------
'Equality of Women' Motto Adopted By Saudi Arabia for Haj 2019
BY ANUSHIKA SRIVASTAVA
JULY 8, 2019
With Saudi Arabia adopting equality of women as one of its motto in hosting the pilgrims, this year's Haj has become very special for women. Not only this, but the Haj authority is also encouraging Digital India by introducing the Haj app, that will provide all sorts of help to the Haj pilgrims. This was announced by Indian Ambassador Dr. Ausaf Sayeed at a press conference along with Consul General Md. Noor Rahman Sheikh to give a brief about ongoing Indian Haj operation in Saudi Arabia.
The app will not only ensure smooth Haj operation but is also programmed to receive the feedback and grievances. The app is named Indian Haj Information Service and is designed to help pilgrims go on a hassle-free Haj and to receive their suggestions for the betterment of service. Ambassador Sayeed said that 101 women officials out of the total 625 from various ministries have been deputed on temporary duty to Saudi Arabia for the Hajj season.
"We have set up an exclusive office and dispensary which is manned by lady staff itself for single women pilgrims, above age 45, coming for Haj", the ambassador added. Also, Saudi Arabian sim cards are being provided to the pilgrims in India itself, which they can activate once they reach the country.
Following a rule modification for the period 2018 to 22, which allowed single muslim women above the age of 45 to apply for Haj, in a bid to empower them, more women have enrolled themselves to go for Haj without a Meharam. A Meharam in Islam is a person in front of whom, a woman can take off her hijaab. A woman's Meharam can be the person related to her through close blood relations, or the one related to her by marriage or through breastfeeding.
Following this, a number of applications came in for women who would travel without Mehrams. In 2018, 1340 women had applied to visit Saudi without a Mehram. This year, the number has gone up to 2340. The largest number of women who are travelling to Saudi for Haj without Meharam come from Kerala this year too. Last year 1124 woman pilgrims and this year, 86% of women travelling to Saudi without Meharam are from Kerala. Haj is considered to be one of the five pillars of Islam. Every Muslim is expected to perform Hajj at least once in their lifetime, if they can afford to.
Overall, 2 lakh pilgrims are expected to go for Haj this year. Out of these, 1.4 lakh are travelling through government agency HCL and the others are travelling through private Haj operators.
Proper care also has been taken for the health of the pilgrims. Health status and medical condition of pilgrims is being stored online at e-MASIHA (Medical Assistance System for Indian-Hajis abroad) The data will be used to provide proper medical treatment to the pilgrims as they approach Indian medical facilities for any issue.
https://www.shethepeople.tv/news/equality-of-women-and-digital-india-adopted-by-saudi-arabia-for-haj-2019
--------
Libyan Women Ignore Barriers to Launch Businesses
July 07, 2019
Inflation started reducing the value of Libyan assistant professor Seham Saleh's state-paid earnings. So, she started selling drawings over the internet to help pay bills.
Saleh joins a growing number of Libyan women launching businesses in the conservative Arab nation. Limitations on personal and family earnings and years of political chaos have forced many women to look for more work.
Libya has a market for locally-produced goods. The economy is mostly controlled by the government. It employs most adults under a structure set up by former leader Muammar Gaddafi, who was removed from power and killed in 2011.
Men are the traditional main earners. But, a United Nations study reported that, as of 2015, about 30 percent of women were in the labor force.
Saleh told the Reuters news service that she cannot live on her expected earnings of about $256 from her job as an assistant professor. So she has been selling drawings of people in Libyan clothes or other objects she created on a computer.
"Thank God...people wanted to buy the products," she said. She also does freelance work as building designer.
Libya was once one of the wealthiest countries in the region. But the chaos and civil war that took place after the fall of Gaddafi has caused the country's quality of life to worsen. Little is now produced in Libya other than oil. Even milk is imported from Europe.
Growing inflation over the last four years has seen real earnings lose more than half of their buying power. And the country's money, known as the dinar, has sharply lost exchange value since last September.
A severe lack of cash means public workers often do not get their earnings paid out in full. Lenders have no cash deposits because many people prefer to hold their cash themselves, rather than deposit it in a bank.
Jasmin Khoja is the head of a Libyan women's business support organization called the Jusoor Center for Studies and Development. Khoja says women rarely had jobs outside of fields such as teaching, although the need for greater family earnings has changed the situation.
The center has trained about 33 would-be businesswomen and provides legal advice. It also offers office space to women who are unable to pay for their own.
Seham Saleh's "Naksha" art business is in its early stages. But others, such as Najwa Shoukri's business, are growing fast. Shoukri started designing clothes from home in 2016. Now she is selling them over the internet.
Together with five other women, she has a workshop selling 50 pieces of clothing a month. She plans to open a store next year on Jaraba Street. That is the main clothing sales area in Tripoli.
To make the store a success her production would have to rise to 150 pieces a month. Her brother and family have added to investments worth 10,000 dinars.
The biggest difficulties for new businesses are legal barriers and the lack of an electronic payment system.
Some Libyan business laws go back to the 1960s and are aimed at big corporations such as oil companies, not small businesses. Under these rules companies need to deposit thousands of dinars.
"Banks do not give loans, which stops projects and makes them unable to grow or employ other women and young people," Khoja said.
Still, this did not stop Mayaz Elahshmi from starting a business recently. She is training women to fix computers and other devices.
"There is big demand as many women are reluctant to go to a phone shop where men work, as they have personal files on their phones," she said.
Six people came to her first training meeting, each paying 30 dinars.
https://learningenglish.voanews.com/a/libyan-women-ignore-barriers-to-launch-businesses/4976690.html
--------
URL: https://www.newageislam.com/islam-women-feminism/canada-malala-teach-quebec-if/d/119117
New Age Islam, Islam Online, Islamic Website, African Muslim News, Arab World News, South Asia News, Indian Muslim News, World Muslim News, Women in Islam, Islamic Feminism, Arab Women, Women In Arab, Islamophobia in America, Muslim Women in West, Islam Women and Feminism