New Age Islam News Bureau
14 Dec 2019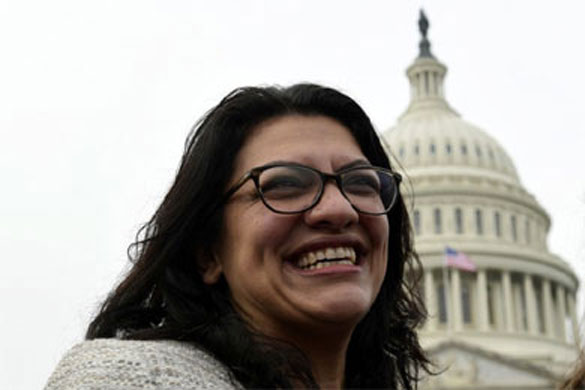 Rep. Rashida Tlaib (D-Mich.) outside the Capitol on Jan. 4, the opening day of the 116th Congress. (Susan Walsh / Associated Press)
------
• Canada Court Refuses To Suspend Religious Symbol Law
• Rep. Rashida Tlaib Talk Cancelled After Poway School District Rescinds Theatre Use
• In 75 Constituencies, There Were No Women On The Ballot Paper – This Isn't What My Grandmother Fought For
• Changing Faces Of Lambeth Mps As Women Make Their Mark
• Thanks To Boris Johnson's General Election Majority, Being A Visibly Muslim Woman Just Got Harder
• Moment Judge Rinder Explodes With Fury At Stanley Johnson Over Muslim Women Comments
• Bernie Sanders Retracts Endorsement Of Californian Who Defends Crude Sex Ratings Of Women
• Nana Asma'u, The Princess And Iconic Muslim Feminist From Nigeria You Should Know
• Texas Town Mandates Diversity Training After Bigoted Comment On Facebook Against A Muslim Woman
Compiled By New Age Islam News Bureau
URL: https://www.newageislam.com/islam-women-feminism/canada-court-refuses-suspend-religious/d/120526
------
Canada court refuses to suspend religious symbol law
13th Dec 2019
By Barry Ellsworth
TRENTON, Canada (AA): The Quebec Court of Appeal Thursday refused to suspend the Quebec law that bans most public servants from wearing religious symbols while on the job, including teachers and police officers.
The National Council of Canadian Muslims (NCCM) and the Canadian Civil Liberties Association, along with a university student, had argued the law unfairly targets Muslim women who wear the hijab. The organizations said the law also disproportionately applies to women and in doing so it violates the sexual equality rights enshrined in the Canadian charter of rights.
But Thursday's ruling does not end the fight against the law.
"While we are disappointed with the result, we never thought that fighting for the rights of Quebecers and Canadians would be easy," said Mustafa Farooq, executive director of the NCCM.
They had asked the judge to grant a stay (suspend the law) while the Quebec Superior Court decides if the law is constitutional. A ruling is expected to be made sometime in the future.
But the Quebec government put a clause, called the notwithstanding clause, into the legislation. That clause severely limits appeals under the Canadian and Quebec charters or rights.
The main challenge made to the Quebec Superior Court is that the law is too vague, banning religious symbols such as hijabs, turbans, kippahs and crosses for some in the public sector, but not others. In doing so, the law defies its own secularism that stipulates respect for equality and religious freedom, opponents argue.
The secularism law also is the subject of a lawsuit by the union representing 45,000 Quebec teachers. Some Muslim women who wear the hijab said they were rejected when they applied for teaching positions after the bill became law earlier this year.
Both the NCCM, the civil liberties organization and the province have said they will take legal fight to the Supreme Court of Canada if necessary.
[Map of Canada by CIA/Public Domain]
http://muslimnews.co.uk/news/islamophobia/canada-court-refuses-suspend-religious-symbol-law/
------
Rep. Rashida Tlaib talk canceled after Poway school district rescinds theater use
Request to use high school was approved, then withdrawn after protest letter
By J. HARRY JONES
DEC. 13, 2019 8:55 AM
A planned talk by Rep. Rashida Tlaib at the Westview High School theater has been canceled after the Poway Unified School District revoked its approval of the event, saying that is the only day the space can be cleaned before the holiday break.
Notice of the cancellation came late Thursday morning, a day after the district had sent an email to the Center for American-Islamic Relations (CAIR) confirming use of the theater on Dec. 21 for the two-hour event, "Defending Our Communities, a Conversation with Rep. Rashida Tlaib." CAIR representatives had spoken with school officials about the event before it was originally approved and had applied via the district's web portal.
But then, on Wednesday, a letter protesting the event was sent by a conservative legal fund to the school's superintendent and school board president suggesting that Tlaib's presence and the event would be an insult to the Jewish community, which it said is still struggling to get over the nearby Chabad of Poway synagogue shooting of last April that left one dead and three wounded.
Daniel Piedra, executive director of the nonprofit Freedom of Conscience Defense Fund, said he was not told what prompted the district to cancel the event, but believes concerns expressed by his organization about "Tlaib's anti-Israel rhetoric" played a role. The Defense Fund in 2017 represented plaintiffs suing to prohibit CAIR from teaching about Islam in San Diego Unified School District's anti-bullying program.
The fund was founded in 2012 by Rancho Santa Fe lawyer Charles LiMandri, who defended the Mount Soledad Cross in San Diego when challenged by the ACLU.
Democrat Tlaib, 43, has represented Michigan's 13th Congressional District since early this year. She is the first Palestinian-American woman in Congress and, with Ilhan Omar, D-Minn., one of the first two Muslim women elected to Congress.
She has been a vocal critic of the Trump administration and has sharply criticized the Israeli government and called for an end to U.S. aid to Israel.
Tlaib is a member of the informal group known as "The Squad: along with Omar, Ayanna Pressley, D, Mass., and Alexandria Ocasio-Cortez, D-N.Y.
Dustin Craun, executive director of the local chapter of CAIR, said Thursday afternoon he doesn't believe in coincidences and thinks it's highly possible the district came up with an excuse to avoid controversy.
"I was told there was a conflict and the school needed it," Craun said. "I said, 'well, that's convenient.'"
"Now the congresswoman wants to speak to the superintendent, so obviously it's pretty upsetting," Craun said. Tlaib clearly has the right under the First Amendment to speak, he added.
The $65-a person event will still be held that weekend, Craun said, when a suitable new venue can be found. Craun and UC San Diego political science professor Tom Wong are listed as participants in the conversation. Wong, a Democrat, is one of the candidates running to replace Rep. Susan Davis in the 53rd Congressional District.
A spokeswoman for the district said Thursday that the letter protesting Tlaib's visit had nothing to do with the permit being denied. In fact, Christine Paik said, Superintendent Marian Kim-Phelps hasn't even seen the letter.
"This time of year is crazy," Paik said. "All of the holiday concerts and events are happening at our facilities. At that theater in particular, there is something scheduled every day through Friday (Dec. 20)," she said.
She said the 21st was the first and only time when scheduled maintenance of the building could be done before employees went home for the winter break.
"Sometimes facilities requests are approved without consulting the maintenance schedule and that's what happened in this case," Paik said.
Tlaib could not be reached for comment Thursday evening.
https://www.sandiegouniontribune.com/pomerado-news/news/story/2019-12-13/rep-rashida-tlaib-talk-canceled-after-poway-school-district-rescinds-theater-use
-------
In 75 constituencies, there were no women on the ballot paper – this isn't what my grandmother fought for
Helen Pankhurst
My great-grandmother, suffragette Emmeline Pankhurst, fought for women to have a political voice in Westminster. It is her and her daughters Christabel, Sylvia and Adela who come to mind when I look at the election results. Some of my ancestors might be celebrating; others in the doldrums.
However, I feel certain that they – as I do – would move quickly beyond party political gains or losses to reflect on the implications of the results for women.
Yesterday's election has some positives in terms of female representation but there are also many concerns. Turnout at 67.25 per cent is higher than many of the 28 elections in the 100 years. However, our democracy is still weaker for those absences. So many sacrifices have been made throughout history for the right to vote, yet people still do not take up this right.
In these elections, there was absolutely no chance of a woman being elected in 75 constituencies. From Calder Valley to Weston-Super-Mare, even if the electorate wanted to vote for a woman, they had absolutely no choice because there wasn't a single woman on the ballot paper.
For the first time ever, Labour and Liberal Democrats returned more women than men as MPs, a sign of massive change. However, the Conservatives are still lagging behind with only 87 women out of 364 seats. Despite great efforts on the part of Women2Win and others, the Conservatives are by far the worst party for women's representation.
Of the 650 seats in the House of Commons, only 220 have gone to women. We now have 34 per cent of women in Westminster, up from 32 per cent. Progress yes, but more than 100 years since some women got the vote, is this really good enough?
I have no doubt that suffragists and suffragettes alike would be shouting a resounding no. At this rate, it will take another 50 years for women to be proportionately represented in Westminster.
Although we now have 37 ethnic minority women – more than minority men – women of colour, disabled women and LGBT+ women are still chronically underrepresented.
Now, only one out of six parties has a woman leader. Jo Swinson of the Liberal Democrats has lost her seat and resigned, leaving us with Nicola Sturgeon as our last remaining one.
This election saw horrendous abuse against women. In the social media age, online abuse is the new source of women's oppression, and women of colour are disproportionality targeted. Many women politicians are forced to have 24-hour security and carry panic alarms. Even those volunteering to knock on people's doors can face torrents of abuse from householders. The Suffragettes would recognise all this. They experienced imprisonment, force-feedings, state brutality and humiliation by the state, the media and the public. More than a century later, women politicians are still fair game when it comes to harassment.
I am more interested in advancing diversity in politics and engagement by citizens than I am in party politics. Last year, 100 years since some women won the right to vote, I set up the Centenary Action Group, to eradicate barriers that stop women from taking part in politics. Many, many thousands of members joined up through the Women's Institute, Girlguiding, The Fawcett Society and Muslim Women's Network, to name but a few. We are determined to push for better representation in order to strengthen our democracy.
We know that more women in parliament would bring a better understanding of the issues women face today. It is no coincidence, for example, that women still experience pregnancy discrimination, sexual harassment and unequal pay, and are known to be hardest hit by public sector cuts. We need parliament to really understand the implications of these realities.
The Centenary Action Group has two immediate calls for the new government as it considers its priorities:
To act fast to clean up the rhetoric in politics and tackle the abuse that is facing so many women in the public eye today.
To enact Section 106 of the Equality Act 2010, which would require political parties to publish diversity data on candidates standing in elections. It is only when we know about individual practices that parties can be held to account, and change can happen. Labour, Liberal Democrats, the Green Party and the SNP have all committed in their manifestos to enacting Section 106 of the Equality Act. It is down to the Conservatives to step up.
Last month, Boris Johnson, the prime minister, vowed to ensure equal representation of future Conservative candidates, making sure that "women are supported to take up the opportunities that politics present". The government needs to make this happen. We all need to keep up the pressure.
I'm still marching, demanding deeds, not words – as I know my ancestors would be.
https://www.independent.co.uk/voices/election-women-seats-emmeline-pankhurst-conservatives-labour-lib-dems-a9245946.html
------
Changing faces of Lambeth MPs as women make their mark
13th December 2019
Lambeth has three women MPs after Labour swept the board in the borough with ease in Thursday's general election.
Florence Eshalomi was elected MP for Vauxhall, replacing the retiring Kate Hoey, with a 19,612 majority, slightly down on the retiring Kate Hoey's 20,250. The retiring former sports minister, 73, had stood down amid angry internal party opposition to her support for Brexit.
Mum of two, who was born and raised in the constituency, said: "I feel humbled to be the MP for somewhere I have called home all my life. It is great that a girl like me can represent this area.
"I want to thank my opponents for putting themselves forward – in the current climate it is difficult, especially as a woman – there is a lot of anger and hate out there. We have to remember one of us was killed doing our job. So I salute anyone putting themselves forward for public office.
"Kate served this constituency for 30 years – I was eight when she was elected, living on an estate. She was a diligent MP who stood up for residents
"I will be a voice for people so they can get housing, for those using foodbanks, for children in schools and for the people I met at St Thomas's Hospital when my two children were born. And for young people who use community centres that have been closed.
"I am saddened to have seen so many good Labour colleagues lose their seats after they stood up for their constituents.
"I will be a tireless campaigner for you, whether you live in Brixton, Kennington, Vauxhall, Stockwell or Clapham – for struggling small firms and Europeans who could not vote."
And Bell Ribeiro-Addy became the new member for Streatham, with a 17,690 majority over the Conservaties.
She replaced fading star Chuka Umunna, who had turned his back on the party to join the Lib Dems, but failed to take the Cities of London and Westminster.
Ribeiro-Addy said: "I would like to thank Diane Abbott – I could not have had a better mentor. I could easily have been put off politics by the daily abuse she gets going to work – I have never heard the N-word so much, seen swastikas and cards with monkeys on. It is enough to make you wonder why you would do it. But If you do not stand up to be counted, the bigots win.
"We have a prime minster who thinks it is acceptable to compare Muslim women to letterboxes and make derogatory remarks about LBGT people.
"I am proud of this diverse and rich community.
"My concern now is the people of Streatham, who rely on the NHS and those who will not have the right to remain. We will need a leadership that fitghts for what is right.
"I will never quit on my constituents. We still need a society that works for the many, not the few."
Dulwich & West Norwood MP Helen Hayes comfortably retained her seat for Labour.
Hayes' share of the vote fell by 4.2 per cent, while Green Party leader Jonathan Bartley increased their portion of the ballot by 14 per cent, hurdling the Tories, who were second in 2017.
Hayes polled 36,521 votes, 846 fewer than in 2017 – but still posted a 27,361 majority.
The mother-of-two said after her victory was announced: "Party members have campaigned here and in other marginal constituencies and could not have done any more.
"It was a devastating night for communities living with the housing crisis and schools with cut budgets, cuts in social care and the hostile environment – and for the remain community, who wanted to vote again.
"I will stay true to our values of inclusivity and internationalism and will stand up for our communities in the face of the horrors which Boris Johnson will deliver and I will keep working for a future Labour government."
Turnout was just under 70 per cent, the highest of the three constituencies.
The Brexit Party's Julia Stephenson gained 571 votes, Anthony Hodgson of the Christian Pepple's Alliance 242, and UKIP's John Plume 73.
Pictured, left to right: Eshalomi, Green Jacqueliine Bond, Lib Dem Sarah Lewis and Conservative Sarah Bool
https://www.londonnewsonline.co.uk/changing-faces-of-lambeth-mps-as-women-make-their-mark/
------
Thanks to Boris Johnson's general election majority, being a visibly Muslim woman just got harder
By Mariam Khan
Friday, 13th December 2019
I feel weird - not exactly numb but a feeling I can't quite place, as a knock-off cocktail of Donald Trump mixed with Tommy Robinson is voted into the highest office in the UK.
In the coming days we will hear so many reasons for the Conservatives' landslide majority and the failure of the Labour party. This was a one-issue election, the same issue that has been plaguing British politics for the last three years - Brexit. The issue that has bought out the underlining racism and classicism within this country that has never really been addressed properly.
As a Muslim woman, I am now going to be represented on a national and international stage by Boris Johnson, a man who said "Islam was the problem" and in 2005 wrote in the Spectator that Islamophobia was only a "natural" reaction. A man who insulted Muslim women in niqabs by saying they looked like "letterboxes" and "bank robbers", comments which were linked to a 375 percent spike in anti-Muslim attacks, according to Tell MAMA, an organisation which supports victims.
The man who called Africans "piccaninies" with "watermelon smiles" and called gay men "bumboys". The man who branded children of single mothers as "ignorant and illegitimate".
I'm not surprised that Johnson's upper-middle class, straight white privilege has seen him fall upwards again and again, but I worry about the message this communicates to the rest of the country, and wonder how safe this country is for those of us who continue to be demeaned.
Being visibly Muslim is hard enough in a world of bigots. When someone as powerful as Johnson continues to further a reductive and dehumanising narrative around Muslim women – which I will continue to fight – how will I, as a Muslim woman, have ownership of the narrative around me when Johnson has so many resources?
I am not surprised by the result, though I was quietly hopeful and I refuse to ashamed of this. I will continue to have hope because the audacity of hope – and fierce activism – is what all of us will need to carry over the coming weeks and years.
Our fellow citizens have embraced a government which in its last nine years has; aided a rise in crime, a hostile immigration system, rough sleepers, the use of foodbanks, cuts to the police service, rising national debt, religious groups pitted against each other, raised tuition fees and longer NHS waiting lists.
Communities have been crippled - as shown with Grenfell and the treatment of the Windrush generation. And still we must be hopeful because if we aren't we will continue to lose the spaces carved out by those before us that are hard fought for. That is the plight of being a minority in this country but I am too stubborn to be so disenfranchised that I give up hope.
We must continue to fight for the many and not the few.
https://inews.co.uk/opinion/general-election-results-2019-boris-johnson-conservative-majority-muslim-woman-1340462
------
Moment Judge Rinder explodes with fury at Stanley Johnson over Muslim women comments
ByJames Rodger
13 DEC 2019
Stanley Johnson has sparked fury - after declaring 'women fighter pilots shouldn't wear burkas'.
Judge Rinder reacted with fury to Boris Johnson's dad Stanley's comments about Muslim women this evening.Mr Johnson was interviewed during Channel 4's Alternative Election show.
During the debate, the Prime Minister's dad echoed his son's controversial views.
Stanley angered many by spontaneously saying: "If I was a female fighter jet pilot, I would expect someone to say don't wear a burka."
Nish Kumar responded immediately by saying: "What are you talking about man?"
Robert Rinder said: "She has to be qualified... that is the only thing that matters.
"How dare you, how dare you sit there and use that kinds of language. That is disgraceful."
Stanley said: "My grandfather could recite the Quran."
One furious viewer responded: "So if you ever wanted proof that hate , racism, misogyny and bigotry are learnt, tune into channel 4 and watch Boris Johnson's father in action #alternativeelectionnight".
Katherine Ryan was presenting the coverage on Channel 4 this evening.
A second chipped in with: "It's like watching your drunk elderly family member at Christmas you can't believe they're saying these things and there's no stopping them #alternativeelectionnight".
https://www.birminghammail.co.uk/news/showbiz-tv/moment-judge-rinder-explodes-fury-17412986
------
Bernie Sanders retracts endorsement of Californian who defends crude sex ratings of women
By MICHAEL FINNEGAN
DEC. 13, 2019
Bernie Sanders withdrew his endorsement of California congressional candidate Cenk Uygur on Friday following reports about the online talk show host making crude and degrading comments about women and provocative statements about Jews, Muslims and other groups.
The Democratic presidential candidate had said Thursday that Uygur, founder and co-host of "The Young Turks" online talk show, is "a voice that we desperately need in Congress" to fill the seat of former Rep. Katie Hill of Santa Clarita. A backlash among Democrats offended by Uygur's inflammatory comments led the congressional candidate to say Friday that he would no longer accept endorsements, prompting Sanders to withdraw his support, even as he continued to praise him.
"As I said yesterday, Cenk has been a longtime fighter against the corrupt forces in our politics and he's inspired people all across the country," the Vermont senator said. "However, our movement is bigger than any one person. I hear my grassroots supporters who were frustrated and understand their concerns. Cenk today said he is rejecting all endorsements for his campaign, and I retract my endorsement."
Sanders did not specifically address Uygur's comments about women. His campaign spokesman Mike Casca did not respond to an email asking whether the senator shared the concerns of supporters who were offended by his support for Uygur.
Uygur also defended the Harvard University men's soccer team in 2016 for ranking the sexual appeal of female students on a scale of 1 to 10 on a widely shared "scouting report," including explicit descriptions of potential sex acts with the women.
"We've been doing it for as long as humanity has existed, so they put it in a Google doc — not guilty," said Uygur, who has promoted Sanders on his program.
In 2007, Uygur used the n-word multiple times in a show about Duane "Dog" Chapman after the celebrity bounty hunter used the racial slur.
Uygur, 49, described himself in a telephone interview as a champion for women's rights who should not be criticized for having "frank conversations about sex" on his show. The problem with the Harvard team's appraisals of the women, he said, was not that they rated their sex potential; it was that the roster became public.
"I'm not going to be the thought police and police what their private comments were," he said.
He also said "The Young Turks" used to have a policy to use the n-word epithet when quoting racists in order to mock them, but stopped doing it after complaints from black activists.
Will Rodriguez-Kennedy, president of California Young Democrats, a group that backs Sanders, had called on him to yank the endorsement.
"We think that he doesn't necessarily reflect the movement that Sen. Sanders has built," he said.
Mark Gonzalez, chairman of the Los Angeles County Democratic Party, had also called on Sanders to "disavow" Uygur and pull the endorsement. Uygur's "vulgarity, his hate speech and divisive rhetoric have no place in our party," Gonzalez said in a Friday statement. The party is likely to endorse one of Uygur's opponents, Assemblywoman Christy Smith of Santa Clarita, on Saturday.
Another Uygur supporter, Rep. Ro Khanna (D-Fremont), stood by him on Friday morning, but denounced the talk show host's behavior and said he should apologize. Still, Uygur's commitment to Medicare for all, free public college and ending U.S. involvement in wars abroad "is why so many progressives rallied around him," Khanna said.
After Sanders pulled his endorsement, Khanna followed suit.
Shortly before Sanders reversed course, Uygur released a statement Friday saying he appreciates that supporters endorsed him "in the face of the corporate media and Democratic establishment onslaught."
"I will not be beholden to corporations, lobbyists or special interest groups, and I will not stand by while those groups attack my political allies," he said. "That's why I have decided that I will not be accepting any endorsements."
Sanders apologized in January after accusations emerged of sexism, sexual harassment and pay discrimination by male supervisors in his 2016 presidential campaign.
He initially told CNN that he'd been unaware of complaints in his 2016 campaign. "I was a little bit busy running around the country trying to make the case," he said.
Days later, amid mounting criticism, he was more forceful. "What they experienced was absolutely unacceptable and certainly not what a progressive campaign or any campaign should be about," he said.
Last week, the Sanders campaign severed ties with staff member Darius Khalil Gordon after the Washington Free Beacon published anti-Semitic and homophobic slurs that it said were from his Twitter feed.
A former Republican, Uygur is now one of the Democrats vying in California's March 3 election to represent the state's 25th Congressional District, which covers Simi Valley, Porter Ranch, Santa Clarita, Palmdale and part of Lancaster. Hill, a Democrat, resigned in November amid accusations that she'd had affairs with congressional and campaign staff members. Uygur lives in West L.A., 30 miles outside the district.
California's Democratic establishment has lined up behind Smith, the assemblywoman. Her supporters include Gov. Gavin Newsom, Sens. Dianne Feinstein and Kamala Harris and House Speaker Nancy Pelosi.
Republicans in the race include former Rep. Steve Knight, who was ousted last year by Hill, and George Papadopoulos, an advisor to President Trump's 2016 campaign who pleaded guilty to lying to the FBI in the Russia scandal.
Uygur, a Turkish immigrant who has a law degree from Columbia University, is a former MSNBC host.
Many of his most provocative remarks have been compiled in video snippets posted on Twitter in recent weeks by a New York Democratic activist, M. Mendoza Ferrer, who is unaffiliated with any presidential campaign. She said it seemed Uygur had built his online platform denigrating women and others, and now that he's a Democrat running for Congress it bothered her that his audience of mainly young men was tuning in.
"Once this stuff came to light, anybody would be sort of horrified," she said. "I was horrified."
The clips she unearthed included a 2012 segment of "The Young Turks" in which he said conservative Orthodox Jewish men and Muslim women in heavy religious attire were "wasting their lives."
Uygur, who was raised Muslim and now describes himself as agnostic, said Thursday that he was referring to fundamentalists, and he's offended they think he "will rot in hell."
"I believe the things they believe are not correct, yes," he said. "If they want to spend their whole lives following an ideology that I don't believe is correct, that's on them."
https://www.latimes.com/politics/story/2019-12-12/bernie-sanders-endorses-cenk-uygur-young-turks
------
Nana Asma'u, the princess and iconic Muslim feminist from Nigeria you should know
MILDRED EUROPA TAYLOR
She followed the old adage "If you educate a man you educate an individual, but if you educate a woman you educate a nation."
As an intellectual, a prominent feminist icon and mother, Nana Asma'u knew that by educating a woman, she would be able to shape and reconstruct communities in the Muslim world and beyond.
And she didn't fail in doing that, as the princess, teacher, and poet contributed significantly to women's education to the extent that in Nigeria today, many Islamic women's schools and organizations are named after her.
Generally, she was a great influence to the masses in West Africa, intellects from the Banks of the Nile, and scholars towards the Middle East, writes mvslim.com.
Born in 1793, Nana Asma'u was a member of the Fodio clan who ruled the Sokoto Caliphate, the African empire which existed in modern-day Nigeria and extended to Burkina Faso, Niger, and Cameroon.
Accounts state that her family was part of a fundamental Islamic sect – Qadiriyya – who "focused on the pursuit of knowledge as a spiritual path."
Most importantly, her father, Usman Dan Fodio, who founded the Sokoto Caliphate, campaigned against the subjugation of women. He raised issues about the lack of education among women and criticized Islamic scholars who taught that women's duties were to cook, wash or do other domestic work instead of letting these women know what God had prescribed for them.
As an activist, Dan Fodio ensured that his sons and daughters were educated as well. All his children attended classes and learned to read and memorize the Quran.
Nana Asma'u did benefit greatly from this. She memorized the entire Quran and became fluent in four languages: Arabic, the Fula language, Hausa and Tamacheq Tuareg.
She wrote poetry in the first three, and soon became a respected scholar and an authoritative figure for her poems and other published works, some of which are still being studied today.
With her poetry concentrating on topics such as repentance, paradise, and largely on the rights of women under Islam, her works "made Muslim women feel more confident about themselves to derive a solid sisterhood, which enforced a supportive and sustaining community. Runaway wives from abusive relationships, for example, exercised a voice that they were no less privileged," an article on culture trip noted.
To deliver her poems and teachings to women in the rural areas, Nana Asmau trained teams of women as educators under a system she called Yan-taro.
These women "would sit with Nana Asma'u learning the curriculum for that season, and then together they would trek to their assigned village, where they would stay and teach the women. Sometimes they would return to Nana Asma'u with questions and thorny problems they needed help with, and sometimes they would bring her a woman with her own questions," writes Anse Tamara Gray.
In the following, Nana Asma'u praises Hauwa'u, one of the female educators she trained:
I accept what has happened, and remember Hauwa'u
Who loved me, a fact well known to everybody.
During the hot season, the rains, harvest, when the Harmattan blows,
and the beginning of the rains,
She was on the road bringing people to me.
She warned them to journey in good faith, for she said intention was important.
As for myself I taught them the religion of God in order to turn them From error and instill in them the knowledge of their obligatory duties.
Despite bad weather and predators, these women were dedicated to spreading knowledge to other women across the Caliphate who subsequently passed on their education to others.
And this has paid off as today, Nana Asma'u is not only seen as an inspiration to Muslim women but considered the precursor to modern feminism in Africa.
Even though it is true that many cultures and traditional practices of African societies put men at the forefront of things, this has, however, not overshadowed the fact that many traditional societies allowed women to take up "male roles" which they performed with much pride and diligence.
Today, Africa can boast of staunch feminists such as Chimamanda Ngozie Adichie, Joyce Banda, and Ellen Johnson-Sirleaf thanks to ancient African societies and groups as well as early feminist icon Nana Asma'u.
Enter email address to receive updates from Face2face Africa
https://face2faceafrica.com/article/nana-asmau-the-princess-and-iconic-muslim-feminist-from-nigeria-you-should-know
------
Texas town mandates diversity training after bigoted comment on Facebook against a Muslim woman
The chamber of commerce in the town of Gilmer, Texas, has mandated diversity training after a former member posted a message on her Facebook page against a Muslim woman who had visited the town.
Lisa Gaines posted a photograph of a Muslim woman at the town's "Yulefest" celebration and added the comment, "Look what showed up in Gilmer. At the Yulefest. We have been infiltrated."
Gaines, who owns a business in Gilmer, was kicked out of the Gilmer Chamber of Commerce and they released a statement about the post after the Muslim woman was identified.
"The Gilmer Area Chamber of Commerce sincerely apologizes to Ruwan Alkam and her family for the behavior of a chamber member," the statement read.
"The Gilmer chamber does not support the exclusion of any race or religion nor do we condone or control the beliefs or actions of the members of the chamber. In no way does this reflect the views or the beliefs of the chamber," they continued.
"After discussion, the board of directors have decided to terminate the business owner's membership in accordance with Article II of the chamber bylaws," the statement said.
They also said they would sponsor diversity training for their members and other members of the community.
Alkam also posted on her Facebook about the controversy.
"While we were at the fest, someone decided to snap this photo of me (without my consent) with this lovely caption suggesting that I'm a terrorist who has infiltrated their town," she wrote.
"I'm devastated," she explained. "I'm just a mom trying to do my best like everyone else is. I never thought my presence alone would be this offensive to someone."
Gaines also took down her personal page and her business page from Facebook over the controversy.
https://www.theblaze.com/news/gilmer-texas-gets-diversity-training-after-facebook-post
------
URL: https://www.newageislam.com/islam-women-feminism/canada-court-refuses-suspend-religious/d/120526
New Age Islam, Islam Online, Islamic Website, African Muslim News, Arab World News, South Asia News, Indian Muslim News, World Muslim News, Women in Islam, Islamic Feminism, Arab Women, Women In Arab, Islamophobia in America, Muslim Women in West, Islam Women and Feminism