• France Bans Super-Skinny Models In Anorexia Clampdown
• Isis Posts Dress Code for Muslim Women on Billboards in Mosul
• U.S. Woman Accused of Trying To Join, Martyr Self for ISIS
• Photo of another Syrian Girl 'Surrendering' To Camera Released
• Woman Recounts Being Attacked On Montreal Subway 'For Wearing Hijab'
• 200 Women Varsity Students to Run PTI's Election Campaign
• 50 Years of Self-Representation in Saudi Women's Art
• Psychologists Say Teenagers Are Easily Captured By the Adventure ISIS Promises
• The Baby Names That Dubai Happens To Loves the Most
• Health of Women to Boost Economic Status of Family
• How Iranian Women Are Using Sharia to Their Benefit
Compiled by New Age Islam News Bureau
URL: https://newageislam.com/islam,-women-and-feminism/new-age-islam-news-bureau/can-marriage-deprive-women-of-their-religion?-parsi-woman-asks-indian-sc/d/102288
--------
Can marriage deprive women of their religion? Parsi woman asks SC
05 April, 2015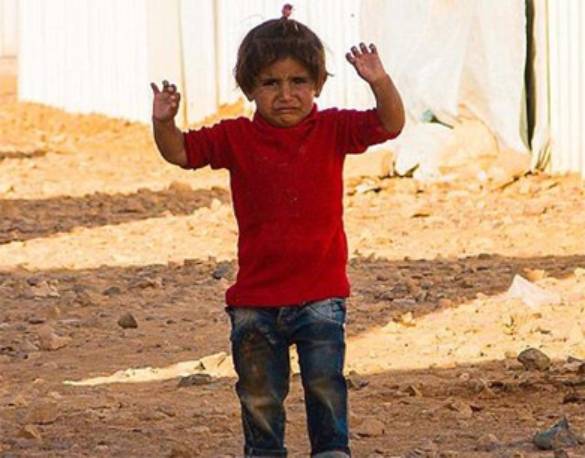 A Red Cross worker has pictured another Syrian girl who became scared and raised her arms to surrender. (Courtesy: Rene Schulthoff)
------------
NEW DELHI: Can a woman be prohibited from practising her religion if she marries a man from a different religion? Is she bound to follow her husband's religion? Can her religious places bar her from offering prayers if she marries outside the community?
These are some of the questions 46-year-old Goolrookh M Gupta, nee Contractor, has asked the Supreme Court. She has challenged the rationale behind a "misogynistic" judgment by Gujarat High Court, which had upheld Valsad Parsi Anjuman Trust's decision to bar her from offering prayers at the Agiyari after she married a Hindu. The apex court agreed to hear the plea on April 28.
Goolrookh, who has old parents, had moved the HC after learning that another Parsi woman, Dilbar Valvi, also married to a Hindu, was not allowed to attend the funeral of her father and mother by the Valsad Parsi Anjuman on the ground that she was no longer a Parsi.
The HC, by a two to one majority, upheld the Anjuman's view. "The HC judgment is a grave affront to India's constitutional order which mandates adherence to basic human rights, dignity, religious freedom, gender equality and a uniform civil code," Goolrookh said in her petition.
What was the use of making women's right and empowerment the most talked about point when even an HC gave a judgment which was based on "the ancient feudal notion of women being regarded as chattels, an expression essentially reflecting the position of dominion over women by men", she said.
"There is no law in India which says that a woman must adopt her husband's name or religion upon marriage, she said. On the contrary, Parliament had enacted Special Marriage Act in 1954 to enable two persons belonging to different religions to enter into marriage without either having to renounce his or her religion and/or convert into the religion of the other," she argued.
Despite the law being in force for more than 60 years, the HC "concluded that by virtue of her marriage to a non-Parsi, she ceases to be a Parsi".
Goolrookh said though the judgment was on a petition filed by her, its effect would be used against all those women who marry outside their religion.
"The HC proceeds on a principle, stated to be 'generally accepted throughout the world', that until her marriage, a woman's decision as to which religion she follows is dependent upon the religion of her father and after her marriage, it is dependent on that of her husband," she said.
Goolrookh added that renunciation and acceptance of a religion was always preceded by a ceremony. While she was initiated into Zoroastrianism, she had never been initiated into Hindusim, she said.
Goolrookh said different Parsi denominations across the world (including India) applied different rules of conduct on Parsi women married to non-Parsi men.
"Agiyaris/trusts situated in Delhi, Pardi, Kanpur, Chennai, Kolkata, Jabalpur, Allahabad, Daman, Chikhli, Jamshedpur, Vadodara, London, Ontario (Canada), Florida and Chicago (US) do not prohibit Parsi women married to non-Parsi men from entering or offering prayers at the Agiyaris or participating in Parsi religious ceremonies," she said.
http://timesofindia.indiatimes.com/india/Can-marriage-deprive-women-of-their-religion-Parsi-woman-asks-SC/articleshow/46801298.cms
---------
France bans super-skinny models in anorexia clampdown
05 April, 2015
France will ban excessively thin fashion models and expose modelling agents and the fashion houses that hire them to possible fines and even jail, under a new law passed.
The move by France, with its fashion and luxury industries worth tens of billions of euros, comes after a similar ban by Israel in 2013, while other countries, like Italy and Spain, rely on voluntary codes of conduct to protect models.
The measure is part of a campaign against anorexia by President Francois Hollande's government. Lawmakers also made it illegal to condone anorexia and said any re-touched photo that alters the bodily appearance of a model for commercial purposes must carry a message stating it had been manipulated.
"The activity of model is banned for any person whose Body Mass Index (BMI) is lower than levels proposed by health authorities and decreed by the ministers of health and labour," the legislation says.
The lawmaker behind the bill previously said models would have to present a medical certificate showing a BMI of at least 18, about 55 kg (121 lb) for a height of 1.75 metres (5.7 feet), before being hired for a job and for a few weeks afterwards.
The law, voted through the lower house of parliament by Hollande's Socialist majority despite opposition by conservative parliamentarians, envisages imprisonment of up to six months and a fine of 75,000 euros ($82,000) for any agency contravening it.
A second measure means that any website inciting a reader to "seek excessive thinness by encouraging eating restrictions for a prolonged period of time, resulting in risk of mortality or damage to health" will face up to a year in prison and fines of up to 100,000 euros.
Elite and IMG, two big modelling agencies present in France, both declined to comment on the moves.
Some 30,000-40,000 people in France suffer from anorexia, most of them teenagers, health experts estimate.
In 2010, Isabelle Caro, an anorexic 28-year-old former French fashion model, died after posing for a photographic campaign to raise awareness about the illness.
http://english.alarabiya.net/en/life-style/fashion-and-beauty/2015/04/04/France-bans-super-skinny-models-in-anorexia-clampdown.html
---------
Isis Posts Dress Code for Muslim Women on Billboards in Mosul
05 April, 2015
Another day in the Islamist paradise created by ISIS, as women in the captive city of Mosul find themselves surrounded by billboards announcing the body-bag look is the hot new summer fashion, it'll be in style forever, and fashion crimes will be punished.
"ISIS has launched a dress-code campaign in the Iraqi city of Mosul, with billboards displaying guidelines for being a 'good Muslim woman,'" reports Vocativ, which found online images of ISIS goons hanging the burqa billboards.
You might be thinking a robe that "covers the entire body and face with a mesh screen over the eyes" makes for uncomfortable summer wear, but hey, it's more comfortable than getting whipped. The billboards also suggest "women who do not follow the guidelines may be subject to corporal punishment, though it is not specific about penalties."
There's even a seven-step guide to constructing a proper burqa: it has to be "thick and not transparent," it shouldn't attract attention, don't you dare think about perfuming it or decorating it "to look attractive," and above all make sure that it doesn't "look like the clothing worn by infidels or men."
The most gruesome Orwellian touch is how the billboards assure Mosul's distaff population that ISIS is all about women's rights, as the burqa threats are accompanied by slogans such as, "The Muslim woman is queen in her house." Just like Anne Boleyn!
http://www.breitbart.com/national-security/2015/04/03/isis-posts-dress-code-for-muslim-women-on-billoboards-in-mosul/
---------
U.S. woman accused of trying to join, martyr self for ISIS
05 April, 2015
A woman was arrested Friday on charges she tried to join and martyr herself for the Islamic State group, a day after two women in New York were charged with plotting to wage jihad by building a bomb and using it for a Boston Marathon-type attack.
Keonna Thomas, 30, was preparing to fly to Spain with hopes of reaching Syria to fight with the terror group, authorities said. Instead, she was arrested at her family's town house in a public housing development, which has three small U.S. flags adorning the porch.
Authorities said she communicated with an Islamic State group fighter in Syria who asked if she wanted to be part of a martyrdom operation. She told the fighter that the opportunity "would be amazing, ... a girl can only wish," according to the documents.
A federal magistrate ordered Thomas held pending a detention hearing Wednesday. Prosecutors will oppose bail.
Last month, Thomas bought a ticket to fly to Barcelona on March 29. She likely planned to take a bus to Istanbul and then reach Syria, according to an FBI affidavit filed in the case. Authorities put a stop to the trip when they raided her house March 27.
In court, Thomas wore a burqa as she acknowledged she understood the charge against her - attempting to provide material support and resources to a foreign terrorist organization. She was appointed a public defender, who did not comment on the charge.
Thomas appeared to show little emotion as she was led out of the house Friday morning in handcuffs, neighbor Ronni Patterson said. Patterson said she had seen investigators searching the home, where Thomas appeared to live with her mother and grandmother, a week ago.
The women in the New York case are accused of plotting to wage violent jihad by building a bomb and using it for an attack like the 2013 Boston Marathon bombings. They were ordered held without bail after a brief court appearance Thursday. The lawyer for one of them said his client will plead not guilty.
Thomas is charged with attempting to provide material aid to terrorists, one of the same charges filed in 2010 against another Pennsylvania woman, Colleen LaRose, known as Jihad Jane, and two co-defendants in a terror plot that prosecutors say also involved online messages and recruitment for overseas terror suspects.
"The incentive for terrorists is (also) ... to create fear, just by that ability to recruit within the U.S. They want to show everyone they have geographic reach and appeal," said defense lawyer Jeremy Ibrahim, a former Justice Department lawyer who represented LaRose's co-defendant Jamie Paulin-Ramirez, of Colorado. "But when you look at who actually responds to their calling, the women tend to be vulnerable."
Authorities have said foreign terrorists seek U.S. women because their Western looks and American passports make it easier for them to travel overseas.
Thomas' posts in support of the Islamic State group started in August 2013, when she reposted a Twitter photograph of a boy holding weapons, authorities said. She called herself Fatayat Al Khilafah and YoungLioness and tweeted posts such as "When you're a mujahid, your death becomes a wedding," according to the FBI affidavit filed in the case. A mujahid is one who engages in jihad.
She began trying to raise money for the cause online and told a Somalia-based jihadi fighter from Minnesota that she soon hoped to have enough money to travel, authorities said.
She applied for a passport in February and on March 26 bought a round-trip ticket to fly to Barcelona - a tourist destination that would not raise eyebrows, the FBI affidavit said.
LaRose got a 10-year term in January for agreeing to kill a Swedish artist who had offended Muslims, while Paulin-Ramirez, who married an Algerian terror suspect the day she met him in Ireland, is serving eight years.
An immigrant teen from Pakistan who met LaRose online when he was an honors student in suburban Baltimore was sentenced to five years in the case. All three agreed to cooperate with authorities, shaving years off their sentences.
http://english.alarabiya.net/en/News/middle-east/2015/04/04/U-S-woman-accused-of-trying-to-join-martyr-self-for-ISIS.html
---------
Photo of another Syrian Girl 'Surrendering' To Camera Released
05 April, 2015
After the heartbreaking picture of a four-year-old Syrian girl "surrendering" to a photographer went viral this week, a Red Cross worker has shared an image of another child putting her hands up because she thought camera was gun.
The second girl's image was taken in a Jordanian refugee camp, as she cried when she mistook the aid worker's camera for a weapon.
Photographer Rene Schulthoff had taken the picture in November last year.
According to the Daily Mail, he did not realize "how terrified she was until he was editing the photographs."
He told the newspaper: "I had tears in my eyes when I saw her like that on my computer. I was shocked by her reaction, the fear and seeing her crying... It is a tragedy for this young generation.
"Instead of playing with friends, they grow up in permanent fear under extremely poor conditions missing almost everything. A childhood of pain tears and sadness.
"They miss a peaceful happy childhood, kindergartens, education and what they learn currently is that life is pure horror."
The girl is one of 17,000 living in Azraq camp according to the United Nations Refugee Agency - having fled the four-year-long Syrian war.
Earlier this week, the first image of a Syrian refugee girl went viral on social media after surrendering to Turkish cameraman Osman Sagirli.
Sagirli, the photojournalist who took the picture, told the BBC that the image was not staged.
"I was using a telephoto lens, and she thought it was a weapon," he said. "I realized she was terrified after I took it, and looked at the picture, because she bit her lips and raised her hands. Normally kids run away, hide their faces or smile when they see a camera."
Sagirli said the photo was taken at Atmeh refugee camp in Syria in December last year. It was first published in the Türkiye newspaper in January, but has been widely spread on social media recently.
http://english.alarabiya.net/en/media/digital/2015/04/04/Another-image-of-Syrian-girl-surrendering-to-camera-released.html
---------
Woman recounts being attacked on Montreal subway 'for wearing Hijab'
05 April, 2015
A veiled woman was victim of an attack this week in downtown Montreal, Canada-based Le Journal de Montreal reported.
Hanane Mehdi, who was taking the subway to go to work, was aggressed for wearing the Islamic veil by another woman.
She was told to "return to your country" by a woman who later hit her in the face.
"She started hitting me in the face, which got all red. I felt her hitting me from behind until people got involved," Mehdi said.
Talking about the incident, Mehdi's daughter Marwa said: "I was so scared I was sick."
"I didn't know it could happen to my mother and I almost cried because I love my mom and I don't want that to happen to her."
Following the incident, Mehdi, who did not return to work since the attack, filed a complaint against the woman.
An investigation is under way as police review surveillance camera footage.
The Muslim population exceeded the one million mark, according to a 2013 survey, almost doubling its population for the third-consecutive decade.
http://english.alarabiya.net/en/perspective/features/2015/04/04/Woman-recounts-being-attacked-on-Montreal-subway-for-wearing-hijab-.html
---------
200 women varsity students to run PTI's election campaign
05 April, 2015
RAWALPINDI: The Pakistan Tehreek-i-Insaf (PTI) has roped in 200 young women, mostly university students, in the garrison city to canvass for the cantonment board elections.
The party formed two teams to start a door-to-door campaign in Rawalpindi and Chaklala cantonments. The elections in the cantonment areas will be held on April 25.
A senior PTI leader told Dawn that after the announcement of party-based elections, the PTI decided to use its main force – the youth – for electioneering.
He said two special teams would be headed by the Punjab North general secretary Zahid Kazmi, MPAs Arif Abbasi and Asif Mehmood, Chaudhry Muqarib, Yasmeen Farooqi and Sabrina Javed.
"As many as 100 women in each team will start their campaign from April 7 to spread Imran Khan's message about his vision for the rights of citizens and good governance."
He said the party would issue cards to the team members for their identification. They would get training at the PTI North Punjab office at Saddar from Saturday.
The PTI leader said the basic aim of the campaign was to mobilise women voters, adding that the PTI wanted to start the campaign from April 4 but at a meeting held on Thursday it was decided to launch door-to-door drive after the PTI's public meeting in Rawalpindi on April 6.
He said a special information technology cell had been set up to spread the party's message through SMS.
When contacted, Zahid Kazmi confirmed that the PTI had engaged 200 women students to canvass in the cantonment elections. He said the party wanted to mobilise its women supporters and workers to convince the citizens to stand up against bad governance of the PML-N.
Mr Kazmi said the PTI would launch the election campaign from April 6 in the garrison city, adding that a large number of old workers and supporters of the PPP and PML-N would join the PTI.
http://www.dawn.com/news/1173849/200-women-varsity-students-to-run-ptis-election-campaign
---------
50 Years of Self-Representation in Saudi Women's Art
05 April, 2015
JEDDAH, Saudi Arabia — Saudi Arabia's relatively young history (the kingdom was established in 1932) is filled with gaps due to poor documentation and preservation efforts, especially when it comes to the many contributions of Saudi women. These contributions have been declared trivial, discarded, and sometimes unjustly attributed to men (i.e. their husbands or fathers). Any information on the role of Saudi women in society comes from previous generations, who retell those histories orally and rely solely on their imperfect human memory.
Efforts, however, have been made to remember the sporadic, yet significant achievements of women of the past. The endeavor of one particular curator is in itself a contribution to the urgent change. Anonymous: Was A Woman, a group exhibition at Jeddah's newest venue, Hafez Gallery, focuses on the representation of Saudi women in art as depicted by 20 Saudi female artists across generations. "Women empowerment in our society is a subject I am passionate about," said curator Samia Khashoggi, an art teacher, artist, art historian, and pioneering co-founder of Saudiaat, an art platform established in 2005 that focuses on Saudi female artists. "I wanted to explore the diversity in mediums and see how female artists have represented women in our society. I thought that would be interesting; women by women."
In addition to the displayed artworks, a timeline was created to map out the achievements initiated by or involving women throughout the kingdom's history, often noting the gaps and lack of details. The timeline provides a social, political, and economic context to the artworks in the exhibition, going back to the late 1960s onwards. Khashoggi made sure to note that the timeline was not the result of exhaustive academic research, as this would not be possible, but of histories as told by word of mouth.
The title of the show was conceived from what seems to be a frequently misquoted phrase from Virginia Woolf's A Room of One's Own, "For most of history, Anonymous was a woman" (the original quote is "Anon, who wrote so many poems without signing them, was often a woman.") Woolf's quote notes how women's roles and conquests across disciplines were — and sometimes still are — ignored, replaced, and most often erased by men. In Saudi Arabia, while progress is slow and monotonous, it is happening, often appearing when you look closely from within the kingdom.
Anonymous beautifully demonstrates how Saudi women have documented their roles in society through their art. Art has basically imitated their life and though it might not have been made intentionally as a form of activism or demonstration before, it has grown to be in the last 20 years. Safeya bin Zager, credited alongside Mounirah Mosley as being one of the first women to hold a public art exhibition in Jeddah in 1968, often painted women in domestic roles, showcasing daily life in the multicultural and cosmopolitan Hijaz region (often referred to as the most relatively "socially liberal" part of Saudi). The figures wear elaborate and colorful clothes and are mostly depicted amongst their children or other women.
Full report at:
http://hyperallergic.com/195852/50-years-of-self-representation-in-saudi-womens-art/
---------
Psychologists Say Teenagers Are Easily Captured By the Adventure ISIS Promises
Why Many Young Teenage Girls Are Joining ISIS
05 April, 2015
Psychologists say teenagers are easily captured by the adventure ISIS promises, because of their restless and adventurous teenage minds.
In an attempt to explain this disturbing trend Professor of International Relations at the London School of Economics and Political Science, says "Most of these young men and women have these torn identities — partly in the west, partly in the east. They really don't have an anchor, they don't have a stable identity. Their identity is torn."
Gerges says he believes this is part of what makes them vulnerable to the "utopian project" promised by the Islamic State and other Salafi Jihadi groups.
Recently three British teens who experts believe crossed the border into Syria, were caught on camera, happy and joyous of the opportunity to go and fight with ISIS. The teen girls who are aged between 15 and 16, left London bound for Turkey. They refused pleas from their families to return home.
Experts say the promise of a free state, is the attraction. Some psychologists explain that teenagers are easily captured by the adventure ISIS promises, because of their restless and adventurous teenage minds.
http://pulse.ng/religion/islamic-viewpoint-why-many-young-teenage-girls-are-joining-isis-id3627428.html
---------
The baby names that Dubai happens to loves the most
05 April, 2015
Dubai — Naming the baby is the first challenge that welcomes parents anywhere in the world. While there are no prizes for guessing that Mohammed and Maryam remain the most popular names in Dubai, Ali and Sara come in a close second in the list of names of boys and girls.
The list provided by Dubai's Knowledge and Human Development Authority (KHDA) skimmed through child registration details in schools, scanning more than 250,000 names.
The agency combined similar sounding names with different spellings to arrive at the top five list. Interestingly, this is the first time such a list has been revealed by the education regulator. "It is common to see four or five students share Mohammed as their first name in a class of 25 to 30 students. We usually get called by our second name," said Mohammed Rehan, a student at an Indian private school in Dubai.
The names draw inspiration from famous Muslim personalities. Abu Safa, a researcher who has worked in the UAE for more than 20 years, explained the trend was linked closely with culture and family values.
"Arab families usually have a deep-rooted connection with a few names which are associated with their lineage and identity. The trend is to continue using these names and not to look for something drastically different," he said.
http://www.khaleejtimes.com/nation/inside.asp?xfile=/data/nationgeneral/2015/April/nationgeneral_April26.xml&section=nationgeneral
---------
Health Of Women To Boost Economic Status Of Family
05 April, 2015
JEDDAH — Contraception extends well beyond a married woman's decision whether and when to conceive, and access to reliable family planning goes deeper than a woman's personal wellbeing. It plays a pivotal role in the financial, physical and emotional health of children, and data suggest that effective contraception and positive social outcomes are mutually reinforcing. In the end, empowering women—regardless of socioeconomic status — with more options to control pregnancies has benefits for everyone.
Professor Ali Kubba, consultant gynecologist at Guy's and St Thomas Hospitals, London, delivering a lecture on women's health, particularly on contraception, at a gathering of medical practitioners held last week at the Crowne Plaza Hotel, Jeddah, said the use of reliable contraceptives corrects abnormal problems associated with hormones.
At the scientific lecture presented and organized by Professor Hassan Abduljabbar of King Abdulaziz University Hospital in cooperation with Merck Sharp & Dohme (MSD) Saudi Arabia, he said one of the latest inventions that is found safe and effective contraceptive is Implanon NXT, whose "safety and efficacy has been established among women between 18 and 40 years of age."
It is a single-rod subdermal contraceptive implant that is inserted just under the skin of a woman's upper arm and contains etonogestrel. It is a type of long-acting reversible contraception, the most effective form of birth control that is potent for three years from the implant.
Both doctors indicated that the possible side effects and complications if ever, are very minimal and not dangerous.
According to a 2013 Guttmacher Institute review of more than 66 studies, contraception allows women to be better parents. Among the findings: couples who experience unintended pregnancy and unplanned childbirth are more likely to have depression and anxiety—while adults who plan their children tend to be happier. Relationships are more likely to dissolve after an unplanned birth than a planned one. And those who are unprepared to be parents are more likely to develop a poor relationship with their child.
"When you support individuals and families making the right decisions for themselves, we are all better off," said Adam Sonfield, Guttmacher Institute senior public policy associate and lead author of last year's report on the social and economic benefits of contraception.
The use of such contraception even lends support to the Saudi government's thrust of encouraging women to join the workforce and lessen dependence or over-reliance on foreign labor. That way, the Saudi women would also be an essential pillar of sustained Saudi economic expansion.
Gradually incorporating Saudi females into the workforce has become an attractive, with large numbers of Saudi women graduating from universities with expectations of employment. The general outlook for employing growing numbers of Saudi women is encouraging, and using a safe and effective contraceptive like Implanon NXT will boost the chances of Saudi married women to enjoy and be successful in her role as a working mother. Hence, access to birth control significantly increases a woman's earning power and narrows the gender pay gap. "It all starts with educational attainment that leads to greater economic stability for women and their families."
Another study says that family planning programs may be an effective way to improve children's economic resources.
Contraception, experts say, is not simply about avoiding pregnancy. Access to reliable birth control also allows women to space births which has measurable outcomes for their own health and that of their babies.
Poorer children experience more health problems and have higher rates of delayed academic development. Those from poorer households in the long run, have lower test scores, are less likely to complete education, limiting their earning potential as adults.
Multiple studies have shown the adverse maternal and perinatal outcomes related to closely spaced pregnancies, ranging from placenta abruption to lower birth weight.
Moreover, experts noted that pregnant women who have diseases contribute to higher-risk pregnancies — like hypertension and diabetes— and this occurrence can be checked with the use of contraception.
"Pregnancy can exacerbate existing health conditions," they said, therefore, all the more women should be able to choose if and when to become pregnant.
http://www.saudigazette.com.sa/index.cfm?method=home.regcon&contentid=20150405239322
---------
How Iranian Women Are Using Sharia To Their Benefit
05 April, 2015
Iranian women suffered legal discrimination both before and after the 1979 Islamic Revolution. The main justification for discriminatory laws against women is that they are based on Sharia, and therefore cannot and should not be challenged. For decades, Iranian women have struggled to prove that Sharia does not discriminate against women per se. They challenge the discriminatory rules, arguing that the patriarchal norms and traditions inserted into Islamic law deprive women of equal rights.
For these women, the problem of inequality lies in tradition and the internal contradiction between the ideals of Sharia and the norms of Muslim societies. They stress that the religious edicts harming women's rights are limited reading of flexible Islamic legal thought. The tactic of involving Reformist scholars to provide alternative interpretations of Sharia has been effective to a large extent in raising public awareness of the origin of these discriminatory laws.
However, there is an important question that arises here: Should women in the Muslim world rely on Islam to bring about changes in the current legal status of women? The majority of Iran's population is Muslim, at over 90%. The demographic reality makes it essential to use religious discourse to tackle the gendered nature of Iranian laws. For example, the Quran provides for "mutual divorce," balancing the rights of spouses in the case of divorce. This teaching should be used in addressing unequal treatment of men and women in divorce cases.
In 2008, I defended a case in which my client filed for divorce on the basis that she hated her husband, and this placed her in an undesirable situation that was very harmful for her as well as for the family. In court, in addition to the civil code, I discussed the ruling of "denial of harm," which is acceptable to Islam as a way to prevent hardship. I also referred to the Quran, which allows for "mutual divorce," and discussed the opinions of some Islamic jurists, such as Shaheed Sani, Mirzaye Qomi and Yousef Sanei, to ask the judge to implement the civil code in line with the Quran and grant my client a divorce. Fortunately, after some prolonged court sessions, the judge granted the divorce on the basis that the continuation of marriage would be harmful to my client. Although many similar cases are quickly rejected by family court judges on the basis that there is insufficient evidence to grant a divorce, this precedent should be used in addressing unequal treatment of men and women in divorce cases.
Islam introduced the right of women to receive a fixed share of inheritance at a time when no such system was in place, bringing about a massive change in Arab societies. While Iran is a society with rapidly changing norms in relation to women's social status — literacy and primary school enrollment rates for women and girls are estimated at more than 99% and 100%, respectively, and gender disparity in secondary and tertiary education is reportedly almost nonexistent — discourse with respect to women's rights has its place in Islam. It is a discourse that challenges hard-line Muslims who oppose women's rights on the grounds that they are not Islamic, and also speaks to a government and legal system that claims it is based on Islamic law. But Islamic discourse is important for the average person who wants to marry his or her religious beliefs with a belief in human rights, equality and dignity. These people are empowered to stand behind their human rights principles, without abandoning their religious beliefs. So to build a broad movement and unite like-minded people, it is important to be able to argue that Islam and human rights are not mutually exclusive and that Islam supports human rights.
This is not a fringe discourse. Many religious leaders and grand ayatollahs have issued fatwas that seek to reform the current discriminatory laws. Ayatollah Mousavi Tabrizi, general secretary of the Organization of Researchers and Scholars of Qom Seminary, has said that laws that are discriminatory against women could be reformed. In 2007, he said, "We have many laws that address the status of women or even that of men that have to be reformed in accordance to current needs in order to come in line with and meet the needs of citizens. Concerning women, laws such as [fines for physical harm], inheritance, child custody, divorce … can in fact be changed, and these reforms and changes are in no way in contradiction to Sharia." In January 2008, Grand Ayatollah Mazaheri, a renowned religious scholar based in Isfahan, issued a fatwa to legitimize abortion for women who became pregnant out of wedlock. In February 2008, Sanei issued a fatwa proclaiming women should inherent land from their deceased husbands. The fatwa was issued in response to the question: "If a man passes away and his only heir is his wife, how much of his assets should be given to his wife?" Sanei responded that when a man with no heirs besides his wife passes away, his wife becomes the sole heir of his assets. This is explicitly derived from the Quran, which states: From what is left by parents and those related the closest, there is a share for men and a share for women, whether the property be small or large — a determinate share.
Garnering the support of these high-profile clerics was an important achievement for Iranian women's rights activists, one that enabled them to respond to the government's claim that their activities were "un-Islamic." Some Islamic scholars have expressly stated that the demands of Iran's women's movement do not contravene Islamic principles at all and that the old laws should be changed in light of the current situation of women. Ayatollah Fazel Meybodi, a member of the Central Council of the Organization of Researchers and Scholars of Qom Seminary, said in 2007, "The principles related to civil and criminal codes can be reformed … as well as the principles related to traditional jurisprudence." He added, "If 13 centuries ago polygamy was customary or the marriage of girls at nine years old was recommended, in this day and age, given the principles of justice and current social conditions, we have to acknowledge that these practices are no longer acceptable."
These religious decrees have put pressure on the political system to change. In 2009, for example, the Iran parliament finally approved a law that allowed women to inherit land holdings from their deceased husbands.
Women's rights advocate and Nobel Peace Prize winner Shirin Ebadi said in an 2004 interview, "Islam does not cause the problems of Iranian women; rather, they are due to patriarchal practices that are rooted in Iranian culture and transferred from one generation to another." She suggested that women themselves have played an essential role in keeping patriarchal practices alive.
Despite these small victories, women's rights is an issue that cannot be easily or quickly changed even within the legal and political system of the Islamic Republic. This was also a lesson from Iran's Reformist era of 1997 to 2001, during which women's rights activists and Reformist politicians tried unsuccessfully to bring about Iran's accession to the Convention on the Elimination of All Forms of Discrimination Against Women, the primary human rights treaty safeguarding the rights and equality of women. And born out of political contention, there is a lack of political will that hinders women's rights reforms in Iran's legal system. Adopting a Sharia-based strategy supported by well-known clerics to combat discriminatory laws justified by the government's interpretation of Sharia, nonetheless, has proven to be an effective way to gain the support of the public. Naturally, this is not a matter that can be resolved overnight, but requires a steady and systematic approach.
http://www.al-monitor.com/pulse/originals/2015/02/iran-sharia-womens-rights-equality.html#ixzz3WU23abUo
---------
URL: https://newageislam.com/islam,-women-and-feminism/new-age-islam-news-bureau/can-marriage-deprive-women-of-their-religion?-parsi-woman-asks-indian-sc/d/102288