New Age Islam News Bureau
24 Oct 2012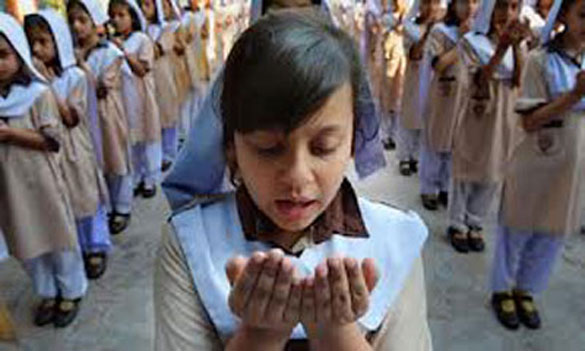 • Violence against Women High In Peshawar
• In Swat, a Girls' School Gripped By Fear
• Women Resort to Pepper Spray, Stun Guns to Face Attackers in Lebanon
• Defected Woman General Trains Syria's Rebels
• Imposing a Fight for Abortion on Other Countries Can Backfire
• 4,585 Cases of Violence against Women Reported in Pakistan
• I've Friends Equalling Country's Money in Swiss Banks: Pak's Seasoned Playwright
• Afghanistan Not Just About War, Tells 'Kabul Cards 'Filmed By Three Young Girls
• Teacher, Charged After Student's Hand Injured During Lesson on Islamic Hand Signs
Compiled by New Age Islam News Bureau
Photo: In Swat, a Girls' School Gripped By Fear
URL: https://newageislam.com/islam-women-feminism/burying-'sin'-man-buries-infant/d/9083
-----------------
Burying a 'Sin': Man Buries Infant Daughter Alive
October 23, 2012
MULTAN: Blinded by an uncontrollable fit of rage and jealousy, a landlord is said to have buried his one-year-old daughter alive to avenge his wife's 'sin.'
Resident of a village in Kot Addu in Muzaffargarh district, Younus Allahditta* buried his infant daughter Abeera* after convincing himself that she was an illegitimate child of his wife Kulsoom*, locals told The Express Tribune.
Allahditta married Kulsoom around five years ago and the couple had their first child, a son, three years later. About a year ago, the two had another child whom they named Abeera.
Allahditta, however, regularly fought with Kulsoom, accusing her of having an affair with another man. He would repeatedly ask his wife who the real father of Abeera was – and upon not getting an answer which satisfied him – beat her up severely, claimed an aunt of Kulsoom.
Late on Sunday night, Allahditta launched another brutal assault on Kulsoom and the infant. This time, however, he did not stop there. He took the baby with him outside the house and disappeared for the night.
After about 12 hours, Allahditta's nephew Irfan received a call from him saying he had gotten rid of his wife's 'sin' by burying her daughter alive. Allahditta told his nephew he had done so to punish his wife and that the child was buried in a nearby field.
Upon receiving the information, Allahditta's family located the grave and informed the police.
Police said the baby's body was buried under four feet of dirt, weighing more than 22 to 25 kg. Preliminary reports from a post-mortem conducted at THQ Hospital, Kot Addu, revealed that Abeera was alive when she was buried, but died four to five minutes after.
A detailed report will be submitted to the police on Tuesday morning.
SHO of Sarwa Shaheed area, Arshad Khan said Allahditta had been arrested after 16 different raids and shifted to an unknown place due to fears of a violent reaction by enraged locals and relatives of the victim.
Kulsoom's father Nazeer Hussain said his daughter is not talking to anyone as she is still in a state of shock. He admitted Kulsoom had told him about her husband's accusations several times in the past. (*names have been changed to protect identities)
http://tribune.com.pk/story/455617/burying-a-sin-man-buries-infant-daughter-alive/
-----------------
Violence against Women High In Peshawar
10/23/2012
PESHAWAR, Oct 23: Peshawar is among 14 districts in the country with high incidence of violence against women over the first six months of the current year, according to an Aurat Foundation report.
Other districts are Lahore, Okara, Sargodha, Faisalabad, Rawalpindi, Sialkot, Gujrat, DG Khan, Pakpattan, Muzaffargarh, Sahiwal, Mirpurkhas, Sheikhupura and Ghotiki, said the 'Violence Against Women In Pakistan Monitor (Jan-June 2012) report released here on Tuesday.
According to the report, women in Khyber Pakhtunkhwa are at a high risk of subjugation but culture and societal norms in the province make it harder for women to report violence against them.
During January and June this year, 283 VAW cases were reported in Khyber Pakhtunkhwa but the number is six per cent of the countrywide incidence of such crimes.
Around 55 per cent of VAW incidents reported in Khyber Pakhtunkhwa in six months were of murder totaling 157, while the province registered nine cases of abduction and kidnapping during the period.
Overall, 32 cases of domestic violence, 23 of honour killing and 30 of suicide were reported in the province between Jan and June 2012.
In Khyber Pakhtunkhwa, the prevalence of sexual violence was reportedly low as seven cases of rape or gang rape were reported in six months.
The rate of the registration of first information report for VAW was reportedly high in the province as FIRs of 65 per cent of the cases were reported during the first six months of the year.
According to the report, FIRs were registered for 184 VAW cases but no FIR was registered for 82 cases. There is no information about the status of FIR for 17 cases in Khyber Pakhtunkhwa.
Statistics show 60 per cent of women who were subjected to violence in Khyber Pakhtunkhwa were married.
"A total of 1,170 married and 62 unmarried women were victims of violence of women in the province during the Jan-June 2012 period. There is no information available about the marital status of 51 victims of violence against women," it said.
The report said there was no information about the age of 69 per cent of VAW victims from Khyber Pakhtunkhwa.
It added that 47 women subjected to violence were aged below 18 years, 33 between 19 and 36 years and seven over 36 years.
According to the report, during the Jan-June 2012 period, the country reported 1,086 cases of women's abduction and kidnapping, 792 of women's murder, 435 of women's rape or gang rape, 349 of suicide by women, 346 of honour killings, 298 of domestic violence against women, 50 of sexual assault against women, 46 of throwing acid on women, 32 of burning women and 1,160 of other kinds of VAW.
It said the VAW numbers are based on media reports and the actual incidence of VAW is much higher.
"All issues related to women are still considered a very private matter and are not frequently reported. Women are either forced to or prefer to suffer in silence," it said.
http://dawn.com/2012/10/24/violence-against-women-high-in-peshawar-2/
-----------------
In Swat, a girls' school gripped by fear
Richard Leiby
23 October 2012
Under a portrait of Sir Isaac Newton, the ninth-grade girls clasped their chemistry texts, smoothed their white headscarves and movingly voiced support for the cause of their classmate, Malala Yousafzai, shot in the head by the Taliban because she advocated a girl's right to attend school.
"In our hearts is the thirst for education," one 14-year-old told reporters brought to her classroom by the Pakistani military's public relations wing last Monday. "We want to show the world that we are not worried."
It was a brave but ultimately false front. "We are worried for our lives," the same girl confided later, out of earshot of the army minder. She pleaded that her name and photograph not be used because she feared retribution by the Taliban.
The powerful army, which immediately took over Yousafzai's care after she was shot in the head in Mingora, the Swat Valley's largest town, says the attack earlier this month was an aberration, not an indication of resurgent militancy. In the main that seems true: verdant, mountainous Swat, once a haven for foreign tourists, is peaceful except for rare violence, its residents say.
But Yousafzai's shooting spoke to a larger truth: the threat of Pakistani Taliban attacks pervades the entire nation, especially the north-western frontier and the tribal belt bordering Afghanistan. The instability persists despite massive military operations three years ago to quash the extremist group and the continued presence of troops in all seven Federally Administered Tribal Areas.
That nagging threat seemed reinforced when the military assigned a heavily armed squad from its Rapid Reaction Force, including a mounted machine-gunner, to protect a small convoy of international journalists for a six-hour trip to Mingora from Islamabad. "There is a security alert in this area," a military official said. "That is why some precautions were taken."
Soldiers were posted at every stop along the route, including the Khushal girls high school and college that Yousafzai attended; the final, boisterous regional match of the Peace Cricket Tournament; and the police station where the open-backed, canopied van that carried the schoolgirls still bore splashes of blood on its white benches.
Even so, parents here refuse to bow to terror: while 14 girls out of 31 in Yousafzai's class did not come to school the day after the assassination attempt, last Monday only six were absent.
The attack grievously wounded Yousafzai – who was flown to England for specialised treatment – and left two classmates with lesser injuries. Yousafzai's prognosis appears to be improving, but she faces long-term rehabilitation.
In the face of worldwide revulsion, the Pakistani Taliban has issued several statements attempting to justify her shooting.
The latest is a six-page disquisition emailed to journalists Monday night that twists Islamic history and scripture to reach the same murderous conclusion that has been denounced by Muslim leaders worldwide:
"Malala was using her tongue and pen against Islam and Muslims," the Taliban said, "so she was punished for her crime by the blessing of the Almighty Allah."
In the religiously conservative, ethnically Pashtun Swat Valley, residents initially embraced the imposition of Islamic law, viewing the secular government and courts as unresponsive and corrupt. But their support faded during a reign of Taliban terror from 2007 to 2009.
The militants shuttered girls' schools and blew them up. They flogged and executed people and left their bodies to rot in the town square for supposed noncompliance with the Taliban interpretation of sharia law.
The army routed the extremists led by Maulana Fazlullah, known as Mullah Radio for his sermons broadcast on pirated FM signals, and they relocated to eastern Afghanistan. The Pakistani military estimates that Fazlullah has 1,000 men under arms.
They and other militants regularly attack Pakistani security posts along the Afghan border, capturing soldiers and beheading them, but the army says the insurgents have been beaten back and are contained in a relatively small area.
Out of frustration, extremists resort to "sneak attacks" like the one on Yousafzai, a senior military officer told journalists in a briefing. "It is a one-off incident. There is no question and no room for a resurgence."
Residents generally agree. "I think terrorism will never come back in Swat as in past years," said Ahmed Shah, a member of the Swat peace jirga, a council of elders. "But we worry that the target killings will continue. in the future."
Riaz Ahmed said he also considers Swat to be much safer now – even though his daughter Kainat was wounded when the pistol-wielding assailant fired inside the van full of students, about 16 of them, after classes were let out.
"We are determined that we will send her back to school – and to the same school," Ahmed said in the small courtyard outside his home in Mingora's winding alleys.
Kainat Riaz was inside, propped up in bed under a fuzzy blanket as she recovers from injuries to her thumb and arm. She looked overwhelmed by the knot of reporters and TV cameramen jostling and pushing in with their lenses.
Was Kainat afraid of returning to school? "I was scared at first, but not any more," the 16-year-old answered.
A few moments later, she said in a quiet voice: "I can't sleep out of fear."
In early 2009, Yousafzai published a pseudonymous chronicle of life under the Taliban on a BBC blog. She later won prizes and international acclaim for fearlessly speaking out for girls' education in defiance of Taliban threats.
Photos of her meetings with Pakistani and foreign dignitaries line the walls at the private Khushal school, run by her father, Ziauddin Yousafzai. Many of Malala Yousafzai's peers, like her, are well versed in English. They come from families of educators and military officers.
Last Monday, chemistry rules were on the lesson plan until the journalists barged in. "The oxidation number of all elements in the free-state is zero," said the text on the instructor's podium.
Like 14-year-old girls everywhere, the students are prone to chattering, giggling and wearing chipped nail polish. But they sense no limits, looking toward careers in medicine, science and the military.
And Yousafzai?
"She just wanted the pen to be in her hand," principal Mariam Khalique said. "She wanted to study. She wanted other girls to study."
Khalique, 28, said the school refused to close despite repeated demands by the Taliban. It finally ended classes the day before the army launched its Swat offensive.
Khalique nominated Yousafzai for an international children's peace prize for which the teen became a finalist.
Despite the growing attention on Yousafzai, the school did not add security staff. "Ziauddin would say it's in the hands of God," the principal said, referring to the girl's father, who founded the school. "I believe that, too."
She was home tending to her toddler son when the frantic call came in around noon that her star pupil and two classmates had been shot.
Within hours Khalique was on a military helicopter with Yousafzai; she also comforted her in the intensive care unit.
At first, authorities said that a bullet had just grazed the girl. "It was to console us," Khalique said. But then she learned the bullet had crashed through Yousafzai's skull and into her neck and come to rest near her spinal cord.
"She kept touching her forehead and her shoulder," Khalique recalled. "Her throat was swollen so she couldn't talk.
"I knew she was feeling pain. She was pressing on my fingers, hard, because she could not scream."
Soon tears came to Khalique's brown eyes, the only part of her face not veiled in white.
"I can't come out of this trauma," she said. "I knew her as a baby."
She spoke of her own pre-school daughter. "I think Hana will also be like Malala," Khalique said.
Later, amid the media scrum in the hallway, the principal introduced her child, who looked about three or four. Hana warily extended her tiny hand to a stranger.
Khalique paused to take a call. Hana backed up against her mother's long, shielding pink dress, searching for a place to feel safe.
This article appeared in Guardian Weekly, which incorporates material from the Washington Post
http://www.guardian.co.uk/world/2012/oct/23/malala-yousazai-swat-girls-school?newsfeed=true
-----------------
Women Resort to Pepper Spray, Stun Guns to Face Attackers in Lebanon
October 24, 2012
By Niamh Fleming-Farrell
BEIRUT: In a small central Beirut store, amid a range of mobile phones and other paraphernalia displayed beneath a glass-topped counter, lie a number of deceptively innocuous looking objects.
Some of the lighters contain not butane but pepper spray, and the odd mobile phone has two small metal prongs at the top, designed to discharge an electric volt capable of shocking a limb into temporary paralysis. Behind the counter, and out of sight, a bigger range of these self-defence weapons is stocked.
As the security situation intensifies in the country and amid reports of increased harassment of women in some neighbourhoods, the store's manager, who prefers that neither he nor his shop be named, says that between pepper spray and stun guns he is currently selling about 30 defensive weapons for women per week; although, he adds, "it is usually guys buying them for their girlfriends or wives."
However, regardless of who is doing the purchasing, some women just feel more comfortable carrying a weapon.
One resident of Beirut's Ashrafieh neighbourhood has carried a stun gun gun since 2008. "I was attacked in broad daylight by a stranger ... just days after the clashes in Beirut," she told The Daily Star.
"I managed to fight him off, but the experience showed me how vulnerable women are, especially at times of instability. My husband bought the teaser gun for me the very next day."
"I haven't had to use it yet, but I feel safer knowing that I have it," she added.
Isabella, an American, brought her stun gun with her from the United States. She had purchased it online when at college in the U.S., but initially she didn't carry it in Beirut.
"When I first moved to Beirut I didn't carry it at all – it was still summer and I felt pretty safe walking around by myself despite the inevitable and constant barrage of comments and catcalls. One night in Hamra – I lived at the end toward Ras Beirut – I was followed home by two very threatening men and was forced to flag down a passing car in order to scare them off."
After that incident Isabella would often call her male roommate to walk her home. She also started carrying her stun gun again.
The model she owns "is about the size of a cell phone and doubles as a flashlight," and she says it just gives her an extra layer of security.
"I carried my stun gun with me whenever I went out at night, especially if I thought there might be a situation in which I would end up by myself. I would hold it in my hand with the switch in the off position if I was going to be walking in any area that was dark. Luckily I never had to use it, in Beirut or in any other city. I hope I never have to ... but I like to know it's there," she said.
Another woman, who lives in the mountains, told The Daily Star that she leaves her house every morning with pepper spray in her hand as protection against both male attackers and dogs.
None of the women The Daily Star spoke to have ever had to use their protective weapons, but those who carry them are confident they could successfully deploy a spray or a shock against an attacker.
"My husband, who has military training, taught me how to use it and advised me of certain precautions to take," the Ashrafieh resident said. "I don't have any doubt that I'd be able to use this weapon if I faced another attack."
She highlighted that her stun gun has a band that straps tightly around her wrist, making it difficult for an attacker to snatch the weapon away and turn it on the victim.
However, she also emphasized that she would advise other women to carry a weapon "only with proper training."
"It's a weapon, not a toy," she said.
Others are less confident.
Emma, another Beirut resident, owns pepper spray, but does not carry it. A friend gave her the spray her after she was attacked last year, Emma told The Daily Star.
"I don't carry it because I actually think there's quite a margin for it to go wrong. I'm not sure I'd ever be quick enough to use it, plus I could misfire, and I'd worry about enraging my attacker," she said.
For these reasons, among others, Joe Habis, who runs a self-defence class for women at his Dojo School of Martial Arts in Ashrafieh, cautions against carrying weapons such as stun guns and pepper sprays.
Apart from the risks of misusing the weapon when under attack or having it taken and used against you, Habis says that carrying such weapons may give women false confidence and reduce the levels of precaution they usually exercise when alone.
Habis trains women in empty-hand combat and in how to use regular everyday objects, such as pencils and cell phones, defensively. He says few of the women who come to his classes carry formal weapons, but his advice to those who wish to is always think prevention first; train for any weapon you choose to take; and work on empty hand combat skills in case the weapon is taken from you.
Meanwhile, at a Beirut gym, another fitness and martial arts instructor explains that he has personally sourced Chinese-made stun guns for "friends and cousins" from a dealer he found online.
"They need it you know, especially here in Lebanon," he said, justifying his purchase and adding that he gave the guns' recipients "a small training so they don't hurt themselves."
The instructor prefers stunning to pepper spray as the latter is "possible to use on yourself" and "the wind can be a problem."
Yara Chehayed of the Adventures of Salwa initiative, which fights sexual harassment in Lebanon, said that weapons are not popular among the collective's members, but that a recently launched self-defense class has been well-received by the group.
Indeed, she said, "tasers are illegal in Lebanon."
According to a Lebanese Army source, a license is "definitely" required to own or carry a stun gun because it is a potentially lethal weapon. The application of a sustained shock, particularly over the heart, can kill.
The source was less sure of the law pertaining to carrying pepper spray. The chemical compound, which irritates the eyes, is subject to varying degrees of legality around the world: in some states it's forbidden, in others it's freely retailed, and in still others it is legal only if used in self-defense.
At his cluttered store, however, the manager, who eagerly spoke to The Daily Star but reiterated his wish to remain anonymous, said his range of tasers was "not sold legally," then, when queried, backtracked to say the items were "not imported legally."
The guns, which have voltages ranging from 40,000 to 120,000 are simple to use, he insisted. "They don't need instructions; you just charge it and use it."
"Even the cheapest one if used on the heart or neck can cause the attacker to lose consciousness," he added. "[If used] on the hand or leg, it can paralyze for up to 10 minutes."
The cheapest model at his store is $40. For $150 you can purchase a device that looks like a gun and can throw electrical wires up to a distance of 5 meters, he said.
Yet, however shady his business, he was keen to highlight that a strict moral code is applied to the sale of these weapons at his store. "We choose who to sell to," he said. "We don't sell to teenage boys. We don't sell to Syrians. If he looks drunk, if he has red eyes, we don't sell."
"When they look like gentlemen, we sell," he added.
But according to the gym instructor the weapons are not so difficult to come by in Lebanon: "If you search on the Internet you can find a dealer."
http://www.dailystar.com.lb/News/Local-News/2012/Oct-24/192510-zap-women-resort-to-pepper-spray-stun-guns-to-face-attackers.ashx#ixzz2ADbzVH3H
-----------
Defected Woman General Trains Syria's Rebels
Zubaida al-Meeki was the first woman officer to quit President Bashar al-Assad's forces to join the Free Syrian Army.
Basma Atassi
23 Oct 2012
In a revolution that has become associated with masculine bravado and gunfights in the streets, Zubaida al-Meeki stands out.
A former Syrian army general, she became the first woman officer to publicly announce her defection from President Bashar al-Assad's army after seeing what she describes as "crimes and atrocities committed by the regime".
An Alawite originally from the Occupied Golan Heights, bordering Israel, al-Meeki used to work in the army's recruitment division in Bibila, a town south of Damascus that was mostly seized by rebels in August after heavy fighting with regime forces.
Al-Meeki says she had planned to defect and join the Free Syrian Army (FSA) since October last year but was unable to do so because of constant surveillance imposed on army officers by the regime.
Full report at:
http://www.aljazeera.com/indepth/features/2012/10/20121022105057794364.html
-----------------
Imposing A Fight For Abortion On Other Countries Can Backfire
Sarah Ditum
23 October 2012
Access to abortion is a vital human right, but patronising less liberal countries can simply entrench their anti-abortion position
The first rule of pro-choice: trust women. That applies to activism as much as abortion itself. Whether the aim is to serve an individual or a whole nation, the first thing you do is listen, carefully and attentively, to whoever you're trying to help. That's true when you're campaigning inside your own country, but even more so when the situation is complicated by the historical scar of colonialism: can you speak with women in other countries without taking their voices from them?
A boat belonging to the Dutch group Women on Waves attempted to dock in Morocco this month. Women on Waves campaigns internationally for liberalised abortion laws and promotes help lines that advise on procuring your own medical abortion. It also uses its sea vessels as floating surgeries, performing medical abortions in international water for women whose home state criminalises the procedure.
Full report at:
http://www.guardian.co.uk/commentisfree/2012/23/imposing-fight-for-abortion-other-countries
-----------------
4,585 Cases of Violence against Women Reported in Pakistan
24 Oct 2012
KARACHI: Four thousand five hundred and eighty five cases of violence against women (VAW) were reported across the country during January to June 2012, it is learnt here. Women in Punjab remained the major victims with 69% of all VAW incidents reported from that province. Three thousand one hundred and fifty three cases were reported from there during first six months of the current year, with Lahore, Okara and Sargodha being the worst hit areas. Shireen Khokar, Coordinator Aurat Foundation's VAW monitoring cell while sharing details of the report said although Punjab houses 56% of Pakistan's total population, yet it is implausible that nearly 69% of VAW incidents occur in province.
Full report at:
http://www.dailytimes.com.pk/default.asp?page=2012\10\24\story_24-10-2012_pg7_22
-----------
I've Friends Equalling Country's Money in Swiss Banks: Pak's Seasoned Playwright
Peerzada Salman
10/23/2012
KARACHI: Friends and colleagues paid heartfelt tribute to seasoned playwright Hasina Moin at an event organised to acknowledge her services to show business at the Arts Council Karachi on Tuesday.
Writer Fatima Surayya Bajia, who presided over the programme, said the credit for Hasina Moin's civilised and elegant writing went to PTV as the institution taught those who were associated with it how to act and behave keeping one's traditions in mind.
She said Hasina Moin herself was aware of this very important fact which was why even when she made the audiences laugh with her script, she (her characters) never behaved in a crass manner.
Full report at:
http://dawn.com/2012/10/24/ive-friends-equalling-countrys-money-in-swiss-banks-hasina/
-----------------
Afghanistan Not Just About War, Tells 'Kabul Cards 'Filmed By Three Young Girls
10/24/2012
Three young girls from Afghanistan have teamed up to show the fun side of the war-ravaged country through a 17-minute film Kabul Cards. The trio wants to send a message to the world that their homeland is not just about war.
According to TOI, Sahar, 16, who currently attends high school, 19-year-old Sadaf, a music student, and Nargis, 18, who works in an information agency, have filmed their daily lives in Kabul for the movie.
Despite the ongoing war and widespread discrimination against women, the three girls took the challenge of filming themselves and showing the world how they have fun together and how actively they are working to change the society in Kabul Cards, which was showcased at the ongoing 14th Mumbai Film Festival.
Full report at:
http://dawn.com/2012/10/24/afghanistan-not-just-about-war-tells-kabul-cards/
-----------------
Teacher, Charged After Student's Hand Injured During Lesson on Islamic Hand Signs
10/23/2012
A Virginia elementary school teacher has been charged with simple assault after an Oct. 2 lesson on Islamic hand signs left one student's hand cut and bleeding, according to a parent.
Stephanie Bennett, the mother of the 10-year-old girl who was allegedly assaulted at Butts Road Intermediate School in Chesapeake, Va., told conservative blog TheBlaze that teacher Tara Harris spent two days going over Islamic hand symbols with her students when she was supposed to be teaching them reading and math.
Full report at:
http://www.huffingtonpost.com/2012/10/23/tara-harris-butts-road-in_n_2002937.html
-----------------
URL: https://newageislam.com/islam-women-feminism/burying-'sin'-man-buries-infant/d/9083