New Age Islam News Bureau
30 Sept 2014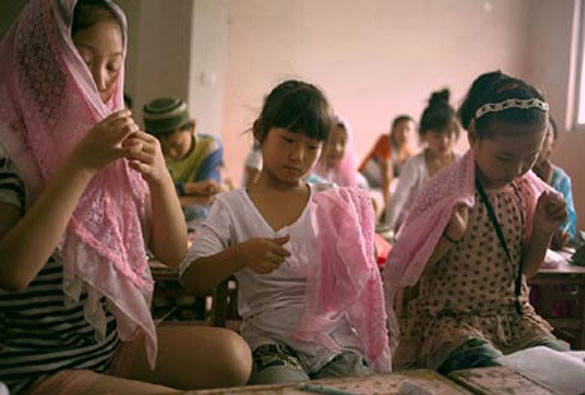 Photo: 'Call Her Fatimah' Gives a Stunning Glimpse into the Lives of Chinese Muslim Women
---------
• Kyrgyzstan Detains Female Members of Islamic Group
• Prayer Leader, 2 Others Held for Minor Sisters' wedding in Pakistan
• Arab Women Pilot Joins Airstrikes against Islamic State Syria
• The Immature Women Holding Aim during ISIS
• Denied Marriage, Saudi Girls Knot Ready To Forgive Fathers
'• Call Her Fatimah' Gives a Stunning Glimpse into the Lives of Chinese Muslim Women
• Belgian Beauty Queen Converts to Islam
• Shelter for Homeless Muslim Women Opens In Manchester
• Online Harassment of Pakistani Women Turns into Real-World Violence
• Education Has Other Problems besides the Headscarf
Compiled by New Age Islam News Bureau
URL: https://newageislam.com/islam-women-feminism/burqa-clad-women-made-feel/d/99330
------------
Burqa-Clad Women Made To Feel Fearful On Australian Streets
30 Sep, 2014
There has been a recent rehashing of an old debate about whether Australia should ban Muslim women from observing the Islamic practices of face veiling and even calls for an outright ban on the wearing of the Burqa, a head-to-toe covering.
In the aftermath of 9/11, the act of wearing the Burqa was publicly declared "un-Australian" by politicians and public commentators such as Fred Nile, Michaelia Cash and Michael Smith. These politicians and public commentators sought to align face-veiling with the oppression of women and national security, based on claims the fabric could be used for hiding weapons and devices that posed a risk to public safety.
Following the counter-terrorism raids earlier this month, Liberal Senator Cory Bernardi and Palmer United Senator Jacqui Lambie made a correlation between the Burqa and national security, after footage emerged of women wearing face veils in the houses that were raided.
In the Australian context, the veiling practices of Muslim women have often been perceived as a threat to Australian cultural values. The veiled Muslim woman in the political arena is seen not only as culturally incompatible (as shown by Bernardi's comment that the burqa is not right in Australia), but the perceived oppression of Muslim women also supposedly shows the country's vulnerability to Islamic extremism. This means that expressions of Islamic religious identity are often suspected as a sign of fundamentalism and therefore a potential national security threat. Senator Lambie's post on social media of an image of a Burqa-clad woman handling a gun attached to prayer beads with the comment the 'Burqa must be banned for security reasons" feeds into this idea. This is despite the fact the woman in the picture was a very powerful Afghan policewoman.
Muslim migration to Australia dates back to the middle of the 19th century. Yet still, despite the fact the majority of Muslims are now born in Australia, they are not recognised as possessing the same everyday Australian values of those born into other religions. Empirical evidence suggests that Australian-ness is defined more narrowly; you need to be white and Christian to belong.
A study by the Dean of the School of Social Science at the University of Western Sydney, Kevin Dunn, found this contributes to a strong antipathy towards Muslims. This finding was also echoed by the 2004 Australian Human Rights Commission report Isma – Listen which documented how women identified as Muslim by the way they dressed, were restricting their movements in public spaces and seeking safety in numbers because of racism. This impacted on their mundane routines of going to work, school, university and shopping, as well as on the street and while using public transport.
As a sociology student, I conducted a research study into the experiences of burqa-clad Muslim women. The results revealed a widespread sense of personal insecurity and societal disempowerment. Most of the women who participated in the project were born in Australia, they had a tertiary education and among them were nurses, teachers and scientists. All the participants called Australia home but many felt their place within the nation was precarious.
Most women could recount stories of being called a terrorist. Grown women relayed stories of being chased in public spaces by people threatening them with violence if they did not remove their face veils, while others said they had been run off the road while driving. Mothers were often shoved and sworn at in public in front of their children, or stared at nervously in public as if they were about to be accused detonating a bomb. Paradoxically, these experiences made burqa-clad Muslim women feel even more fearful for their own safety in public. In effect, these women live on the edge of mainstream Australian society, which limits what they can and cannot do, and where they can and cannot go. This informal socio-spatial legislation exists outside of formal legal institutions.
Recent inflammatory comments from politicians show there is a projection of socio-cultural anxieties on to Muslim women in this country at the moment. There is a struggle between giving women the autonomy to dress as they choose, yet not giving them the ability to define the dominant narratives about their own identities. Calls for legislative intervention against the Burqa have not been successful in the Australian parliament, yet the social stigma around wearing the Burqa means it is as good as banned anyway.
Zeinab Zein is a former research candidate in the Department of Sociology and Social Policy at the University of Sydney and current law student at the University of New South Wales.
http://www.canberratimes.com.au/comment/burqaclad-women-made-to-feel-fearful-on-australian-streets-20140929-10ngc6.html#ixzz3Emx9JUo3
-----------
Kyrgyzstan Detains Female Members Of Islamic Group
30 Sep, 2014
A group of women have been detained in Kyrgyzstan's southern region of Jalal-Abad for alleged membership in a banned Islamic group.
The Kyrgyz Interior Ministry said on September 30 that the seven women, aged between 20 and 25, were detained during a special operation in Nooken district.
Police said evidence showed the group has been actively involved in the activities of the Hizb ut-Tahrir organization, recruiting new members for the group among local residents.
Hizb ut-Tahrir is a London-based Sunni organization that seeks to unite all Muslim countries into an Islamic caliphate.
The Kyrgyz government has banned the group, branding its members and supporters "extremists."
Hizb ut-Tahrir is also banned in other Central Asian republics and in Russia.
http://www.rferl.org/content/hizb-ut-tahrir-kyrgyzstan-women-jalalaabad-nooken-police/26613105.html
-----------
Prayer Leader, 2 Others Held for Minor Sisters' wedding in Pakistan
30 Sep, 2014
RAHIM YAR KHAN: Police have arrested a prayer leader and two other people for their alleged involvement in the forced marriage of two minor sisters to two brothers in Kot Subzal.
Zameeran Mai of Basti Thair (176-P) informed the Kot Sabzal police through an application that her brother Manzoor Ahmed married a village girl, Fatima.
She said Fatima's father and brothers, who were opposed to the marriage, took the matter to the local Panchayat. She said the village council (Panchayat) made arrangement for the 'Nikah' and got her daughters Amna (8) and Farzana (6) married to Fatima's brothers Gull Hassan (11) and Mir Hassan (9), respectively.
SP Investigation Tariq Elahi Mastooi told reporters that the girls had been recovered and produced before a court. He said police had arrested prayer leader Maulvi Suleman, Allah Wassaya and Sohrab for influencing the marriage.
http://www.dawn.com/news/1135249/prayer-leader-2-others-held-for-minor-sisters-wedding
-----------
Arab Women Pilot Joins Airstrikes against Islamic State Syria
Female top gun who flies in the face of the fanatic
30 Sep, 2014
The little girl in the head scarf longed to become a fighter pilot. Unfortunately she also knew this was an impossible dream.
After all, she had been born in the United Arab Emirates, a country that did not educate women until the 1960s. The first school for girls there had opened its doors less than 20 years before she was born. So, she put her burning ambition on hold and went to university to study English literature instead – something that was available to her.
But the persistent dream would not go away. Finally, ten years after she left high school, her government announced a change in the rules that made it possible for women to apply to the country's air force academy.
Suddenly the prospect loomed that a talented woman born in the Middle East could one day go on to become a fighter pilot – piloting a machine travelling at speeds of up to 1500mph per hour (twice the speed of sound) with all the razor-sharp reactions and crystal- clear calm that requires.
Al-Mansouri, now 35, was the first woman to make the grade and in 2008 graduated from the UAE Air Force academy, becoming the first female pilot in the Arab world to fly an F-16 fighter jet.
Over the border in Saudi Arabia women are not even permitted to drive. But last week she became something of an international celebrity when it was reported she was leading airstrikes against Islamic State militants in Iraq.
"In the beginning I wasn't expecting to reach this level, but with thanks to God I've managed to make this dream come true with the support of the authorities, trainers and encouragement of my colleagues," she told CNN.
"Both men and women have the right to work in any field, so long as they do it with loyalty, determination, persistence and educate themselves in practical and scientific tools in order to reach the highest ranks," she added.
In an interview earlier this year, she explained: "As soon as the doors were open I volunteered. Whenever a woman enters a new male-dominated field they find the same hesitation, the same prejudice, the same stereotype thinking, and I had to prove myself by just being determined and having the skill and knowledge enough to prove that I can perform skilfully in the field."
Her role is part of a US-led campaign to gain control over an increasingly lawless area overun by militants who are using brutal often medieval methods – including beheadings and crucifixions – to carve a new state out of Iraq and neighbouring Syria.
There is no question that Mariam is an exceptional woman and a courageous pilot, but the decision to name her personally, and to release photographs and interviews recording her involvement, is not only the actions of a nation proud wanting to show how progressive it has become in recent years.
Revealing her identity is also a piece of cleverly calculated propaganda. Women fighters of all types – be they airborne like Mariam or on the ground like the front-line Kurdish female fighters currently brandishing sniper rifles and rocket propelled grenades in north-eastern Syria near the border with Iraq – hold particular power over male extremists who believe they will receive 72 virgins in heaven should they die in battle.
The promise of an afterlife filled with unfortunate concubines is to be found in Quranic teachings. It is amplified by radical imams and extremist groups as a recruitment tool: marketing bloodshed with the promise of sex.
Violent jihadis, such as the members of Islamic State, are notorious for kidnapping and raping women and girls in its territory – but should they be killed by a woman the promise of carnal activity in heaven is ended.
Therefore, the increasing number of female soldiers taking to the front line against extremists is sowing fear in their ranks that they will be denied their prize in paradise. "
"They believe they'll go to hell if they die at a woman's hand," said one female Kurdish soldier recently.
But fundamentalist jihadis are not the only men apparently feeling a little threatened by the image of a head-scarf clad Arab woman succeeding so thoroughly in a traditionally male arena.
An American TV news anchor is in disgrace after he made sexist jokes live on air about Mariam's involvement in the airstrikes.
His comments were particularly distasteful given the recent beheading of the American journalist James Foley, the act which ultimately led to the US-led mission to eradicate the perpetrators of the gruesome killing, and others like it.
The gaffe occurred after one presenter on the US cable channel chat show Five on Fox News cracked a series of sexist jokes about the female pilot after a fellow presenter, Kimberly Guilfoyle, hailed Mariam's involvement.
Guilfoyle had paid tribute with the words: "Hey, Isis, you were bombed by a woman. Very exciting, a woman doing this...I'll take a woman doing this any day to them." But co-host Greg Gutfeld interrupted Guilfoyle, mocking the pilot.
"The problem is after she bombed it she couldn't park it," he said. Another presenter, Eric Bolling, joined in, asking: "Would that be considered boobs on the ground?" Embarrassed, Guilfoyle hung her head and muttered, "Oh my gosh, why did they ruin my thing?" Bolling has since apologised for his insensitive remarks.
"I made a joke and when I got home, I got the look, and realised some people didn't think it was funny at all," he admitted on air.
"I said sorry to my wife and I apologise to all of you as well and want to make that very clear." Not saying sorry are some members of the Mansouri tribe.
Although her close family fully support her education, chosen career and involvement in the strikes, there are traditional factions in the Middle East that are allegedly feeling aggrieved that an emancipated woman bearing their tribal name is bringing the war to the fanatics.
In a letter, whose authenticity has been hotly debated, Mariam's "family" – or tribe – disown her for bombing "Sunni heroes of Iraq and the Levant".
She is further labelled an "ingrate". The letter written in the intolerant language of the radical, castigates her for "taking part in the brutal international aggression" against Syria.
The letter does throw up the medieval scale of the conflict in which Mariam is engaged in the front line. She comes from a nation which claims its aim is to "to establish a new benchmark for gender
http://www.express.co.uk/life-style/life/516791/Arab-women-pilot-joins-airstrikes-against-Islamic-State-Syria
-----------
The immature women holding aim during ISIS
30 Sep, 2014
MAHMOODIN, Syria – We crossed a River Tigris on a rusty boat on a tour from Iraq into Syria. It's a stream that helped maintain civilization, yet a quarrel that's now distracted on banks has turn increasingly barbaric.
The Islamic State of Iraq and Syria (ISIS) controls domain on both sides of a limit — land a organisation refers to as a "Islamic State." But in north-eastern Syria, they're assembly insurgency from a rag-tag army of Kurdish fighters, and we wanted to accommodate them.
With a Kurdish guide, we headed for a encampment of Telkocher, on a front line in a quarrel opposite a Islamic extremists. But only an hour into a drive, we strayed too tighten to ISIS snipers and a procession came underneath fire.
We scrambled for cover in another village, Mahmoodin that has been underneath conflict for a month. Across a dry plain that surrounds a village, a nearest ISIS position was manifest only a mile away.
Mahmoodin's sand section homes and neat flower gardens were abandoned; we ran down slight alleyways and found all of them empty, until we stumbled into a yard where a Kurdish commander, Omran Hussein, has set adult camp.
A chubby former tailor who never stops smiling and pairs his troop's fatigues with a flower-patterned headscarf, Commander Hussein has only 40 soldiers to reason off ISIS.
"Not enough," he told us, "but they're all we have."
Ten of his fighters are women — some of them teenagers — and according to Commander Hussein, they're some of his best soldiers.
"There's no disproportion between a group and a woman," he said. "Some of them are even improved fighters than we am."
One of them is 19-year-old Akina Akin, a five-foot high hustler who's already conflict hardened after dual years of fighting.
We asked her if she was fearful of being prisoner by ISIS — that has turn scandalous for abduction and raping women and girls in a territory.
"I'm not afraid," she pronounced with a daring toss of her head. "I'll blow myself adult before we let them locate me."
In ISIS domain women contingency cover their faces, and everybody is theme to a despotic chronicle of Islamic law. The Kurdish fighters are also Muslims, yet they follow a really opposite chronicle of Islam.
Asked if ISIS — as it claims — practices a "pure" form of Sunni Islam, Commander Hussein guffawed.
"I competence be a bit Westernized, yet I'm still a Muslim," he told us. "ISIS is murdering people, and genuine Muslims don't kill trusting civilians."
It's been a week given a U.S. troops and a handful of associated nations began conducting airstrikes opposite ISIS inside Syria. The latest were reported overnight by Syrian activists, who pronounced several strikes strike ISIS targets in a northeast.
But Commander Hussein told us that, so far, a atmosphere debate has had small impact on a ground.
He's still hopeful, though, that a U.S. will come to a rescue — with some-more airstrikes, and a desperately-needed distillate of weapons to conflict a well-armed extremists.
"Tell America we need weapons," he said. "If we can't better ISIS, their subsequent aim will be Europe and a U.S."
http://ustoday.org/world/the-young-women-taking-aim-at-isis/
-----------
Denied marriage, Saudi girls knot ready to forgive fathers
30 Sep, 2014
Saudi women have filed 383 cases against their guardians for denying them the right to marriage, local media has said quoting data released by the Ministry of Justice.
Riyadh registered the highest number of "adhl" cases Kingdomwide, with 95 cases, followed by Jeddah, which recorded 81 cases, Makkah 65 cases, Dammam 31 cases and Madinah 20 cases.
However, many of these cases never made it to court thanks to Saudi social norms, said the report.
Al-Ahsa and Abha, meanwhile, each registered 10 cases, Taif nine cases, Qatif eight cases, Buraidah and Alkhobar seven each, Tabuk and Al-Kharj five each, Skaka, Hail, Onaizah and Jazan four each, Khamis Mushayt and Sibya three each, Yanbu and Ras Al-Khair two each, and Najran, Jubail, Dirriyah and Arar one case each, the report said.
The National Society for Human Rights (NSHR) has included "adhl" cases within the list of human trafficking issues.
The society called for the imposition of penalties on those who are found guilty of denying their daughters marriage.
Offenders could be sentenced to up to 15 years in prison and fined SR1 million in accordance with a decision issued in November 2011, said the daily.
Meanwhile, Khalid Al-Mutairi, a lawyer, said any girl has the right to file a case in accordance with Islamic law and other provisions.
The lawyer attributed the emergence of "adhl" to several factors, including guardians' desire to have full control over the decisions of their daughters, for financial reasons or as a form of revenge against their divorcees, the paper said.
http://www.arabnews.com/featured/news/637741
-----------
'Call Her Fatimah' Gives a Stunning Glimpse into the Lives of Chinese Muslim Women
30 Sep, 2014
Artist Giulia Marchi describes her project, "Call Her Fatimah -- Musilin," as being at the intersection of gender, religion and ethnicity. And she's right, her niche photography series centres on the female Muslim population in China, a group of individuals that challenges most onlookers' perceptions of what it means to be a woman and religious outside of Western culture.
Through her series, Marchi documents the daily lives of young women navigating the ins and outs of a Muslim identity in contemporary China. The project began with the experiences of Ding Lan -- Fatimah is her Muslim name -- a 22-year-old whom the artist met in Cairo, Egypt. "Many young Muslim students move from their country to Egypt to learn about Islam," Marchi explains in a statement. "They are Muslim -- but they do not know much about this religion. Once in Egypt they discover it through the study of Arabic, the Koran, and through life in Cairo."
Marchi has spent the last two years exploring this "hidden world" of devotees. Young Chinese Muslims who, like Ding Lan, traveled to Cairo to attend Al Azhar, a world renowned Islamic institution that is famously free. The haven attracts many students; among them, 20 to 25-year-old women who identify as Huizu, a Muslim minority in China, and hail from regions like Xinjiang, Qinghai, Gansu, Ningxia or Henan. Henan is where Ding Lan lives, and where much of Marchi's series takes place.
"I followed Ding Lan back to her home in China in Henan province," Marchi recounts. "There, I searched for the Muslim elements in her life and cultural background to understand her choice to move to Egypt... From Beijing to Cairo, I traveled... exploring the diversity of religion in these two societies and the intersection of Islam with the Chinese culture."
This intersection is a small but significant one. According to research by the US-based Pew Forum on Religion & Public Life, over 23 million individuals in China identified as Muslim as of 2010 -- amounting to 1.8% of the country's population. The number is expected to rise to nearly 30 million by the year 2030.
In an email exchange with The Huffington Post, Marchi, now based in Beijing, said that she chose to focus on female Muslims because it related to her own experience. While living in Cairo, the artist was fascinated by the public and private sides of a woman's reality, mediated in physical form by a veil. "If you are a woman you are limited in your daily life experience, and this has consequences on your perception of space, time and people. I was observing this limit."
The portraits and scenes in "Call Her Fatimah" capture spontaneous and lively embraces as well as posed moments of tranquility. From a cluttered dinner table littered with chopsticks but no diners, to a group of pink veil-clad girls gathering around a door for some unknown reason, the photographs are mundane yet beautiful, like snapshots from a visual diary.
"This is Islam in all its cultural diversities," Marchi concludes.
http://www.huffingtonpost.com/2014/09/29/chinese-muslim-women_n_5891162.html
-----------
Belgian Beauty Queen Converts to Islam
World Bulletin / News Desk
30 Sep, 2014
Former candidate for Miss Belgium in 2012, Lindsey Van Gele, has reportedly converted to Islam and now calls herself "Aisha."
Morocco World News reported she chose to become a Muslim after marrying Belgian footballer Mamoutou N'Diaye, who is originally from Mali, four years ago.
"I became a Muslim when Mamoutou asked for my hand. A civil marriage was not enough for me. Moreover, I wanted to support my conversion," Van Gele reportedly told Het Laatste Nieuws.
Although she said that she had actually converted two years ago, the management communication Ghent University student has only recently gone public about her conversion.
http://www.worldbulletin.net/muslim-world/145279/belgian-beauty-queen-converts-to-islam
----------
Shelter for homeless Muslim women opens in Manchester
30 Sep, 2014
A project to provide shelter and support for homeless Muslim women has opened in Greater Manchester, giving new life and purpose to a previously empty building.
After several months searching for a suitable location and property for the service, the Manchester Shelter has now been renovated using a grant from the Department for Communities and Local Government, provided to put vacant properties back to use.
The running of the shelter, funded by the National Zakat Foundation and managed by housing charity Threshold, will provide accommodation and support for five women for a short period of time - until they can get back on their feet and find a home to live in on a more permanent basis.
A support worker at the project will work with the five vulnerable residents to help them stay physically and mentally well, financially aware, and to move forward in their lives with education, training or employment.
Threshold chief executive Steve Goslyn said: "The shelter helps to fill an important gap in Greater Manchester's homelessness provision, and supporters of the National Zakat Foundation have done the local community a great service by funding this brilliant new project, turning an empty building around – that will turn lives around too."
Iqbal Nasim, National Zakat Foundation CEO, said: "We are honoured to have partnered with Threshold to deliver NZF's third supported housing project for single homeless Muslim women.
"There is an acute need for faith sensitive services within our community and this project is another step in the right direction. Launching this initiative has relied on the hard work of many people and the generous support of our donors, and it will all have been more than worth it if this service can provide comfort to the most vulnerable when they need it most."
http://www.24dash.com/news/housing/2014-09-29-Shelter-for-homeless-Muslim-women-opens-in-Manchester
-----------
Online harassment of Pakistani women turns into real-world violence
30 Sep, 2014
ISLAMABAD: Harassment that women in Pakistan face on the Internet is triggering real world violence against them, and large social media companies, such as Facebook and Twitter are moving too slowly to stop it, internet rights group Bytes For All Pakistan said.
Women face online threats globally, but there are unique risks in Pakistan, where there is a tradition of men killing women seen as having injured a family's honour, besides punitive laws against blasphemy.
With law enforcement too weak to fight the violence sparked by online campaigns, activists want giant internet firms to roll out greater protection for users, from streamlining how they tackle complaints to faster action against threats of violence.
"These technologies are helping to increase violence against women, not just mirroring it," said Gul Bukhari of Bytes for All, and the author of a report released this week.
"A lot of the crime we are witnessing would not have been possible without the use of these technologies."
There have been more than 170 complaints of cyber-crime against women this year in Punjab, the Federal Investigation Agency says. No figures were available for the remaining three provinces.
None of the cases was successfully prosecuted because women usually reached a compromise with the suspect, said Syed Shahid Hassan, an official with the cyber-crime office in Lahore, where 30 employees work full-time.
Since police rarely act when women are harassed online, few cases are reported, activists say.
About 32 million of Pakistan's 180 million people use the Internet, the group said in its report, mainly on mobile telephones. About 12 million are on Facebook and some 2 million use Twitter, domestic media say.
In one case documented by Bytes for All, an online hate campaign last year urging the rape and murder of a prominent human rights defender culminated in shots being fired at the woman and her husband.
She received hundreds of threats and the addresses of her family were posted online, along with pictures of her and her daughter.
"She suffered nightmares of being raped, of family members being harmed because of her," the group said. Facebook took down the pages, but had to do so again when they were posted by a different user, the group said, and Twitter took a month to deal with her complaint.
Twitter declined to comment on specific cases but says it took tough steps last year to protect privacy and tackle abuse.
Facebook is "passionate" about protecting users, says its content policy director Monika Bickert, who formerly worked at the US Justice Department to target sex traffickers and crimes against children.
"My background has given me an appreciation of how serious this issue is," Bickert said. But the woman is unlikely to get justice, as police have lost all the evidence, and the sole witness has died.
In another case that spotlights the limitations of police, a 14-year-old girl was blackmailed into submitting to repeated gang rapes after her boyfriend threatened to post online a video he had secretly shot of the two together.
The slight, shy girl told Reuters she was too ashamed to tell her family and gave into her abuser's demands.
Bukhari's investigation showed police got the girl's age wrong and did not charge her abusers with statutory rape.
"She's 18," one police officer told Reuters, but admitted he had not looked at school records to ascertain her age or searched for evidence of the abuse online.
Though the case is nearly two years old, authorities have not asked Facebook for evidence, the girl's lawyer said. The site said it would investigate if the rape video proved to have been posted on its pages.
Twitter and Facebook had made it easier to report abuse but more needs to be done, said Bukhari.
"The companies are responding a bit better to women in the West," she said. "But voices in other countries are not being heard with as much seriousness and that puts women in danger."
http://www.dawn.com/news/1135298/online-harassment-of-pakistani-women-turns-into-real-world-violence
-----------
Education Has Other Problems besides The Headscarf
30 Sep, 2014
The headscarf is again the issue; the newly-introduced freedom to wear it at the elementary school level is now being debated.
But we have more important problems in education. One other key issue is the stagnation of our economic development. We should be lifting those bans that are not required by pedagogy and talk about the quality of education and its relationship with development.
That is not a favourite topic of this government, though, because for the past six years we have not been able to exceed much beyond an annual GDP per head of $10,000. In recent years we have grown mostly by borrowing and inflating the construction sector. These topics are not on the agenda of the opposition, either, because political criticism is easier and more exciting.
Turkey earns an average of $1.50 for every one kilogram of industry goods it exports; Germany earns an average of $4.50. Why? It is because of the value of the goods sold. Which one has a higher value: Textiles or high technology?
In Turkey, the average duration of education is 12.7 years; in Germany it is 16. Even neglecting the difference in quality, this alone is a gigantic difference. A well-educated population makes smart phones; computers, medical devices and space gadgets, and they earn a lot. A less-educated population, on the other hand, works on textile and erects concrete buildings. That is why we are stalled at $10,000...
Turkey has leaped and achieved an economic success in the last decade, enabling it to enter the G-20. However, the share of technological goods in our exports is only 3.3 percent, whereas even Muslim-majority Indonesia has a share of 7.3 percent of technological goods in its exports. The rate is 16.3 percent in Mexico. This is one of the reasons why we work very hard, sell a lot, but earn little; and now we are stagnating.
The most important issue
There cannot be a more important cause for Turkey than this. The integrity of the country, national pride, active foreign policy and in particular the calibre of democracy, all of them are associated with the extent and quality of education, as well as its relationship with industry. The power of a nation whose economic power is average is also only "mid-size."
Just as an unqualified "free education" is not good for the economy, the colossal scientific accumulation of the Soviets was not good either, because it was limited to the academies and not transferred to the economy.
However, while this vital issue must be at the centre of our discussions on education, ideological and political fights are always more attractive. Unfortunately, the fight of values and politics has always ruled our history. For this reason, both our economic and political rationalization has developed slowly.
Look at the political speeches in our history and today's fundamental political texts. Polemics and heroism come before economic rationalism; we even talk about economic issues while dipping them in political heroism.
There are nine years left until 2023. Can we ever approach the quality of German education when our students rank in 42nd place in PISA exams and with an economic structure where the share of technology in exports is 3.3 percent?
We have never got past the headscarf issue, since the coup leader General Kenan Evren had it banned in the Constitutional Court in 1982.
It is a human right for parents of elementary school children to make decisions for them. If the headscarf issue was not made into a topic of polarization and political clashes, children would mingle with no problems.
We have very important issues to talk about: The problems of low quality in our education and democracy and low technology in our industry. In the U.N. Human Development Index, Uruguay is 51st, Malaysia is 64th. The fact that Turkey ranks in at 90th is embarrassing.
http://www.hurriyetdailynews.com/education-has-other-problems-besides-the-headscarf-.aspx?PageID=238&NID=72331&NewsCatID=458
----------
URL: https://newageislam.com/islam-women-feminism/burqa-clad-women-made-feel/d/99330