New Age Islam News Bureau
5 Oct 2014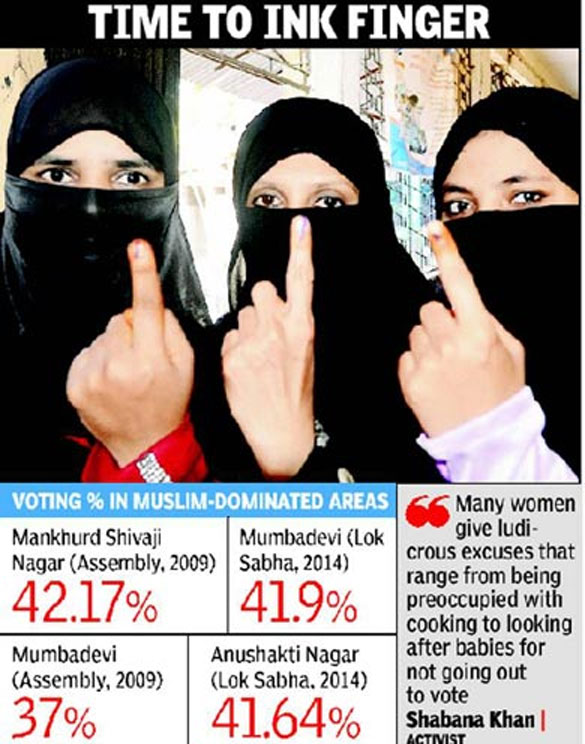 Photo: Burqa-Clad Muslim Women Get Wooed To Cast Vote
----------
• Niqab-Wearing DAP Member Hits Out At Critics, Says Religion a 'Private Affair'
• Muslim Outfits in Kerala, India, Back Yesudas's Remarks Against Girls Wearing Jeans
• How a Tattooed, Blonde Muslim from Texas Became an ISIS Twitter Star
• Young Muslim Women Turn To YouTube to Showcase Islam Their Way
• Team Australia Should Encourage Young Muslims, Not Ban Niqabs
• Isil Atrocities on Women Exposed On 'Shocking Scale'
• Europe Grapples With Whether to Ban Muslim Burqas and Niqabs
• Swaziland Mulls Monthly Grant Scheme for Girls in AIDS Fight
• Bombay High Court Gives Maharashtra Government Ultimatum on Women's Safety
• Perth's Muslim Children Bearing Brunt of Public Backlash over IS
Compiled by New Age Islam News Bureau
URL: https://www.newageislam.com/islam,-women-and-feminism/new-age-islam-news-bureau/burqa-clad-muslim-women-get-wooed-to-cast-vote--mumbai-ngo/d/99390
----------
Burqa-Clad Muslim Women Get Wooed To Cast Vote: Mumbai NGO
Mohammed Wajihuddin, TNN | Oct 5, 2014
Hidden from news channels and press photographers are an unpleasant truth. Muslim women don't vote in droves as photographs of Burqa-clad women proudly showing their inked fingers or queuing up outside polling booths suggest. In fact, one of the reasons for low percentage of voting in Muslim-concentrated areas is the poor turnout of women voters. A city-based NGO, Being Women: Socio-Economic, Cultural and Educational Society, has launched a drive to ensure that Muslim women don't miss the chance to vote on October 15.
Being Women's volunteers are creating awareness among through corner meetings, camps and door-to-door visits. "When we analysed the reasons for poor turnout in Muslim-dominated localities in the last few assembly and Lok Sabha elections, we found that women were reluctant to step out. We want to change this apathetic attitude and encourage women to vote," says Shadaab Siddiqui, Being Women's president. The NGO was registered in April this year, adds Siddiqui.
A five-member-group are reaching out to female voters mostly in the impoverished pockets like slums and chawls where poor education levels, conservatism and patriarchy have colluded to keep most women indoors, even on polling days. "In many homes it is men who decide everything on behalf of women. We tell the women to shake off the herd mentality and choose candidates of their choice," says Shabana Khan, Siddiqui's colleague. Khan adds that many women give ludicrous excuses that range from being preoccupied with cooking to looking after babies so they cannot go out to vote. "We tell them that a few minutes off their domestic work will not bring the roof down," says Khan. "We are also gearing up to bring maximum women voters out of their homes on polling day," adds Khan.
Sometimes, women show deep indifference to participating in this festival of democracy, says Being Women's joint secretary Farzana Chougle. "Mere Ek Vote Se Kya Hojayega (What can happen with my one vote), many women tell Chougle when she approaches them. "The idea is to make women aware of the value of their votes," says Ghazala Azad, an activist with another NGO, Neo Education and Employment Development Society (NEEDS). It too has discussed internally to join the movement to make women reach the polling booths.
Azad was among a few women who attended a Khula Manch (open discussion) organized by a group of Muslim activists last week in the city to discuss which parties the community members should vote. While most male speakers railed against "poor representation" of Muslims as candidates by various political parties, Azad chose to hammer home the point that Muslim women voters need to be encouraged to go out and vote.
"This has been one of our major concerns. If our women voters turn out in good number the stigma of low percentage of voting in Muslim pockets will vanish," says Salim Alware, one of the organisers of Khula Manch.
http://timesofindia.indiatimes.com/maharashtra-news/Muslim-women-get-wooed-to-cast-vote/articleshow/44376232.cms
-----------
Niqab-Wearing DAP Member Hits Out At Critics, Says Religion a 'Private Affair'
Oct 5, 2014
DAP's Niqab-wearing activist Jamila Rahim, better known as Melati, believes there is no conflict between her faith and the party she has joined, despite its socialist and secularist ideology.
"I was attracted to DAP because it rejects racist politics and focuses on justice and welfare.
"The main thrust of Islam revolves around welfare and being humane," she said.
The 22-year-old activist braved a storm of criticism over the week after it was discovered she had joined DAP, with one Malay blogger even saying she was better off as a prostitute.
To her detractors, Melati has this answer: "Allah has never given anyone the right to insult others."
The activist and novelist told The Malaysian Insider she did not expect such backlash after joining DAP.
"Just because I wear the niqab (veil), people assume I should limit my actions. But I have the right to do whatever I want, and I don't think joining DAP is wrong," she said.
"I joined a party. I didn't sell out my religion. I didn't convert. I'm still a Muslim."
A blogger calling himself "KuntaKinte Malaysia" said Melati's decision to join DAP was akin to selling herself and her religion for the riches offered.
"A prostitute who sells herself would not decay the position of Islam in the country, but those who join the DAP are helping them destroy Islam in Malaysia.
"The reality is, it is more noble to be a prostitute who sells herself for a mouthful of rice, than being those in tudung and purdah who 'sell themselves' to DAP for the riches of the world until it weakens Islam," he said in www.mykmu.net.
The irony of the blogger's insults was not lost on Melati.
"They're questioning my faith in Islam, but they themselves aren't doing the right thing by insulting me. Islam never taught us to insult others like that," she said.
She described the criticism as a baptism of fire but said it has not made her regret joining DAP or donning the niqab.
"In Islam, wearing the niqab is not compulsory – it is sunnah (commendable). And I made the decision to wear it because I believe it is my right to do so."
Melati sees religion as a personal matter and, unlike PAS, which seeks to turn Malaysia into an Islamic state and implement hudud, she takes a more pragmatic stance over such issues.
"Religion is an individual's personal right. We can't force other people to become like us, and we can't force people to do what we want.
"If we look at Tunku Abdul Rahman's statement, he said that Malaysia is a secular country, but Islam is its official religion.
"I am a Muslim, and hudud is mentioned in the Quran. I do not reject it. But to implement it in a multiracial, multi-religious country…
"It's like what (former Perlis mufti) Dr Mohd Asri Zainul Abidin said, we have to champion other issues first, such as stamping out corruption."
Born to a family with seven children, Melati graduated from Universiti Selangor with a diploma in Teaching English as a Second Language in 2011.
But she eschewed a teaching job in favour of working at an understaffed welfare home in Teluk Intan housing 70 residents who suffer from a range of disabilities.
"I keep telling myself, if I don't do it, who will?" said the activist, when asked why she took up such a gruelling job.
Working at the welfare home opened up her eyes to the discrimination that people with disabilities face and spurred her to become an activist and champion their cause.
Melati said she felt keenly for the downtrodden and the exploited, and that was also reflected in her writings. Her novel, Pelacur Kelas Pertama (First-Class Prostitute), is about a prostitute, an abused wife and a kidnapped bride who are victims of domestic violence.
"Through DAP, God willing, I will be able to further the cause of those who are disabled, and help introduce therapeutic education for them.
"They are a somewhat isolated group who get little attention. I also want to focus on the rights of women, and welfare for all."
She said she was not interested in any party or political position, and did not have any future plans in that direction.
"I never considered becoming an assemblyman or parliamentarian. I joined DAP to champion the people's cause," she said.
Her family and friends have supported her decisions, said Melati, although people outside her immediate circle have been less welcoming of the idea.
"In Malaysia, the problem of racism is still high. So when I joined DAP, friends of my best friends felt that I betrayed the Malays. So they asked my friends to stop being friends with me.
"My friends and family have faced a lot of pressure over this, but they don't let it out on me. They have been protecting me from the pressure."
But Melati is no stranger to controversy – she described how she received threatening text messages after she took part in a protest for free education three years ago.
"When I was studying at Unisel, anonymous people sent messages to me, saying they wanted to beat me up and rape me, just because they didn't agree with me joining such protests."
She said she simply ignored the messages and has chosen to do the same this time in the face of all the name-calling online.
"We can't stop others from saying what they want. If I were to reply, it may just escalate. So I'll just wait for them to get tired and stop."
When asked about her hopes for the future of Malaysia, Melati said she wanted the government to provide more aid for the disabled and the needy, as well as to eradicate corruption.
"As for my future – in five years' time, I hope to open my own welfare home."
http://www.themalaysianinsider.com/malaysia/article/veiled-dap-member-hits-out-at-critics-says-religion-a-private-affair#sthash.IrLpyc2j.dpuf
----------
Muslim outfits in Kerala back Yesudas's remarks against girls wearing jeans
M P Prashanth,TNN | Oct 5, 2014
KOZHIKODE: Muslim organizations in Kerala have come forward to defend singer K J Yesudas, who is facing attack from various women's organizations and social groups for his remarks against girls wearing jeans.
The organizations feel that more people from the field of art and culture should show the courage to dissuade girls from going after the Western culture. "Yesudas has done a commendable thing by reminding the new generation about the dangers of indecent dressing," said Nazar Faizi Koodathayi, general secretary of Sunni Yavajana Sangham, the youth wing of Samastha Kerala Jam-Iyyathul Ulema.
He said 'immodest' dressing by women can lead to arousal of carnal desire in men. "Women's body should not be paraded in public," Faizi said.
Yesudas had told a Gandhi Jayanti function in Thiruvananthapuram on Thursday that "Women should not cause trouble to others by wearing jeans... What should be covered should be covered."
P Rukhsana, the state president of Girls Islamic Organisation (GIO), the girls' outfit of the Jamaat-e-Islami, on Saturday said Kerala had a culture in dressing and wearing tight jeans was against it. "Though individual freedom is significant, what is more important is to safeguard against trends posing threat to the society," she said.
Abdul Majeed Swalahi, the state president of Ithihadu Subbanil Mujahideen, the youth wing of the Kerala Nadvathul Mujahideen, the Salafi organization, said there was no need to take up cudgels against the singer's remarks. "Tight dresses that make the contours of the body visible can lead to sin," he said. "We don't ask all women to wear purdah, but they can opt for decent dresses. Women's organisations should come forward to protect the dignity of girls rather than blasting a person for airing a sane opinion."
http://timesofindia.indiatimes.com/india/Muslim-outfits-in-Kerala-back-Yesudass-remarks-against-girls-wearing-jeans/articleshow/44368954.cms
--------------
How a Tattooed, Blonde Muslim from Texas Became an ISIS Twitter Star
Oct 5, 2014
Last week, a single tweet took Jennifer Williams -- an unassuming "blonde tattooed Texas girl" -- from relative obscurity to Twitter stardom.
The problem is that a "healthy number" of her enthusiastic new followers may be Islamic extremists.
"One guy told me how beautiful I would look in Hijab (in other words, how beautiful I would look once I covered myself up and stopped looking like an infidel)," she wrote on the blog Lawfare about her growing Twitter fandom. "Another just straight up asked me to marry him."
Williams is Brookings Institute researcher who spent years studying religious extremism and the Middle East before finally realizing that she'd never actually read the Quran. So she took the plunge and unexpectedly found answers to the questions about morality and belief that she'd had since childhood. She converted to Islam three years ago and is now finding that she constantly has to defend her faith from the extremists who twist it to justify violence.
Last Wednesday, she noticed that the hashtag #MuslimApologies was trending. Tired of being asked to apologize for barbaric acts that were taking place miles away and had nothing to do with their faith, Muslims on social media sarcastically began apologizing for other things -- like the Twilight Saga and the fact that Pluto is no longer a planet.
Williams wanted to contribute. So she tweeted out a short summary of her conversion story.
She got a few new followers the next morning.
Then, her Twitter notifications exploded.
Her message has been re-tweeted more than 12,000 times as of Friday evening. Williams started with 40 followers last Monday. She now has more than 5,000 and counting.
But they were not the kind of followers she wanted.
"I soon began to notice a disturbing trend: of the thousands of people who were re-tweeting and following me, many of them had the black flag of ISIS as their Twitter profile photos," she wrote. "Others had pictures of themselves holding swords, standing in front of the black ISIS flag. Uh-oh."
Around the same time, she noticed ISIS graffiti at a traffic stop in Washington, D.C. Being a terrorism researcher, she quickly tweeted out a picture.
"Call me naïve, but it didn't occur to me at the time that this tweet might be construed by the pro-ISIS folks on Twitter who were already excited by my conversion tweet as an endorsement of ISIS," Williams wrote. "But that's exactly how it was construed."
She tried to clear things up:
But her Twitter notoriety was sealed.
One of her fans even tweeted out a blurred photo of her profile picture.
"You know you're dealing with some serious Islamic hardliners when they blur out your face to protect Islamic modesty," she wrote. "It's also interesting that they chose to make it blurry rather than to black it out entirely—I suppose they did that so you could still tell that I was a blonde, white American girl. The holy grail of Muslim converts—so to speak."
It didn't matter that she's often tweeted out pro-LGBT or tried to get the "#No2ISIS" hashtag trending. Her followers tell her she's now famous in Saudi Arabia.
Williams said she doesn't appreciate having her conversion story turned into ISIS propaganda. But she may end up just having to ride out the wave.
In the meantime, she has a message for her new fans.
"Try reading the Quran instead of Twitter. It changed my life for the better. It might do the same for you if you take the time to really understand what it says," Williams wrote.
http://www.huffingtonpost.com/2014/10/03/jennifer-williams-isis-twitter_n_5930122.html
-------------
Young Muslim Women Turn To YouTube to Showcase Islam Their Way
Oct 5, 2014
The Hijab is often portrayed as a symbol of oppression. But for some Muslim women, the traditional headscarf is an opportunity to make a modern fashion statement.
Take Yasemin Kanar.
The 25-year-old Floridian is part of a group of cosmopolitan young women taking to YouTube and Instagram to showcase what it means to be a modern, fashion-conscious Muslim woman and to combat the stereotype that Islam and fashion don't go hand-in-hand.
Kanar's YouTube videos have racked up more than a million hits. But they don't feature cats or exercise moves. Instead, they show different ways to wear Hijabs, the headscarves Muslim women begin to wear when they reach puberty.
The videos, photos and tweets are clearly filling a void. Kanar has a flourishing YouTube presence and an Instagram page with more than 70,000 followers. Ascia Farraj, another young Muslim woman, has nearly a million Instagram followers who track her fashion choices – from wedge sneakers to oversized sunnies and, of course, expertly fashioned headscarves.
"When I first started, there weren't really any girls doing tutorials on how to cover and how to style your scarf in different ways," Kanar, who calls herself Yaz the Spaz, told Fusion. "I think it just went viral because of that reason."
Born to a Turkish father and a Cuban mother, and raised in a conservative Muslim household in Miami, Kanar initially looked to her mother for guidance on how to wear her Hijab. But she found the traditional Turkish style, pinned tightly under the chin, uncomfortable.
So she started to experiment with different styles. After a few requests from friends, she began posting video tutorials on YouTube about five years ago. She quickly gained big following — more than 50,000 YouTube subscribers and nearly 600,000 Facebook followers.
"Girls who start to wear Hijab now have more options to choose from," she said.
While the response to the tutorials has been overwhelmingly positive, particularly from young women, Kanar has received some criticism for "exposing herself online."
"There's always going to be somebody from a different country where women are not allowed to do the same things women are allowed to do in America," she said.
But Kanar isn't fazed by any backlash. She and other young Muslim women are seizing the chance to show that fashion and modesty can coexist – and that means using tools like YouTube and Instagram to encourage girls to be proud of being Muslim while still being fashionable.
"In this generation," she said, "we're all becoming more fashionable while still keeping the modesty."
Although she's covered, Kanar's videos and photos showcase her penchant for fuschia lipstick and geometric patterns. If some older generations don't like it, so be it. She's too busy finding new ways to wear her Hijab to be bothered.
http://fusion.net/video/19190/the-Hijab-gets-a-makeover-young-women-turn-to-youtube-to-showcase-islam-their-way/
------------
Team Australia should encourage young Muslims, not ban niqabs
Oct 5, 2014
The decision to ban Muslim women who dress in the niqab from sitting in Parliament House's regular galleries represents an own goal for Team Australia. It gives credence to propagandists who claim the West is waging a war on Islam and those who suggest Muslims and non-Muslims are fundamentally different. If a woman wearing the niqab clears all other security measures being introduced at Parliament House there is no reason to put her in a glass box.
With its captain now calling for this decision to be reviewed, Team Australia may have realised its blunder. The issue has exposed divisions within government ranks while deepening fissures within broader society. It has also largely been debated in ignorance of the fact that women, and mothers in particular, play an important role in assisting young people to avoid violent paths. Team Australia needs to get past its misgivings about niqabs and burqas and realise that some of its most influential players and potential recruits are wearing them.
If Team Australia wants to challenge violent extremism, it has to be inclusive. Police and intelligence agencies regularly work with community groups labelled "extremist" or "radical". These agencies know that developing productive relationships with a broad range of community groups is an essential pillar of counter-terrorism work. Questions and statements about the need for shared values have little or no relevance in this strategy.
My research team and I talked with a variety of so-called hardliners for our project, which examined young people's responses to anti-violence campaigns. The findings were released in June by the NSW Police Force and the Australian Strategic Policy Institute.
Our project had explicit counter-terrorism objectives, and many who worked with us supported our goals. Like our interviewees, we wanted to understand the impact of anti-violence campaigns, the internet's role in radicalisation and how we can improve relations between Muslim communities and police. The project embodied what peacemakers throughout history have long known. Human beings don't need the same values to support common ideals, to deplore violence and treat one another with dignity.
The project also revealed that Australians don't need to wear the same clothing in order to want the same things. Some of our interviewees, and those who helped to develop the study, wore full-face coverings when in public. Some wanted better links with police, while others talked of a YouTube campaign they launched to encourage mothers to stop their sons from joining violent protests.
It is also important for Team Australia to recognise the work that many young Muslims are doing in promoting their own anti-violence initiatives. Our study's key finding was that messages from young Muslims are more effective than the anti-violence campaigns of Government agencies. This isn't a surprise. There is a near consensus among those who study counter-terrorism communications that governments are not the best messengers for such communication strategies.
The most popular anti-violence YouTube video our team examined was produced by a group of young Muslims who have adopted Martin Luther King's slogan "silence is betrayal". This entirely community-generated campaign has almost 200,000 views. The video documents the group's silent flashmob protest in Darling Habour, which aimed to raise broad community awareness of the atrocities in Syria.
Despite deep divisions among the groups we interviewed, the flashmob was widely praised for providing young people with a creative and peaceful means to express their frustrations over the sluggish pace of global action on Syria. In contrast, many of our young interviewees shied away from government counter-terrorism websites, suggesting they fuel Islamophobia.
We also found that young Muslim Sydneysiders are heavily involved in volunteer work with troubled youth from a range of backgrounds. We met many who mentor young people identified by their schools and the justice system as at risk of falling into a life of crime. This work, which keeps disenfranchised youth connected with their communities, is invaluable.
One of the most important things that the government can do is to support these young Muslim groups' anti-violence efforts rather than supplant them. Our core recommendation was that the government should not reinvent the wheel by creating a plethora of new anti-violence websites but explore ways to support groups that had a history of producing popular campaigns.
In the immediate term, the government needs to throw its full energy behind stopping the discriminatory verbal and physical attacks on Muslim communities. One of the most significant barriers undermining the government's attempts to communicate with young Muslims is prejudice. These young audiences often reject Australia's counter-terrorism agenda because they believe it entrenches the idea that their communities are a threat.
Ultimately, Team Australia needs to recognise that its enemy is violence and hatred, not women in burqas. Team Australia should also realise that Muslim groups, with a wide range of values, are at the forefront of Australia's anti-violence efforts. If the team wants to win against violent extremists, then it needs to stop targeting and tackling those who are arguably its most valuable players.
http://www.smh.com.au/comment/team-australia-should-encourage-young-muslims-not-ban-niqabs-20141003-10prej.html#ixzz3FGvu0Y3u
--------------
Isil atrocities on women exposed on 'shocking scale'
Oct 5, 2014
Jihadi groups in Iraq have committed human rights atrocities on a "staggering" scale, a United Nations report has found.
Isil and its allies have killed in a manner that appears both wild and yet systematic, massacring Iraqi government soldiers by the hundreds and, in some places, attempting to cleanse religious minorities.
"The array of violations and abuses perpetrated by Isil and associated armed groups is staggering, and many of their acts may amount to war crimes or crimes against humanity," said Zeid Raad al-Hussein, the UN High Commissioner for Human Rights.
Acts of violence committed by the jihadis, as they have swept across northern Iraq from neighbouring Syria have been individually documented in news reports, on social media, and by Isil's own propaganda wing in recent months.
Brutality
However, the UN report, published last night is based on interviews with more than 500 witnesses and exposes the scale and careless brutality of the jihadi group. Its 29 pages are littered with evidence of massacres, rapes and kidnappings.
On June 12, the report said, Iraqi soldiers and security officers from the former US Camp Speicher military base in Salahuddin province were captured and marched by Isil fighters to spots on a roadside and in the desert where they were machine gunned at close range.
The bodies have not been exhumed and the precise toll is not known, but eyewitnesses confirmed it ran into the hundreds.
Women have been treated particularly harshly. The report said: "Isil (has) attacked and killed female doctors, lawyers, among other professionals."
In August, it said, Isil took 450-500 women and girls to the Tal Afar citadel in Iraq's Nineveh region where "150 unmarried girls and women, predominantly from the Yazidi and Christian communities, were reportedly transported to Syria, either to be given to Isil fighters as a reward or to be sold as sex slaves".
Other crimes include "directly targeting civilians and civilian infrastructure, abductions, rape and other forms of sexual and physical violence perpetrated against women and children, forced recruitment of children, destruction or desecration of places of religious or cultural significance, wanton destruction and looting of property, and denial of fundamental freedoms".
Efforts to destroy Isil have brought further violence against civilians, the report found, warning that after Iraqi government air strikes the jihadis had caused "significant civilian deaths" by hitting villages, a school and hospitals in violation of international law.
At least 9,347 civilians have reportedly been killed and 17,386 wounded so far this year, well over half of them since the Islamist insurgents began seizing large parts of northern Iraq in early June.
Meanwhile, Turkey yesterday sent busloads of troops to its border with Syria and considered military options as an Isil onslaught against Syrian Kurds drew Turkey deeper into its neighbour's fighting.
And also last night Turkey's parliament approved a motion that gives the government new powers to launch military incursions into Syria and Iraq and to allow foreign forces to use its territory for possible operations against Isil.
http://www.independent.ie/world-news/middle-east/isil-atrocities-on-women-exposed-on-shocking-scale-30634303.html#sthash.wPrtTmBp.dpuf
----------
Europe grapples with whether to ban Muslim burqas and niqabs
Oct 5, 2014
After France banned veils in 2011, a French woman in her early 20s decided to fight for her niqab.
Backed by a group of Birmingham lawyers, the Pakistan-born university graduate and devout Sunni took her case to the European court of human rights, asking them to support her faith, culture and personal convictions.
But her suit was rejected in a decision handed down three months ago. And the decision has given new fuel to an already growing push across Europe to remove Muslim veils from society.
The woman, known to the court as "SAS", said neither her husband nor any member of her family pressured her to dress in the burqa and niqab – her aim was "to feel at inner peace with herself". She was happy to take it off for security checks at banks or airports, or other necessary identity checks, but wanted the right to wear it around town.
"Her faith is an essential element of her existence, she is a devout believer and the wearing of the veil is fundamental for her," SAS's lawyers argued. "The wearing of the veil often denoted women's emancipation, self-assertion and participation in society, and that, as far as [SAS] was concerned, it was not a question of pleasing men but of satisfying herself and her conscience."
SAS was backed by Amnesty International – who warned that restricting a right to wear religious clothing could impair women's right to work and education, and might "contribute to acts of harassment and violence".
And the Human Rights Centre of Ghent University warned that "in the light of the rise in Islamophobia in various European countries … a blanket ban on face covering in public [was] all the more harmful".
However the French government argued the aim of the ban was "public safety". An open and democratic society required a visible face – "the face plays a significant role in human interaction … the effect of concealing one's face in public places is to break the social tie and to manifest a refusal of the principle of 'living together' (le vivre ensemble')," Paris lawyers said.
In the end, the court upheld the ban. It did not see any "general threat to public safety" but agreed that public order was a legitimate aim of the law - saying a veil made it harder for a diverse society to live together.
The decision has brought burqa bans back onto the table in countries across the European Union, such as Austria, Norway and Denmark.
Martin Henriksen, from Denmark's anti-immigration People's Party, said: "[A ban] would send the signal that we do not accept parallel societies and isolation. We see [the burqa] as a rejection of Danish society."
Norway's Labour and Progress parties have also pushed to reopen the debate, after it was voted down by the governing coalition and the opposition in 2010.
In Switzerland, former journalist Giorgio Ghiringhelli has renewed his call for the country's Grand Council to ban veils. Last year he led a campaign that ended with the Swiss canton of Ticino voting to ban face-covering headgear in public places – despite the fact that only about 100 women in the entire country wore burqas.
Ghiringhelli told swissinfo.ch that it was important to send a clear signal that the people were against "militant Islamism".
Belgium enacted a similar law at the same time as France (some Belgian districts had already imposed local bans using old laws aimed at carnival disguises).
And some Italian towns and Spanish towns have enforced local burqa bans.
However the trend has not all been one-way. In 2010 Spain's Lerida municipality banned full-face veils but in 2013 the country's Supreme Court annulled the laws, finding they had no "legitimate aims", would isolate the women concerned and give rise to discrimination against them.
And in 2011 the Netherlands government's highest advisory body – the Council of State – rejected a proposed veil-banning law, saying the government had not demonstrated a "pressing social need". The ban plan was dropped in 2012 after the collapse of the Dutch centre-right government.
There are even fears that burqa bans in Europe could indirectly lead to an increase in terrorism.
Dr Irene Zempi, a researcher into Islamophobia at the University of Leicester, sees increasing support for burqa bans in Europe – and it worries her.
"Muslims see that they are targeted, their right and freedom to practise their religion is taken away," she said. "They feel further and further isolated from the wider community and I think this is very dangerous. The more separated they become, it plays into the hands of terrorist groups… like ISIS who say 'come to us, we will support you, we will give you your identity, here you will find a sense of belonging'."
Dr Zempi agreed that veils should occasionally be lifted. "When there is a need for veiled women to identify themselves to an official person, this should take place. But banning the veil would be a violation of human rights and also an example of gender oppression," she said.
"There is this stereotype that Muslim women are forced to wear the veil by Muslim men or by their communities," she said.
http://www.smh.com.au/world/europe-grapples-with-whether-to-ban-muslim-burqas-and-niqabs-20141004-10q8ho.html#ixzz3FGwTtJDe
-------------
Swaziland mulls monthly grant scheme for girls in AIDS fight
Oct 5, 2014
Swaziland plans to introduce a monthly incentive scheme under which adolescent girls would receive cash to keep them away from sugar daddies and prevent the spread of HIV, according to The Times Sunday.National Emergency Response Council on HIV and AIDS (NERCHA) director Khanya Mabuza said girls aged between 18 and 24 would be paid at least 200 Elangeni (about US$17.60) per month for the next five years.
The World Bank-funded pilot project is initially targeting 9,000 girls from four constituencies.
The girls would use the money to pay for their immediate needs such as toiletries and other things they desire.
Mabuza said his organisation came up with the initiative to protect adolescent girls from promiscuous behaviour that would fuel the spread of HIV and AIDS.
http://en.starafrica.com/news/swaziland-mulls-monthly-grant-scheme-for-girls-in-aids-fight.html
-----------
Bombay High Court gives Maharashtra government ultimatum on women's safety recommendations
Oct 5, 2014
The Bombay High Court (HC) on Monday gave the state government its last chance to take a call on the recommendations given by Dharmadhikari committee on women's safety. The court was hearing a suo-moto public interest litigation based on a news report carried highlighting the plight of a woman who was molested while traveling on a local train from Vashi early in the morning. Her complaint was not registered by the railway police.
A division bench of Justices Abhay Oka and Girish Kulkarni refused to accept an affidavit tendered by the principal secretary of the home department, who was present in court. The bench said the government should first inform on whether the recommendations were being accepted or not.
The court said, "This committee was formed to give suggestions on women's safety. You (state) have not taken any decision even after three adjournments."
In August, the HC had issued a show cause notice against the principal secretary asking him why no action should be taken against him under the Contempt of Courts Act. The notice was issued after the government failed, despite several extensions, to inform the court of its final decision.
The state was supposed to inform the court whether it will be accepting recommendations given by the committee, headed by former HC judge C S Dharmadhikari, by December 31, 2013. Since then, there have been several adjournments in the hearing. Even on Monday, the government failed to do so.
Irked, the judges gave the government a last chance, and kept the matter for hearing in the end of October.
The committee has submitted three interim reports suggesting amendments for three sections under the Indian Penal Code. The committee had also suggested banning obscene material easily available on social networking sites and mobile phones. It recommended that political parties should not give election tickets to candidates who have past records of crimes against women. It also suggested that the government should reduce the age of juveniles from 18 to 15 years.
Those who willingly don't take steps to prevent crimes against women either by stopping it themselves or alerting the police should be considered for prosecution, it recommended.
The report also presses for a re-look at the Muslim Personal Law, which governs marriages. The committee feels it is one of the main causes of the hardships suffered by Muslim women.
http://www.dnaindia.com/mumbai/report-bombay-high-court-gives-maharashtra-government-ultimatum-on-women-s-safety-recommendations-2023573
-------------
Perth's Muslim Children Bearing Brunt of Public Backlash over IS
Oct 5, 2014
"I'M just a simple kid. I'm not a terrorist".
These are the heartbreaking words of a 10-year-old Perth boy who has become an unwitting victim of the terrorist activities of extremist group Islamic State.
Innocent Muslim women and children are bearing the brunt of public outrage in schools and supermarkets over horrifying beheadings carried out by IS terrorists.
This week, The Sunday Times was invited inside the homes and lives of two Muslim families.
There is Aisha Novakovich, a 31-year-old law student and single mum of two boys, 10-year-old Jibreel and Zachariah, 6.
And there's Manju and Mir Hussain, hardworking parents to 14-year-old Ali and 12-year-old Reshma, who describe themselves as an "Australian Indian Muslim family".
In the Novakovich household, it's like any other dinner table in any other Perth home.
The laughter is boisterous, the food plentiful and no topic is off limits.
The dinner table rests under a canvas that declares: "Love is for the lucky and the brave". A photo of the late Princess Diana rests among the crockery in a display cabinet, along with a cut-out newspaper article of US President Barack Obama's historic inauguration.
The women gathered at the table, friends who catch-up regularly, many single mums chat about politics and men, while the children play Connect Four and computer games in the nearby lounge room.
Instead of alcohol, there is juice and green tea.
And some of the women, according to their own personal preference, wear Hijabs, a religious veil that covers the head and chest. Each of these women follows Islam, but their backgrounds are just as varied as their personalities. They are all Australian first, but boast Indonesian, Iraqi, Malaysian and Chinese heritage.
And each recount stories where their religion has seen them suffer racist and bigoted taunts.
Some have been called "terrorists" in shopping centres, others told to "go back to your own country" by strangers in the street.
Ms Novakovich's oldest son, Jibreel, was born in King Edward Memorial Hospital, but that hasn't stopped people from telling him he's not a "real Australian".
"Jibreel came home and said that one of the students said to him that your religion is full of terrorists and I'm a real Australian because I was born here and you're not a real Australian," Ms Novakovich explains.
'There are a few racists out there'
Sadly, such outbursts are not new to Ms Novakovich or her loved ones, which means she has learnt to be "alert, not alarmed" during something as simple as a trip to the supermarket.
"Whilst I'm aware that there are a few racists out there, I also believe that they're very loud, but they're fewer in number than the mainstream of people who can make a distinction between what those ISIS people are doing as opposed to what people within the Muslim community are doing," she said.
"Objectively speaking, murdering innocents, beheading civilians, journalists, a humanitarian aid worker, where does this come from in Islam? Nowhere.
"To me, that has got very, very little to do with Islam. And unfortunately that is creating more backlash for Muslim communities everywhere and it's providing further justification for foreign powers to intervene yet again in the affairs of the Middle East.
"What I find quite distressing is how the media tends to portray these issues. Especially with the 15 men who were detained and investigated, they're always cutting to a Muslim woman, she might be wearing a pretty floral Hijab, she's walking down the street – but that has nothing to do with the raids that have just been conducted.
"What it does do is put us in the frontline – we become the visible targets of counter terrorism. So when we're walking down the street and a lot of these are people in their cars, yelling at you. They just see you wearing a Hijab and that's enough to set them off.
"To me, (Islamic State) are a bunch of thugs and criminals and I would never pledge my allegiance to that kind of group. They're following a religion but it's not the same religion that I'm following. We are not worshipping the same deity; we are not reading the same book."
Islam, Ms Novakovich explains, promotes peace.
"I think a lot of Christians would be surprised to know that we believe in Jesus Christ, we believe in his miraculous birth, we have a whole chapter dedicated to his mother, and how she was considered to be one of the most honourable women of all time," she said.
And while her religion, including wearing the Hijab and praying five times a day, is very important to Ms Novakovich, she says it doesn't define her.
"I would love people just to see me as who I am," she said.
"I'd love for more people to get to know a Muslim person in their life and see them as a friend, rather than as a threat. For me, the solution is friendship, genuine friendship. Non-Muslims and Muslims getting to know each other – and it's from both sides."
Contrary to ill-founded stereotypes that Muslim women are oppressed, Ms Novakovich said she's found the opposite. She made the personal decision to wear the Hijab at the age of 12, away from any male influence given her father died when she was just four.
"Muslim women, to me, are some of the most intelligent, most empowered, most sassy, most beautiful women that I know," she said.
"They are an inspiration to me. I'm very inspired by women and the many hats or Hijabs they have to wear. "
Freedom, despite what people believe
Likewise in the Hussain household – there is no shortage of food on the dinner table and the conversation quickly turns to the children's days and the family's plans for the weekend.
Reshma's room is adorned with One Direction posters and Ali is like any other 14-year-old, a keen fan of YouTube and Minecraft.
Full report at:
http://www.perthnow.com.au/news/perths-muslim-children-bearing-brunt-of-public-backlash-over-extremist-group-islamic-state/story-e6frg12c-1227079969085?nk=f5d8c4d5821aa42cc9c7b4d49745d2fa
------
URL: https://www.newageislam.com/islam,-women-and-feminism/new-age-islam-news-bureau/burqa-clad-muslim-women-get-wooed-to-cast-vote--mumbai-ngo/d/99390