New Age Islam News Bureau
9 May 2019
• Kashmir's Muslim Clerics to Focus on Women's Rights during Holy Month
• Why Afghan Refugee Women in Pakistan Fear Repatriation
• Israeli Teen Held over Palestinian Woman's Death Moved to House Arrest
• Trudeau declines to say if Asia Bibi in Canada due to 'security issues'
• UAE Minister of Culture Celebrates Saudi Pavilion's Focus on Women at Venice Biennale
• 487 Women among 6,270 Lawyers in the Kingdom
• Young Women Victims of Suicide In Iran Under The Mullahs' Rule
Compiled by New Age Islam News Bureau
URL: https://www.newageislam.com/islam-women-feminism/burqa-ban-pushing-muslim-women/d/118547
--------
Burqa Ban is Pushing Muslim Women out of Sri Lanka's Public Spaces
May 9, 2019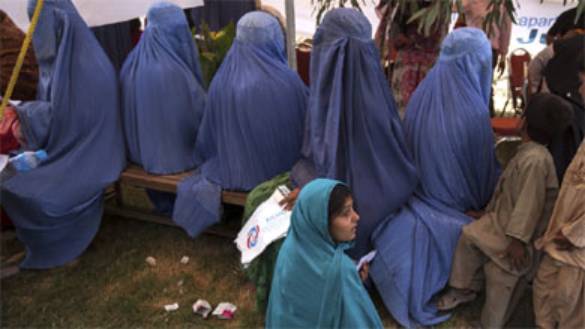 An Afghan refugee girl waits with others to have a medical check-up at a health clinic setup by the UNHCR to mark World Refugee Day in Islamabad June 20, 2014 [File: Faisal Mahmood/Reuters]
------
27 year-old Farzana Hussain* from Wellampitiya, a town about 4kms east of Colombo, Sri Lanka, has been wearing the burqa since she was 11.
Following the deadly attacks that killed more than 250 people in the country's capital on Easter Sunday, the Sri Lankan government banned the covering of face that "hinders the identification of individuals in a way that threatens national security." This includes the burqa and the niqab, face coverings worn by several Muslim women.
Since the ban on April 29, Hussain hasn't left her house.
A schoolteacher by profession, who teaches the Qur'an – the way of reading and memorizing it – she says the ban has made it 'difficult' for her to go out.
She says she's lucky that the school holidays haven't ended yet, but if the ban isn't lifted by the time schools reopen for the new session, it will be hard for her to teach.
"We have been advised to stay at home unless there is a dire need to go out. If I'm not allowed to cover my face, I will stop going out to teach because I prefer covering to teaching," Hussain says, hoping the ban is lifted soon.
Meanwhile, 18 year-old Zareen Rashid* from Colombo is scared that even if the ban is lifted, it will be hard to avoid the racism.
"The niqabis are still going to go through racial discrimination and will be asked to remove it in public places. Going out with the niqab after the ban being lifted will be equivalent to walking in hell because people will call you a terrorist. Staying indoors will be a better option than going out," she says.
She may be right.
Back in 2016, after France banned the burkini – a swimming costume that adheres to the Islamic rule of dress that requires women to cover much of their body and heads – following a terror attack, photographs and videos emerged showing the police stripping women at the beaches.
Rashid hasn't left her house since the ban. However, she knows she will have to remove her niqab as soon as college begins. Rashid started wearing the niqab at 14 after her father advised her to.
But, she says, wearing it has strengthened her connection with God; making her feel brave and confident, and it hasn't stopped her from achieving anything she has wanted to. Without her niqab, she says she feels 'naked'.
However, Mariam Wadood, a lawyer and activist who works with the Colombo-based NGO Women In Need, wants the ban to be imposed permanently.
She believes "everyone's rights and liberties must come with limitations. Freedom must stop at the beginning of someone else's fear or discomfort."
Mariam, who herself does not cover her face, believes that the burqa and niqab are Wahabi influences and although they are not a symbol of terror, they are a symbol of radical Islam. "The burqa and niqab create disconnect and division in the country, among communities, and even within the community," she says.
"We must now put our country first. National and public security is threatened, and if it is law that the niqab and burqa must be removed then we must adhere to it," she says adding that the niqab is not compulsory is Islam.
Kolkata-based women's rights activist and researcher Mariya Salim agrees that the niqab is, in fact, not compulsory in Islam adding that the tradition is itself dictated by patriarchy.
"But these are deeper questions and the state cannot impose these restrictions by force," she says.
Mariya says that while banning the burqa and niqab might seem like a progressive thing to, the reasons for the ban are completely wrong.
"It restricts the mobility of those women who use it to navigate spaces. They are anyway living under severe patriarchy in the name of religion, and now their movement will also be restricted, especially if they come from conservative families that require them to wear niqab. It will make life more difficult for women who are dictated by patriarchy in their everyday lives."
For 33 year-old Ayesha Muhsin in Colombo, wearing the niqab made her feel safe and secure, even if sometimes she felt she was being judged.
"Travelling alone with the niqab is easy, as you don't feel uncomfortable about the trishaw driver acting funny," says Muhsin, who has given up wearing the niqab after the ban to make sure her face is very visible but is still faced with suspicious glares because she wears the hijab that covers only her head.
Burqa is a garment that covers the entire body from head to toe, while niqab covers only the face, leaving slits for eyes. The hijab, on the other hand, covers only the head and the face remains revealed. The burqa and niqab are banned in Sri Lanka, while the hijab isn't.
But, she believes, not wearing the niqab is equally dangerous. "There's a lot of hatred towards the Muslim community at the moment and wearing the niqab in public might result in the niqabi becoming a victim of some serious harassment."
Women like Hussain, Wadood, and Muhsin believe that the ban will indeed help with "public protection", a narrative the Sri Lankan government has sold to its citizens.
"I think the ban is a sensible move as it was taken due to security reasons and not for racial reasons," says Muhsin, who has been wearing the niqab for twenty years.
Salim, the women's rights activist and researcher, believes that by banning the burqa and niqab the Sri Lankan government is "clearly putting forth the 'all terrorists are Mulsim narrative'."
"When an attack like the one in Sri Lanka happens, it affects the entire sub continent. Muslims across South Asia have been trying to prove that it is not 'their Islam' the kind that ISIS claims to be representing because they fear the backlash of this decision which is nothing but Islamophibic."
Even 18 year-old Rashid is perplexed about how exactly banning the burqa and niqab might solve any security issues.
"It's because they (government) think it's only those that wear the burqa and niqab are terrorists," she says.
https://www.news18.com/news/buzz/burqa-ban-is-pushing-muslim-women-out-of-sri-lankas-public-spaces-2133933.html
--------
Kashmir's Muslim Clerics to Focus on Women's Rights during Holy Month
MAY 8, 2019
SRINAGAR (Thomson Reuters Foundation) - Dozens of Muslim clerics in Indian-controlled Kashmir pledged to dedicate their Ramadan sermons to women's rights on Wednesday following the suicide of a girl who police say was repeatedly raped by her father.
Local Muslim leaders said they wanted to use the holy month to highlight the challenges facing women in the disputed region, home to one of the world's longest-running insurgencies.
The sermons will address rising cases of sexual assault and domestic violence as well as mental health issues facing women in Kashmir, said the Muttahida Majlis-e-Ulema (MMU), a council of Muslim religious leaders and scholars.
"Such crimes, rapes, have increased here," MMU chief Mirwaiz Umar Farooq told the Thomson Reuters Foundation. "We want to make women aware about their own rights and the men and youth as well."
The move was prompted by the suicide last month of a girl who police say was repeatedly raped by her father over several years.
Crimes against women jumped 8 percent to 3,168 cases in 2017 from 2,915 the previous year, according to government figures.
Farooq said Kashmir faced "difficult times", blaming the long-running conflict between separatist militants and Indian troops stationed there for the neglect of women's rights.
Many Muslims in Indian Kashmir have long resented what they see as heavy-handed rule of the Himalayan region, and a separatist insurgency has been raging since 1989.
"Our clerics across the board including Shias, Sufis, Salafis, Sunnis have consensus on this ... we want to educate women about their rights," he said.
Farooq also called for women to be given greater access to mosques, many of which do not allow them to enter, although some have separate entrances for women-only areas.
Some activists like Hameeda Nayeem, the head of the Kashmir Centre for Social and Developmental Studies, welcomed the move, saying religious leaders had the power to change attitudes and raise awareness.
But others dismissed it as "lip service" and urged Muslim leaders in the region to focus instead on concrete changes such as ending the practice of polygamy and ensuring equal inheritance rights for women.
"Mere sloganeering won't do. Let them come forward with a roadmap for dealing with women's issues," said women's rights activist Mantasha Binti Rashid.
https://www.reuters.com/article/us-india-religion-women/kashmirs-muslim-clerics-to-focus-on-womens-rights-during-holy-month-idUSKCN1SE1TW
--------
Why Afghan Refugee Women in Pakistan Fear Repatriation
by Mahwish Qayyum
May 9, 2019
Islamabad, Pakistan - Female refugees in Pakistan have told Al Jazeera that they are reluctant to return to Afghanistan because they fear violence and the forced recruitment of their children as child soldiers.
They also cited the lack of access to education and poor healthcare facilities as further reasons why they do not want to go back, as the UN refugee agency's voluntary repatriation programme targets some of Pakistan's 1.4 million registered Afghan refugees.
Khor Bibi, a 50-year-old widow from Kabul, told Al Jazeera that she worries for her family's safety.
"My husband died in a blast in Kabul in 2015 which terrified me and made me to think about the security of my children. After my husband's death, [we] migrated to Pakistan for survival," she said, adding that her husband was the family's breadwinner and his death had "perished my life completely".
"I don't have the courage to lose my children in the never-ending conflict," said Bibi. "Although living here in a refugee camp is cumbersome, at least we are living with satisfaction that our lives are safe here. We feel secure here and do not want to go back."
In 2017, according to Human Rights Watch, at least 2,000 civilians were killed in attacks across Afghanistan.
In 2018,according to UN figures, there were 3,804 deaths - a record - and 7,189 injuries.
Over the past 10 years, more than 32,000 civilians have been killed and 60,000 have been wounded in Afghanistan.
In the first quarter of 2019, UNAMA has documented581 civilian deaths, including 150 children killed.
Asghari, a refugee from the eastern Afghan province Laghman, said: "We don't want to go back to war-stricken Afghanistan because of the fear of recruitment of children as child soldiers by armed groups."
She claimed that fighters and security forces pressure families to recruit their children for military operations.
If they deny, she alleged that Taliban fighters have reportedly threatened to either kill male members of the family or destroy the family home.
"Children are also being kidnapped by anti-state elements to become suicide bombers, plant improvised explosive devices (IEDs) or carry out other terrorist activities.
"I don't want my children to be recruited as child soldiers, that's why I don't want to return.
"We also do not have a house or property in Afghanistan, so why should we go?"
A UN report from May last year verified 84 cases of the recruitment and use of boys in Afghan conflicts in 2017.
They were used as suicide bombers, for combat, as bodyguards at checkpoints, to assist in intelligence gathering and plant IEDs.
The UNHCR's Voluntary Repatriation Programme for registered Afghan refugees began on March 1; so far 1,200 refugees have been returned.
When they do reach home, the agency gives them each $200.
Between 2002-2019, a total of 4.4 million refugees have been repatriated.
Gul Dana, a refugee from Kunduz, said a 13-year-old boy in her extended family was killed in a blast near a school several years ago.
"I want to educate my children," she told Al Jazeera, "and get rid of the vicious cycle of poverty - but it's not possible in Afghanistan."
Schools regularly come under attack in Afghanistan.
"Because of the ongoing conflict and damaged infrastructure of schools in Afghanistan, most children are out of school and poverty pushes them into child labour," said Dana.
A UNICEF reportpublished in June 2018 reveals nearly half of the children aged between seven and 17 years old - 3.7 million in Afghanistan - are being deprived of school. Sixty percent of them are girls.
Besides education, Dana fears having little or no access to healthcare. The World Health Organization in 2017 said 24 health facilities were attacked and damaged, while 164 were forced to close temporarily because of insecurity and conflict.
Many of the women Al Jazeera spoke to also worried about the Taliban's record on denying women's rights, as peace talks include negotiations with the armed group.
Dana said that if a woman goes to the market without a male guardian in Afghanistan and is caught by the Taliban, she faces lashes.
There have been recent reports of the Taliban flogging women in Afghanistan, which have added to concerns.
Ijaz Khan, a professor of international relations department at the University of Peshawar, said in Taliban-controlled areas, women's rights continue to be violated.
He explained that compared with men, women do not have the same access to education and cannot leave the house without a male relative. He fears that if the Taliban shares power under a peace deal, it would reverse whatever progress that has been made.
https://www.aljazeera.com/indepth/features/afghan-refugee-women-pakistan-fear-repatriation-190508203445898.html
--------
Israeli Teen Held over Palestinian Woman's Death Moved to House Arrest
9 May 2019
A Tel Aviv court has authorized an Israeli teenager held in jail over a Palestinian woman's death to be transferred to house arrest pending his trial, the justice ministry said Wednesday.
The 16-year-old, who as a minor cannot be named, is accused of having caused the death of a Palestinian mother, Aisha al-Rabi, by hurling a heavy rock at the windscreen of her car on October 12 south of Hebron in the Israeli-occupied West Bank.
His DNA was found on the rock.
The youth, a pupil of a religious school in the nearby Jewish settlement of Rehalim, has been charged with homicide motivated by hatred of Arabs.
Four fellow pupils were arrested alongside him and questioned at the end of December.
The victim's husband, Yacoub al-Rabi, condemned the court's decision to release the charged suspect as emblematic of Israeli double standards.
"If the accused had been a Palestinian, they would have demolished his home and left his family without a roof over their heads," he told AFP, referring to Israel's practice of destroying the family home of anti-Israeli assailants.
"I've never heard of a Palestinian minor accused of homicide being placed under house arrest," he said.
https://english.alarabiya.net/en/News/middle-east/2019/05/09/Israeli-teen-held-over-Palestinian-woman-s-death-moved-to-house-arrest.html
--------
Trudeau declines to say if Asia Bibi in Canada due to 'security issues'
8 May 2019
Canadian Prime Minister Justin Trudeau declined Wednesday to confirm whether Asia Bibi, the Christian woman at the center of a decade-long blasphemy row in Pakistan, has arrived in Canada.
"There are sensitive privacy issues and security issues on this and so I can't comment," Trudeau told reporters outside parliament after Bibi's lawyer Saif ul Mulook and multiple security sources in Pakistan told AFP that Bibi had gone to Canada.
Bibi – a laborer from Pakistan's central Punjab province – was first convicted of blasphemy in 2010 and was on death row until her acquittal last year.
Her case has drawn worldwide attention to religious extremism in Pakistan, where the saga has sparked violent demonstrations and high-profile assassinations.
She has technically been free to leave Pakistan since January when the Supreme Court dismissed a legal challenge to her acquittal in October but awaited an asylum deal in a third country.
In November Trudeau said Ottawa was holding talks with Pakistan about bringing her to Canada.
On Wednesday British Prime Minister Theresa May appeared to confirm that Canada was her destination, saying its asylum offer was "right and appropriate."
US Secretary of State Mike Pompeo also said in a statement that she had "safely reunited with her family."
https://english.alarabiya.net/en/News/world/2019/05/08/Trudeau-declines-to-say-if-Asia-Bibi-in-Canada-due-to-security-issues-.html
--------
UAE Minister of Culture Celebrates Saudi Pavilion's Focus on Women at Venice Biennale
May 08, 2019
VENICE: The UAE's Minister of Culture and Knowledge Development Noura Al-Kaabi was on hand to attend the opening of Saudi Arabia's first pavilion at the seminal Venice Biennale art fair in eight years.
The minister, who toured the pavilion alongside Saudi Arabia's Minister of Culture Prince Badr, spoke to Arab News and lauded the pavilion's focus on women as a driving force for artistic change.
"I'm really thrilled and happy to be here today with the presence of his royal highness Prince Badr, the minister of culture," she said.
"The Saudi pavilion having a showcase for the first time (in eight years) at the art biennale is a truly wonderful step and a milestone. It is an honor to see how Saudis are contributing to the art scene, especially in Venice, to tell the world their stories," she added.
"What inspired me is that the curator is a woman, the artist is a woman and the advisor is a woman and there's a beautiful story that the artist took a holiday off to create this beautiful pavilion and… her husband also took a holiday to support her. That shows integrity, that shows art culture and that shows movement that we will see more of in Saudi Arabia," she noted.
The minister also commented on the fact that the UAE's national pavilion happens to be next to Saudi Arabia's.
"It shows the bond, the joint vision and the joint mission to work together and to help inspire the next generation of artists in the region," she told Arab News.
http://www.arabnews.com/node/1494346/lifestyle
--------
487 Women among 6,270 Lawyers in the Kingdom
2019-05-08
RIYADH — The number of lawyers in the Kingdom has gone up to 6,270 including 487 women, according to local press reports on Wednesday.
The reports quoted Ministry of Justice as saying that since the beginning of 2019, the ministry has issued 774 licenses for 619 men and 155 women to practice law.
It said the Judicial Training Center has organized a number of training sessions within its programs to qualify lawyers for the license.
The ministry said hundreds of men and women trainee lawyers have attended these courses.
Meanwhile, the ministry asked the 165 men and women candidates for six of its various jobs to browse its website to know the results of the examinations and personal interviews.
According to the ministry the jobs consist of researchers in human resources development, Shariah, lawsuits, computer programming and others.
The ministry also said it has vacancies for men and women in other jobs in various courts and notary publics for university degree holders in Shariah, law, accountancy and other administrative and social specializations.
It said the electronic application for these jobs will open on Ramadan 9 (May 14) and will continue for a week.
http://saudigazette.com.sa/article/565882/SAUDI-ARABIA/487-women-among-6270lawyers-in-the-Kingdom
--------
Young Women Victims of Suicide In Iran Under The Mullahs' Rule
May 8, 2019
During the last two weeks, five young women were among seven women who committed suicide in the Iranian Kurdistan Province due to intense pressures on them.
A young woman, Shadi Rashidi, 27, hanged herself and died in Sardasht on May 4, 2019, due to family problems.
On May 3, Esrin Zamani, 28, took her own life by hanging herself at home in Hassanabad district of Sanandaj due to family problems. Esrin was mother to a child.
On May 2, 2019, Hediyeh Mohammadi, 16, hanged herself and lost her life in Songhor. Her family problems drove her to commit suicide.
Another 16-year-old girl, Afsaneh Daryaii, from Khankandi village near Miandoab, ended her life by hanging herself also due to family problems.
On May 1, 2019, a young woman from Marivan by the name of Zohreh Kohnepoushi ended her own life by dousing herself with petroleum and setting herself on fire.
On April 29, 2019, Soudali Khalifatani, 52, suffering from depression set herself ablaze in Khoshakoo village in Urmia.
A recent report from Qasr-e-Shirin, in Kermanshah Province, also indicated that a 30-year-old woman by the name of Parivash Ghanbari took poison and ended her life on March 27, 2019, because of family disputes.
Kurdish sources reveal that since the beginning of 2019, at least 14 young women under 18 years have committed suicide in different Kurdish cities in only four months.
According to a social pathologist, women's suicide rate in Iran increased by 66 percent during a five-year period. (The state-run Khabar Online – November 3, 2017)
The upward trend in the suicides of women indicates the excessive pressures on women and girls in Iran. Hopelessness, depression, anxiety and sense of insecurity accompanied by a feeling of humiliation are considered as the main reasons leading women and girls to physically eliminate themselves.
The rate of women's suicide in Iran is the highest in the Middle East.
https://women.ncr-iran.org/2019/05/08/young-women-victims-of-suicide-in-iran-under-the-mullahs-rule/
--------
URL: https://www.newageislam.com/islam-women-feminism/burqa-ban-pushing-muslim-women/d/118547
New Age Islam, Islam Online, Islamic Website, African Muslim News, Arab World News, South Asia News, Indian Muslim News, World Muslim News, Women in Islam, Islamic Feminism, Arab Women, Women In Arab, Islamophobia in America, Muslim Women in West, Islam Women and Feminism