New Age Islam News Bureau
08 March 2021
• On 'International Women's Day' World Sought a Leading Role for Women
• Women Are Equal Stakeholders in Saudi Arabia's Development
• Women Diplomats Breaking Barriers In Turkey
• Beating the Offside Trap: The Stories of Female Football Fans
• Indian Mother in Last-Ditch Plea To Avoid Death Penalty
• UN Women Says UAE's Latest Legislations Offer Women More Rights and Protection
• Balochistan Reports 47 Incidents of Violence against Women In 2020
• On Eve of Intl. Women's Day, 35 Palestinian Women, Including 11 Mothers, In Israeli Prisons
• Meet Dr Ruha Shabad who is Helping Thousands of Indian Muslim Women Write Their Success Stories
• Remarkable Muslim Women throughout History: Commemorating International Women's Day
• World Bank: Saudi Reforms for Women Boost Economy
• Arab Women's Exceptional Anti-COVID-19 Contributions Lauded
• Jordanian Women Have Come A Long Way, But Much Work Remains To Be Done
Compiled by New Age Islam News Bureau
URL: https://www.newageislam.com/islam-women-feminism/burqa-ban-switzerland-stop-islamism/d/124490
--------
'Burqa Ban' in Switzerland - Stop to Islamism and not to Muslims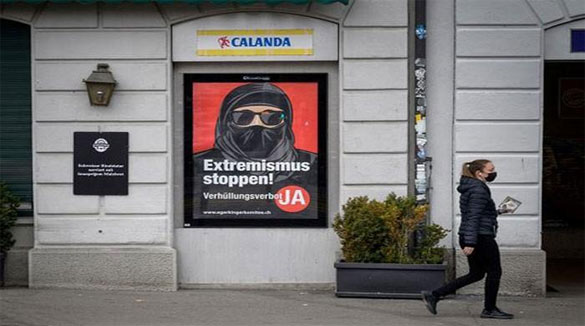 Campaign posters reading "Stop radical Islam!" and "Stop extremism!" featuring a woman in a black Niqab, have been plastered around Swiss cities.
------
March 8, 2021
GENEVA: Swiss voters on Sunday narrowly backed a ban on full face coverings in public places — a decision hailed by supporters as a move against radical Islam, but branded sexist and racist by opponents.
Official results showed that 51.21 percent of voters, and a majority of federal Switzerland's cantons, supported the proposal.
Some 1,426,992 voters were in favour of the ban, while 1,359,621 were against, on a 50.8 percent turnout.
The so-called anti-burqa vote comes after years of debate in Switzerland following similar bans in other European countries — and in some Muslim-majority states — despite women in Islamic full-face veils being an exceptionally rare sight in Swiss streets. Even though the proposal "Yes to a ban on full facial coverings" did not mention the burqa or the niqab — which leaves only the eyes uncovered — there was no doubt as to what the debate was about.
Campaign posters reading "Stop radical Islam!" and "Stop extremism!" featuring a woman in a black Niqab, have been plastered around Swiss cities.
Rival posters read: "No to an absurd, useless and Islam­ophobic 'anti-burqa' law".
The ban would mean that nobody could cover their face completely in public — whether in shops or the open countryside.
But there would be exceptions, including for places of worship, or for health and safety reasons.
The vote came at a time when face masks are mandatory in shops and on public transport due to the coronavirus pandemic.
The Yes vote risks "trivialising the xenophobic and racist atmosphere" towards Muslim women, Meriam Mastour, of the Purple Headscarves feminist group, told broadcaster RTS.
Very few women wear the full veil in Switzerland, she stressed, and those that do tend to be converts and tourists.
A 2019 Federal Statistical Office survey found that 5.5 percent of the Swiss population were Muslims, mostly with roots in the former Yugoslavia.
"It's a huge relief," said Mohamed Hamdaoui, a regional lawmaker in the Bern canton and the founder of the "A Face Discovered" campaign.
He called the vote "the opportunity to say stop to Islamism" and not "to Mus­lims, who obviously have their place in this country".
https://www.dawn.com/news/1611336/swiss-voters-narrowly-back-burqa-ban
--------
On 'International Women's Day' World Sought a Leading Role for Women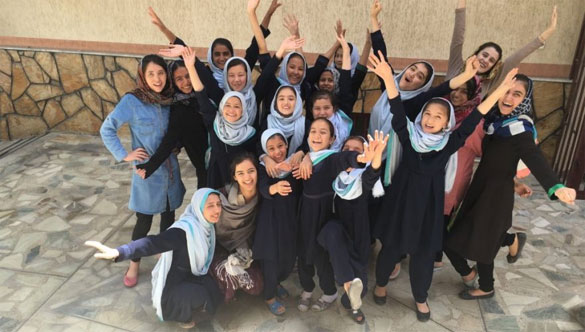 United Nations in a released statement indicated the bravery of women and specifically Afghan women who challenged the pandemic,
------
08 Mar 2021
United National in the Afghan process seeks a more leading role for women in making decisions at all levels.
United Nations in a statement on International Women's day said urged that afghan women should be given a leading role in peace, and they will be supported from all sectors of society from government to the international community.
According to the UN statement, there are opportunities to show the strengths of Afghan women leaders in all their diversity, and when women of today will be respected and supported, more girls in the future will be encouraged to follow their path.
"The peace process has brought to the fore strong Afghan women leaders, who have negotiated on behalf of the Islamic Republic of Afghanistan and rallied support in their communities for a peaceful solution to the conflict," said Deborah Lyons, the Secretary-General's Special Representative for Afghanistan said.
"Empowering these women and expanding women's participation will be critical to ensure a just and sustainable peace that protects the rights of all Afghans", She added.
"Women must be at the front and center of decision-making, to achieve a peace that lasts, for a bright future for all Afghans," said Aleta Miller, UN Women Representative in Afghanistan.
"Time and again, Afghan women have proven that their skills, knowledge and fierce determination have pushed their country towards the peaceful and prosperous future that Afghans yearn for. Today, Afghanistan stands before an opportunity unlike any other in the country's history. Afghanistan can build back a better, stronger country for every woman, girl, man, and boy. To do so, women must be at the front and centre of decision-making, to achieve a peace that lasts, for a bright future for all Afghans," said Aleta Miller, UN Women Representative in Afghanistan.
United Nations in a released statement indicated the bravery of women and specifically Afghan women who challenged the pandemic,
"In Afghanistan, as in many countries around the world, women stand at the frontlines of the COVID-19 crisis: as healthcare workers, caregivers, innovators, and community organizers. Today, we stand with these women and celebrate their achievements. To take just one example, a women's rights activist from one province described her group's work engaging with local authorities on the COVID-19 response, resulting in the opening of COVID19 testing laboratory in the province, as well as more public awareness and better support for the poorest families", the statement read.
Meanwhile, the Friends of Afghan Women Ambassadors' Group, a group of representatives from different countries, says that they support the gains made by women are preserved in a negotiated political settlement.
The joint statement says "we support loud and consistent calls of women for a ceasefire, and we condemn the continued targeted attacks on and threats against women human rights defenders, civil society activists, peacebuilders and journalists".
Women in Afghanistan carry the pain of the war in their everyday life, "women from across Afghanistan reaffirmed that peace not only means the absence of war, but freedom from all forms of violence and coercion" and that peace means "respect for human dignity, justice, human rights, and equality for all".
Religious and community leaders should raise their voice for women's fundamental rights to engage in all social spheres from education to work opportunities, protection from any form of violence anywhere.
The ambassador's group also stated that "women play a key role in bringing diverse perspectives to the negotiating table and developing consensus".
The group urged all warring parties to give and make more space for women in leadership and peace structures for women.
"Afghan women have bravely stepped up-often at great risk-to call for a sustainable and just peace" the statement concluded.
"Women and girls in Afghanistan have made substantial gains over the past two decades. Today, 3.5 millions of Afghan girls are in school, representing around 40% of students, while women represent roughly a third of teachers in the country and are also increasingly becoming legislators, judges, doctors, civil servants, political, business and civil society leaders", EU delegation in Kabul stated.
"The EU is a strong champion for gender equality and we stand with the women of Afghanistan, not only today but every day. Building a peaceful, prosperous country requires the efforts of the whole population. In this country, there is so much talent and in the film we are joined by a courageous group of people from various spheres of a pluralistic Afghanistan. From an Olympic medallist to some of the most well-known singers, everyone standing up for gender equality", said Arnout Pauwels, Deputy Head of EU Delegation and Chargés d'Affaires a.i.
Sport stars, actors, singers – raising their voices for gender equality.
This comes as US Charge d' Affaires while marking International Women Day said that "The United States is committed to advancing gender equality, social inclusion, and the status of women and girls here in Afghanistan and globally."
https://www.khaama.com/on-international-womens-day-world-seeks-leading-role-for-women-5646333/
--------
Women Are Equal Stakeholders in Saudi Arabia's Development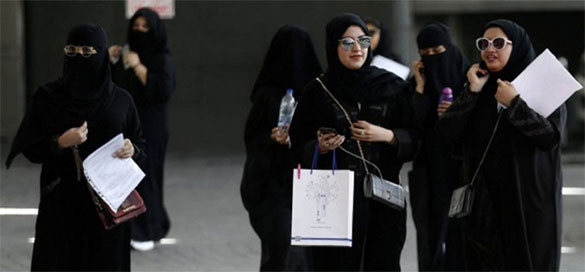 The reforms undertaken by the kingdom to empower women since the launch of Vision 2030 has helped the Saudi economy become more resilient.(REUTERS/Faisal Al Nasser/File Photo)
------
by Saud Bin Mohammed Al Sati
March 7, 2021
The past year, plagued by the unfortunate COVID-19 pandemic, has undoubtedly been challenging for all economies alike. A sound recovery from the pandemic is possible with women at the frontlines. In line with the International Women's Day theme this year, Saudi Arabia, too, celebrates women's tremendous contribution in shaping a more equal future and recovery from the pandemic.
The reforms undertaken by the kingdom to empower women since the launch of Vision 2030 has helped the Saudi economy become more resilient. Led by the Custodian of the Two Holy Mosques King Salman bin Abdulaziz Al Saud and the Crown Prince, Saudi Arabia has witnessed 90 major human rights reforms over the past few years, and women's empowerment constitutes the largest share of these reforms.
For two years in a row, Saudi Arabia has achieved notable progress in "Women, Business and the Law Report", a global measure of women legal reforms published by the World Bank. On a scale of 1 to 100, Saudi Arabia scored 80 in WBL 2021, up from 70.6 in WBL 2020. Our scores in the indicators of mobility, workplace, pay, entrepreneurship, and pension put us on par with many advanced economies with long traditions of women legal reforms.
This achievement builds on landmark changes in Saudi Arabia, including empowering women with the right to vote and run as candidates in municipal elections in 2015 and the right to drive in 2017. In 2018, Saudi Arabia criminalised sexual harassment in public and private sector employment. Legal amendments now protect women from discrimination in employment, including job advertisements and hiring, and prohibit employers from dismissing a woman during her pregnancy and maternity leave. Saudi Arabia also equalised the retirement age for women and men at 60 years, extending women's working lives, earnings, and contributions. And, most recently, the Saudi Ministry of Defence has opened its doors for women to join the armed forces.
The elimination of all restrictions on women's employment in industrial jobs, such as mining, construction, and manufacturing, has already translated into key changes on the ground. The overall rate of women's participation in the labour market increased from 22 per cent to nearly 30 per cent in the last two years. The growth in certain sectors has been very impressive. For instance, the proportion of women staff at the Saudi Industrial Development Fund increased from zero to 17 per cent in just three years. Today, the industrial sector offers more than 39,000 job opportunities to women, a rate of 37 per cent of nationalisation of jobs.
In fact, the private sector registered a 130 per cent increase in the number of working Saudi women during the last four years. Today 30 per cent of the total Saudi work force in the private sector is represented by women. This progress will certainly gain more momentum in future. Women represent 58 per cent of university students in Saudi Arabia, with science, technology and engineering being their preferred subjects of choice that they further pursue overseas. The talent pool will add to the intellectual capital of Saudi Arabia.
Reforms tend to have a multiplier effect. Saudi Arabia's Ministry of Justice had earlier approved four landmark decisions in support of women's rights pertaining to protecting minors, divorcees, women who have custody of their children and law graduates. Those reforms have led to an increase in the number of licenced female lawyers in the Kingdom by 66 per cent in 2020 compared to 2019. The Ministry of Justice has created a women's department. As thousands of women attend programmes run by the Justice Training Centre, many more will enter the legal workforce.
Women entrepreneurship has also been encouraged by prohibiting gender-based discrimination in accessing financial services. As a result, the number of women-owned companies in the Kingdom increased by 60 per cent in the past two years.
Empowerment is not only about creating job opportunities but also about providing a conducive environment to nurture talent. Our efforts in this direction continue unabated. To keep pace with the need of the digital labour market, two digital colleges have been opened in Riyadh and Jeddah to offer women specialised training programmes in network systems management, Internet of Things, smart cities, robotics technology and artificial intelligence. The Transportation Program for Working Women (Wusool), which provides 80 per cent subsidy, has over 10,000 registered Saudi female employees. The programme not only aims to find solutions to reduce transportation costs for Saudi women working in the private sector but also to improve and develop the environment needed to transport women from and to workplaces, by ensuring high-safety and high-quality transportation service in partnership with private taxi companies using licenced smart apps.
Today, women hold decision-making positions in the public and private sectors, assuming important roles such as deputy minister, ambassador, university director, and chairperson of the board of directors in a number of companies. Women have broken the proverbial glass ceiling across sectors — Saudi Arabia now has its first female professional racing driver, award-winning women film producers and women judges.
We are committed to achieve the United Nations Sustainable Development Goals (SDGs) related to women at the global level and strongly support an inclusive approach that empowers women in the economic, social, health, educational, technological, and cultural sectors, among others. The Saudi G20 Presidency worked with the theme of "Realising Opportunities of the 21st Century for All", and accorded special attention to discussing policies related to women, through engagement groups and various ministerial meetings. The Saudi leadership of G20 ensured the participation of women in decision-making by sharing recommendations of the Women 20 Engagement Group (W20) in the G20 meetings. A number of tailored initiatives such as the "Empowerment and Progression of Women's Economic Representation" (EMPOWER) have been launched to tackle the challenges facing women.
Women empowerment will continue to be at the heart of our ongoing efforts to realise the Vision 2030 goals and to bring about a prosperous future for all.
The writer is Ambassador to the Royal Embassy of Saudi Arabia in India
https://indianexpress.com/article/opinion/columns/women-are-equal-stakeholders-in-saudi-arabias-development-7218099/
--------
Women Diplomats Breaking Barriers In Turkey
Serife Cetin and Nazli Yuzbasioglu
07.03.2021
Women ambassadors in Turkish missions abroad have increased significantly over the years helping them leave a mark in the execution of Turkish foreign policy.
Turkish women diplomats are successfully performing their duties, sometimes on difficult deputations.
The Foreign Ministry stands out as one of the ministries where women are well represented.
At total of 4,316 men and 2,554 women serve at the headquarters of the ministry and in its foreign representative offices. The rate of women working in the ministry has reached 37% as of this year, according to the latest data.
The increase in the number of women working in foreign affairs parallels with the increase in the labor force participation rate of women in Turkey in general.
Women constitute 49.8% of Turkey's population and the rate of women's participation in the labor force increased to 34.2% by 2018 compared to 27.9% in 2020, according to the latest data from Turkey's Statistical Institute (TUIK).
The number of female ambassadors at the ministry started to increase gradually after Filiz Dincmen, the first Turkish ambassador who served in a foreign country, was appointed in 1982. The number increased to eight by 2000 and reached 19 by 2005, 21 by 2010, 37 by 2015, 60 by 2019.
There are currently 257 ambassadors working as part of the ministry. Of these, 193 are men and 64 are women, indicating that women constitute 25% of the ambassadors in the ministry.
While 39 of the female ambassadors are serving in foreign representation offices and 25 serve in the center.
Countries where women ambassadors are serving are Burundi, Slovakia, Slovenia, Portugal, Montenegro, Bolivia, Philippines, Mozambique, Cuba, Zambia, Thailand, South Africa, Kuwait, Namibia, Malaysia, Georgia, Colombia, Ecuador, Cambodia, Equatorial Guinea, Latvia, Oman, Paraguay, Luxembourg, Romania, Ivory Coast, Ethiopia, Ghana, Rwanda, Botswana, Cameroon, Dominican Republic, Gabon, Algeria, Sri Lanka, Chile, Bulgaria, Costa Rica, and Trinidad and Tobago.
Moreover, nine female general directors and 16 female deputy general directors, who are currently gaining ground for becoming ambassadors, are serving at the ministry.
Thus, 32.1% of general directorates and 30.1% of deputy general directorates are undertaken by women.
Of the 1921 career officers in the ministry, 688 are women and 1233 are men. The proportion of female civil servants increased to 35.8%.
https://www.aa.com.tr/en/europe/women-diplomats-breaking-barriers-in-turkey/2167666
--------
Beating the Offside Trap: The Stories of Female Football Fans
Syed Faiz Ahmed
March 8th, 2021
Women are equally passionate for the beautiful game and European football, which has become ubiquitous thanks to the advent of satellite television and internet, has become an integral part of their lives
Eminent Iranian director Jafar Panahi released his famous title "Offside" back in 2006 to depict the situation of female football lovers in Iran, a conservative country where women are not allowed to enjoy men's games at stadiums, and showed how the passion of this game breaks all the taboos and impediments.
Bangladesh, despite being a Muslim majority, is a liberal country and women are competing with their male counterparts in various aspects including sports, but the female football fans are still facing all kinds of social hindrance.
However, as depicted in Panahi's masterpiece, women are equally passionate for the beautiful game and European football, which has become ubiquitous thanks to the advent of satellite television and internet, has become an integral part of their lives.
As a matter of fact, for some of them, football is tantamount to life.
Fahia Marazana, 31, an assistant junior teacher of British Bangladesh International School and College, understood how football salvaged her from her greatest grief.
Fahia, an ardent Liverpool fan, lost her mother last year, but she could get some solace as her favourite club won the coveted English Premier League after a long wait of 30 years.
"Winning the league was the only good thing happened after I lost my mother. Liverpool keep me alive," said Fahia to Dhaka Tribune.
The Kopite also added that she is an avid collector of football magazines and as a girl of pre-internet era, amassed many memorabilia with regards to the beautiful game, especially of her two childhood heroes, Steven Gerrard and Michael Owen.
For Shehreen Abed, 23, a student of IER of University of Dhaka, it has become a passion to collect merchandises like jerseys, posters, scarves of Real Madrid, the club she loves most.
Shehreen, who started to follow Real from 2009 at the tender age of 11, got support from her elder brothers in a joint family.
"It is somewhat weird how a game can make my week or ruin it completely. Life would've been so boring without this game," said Shehreen, who was ecstatic while talking about her passion.
Lamissa Newaz, 23, a software engineering student of a Malaysian University, echoed Shehreen as a fellow Madridista.
Her father was her inspiration and gradually the Spanish club became the source of her greatest joy.
"In 2016, despite having my HSC exam's math paper due in the morning, I could not avoid the final of the UCL. My team won, I celebrated till 5am and appeared in the exam five hours later as the happiest person on earth," said Lamissa.
For Nighat Tamma Torsha, 23, a final year CSE student, the story is altogether a different one.
Her father was not a football fan and she did not have any idea about the game until she was nine.
But she was hooked to the sheer beauty of the game watching it on television and gathering info from newspapers.
She started to follow almost each and every EPL game and suddenly felt deep love with the playing style of Gareth Bale and Peter Crouch.
She became a Tottenham Hotspur fan and with despair she discovered that the traditional club have been going through a dry run with no silverware in their cupboard since 2008.
2021/03/local-portel-770-x-90-1615141235923.gif
However, for Torsha, that was never a problem.
"We love to take stress from the things we adore. Not getting success is a pain but being loyal to football club is the utmost thing for me as a fan," said Torsha.
Chowdhury Ishrat, 26, an electrical engineer, who loves cooking and gardening, is also eagerly waiting for the success of another London club - Chelsea.
Fareeha Nawsheen Rahman, a media studies student of University of Liberal Arts, Bangladesh also found the sense of belonging ever since she became a fan of the Blues.
Fareeha is also a keen sportsperson and has special affinity with football and basketball.
She also loves to do music.
Feiroz Humayara is also a multi talent as she loves reading and reviewing books, write blogs and cook but more than anything else she is a proud supporter of Manchester United.
Feiroz's arch-rival Tasnima Hossain, an international relations student of DU, a supporter of LFC, is also eager to become a football analyst as she loves to explain various aspect of the game to people.
Nigar Sultana Sharnali, a journalism student of the same university, who claims that she "eats, drinks and lives with" Bayern Munich by heart, also wants to become a football pundit in future.
The girls' football in the country is thriving and bringing many accolades en route to hoisting the country's flag higher in the global arena.
Female players are breaking the barriers and the mainstream media as well as the public have started to appreciate their efforts.
But unfortunately, despite having similar or even greater passion than their male counterparts, the female fans are still sidelined harshly.
Even in social media, the female fans often face bullying and harassment.
Unfortunately, during the banters and debates in the football groups, some resort to sexist attacks that repelled these people, who love this game more than anything else.
Tahlina Wahida Tania Chowdhury, member of an exclusive female football group in facebook, expressed her frustration.
She thinks it is not expected that only female supporters form a group, but the harsh reality compelled them to do so.
For her, it is duty of the media and the true lovers of the game to accommodate more and more female fans so that they can adorn and enrich the game.
"Accepting girls as human being rather than discriminating them for gender is the greatest step forward for equality. Football, the most popular game on earth provides us that opportunity. It may not sound a great deal, but, if we change the perception about female fans and allow them to express themselves, it will not only benefit the game but also the society in broader aspects. Respecting fellow female fans, creating harmony with them and revering their knowledge and passion will reduce the discrimination and wrongdoings against women. This will be a giant step for human civilization," said Tania.
https://www.dhakatribune.com/sport/2021/03/08/beating-the-offside-trap-the-stories-of-female-football-fans
--------
Indian Mother in Last-Ditch Plea To Avoid Death Penalty
SANJAY KUMAR
February 24, 2021
NEW DELHI: A 38-year-old death row prisoner facing execution in India has appealed for mercy and a review of her case in a last-ditch effort to avoid becoming only the second woman to be hanged in the country in the past 74 years.
Shabnam Ali has been held in northern India's Mathura jail for the past 11 years after she, along with her lover Saleem, was convicted of killing seven family members, including her parents, two brothers and a 10-month-old nephew.
However, for the first time since 2008, Ali is claiming that she was not involved in the murders.
"When we met Shabnam on Sunday, she told me that she is not the killer and there should be a proper investigation of the case," Usman Saifi, a friend from college and the adoptive parent of her 12-year-old son Taj Mohammad, told Arab News.
"This is the first time Shabnam has spoken about the case. When I asked her about it in 2008, she kept silent," he added.
Ali was convicted by a district court in Amroha, in the northern Indian state of Uttar Pradesh, in 2010.
In 2015 and 2020, the Supreme Court upheld her death sentence, while her petition for mercy — which she had applied for on the grounds of being a mother to a young child — was rejected in 2016 by the-then Indian president, the late Pranab Mukherjee.
Ali, a postgraduate in geography and English, was a school teacher in her native village of Bawankhedi in Amroha at the time of the killings.
According to the case files, Ali's family had opposed her relationship with Saleem, a local carpenter, leading to the murders in 2008.
Ali was pregnant at the time, with her son, Taj, who was born in jail in 2010.
He remained with his mother till 2016, when he turned six. The jail manual does not allow a child to live with their mother beyond six years of age.
When no one responded to an adoption notice by jail authorities, Saifi and his wife, Vandana Singh, took custody of Taj in 2016. He will remain with the couple until he is 18, after which he can decide whether he wants to live with his adoptive parents.
In a last-ditch effort to save his mother from being executed, Taj filed a fresh appeal for Indian President Ramnath Govind to reconsider Ali's plea for mercy on Thursday.
"When I met Ammi (mom) on Sunday, she told me to study hard and be a good human being, no matter whatever I do in life. She asked me not to worry," Taj told Arab News.
"I hope the respected president of India will not disappoint a child like me and pardon my mother," he added.
However, Arshad Ansari, Ali's lawyer in a trial court in Amroha, said that it was "highly unlikely" the case would be reopened again.
"A case can be investigated before the filing of the charge sheet and during the initial stages of the trial. Now she is on death row it is highly unlikely that the case can be reopened," he told Arab News.
On Feb. 18, Ali filed a second mercy petition with the state governor and the president.
But Sunieta Ojha, a lawyer based in New Delhi, said: "The trial court's verdict, holding her guilty as well as awarding the death punishment, has been upheld twice. She has exhausted all her remedies."
Ali's co-accused, Saleem, is also on death row and has seen his review petition rejected by the Allahabad High Court. Since September last year, he has asked the Supreme Court to reconsider its judgment and commute the death sentence.
Ali's case returned to the spotlight this week after media reports said that preparations were underway for her hanging in Mathura jail.
Prison authorities told Arab News on Tuesday said that she is likely to be hanged as soon as a death warrant is issued by the Amroha session court.
"There are lots of procedures and legal works to do before the hanging takes place," a prison spokesman added.
Mathura jail was built in 1870 and is believed to be the only prison in the country with execution facilities for women.
Suhas Chakma, director of a New Delhi-based Rights and Risks Analysis Group, said that if Ali is hanged, she will be the second woman in India to face the gallows since 1947.
However, he opposed the death penalty and questioned the state's involvement in "this gruesome act."
"Hanging is meant to be a deterrent, but it does not work that way. Why should the state be indulging in the gruesome act of killing someone?" she asked.
Meanwhile, Ali's paternal uncle, who lives next to her house in Bawankhedi village, said that he will refuse to bury her if she is hanged.
"I don't want anything to do with her. She is no one for us. We forgot her a long time ago," Sattar Ali told Arab News.
https://www.arabnews.com/node/1814741/world
--------
UN Women Says UAE's Latest Legislations Offer Women More Rights and Protection
08 March ,2021
Jennifer Bell
As the world marks International Women's Day, UN Women, the United Nations entity dedicated to gender equality and the empowerment of women, has said the latest measures taken by the United Arab Emirates have helped women get more rights and better protection.
"The UAE has made significant strides towards equality and leads the MENA region in women's empowerment, particularly given the recent legislations that offered women more rights and better protection," said UN Women in a statement issued to the Emirates News Agency (WAM).
Partnership with UAE government
In the statement, Dr Mouza Al Shehhi, director of the UN Women Liaison Office for the GCC, added: "UN Women is proud of its longstanding relationship with the UAE Government, the General Women's Union led by Sheikha Fatima bint Mubarak, chairwoman of the General Women's Union (GWU), president of the Supreme Council for Motherhood and Childhood, and Supreme Chairwoman of the Family Development Foundation (FDF)] and her remarkable vision for women's advancement across all sectors."
"On International Women's Day, we commend this partnership as we jointly seek to push the gender equality agenda forward," the statement continued.
International Women's Day is marked across the globe on March 8 to celebrate the social, economic, cultural and political achievements of women.
UAE's latest legal measures for women
Between 2019 and 2020, the UAE approved some 11 new laws and legislative amendments to strengthen women's rights and ensure their overall empowerment.
In terms of political participation, UAE President Sheikh Khalifa bin Zayed Al Nahyan issued a resolution in 2019 to raise the representation of women in the Federal National Council (FNC) to 50 percent during the 2019 elections.
The UAE issued Federal Decree-law Number 6 of 2020, amending some provisions of the Federal Law Number 8 of 1980 regarding regulation of labor relations granting the female employees in the private sector an extra five-day paid leave to the already 45-day maternity leave. Fathers will also get a five-day paid leave.
The UAE became the first Arab country to grant parental leave to private sector employees.
The UAE also issued the Decree of Federal Law Number 6 for 2020, stipulating equal wages for women and men in the private sector, if they perform the same work, or another of equal value.
President His Highness Sheikh Khalifa bin Zayed Al Nahyan approved Federal Law-Decrees to amend the Penal Code. Based on the UAE's solid commitment to protecting women's rights, amendments to the Penal Code and Criminal Procedural law have repealed the article giving reduced (lenient) sentence in what is called "honor crimes."
UN Women and UAE
UN Women supports UN Member States as they set global standards for achieving gender equality, and works with governments and civil society to design laws, policies, programs and services needed to ensure that the standards are effectively implemented and truly benefit women and girls worldwide.
The UAE has a strong and growing relationship with UN Women, as it was a member of the UN Women Executive Board between 2013 and 2018, and assumed the presidency of the Executive Council of UN Women in 2017.
The UAE opened a liaison office for the UN Women in Abu Dhabi in 2016 in partnership with the General Women's Union.
https://english.alarabiya.net/News/gulf/2021/03/08/UN-Women-says-UAE-s-latest-legislations-offer-women-more-rights-and-protection
--------
Balochistan Reports 47 Incidents of Violence against Women In 2020
Saleem Shahid
March 8, 2021
QUETTA: As many as 47 incidents of violence against women were reported in Balochistan during 2020. In these incidents, 16 women lost their lives and seven were subjected to rape.
Director, Aurat Foundation, Balochistan, Alauddin Khilji, and member of the National Commission for Women, Balochistan, Fatima Khan, disclosed this while speaking at a joint press conference here on Sunday.
They said 33 incidents of violence against women were reported in just four districts of the province — Quetta, Sibi, Turbat and Gwadar.
They said the investigation report for 2020 revealed that overall 2,297 incidents of different natures, including human rights violation, murders, women harassment, were reported in 25 districts of the province.
CM praises female health workers' role in fight against Covid-19
"The incidents during the coronavirus pandemic were reported in a very limited number," Fatima Khan said, adding that the number of such incidents was still alarmingly high.
She said a monthly review concluded that the number of such cases were very high in July during the peak of the Covid-19 outbreak and subsequently decreased.
Alauddin Khilji said 47 incidents of violence against women were reported in four districts of Balochistan — 29 from Quetta, 13 from Sibi, three from Turbat and two from Gwadar.
He said 16 women were killed and seven were raped in the province during 2020. "One woman committed suicide, two were killed in the name of honour and 13 were abducted," he added.
"In the last two months, 10 people were killed in the name of honour in five reported incidents in Balochistan."
He said every year on March 8 the International Women's Day was observed across the world to show solidarity with women who were fighting for their rights. On this day, women all over the world should unite and raise their voice for their rights and governments should also pay attention to women's issues, he added.
Mr Khilji said that the importance of International Women's Day in Pakistan was significant due to miserable condition of a gender with over 50 per cent population.
"The Pakistani women's movement has played an important role in raising awareness about women's issues," Fatima Khan said. Women's Front, Aurat March, APWA and other social organisations were fighting for women's rights, she added.
She said Aurat Foundation has released an investigation report on incidents of violence against women and girls in Pakistan reported from January to December 2020.
Alauddin Khilji said there was no chairperson for the National Commission for Women in Pakistan. "No member or chairperson for the Punjab Commission for Women has been appointed. The Balochistan Commission for Women is yet to be formed."
In 2013, a law was passed to appoint an ombudsman, but to date it had not been implemented, he added.
Meanwhile, Balochistan Chief Minister Jam Kamal Khan Alyani paid tribute to women, saying that female health workers played a very important role in the fight against coronavirus.
He said the theme of the International Women's Day in Pakistan this year is "Women Leaders Striving for an Equal Future in a Covid-19 World".
According to him, the nation has come a long way in tackling this pandemic and women of the country have played a key role in this journey.
The chief minister said the present government had taken a number of steps to ensure gender equality in the country and women's participation in all spheres. The provincial government was committed to provide equal opportunities to women and ensure the advancement of women through policy reforms, he added.
No country could achieve its development goals without participation of women in economic activities, he said, adding that and the present government was taking steps to make full use of women's potential in all walks of life.
https://www.dawn.com/news/1611299/balochistan-reports-47-incidents-of-violence-against-women-in-2020
--------
On Eve of Intl. Women's Day, 35 Palestinian Women, Including 11 Mothers, In Israeli Prisons
07 March 2021
Thirty-five female Palestinian prisoners are currently behind Israeli bars, a local NGO has announced ahead of the International Women's Day, noting that eleven of the prisoners are mothers.
In a statement carried by Palestine's official Wafa news agency, the Palestinian Prisoner Society (PPS) said 26 of the female prisoners had been sentenced to varying prison terms, the longest belonging to two prisoners, Shurooq Dwayyat and Shatila Abu Ayyad, who are each serving a jail sentence of 16 years.
Three of the prisoners are being held without charges or trial under the so-called administrative detention, the rights NGO added.
The Israeli administrative detention is a form of incarceration without trial or charge that allows the Israeli authorities to detain Palestinians for up to six months. The period, however, can be extended for an infinite number of times.
The regime in Tel Aviv has been widely condemned by international human rights organizations for its extensive use of administrative detention.
The regime employs this measure extensively to hold thousands of Palestinians for virtually unlimited periods of time, while the prisoners cannot defend themselves against the undisclosed allegations.
Back in October 2020, Michael Lynk, the UN special rapporteur on the situation of human rights in the Palestinian territories, said the administrative detention is a penal system that is "ripe for abuse."
"Administrative detention, in contrast, allows a state to arrest and detain a person without charges, without a trial, without knowing the evidence against her or him, and without a fair judicial review," Lynk said. "It is a penal system that is ripe for abuse and maltreatment."
According to Israeli Prison Services (IPS) data obtained by B'Tselem, an Israeli rights group, there were 376 Palestinians being held in administrative detention by Israel at the end of September 2020. The IPS has not updated the figure since then.
According to IPS data, at the end of September 2020, there were also 4,184 Palestinian security detainees and prisoners in Israeli jails, including 157 minors.
Israeli forces frequently detain Palestinians from various parts of the occupied territories. Early this month, the regime's troops arrested at least 22 Palestinians in raids against their families' houses as well as in clashes.
https://www.presstv.com/Detail/2021/03/07/646752/Palestinian-women-Israeli-jails
--------
Meet Dr Ruha Shabad who is Helping Thousands of Indian Muslim Women Write Their Success Stories
MARCH 08, 2021
When applying to Harvard, Dr Shabad was appalled at the lack of Muslim women whom she could turn to for recommendations. What started off as a disturbing observation has now flowered into an organization that is guiding thousands of Muslim women toward self-emancipation. A doctor turned public health professional turned social entrepreneur, Dr Shabad founded the Led By Foundation last year to provide dedicated guidance and mentorship to young Muslim women in India. News18 spoke to Dr Shabad on the occasion of Women's Dat 2021 about empowering women from minority communities, and the need to instil women with the agency to create change.
You have started the Led By Foundation, a social enterprise that provides mentorship to young Muslim women, at Harvard. Tell me more about the endeavour, when it was started, and what it aims to do.
Led By Foundation is a social enterprise and we are working toward the professional development of young, college-going, Muslim women in India with the goal of increasing the representation of Indian Muslim women – which is currently one percent or so – to match its size of their population. Led By was incubated at Harvard but isn't currently housed there. It was started when I was pursuing my master's at Harvard on a scholarship.
I was at a two-year program called the Masters in Public Policy at the Harvard Kennedy School. At the time I was in NITI Ayog, after having finished my MBBS, worked as a general physician, worked as a public health professional at the Clinton Health Axis initiative, I was at NITI Ayog. Two things I'm very passionate about – public healthcare and this underserved community of Muslim women. My two main focus points were, how to improve the access to public healthcare for Muslim women. It was at that time that I realized how severely underrepresented Indian Muslim women are. In my second year, I got the opportunity to apply for a very sought-after social enterprise incubator at Harvard. I worked really hard in March 2019 and got selected in April. Then there was no looking back. Apart from studying and working part-time at Yale, apart from co-chairing the India Conference at Harvard, I was also working on incubating Led By. And lo and behold, in 2020, we had our first summer fellowship happen in September 2020 after a four-month co-curricular intensive rigorous program. In its course, these women were trained in negotiations by people working at Harvard. We had dozens of advisers and residents including senior women executives who host office hours for our fellows.
We have over 150 women executives from more than ten countries who coach, mentor and guide. We will also be getting executive coaching from this year. So Led By has three arms – Workshops, a 360-degree advisory framework where you get mentored by executives, you get mentored by peers, and younger Muslim women as well, and executive coaching.
What inspired you to come up with the foundation? How have your personal experiences shaped the initiative and the work that you do?
It happened at the time when I was applying for Harvard. The application has three components – GRE scores, the number of essays you need to write, and the third, the letter of recommendation. I had a decent GRE score, and my essays were ready. The only thing I needed were three letters of recommendation. So I went to my mentors – I have a few fantastic mentors who guided me through this transition from clinical practice to public health and public policy. I got selected. But during the time, it dawned on me that all my references were written by men. None by women. And definitely no Muslim women. Which made me wonder, where are these 100 million Muslim women in India? Why have they not been able to reach places of professional excellence and be role models at an amount that is proportional to their population? That is what I thought about for my first year at Harvard.
A second factor that inspired Led By, I would say, was my transition as a religious majority in Saudi to a religious minority in India. It made me reflect on the experiences of some of my closest non-Muslim Indian friends in Saudi and I felt really empathetic. After I came to India, I realized that they were never able to celebrate their festivals comfortably there. And that made me realize how as part of the majority, we often don't really know what the lives and realities of minorities are like. That's why, although we are a minority in India, I feel that the issues that minorities are facing in India – and in this case, it's an issue of education and employment, we need to solve these problems and we need to have conversations with people from outside of the community to support us in solving the problem. At Led By, we have found support from everybody across the panel when it comes to industries, states. Everybody has been supportive because they realize that for India to move forward and for its economic indicators, employment and education to improve, it is important to empower every single Indian. What we are trying to do with this endeavor is ensure that even this underrepresented community of Muslim women is contributing 100 percent to the success story of this country,
What was the need for a platform such as this?
There is a lot of need for education and employment opportunities in India. However, to understand why these opportunities are lacking or why people are unable to access them, we need to find the root cause of problems faced by people in certain communities so that we can find a solution to them. We are trying to give specific, targeted interventions for a community that is so far underrepresented while leveraging all the resources we have. While we aim to improve the lives of Muslim women across India, I strongly believe it is the duty and responsibility of the entire nation. Or it should be. Hence, you'd notice that our experts, facilitators and young girls who come are from across the country.
Why did you think that Muslim women, in particular, were in need of mentorship?
I don't think that Muslim women are in need of mentorship at the cost of someone else's chance to get mentored. What we are trying to do is, suppose you have a paratha – I'm not saying I want a bigger piece of this paratha for Muslim women in India. I'm saying by unlocking the potential of Muslim women, you can increase the size of the paratha so that everyone can get equal and improved shares. Everybody needs mentorship. And why providing mentorship to Muslim women in particular? First, they have had no access to it so far. Second, they don't have enough role models, third, they are incredibly underrepresented. Fourth, there are hardly any targeted intervention schemes for Muslim women. There is enough data to show that the community is lagging. And unless you focus, and create targeted interventions for underserved communities in India, you won't see results. A targeted intervention will not only help the community but also help improve national numbers.
How many women have you helped with the program so far?
The fellowship itself that we run had 24 women last year and this year we are selecting 36 women from a pool of 1200 applications. And for our less intensive programs, we have worked for 5,000 women in less than a year.
What are your plans with the organization for the future and how do you plan to have an impact on policy measures that support women and in particular women from minority or disadvantaged communities?
We really want to be able to support every college-going Indian Muslim woman with three things – access, agency and avenue. Access means they get access to the right networks so they can find the right mentorships and sponsorships in their industry. In terms of avenues, we mean platforms where they can co-learn, engage and share to grow professionally. Agency means instilling the belief in Muslim women that they can succeed. — to unlock aptitudes, their ambitions, and aspirations.
A larger goal would to for other communities that look at Led By and feel that this is a program that our community to use. We would love to create modules and contextualize the program for them. The final goal would be to increase the size of that paratha so that everyone gets more.
I love working on issues that are key challenges for Indian to unlock its potential. And I want to keep doing that every single day of my life.
https://www.news18.com/news/buzz/meet-dr-ruha-shabad-who-is-scripting-the-success-story-of-thousands-of-muslim-women-in-india-3511187.html
--------
Remarkable Muslim Women throughout History: Commemorating International Women's Day
Nadia Khan
7 March, 2021
The stereotype of Muslim women within the media and wider society is deeply problematic, and needs to be challenged if we are to create an equal and fair society. Accomplishments by Muslim women are either ignored, downplayed or hijacked by ignorant views on Islam and women. We recently witnessed a classic example of this on a BBC interview with Zara Mohammed, the new leader of the Muslim Council of Britain.
This negative narrative of Muslim women is not my reality. That is because across the Islamic world, women have been at the forefront of history, asserting their power way before women had any rights in the West.
Patriarchy is definitely a problem; it has been and still is for ALL females. However, since Islam came with a radical message that granted women unprecedented rights, Muslim women have been fighting to hold their own in a male dominated world.
Women across Muslim lands have held all kinds of progressive roles. The dominating male landscape has downplayed these contributions over the years, but thankfully their legacy lives on.
I have selected a diverse group of Muslim women whose stories continue to inspire, and are a reminder that women have not been bystanders, but active participants on the world stage.
Rabia Al-Adawiyah (718-801)
The connection between women and Sufi mysticism has a long history leading back to the early days of Islam.
The first known female Sufi was a lady called Rabi'ah al-Adawiyah who was born in Basra, Iraq.
She shaped many Sufi ideals, and initiated the tradition of love for God without fear.
Rabi'ah guided both men and women on matters of spirituality. Her role and prominence in the development of Sufism is a challenge to those who do not accept women mystics.
Fatima al-Fihri (800-880)
Fatima al-Fihri founded and built the world's first and oldest university in the world (UNESCO), the Al-Qarawiyyin mosque and university in Fez, Morocco. It was built in 859.
Fatima paid for it to be built with her inheritance, and it took 18 years to complete. She named it after her hometown in Tunisia.
Unfortunately, we still live in a world where some girls and women put their lives in danger to gain knowledge. In 2012, Malala Yousafzai was shockingly shot in the head by the Taliban for her right to pursue an education. This attitude is sad and ironic, considering the first university in the world was founded by a Muslim women.
Razia Sultan (1205-1240)
Razia Sultan, the first woman Sultan of India, ruled the court of Delhi from 1236 to 1240. She did not want to be called Sultana, and insisted on the male term, Sultan.
She was a ruler of the Delhi Sultanate, who were part of the Mamluk slave dynasty.
Her father was Sultan Shams-us-din Iltutmish, and Razia was his only daughter. Iltutmish ensured Razia was well educated and trained in archery, martial arts, and administration.
Razia's father felt she would be a much better ruler than any of his sons. In a surprise move, he appointed her as his heir.
As ruler, she would appear in public dressed in traditional male attire. She rode on elephants through the streets of Delhi, making public appearances like the earlier Sultans.
She ruled efficiently, establishing law and order in Delhi. Her most trusted ally was an Ethiopian slave, Malik Yaqut, whom she appointed to a prominent position at court.
Nur Jahan (1577-1645)
Nur Jahan was the wife of Mughal Emperor, Jahangir.
The love story between the emperor and his wife is well documented, but she was much more than an object of the ruler's affections.
She ruled alongside her husband, was very powerful and made important decisions.
Nur Jahan hunted tigers, which at the time was only the privilege of the sovereign. "The fact that Nur Jahan as a Queen hunted tigers tells us about her power in the court, which was almost equal to that of the Emperor." (The Heritage Lab).
She had a key role in getting the Emperor released when he was taken captive by Mahabat Khan in 1626. She led the army into battle herself. There is a well-known image of Nur Jahan holding a gun, kept at the Rampur Raza library.
Nur Jahan was one of the most influential leaders of the 17th century, a truly awe-inspiring Muslim woman.
Jahanara Begum (1614-1681)
Jahanara Begum was a Mughal princess. She was the eldest child of Mughal Emperor Shah Jahan and his wife, Mumtaz Mahal.
After her mother's untimely death in 1631, 17-year-old Jahanara became the Padshah Begum (First Lady) of the Mughal Empire.
She held immense influence over the court, and has been described by Catherine Asher as "the most powerful woman in the empire" at the time.
Mughal women were at front and centre of the empire. They were just as involved and invested as the men.
Jahanara embraced Sufism, and was initiated into the Qadririyya Sufi order. She was an accomplished poet, well-respected author and architect.
Ilhan Omar (US Congresswoman)
lhan Omar might only be five feet foot tall, but she is a presence to be reckoned with.
The 38-year-old mother of three is the first Somali-American, first African-born American, and one of the first two Muslim American women (alongside Rashida Tlaib) to serve in the US Congress.
Ilhan and her family fled civil war in Somalia, and lived in refugee camps for many years. Her story is one of struggle, which is why she fights passionately for the rights of minorities.
These examples of trailblazing Muslim women are just a drop in the ocean. As we mark International Women's Day, it is important to remember the female role models who have paved the way for our rights and freedoms.
Let's #choosetochallenge harmful gender narratives, and stand together to tackle abuse by those who cannot handle our innate strength and power.
Nadia Khan is a historian and writer. She is the founder of Golden Threads: A project exploring shared history, culture and art across the Islamic world and beyond.
https://english.alaraby.co.uk/english/society/2021/3/7/iwd-remarkable-muslim-women-throughout-history
--------
World Bank: Saudi Reforms for Women Boost Economy
March 06, 2021
JEDDAH: Saudi Arabia has implemented a number of ambitious reforms to enhance women's economic inclusion, which has resulted in women gaining more access to education and employment options.
According to a Global Entrepreneurship Monitor report in 2020, the highest rates of women's entrepreneurial intentions were reported in the Middle East and North Africa region at 36.6 percent as Saudi female entrepreneurs were responsible for driving this trend.
Issam Abousleiman, the World Bank regional director of the GCC countries, told Arab News that women have played a fundamental role in boosting economic growth in the Kingdom.
"Saudi Arabia has made a lot of reforms related to the business environment, along with those laws that are measured by the Women, Business and the Law (WBL) index that we have," he said, adding that these laws have increased the number of women entrepreneurs in the Kingdom.
Abousleiman said the number of Saudi women entrepreneurs increased by 50 percent between 2018 and 2019, particularly in the consumer service sector.
The World Bank's annual WBL report also stated that Saudi Arabia made significant progress, scoring 80 out of 100.
Reforms in the Kingdom have provided funding to projects and initiatives, which have created opportunities for women in government and the private sector. These reforms have played an integral part in creating safe work environments to foster growth and innovation.
"These new businesses are generating new jobs and providing livelihoods for many in Saudi Arabia," Abousleiman said.
"They are giving women a platform for entrepreneurship, leadership and self-realization that we have not seen in the past. They are also helping drive diversification in the Saudi economy."
Abousleiman said the Kingdom is well on its way to achieving its goals and that new reforms usually take between 3-5 years to have a full impact. According to Saudi employment figures, women have outpaced men over the past few quarters, which is "well above the target set by Saudi Arabia's 2030 Vision."
He added that the Saudi government's gender-neutral policies have encouraged more women to participate in economic activities with various strategies and action plans. Employment policies, cash benefits for the most vulnerable, support for the disabled, and pensions are among the programs that have benefited most from more female inclusion.
"Women's participation in the labor force in Saudi Arabia started with very low numbers," Abousleiman said. "If we go back to 2017, women's participation in the labor force was at 15 percent. By the end of 2020, we estimate that it has gone up to almost 31 percent."
He added that the new strategies and plans implemented have targeted some of the most vulnerable members of society and provided more productivity within the system.
"Reforms usually take time to get to that potential," Abousleiman said. "With patience, perseverance and staying on course, these reforms will benefit society and the economy over time."
https://www.arabnews.com/node/1821026/saudi-arabia
--------
Arab Women's Exceptional Anti-COVID-19 Contributions Lauded
March 08, 2021
CAIRO — The Arab League praised on Monday the exceptional contributions made by women in the Arab region to confront coronavirus (COVID-19) especially health care workers.
This came in a statement by the Assistant Secretary-General for Social Affairs, Ambassador Haifa Abu Ghazaleh, on the occasion of International Women's Day, stressing keenness to share the international community in celebrating this day.
She also praised the role of women in the security institutions for being in the frontlines to confront this pandemic, as well as workingwomen and breadwinners who assumed increased responsibilities of family care to protect the elderly, children and the sick.
She pointed out that the world celebrates International Women's Day this year under the slogan "Women in Leadership: Achieving an Equal Future in the World of (COVID-19)."
Abu Ghazaleh noted that Arab foreign ministers approved the plan of Arab Network for Peace Mediators, prepared by the Social Affairs Sector in cooperation with UN Women, in addition to the approval of the Arab Strategy for Prevention and Response to Combat All Forms of Violence against Women.
In a related context, the president of the Arab Parliament, Adel Al-Asoomi praised the great and sincere efforts made by Arab women and their qualitative contributions at all levels, especially in facing COVID-19 pandemic and its repercussions. — KUNA
https://www.saudigazette.com.sa/article/604212/World/Mena/Arab-womens-exceptional-anti-COVID-19-contributions-lauded
--------
Jordanian Women Have Come A Long Way, But Much Work Remains To Be Done
March 07, 2021
AMMAN: Despite improvements in the status of women in Jordan, more still needs to be done to address gender-based violence and increase women's engagement in both society and the labor market, according to rights activists.
In remarks to Arab News on the occasion of International Women's Day, women's rights activists argued that Jordan has achieved "considerable" progress over the past 20 years in combating discrimination against women by revisiting laws and taking on the "social taboos" that keep Jordanian women out of the workforce.
They explained that these changes were the result of changes in society, underlining the need for more efforts at the institutional level toward improving gender equality and women's empowerment.
Rana Husseini, a renowned women's rights activist, said: "With regard to the achievements of the women's rights movement, I would say that one of the most important accomplishments was the appointment of women in decision-making positions such as ministers, criminal prosecutors, ambassadors and judges. Now, you see women almost everywhere. This is a sign that society is more open now toward accepting and wanting women to be in positions of leadership."
Despite changes to social structures and improvements in women's rights in Jordan, the award-winning journalist said there are still problems related to women's labor force participation and their employment status, citing the high unemployment rates among females.
According to official estimates, Jordan's unemployment rate in the third quarter of 2020 stood at 23.9 percent, up 4.8 percent compared with the same period of 2019. The rate of unemployed males who hold a bachelor's degree and higher reached 25.2 percent, while the percentage of unemployed females who hold at least the same degree increased to 77 percent.
"Despite efforts, economic participation among women is still weak," Husseini said, adding that there were still many jobs occupied exclusively by men.
"There is still discrimination in the workplace. Job owners prefer to hire men to get around issues related to maternity leave and childcare."
Honor crimes
On average, 10 to 15 women are killed annually in Jordan in the name of honor, Husseini said.
Husseini, who authored the hard-hitting book, "Murder in the Name of Honor," explained that the figure has seen a "significant drop."
"The number of the so-called 'honor crimes' reported in Jordan during the 1980s and 1990s was between 20 to 25, sometimes reaching 30 every year. Now, after all the work that has been done by activists, awareness campaigns, the government and all those involved in the fight, the number has dropped to 10 to 15 cases."
She explained that Jordan has amended laws related to violence against women, toughening penalties and thus reducing honor crimes.
"There have also been changes to some important clauses pertaining to violence against women, such as articles 98 and 308 of the penal code. Article 308 used to allow a person who sexually assaults a woman to escape punishment if he married the victim. Now, this is no longer the case. The other change is that perpetrators of so-called 'honor crimes' are not receiving lenient sentences as they used to in the past. Now, the criminal courts and justice system are really treating violence against women and children very seriously, and they are bringing cases to court with strong evidence to implicate the defendants."
Husseini explained that Jordanian laws no longer allow a lenient sentence for perpetrators of honor crimes.
"But we still have a problem with the waiving of rights that families can exercise while at court to reduce the sentence.
"Violence against women is not a phenomenon specific to Jordan or the Middle East region but one that is found all over the world. The difference in our region is that women are killed by their families and relatives," Husseini added.
COVID-19 pandemic
Jordanian women's rights leaders said that the coronavirus disease (COVID-19) pandemic has exacerbated women's troubles, worsening women's economic participation and increasing gender-based violence.
According to the Sisterhood is Global Initiative (SIGI), an independent organization seeking women's advancement and empowerment through a range of education and advocacy programs, many women have lost their jobs as a result of the pandemic and have been subject to domestic violence.
"The outbreak has proved the centrality of women in the society. The burdens of Jordanian women, especially those on the front lines, have increased during the pandemic, with many of them losing their jobs and suffering various forms of violence from their husbands, fathers and brothers. They have remained silent, in part to protect their families and children but also out of their deep belief that the current circumstances are exceptional and full of economic and social challenges," SIGI said in a recent report.
Husseini said that lockdowns and curfews have been hindering NGOs and protection teams from performing regular check-up visits to vulnerable families and centers for victims of domestic violence and "family honor."
Since the outbreak of COVID-19, UN Women said that emerging data and reports from those on the front lines have shown that all forms of violence against women and girls, particularly domestic violence, have intensified.
A recent study by the Economic and Social Commission for Western Asia concluded that the pandemic is expected to result in the loss of 1.7 million jobs in the Middle East region, including approximately 700,000 jobs held by women.
https://www.arabnews.com/node/1821501/middle-east
--------
URL: https://www.newageislam.com/islam-women-feminism/burqa-ban-switzerland-stop-islamism/d/124490
New Age Islam, Islam Online, Islamic Website, African Muslim News, Arab World News, South Asia News, Indian Muslim News, World Muslim News, Women in Islam, Islamic Feminism, Arab Women, Women In Arab, Islamophobia in America, Muslim Women in West, Islam Women and Feminism