New Age Islam News Bureau
24 Sept 2016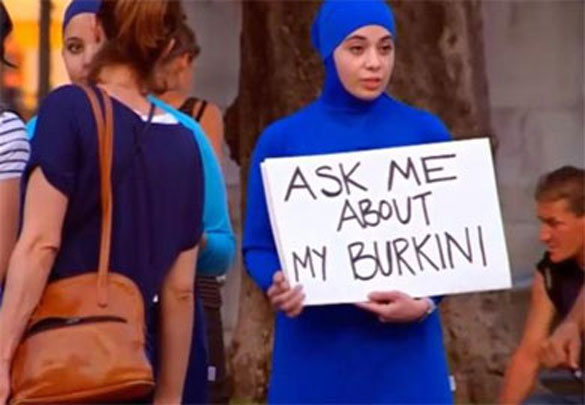 Burkini stunt: try it with the Saudis
-------
• Triple Talaq Is Not Mentioned In Quran, It Tortures Women: Indian Muslim Clerics
• Swedish Muslim Woman Quits Job over Pressure to Shake Hands with Male Colleagues
• RM15m in OIC-Malaysia Scholarship for Women from Troubled Countries
• Kenya Charges Radical Muslim Cleric's Widow over Police Attack
• Thousands Attend Muslim Women Summit in Malaysia
• Muslim Woman in Canada Ordered To Remove Hijab in Court
Compiled by New Age Islam News Bureau
URL: https://www.newageislam.com/islam,-women-and-feminism/new-age-islam-news-bureau/burkini-warriors-should-try-their-stunt-in-saudi-arabia/d/108662
----
Burkini Warriors Should Try Their Stunt in Saudi Arabia
September 24, 2016
Emma-Kate Symons is right. Channel Seven and the Muslim hotheads they flew over to France to protest against the burkini ban should try a similar stunt in Saudi Arabia to protest against real bigots.
Except they lack the guts, of course - preferring to stage a set up where it's safe in a country where Muslim women are safe. The frauds:
The cynical stunt pulled by the Sunday Night program, where it spirited Sydney hijab-proselytising medical student Zeynab Alshelh and her activist parents off to a beach near Nice to "show solidarity" with (radically conservative) Muslims, featured the 23-year-old flaunting her burkini in an obvious attempt to bait Gallic sun lovers into religious and ethnically motivated hatred. Except according to the French people filmed against their will, the claimed "chasing off the beach" that made international headlines never occurred because Seven used hidden camera tactics, selective editing and deliberate distor­tion to reach its predeter­mined conclusions...
Alshelh and her family ... are not just your regular mainstream Muslims, as presented in the program. Au contraire.
Alshelh's father, who appeared in this cringe-worthy report complete with jarringJaws-like music, is Ghayath Alshelh, head of the Islamic Charity Projects Association in Sydney's Bankstown.
His association was formed from the hotly contested Lebanese-Ethiopian al-Ahbash movement and repeatedly condemned as a "fringe sect" by prominent mainstream Australian Muslim figures and organisations...
Beyond the Alshelh family's zealotry, which puts them firmly in an ultra-orthodox, unrepresentative minority, locals claim Seven hoodwinked us again: the seaside ostracism of this Aussie girl desperate to give a Down Under lesson in tolerance to those xeno­phobic French never even took place...
No one was hounded off the beach, despite the scripted whining of Seven's solemn-faced presenter Rahni Sadler and her well-rehearsed talent the Alshelhs. The swimming public were upset to see the camera crew filming them and their children without permission in a country where privacy is legally protected and paparazzi do not have the same rights as they do in Australia to film without consent.
The beachgoers were also well aware France's highest judicial body had struck down the mayoral burkini ban at Villeneuve-Loubet.
But the set-up is one thing. The demonisation of a democracy by an apologist for the truly intolerant is another:
This unethical exercise in journalism deliberately painted France as "hostile to Muslims" even though the most hostile countries in the world for Muslim women are places such as Iran and Saudi Arabia, where being female entails forcible veiling and the threat of punishment with the lash, prison or worse for flouting bans on driving, playing sport, committing "adultery" or doing much at all without a male guardian...
Next time Seven should finance Zeynab Alshelh trying her luck taking off her veil in Saudi Arabia or Iran, or perhaps the trainee doctor could use hidden camera techniques in Egypt on doctors practising illegal female genital mutilation on the vast majority of little girls.
But as she confesses to Inquirer: "I'm not going to put myself in that kind of danger — and anyway, they are not preaching secularism (like France) they are just doing whatever they want to do."
So telling. So why was that point not made in the Seven report? Why are parts of our media seemingly conspiring with apologists for a totalitarian ideology to crusade against our freedoms and those who defend them?
http://www.dailytelegraph.com.au/blogs/andrew-bolt/burkini-warriors-should-try-their-stunt-in-saudi-arabia/news-story/cc3733813bc3599c1f4177e4d1fe76e5
--
Triple Talaq Is Not Mentioned In Quran, It Tortures Women: Indian Muslim Clerics
Fri, 23 Sep 2016
Asserting that triple Talaq has no mention either in Islam or in the holy Quran, the Muslim clerics on Friday said this particular divorce system is nothing but gross injustice against women. Muslim cleric Maulana Kalbe Sadiq said the Sunnis practice the triple Talaq system and added that his sect is ready to cooperate with the former if a solution is chalked to dissolve this divorce system which is becoming an insult to women.
"Islam says nothing against reasoning, nothing against justice. For us triple Talaq is against both reasoning and justice, would request the Sunni brothers to reconsider this law. We are ready to cooperate with them if they can chalk out a solution, as this triple Talaq is becoming a reason of insult for the Muslims," said Sadiq.
Echoing similar sentiments, another Muslim cleric Maulana Saif Abbas said triple talaq is like torturing women. "Triple Talaq is totally wrong and there is no mention of the same either in Islam or in Quran. This is like torturing women. Triple Talaq is nothing but gross injustice to women," said Abbas.
This comes after the All-India Shia Muslim Personal Law Board declared on Thursday that it would intervene in the Saira Banu case in the Supreme Court on the issue of triple talaq. The executive council meeting of the board, held on Thursday, also asked the government to ban triple Talaq the way it banned the Sati practice decades ago. The All India Shia Personal Law Board (AISPLB) had also suggested the adoption of a 'modern nikahnama' (marriage contract), seeking changes in the terms and conditions of marriage under the Islamic law.
http://www.dnaindia.com/india/report-triple-talaq-is-not-mentioned-in-quran-it-tortures-women-muslim-clerics-2258032
--
Swedish Muslim Woman Quits Job over Pressure to Shake Hands with Male Colleagues
September 24, 2016
Twenty-year-old Fardous El-Sakka, who is Muslim, had been working as a supply teacher for a group of independent schools in Helsingborg, Sweden, since August, when a male colleague took offence at her refusal to shake his hand, The Independent reported.
Sakka preferred to greet men by putting her hand on her heart while bowing.
After the male colleague took offence at her behaviour, Sakka was summoned to a meeting with the school's principal and told she must abide by its "core values" if she didn't want to lose her job.
Lidijia Münchmeyer, a principal of Kunskapsskolan, the independent school group in Helsingborg, said the man felt "tremendously discriminated against," reported Swedish newspaper Expressen.
"If there is anyone who has been discriminated against and mistreated here, it is the male employee," she said.
Münchmeyer said the issue wasn't Sakka's religious beliefs, but that she chose to greet men and women differently. "The school doesn't differentiate between people or treat them differently. That's what we anticipate from our students, which is why the staff is expected to do likewise," she added.
Sakka left her job at the school shortly afterwards and made a formal complaint to Sweden's Equality Ombudsman.
"it was the first time anyone had challenged her refusal to shake hands," adding that "she couldn't see herself returning to the school," she said while Speaking to The Local Sweden.
"It's a special school for me because I was a student there. But I don't think I can see a way back there now," she said.
Hand-shaking has been heavily debated in Sweden in recent months, after a similar case in which a Muslim city councillor refused to shake hands with a female journalist and was forced to resign, reported The Independent.
Swedish Prime Minister Stefan Lofven even took a stand on the issue, saying people should "shake hands with both women and men."
The issue has caused controversy in Switzerland this year, too. In April, a Swiss school ruled that a group of Muslim boys would be exempt from shaking hands with female teachers because of their religious beliefs, igniting a heated debate in the country.
http://www.pakistantoday.com.pk/2016/09/24/entertainment/muslim-women-quits-job-over-pressure-to-shake-hands-with-male-colleagues/
--
RM15m In OIC-Malaysia Scholarship For Women From Troubled Countries
Saturday, 24 September 2016
KUALA LUMPUR: An allocation of RM15 million has been set aside as an educational aid for women from conflict-stricken countries through the Organisation of Islamic Cooperation-Malaysia Scholarship launched today.
Minister in the Prime Minister's Department Datuk Seri Jamil Khir Baharom (pix) said the allocation was part of the Malaysian government's on-going efforts to provide assistance in various forms to the people in troubled Muslim countries.
He said among the women who would receive the scholarship were those from Syria, Yemen and Palestine pursuing studies in areas like civil engineering, counseling, economics, medicine, law and information technology.
"Some of them are children of Syrian nationals who are already here, as well as those who are qualified to pursue their studies here. They will be sponsored by the university until they complete their education."
Jamil Khir said this to reporters after launching the World Muslim Women Summit and Exhibition (WISE) and the launch of the OIC-Malaysia Scholarship here today.
Also present were his deputy Datuk Asyraf Wajdi Dusuki and International Islamic University Malaysia rector Datuk Seri Zaleha Kamarudin.
Jamil Khir said the scholarship which would be funded by all the public universities in the country, would help female students in those countries to gain knowledge and tertiary education and hence help rebuild their nations.
The inaugural three-day summit is organised by the Malaysian Islamic Development Department (Jakim) with the cooperation of the Ministry of Women, Family and Community Development, UIAM, OIC and the World Islamic Forum.
Meanwhile, Zaleha said the IIUM was the secretariat for the scholarship and in Malaysia, 11 students had been offered the scholarship so far.
She added that the other OIC nations would continue similar efforts in their countries to enable as many women from troubled nations as possible to pursue their studies.
She said Turkey was among the nations which had agreed to continue the scholarship programme, targetting to help 1,000 women in 10 years.
http://www.malaysiandigest.com/news/633532-rm15m-in-oic-malaysia-scholarship-for-women-from-troubled-countries.html
--
Kenya charges radical Muslim cleric's widow over police attack
Sep 24, 2016
The widow of a radical Muslim preacher was charged on Friday of helping three other women attack a Kenyan police station.
In what the first incident in Kenya to be claimed by Islamic State, the women entered Mombasa's central police station on Sept. 11 under the pretext of reporting a stolen phone. They stabbed one officer and set fire to the building with a petrol bomb before they were all shot dead.
A Kenyan court charged Hania Said Sagar, widow of sheikh Aboud Rogo – a preacher accused of supporting and recruiting for Somali Islamist group al Shabaab – with withholding information that could have prevented the attack.
Rogo was killed by gunmen in 2012, sparking days of riots in Mombasa by supporters who accused the police of gunning him down, something the police denied.
Image result for Kenya charges radical Muslim cleric's widow over police attack
Police said they had evidence that Sagar had communicated with the three women before they launched the attack. They also had evidence of a mobile phone money transfer between her and one of the attackers.
"You knew Tasmin Yakoub (one of the three attackers) who was the mastermind of a terror attack at central police station, you failed to disclose information which could have prevented a terror attack," the charge sheet read.
Sagar denied the charge and the court ordered she be held until Monday when it will rule on a bail application.
She faces up to 20 years in jail if convicted.
Kenya has been cracking down on people they accuse of promoting militant ideas or planning and carrying out attacks, particularly in the coast region, where many Muslims live in the majority Christian African nation.
http://africa.tvcnews.tv/2016/09/24/kenya-charges-radical-muslim-clerics-widow-police-attack/#.V-ZwpYh97IV
--
Thousands attend Muslim Women Summit in Malaysia
24.09.2016
A Turkish deputy minister has lauded an international conference for Muslim women as an opportunity to express and share ideas at a time when the world needs unity and solidarity.
Thousands of participants from across the world gathered in Kuala Lumpur for the "Muslim Women: Soft as Silk, Strong as Iron" summit and exhibition hosted in the Malaysian capital Sept. 23-25.
Mehmet Ersoy, deputy minister of Turkey's Family and Social Policies Ministry, gave a speech at the opening day of the summit -- organized by the International Islamic University of Malaysia, the Turkish Asian Center for Strategic Studies (TASAM) and other Turkey-based non-governmental organizations.
Ersoy told Anadolu Agency that during a period when the Islamic world needs unity, solidarity and fraternity/sorority, the organization of the gathering in Malaysia was an opportunity to exchange ideas.
"We found an opportunity to share with sister countries the situation and atmosphere in Turkey, as well as our efforts to empower women," he stressed.
Referring to the failed July 15 coup in Turkey, Ersoy also described the conference as a chance to explain to other Muslims "just how unjust, treacherous the FETO [Fetullah] Terrorist Organization is".
"We tried to convey that [FETO] has absolutely nothing to do with religion, with Islam, but rather uses our sacred values to infiltrate state and society," he said, adding that meetings during the summit had been very beneficial.
Other participants from Turkey included members of parliament for Istanbul and Kocaeli from the ruling AK Party, a Republican People's Party lawmaker representing Tekirdag, and officials from a variety of civil society organizations.
The summit aims to champion efforts to empower women and provide a platform for sharing their ideas and experiences. Its objective is to create extensive synergy and networking among NGOs around the world for the pursuit of global prosperity and peace.
http://aa.com.tr/en/asia-pacific/thousands-attend-muslim-women-summit-in-malaysia/651714
--
Muslim woman in Canada ordered to remove hijab in court
24.09.2016
MONTREAL,Sept24: A Muslim woman in Canada, who was denied a court appearance because of her hijab, sought legal clarification on the rights of Quebecers, who want access to justice while wearing religious attire.
Rania El-Alloul's lawyer appeared in Quebec Superior Court on Thursday seeking a declaratory judgment that would clarify that litigants have the right to wear a hijab or other religious attire in court, Toronto Star reported.
"We are seeking a declaration that what happened is wrong and she has the right to wear the hijab," Constitutional lawyer Julius Grey told the Canadian press after the hearing.
In February 2015, a judge of a Quebec court told El-Alloul that her case involving the province's automobile insurance board and her impounded vehicle would not proceed as long as she was wearing the hijab in court.
She refused to remove it and the judge put the case off. It was ultimately settled when the car was returned.
Grey said on Thursday that he believes that the judge's decision regarding the hijab violated his client's charter rights, but said opposing lawyers argued that the issue could not be settled by a declaratory judgment.
He said that a judicial complaint he and another lawyer filed against the judge on El-Alloul's behalf was rejected in February.
El-Alloul, who was present for the proceedings, has been doing well since last year's high-profile proceedings, Grey said.
Last year, El-Alloul refused more than $38,070 raised on her behalf through a crowdfunding campaign, suggesting the money be used to tell others' stories.
Despite her complaint being rejected, Grey said his client is still very interested in having her rights declared.
"She is doing it on principle," he said, adding "She is doing it because what happened was wrong."
http://www.indialivetoday.com/muslim-woman-canada-ordered-remove-hijab-court/35931.html
--
URL: https://www.newageislam.com/islam,-women-and-feminism/new-age-islam-news-bureau/burkini-warriors-should-try-their-stunt-in-saudi-arabia/d/108662
New Age Islam, Islam Online, Islamic Website, African Muslim News, Arab World News, South Asia News, Indian Muslim News, World Muslim News, Women in Islam, Islamic Feminism, Arab Women, Women In Arab, Islamophobia in America, Muslim Women in West, Islam Women and Feminism