New Age Islam News Bureau
30 Sept 2016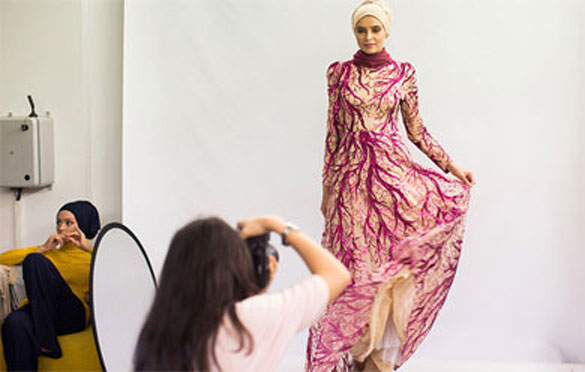 A model poses for a photographer during a fashion photo session on September 6, 2016, in Istanbul. (AFP Photo)
-------
• Bulgaria Bans Full-Face Islamic Veil
• Female Medical Student from Malaysia Joins IS in Syria: Counter-Terror Chief
• Women's Most Significant Trait Is Motherhood: Turkish Minister
• So I Interviewed a Muslim Woman and Published it in Playboy — So What?
Compiled by New Age Islam News Bureau
URL: https://www.newageislam.com/islam,-women-and-feminism/new-age-islam-news-bureau/burkini-debate-distant-in-turkey-as-islamic-fashion-booms/d/108724
-----
Burkini Debate Distant In Turkey as Islamic Fashion Booms
30 September 2016
THE model adjusts her clothing, stares at the camera with a hint of a smile, holds her head high and the photographer starts snapping.
But at this photo-shoot on the Asian side of Istanbul, the models, impeccably made up, sport no body-hugging Western styles.
All wear headscarves and loose fitting outfits in a shoot for one of the industry's fast growing sectors – modest but trendy Islamic fashion.
Istanbul is positioning itself to be a hub in this nascent industry, which according to the Dubai-based Islamic Fashion and Design Council could be worth almost US$500 billion (RM2 trillion) within decades.
Modanisa, a Turkish online Muslim clothing retailer, started small in 2011 and today is one of the biggest names in the market. It offers more than 30,000 products – from casual tunics to shiny evening wear to sports gear, shoes and accessories – from 300 brands and ships to 75 countries.
The firm calls itself the "first online fashion and shopping website for women who embrace a modest dressing style".
Modanisa's CEO Kerim Ture said that in years past there was so little choice that a religiously conservative young woman had no option but to wear the same clothes as her mother.
"If that was happening in a country (Turkey) where 99% of its population is Muslim, we wondered how the situation was around the world," he added. "That's how we've started our worldwide web business."
He was surprised by this summer's furore in strictly secular France over whether Muslim women had the right to wear the burkini swimsuit, which covers all but the hands, feet and face.
'We are the same as you'
French courts ultimately ruled that a burkini ban by some 30 towns was "clearly illegal" and a violation of fundamental rights.
For Ture, the burkini is not a symbol but a choice. "I barely understand how a country, one of whose main pillars is freedom, can oppose the Muslim swimsuit," he said.
His firm's catalogue offers a range of "fully closed swimsuits" starting at €40 (RM185) , and, ironically, its burkini sales jumped during the debate by 15% to 20% to France itself and 30% to the Netherlands.
In May, Istanbul hosted its first conservative fashion week at the historic Haydarpasa train station to showcase this rapidly growing market.
It was organised by Franka Soeria from Indonesia, another centre for Islamic clothing.
As a global consultant on modest fashion trends, she decided three-and-a-half years ago to move to Istanbul – whose position straddling Europe and Asia, some say, gives it an edge.
The point of offering stylish modest clothing was not to tell people to cover up but to show that "we are also the same as you ... we don't want to be excluded, we don't want to look different", she said, wearing an elegant black hijab.
"We are showing that, hey, I am modest, I like to cover. I also like fashion. This is just my style. Just accept," Soeria said.
Osman Ozdemir, a Turkish designer of modest fashion, is the in-house designer for Modanisa but is now also working for several other firms.
"I believe Istanbul will be trend-setting on Islamic fashion," he said. Even high-profile and luxury brands are getting into the act."
At the start of the year, legendary Italian fashion house Dolce & Gabbana launched their first line of hijabs and abayas – some extravagantly patterned – for Muslim customers in the Middle East.
Though Turkey is a constitutionally secular state, the Islamic-rooted ruling Justice and Development Party (AKP), co-founded by President Recep Tayyip Erdogan, has advocated removing restrictions on the Muslim headscarf since it came to power in 2002.
In 2013, Turkey lifted a long-standing ban on wearing the hijab in state institutions. Last month the government for the first time allowed policewomen to wear the headscarf under their official caps or berets.
In the conservative Fatih quarter of Istanbul, Islamic fashion stores line the streets, which are awash with billboards advertising modest styles.
'Versace of Islam'?
"I covered my head three years ago. I didn't want to dress up like my mother because in the past the clothes headscarf-wearing women could wear were limited," said 16-year-old shopper Seyma. "Now I can easily find whatever I look for."
Tourists from the Middle East are also coming to shop in Istanbul.
"I find many things: casual dresses, trousers, t-shirts and many pieces," said Dalia, a young woman from Saudi Arabia. "I come without anything and buy from here."
Not all Turkish Muslims like the trend, and see fashion as a Western tool aimed at turning Muslim women into consumer-oriented spenders.
"Islam seeks to form a modest Muslim identity, encouraging need-oriented consumption," said Hulya Sekerci, an activist with the Free Thought and Education Rights Association, Ozgur-Der.
"On the contrary, fashion is a vicious circle encouraging excessive consumption. That's why we are against fashion and fashion shows," she said.
Hakan Yildiz, professor of political science at Istanbul's Bosphorus University, said Islamic fashion stores were clearly proliferating in Turkey.
But "we need at least a generation to see how it will evolve", he said, adding that it would need "at least 20 years more to see if a Versace of Islam will emerge".
http://www.thesundaily.my/news/1988055
--
Bulgaria Bans Full-Face Islamic Veil
Posted 30 Sep 2016
SOFIA: Bulgaria's parliament approved on Friday (Sep 30) legislation outlawing face-covering Islamic veils in public, joining a small number of EU countries as debate rages across Europe about religious freedoms.
The law "bans wearing in public clothing that partially or completely covers the face", referring to the burqa or the more common niqab.
Infringements carry fines of 200 leva (103 euros, $114), rising to 1,500 leva for repeated offences.
Bulgaria's mostly centuries-old Muslim community, dating back to conversions during Ottoman times, makes up around 13 per cent of the population, mostly in the Turkish minority.
Muslim women in Bulgaria have generally worn just a simple scarf to cover their hair.
But recently there has been a small rise in the number of women wearing the niqab among ultra-conservative Muslim communities of the Roma minority.
The often impoverished and marginalised Roma make up just under 10 per cent of Bulgaria's population, around a third of whom are Muslim. Several Bulgarian towns had already banned the niqab at local level.
The legislation was approved despite opposition from the MDL Turkish minority party which accused the other parties of "sowing religious intolerance".
France and Belgium have both banned the burqa or niqab and Switzerland's lower house this week narrowly approved a draft bill on a nationwide ban. In August Germany's interior minister came out in favour of a partial ban.
France was also this summer embroiled in a row over bans on the burkini, a full-body Islamic swimsuit, in resorts around the Riviera. A poll published earlier this month showed Britons to be strongly in favour of a burqa ban.
http://www.channelnewsasia.com/news/world/bulgaria-bans-full-face-islamic-veil/3169994.html
--
Female Medical Student from Malaysia Joins IS in Syria: Counter-Terror Chief
Posted 30 Sep 2016
A female medical student who is the latest Malaysian to join Islamic State in Syria informed her mother in a letter that she went to the war-torn region to "wage jihad," the chief of Malaysia's counter-terrorist police branch told BenarNews.
The 25-year-old woman is among only three Malaysians who have traveled abroad this year to join IS's ranks in the Middle East, although one of them was deported from Turkey last week, Ayob Khan Mydin Pitchay said.
"I can confirm as of [September], only three have left for Syria. One has been detained and sent back here," Ayob told Benar.
The woman, a student at a medical laboratory college in Kuala Lumpur, left for Syria on Aug. 29, and sent her mother a letter saying she hoped that her jihadist efforts would help her parents reach heaven, according to the head of the police's counter-terrorist special branch.
"If the situation allows, I will contact you, be patient mother, there will be time where no more laws and regulations by the unbelievers. Islam will win and the Sharia law will be spread all over the world. Do not be sad mother, be patient, be patient for Allah," she wrote, according to an excerpt from the letter that was printed in a police report seen by BenarNews.
The student enclosed the title to her car as well as other personal documents, and told her mother not to tell anyone about her "migration" if she loved her, Ayob said.
The letter stated that she wanted to die a martyr and live under the "true Islamic ruler" in Syria. It surprised her mother because the daughter had never shown an inclination toward militancy, according to Ayob.
He said the woman's family learned that she had left her studies, after a lecturer called to say she had failed to attend her internship at a general hospital in the state of Negeri Sembilan, beginning on Aug. 25.
"Even then, they were not aware that she had left the country until the mother received a letter from her daughter in early September," Ayob said. "She is the first woman this year who left the country to join IS."
Investigators determined the woman was affected by the deaths of her father in 2006 and her boyfriend in 2013. She became a loner who often listened to religious songs and used her savings to buy a one-way ticket to Syria, Ayob said.
'Others brought their wives and little children along'
According to Ayob, 58 Malaysians are with IS in Syria or Iraq.
Since 2013, as many as 90 Malaysians have joined the extremist group, of which 24 are believed to have been killed in battle and eight were arrested and charged with terror-related offenses after returning home from the Middle East, Ayob said.
Those who are still with IS in that region consist of 32 men, 10 women and 16 are children.
"Some went there alone while others brought their wives and little children along," Ayob said.
Included among those who departed for Syria in 2016 is a 20-year-old engineering student from a university in the southern state of Johor. Turkish authorities sent him home on Sept. 22, after they caught him while he tried to cross into Syria to join IS, Ayob said. The student had left Malaysia on Sept. 7.
"We are detaining him under SOSMA [the Security Offences (Special Measures) Act of 2012]," Ayob said.
Another Malaysian, a 21-year-old business management and economics student from Pahang state, left his university in Perak for Syria on June 6, according to the counter-terror official.
Since 2013, the Malaysian government has pursued suspected IS members and sympathizers to stem the group's influence in Malaysia and prevent it from radicalizing and recruiting youths.
During that time, authorities have arrested at least 230 suspected IS members and have warned that Malaysians returning from combat stints in Syria or Iraq could launch terrorist attacks at home. At least 75 alleged IS members have been charged in court.
In late June, IS claimed its first terrorist attack in Malaysia when two motorcyclists threw a hand grenade that exploded outside a nightclub in Puchong, Selangor, injuring eight people.
http://www.benarnews.org/english/news/malaysian/IS-woman-09292016144647.html
--
Women's Most Significant Trait Is Motherhood: Turkish Minister
30 September 2016
Turkish Youth and Sports Minister Akif Çağatay Kılıç has said that women's most significant trait was motherhood, adding that women and men "are not equal in all areas."
"Maybe their creations are different but the most important feature that God gave to women is motherhood," Kılıç said during the representative opening ceremony of the Women and Democracy Association (KADEM) in the Black Sea province of Samsun.
"When we say this, they tell us that we confine women. They say that we bring 'boundaries to women, making them just mothers and confining them to their homes.' That adjective that you perceive only as motherhood is the greatest honor and degree that can be given to a person. That is an obligation that men can't feel," he said.
Saying that women and men were not equal in all areas, Kılıç noted they were equal before the law.
"We are not saying, 'women and men are equal in all issues.' However, we are saying that they are equal before the law regarding their rights. They have the same rights in terms of contributing to society. They have equal opportunities," he said.
During his speech, Kılıç also talked about the relationship between capitalism and women.
"Which rights are the ones who say, 'Women and men are equal in all areas,' and the ones who make capitalism live over a woman's body in the cruelest way talking about? Of course every person has the freedom to choose how they live and in which way they will live. No one has anything to say about that. However, the perception that was presented by brutal capitalism regarding women is not accurate for us," he added.
Kılıç also said that "women can never be creatures that can be used as a part of capitalism."
President Recep Tayyip Erdoğan had made similar comments previously, saying that a woman who abstained from maternity out of a desire to work was "deficient" and "in denial of her womanhood."
"A woman who abstains from maternity by saying 'I am working' means that she is actually denying her femininity. This is my sincere thought. A woman who refuses maternity and gives up housekeeping faces the threats of losing her freedom. She is lacking and is a half [a person] no matter how successful she is in the business world. In conclusion, I absolutely do not accept business life as an alternative to motherhood," Erdoğan said at KADEM's opening ceremony in Istanbul on June 5.
http://www.hurriyetdailynews.com/womens-most-significant-trait-is-motherhood-turkish-minister.aspx?pageID=238&nID=104431&NewsCatID=338
--
So I Interviewed A Muslim Woman And Published It In Playboy — So What?
SEPTEMBER 29TH, 2016
I freelance for Playboy. A few months ago, the deputy editor reached out and said that they're doing a renegade-themed issue for October and was wondering if I knew of any possible "renegades" who might work. I sent them a list of around nine or 10 people of different backgrounds, different careers, completely different people, and Noor happened to be one of them, and that's the one they asked me to write about. There really wasn't much discussion about it. But I chose her and then gave them options and the editors there picked her among the options I gave them.
So, how did you come across Noor? What was your reference point to her? I am interested in how you came across Noor Tagouri?
Actually my dad a few months before, probably last spring or at the beginning of the summer, he just sent me an email with a link to Listen Up clothing site. I think my dad is always coming across things online, sending me links to things and I guess he thought what she is doing is cool. She wouldn't have been on my radar otherwise. I guess by the definition of "renegade" or the way I took it at least, it's just people who are doing things a different way or approaching things a different way from the majority of other people out there.
I am not Muslim and I don't think I would even consider wearing hijab if I were. My style is about as immodest as style can be, so I'm like the other end of the spectrum. But I have an immense respect for people who aren't afraid to do things their own way. Especially when people are intelligent and ambitious. Especially someone so young who's already accomplishing something, so that's how she struck me. She is a contradiction of sorts. She wears makeup and false eyelashes but then is really dedicated to showcasing, I hate the use the word "modesty" again, but I think that's also hard for people to understand.
I think the point is that someone's opinion of her shouldn't be seasoned by the fact that she chooses to cover her head or get profiled by a magazine with a history of showcasing uncovered women. I feel like that's almost irrelevant. That's kind of the point. Anyone who's distracted by that, referring to a lot of the comments online, I think they're missing the very point she's making, is that it really shouldn't matter. She's a journalist and so what if she is a Hijabi, as long as she is doing a good job in telling stories, which is all she wants to do. Things that are groundbreaking and "trailblazing" often shouldn't be. I don't think it should be a big deal but because she'd be the first hijaby journalist to be doing the things she's doing, it is a big deal.
Were there any internal controversies within the editorial board about a veiled muslim woman appearing on its pages? They have never done anything like this before, like should we feature a fully clothed woman?
No, it was so fluid and easy. I wasn't in their offices at the time. I am based in New York and they're in LA, and I have written only one short piece for them previously. So it was kind of a follow up to that. Honestly working with Playboy has been the best experience of all the sites and publications I've ever written for. I find that the way it came up was casually, the renegades issue is going to be celebrating cultural and political disrupters that their readers should know about. They asked me if I had any ideas for some bad-ass contrarians who are changing the world for the better. So kind of people with an edge but were also doing good, that was the concept, in any area.
Were there any editorial guidelines that they sent on what to focus on with regards to her?
(I just ran with the idea.) It was really simple. We worked with her publicist. And the editing part was just a little bit of fact checking. For me, writing the introduction to the profile, I was doing my own research to start online about her, which isn't ideal when you're profiling someone, but that's how I went about it at first. Once we had all of her quotes and answers, it became a lot clearer.
I'd love to know about readers' reactions outside of the American Muslim community that you've come across?
I noticed it was on Huffington Post yesterday and I was reading the comments. Obviously people I know would support whatever I am writing, so it is more interesting to hear what strangers have to say. I think a lot of the people didn't really understand, they think of Playboy as a sexy magazine that objectifies women and, yeah maybe that's been an aspect of Playboy and its history, but it's also always had featured profiles of people like Muhammad Ali, and (Vladimir) Nabokov has written for Playboy. The magazine itself is a dichotomy. But a lot people say why would Playboy feature someone who covers herself, that's stupid. I feel like people are reactionary, or non-Muslims would say, oh the hijab is oppressive and it propagates this notion that women are owned by men. I feel like people are just lacking, not even just lacking an open mind, but passing judgement on something they know very little about. Other people are saying that Noor is entitled or out of touch, or either she is not Muslim enough or she is too Muslim. For so many people, I feel like you can't do anything right for them.
Sometimes when there are certain events that take place that are bold or trendsetting or the first time, you get conservative Muslims and Islamophobes that disagree. I'm curious if you got any reaction from Islamophobes like why are you featuring a Muslim woman?
Yeah, definitely, a lot of reactions like that. It was surprising to me. I guess that's one of the reasons I picked her and that Playboy did. Someone wrote, "She doesn't represent me as a hijaby and doesn't represent Islam. How far from Islam can you reach? Well done Noor, you played yourself."
Just because it's Playboy I think the reaction is why would you be featuring someone who covers themselves rather than the opposite. Because Playboy is supposed to be sexy, it's not sexy if you see a woman covered up. Which I disagree with, obviously. I notice a lot of reactions like that, like how does this fit into Playboy, this makes no sense. I didn't come across anything that was blatantly Islamophobic myself. My name is on the byline but I feel like the magazine gets most of the flak or credit. Maybe that's why I haven't absorbed too much of this. Something else I heard a lot is that a Muslim woman who covers herself is doing an injustice or helping to oppress other women, which I guess can be taken as Islamophobic.
When you went into this, did you anticipate such a backlash?
No, not at all. I don't know if that means I didn't give it enough deep thought, which I've kind of been questioning the last few days. But I honestly don't think so. No. It has kind of surprised me, but then again, once when I read the comments and heard things people have said then, it really shouldn't surprise me because nothing should.
Have you and Noor talked? Do you think she anticipated this degree of backlash?
I sent her a message on Instagram originally, and she responded a little, just letting her know that I was the person profiling her before the issue came out. But I really can't speak on her behalf. There is a quote from the actual interview, she says she just can't pay attention to what the haters say. It's just negative energy and it's a waste. She was really proud of it, I don't know if you saw her Instagram post when the issue came out. I am sure she anticipated something because she is not stupid. She's a lot smarter than I am about all this. I did not (reach out after it was published). Everything was cleared with her publicist. And it was complimentary.
Some people might say this was an effort to expand readership into more Muslim-majority countries, was this an effort to reach new readers?
I suppose it could be interpreted as that. It is an international magazine and Muslims make up a large portion of the world. I am speculating, maybe if I were in the offices of Playboy everyday I could speak more on that. I'm pretty sure the editors just thought this chick is really cool and she's doing something that is noteworthy. I don't want to oversimplify it. Maybe next time I can ask the editors because now you are making me more curious.
How do you see this given your interaction with the magazine? How does it play into Playboy's effort to rebrand itself? To reposition itself vis-a-vis some of other magazines that were selling better than it. One way was to stop publishing nudes. Pornography has gone online. Is this part of what it takes to run a magazine that appeals to a male audience, since it traditionally did do that? How are you appealing to a male audience with this article, or do you think Playboy publishing this was an attempt to broaden its reach?
I definitely think it's an attempt to broaden the scope. As Playboy rebrands itself, to assert itself and say we're not just about peddling flesh or showing young girls in more stereotypically comprising positions. That renegades come in all forms. It's not just about being attractive. If you look at the array of people they chose, it really runs the gamut. I think Playboy is trying to reassert itself as more than just a sexy magazine but also one of substance. I think that was what they were thinking of choosing the people they picked.
Do you think any of the other renegades sparked such high degree of controversy?
I don't know but I doubt it. I'm sure Noor's gotten most of it by far.
Why do you think Playboy featured something like this now? Why now as opposed to any other time?
I think Playboy is shifting its direction and their vision. I think they are trying to modernize a lot. I think a lot of people, the magazine is seen as dated, so in the last few months they have been really active in trying to be more current and contemporary and reach millennial audiences. It's just another sign of them trying to show they're not just with the times, but maybe even ahead of it, hopefully successful. I think the reason I was happy they picked her was because the Muslim rhetoric, it really bothers me, especially with the upcoming election, a lot of things that are being said from the Republican end of things, it is really terrifying. And I would just hate to think that things will get worse before getting better. They very well could. It is pretty timely.
Controversy
What do you understand of the controversy that was sparked and can you explain how you understand it in your own words? Where are the divides? How do you see it as an outsider to the American Muslim community and even the global Muslim community?
I try to think of it on broader terms. People in general tend to fear other people who can't be filed under certain established labels or who don't fall into categories. And I think that's what makes this person a renegade. I don't know, I wish I had spoken to other Muslims, I think the reaction has been that she is seen as a betrayal to the community to be featured in Playboy. I honestly don't really understand it. What it really comes down to from every perspective is a lack of willingness to accept people who might not do things according to the societal norms, whichever society you may be in. I can only really think of it in broader terms like that. My perspective is honestly a little removed and maybe that may mean I'm more out of touch, so I didn't have as much sensitivity to culture as say as if a Muslim writer had profiled her, it would definitely come from a different perspective. I feel like a lot of people see her as a role model and then other people are saying she's the opposite of a role model. Also what I've noticed is a lot of people saying she's just looking for attention, and that's something people will say about women no matter what culture or religion they are, and they don't really say that about men. So I think a lot of this has to do, not to make this about feminism, but I think largely in part, the controversy is more of a gender issue because the hijab is also for a lot of people, this is subjective but it's connected to subjugation of women.
I think that's one of the controversies. Some people say the way to normalize hijab in Islam is not through Playboy, but to go through other "halal" outlets. Some people say that by giving the interview, it's an implicit support for the consumerist exploitation of women, misogyny, long history of a brand that exploits women for their bodies. Some people who said that we may not necessarily support that, like Amani (Al-Khatahtbeh of muslimgirl.com) and Linda Sarsour were also reached out to. Do you know about that?
No.
Yeah, two other Muslim women said that they also got emails asking to be included, but they declined. But they did write about it: We may not personally support the decision but we need to not slut-shame her. Amani had stated that she thinks that we don't own Muslim women, so she's an independent person and she could do this. Are there any other controversies you're aware of? Another thing is that people talk about this idea of the religion is synonymous with being a minority race, that's not dependent on ideology. How do we integrate into this American life now, how do we set ourselves apart?
Putting the role model label, forcing it on them. I remember a few years ago, people like Miley Cyrus and Rihanna have received the same kind of criticism. It's like you're supposed to be a role model for young girls. So whatever category Noor is supposed to be some example for Muslims. Says who? Who is to say she's necessarily trying to be a role model. It's another label that's being put upon her by other people. She's just doing her thing, she's a journalist. That's the bottom line. My perspective is that as long as it doesn't hurt anyone, people should do whatever they want in any capacity, and wear whatever they want. So it's so hard for me to even relate to people who criticize someone for either being in a magazine or whatever it may be. I just think it's ludicrous. I understand the other perspective, but then again, I really don't understand them.
Now that you've seen the degree of criticism and the spectrum of feedback on the piece from Muslims who support her to Muslims who are really shaming her, and those outside of American Muslim groups too, would you have taken a different approach to the interview or asked her something different given the controversy that it sparked?
In retrospect, upon experiencing the feedback, particularly observing the backlash, I probably would have been a little warier about the reactions. Perhaps that's due to a degree of ignorance on my part. On the other hand, I'm kind of relieved I wasn't. I never want to make assumptions people will necessarily respond in a certain way because that can hinder your decisions. I think it's beneficial to approach something like this or someone like Noor with a fresh, unfettered perspective, keeping the focus of the profile on her and not how people around her may react. That's the kind of interview I feel she deserves. Besides, a little controversy is healthy.
There was an Atlantic article that says, the name of the piece was "American Muslim should reject the politics of normalcy," because they were trying so hard to have Muslim women appear normal. Do you have any reflections on that? Is that something that is achievable? Because this idea of Noor appearing in Playboy, it went layers deep, where is our role as American Muslims in this community. At what point are people independent enough that they are seen as independent as opposed to a member of the Muslim community. But even the Muslim community has a broad spectrum of practices and beliefs. It would be very useful to hear your reflections about what this controversy sparked and what it may indicate about American Muslims. Is this part of the normal process of Muslims growing into a very large and normal part of society that they can have this level of disagreement?
I think any discourse is healthy and I think anything that sparks a discussion is healthy. I'd rather see negative feedback and comments than no feedback and comments, at least that means that something is happening, some reaction. As far as integration of Muslims into normal society, exposure, no pun intended, is good. It's not like Noor posed as the centerfold, wearing her hijab and otherwise in lingerie. I mean we're talking about a profile in which she's talking about what she does, and it's certainly about her as a journalist and a human being, and just because it's Playboy doesn't mean that every person featured in there is a sexualized object. I think being a Muslim woman being featured in any of the industry and publication is good. I live in New York City and I integrate with all different types of people every time I leave my apartment, and I take that for granted. But I think for all the people in the rest of the country, yes maybe this is a lot different, they're not used to seeing women wearing a headscarf or covering of sorts. I'd love to see someone like Noor on the cover of Vogue, would she get the same criticism for that because it's a fashion magazine? Probably. But I don't see how that kind of exposure could be a negative thing. There was a fitness magazine that featured a hijabi marathoner this past month. And that was a kind of milestone. My point is that it shouldn't matter what the publication is as long as the profile and the intent and everything else related is positive.
Some people say that Playboy is creating yet another female caricature to fetishize. We have seen nurses, maids, waitresses, and now a hijabi women? Is this another one? We often see the face veil on nude women for example. Do you think this was designed to fit in to that fetishization so to speak or is this going in a different direction?
Definitely not. Not at all. This is a profile of someone who is a renegade, I don't think there is anything sexual or sexualized about this at all. I think anyone who thinks that is reading into it way too much, and kind of reaching for whatever reason.
Some people say that giving an interview is an implicit support for consumerist exploitation of women and misogyny, a long brand that exploits women for their bodies. What's your reaction to Noor's placement in the magazine that people are criticizing her for? This is the basis of the criticism that it's stemming from.
Playboy has always featured women who have posed on their own free will. I'm actually fascinated with the concept of objectification and what it means. I think it's also insulting to assume that the women who have been or are featured in a magazine like Playboy in a sexual way are doing it because they feel like they have to. I think there can be empowerment in doing what looks like mere objectification. There is liberation, and I think it's really up to the individual and it's not really for anyone else to judge.
Who is to say that this is necessarily exploitation. It's so convoluted for someone to assume that because someone is posing nude or taken of them being in a compromising position, that they're being exploited. I think exploitation can be subjective. It's not for me to look at a magazine or a picture and say this girl is being exploited because she's posing like this. I don't know her, and I feel like it's not for me to judge or for anyone else to call that exploitation. Obviously when it comes to underage people and sex trafficking, yes exploitation is real, but I don't think anything we're talking about related to Playboy really falls into that category. But a lot of other people disagree.
People are pointing to other Muslim figures or civil rights activists who have been in the magazine, would you draw that comparison? Does it make any sense to you? Such as drawing a comparison to Malcolm X being in the magazine and Noor Tagouri.
Absolutely, why not? That's the whole thing. This really isn't, to me, that outrageous. Playboy's history of substance that has countered the sex aspect. Absolutely draw a comparison. I'm not saying she's Malcolm X, necessarily. He probably received a great deal of criticism when he was featured in the magazine too. I think anyone who is controversial doing something positive is a force of good.
Amani was also invited to be featured at Playboy, and she turned it down. She wrote on that, "I considered the fact that even Martin Luther King, Jr. and Malcolm X gave interviews to Playboy. But, then, I concluded that it was a much different power dynamic for a male leader to reach the once-sweeping male readership of the popular magazine to address them with his cause, than an attractive woman to do the same within pages that regularly exploited women for their bodies and only presented women that satisfied a Western patriarchal male gaze."
Wow. To me that's just a step backward and I think that's really unfortunate that she feels that way, because how are we supposed to make any progress or change a magazine if only women who are being inserted in a sexual context are the ones doing it. Someone like Noor, by being in this magazine, is helping to change it. I think her intentions are good, but I feel like that's the opposite feeling that people should have. Change doesn't happen on its own. You can not support a magazine like this, but to say that it's OK because Martin Luther King Jr. was a man, so it's OK for him to be in this magazine, it's extremely sexist for a woman to say. I take a lot of issue with that, I feel like it's unfortunate to feel that way. But then again, that's her choice, that's the whole thing. They asked her and she said no. No one is forcing anyone to do anything here.
On the title and modesty
There are other communities that prefer to be modest, Mormons, conservative Christians, even Hindus who may be more conservative than the average American. The title of the piece was "The Case for Modesty," it wasn't the case for Islam. Why did you pick a Muslim versus someone else who is practicing modesty, like what Hannah Rosen at The Atlantic often writes about? It seems it's an equation of Islam to modesty, but Islam doesn't have a monopoly on modesty.
I'm speaking only for myself and not on behalf of the magazine. I didn't choose Noor because she's Muslims. That's part of who she is. I chose her because of a number of things she's doing. She's also an activist, she also really making an effort to make a difference, people react to her and she has a large following. Her religion, her beliefs just make up part of who she is. If someone else is part of the other communities you just mentioned, and I stumbled upon them and there was something that I thought was cool, interesting and noteworthy, then sure they could have been chosen too. I also think Muslims receive a lot more prejudice than say a Mormon or a hard-core Christian in this country. I was happy that she was chosen to be featured because I feel like this prejudice needs to be wiped away as much as possible as soon as possible.
The editors titled it ultimately, I think they took a quote from, part of it is a mishmash from the piece. And "wunderkind" they definitely added. That's usually how it works. You submit something with a tentative title and the publication.
Did the hijab represent something for the magazine that was critical to the identification as a renegade? How important was the scarf versus any other type of modesty?
To me, speaking for myself, it's a pretty dedicated form of modesty. It's something that, if you choose to wear, you wear it from maturity, at a time when you're in public or are in the company of certain men. It's a little more of a rigid form of modesty, as opposed to, I like to wear high collars and long sleeves. It's a step beyond that. It inspires a certain dedication.
http://theislamicmonthly.com/i-interviewed-a-muslim-woman-published-it-in-playboy/
--
URL: https://www.newageislam.com/islam,-women-and-feminism/new-age-islam-news-bureau/burkini-debate-distant-in-turkey-as-islamic-fashion-booms/d/108724
New Age Islam, Islam Online, Islamic Website, African Muslim News, Arab World News, South Asia News, Indian Muslim News, World Muslim News, Women in Islam, Islamic Feminism, Arab Women, Women In Arab, Islamophobia in America, Muslim Women in West, Islam Women and Feminism