New Age Islam News Bureau
30 Apr 2019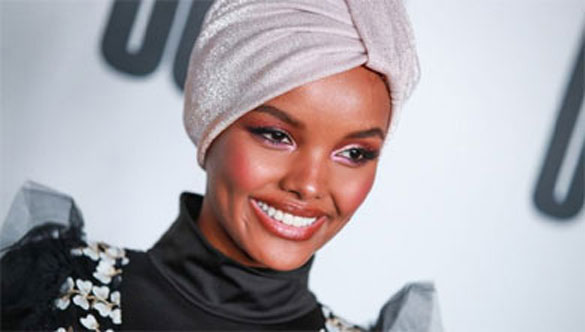 Somali-American model Halima Aden's rookie spread for Sports Illustrated will be set in Kenya, where she was born in a refugee camp and lived until the age of seven (AFP Photo/Rich Fury)
-----
• Intel Warns Of Attacks on Buddhist Temples by Female Bombers
• No More Living in 'Mobile Prison': Taslima Nasreen Hails Sri Lanka's Burqa Ban as 'Good Decision'
• Senate Passes Bill To Fix Marriage Age as 18 for Girls
• Saudi Female Film Producer Reaching For the Stars
• Afghan Women Push for Voice in Talks, Fearing Loss of Rights
Compiled by New Age Islam News Bureau
URL: https://www.newageislam.com/islam-women-feminism/burkini-clad-hijabi-muslim-model/d/118465
--------
Burkini-Clad Hijabi Muslim Model on Cover of Sports Illustrated
April 30, 2019
WASHINGTON: Sports Illustrated's annual swimsuit issue, best known for its racy covers of scantily clad bikini models, will feature for the first time a Muslim model wearing a hijab and burkini, the magazine said Monday.
Somali-American model Halima Aden's rookie spread will be set in Kenya, where she born in a refugee camp and lived until the age of seven.
"Growing up in the States, I never really felt represented because I never could flip through a magazine and see a girl who was wearing a hijab," Aden said in a video tweeted by the magazine.
Sports Illustrated also posted a picture of her posing lying down in shallow water, wearing a turquoise hijab, long yellow earrings and a deep blue burkini - the full length swimsuit favored by some Muslim women.
Halima, 21, made headlines at age 19 when she was the first woman to wear a hijab in the Miss Minnesota USA Pageant, where she made the semi-finals in 2016.
She has previously featured on the cover of British Vogue and walked on the New York Fashion Week runway.
https://gulfnews.com/world/burkini-clad-hijabi-muslim-model-on-cover-of-sports-illustrated-1.1556593387942
--------
Intel Warns Of Attacks on Buddhist Temples by Female Bombers
Apr 30, 2019
The Sri Lankan intelligence agency has received inputs of possible attacks on Buddhist temples by female bombers of the banned National Tawheed Jamaat (NTJ) after police found five sets of white attire commonly worn by Buddhists from a safe house in the east.
On March 29, Muslim women had spent 29,000 Sri Lankan rupees to purchase nine sets of such clothes from a textile shop. So far, five sets have been found and intelligence services are trying to find the remaining clothes. Sri Lankan authorities say that there was one women among the nine bombers who carried out the Sunday Easter bombings.
https://timesofindia.indiatimes.com/world/south-asia/intel-warns-of-attacks-on-buddhist-temples-by-female-bombers/articleshow/69105972.cms
--------
No More Living in 'Mobile Prison': Taslima Nasreen Hails Sri Lanka's Burqa Ban as 'Good Decision'
April 29, 2019
The Sri Lanka government has issued a decree banning buqas and other face-covering garments effective from Monday, in light of the Easter Sunday attacks.
The series of blasts that ripped through eight locations of the island country, killing 253 and injuring 500. The attacks were carried out by a local cell that pledged allegiance to the Islamic State. In response, the Sri Lanka governmnet has banned all manner of face covering, including burqa.
"Wearing garments that cover the face completely will be banned from tomorrow, to ensure public safety," the presidential decree reads.
The move comes just days after a parliamentarian submitted a Private Member's Motion to ban the burqa on security grounds. MP Ashu Marasinghe had said that the garment was "not a traditional Muslim attire".
In light of the ban, author Taslima Nasreen took to show her support of the decision.
taslima nasreen
✔
@taslimanasreen
Sri Lanka banned burqas for 'public protection' after bomb attacks. Good decision. It will help women feel like human beings. They deserve to have the right to not live in a mobile prison.
7,361
12:35 PM - Apr 29, 2019
Twitter Ads info and privacy
2,436 people are talking about this
People were however, divided in their opinion of this ban. Some were in favor, especially of her terming it a 'mobile prison.'
Dr. Bakul Javadekar.
@DrJavadekar
Replying to @taslimanasreen
Mobile prison! Perfect description.
52
2:11 PM - Apr 29, 2019 • Vododara, India
Twitter Ads info and privacy
See Dr. Bakul Javadekar.'s other Tweets
salil hasabnis
@salilhasabnis
Replying to @taslimanasreen
Time has come to scale this and replicate across the globe
32
1:31 PM - Apr 29, 2019 • Mumbai, India
Twitter Ads info and privacy
See salil hasabnis's other Tweets
Srinivasu
@sriniTW123
Replying to @taslimanasreen
Great and gurtsy decision .... Kudos to Sri Lankan leadership.#NoToCorruption
8
1:44 PM - Apr 29, 2019
Twitter Ads info and privacy
See Srinivasu's other Tweets
Prabhat
@prabhatj19
Replying to @taslimanasreen
Great I think Indian government also follow this
27
2:01 PM - Apr 29, 2019
Twitter Ads info and privacy
See Prabhat's other Tweets
Amardeep Chowdhury
@Amardeepbasu
Replying to @taslimanasreen
This is the best thing to do .. similar thing I would like in India as well
13
1:40 PM - Apr 29, 2019
Twitter Ads info and privacy
See Amardeep Chowdhury's other Tweets
Rajnish Sinha
@rajnish_t
Replying to @taslimanasreen
Mobile prison, nice term...
4
1:08 PM - Apr 29, 2019
Twitter Ads info and privacy
See Rajnish Sinha's other Tweets
Some disagreed.
Zafar Faruki💘
@AbuZaformohamm3
Replying to @taslimanasreen
Isn't it suppression on minority living here if they want to wear this? Isn't it obstacle to the rights of minority's following?
5
1:34 PM - Apr 29, 2019
Twitter Ads info and privacy
23 people are talking about this
Srinivas Kari
@Srinivas_Kari
Replying to @taslimanasreen
What about those women who want to wear it? The state shouldn't enforce either a ban or to wear it. Woman who don't want to wear it should have the freedom not to wear it, and those do want to wear it should have the freedom to wear it. No force either way.
1
12:49 PM - Apr 29, 2019
Twitter Ads info and privacy
See Srinivas Kari's other Tweets
Chowkidarni Sandhya
@PplOfIndia
Out of the 9 suicide bombers, only 1 was a woman. SL bans burqas & punishes ALL Muslim women, which is gender discrimination, & leaving men unaffected. When terrorist attack happened, NZ PM wore burqa but SL does just the opposite!
taslima nasreen
✔
@taslimanasreen
Sri Lanka banned burqas for 'public protection' after bomb attacks. Good decision. It will help women feel like human beings. They deserve to have the right to not live in a mobile prison.
225
12:58 PM - Apr 29, 2019
Twitter Ads info and privacy
132 people are talking about this
Nasreen is a Bangladeshi-Swedish writer who has been living in exile since 1994. A vocal proponent of women's rights and the women's empowerment movement in Bangladesh, the writer has often characterized Islam as a "misogynistic" religion. She has faced severe backlash from Islamic right-wingers in Bangladesh, and even attacked by Muslim hardliners in Hyderabad when she was exiled in India.
In an earlier interview, Nasreen had mentioned her stance on burqas in general, "If you're truly secular, encourage Muslim women not to wear burqa and introduce a universal civil code."
https://www.news18.com/news/buzz/no-more-living-in-mobile-prisons-tasleema-nasreen-hails-sri-lanka-burqa-ban-2121881.html
--------
Senate Passes Bill To Fix Marriage Age as 18 for Girls
Apr 30, 2019
ISLAMABAD: The Senate on Monday passed a bill to amend the Child Marriage Restraint Bill, 1929, to set the minimum age to be able to marry as 18 years.
Senator Sherry Rehman, who presented the bill, was met with heated remarks by senators belonging to Islamist parties.
Jamiat Ulema-e-Islam (JUI-F) Senator Ghafoor Haidri raised an objection saying that fixing the age as 18 years for nikah is inconsonant with shariah law, therefore, the bill should be sent to Council of Islamic Ideology (CII) for further discussion.
Similarly, Jamaat-e-Islami (JI) Senator Mushtaq Ahmad seconded Haideri's suggestion to send the bill to CII, saying that it is against article 2-A of the constitution and against sharia. He suggested reducing the age of puberty from 18 to 15 instead.
Senator Maulana Atta-ur-Rehman also opposed the bill on the grounds that the committee did not invite ulema for consultation.
Senator Maulana Faiz Muhammad said that the Senate is not a proper forum to discuss matters like this.
State Minister for Parliamentary Affairs Ali Muhammad Khan said that although the intent of the bill is noble, some issues require consultation as the country came into being in the name of Islam. "The Constitution binds us to make legislation in consonant with Islamic laws," he said.
However, Senator Raza Rabbani apprised the house that the bill was earlier sent to the CII; however, it remained there for years without any discussion on the matter.
He said that the Sindh Assembly has already passed the same bill and it was not challenged or opposed at any forum and added that the age of puberty of girls in all other Islamic countries is 18 years.
Federal Minister for Religious Affairs Noor-ul-Qadri said that a similar bill was sent to the CII in 2010 by former parliamentarians Marvi Memon and Atiya Anayatullah which was returned by the council with the observation that the age of puberty varies and cannot be fixed according to Fuqaha.
While urging the Senate chairman for voting on the bill, Sherry Rehman said that since the age of voting and eligibility for a national identity card (NIC) is 18, the age of puberty should also be fixed accordingly. "Muslim countries that have declared 18 years as the age of puberty include Bangladesh, Egypt, Turkey, Morroco, Oman, United Arab Emirates (UAE), and even the Saudi Arabia," she informed while adding that that the age of puberty in Algeria is 19.
"We are not promoting western values but trying to save innocent lives. As many as 21 per cent of marriages in our country are child marriages. One Pakistani woman dies every 20 minutes due to childbirth at a young age," she said.
Leader of the house, Senator Shibli Faraz, favoured the bill saying he was part of the committee that deliberated on the bill and the CII never took a clear stance on the issue when their opinion was sought.
Senator Sassui Palijo added the girls in Pakistan are exploited in the name of religion. She said that Prophet Muhammad (PBUH) was the first one who protected girls and gave them rights in the time when they were buried alive and since the country was created in the name of Islam we should follow his example of granting our girls the safety and life they deserve.
Senator Farooq H Naik said that Islamic jurisprudence allows a man to marry four women but it must be kept in mind that according to the Muslim Family Ordinance, 1961, a man must seek the consent of his first wife before entering a second marriage and if he does not do so then he will be punished but the marriage will not be invalidated.
Senator Mushahid Ullah said that such legislation would be very effective to ensure discipline in society and curb the exploitation of women.
Senator Taj Roohani said that even from a medical point of view, the age of puberty is 18 years; however, a few girls reach puberty earlier because of good nutrition and genes.
Winding up the debate on the bill, the Senate chairman sought voting and passed the bill with the opposition of five votes.
The Child Marriage Restraint (Amendment) Bill, 2018, which aims to "curb the menace of child marriage prevalent in the country and save women from exploitation", underage marriage can lead to imprisonment of up to three years, a fine of at least Rs100,000 or both.
https://www.pakistantoday.com.pk/2019/04/29/senate-passes-bill-to-fix-marriage-age-as-18-for-girls/
--------
Saudi Female Film Producer Reaching For the Stars
April 29, 2019
JEDDAH: Saudi film producer Jumanah Shaheen is reaching for the stars.
Born and raised in Jeddah, the young visual and animation expert has found herself rubbing shoulders with some of the biggest names in the entertainment world, including the likes of Taylor Swift and Maroon 5.
And despite a relatively short career in the movie industry, ambitious Shaheen has already set her sights on running her own content creation house on the lines of Disney and Pixar.
Shaheen grew up moving between the US and Saudi Arabia, giving her a good understanding of different cultures from an early age.
After completing high school in Jeddah, she moved to the US in 2010 and obtained a bachelor's degree in animation and visual effects from the Academy of Art University, in San Francisco. After graduating in 2015, she moved to Los Angeles, where she currently resides, to advance her professional career.
Shifting between countries and cultures meant Shaheen often struggled to fit in, but she noticed that the one common interest she had with many people was her passion for movies, animations and various characters. "This was always my way of formulating relationships with those around me," she said.
Watching movies was also how she entertained herself. "From an early age I loved writing, drawing and re-enacting different movie scenes. I would also imagine myself as one of the characters in my favorite movies."
Shaheen was always fascinated by the messages behind films. Through watching television, she learned not to judge others for their actions but rather to search for the reasons behind those actions. She said: "Rather than debating about which movies were better and picking favorites, I felt that every movie served its own purpose."
She chose her field of study to act as a vehicle for sending out positive messages.
"If I were to do something good in this world and have a positive influence, it would most likely be by sending a message of having a little empathy when dealing with others and try to understand where they might be coming from before judging them. I feel that movies and animation, with the right message, can have a much bigger impact than other mediums," added Shaheen.
As a visual effects (VFX) producer, Shaheen meets with clients to establish what effects are needed, assess footage, determine how many artists are required for a project, and communicate thoughts back to the client. "I also have to orchestrate what is being done, to make sure that the work is done efficiently while sticking to the time frame and budget."
Hiring the correct talent is also key. "Each illustrator, for example, has their own style, so I have to make sure that the style fits the project that I am working on."
In addition, Shaheen maintains constant communication between the production team and client. Developing a strong relationship with the client and artists was vital to achieving a project's desired outcome, she said.
"I prefer to have a relationship with the artists where we can talk about the project and include them in every step, because at the end of the day if the client decides to change the concept, which the artist spent time and effort working on, they might not feel as frustrated."
Shaheen said that having a strong technical background and being creative, were key attributes to success in her field. It was also important to keep up to date with industry advances. Shaheen does this by taking courses, volunteering for various projects and checking out different forums online. She also attends seminars and art exhibitions in order to "stay inspired."
Depending on a project's budget, level of quality, resolution and extent of visual effects, the production team can be as small as three people or as large as 400.
Shaheen described the technical process as Photoshop for video. But unlike with still images, the movement of objects have to be tracked to make the video look seamless. This means many calculations, math and physics.
"It's not as simple as copying and pasting because it has to look realistic," said Shaheen. "Even for something as simple as a walk, you have to realize that there is more than one joint moving, so it does take time to create it and make it look real."
Shaheen has a long list of contributions to well-known and award-winning productions including feature films such as the Oscar-nominated Arabic movie "Theeb," drama "Fruitvale Station," "Captain America: Civil War," and "Advantageous."
She also worked on popular TV series such as "Modern Family," "Fresh Off the Boat," "Black-ish," and "Arrested Development."
Her music videos have included work for internationally famous artists such as Taylor Swift's "Look What You Made Me Do," and Maroon 5's "Three Little Birds."
Swift's video was one of Shaheen's more challenging projects. "It was my chance to prove myself because I had just been promoted from coordinator to producer. At the same time, it was a big project with a team of only 30 people working on it."
She said she had to take on the roles of producer, coordinator, personal assistant, and runner, and worked long hours, six days a week for the duration of the project. "The stress of this project also meant that I got to build a much stronger relationship with the artists that I was working with, who were very supportive."
During her recent visit to Saudi, Shaheen was pleased to see the positive changes taking place in the Kingdom's film industry. She believes Saudi Arabia has a lot of talent and stories to share.
She noted that Saudi films such as "Wadjda" were proof of the talent in the country, in addition to other short films and songs by local artists she found to be very creative.
"I think that these short films can someday turn into feature films and these songs can become soundtracks to these films. it's just a matter of giving them the opportunity and space to creatively convey their ideas and to express themselves."
Shaheen feels there is still room for improvement and space to grow for the industry.
"For example, there are still no clear guidelines as to what we can and cannot do. We definitely do have the resources to compete with the movie industries abroad, but it's just a matter of being daring enough to take the step," she added.
Looking ahead, Shaheen would like to set up her own production house but not the kind that would provide services and take on commercial projects. "I would like to have my own content creation house working with in-house scriptwriters and concept artists, kind of how Disney and Pixar started."
For anyone thinking of entering the industry, Shaheen said it was important to take every small opportunity and turn it into something big.
"My first job was to hold a door open on set for eight hours. It was tedious but I got to see the different people walking in and out such as producers, and directors. Eventually, when one of the assistant directors called in sick, I was able to move from a personal assistant to assistant director."
http://www.arabnews.com/node/1489996/saudi-arabia
--------
Afghan Women Push for Voice in Talks, Fearing Loss of Rights
April 29, 2019
Afghanistan's women are demanding a seat at the table in negotiations over the country's future, determined to prevent the gains they have made since the 2001 fall of the Taliban from being bargained away. But already, they are meeting resistance to having a strong voice in the talks.
Women's rights activists are not just concerned about the Taliban, who were notorious for their repression of women during their rule. They are just as worried that religious conservatives, warlords and strongmen who dominate Afghanistan's U.S.-backed leadership — and whose attitudes toward women often differ little from the Taliban — will trade away their rights to reach a deal.
Pressure is on for a peace accord as the United States seeks to end its long military presence in Afghanistan.
For women, the stakes are high. The advances they have made are important — for example, women are now members of parliament, and their rights are enshrined in the constitution, including the right to education.
But the gains are fragile and limited, and nearly 18 years after the U.S.-led coalition ousted the Taliban, Afghan women still live under a crushing weight of discrimination. What laws that do exist are little enforced, activists say, giving male relatives and tribal councils almost complete say over women's and girls' lives. That leaves them vulnerable to violence, early marriage and exclusion from work and education. The 2018 Women, Peace and Security Index rated Afghanistan as the second worst place in the world to be a woman, after Syria.
Strong participation in talks is not a gift, it is our right," said Suraya Pakzad, an activist. "We, the women of Afghanistan, are suffering, fighting to bring peace in Afghanistan, to change Afghanistan."
"We will not allow anyone to push us, to force us to go back," she said. "We know how to raise our voices."
Activists are pressing for at least a third of participants in any negotiations to be women.
But so far, the door has been largely closed to them. President Ashraf Ghani appointed only five women to a 37-member council created to shepherd negotiations. Dozens of women were also taken off the list of planned participants at the first round of all-Afghan talks between the government and Taliban, meant to have been held last week in Qatar. The gathering was cancelled at the last minute because of a separate dispute.
Pakzad was part of a team of women delegates who were told even before the cancellation that they would not be let into the talks. "Women had travelled from far away rural areas, through many Taliban checkpoints in their burqas and passed very dangerous areas to attend," she said.
Activists say the advances for women are erratically enforced and hardly felt in rural areas where most Afghans live.
Only 16 percent of the workforce is women, one of the lowest rates in the world, and half of Afghanistan's women have had four years or less of education, according to data compiled by the Georgetown Institute for Women, Peace and Security and the Peace Research Institute of Oslo. Only around half of school-aged girls go to school, and only 19 percent of girls under 15 are literate, according to The U.N. children's agency.
Most girls are married before 19 to men selected by their parents _ and in some villages, girls as young as 7 or 8 are regularly married off. Women who leave an abusive husband or marry a man of their choice risk being imprisoned for "morality crimes."
Pakzad operates women's shelters in western Afghanistan. At one of the shelters, in the western city of Herat, dozens of women and girls struggle with their nightmares.
Alissa, a 16-year-old, has lived in the shelter for five years after escaping her husband. Her family married her to him when she was 6. "I didn't even know what a wedding was," she said, speaking in a near whisper, her head lowered. "All night I was so scared, and the next day I cried and cried."
She wanted to leave, but one of her brothers threatened to kill her if she came home. Finally, after four years with her husband, another brother brought her home. Her mother-in-law demanded her back — or her younger sister, then 7, as compensation. Both girls escaped to the shelter.
She and other girls at the shelter spoke on condition they be identified only by first name, fearing reprisals by family.
Another teen, Khadeja, said her father took her out of school after the fifth grade despite her pleas to stay in classes. He then forced her to marry at 16. From the beginning, her husband beat her, often tying her to a tree as he did it, or cut her with knives, she said. When she fled, her father sent her back, telling her "I only want you back home wrapped in the white shroud of the dead."'
Her husband threw boiling water on her face and body, and for four hours she had to plead to her in-laws to take her to a hospital, in agony as her skin peeled away. She finally got treatment. Her husband was briefly detained but released without charge. Once back home, he threatened to cut off her nose. She fled to her father's house, but he and her step-mother told her to go back.
Instead, she found her way to the shelter. There, she takes classes and said she hopes to be a teacher one day.
But she remains in constant pain. "All the time I pray to my God to help me die," she said, sobbing.
Associated Press reporter Amir Shah in Kabul, Afghanistan contributed to this report.
https://www.newdelhitimes.com/afghan-women-push-for-voice-in-talks-fearing-loss-of-rights/
--------
URL: https://www.newageislam.com/islam-women-feminism/burkini-clad-hijabi-muslim-model/d/118465
New Age Islam, Islam Online, Islamic Website, African Muslim News, Arab World News, South Asia News, Indian Muslim News, World Muslim News, Women in Islam, Islamic Feminism, Arab Women, Women In Arab, Islamophobia in America, Muslim Women in West, Islam Women and Feminism