New Age Islam News Bureau
28 Apr 2016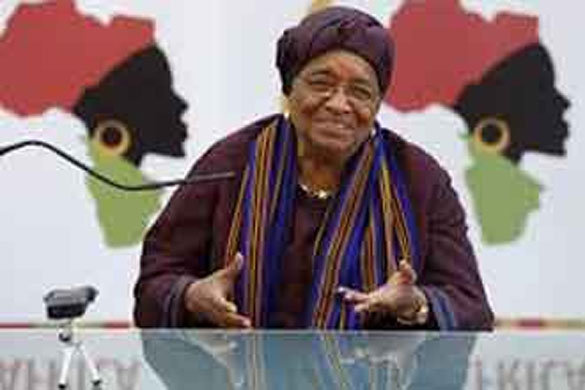 Photo: Ellen Johnson-Sirleaf, the president of Liberia, has been a vocal opponent of FGM. Photograph: Javier Lizon/EPA
-----------
• Liberia Needs To Muster the Courage to Ban FGM
• Female Suicide Bomber Attacks near Turkeys' Grand Mosque
• Muslim-American Women Model Identity, Self-Expression
• How Britain Fell For the First Muslim Woman to Win a TV Show
• N.J. Fencer Ibtihaj Muhammad Embraces A Bigger Olympic Platform As A Muslim Woman
• Naz Shah Suspended From Labour Party over Social Media Posts
• Amal Clooney Eloquently Undermines Donald Trump's Controversial Muslim Ban Speech
• Woman Who Fled to Syria to Join Isis Says It's nothing Like They Promised
Compiled by New Age Islam News Burea
URL: https://newageislam.com/islam-women-feminism/bulgaria-muslim-women-banned-wearing/d/107134
------
Bulgaria: Muslim women banned from wearing full-face veils in Pazardzhik
Apr 27, 2016
The town council of a southern Bulgarian town, Pazardzhik has banned women from wearing full face veils. The council said that move is aimed at preventing tensions from flaring up in
the communities and boosting security.
The ban, which is the first of its kind in the Balkan country, was backed by 39 out of 40 councillors. It will come into force in all administrative institutions, schools, shops and on the
streets.
"I am tired to hear that Pazardzhik is the town of the burqas. We want to say aloud that we are not that, but a town of responsible people and we will be associated with other
achievements," Mayor Todor Popov told state radio.
The council added that a veil hampered identification, hence, a fine of 300 leva (£118) would be levied on those who wear full-face veils and it could go up to 1,000 leva for repeat
offenders, said the council's chairman Harry Haralampiev. "Six or seven years ago no one wore this kind of clothing. We can't isolate ourselves from the dangers that highly organized
states are already facing. It excludes the city's Roma quarter allowing people to cover their faces during religious rituals." He added, according to Bloomberg.
The Roma Muslim minority in Pazardzhik follows a fundamental form of Islam known as Wahabbism, which originated in Saudi Arabia. Muslim women in Bulgaria normally wear a
headscarf, but recently a rise in the number of women wearing the niqab or full-face veils was witnessed.
In February, 13 men – mostly from the Roma community – went on trial on charges of helping people join the Islamic State (Isis) in Syria, propagating an extremist ideology and inciting
war.
In early April, the Nationalist Patriotic Front coalition, put forward a proposal to ban face veils across the country, saying that this was not typical for Bulgarian Muslims, Reuters reported.
In recent years, France and Belgium have banned women from wearing the niqab in public places.
ibtimes.co.uk/bulgaria-muslim-women-banned-wearing-full-face-veils-pazardzhik-1557147
--
Liberia needs to muster the courage to ban FGM
Apr 27,16
When Nobel peace prize laureate Ellen Johnson-Sirleaf was elected Africa's first female head of state in 2005, expectations were high. Throughout both her terms as president, she has
talked about her firm commitment to women's rights, coming out strongly in favour of the health and safety of women and girls.
Last year, at an international event on gender equality, President Johnson-Sirleaf said: "Too many of our countries have yet to muster the courage to ban the irreparable harm inflicted
by genital mutilation on young girls in traditional societies." It was a controversial statement, as Liberia is one of the states yet to do so – half of Liberian women and girls (pdf) are
estimated to have undergone this extreme form of violence.
Following bans last year in Nigeria and The Gambia, Liberia is now one of only three countries in west Africa yet to ban FGM – the others are Mali and Sierra Leone.
In Sierra Leone and Liberia, the Sande female secret society promotes and carries out FGM as part of a rite initiating girls into womanhood. FGM is a taboo subject (pdf) and it is
forbidden to talk about secret societies and their practices with non-initiated people.
Punishment for such violations include physical abuse, forceful initiation and death threats – something Ruth Berry Peal, a woman in northern Liberia who was forced to undergo FGM, and
other women have faced for years after standing up against it.
Liberia's media has been silenced on the issue too – and the lives of journalists who speak out are put at risk. Mae Azango was forced into hiding in 2012 for writing about the issue in
Front Page Africa.
Things appeared to be changing last year when, in response to many years of international and national pressure, a domestic violence bill was finally introduced to strengthen legislation on violence against women and girls – including, for the first time, a ban on FGM.
The proposed measures on the latter were, though, extremely weak. The bill regarded FGM as an offence only when performed on a girl under the age of 18 – or a person 18 or older without their consent. This would provide a loophole for parents or guardians to grant consent on behalf of their daughters, leaving those most at risk unprotected. The bill also included ineffective penalties for perpetrators, where counselling and fines could be arbitrarily determined by a judge.
Equality Now and its local partner, the Women of Liberia Peace Network, with funding from Comic Relief, have been working to ensure that a total ban on FGM is included in the bill instead – as required by the Maputo protocol, the African women's rights legal framework, which Liberia has ratified.
This week, things seem to have taken a turn for the worse as legislators decided to delete the FGM provision entirely. A debate will now be held on Thursday on the bill in its current state. As this provision was the most controversial measure, the domestic violence bill could pass without any mention of FGM.
At a time when the Africa-led momentum to end FGM is growing, it is vital that we do not lose the opportunity to protect more girls and women from this huge violation of their rights. Unlike neighbouring countries such as Guinea and Sierra Leone, Liberia has already managed to significantly reduce (pdf) FGM prevalence from 85% for middle-aged women to 44% for girls aged 15 to 19. However, unless tough legislation is enacted and properly implemented, it may be difficult to accelerate this change and the lives and wellbeing of millions more girls will be put at risk.
Johnson-Sirleaf is well positioned to "muster the courage" to do what is necessary to ensure that Liberia bans FGM – either as part of the current domestic violence bill, or as a standalone bill, as a matter of urgency.
There has been too much discussion and not enough action. Liberia cannot afford to keep making statements to make it seem like it is doing something, without following through and putting real measures in place, which promote and protect the rights of its girls.
theguardian.com/global-development/2016/apr/27/liberia-courage-to-ban-fgm-ellen-johnson-sirleaf
---
Female Suicide Bomber Attacks near Turkeys' Grand Mosque
Apr 28, 2016
A female suicide bomber has blown herself up outside a historical mosque in Turkey, injuring at least 13 people.
Footage showed people fleeing an explosion near the Grand Mosque of Bursa on Wednesday afternoon.
Police cordoned off the blast site by an entrance to the mosque, with extensive damage to nearby shops and cafes visible
Initially seven people were believed to have been injured in the blast, however the Turkish Health Minister says this figure has risen to 13.
A spokesperson for the Governor of Bursa's office said a female suicide bomber died in the attack outside the mosque's western gate.
"According to the latest information, seven injured citizens have been taken to nearest health institutions have been received," a statement said.
"Our law enforcement agencies continue their investigations into the incident."
There was no immediate claim of responsibility for the bombing, which comes after a spate of attacks by Isis and Kurdish rebels in Turkey.
The Grand Mosque, or Ulu Cami, is considered a landmark of early Ottomoan architecture and sits in the centre of Bursa's old city, surrounded by shops and cafes.
American officials had issued a warning over "credible indications" of terrorist threats at tourist attractions in Turkey on Tuesday.
In a warning posted on its website, the US Embassy said Washington continued to receive reports that terrorist groups "are seeking opportunities to attack popular tourist destinations throughout Turkey".
It urged American citizens to be vigilant in "crowded public areas and popular tourist destinations".
The British Government's travel advice warns of the possibility of "indiscriminate" attacks by Kurdish separatists and Isis, as well as a heightened threat against UK interests globally.
independent.co.uk/news/world/europe/turkey-bombing-in-bursa-female-suicide-attacker-targets-grand-mosque-a7003901.html
--
Muslim-American women model identity, self-expression
Apr 28,2016
Boston University's Institute for the Study of Muslim Societies and Civilizations and the Islamic Society of BU recently worked together to stage a panel discussion and runway show related to issues in modern Muslim-American fashion. The event, which took place Monday in Metcalf Hall, centered on themes of identity, self-expression, modesty and public perceptions of Muslim-American women.
A panel discussion kicked things off for about 100 attendees and featured four accomplished Muslim-American women: Layla Shaikley, an entrepreneur, former NASA intern and co-producer of the "Somewhere In America #MIPSTERZ" video on YouTube; Malika Bilal, an international journalist; and Amirah Aulaqi, a designer, entrepreneur and founder of the Amirah Couture fashion label. Noora Lori, a professor in the Frederick S. Pardee School of Global Studies, moderated the discussion.
"To talk about fashion and hijab in this really lighthearted way is really exciting," Lori told The Daily Free Press. "This is really about being Muslim American and wearing the hijab, and
what that means for public perception and the way you carry yourself, but also what fashion means to you as a woman and your expression and sense of self."
Mikaela Ringquist, assistant director of the Institute, said the motivation behind focusing the event on fashion was to change the common Western narrative surrounding what Muslim women wear.
"I do think that often in this kind of narrative of 'Islam versus the West,' the way Muslim women dress is kind of used as the typical case to say, 'Look at how they make their women
dress,'" Ringquist said. "I think we just wanted to give them the opportunity to speak for themselves, instead of having these talking heads on CNN and Fox News try to speak for them."
Ringquist's sentiment was shared by the panelists, who pointed out the narrow, monolithic narrative frequently ascribed to Muslim women in the United States.
"The popular narrative only represents us one way," Shaikley told the audience. "Muslim women in hijab are the most visible symbol of the Muslim faith at a time when it is incredibly
misunderstood and misrepresented. There should multiple images of who a Muslim woman can be, not just one."
Shaikley recalled the mixed reaction she received after the "Muslim Hipsters" video went viral. The women portrayed in the video were often accused of being "not American enough"
by American critics and were simultaneously told they weren't "real Muslims" by Muslim critics, she said.
The video was never meant to represent all Muslim women, Shaikley said. She explained that it was only meant to represent her personal experience, and the response the video
received reveals the extent to which individual Muslim women are expected to represent the community at large.
The panelists also shared poignant stories about their relationships with their family, religion and fashion, and they reflected on their motivations for wearing a hijab.
"It wasn't because I understood what it meant," Aulaqi said of her decision to start wearing a hijab at eight years old. "My desire to wear it came from love, and came from beauty and a
desire to emulate my mother. Before it became part of my religious identity, it was part of my American identity."
The women were quick to point out that every Muslim woman's relationship with her religion is extremely personal, as is her choice to wear or not wear hijab. This highlighted the
diversity among Muslim women and how they choose to represent themselves.
"From a young age, I saw [the hijab] as beauty," Bilal said, recalling that as a child, she had often admired her mother and sisters' scarves. "It was something to attain."
A brief Q&A session followed the discussion, during which audience members asked the panelists questions before the event finished with a runway show featuring Aulaqi's designs.
Taiba Zahir, a junior in the Sargent College of Health and Rehabilitation Sciences, is just finishing her run as president of the Islamic Society of BU. Zahir emphasized the importance of fashion — so often considered a frivolous interest — in self-expression, both in her own life and for Muslim-American women in general.
"I feel like when people think of Muslim women, being fashion-forward or trendy seems to contradict that," Zahir told The Daily Free Press. "Being Muslim-Americans — being American
but still being close to your religion — those identities are not mutually exclusive. Fashion is a fun topic, but it brings up a lot of other things that you can talk about, especially for
Muslim-American women."
Zahir was one of six models to walk the runway Monday night in an Amirah Couture piece. Aulaqi's designs featured more modest silhouettes than that of popular Western trends. They
sported sparkling embellishments, vivid colors and patterns and breezy, flowing fabrics. Models on the runway were greeted with cheers and applause from the audience.
"I think it was extremely successful," Zahir said after the event. "We got a diverse crowd, a very diverse crowd, and I'm so happy about that. I think it went exactly how we hoped."
dailyfreepress.com/2016/04/28/muslim-american-women-fashion/
--
How Britain fell for the first Muslim woman to win a TV show
Apr 27, 2016
Eight months ago Nadiya Hussain was living in Leeds, a housewife and mum of three who had lost all her self confidence after putting her career on the back burner to raise her family.
Fast forward to today and Nadiya is a household name, Loose Women regular with her first cookbook out next month, a three novel book deal and now her own TV show.
The show for the BBC will see Nadiya travel to Bangladesh to trace her culinary roots in the two episode programme with the working title "The Chronicles of Nadiya".
Last year's Bake Off winner will cook her favourite dishes as well as learning new recipes along the way and trying them from scratch.
It is yet another thing that the self taught cook has to pinch herself about - following hot on the heels of baking the Queen's birthday cake.
"Even after I won Bake Off I never really thought that much would change," she says. "I didn't enter it for the fame I entered it to get my self confidence back and to do something for me. I just feel so lucky to be doing something I love. I just want it to continue as long as possible but if it stops tomorrow then I will have had an amazing time."
It doesn't look like she has a great deal to worry about.
The nation took Nadiya, the first Muslim woman to win a television show, to their hearts when she appeared in the Bake Off tent and her win led to a media frenzy with demands for her
appearance and cookery book deals coming thick and fast.
She and husband Abdul quickly sold the family home in Leeds and moved back to be close to Nadiya's family in Luton.
"It is so much easier being closer to London and my family. It means that I can get home in time to see the kids whereas when I lived in Leeds I would have to stay over night. The kids
have adapted really well to the move although the boys especially are incredibly proud of their Yorkshire roots."
She is very excited about her forthcoming BBC programme and cookery book Nadiya's Kitchen (due out June 16) which will be followed in September by a children's cookery book, Bake Me a Story.
"I am super excited about the cookery book. I spent two months burrowing away in my kitchen, cooking and testing. 100 recipes. It was really hard work. Some nights I would end up
sleeping in my apron because I was so exhausted, but I loved all the processes, not just the cooking , they styling and the photography all fascinated me."
The book focus of different parts of Nadiya's day and is full of family recipes, not just baking.
"It starts with cooking a Sunday morning breakfast to a date night dinner for me and my husband. It's pretty much my life.
"I always wanted to write something for children. I have been trying to think of a concept for quite a long time as I already had most of the recipes. All my children love to read and my
little girl loves fairy tales and so it gave me the idea for a book not for the bedroom but one for the kitchen."
Nadiya has rewritten fairy tales and then added some of her favourite recipes in so that it encouraged children into the kitchen but also to read,.
"It is an interactive book," she explains. "My daughter likes to cook and then have the story while my sons like to dip in and out."
But it is the three book deal with Harlequin to write women's contemporary fiction that might come as a surprise to many.
"I love writing, nearly as much as I love baking, I have always written short stories and poetry. After I won Bake Off I was approached by the publisher and asked if I'd write three novels over the next three years, I jumped at the chance. It is a dream come true for me as I have always loved to write. I never, ever thought I'd get this kind of work. I have started the first
one, but I've really just done a rough outline and written the first chapter."
Although Nadiya is tight-lipped about the plot of her first book and it might not be a 50 Shades of Grey, she says its content may surprise some, especially the Muslim community.
"I keep writing things and think 'Can write that? Is that too much? But then I remind myself this isn't a book for kids or a cookery book and so I put it back in again."
Pushing boundaries and stereotypes seems to be a knack of Nadiya's, although being in the spotlight does have its downside.
She was overjoyed to be asked to make a birthday cake for Her Majesty the Queen's 90th birthday last week. But not everyone liked the gold and purple tiered orange drizzle cake she
created and were not afraid to say so.
"I couldn't believe it when I was asked to make a cake for the Queen. I worried about what I was going to do and tried so many different things. It took ages for me to decide what I was
doing. I was battling with myself. But I think regardless of what I did there were always going to be people who thought I'd got it wrong.
"It was an amazing day to meet her, she is so beautiful. She was worried about cutting the cake, but it cut fine. She then took the top tier of the cake home and I really hope she
enjoyed it with a cup of tea. She tried to introduce me to Prince Philip who said: "'I know who she is, but what type of cake is it?' It was really surreal.
"But not everyone liked what I had done and there were some nasty comments on Twitter. Of course no one likes reading things like that and you do think 'what gives you the right to
say that about me?'.
" But then when I gave the kids some of the cake they were so excited and proud that they might be eating the same cake their mum had made for the Queen it made all that disappear.
"When I read those comments I just think 'so long as my kids don't turn out like you then I don't care what you say.' If I really cared what people said then I would never go out and I
would be the Nadiya from before the Bake Off, but that Nadiya is well and truly gone."
The next series of the Bake Off is being filmed and Nadiya has mixed emotions about handing over her crown.
"I don't think you hand over the crown," she says. "I like to think that you keep yours and that the next winner has a new one. I am excited about the next series of Bake Off, I have
watched them all, other than the one I was in as I can't bear to see myself on television.
"I just hope for whoever wins it changes their lives as it has changed mine. I am just a bit jealous as I really wish I was entering the tent again.
"We are all too aware of the bubble bursting. If I am doing the same things this time next year then I will be so happy, I am doing so many different things and I am so lucky to be doing
the job of my dreams. But when it is meant to be over it will be over."
• Nadiya Hussain will be returning to her former stomping ground next month when she hosts a baking demonstration at the Merrion Centre in Leeds. Nadiya will be visiting the city
where she lived for more than decade with her husband and children a few months after her first appearance in Leeds as the Great British Bake Off winner. Nadiya held her first
demonstration at the shopping centre last December as part of the festive celebrations and will be returning to play a role in the city's Indie Food Festival. The demonstration will take
place at Merrion Shopping Centre on Thursday May 26 from 12pm. The event will be free to attend and Nadiya will be sharing some of her top tips and tricks and demonstrating a few of
her favourite recipes.
yorkshireeveningpost.co.uk/news/chronicles-of-nadiya-how-britain-fell-for-the-first-muslim-woman-to-win-a-tv-show-1-7879879
---
N.J. fencer Ibtihaj Muhammad embraces a bigger Olympic platform as a Muslim woman | Politi
Apr 28, 2016
Ibtihaj Muhammad was told that she'd be giving Michelle Obama a fencing lesson with a giant foam sword when she arrived in Times Square on Wednesday afternoon, the kind of news that might have flustered an athlete unaccustomed to a spotlight so bright.
But Muhammad had not only met Michelle Obama's other half on more than one occasion, but even had the President introduce her during a speech before telling the cheering audience, "I told her to bring home the gold! Not to put any pressure on you."
So yeah, moments like this are fast becoming the new reality for Muhammad, a Maplewood native not unlike the dozens of other American athletes who gathered here for the U.S. Olympic Committee's 100 Days to Rio kickoff event, except for one thing.
She was wearing a hijab.
In 100 days, the country will become engrossed in the travails of Michael Phelps and the latest smiling gymnast as the Olympics essentially become a three-week-long NBC miniseries. Fencing, never viewed as primetime material, likely will find itself buried on the TV schedule.
But you could make a strong argument that there won't be a more important American athlete in Rio de Janeiro than Muhammad. The pinnacle of her athletic career just happens to coincide with a frightening persecution of Americans who share her beliefs, and she fully embraces that she'll have a global platform to deliver her message.
Which is this:
"America is all that I know. I feel American down to my bones," she told a small group of reporters. "For anyone to challenge that idea that I'm not American or that I don't belong, it's frustrating. I want people to see a Muslim woman in hijab represent the United States this summer."
She would rather have people focus on her journey in fencing, which itself is fascinating. Muhammad tried volleyball, track, softball and other sports growing up in Essex County, but the constant alterations she had to make to her uniform grew tiresome.
Then her mother caught a glimpse of the fencers — covered, of course, from head to toe in protecting gear — training in the Columbia High cafeteria when her daughter was 13 and encouraged her to give it a try.
"I didn't find fencing," she said. "Fencing found me."
But she understands that, for many, her sport will be irrelevant. Muhammad has become an outspoken voice for Muslim women, be it sharing her views on presidential politics — she blasted Donald Trump in a recent Time magazine profile — or sharing personal experiences on Twitter.
When the check-in desk at the South by Southwest festival in Austin asked to remove her hijab to take a photograph for her identification badge, her refusal (and subsequent social media post) created national news. When a stranger called her "suspicious" and asked if she was going to "blow something up" as she was walking on Seventh Avenue in Manhattan, she tweeted a photo of the man and then added this message:
"The reason I'm so public about the experiences I've had, especially in these last few months, is that I want the public to know this is commonplace and it shouldn't be," she said. "We have to change our conversation. We have to be more accepting of our neighbors and try to combat the bigotry that we're experiencing now. More than anything, I want things to change."
Can one Olympian make that change? Maybe not, but the image of her competing in a stars-and-stripes hijab at the most patriotic of all events is certainly a powerful image, and hopefully one that will inspire young Muslim women to, as she says, "envision themselves in this space."
They will see Muhammad not just on a piste in Rio, but on the set of the Today Show or The Ellen DeGeneres Show, or in the pages of Time magazine with the headline "A New Face for Team USA." So many Olympians use their long-awaited moment in the quadrennial spotlight to pitch products, but she's using it to get a message out to the world.
It's a pretty powerful one, too. Let's end with it.
"I think it's unfortunate that we're in this moment, especially during the presidential election where people feel so comfortable voicing their dislike or discontent for people of a particular background or particular religion," Muhammad said.
"We as Americans have to fight that because it goes against the very values that we stand for. I feel like I'm this position and I have to use it and I have to use it well. I want to reach as many people as I can, not just with my skills in my sport but with my voice."
nj.com/olympics/index.ssf/2016/04/nj_fencer_ibtihaj_muhammad_embraces_a_bigger_olympic_platform_as_a_muslim_woman_politi.html
--
Naz Shah Suspended From Labour Party over Social Media Posts
Apr 27, 16
MP Naz Shah has been suspended by the Labour Party pending an investigation into anti-Semitic social media posts.
Opposition leader Jeremy Corbyn had been under huge pressure to take action after initially giving the Bradford West MP only a reprimand over the comments - made before she was an MP.
A Labour spokesman said: "Jeremy Corbyn and Naz Shah have mutually agreed that she is administratively suspended from the Labour Party by the General Secretary.
"Pending investigation, she is unable to take part in any party activity and the whip is removed."
The announcement came just an hour after Ms Shah made the latest in a series of apologies over the posts - telling the House of Commons she "profoundly" regretted her behaviour and insisting she had since learned.
Earlier, she was summoned by Mr Corbyn, who told her the comments were "offensive and unacceptable", but accepted that he believed she no longer held those views.
But shadow energy secretary Lisa Nandy was among Labour figures saying the party faced "real problems" if it was seen not to apply the same standards to MPs as to other activists.
And Prime Minister David Cameron said it was "quite extraordinary" Ms Shah had been allowed to remain in the party.
Ms Shah quit her role as a Parliamentary assistant to shadow Chancellor John McDonnell yesterday.
In a 2014 Facebook post, she shared a graphic of Israel's outline superimposed onto a map of the US under the headline "Solution for Israel-Palestine Conflict - Relocate Israel into United States", with the comment: "Problem solved".
The Guido Fawkes website - which published the post - also pointed to another made before Ms Shah was an MP, which used the hashtag #IsraelApartheid above a quote saying "Never forget that everything Hitler did in Germany was legal".
Ms Shah told MPs: "I wholeheartedly apologise to this House for the words I used before I became a member.
"I accept and understand that the words I used caused upset and hurt to the Jewish community and I deeply regret that.
"Anti-Semitism is racism, full stop. As an MP I will do everything in my power to build relations between Muslims, Jews and people of different faiths and none."
Ms Shah wrote in Jewish News that she wished to make an "unequivocal apology for statements and ideas that I have foolishly endorsed in the past".
"The manner and tone of what I wrote in haste is not excusable. With the understanding of the issues I have now I would never have posted them. I have to own up to the fact that
ignorance is not a defence."
A senior Labour aide accepted that the remark in the Facebook post was anti-Semitic, but added that Ms Shah had said she was now personally "shocked" by her own actions of two years ago.
"We are not suggesting she is anti-Semitic. We are saying that she made remarks that she does not agree with," he said.
It came as Labour MPs demanded answers from the leadership over reports it edited Ms Shah's article for Jewish News, removing references to anti-Semitism.
BuzzFeed news said it had seen an original version drawn up by the MP's office which included an admission that she had "helped promote anti-Semitic tropes", which did not appear in the version on the publication's website.
In another apparently dropped passage, she allegedly called for "an intersectional struggle, one where the concerns of Jewish individuals and communities are taken seriously and anti- Semitism is not dismissed out of hand or ignored".
References to a wider problem of anti-Semitism among left-wing activists - an issue on which Mr Corbyn has been under mounting pressure to act - were also missing in the final article, Buzzfeed said.
"We on the left must stop procrastinating and tackle oppression within our own ranks, especially anti-Jewish oppression," Ms Shah was said to have written.
In another change, "referencing Israel in comparison to Nazi Germany" was replaced with "referring to Israel and Hitler".
MP John Woodcock said: "This is incredibly serious - feel sick if this is as reported. Needs full explanation of whether true and who edited."
Ken Livingstone - the former London Mayor who is a close ally of Mr Corbyn - said the remarks were not anti-Semitic and the suspension was unnecessary.
He told LBC Radio: "What we have at the moment is a lot of people making a big issue about anti-Semitism in the Labour Party. In 47 years I have never heard anyone say anything anti- Semitic.
asianimage.co.uk/news/14456083.Naz_Shah_suspended_from_Labour_Pary_over_social_media_posts/?ref=ebln
--
Amal Clooney eloquently undermines Donald Trump's controversial Muslim ban speech
Apr 27,16
While garnering an increasing number of supporters as he edges closer towards securing the Republican nomination, Donald Trump has also amassed his fair share of detractors.
Amal Clooney became his latest critic on Tuesday when she took a moment to highlight flaws in some of Trump's most controversial claims in recent months. Amal, a human rights lawyer
who is married to George Clooney, criticised him as he prepared to outline what his principal foreign policies would be should he be elected to the White House in November.
He has pledged to temporarily ban Muslims from coming into the US and has repeatedly vowed to build a "big, beautiful wall" on the border with Mexico to curb illegal immigration.
Amal specialises in public international law, international criminal law and human rights at London's Doughty Street Chambers. She led an international delegation attempting to secure the release of the former president of the Maldives, Mohamed Nasheed, stood before Europe's top human rights court to represent Armenia in their case against Doğu Perinçek, the leader of
the Turkish Workers' Party, and she recently represented convicted Canadian Mohamed Fahmy in Egypt.
Amal called out Trump's decisive rhetoric in an interview with the BBC, where she was speaking about her latest case representing Azerbaijan reporter Khadija Ismayilova at the
European Court of Human Rights.
"When you listen to what the leading candidate on the Republican side has been saying about building walls, about excluding Mexicans, and saying there has to be a complete shutdown
on all Muslims coming in," she said.
"If you actually look at what he specifically says in that now-infamous speech about Muslims, he kept saying, 'They only want jihad … they don't believe in our way of life; they don't
respect our system.' And when he says 'they'… And, you know, you watch the media coverage afterwards and people should've been saying, 'Do you mean the 1.5 billion people around the world who fit that description? Do you mean the people who are US citizens, who are members of your military, the vast majority of whom are not extremist or violent in any way?'"
The billionaire business mogul has already declared himself the "presumptive Republican nominee" after winning in five crucial contests, placing him well ahead of his rivals Ted Cruz and John Kasich in the contest for the party's candidacy.
He courted controversy once again after Tuesday's primaries by suggesting Hillary Clinton was "playing the woman card" in her campaign for the Democratic nomination.
independent.co.uk/news/people/amal-clooney-eloquently-undermines-donald-trumps-most-controversial-statements-a7003431.html
--
Woman who fled to Syria to join Isis says it's nothing like they promised
Apr 28,2016
Laura Passoni, 30, had been working in the supermarket when she met her future husband. It was only when they both moved to Syria that she realised the promises of a better life
made by Islamic State were a lie.
Speaking to local media she said: 'I was not forced to become a Muslim, I was persuaded. You just get washed away, like trying to stand against a waterfall.'
Elderly British couple and son beaten unconscious in Thai resort attack
She said that she had met her future husband Osama Rayan, who is Tunisian, when both of them were working in a supermarket in Belgium.
Laura fell in love with Rayan and agreed to move with him back to Tunisia, and eventually to Syria. The mum-of-two lived in Al-Bab, near the city of Aleppo, Syria between 2014 and 2015.
She said: 'I went there voluntarily and willingly, I converted to become a Muslim and then I was radicalised, and I became convinced that the caliphate was only place for me and my
family to live. Once I got there though I really got to know the meaning of terror.'
Laura described how she was confined to the house to do the cleaning and cooking, and was only allowed to leave when she was in the company of her husband.
When she moved to the city, she took her four-year-old son from a previous relationship, as well as the child she had with her new husband. She quickly realised it was not a place she
wanted to raise her children.
Speaking about life under Daesh, Laura said: 'There were no taxes to pay, health care was free and they used a lot of alternative medicine, cures never seen in European health care. But life there was very expensive, and the money were not enough.'
She admitted that she was never treated violently, but it was clear that she was a prisoner. She added: 'I was forbidden to do anything, I just had to take care of the home and children.
I could not leave the house or use Internet without the presence of a man.
'I started to become very afraid that they might take my children away. It was just the opposite of what they promised in the propaganda of the Caliphate.
'I decided I wanted to escape when I realised there was a very real risk my son might end up a terrorist.'
She managed to get a mobile phone and was able to communicate secretly with her parents, but she refused to reveal details of how they had managed to help her escape.
Local media reports however that there was a negotiation between the Belgian authorities and some jihadists in Turkey who acted as intermediaries.
Now, Laura can hold her son again and be with him in public without asking for permission. She is a free woman and campaigns against the caliphate at meetings including one that
happened recently in the Molenbeek neighbourhood.
Laura, whose Italian parents moved to Belgium as refugees during WWII, told people: 'My advice to young women is if you are considering it, don't do it.'
Upon her return she faced an enquiry from police, and Belgian social workers removed her two kids from her for three months, before naming their grandparents as guardians.
However, they accepted that her regret for what happened was genuine, and instead of jail for being part of a terrorist regime she was sentenced to five years' probation and a fine of
15,000 EUR (£11,800).
She was also banned from using social media. She said: 'I accepted the punishment. To be honest it was a relief compared to the hell that I went through in Syria.'
metro.co.uk/2016/04/28/woman-who-fled-to-syria-to-join-isis-says-its-nothing-like-they-promised-5846440/
URL: https://newageislam.com/islam-women-feminism/bulgaria-muslim-women-banned-wearing/d/107134
New Age Islam, Islam Online, Islamic Website, African Muslim News, Arab World News, South Asia News, Indian Muslim News, World Muslim News, Womens in Islam, Islamic Feminism, Arab Women, Womens In Arab, Islamphobia in America, Muslim Women in West, Islam Women and Feminism