New Age Islam News Bureau
04 December 2021
• 'Apparel Sector Can Be Launching Platform For Women In Labour Market' In Developing Countries Like Bangladesh
• Formula 1 Driver Sebastian Vettel Invited Saudi Women To Karting Event To Learn About Their Lives
• 70% Of Health Workers Engaged In Combating COVID-19 Are Women
• UAE National Day: Meet The Five Women Featured In The Grand Hatta Ceremony
Compiled by New Age Islam News Bureau
URL: https://www.newageislam.com/islam-women-feminism/buddhist-interfaith-conversion/d/125900
--------
Buddhist Body Calls Ladakh Inter-Faith Marriage 'Forceful Conversion', Couple Denies
The court directed police to provide security cover to the couple and act in strict accordance with law laid down by the Supreme Court. — Representational image/DC
-----
Pirzada Shakir
1 Dec 2021
As the inter faith marriage in Zanskar area of Kargil in Union Territory of Ladakh has snowballed into a major controversy in the region, a Budhist body on Wednesday claims that the case is of "forceful conversion" of religion by the Muslim man. The accusations were denied by the couple.
Abdul Qadir Wani, 31, a muslim man of Padum Zanskar and a Buddhist woman Summaya Kousar, (Sonam Angmo) said that they have married out of "their own free will and consent" and accused the family and the relatives of latter of harassment and threats in a petition filed before the High Court in Srinagar.
Sonam Angmo, with her new name Summaya Kousar, and her husband Qadir have filed a petition in the court arguing that both are major and had sought protection. As per the documents, with The Kashmir Walla, Angmo is over 21 years old. "Both are hiding somewhere to avoid threats," said Advocate Ismail, counsel for the couple, adding that, "Father and brother of Qadir have been detained by the police."
According to the affidavit submitted by Kousar in the High Court, which was accessed by The Kashmir Walla, she says, "I have married with the petitioner number 2 Abdul Qadir… with freewill and without any coercion and undue influence, however to the disliking of my parents and other relatives who as such are causing interference in my married life causing threat to me… I want to live with my husband."
The counsel, Ismail said, "the couple have been given protection by the court since they are major and have married out of their free will and consent as both recorded their statement in the court."
"Taking into the account relief solicited for by petitioners, writ petition is disposed of with a direction to respondents to provide security cover to petitioners and act in strict accordance with law laid down by the Supreme court in Lata Singh v state of UP (2006) 5 SCC475 and Shakti Vahini vs Union of India and others AIR 2018 SC 1601," the referred judgement given on 26 November 2021 reads.
The court further said, "provided that both petitioners are major and marriage has been solemnized in strict accordance with prevalent laws, and if there is any case/FIR registered against any of the petitioner (s) police may go ahead with the investigation under rules and take it to its logical conclusion."
However, four days after the judgement Ladakh Buddhist Association (LBA) wrote to the Lieutenant Governor (LG) of Ladakh demanding prompt intervention and action into the case of what they call a case of "forcible conversion".
The letter written by the LBA to LG of Ladakh in possession of The Kashmir Walla accusing the Muslim man of "running away with the Budhist girl" reads , "Qadir ran away with the Budhist girl with the sole motive of [faith] conversion."
The body threatened communal tensions in the region. "Inter community forceful conversion through allured marriage in Ladakh have always triggered ill-fated communal riots in the past causing extensive damage to public and private properties," the letter reads.
"Unless the administration takes prompt action in immediate restoration of the girl to the family, extreme tension is bound to trigger," it further reads.
However activists in the region contend that the personal case of the two families rather, two persons should not be used to sour relations between the two communities.
"It is not the first time that such an incident has taken place. We live in a diverse society where people belonging to different religions live. In past many Muslim woman have married Budhists and vice versa," said Sajjad Kargili, a member of the Kargil Democratic Alliance (KDA), an amalgam of different political and religious parties based in Ladakh's Kargil region.
Kargili further said the case should be dealt with within the purview of law and must not be politicised to damage the communal harmony in the region.
"Marriage is a personal choice and there shouldn't be intimidation from any side," he said.
Meanwhile, LBA said that based on the inputs from the Zanskar unit of the association they wrote accordingly to the LG.
The President of the Zanskar unit of LBA could not be contacted for the comments.
In 2017, the association asked people of Kargil who were working in the Leh region to leave following a Budhist women marrying a Muslim man as they suspected that "the marriage had been conducted under duress" despite the women's denial of their accusations.
Source: The Kashmir Walla
https://thekashmirwalla.com/buddhist-body-calls-zanskar-inter-faith-marriage-forceful-conversion-couple-denies/
--------
'Apparel Sector Can Be Launching Platform For Women In Labour Market' In Developing Countries Like Bangladesh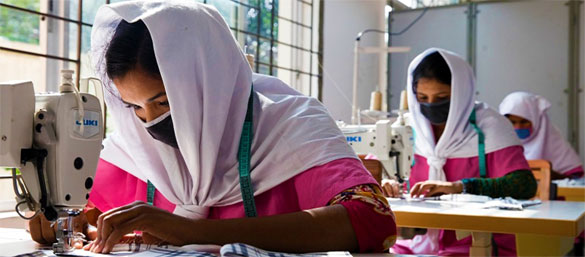 Young Bangladeshi women being trained at the Savar Export Processing Zone training center in Dhaka, Bangladesh. Photo: Dominic Chavez/World Bank
-----
Dec 3, 2021
Developing countries like Bangladesh can take advantage of the apparel industry as an indirect launching platform to help women transition from jobs to careers and to bring more women into the labour markets by adopting complementary policies, experts said.
To expand female career opportunities, countries must address three barriers, including low demand for career-related occupations, in service sector due to insufficient national income, low education levels, and societal and cultural norms that inhibit women from working, they said.Mentioning that safety concerns play a significant role in determining women's mobility and their labour market outcomes, experts emphasised establishing a safe environment for women -- providing them equal access to thrive aiming at achieving economic development.
Such observations came during the presentation of several papers on different topics at the opening session of the 3rd day of the three-day annual conference of the Bangladesh Institute of Development Studies (BIDS), reports our Chattogram staff correspondent.
Development Economics Prof SR Osmani at University of Ulster (UK) chaired the session where four papers were presented.
Mexico A Vergara, a consultant in the World Bank's Poverty and Equity Global Practice, presented a paper titled "From Jobs to Careers: Apparel Exports and Career Paths for Women in Developing Countries".
The paper focused on Bangladesh and six other countries where the female-intensive apparel industry plays an important role in the export basket.
In his paper, Vergara said low service sector demand due to insufficient national income, as well as low education levels in the developing countries, make it difficult for women to transition from jobs to careers.
The paper stated that without expanding other industries and further investing in education or skill development, apparel exports are not sufficient to induce the transition from jobs to careers for women.
Vergara also made some policy recommendations for countries like Bangladesh, including increasing participation of female production workers in apparel manufacturing and related industries, as well as increasing access to education to promote female participation in careers by expanding upper-secondary enrolment.
He also emphasized reforming legal barriers that reduce women's access to and permanence in employment opportunities.
Tanima Ahmed of World Bank presented a paper on "Women's Employment and Safety Perceptions: Evidence from Low-income neighbourhoods of Dhaka, Bangladesh".
While presenting her paper, Tanima referring to a survey conducted by ActionAid in 2016, said 84 percent of Bangladeshi women routinely experience insults or sexual comments while in public spaces.
Revealing the finding of their study on the gender gap in safety perceptions, Tanima informed that 69 percent of women they interviewed reported feeling safe while going outside of their community on their own while it was 96 percent for males.
Providing women equal access to thrive by establishing an environment in which women feel safe is necessary to achieve economic development.
She suggested some immediate measures including ensuring adequate streetlights in city thoroughfares, providing gender-sensitive training among law enforcement and security officers and establishing a city surveillance system.
Two other papers were presented at the session.
World Bank Senior Economist Maria Eugenia Genoni presented a paper, "Bangladesh Rural Income Diagnosis", and World Bank Lead Economist Maurizio Bussolo presented, "How Selling Online is Affecting Informal Firms in South Asia".
Source: The Daily Star
https://www.thedailystar.net/business/news/apparel-sector-can-be-launching-platform-women-labour-market-2908916
--------
Formula 1 Driver Sebastian Vettel Invited Saudi Women To Karting Event To Learn About Their Lives
December 04, 2021
JEDDAH: In an effort to learn more about life in Saudi Arabia and recent changes in the country, and as an activist for equality, Formula 1 driver Sebastian Vettel said that he organized a special karting event this week for women in Saudi Arabia.
In comments shared on social media, the German driver, who races for Aston Martin, said he hired a karting track in Jeddah on Thursday and invited some Saudi women to race so that he could hear their first-hand accounts of what life is like for them in the Kingdom.
Vettel said: "It's true that some things are changing here. There are a lot of questions that have been asked and I have asked myself. So I was thinking of what I can do. I really tried to think of the positive side.
"And so I set up my own karting event today, under the hashtag Race for Women, and we had a group of seven or eight girls and women on the track.
"I was trying to pass on some of my experiences in life and, obviously, on the track; to do something together to grow their confidence. Some of them had a (driving) license, others they did not. Some of them were huge Formula 1 enthusiasts, others had nothing to do with Formula 1 or racing before today.
"It was a good mix of women from different backgrounds and a great event. Everybody was extremely happy," he continued. "And I was, I have to say, very inspired by their stories and their backgrounds, their positivity about the change in the country.
"It was important to get to know some of these women. And I think it was a very, very memorable and inspiring day and a great way to kick-off the weekend by focusing on the positive."
Vettel will compete in the inaugural Saudi Arabian Grand Prix at the Jeddah Corniche Circuit on Sunday, Dec. 5.
Source: Arab News
https://www.arabnews.com/node/1980401/sport
--------
70% of health workers engaged in combating COVID-19 are women
December 02, 2021
RIYADH — Around 70 percent of health workers who are engaged in the battle against coronavirus around the world are women, according to an expert. "Most of these women are working on the frontlines in rendering healthcare services with attending and nursing COVID-19 patients," said Dr. Ghada Bint Yousef, vice dean for students' affairs at King Saud University.
She was among the four Saudi experts in the health, educational, and media fields who addressed the 14th session of the Muneerah Bint Mohammed Al-Melhem Forum for Local Community Services at the Prince Abdulrahman Al-Sudairy Cultural Center. Their talks at the forum titled "Safe Return...challenges and opinions" focused on the pros and cons of the coronavirus pandemic on social, economic, health and psychological aspects of life. The session was held under the patronage of Princess Noura Bint Muhammad Al-Saud.
On his part, Dr. Muhammad Al-Shayea, president of Al-Jouf University, said that the changes brought about by the pandemic would contribute to accelerating the achievements of development and positive social changes.
In his speech, Dr. Abdul Hamid Al-Habib, director general of the National Center for the Promotion of Mental Health, said that the pandemic upended the lives of many people with a massive change in lifestyles and that impacted profoundly on mental health.
Dr. Ali Al-Anzi, professor of media at King Saud University, said that the safe return to normal life requires a lot of attention from various sectors so as to ensure the highest degree of health safety, and the resumption of activities of business and economic sectors with their full potential.
Source: Saudi Gazette
https://saudigazette.com.sa/article/614267/SAUDI-ARABIA/70-of-health-workers-engaged-in-combating-COVID-19-are-women
--------
UAE National Day: Meet the five women featured in the grand Hatta ceremony
By Sherouk Zakaria
4 Dec 2021
Celebrating the UAE's tribal past before the union, the grand UAE National Day show in Hatta featured compelling calligraphy-designed profiles of five women in a tribute to their integral role in crafting the country's early story as a nation.
The mind-blowing show, live-streamed on Thursday, gripped thousands of TV spectators into the UAE's journey, leading up to the moment of the union and the 50 years that followed.
Highlighting the relationship between humans, nature, technology, the show sets the stage for the UAE's bright future, led by the legacy of glory of the past and legacy of the founding fathers.
Among the figures who shaped the UAE's story are five inspiring women featured on the large sculpture early on during the show.
Here are their profiles in order of appearance in the grand spectacle:
Sheikha Maitha bint Salmeen Al Mansoori
The wife of Sheikh Zayed bin Khalifa, grandfather of the late UAE Founder Sheikh Zayed bin Sultan Al Nahyan, Sheikha Maitha was known for her courage.
She rode to stand against a group of men approaching her settlement, impersonating her brother to protect it. Her bravery continues to inspire a generation of women today.
Sheikha Hessa bint Al Murr Al Falasi
The grandmother of His Highness Sheikh Mohammed bin Rashid Al Maktoum, Vice-President and Prime Minister of UAE and Ruler of Dubai, Sheikha Hessa was recognised for her positive counsel, financial advice and influence in Dubai. She was also known for her philanthropy.
Sheikha Shamsa bint Sultan Al Marar
An exceptional pearl diver and fisherwoman in her youth, Sheikha Shamsa is remembered for her courageous efforts in preserving and transmitting rituals and traditions of the sea.
Sheikha Hamama bint Obaid Al Teneji
Immortalised in film and literature, Sheikha Hamama was a famous healer known to cure using ancient techniques including 'body branding'. A botanist herself, she possessed great knowledge of the medicinal uses of local plants.
Her Highness Sheikha Fatima bint Mubarak, the Mother of the Nation
The wife of the late UAE Founder Sheikh Zayed bin Sultan Al Nahyan, Sheikha Fatima leads several global and UAE-focused humanitarian and philanthropic initiatives to support women and children.
She is the Chairwoman of the General Women's Union (GWU), President of the Supreme Council for Motherhood and Childhood, and Supreme Chairwoman of the Family Development Foundation (FDF). Her work and strong personality continue to inspire a generation of women who follow her lead.
You can still watch the UAE's National Day breathtaking ceremony in Hatta. Buy the tickets to the must-see show, open to the public from December 4-12, from the official website www.uaenationalday.ae.
Source: Khaleej Times
https://www.khaleejtimes.com/year-of-the-50th/uae-national-day-meet-the-five-women-featured-in-the-grand-hatta-ceremony
--------
URL: https://www.newageislam.com/islam-women-feminism/buddhist-interfaith-conversion/d/125900
New Age Islam, Islam Online, Islamic Website, African Muslim News, Arab World News, South Asia News, Indian Muslim News, World Muslim News, Women in Islam, Islamic Feminism, Arab Women, Women In Arab, Islamophobia in America, Muslim Women in West, Islam Women and Feminism