New Age Islam News Bureau
20 Apr 2016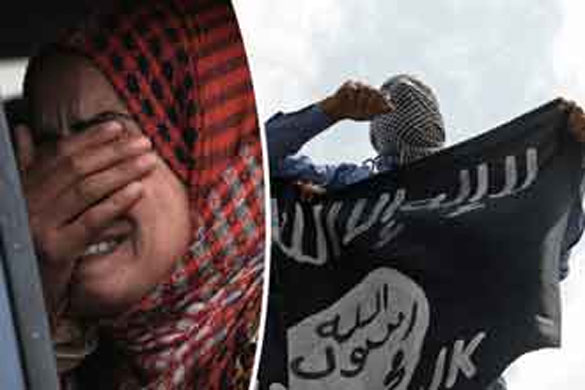 Photo: HORROR: It is claimed more than 250 women were executed in Mosul for refusing sexual slavery
--------
• Latvia Wants to Ban Face Veils, for All 3 Women Who Wear Them
• Paris Students Invited To Wear Muslim Veils for 'Hijab Day'
• Islam Has Given an Exalted Status to Women: Secretary Jamaat-e-Islami Hind
• Hundreds of Jihadi Brides Are Fighting For Islamic State
• Switzerland Suspends Citizenship Claim for Muslim Boys Who Refused Woman's Handshake
• What Happened To Hoda Muthana, Alabama Girl Who Joined ISIS?
• 'Behind Any Great Woman Is Herself': The Only Muslim Woman Forensic Doctor in Jordan
• The Importance of Helping Muslim Women Finds Work
• Parents Holding Back Muslim Women from Going to Top Universities, MPs Told
• Arab National Killed For Secretly Filming Women in Wedding Function
• UK Prisons Chief Backs Conservative Muslim Sect Who Call Non-Muslim Women 'Repulsive'
Compiled by New Age Islam News Bureau
URL: https://newageislam.com/islam,-women-and-feminism/new-age-islam-news-bureau/brutal-isis--executes-250-women--for-refusing-to-become-sex-slaves/d/107053
----------
Brutal ISIS 'Executes 250 Women' For Refusing To Become Sex Slaves
20th April 2016
HORROR: It is claimed more than 250 women were executed in Mosul for refusing sexual slavery
It is understood the women have been murdered for refusing "sexual jihad" in the Iraqi city of Mosul.
Families of girls who do not agree to the terror cult's sordid requests have also been executed, it has been reported.
Said Mamuzini, an official from the Kurdistan Democratic Party, said ISIS have been selecting women in Iraq's second biggest city and forcing them into marrying its militants, the AhlulBayt News Agency claims.
"At least 250 girls have so far been executed by ISIS for refusing to accept the practice of sexual jihad"
Said Mamuzini, an official from the Kurdistan Democratic Party
He said: "At least 250 girls have so far been executed by ISIS for refusing to accept the practice of sexual jihad, and sometimes the families of the girls were also executed for rejecting to submit to ISIS's request."
ISIS – also known as Daesh – took control of Mosul in 2014 after the fall of the Iraq army.
The murder cult has been executing thousands of people since forming its caliphate in 2014 – and in the most barbaric ways imaginable.
dailystar.co.uk/news/latest-news/509433/Islamic-state-executes-250-women-sex-slaves-refuse-Iraq-mosul
-------
Latvia Wants to Ban Face Veils, for All 3 Women Who Wear Them
APRIL 19, 2016
Liga Legzdina, 27, who goes by the name Fatima, near Riga, Latvia. She is one of a tiny handful of women who wear the niqab in the country, and interactions on buses and trams, she said, often involve her being told to "go back to where you come from." Credit Reinis Hofmanis for The New York Times
ZAUBE, Latvia — With her niqab, a face-covering Islamic veil that reveals just the wearer's eyes, Liga Legzdina stands out amid pine trees, grasslands and wood-paneled cottages in the Latvian hamlet of Zaube.
Villagers stare. Ms. Legzdina is one of a tiny handful of women — generally estimated at three — to wear the niqab in this Baltic nation, whose population of less than two million people includes about 1,000 practicing Muslims, according to government estimates.
But for Latvia's Ministry of Justice, that is three niqabs too many. Citing a desire to protect Latvian culture and to address security concerns at a time of rising migration to Europe, the government is working on proposed legislation, inspired partly by similar restrictions on head coverings in France, that would ban face-covering veils from public spaces. The proposal would not ban the wearing of head scarves that do not cover the face, like hijabs, the coverings most commonly worn by Muslim women.
"A legislator's task is to adopt preventive measures," said Justice Minister Dzintars Rasnacs, a member of the anti-immigration National Alliance party, who predicted that the law would win overwhelming backing in Parliament and would be in place at the start of 2017.
The legislation in Latvia is one expression of a broader concern about immigration in general and Muslims in particular across Central and Eastern Europe, as migrants flock to the Continent from Afghanistan, the Middle East and Africa. Hungary, Slovakia and Poland have been among the countries most strongly opposed to taking in large numbers of migrants, reflecting anti-immigrant and anti-Muslim strains in their societies. Even in remote Latvia — hardly a top destination for migrants, given its frosty winters and threadbare welfare system — a darkening swirl of fear has emanated from politicians, the news media and the wider population.
Take the case of Ms. Legzdina, 27, who is not a migrant but a native Latvian who converted to Islam after a trip to Egypt as a teenager.
Now a medical student at a university in Riga, the capital, Ms. Legzdina, who goes by Fatima, comes to Zaube each spring and summer on vacation with her two young children. Her husband, Viesturs Kanders, followed her into the Islamic faith on their wedding day.
Other than her clothing, prayers and regular fasting, her life in Zaube matches Latvian country life almost to the point of cliché, including picking flowers or mushrooms depending on the season, a strong Latvian tradition.
"I love my country," she said with pride. Yet she said she felt threatened by the way people responded to her appearance.
"People have become much more aggressive than before," she said. When she is not vacationing in Zaube, she lives in a suburb of Riga, where her daily commute, she said, is becoming littered with verbal abuse. Interactions on buses and trams, she said, often involve her being told to "go back to where you come from," and tend to end with awkward moments when she replies to the person confronting her in perfect Latvian.
"If they are so afraid," she said, "it shows they are not strong, and they don't believe in their own culture."
Mr. Rasnacs, the justice minister, said the law was not about the number of people covering their faces in Latvia, but had more to do with ensuring that prospective immigrants respect the norms of this small and homogeneous country.
Sitting by the crimson and white of a Latvian flag during an interview in Riga, Mr. Rasnacs added, "We do not only protect Latvian cultural-historical values, but the cultural-historical values of Europe."
Like other countries in the region, Latvia has been reluctant to take in sizable numbers of the migrants who have arrived on the Continent over the last year, with more than a million ending up in Germany. After protracted negotiations, Latvia agreed to accept up to 776 refugees over the next two years, under the European Union's faltering effort to resettle refugees among all of its 28 member states.
So far, just six of the 776 have arrived. But practical policy questions of housing and integrating the rest remain submerged by increasingly fearful discussions of Islam — propelled by regular news coverage associating the religion with terrorist attacks, sexual assaults and civil wars — and by an absence of historical experience with Muslims among the population, combined with traumatic memories of the country's past under Soviet rule. For nearly 50 years, the country had no control over its migration policy, leading to a large Russian-speaking minority.
With a tiny minority of Muslims to join the dialogue, the public debate has splayed outward to the extremes.
Leons Taivans, a religious studies professor at the University of Latvia in Riga, has reflected the broader fears in the region about the influx of Muslims, especially on the far right, by predicting "Islamic invasions."
At the same time, a spokesman for the Latvian Islamic Center, Roberts Klimovics, has provoked consternation by drawing parallels between the Latvian NATO troops who are fighting in Afghanistan and Mali and Europeans who have traveled to Syria to fight for the Islamic State. He even predicted that Shariah law could be established in Latvia.
In an interview at his farmhouse outside Riga, Mr. Klimovics, who is also a filmmaker and a former dating show host on Latvian television, said that his views had left him ostracized, and that the plight of Muslims in Latvia was becoming similar to that of Jews in Germany before World War II.
"Now, I don't feel like a local here," Mr. Klimovics said. "I feel like a stranger. Now it is much easier for me to leave."
This sense of alienation, he said, is the reason that one of his friends, the former chairman of the Latvian Islamic Center, Oleg Petrov, who now goes by Imran, has gone to Syria to fight for the Islamic State.
Mr. Klimovics said he was disappointed by this decision. "I told him, 'You were, for me, one of the best people in the world,'" he said, adding that he now viewed Mr. Petrov as being "like all those people who kill other people because they think they should control the world."
Although worshipers at the Riga Mosque say that volunteers for the Islamic State represent a minuscule minority within an already small minority — and that any radicalization is strongly discouraged by most of the mosque's few hundred active worshipers — local news outlets have played up the news, and have set nerves on edge.
Those who have traveled to Syria, though exceptions, are enough to convince many of Latvia's politicians that the arrival of Muslim immigrants could present new security threats.
"I think that covering one's face in public at a time of terrorism presents a danger to society," said Vaira Vike-Freiberga, a former president of Latvia whose family fled the country when it was taken over by the Soviet Union during World War II. "It's as simple as that."
"Anybody could be under a veil or under a burqa," she said. "You could carry a rocket launcher under your veil. It's not funny."
nytimes.com/2016/04/20/world/europe/latvia-face-veils-muslims-immigration.html?_r=0
-------
Paris students invited to wear Muslim veils for 'Hijab Day'
20 Apr 2016
The Sciences Po University in Paris hosted a "Hijab Day" on Wednesday, as student organizers attempted to end the stigma around women who wear the veil. But not everyone is playing along.
The group's Facebook account invited fellow students to cover their hair on Wednesday in a bit to to "demystify the veil"
"It's also about showing support to the idea of being in charge of out own bodies. We dress how we want, and don't accept being told otherwise," they wrote.
"Veiled or not, we are all equal."
The group took aim at the "disturbing declarations" of France's women's rights minister, who faced ridicule and calls to resign last month after comparing women who wear the Muslim headscarf and veil to "negroes who supported slavery".
Over 250 people said they would attend the event, which is scheduled to run until 9pm on Wednesday, and pictures on social media suggested that there was a definite interest (see tweets below).
The invitation welcomed men and women to try on the group's "prettiest scarves and pashmina" from 8am, and invited guests to hang around for assistance, tutorials, and discussion.
The university said in a statement sent to The Local that such debates were welcome, as the campus "had always been a place for open debate and free expression".
It added, however, that even though the event was being held on school grounds, the university "can in no way be interpreted as supporting the initiative".
Agnès De Féo, French author and documentary maker who specialises on the subject of the Muslim veil in France, said the "Hijab Day" could have a positive impact.
"It will help de-stigmatize the women who wear the hijab in France and allow women to put themselves in the position of those Muslim women who wear it," she told The Local. "It will encourage people to reflect and ask themselves questions".
De Féo, who is a strong critic of how France has cracked down on both the veil and burqa in recent years, says the widespread notion that women who wear the veil in France only do so because they feel obliged to by their husband is wrong and a "colonialist view".
"I have never met a Muslim woman in France who said she wore the veil because her husband made her."
However, wearing a headscarf for a day is no solution, said Romain Millard, president of the university's Républicains association, was among those against the idea.
"I thought at first that it was a joke," he told Le Figaro newspaper.
He said that while he wasn't against the veil being worn at university, he didn't accept it as "a cultural experience to share".
Others were less forgiving, including Carla Sasiela, the head of the UNI student union.
"This is a provocation and we denounce the religious character of the event," she told The Local.
Her group said the event is a "total contradiction of the values of the Republic and the respect for women's rights".
"The debate isn't about the act of wearing the veil, it's about the promotion of it at Sciences Po," she said.
Veils and headscarves have been a hot debate topic in France in recent years, not least since France banned full-face veils in public back in 2010, in a move referred to as the "burqa-ban".
As recently as this month, Prime Minister Manual Valls said that the headscarf was being used by some as a challenge to France's secular society.
"The veil does not represent a fashion fad, no, it's not a colour one wears, no: it is enslavement of women," he said, warning of the "ideological message that can spread behind religious symbols".
"We have to make a distinction between wearing the veil as a scarf for older women, and it as a political gesture confronting French society."
Valls was criticized for claiming that he believed Islam was compatible with French values before seemingly proving the opposite by calling for a ban on the hijab at universities.
Agnes de Feo called the Prime Minister's stance "pure hypocrisy".
"The "Hijab Day" group singled out Valls on their Facebook page, suggesting that he saw the headscarf as "a battle at stake" for France.
thelocal.fr/20160420/paris-uni-students-invited-to-wear-veils-for-hijab-day
-------
Islam has given an exalted status to women: Secretary Jamaat-e-Islami Hind (Women's wing)
APRIL 19,2016
New Delhi: Sakshi Maharaj, the BJP Member of Parliament from Unnao, notorious for his vitriolic statements against Muslims has once again stoked controversy by saying that women are treated like footwear in Islam. Atiya Siddiqua the All India Secretary of the women's wing of Jamaat-e-Islami Hind has condemned Sakshi, saying the latest provocation from the BJP parliamentarian is a reflection of his bigotry as well as ignorance about Islam.
The women's Secretary of JIH urged the Unnao MP to first reflect on the feelings of those women from his own community who filed criminal complaints against him on charges of rape and murder, for which he was even sent to jail. It is highly regrettable that his party is turning a deaf ear to his prejudiced outburst which has hurt the religious sentiments of Muslims who know that Islam has always accorded an exalted status to women.
They were given the right to enter and pray in the masjid and even kiss the black stone of the Kaaba during Hajj more than 1450 years ago. Muslim women enjoy complete independent financial status and are entitled to inheritance as well as alimony in marriage. Atiya Siddiqua acknowledged that there are a lot of misconceptions regarding Muslim women and it is the duty of the community to present the teachings of Islam to our fellow countrymen so that the deliberate misinformation spread by bigots like Sakshi is countered and neutralized.
munsif.tv/articles/2016/04/19/islam-has-given-exalted-status-women-atiya-siddiqua-secretary-jamaat-e-islami
---
Hundreds of jihadi brides are fighting for Islamic State
April 20, 2016
ihadi brides have been "promoted from wife duties" and are marching in to battle to fight and die for ISIL.
Hundreds of women have taken up arms to bolster Islamic State's numbers, The Times reports.
Experts believe up to 1000 women are training in camps in eastern Libya, an area ISIL has coined the "Islamic emirate".
The brides are put through three weeks' weapons training before they are sent out to combat, where many become suicide bombers.
Tunisian mother Olfa Hamrouni told the Times her daughter had joined the fight in Syria and had relayed to her the plight of women ISIL recruits.
"At first they wanted to use them for sex. But my daughter said there are hundreds of women that fight with men. I am extremely worried my youngest daughters — and other women — will follow their path," she said.
The women have reportedly come from Egypt, Tunisia and Libya with some as young as 15.
New analysis shows ISIL's ranks have been bolstered by recruits from more than 70 nationalities.
The information comes from an ISIL defector who handed over 11,000 personnel files to US network NBC, although more than half were found to be duplicates.
The forms are thought to make up about 30 percent of the estimated 15,000 recruits who took up arms in Syria in 2013 and 2014.
The data shows recruits were as young as 12, and some as old as 70.
Most were aged in their mid-20s.
Saudi Arabia had the most fighters join ISIL with 579, followed by Tunisia (559), Morocco (240), Turkey (212), Egypt (151) and Russia (141), AFP reports.
Australia has 11 known fighters, while 49 were from France and 38 from Germany.
9news.com.au/world/2016/04/20/15/17/jihadi-brides-joining-isil-fighters-on-battle-field
-----
Switzerland Suspends Citizenship Claim for Muslim Boys Who Refused Woman's Handshake
20 APR 2016
Switzerland has suspended the citizenship process for the family of two young Syrian brothers after the boys refused to shake hands with their female school teachers.
The boys, aged 14 and 15, said physical contact with women who were not relatives was against their Islamic faith.
The school granted them an exception to the school rule, but officials in the northern municipality of Therwil told them not to shake hands with male teachers either to avoid discrimination.
The incident sparked a national debate over religious freedoms in Switzerland, with the country's justice minister Simonetta Sommaruga telling Swiss public television "shaking hands is part of our culture".
A spokesman for the Basel-Country canton, where Therwil is located, said naturalisation proceedings had been put on hold.
But he said such suspensions were common in citizenship procedures.
The boys' father is a Syrian imam who moved to Switzerland in 2001 and had his asylum request granted.
The migration office in Basel is seeking more information about the circumstances under which the father's asylum claim was accepted, according to the AFP news agency.
Some Swiss Muslim groups said there was no religious reason to refuse a female teacher's handshake and urged the country not to give in to extremist demands.
However one Islamic organisation said a handshake between a man and a woman was prohibited.
sbs.com.au/news/article/2016/04/20/switzerland-suspends-citizenship-claim-muslim-boys-who-refused-womans-handshake
---
What happened to Hoda Muthana, Alabama girl who joined ISIS?
April 19, 2016
It has been a year since the world learned about Hoda Muthana, an Alabama girl who fled her home to join the Islamic State. While the current location of the 20-year-old Hoover girl isn't known, it's thought she's still assisting the ultra-violent group of Muslim extremists even after a drone strike killed the man believed to be her husband.
Muthana fled the U.S. in November 2014 after telling her family she was traveling to Atlanta for a school trip. Instead, inspired by Islamic State radicals she had met online, Muthana left Atlanta on her way to Turkey before going to Syria. Muthana actually arriving in Syria is unique – of the 94 cases of Americans that traveled to the area, only 27 actually arrived in the country. Of those 27, 12 have been killed.
Muthana is believed to still be alive.
Buzzfeed News, which first reported Muthana's story, said within a month of arriving in Syria she was married to Suhan Abdul Rahman, an Australian jihadist. It's believed he was killed by a Jordanian airstrike only a few months later. Muthana herself has been identified as one of the operators of a series of online accounts that encourage American Muslims to rise up against their own country.
One such account under the name Umm Jihadi, wrote last year: ":'You have much to do while you live under our greatest enemy, enough of your sleeping! Go on drive-bys and spill all of their blood, or rent a big truck and drive all over them. Veterans, Patriot, Memorial etc Day parades...go on drive by's + spill all of their blood or rent a big truck n drive all over them. Kill them."
Other posts include calling for attacks on President Obama and asking for money to help assist Islamic fighters in Syria.
Muthana fits the patterns of Americans who have left the U.S. to join the Islamic State. A report by New America said one in seven of the 4,500 Westerners have joined Islamic State or other military groups are women.
"They do so because joining the fight and defending the 'caliphate' would bestow upon them a sense of meaning and significance," he told VOA. "Other women are attracted to the traditional role of women that ISIS promises and their role in supporting 'real' heroes and bearing their children, the future fighters for Islam."
Experts said in addition to working with social media, women in militant groups are often used to police other women in keeping of the strict radical guidelines that govern their operations.
The outlook for Americans like Muthana is not good. A study by New America found that two-fifths of all Western militants have died in Syria or Iraq.
If Muthana does return to the U.S., she's almost certain to face criminal charges. According to New America, six Americans have returned from fighting or training with militant groups in Syria. All were taken into custody.
Just last month, a Mississippi woman pleaded guilty to one count of conspiring to provide material support to a terrorist organization, and faces sentencing in the future. In January 2015, a 19-year-old Colorado woman was given a four-year prison sentence for making an effort to join the Islamic State.
al.com/news/index.ssf/2016/04/what_happened_to_hoda_muthana.html
--
'Behind any great woman is herself': The only Muslim woman forensic doctor in Jordan
April 19, 2016
'Behind any great woman is herself': The only Muslim woman forensic doctor in Jordan
Like this article? rabble is reader-supported journalism. Chip in to keep stories like these coming.
The committee and its members were at the morgue while the prosecutor had to make sure that they would testify under oath in front of him.
The incident is fresh in the memory of Dr. Isra Tawalbeh, forensic pathologist at Jordan's National Institute of Forensic Medicine. She is Jordan's first female forensic doctor.
"When he [prosecutor] was inside and he saw the dead bodies, he started to feel drowsy," Tawalbeh recalls. "He said: 'I can't stay anymore. Swear quickly and I will go.' So, we swore and then he left with a pale face." However, being at the morgue is part of Tawalbeh's job.
Women in several communities are often told that their emotions make them incapable of performing tasks such as being in the forensic field. "Many men can't do this job and a lot of women are able and are trying to make it," says Tawalbeh.
With her piercing eyes and warm smile, Tawalbeh insists that a woman can be successful in any job she chooses. "I want to say something important: It's not a woman issue; it's a human issue," affirming that a woman could perform better, even if she is not taking a culturally feminine job.
While stirring the mug to let toffee syrup find its way into her latte, Tawalbeh remembers the time when she decided to become a forensic doctor. "I am not a person who will do the job because I have to," says Tawalbeh. "I want to do it because I want to find myself."
Upon graduating from medical school, she was not satisfied by the role she would take as a doctor in any other specialty. Tawalbeh wanted to have a job that helps her in achieving justice for people, especially victims.
"I thought that when I study law in university, I would have such a role," says Tawalbeh. But soon, she found what she wanted. "There are no women at all. And no woman tried to apply," said Dr. Momen Hadidi, director of National Institute of Forensic Medicine, to Tawalbeh when she mentioned to him her plans to be in the field.
"I said: 'it's okay. Is this a reason to refuse me?' He said: 'no, this is a reason to accept you because we need you','' mentions Tawalbeh. She believes that her career is the bridge between law and medicine.
Fearless
Every time I meet Tawalbeh, I think about her job. At any time she could be at a crime scene or morgue; she would be tirelessly examining victims. Tawalbeh is also responsible for Family Protection Department Clinics in Jordan.
Her phone rings and other doctors ask for her help. Journalists and media professionals interview her. Tawalbeh is a busy woman. She is the only Muslim female forensic doctor in Jordan. This means that she examines cases from everywhere and anywhere in the Kingdom. Being a forensic doctor means that she takes a big role in having a say regarding people's destiny. However, she seems fearless.
It's a human nature to have fears, although they vary from individual to another. Tawalbeh is not entirely free of fears. "I have one fear: to write a report and to feel that it was unfair for the victim, but not in intentional way," she says. "I try to do my best to keep my emotions away. I always try to be very professional and very strong."
Regardless, dealing with cases that involve children subjected to violence is what Tawalbeh feels the most difficult. "Inside me, I usually feel anger. Not anger. Volcano that will burst," she says. "My tolerance for such cases are very difficult but I always try to hold myself. I remind myself that I am professional and unbiased person and to write a report in logical way based on evidence."
In a crime case or if dealing with victims of physical abuse, there seems to be no happy end to the story. However, that's not how Tawalbeh believes. "Each case ending by justice, and my report was one strong evidence, it's a happy-ending story even if the victim is dead," she says.
'I prove it wherever I go'
Thirteen years ago was the time when Tawalbeh set her foot at forensic centre in Al-Bashir hospital on March 16, 2003. If time repeats itself, she will take the same decision. "The first day for me as a forensic doctor, I have the same feelings, same courage, same spirit, same aim as now," says Tawalbeh. "When I started my residency program my colleagues -- all men -- were wondering: 'we will give you one month, then you will leave'."
Tawalbeh combats stereotypes by pursuing to change society's perspectives on the role of women. She recalls incidents at crime scenes. "They say: 'we are waiting for forensic doctor. Where is he?' I say: I am the forensic doctor.' They say: 'are you?'" mentions Tawalbeh. "I want them to turn their eyes away from my look as a female to my mind as a forensic pathologist doctor: not male, not female," she says. "Until now, I am successful."
Whether it's in a police station, a class or court, being a woman in this field is not the norm. But Tawalbeh fights back by being professional. "I prove it wherever I go, especially in the court; they are always waiting for what I will say during my testimony while I am testifying," she continues.
"I believe that women can do everything. A strong woman can even do anything by herself without support," says Tawalbeh. "There is always a saying that behind any great man is a great woman. But I say that behind any great woman is herself."
This Project was carried out with the aid of a grant from the International Development Research Centre (IDRC), Ottawa, Canada.
rabble.ca/blogs/bloggers/vowpeace/2016/04/behind-any-great-woman-herself-only-muslim-woman-forensic-doctor-jor
-------
The importance of helping Muslim women finds work
April 20th, 2016
MUSLIM women face huge problems getting into employment and also accessing education, so it is great news that a group of MPs at Westminster are looking at ways of breaking down these barriers.
Although the numbers entering full-time education and the workplace has increased, Muslim women face triple inequalities of gender, race and religion and more needs to be done by policy makers and companies to make sure their needs are met and standards are set to encourage these women into employment.
More data needs to be collected on Muslim women to fully understand the Muslim disadvantage and the Office for National Statistics should calculate BME/ gender pay gaps, incorporating pay gaps faced by men and women of different ethnic minorities and different religious communities.
More must be done by the governments to build a greater understanding of the Muslim-specific experience in the workplace, especially the multiple disadvantages Muslim women face.
Charities have also raised concern that Somali women are particularly disadvantaged and are calling for this situation to be monitored closely.
thenational.scot/comment/the-importance-of-helping-muslim-women-find-work.16563
-------
Parents Holding Back Muslim Women From Going To Top Universities, MPs Told
Apr. 19, 2016
The women and equalities committee has been speaking to Muslims and other groups from across the UK as part of an inquiry into improving employment opportunities for British Muslims.
Using data from the Equalities and Human Rights Commission (EHRC), the inquiry's website notes: "Of all religious groups, Muslims have the lowest employment rate at 47.2%, and the highest pay gap compared with those of no religion, earning 22.5% less."
In a session on Tuesday, MPs were told education was a key factor in women's employment prospects and that many were being held back for both cultural and financial reasons.
While Muslim women tend do better than their male counterparts at school, "when it comes to applying to top universities, this is where we see a dip," said Sufia Alam, a project manager at the Maryam Centre, a branch of the east London mosque devoted to women's services.
There are a number of reasons for this, Alam said, adding that the first is to do with cultural issues. "In some of the South Asian communities, there's a [negative perception] with leaving the family home," she said, "so better universities are not always a top choice because of the distance."
Alam later told BuzzFeed News: "Within some of the communities, for a woman to leave the home – even for education – is not a norm and it's out of fear that they might not be able to have the support network."
She added: "With renewed fears of Islamophobia… they want to be there to protect them."
Alam said she expected more conservative families to become more open about the idea after seeing other "great aspirational women" setting an example.
Speaking at the meeting, she also said that the trebling of the tuition fee cap to £9,000 meant some families were reluctant to let their children travel further for better universities.
"The other factor is the increase in tuition fees, especially at top universities," Alam said. "We have a very deprived South Asian community in Tower Hamlets [in east London] and we see the preference is to go to a local university because of that reason."
Nazmin Akhtar, the vice chair of the Muslim Women's Network, agreed that cost played a big factor.
She said: "We also need to consider that as well as high tuition fees, there are also issues of not having as many opportunities to get into the workplace and develop your career, and so you have parents who are saying to their daughters, 'Do you really want to get into debt and then not get a job?'"
Dominic Lipinski / PA WIRE
The network claimed it had carried out "an extensive and rigorous survey to get a better understanding of British Muslims' attitudes to living in Britain and British institutions" but its methodology for What British Muslims Really Think was questioned by researchers and Muslim groups.
Akhtar said Trevor Phillips, the former head of the EHRC, who fronted the documentary, "should be congratulated because he managed to draw up a consensus for 3 million Muslims out of 10,000, even though 3 million Muslims each year disagree when Eid is."
Alam also criticised the documentary. "These kind of things feed into the far-right thinking and it's going to cause tensions in communities," she said.
buzzfeed.com/sirajdatoo/parents-holding-back-muslim-women-from-top-universities#.dk7lk7Naj
-------
Arab national killed for secretly filming women in wedding function
April 20th, 2016
Riyadh: Police arrested three Saudi nationals for killing an Arab national who filmed women secretly during a wedding ceremony.
The Saudi nationals reportedly abducted the man, tied him and took him to a desert area outside the Governorate of Sabya and beat him ruthlessly until he was dead, reported local Arabic daily Sabq.
They caught the migrant worker as he was filming women using his mobile phone, following which he had a heated argument with the three Saudi nationals.
gdnonline.com/Details/81664
-------
UK prisons chief backs conservative Muslim sect who call non-Muslim women 'repulsive'
April 20th, 2016
Extremist pamphlets and CDs were found in over 10 jails in November 2015 PA
The head of the UK prison service has praised the conservative Islamic Deobandi sect despite its Muslim chaplains reportedly distributing Islamist propaganda to inmates.
A leaked Ministry of Justice report discovered extremist pamphlets and CDs in more than 10 British prisons, according to the Times.
The majority of Imams appointed by the prison service belong to the Deobandi sect, which was formed in the 19th century in opposition to British rule in Southern India.
UK prison chief Michael Spurr defended the sect in a letter to prison governors highlighting Ofsted's view of the Deodandi's most influential seminary, saying it promoted "fundamental British values such as democracy, individual liberty and mutual respect and tolerance for those of different faiths".
The minority of Muslim chaplains from other denominations have reported feeling "marginalised, bullied and intimidated" by the pre-eminence of Deobandi teaching.
Commissioned by Justice Minister Michael Gove, the report has not yet been cleared for publication. It allegedly instigated an internal departmental alert warning of "severe reputational damage."
Leaflets were reportedly found on bookshelves in prison chaplaincy rooms that encouraged the murder of apostates, homophobic views and even described Jewish, Christian and other non-Muslim women as "repulsive".
Inmates at more than one prison were reportedly encouraged by chaplains to donate money to charities linked to terrorist groups.
Muslim prison chaplains were found by the report to be ill-informed and under-equipped to counter extremism, "sometimes because they lacked the capability but often because they didn't have the will".
The Ministry of Justice has declined to comment.
independent.co.uk/news/uk/home-news/uk-prison-chief-michael-spurr-backs-muslim-sects-deobandis-work-with-inmates-despite-reports-they-a6991086.html
URL: https://newageislam.com/islam,-women-and-feminism/new-age-islam-news-bureau/brutal-isis--executes-250-women--for-refusing-to-become-sex-slaves/d/107053
New Age Islam, Islam Online, Islamic Website, African Muslim News, Arab World News, South Asia News, Indian Muslim News, World Muslim News, Womens in Islam, Islamic Feminism, Arab Women, Womens In Arab, Islamphobia in America, Muslim Women in West, Islam Women and Feminism