New Age Islam News Bureau
17 Sept 2017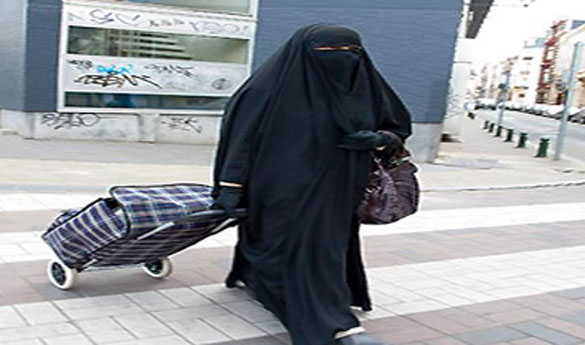 Photo: A law banning women from wearing the full-face veil, niqab, and burqa came into force in Belgium on July 23, 2011 [File: EPA]
--------
• Hundreds Protest Violence against Women in Israeli Arab Village after Murder
• Fewer Working Women in India than Nepal
• This Is Why Arab Women Must Fight Harassment
• Sovereign Women in a Muslim Kingdom
• BJP Suspends Muslim Woman Leader for Organising Prayer Meet in Assam for Rohingya Victims
Compiled by New Age Islam News Bureau
URL: https://www.newageislam.com/islam-women-feminism/brussels-airport-deports-danish-woman/d/112554
-------
Brussels airport deports Danish woman wearing niqab
A Danish woman, who allegedly refused to take off her niqab, the religious outfit covering face and full body, has been deported from the Brussels airport after police were unable to identify her, a Belgian official said.
Theo Francken, the Belgian State Secretary for Asylum and Migration, confirmed the incident on Saturday on his official Twitter account.
"A Danish citizen coming from Tunis refused to take off her niqab at our border. Police could not identify her. She was sent back to Tunis," Francken tweeted.
He did not identify the woman by her name.
"Thursday I informed my Danish colleague Inger Stojberg, Danish minister for immigration, integration and housing] about the niqaab-incident with a Danish citizen on our Schengenborder," he added.
In November 2015, police in Brussels briefly held a Saudi woman wearing a niqab.
Niqab banned since 2011
A law banning women from wearing the full-face veil, niqab, and burqa, which also covers the eyes, came into force in Belgium on July 23, 2011.
Women wearing full-face veils in public are subject to fines and can face up to seven days in jail in the country.
The European Court of Human Rights (ECHR), the top human rights court in Europe, upheld Belgium's ban in July, rejecting a complaint by two Muslim women who wear the niqab.
The court based in Strasbourg said that the law was not discriminatory and did not violate the right to respect for private and family life, nor freedom of religion.
aljazeera.com/news/2017/09/brussels-airport-deports-danish-woman-wearing-niqab-170916144241639.html
-----------
Hundreds Protest Violence Against Women in Israeli Arab Village After Murder
Jack Khoury Sep 16, 2017
Marchers were joined by Joint Arab List lawmakers after 35-year-old Hiba Manaa was murdered in the village in broad daylight at the beginning of the week
Protesters wave black flags during the march against violence against women in Majd al-Krum, September 16, 2017.
Woman murdered walking home from daycarecenter in Majdal Krum
The Russian and Ukrainian women who left their lives behind to raise families in Gaza
WATCH: In Israeli choir, Arab and Jewish women put aside politics to sing with one voice
Hundreds of people marched in protest of violence against women in the Israeli Arab village of Majd al-Krum in Israel's Galilee region on Saturday.
The march was the second to take place in the town after 35-year-old Hiba Manaa was murdered there in broad daylight at the beginning of the week. Manaa was shot on Sunday while on her way home from the children's daycarecenter where she had been working.
Manaa was living with her parents at the time, a mere 50 meters from her previous home, where she had been living until recently before divorcing her second husband.
Her relatives have reported that the attacker had waited in her car in an alleyway, only a few meters from her house before carrying out the killing
Her family and neighbors heard the gunfire but hid in their homes until they realized that it was Manaa that had been shot. According to them, the perpetrator got out of the car, shot Manaa in the head, only fleeing the scene after making sure that she was dead.
The march in Majd al-Krum on Saturday followed a similar march on Wednesday evening, when hundreds also gathered to protest what had happened.
Local anger has been palpable since the murder, and an emergency meeting has been held by the local authorities to discuss the matter.
Attorney Hussein Manaa said that the past months have seen an increase in shooting incidents and incidents of violence, without any steps having been taken by the police. "Hiba's murder is proof that it is all too easy to pull a trigger in the middle of the day on a main street," he said.
Hiba's relative, Aya, said that neither the family nor the local community were willing to accept what had happened. "The fear is that any woman in the town could find herself in the same position," she said.
Manaa grew up in the town, and studied at the local school. Her relatives explained that Manaa's marriage ended after a number of years after the couple were unable to conceive children.
read more: haaretz.com/israel-news/1.812633
haaretz.com/israel-news/1.812633
-----------
Fewer working women in India than Nepal
Subodh Varma | TNN | Sep 17, 2017, 05:30 IST
Female workforce rising in most parts of the world, but sliding in India
Just 27% of working age Indian women were employed in 2015-2016
In Nepal, women labour force employment is 79.9% while in Bangladesh it is 57.4%
Women commuters on a local train in Mumbai (file photo)Women commuters on a local train in Mumbai (file photo)
Indian women are gradually falling off the job map. A World Bank paper shows that while the female workforce is rising in most parts of the world, it is sliding in India. Just 27% of working age women were employed in 2015-2016. In Nepal, women labour force employment is 79.9% while in Bangladesh it is 57.4% which is miles ahead of us. Only Pakistan, at 24.6%, has a lower rate.
What about other countries? Apart from parts of the Arab world, everywhere else more women are working. China, with its powerhouse economy, has 64% of its women working, one of the highest rates in the world. In the US, it is over 56%.
The World Bank paper by Luis Andres and colleagues found that whether married or unmarried, whether Dalit, Adivasi or from the upper caste, whether illiterate or college graduates -women from all sections were increasingly not working.
While experts struggled to explain the reason for this drop when the economy is growing, economist Jayan Jose Thomas of IIT Delhi felt the key reason for increasing joblessness among Indian women is that there are not enough jobs. "The jobs that are available are marginal, low paying, insecure and backbreaking, like construction in the recent past. Then, there are issues of safety for women or absence of facilities like creches. Patriarchal values too come into play . All these lead to women not getting paid jobs," Thomas says.
timesofindia.indiatimes.com/india/fewer-working-women-in-india-than-nepal/articleshow/60715980.cms
-----------
This is why Arab women must fight harassment
2017-09-17
For decades, women across the Arab world have fought against the multiple forms of harassment they are subjected to by the opposite sex.
Centuries of mental conditioning and normalization of discriminatory male behavior has made it extremely difficult for Arab women to break through the oppressive mindset imposed on them.
Although many Arab and Muslim countries such as Egypt, Jordan, and Morocco have recently made headlines by introducing new laws to tackle sexual harassment, women themselves are not using said laws as often as they should be.
This is largely due to fear of judgment by society, or a lack of education surrounding this issue.
Unfortunately, more often than not, these women avoid "shame" by becoming submissive towards undesirable words and physical abuse by male members of society.
So, to all the Arab women out there, here are 8 reasons why you absolutely SHOULD fight harassment:
1. It's NOT just a compliment
Normalizing verbal harassment and disguising its ugly reality with flattery does not lessen the damaging and long term impact it has on women and young girls on a daily basis.
2. The shaming and victim blaming needs to stop!
YouTube ?@YouTube
Follow
Kirti Basal ?? @kirtibasal
Support Sexual Harassment Survivors Instead Of Shaming: Amitabh Bachchan youtu.be/IUcm4D8J2-w #KyaQusoorHaiAmalaKa
11:32 PM - Apr 13, 2017
Replies Retweets 2 2 likes
It's completely illogical to believe that a woman who attempts to fight against her aggravator and combats the growing issue of sexual harassment in her community brings shame onto herself.
3. "Boys will be boys"
View image on Twitter
View image on Twitter
Stop acting like men and boys are not able to control their actions. #findthemistake #rapesplaining #boyswillbeboys
4:28 PM - Sep 7, 2017
Replies Retweets likes
This claim indirectly suggests that boys are somehow unable to control their actions or thoughts.
"Boys will be boys" is a pitiful statement that attempts to justify the actions of some men by making the ridiculous argument that males are, by nature dominant harassers.
Nobody is born a sexual predator. These men evolve into predators over time.
4. "It could've been a lot worse"
To state that a woman should gratefully surrender to the violations she endures because there are more degrading crimes experienced by other woman is simply repulsive and only highlights the misogynistic roots of our society.
5. "You can't fight the system"
The notion that "you can't fight the system" is the same that was once used by slave owners, brutal dictators, and colonialists to suppress the rights of others.
It's dishonourable for an individual to repeat this in the context of harassment against women in modern times.
We hear this message way too frequently throughout the Arab world - the reality, however, is different.
Yes, you can fight the system!
6. "It was probably your fault"
The abstract belief that a man who objectifies and sexualizes a woman in public has no fault whatsoever, simply because of the fact that he was born male, is outdated, mostly unwelcomed, and should be unacceptable within any community.
On the other hand, to think that a woman is by default the cause of any incident of harassment because she was born female, is just as equally erroneous.
7. Make a big deal because you ARE a big deal
Sexual, verbal, and physical harassment are daily horrors that women face throughout their lives.
A woman's body and rights are equally worthy of recognition to any other human being.
In the words of Edmund Burke: "The only thing necessary for the triumph of evil is for good (wo)men to do nothing."
8. They'll say you just want attention
female harrasment new york - arab world
Source: Youtube
Women who fight harassment do want the right kind of attention; Yes, attention to raise awareness about an epidemic that has breached almost every woman's peace of mind in her lifetime.
It is only through the collective recognition of this growing problem by society, that a solution can ever be found.
stepfeed.com/this-is-why-arab-women-must-unite-to-fight-harassment-8169
-----------
Sovereign Women in a Muslim Kingdom
Posted on September 17, 2017 By Philip Bowring Book Review, Headline, IndonesiaSovereign Women in a Muslim Kingdom
The Sultanahs of Aceh, 1641-1699 By Sher BanuA.L.Khan. NUS Press, Singapore. 332 pages, soft cover
Given the generally subservient position of women in most Muslim societies, unsurprisingly it is barely known that there have been occasions when women have been rulers in their own right, and effective ones at that.
It is a particular surprise for those unfamiliar with the details of Southeast Asian history to find that Aceh, traditionally viewed as the most conservative part of the region and the one most impacted by stern traditions brought from Yemen and Arabia, should have been ruled by four successive Sultanahs spanning 50 years. These were also years when Aceh was still a formidable trading power, albeit one continuously having to cope with the increasingly aggressive Dutch.
Hitherto more attention has been paid to the four Sultanahs of Patani than to those of Aceh. Between 1584 and about 1649, Patani was ruled successively by four sisters, known by their colors – Hijau (green), Biru (blue), Ungu (purple) and Kuning (yellow). European visitors remarked on their "majesty" and bearing. The first was noted for going boar hunting at the age of 60 and for patronizing the arts. This was a period when Patani was an independent trading state, not a vassal of Siam.
Historians have, until now, tended to portray the Aceh Sultanahs as less significant than the Patani ones. They were regarded as figureheads, installed and manipulated by the orang kaya (rich nobles). However, this author gives a different and more flattering picture. His intensive research in voluminous contemporary Dutch archives, plus those of the English East India Company, as well as Malay writings, provides a vivid picture not simply of the sultanahs but of the relationship between Aceh and the Dutch and others jostling for control of trade.
This was a time when the Dutch, with the world's most powerful navy, were expanding their presence in Asia, seizing Batavia (Jakarta) in 1619 and in 1641 driving (with some help from Johor) the Portuguese out of Melaka. They also sought to muscle in on the trade in tin from Perak, then under Aceh's sway.
The first and most significant of the Sultanahs, SafiauddinSyah, had come to the throne at a very difficult time. Her father, Iskandar Shah, had presided over Aceh when its power was at its peak, but failure to conquer Melaka in 1629 began to weaken it. He was succeeded briefly by the foreign (Pahang) born Iskandar Thani. When Thani died with no apparent male heir, Safiauddin was chosen. By then Aceh faced the Dutch irritation that it had failed to deliver on promises to help capture Melaka, whose conquest then strengthened Johore at a time when it when it already controlled Pahang.
Safiauddin acquitted herself well in dealings with external challenges, despite having to give ground over the Perak tin trade, and also in keeping her balance in domestic politics where orang kaya rivalries were active and disputes over foreign policy frequent.
Her strength was that she ruled not as an autocrat and by force but through consultation with nobles, advisors and ministers. Due process reigned in accordance with both Islamic principles and Malay adat (customary law). In short, good governance.
It remains, however, an open question whether acceptance of female rulers was a product of Islam or of the much older traditions of Austronesian peoples, who include the Malays and most other inhabitants of maritime southeast Asia, as well as those of Polynesia and Madagascar. Historically these societies have tended to give women more status than most others, including the right to rule.
Whatever the cultural origins of the 16th and 17th century flowering of female rule in Muslim Aceh and Patani, this book provides a fascinating insight into an era which deserves to be much better known, and perhaps partly emulated by modern political systems.
asiasentinel.com/book-revie/the-sultanahs-of-aceh/
-----------
BJP suspends Muslim woman leader for organising prayer meet in Assam for Rohingya victims
By PrasantaMazumdar | Express News Service | Published: 17th September 2017
Thousands of people have fled their homes following two days of crisis in the state of Rakhine in Myanmar. Members of the Muslim Rohingya minority escaped to the border with Bangladesh, but Bangladeshi border guards are turning them back.The impoverished western state of Rakhine neighbouring Bangladesh has become a crucible of religious hatred focused on the stateless Rohingya Muslim minority, who are reviled and perceived as illegal immigrants in Buddhist-majority Myanmar. (Photo | AFP) Thousands of Rohingya Muslims have fled Myanmar. (Photo | AP)
GUWAHATI: A Muslim member of the BJP in Assam has been suspended and served a show-cause notice by her party for allegedly organising a "prayer meet" for the Rohingya people in Myanmar.
A notice sent by WhatsApp to Bharatiya Janata MazdoorMorcha chief executive member Benazir Arfan alleged that she had used the BJP's social media forum to make an appeal to people to attend a demonstration being organised by another organisation. The notice said the Benazir Afra had not discussed the issue within the party.
Arfan, who was the BJP's Triple Talaq mascot in the state, defended her action, stating that it was a prayer meet and not a demonstration.
"The event was organised by an NGO, United Minority People's Forum, to pray for the Rohingya Muslims who have lost their lives in Myanmar. But the BJP state leadership viewed it as attempt to lobby for asylum for fleeing Rohingya Muslims in India," Benazir Arfan told New Indian Express.
She alleged that the BJP had been vindictive towards her all along and the action against her was taken a day ahead of the event on September 16.
Arfan had joined the BJP in 2012. She unsuccessfully contested last year's Assam elections from Jania.
"I sincerely served the BJP all these years. Is this how they pay back?" a livid Arfan asked. She alleged that the male-dominated BJP state leadership denied delegating responsibilities to deserving women workers.
"The BJP state president Ranjit Das is at the heart of the problem. Media reports suggest his involvement in corruption but he is not accountable to any. Hindus and Muslims in Assam shared a cordial relationship but it has been strained under the present state BJP leadership," she alleged.
Arfan has already sent her reply to the showcause notice to the BJP leadership. She said she would not go back to the party even if the suspension was revoked.
"Prime Minister Narendra Modi announced several schemes and programmes for women's empowerment. I want to ask him what action he will take against the BJP state leadership for this injustice done to me," Arfan added.
newindianexpress.com/nation/2017/sep/17/bjp-suspends-muslim-woman-leader-for-organising-prayer-meet-in-assam-for-rohingya-victims-1658638.html
URL: https://www.newageislam.com/islam-women-feminism/brussels-airport-deports-danish-woman/d/112554