New Age Islam News Bureau
04 April 2022
• Women In Iran's Film Industry Slam Sexual Violence
• Whose Hijab Is It? Chennai Group Parodies Hindutva Bigots In Video
• Fashion Fits In Ramadan As Part Of Culture And Civilization, Say Saudi Designers
• Women Do More Than Men In Turkish Family, Survey Shows
• FRA Adopts UN Women's Empowerment Principles
Compiled by New Age Islam News Bureau
URL: https://www.newageislam.com/islam-women-feminism/brooklyn-pakistan-arooj-grammy-mohabbat/d/126723
--------
Brooklyn-Based Pakistan-Origin Vocalist Arooj Aftab Wins First Grammy For Her Song "Mohabbat"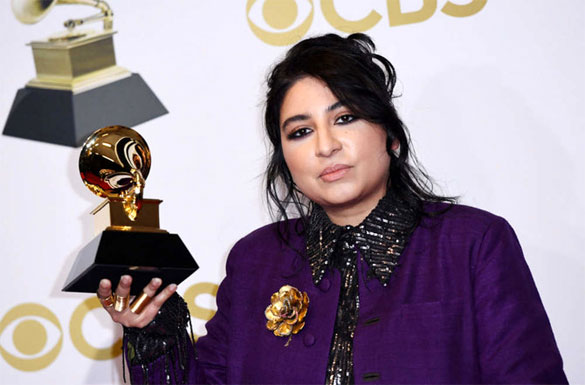 Pakistani vocalist Arooj Aftab poses with the Best Global Music Performance in the press room during the 64th Annual Grammy Awards at the MGM Grand Garden Arena in Las Vegas on April 3, 2022. (AFP)
-----
April 4, 2022
LAS VEGAS: Brooklyn-based Pakistan-origin vocalist Arooj Aftab on Sunday scored her first Grammy, winning a prestigious trophy for her song "Mohabbat" in the Best Global Performance category.
The 37-year-old — who has lived in New York for some 15 years — has been steadily gaining global attention for her work that fuses ancient Sufi traditions with inflections of folk, jazz and minimalism.
She's also up for the coveted Best New Artist prize, which will be presented during the main Grammy telecast later Sunday.
"I am beyond thrilled," the artist told journalists backstage at the pre-gala ceremony, at which the vast majority of awards are handed out. "It feels great."
"I've been very nervous all day. And we're off to a good start."
Born to Pakistan parents in Saudi Arabia, Aftab spent her teenage years in Lahore before relocating to Boston's prestigious Berklee School of Music to study music production and engineering.
She released her third studio album "Vulture Prince" to critical acclaim, and gained even more attention after former US president Barack Obama included the track "Mohabbat" on his 2021 summer favourites list.
Aftab has performed at a number of major New York venues including Lincoln Center and the Museum of Modern Art, also opening for Mitski at The Brooklyn Steel in 2018.
Speaking to AFP in the days leading up to the Grammys, Aftab praised her fellow artists nominated for Best New Artist, a crop that includes favourite Olivia Rodrigo along with rappers Saweetie and The Kid Laroi.
"We're all so cool — the group itself is kind of like a win," she said.
Source: Pakistan Today
https://www.pakistantoday.com.pk/2022/04/04/pakistan-singer-arooj-aftab-wins-first-grammy/
--------
Women In Iran's Film Industry Slam Sexual Violence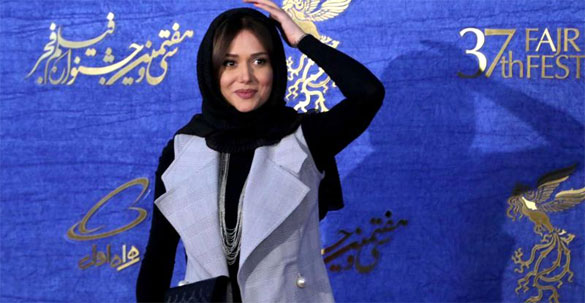 Iranian actress Parinaz Izadyar poses at a film screening during the 37th edition of the Fajr Film Festival at Mellat Cinema Complex in the capital Tehran, February 06, 2019. (AFP)
------
April 4, 2022
TEHRAN: Over 250 women working in Iran's film industry have signed a statement condemning what they call "systematic" sexual harassment and demanding a committee address the issue.
People in power in Iranian cinema are known to exploit their positions "to bully, threaten, insult, humiliate and assault women," they charged.
"Acts of violence are systematic," said the statement signed by some of Iran's most prominent actresses, film directors and producers.
"We condemn any violence and sexual harassment in the workplace, and to end it, we call for serious legal consequences for the violators." Iranian cinema is well-known around the world, as many of the country's movies have screened at film festivals and won international awards.
Those who signed the statement include Taraneh Alidoosti — who had a lead role in the Oscar-winning 2016 film The Salesman — Pouran Derakhshandeh, Parinaz Izadyar, Nikki Karimi and Hedieh Tehrani, all household names in Iran.
The celebrities called for the formation of an independent women-majority committee "educated on the issue of sexual and gender-based violence" to investigate reports of abuse. The statement was published by Iranian media on Friday.
On Sunday, Kazem Gharibabadi, secretary of Iran's high council for human right, called for the support and protection of women in the industry.
"Women should be supported and protected in the field of art, especially cinema," Gharibabadi said, according to the ISNA news agency.
Source: Dawn
https://www.dawn.com/news/1683347/iranian-women-in-film-industry-slam-sexual-violence
--------
Whose Hijab Is It? Chennai Group Parodies Hindutva Bigots In Video
Veena Nair
4th April 2022
On a hot and humid lazy afternoon a little Muslim girl wearing a hijab minding her business is walking to school. Suddenly she is he hounded by a group of right wing Hindutva goons who till then were just whiling off their time under a tree. They start screaming 'Jai Shree Ram' at her and haunting her.
The scared girl is fortunately rescued by a good Samaritan who then turns on to the goons and asks them to look around and justify their actions.
The scene then turns to a number of people – a middle-aged woman carrying a pot of water covering her head from the sun, a young woman covering her face talking to a friend, a man covering his head waiting at a bus stop – emphasizing what actually covering one's head means.
As usual, the goons do not understand the meaning and start chanting whoever they see covering their face including women with dupattas over their head and a man with a hoodie.
Infect they cross all levels of privacy when they see a man taking a good afternoon nap as they shout on his face 'Jai Shree Ram' scaring the daylights out of him.
The theme is evident. It's Hindutva bigotry. The goons however finally meet their match in an elderly brahmin couple commuting on a scooter. They are stopped. The woman is seen covering her face with the pallu of her Kanjeevaram saree. As they surround the couple and start chanting 'Jai Shree Ram', they are met with 'Om Namaha Shivaya'
After a few chanting, the elderly man has had enough and asks them what is their problem. When one of the goons asks, "Why is Maami (aunty) wearing a hijab?", the man replies that its not a hijab but a veil.
The goons are not ready to listen. The elderly man then tells them its same meaning but different words in different languages. "In Arabic its hijab, in Tamil its Mukkadu (veil)," says the elderly couple.
This confuses the goons. The elderly man continues, "Haven't you ever worn a hijab yourself?", further confusing the goons.
"When rain comes you cover your head with raincoat, that's plastic hijab. When you wear a hoodie T-shirt, that's a cotton hijab. During the summers or winters you cover your face right, that is also hijab. Then why are you shouting as if its a new thing in this world?"
His wife tells him to ignore such fools and they ride away. The kick in the video comes when the sun becomes unbearable to the goons. They then take a U-turn by using their saffron shawls to cover their heads.
The above scenes are from a hilarious video or short movie called 'Hijab', made on the ongoing controversy in Karnataka over young Muslim women and girls being denied permission to wear the hijab in colleges and schools.
Urban Nakkalites, a Chennai-based online media company has come out with a parody of what is happening in Karnataka. It is a hilarious take on a serious issue – Islamophobia. The video has garnered a lot of positive comments as well, with many online users asking it to be translated in other Indian languages as well.
You can watch the funny video here
https://www.youtube.com/watch?app=desktop&v=XMdyFLBTfE8a
Right-wing Hindutva's new obsession – the Hijab
The word 'Hijab' has now become a negative word in this country. With the recent controversy of the hijab ban where female Muslim students are barred by the court of law to enter schools with hijabs on, the issue is slowly engulfing the country by spreading through various cities. This has given more wings to Islamophobia resulting in other issues such as the recent ban of Muslim traders in Hindu temple festivals or the supplying of non halal meat.
A hijab is 'a head covering worn in public by some Muslim women.' Loosely translated its a head scarf. On a daily basis women and men in general cover their heads for different reasons. Mostly to avoid and protect their face from pollution and the sultry summers. Should we all presume that they are all wearing a form of hijab by covering their heads?
Hijab or no hijab, does it really matter?
Source: Siasat Daily
https://www.siasat.com/whose-hijab-is-it-chennai-group-parodies-hinduva-bigots-in-video-2301415/
--------
Fashion fits in Ramadan as part of culture and civilization, say Saudi designers
April 03, 2022
JEDDAH: Aside from the religious and spiritual duties that Muslims strive to complete during Ramadan, the fasting month is also a time for gatherings and maintaining kinship. This means it is also an occasion to dress up and look one's best.
Women put away their jeans and shirts and put on their jalabiya or dar'aa, quintessential dresses for Ramadan.
Saudi fashion designer Wafa Al-Jaffali has created a Ramadan collection inspired by the environment.
"My design for this Ramadan season combined traditional works from the environment of the south inlaid with beads, as well as the sun's rays in many of my pieces in addition to the waves of the sea," Al-Jaffali told Arab News. "Ramadan is the month of mercy, devotion, and closeness to the ties of kinship, which requires us to contribute in one way or another to meet the demand of female citizens and residents in a variety that uses a decorative and cultural character in our diverse homeland with its 13 regions."
Women and girls had an emotional relationship when it came to clothing on special occasions, she said.
"And this is followed by the economic situation of each woman, and this puts pressure on us to go along with everyone and meet their needs."
Her collection predominantly comprises simple materials that can be embroidered. "In our grandmothers' era they used taffeta, rama, silk, and other fabrics, which all enabled them at the time to work manually with needles, threads, sequins, and beads from their environment, to draw patterns of palm trees, the sun, and the moon."
She said the jalabiya was an iconic fashion piece during Ramadan because it was how women dressed back in the day, and it was being modernized with contemporary designs.
"It's a historic fashion item that tells the history of our mothers and grandmothers and carries pictures of the past while updating it with everything new, whether hand-sewn or made with a tailoring machine."
Lian Bahddad, 23, is a Saudi marketing graduate who taught herself fashion design. She said fashion was an integral part of people's culture and civilization.
"Fashion in Ramadan plays a major role in giving the season a distinctive character and a special identity that distinguishes it from the rest of the seasons," she told Arab News, "especially in the Middle East, which is distinguished by its wide easy to wear cuts, modesty, and cool airy fabrics."
Bahddad said the fashion industry was growing globally every year and that, not so long ago, international brands began designing Ramadan collections targeting the Arab market.
It was doubling in size every year, she added, with designs inspired by the jalabiya, the kaftan, the thobe, and the dar'aa. "And this would not have happened without the direction of local designers every year to add their creative touches to it, to add style to the characteristic of the fashion in Ramadan which led to the high demand."
The young designer said the clothes people wore were an expression of their personalities and moods. "Clothes and their styling are an art in itself. A lot can be said about our appearance for each occasion. An awareness of the dress code on every occasion is important. In some cultures, it can indicate a lack of respect for the people and the occasion itself."
She said the jalabiya started out as a men's robe from Egypt, Sudan, and Morocco, with its origins going back to the Ottoman Empire, but that these days it was a minimalistic and loose-fitting women's outfit.
"The month of Ramadan is the month of fasting and the main purpose is detachment from a materialistic life, and this reflects in the simplicity of the jalabiya and its special characteristics that it is light, comfortable, and minimal at the same time. And the gatherings between family and friends at the time of breaking the fast is what led designers into taking advantage of this season to innovate different styles, but the concept is the same."
Saudi freelance designer Darin Basyoni said as Ramadan was a month of gatherings, and its spiritual atmosphere gave people the energy to go out, they needed to look elegant and fashionable in a special way for these gatherings.
"To look good you need to dress nicely. Occasions usually have a special theme or spirit that gives that occasion its identity," she told Arab News.
Her Ramadan collection is inspired by traditional Saudi patterns and the environment.
"I wanted my first collection to represent my country's tradition, therefore, my main inspirations were the Sado pattern and nature."'
Source: Arab News
https://www.arabnews.com/node/2056226/fashion
--------
Women do more than men in Turkish family, survey shows
APR 01, 2022
Women's role in households has not changed much in Turkey, where men rarely contribute to the chores, if at all. The results of the "Family Structure Survey" announced on Friday by the Turkish Statistical Institute (TurkStat) verify this fact and demonstrate that in most homes, only one person does all the chores.
According to the survey conducted in 2021, all housework except painting the house was generally undertaken by one member of each household, from laying the dinner table to washing dishes and even serving tea in the evenings, a favorite pastime of most families in Turkey. The survey shows that women are overwhelmingly tasked with child care, doing the laundry and cooking alone most.
Nevertheless, decisions are made "jointly" when it comes to having fun. The TurkStat survey shows household members make joint decisions on where and when to go on vacation, at a rate of 94.7%. Decisions are also jointly made by the husband, wife and/or other members of the household in picking the place to go for a weekend outing, from dining out to entertainment venues. Couples also decide together on visits to relatives, friends, etc. Men, however, decide alone more on issues like how to prioritize expenditures or on vacations. Women decide alone on other issues that invariably involve chores, like what to cook for lunch/dinner and shopping for children's needs.
The survey also shows that families are not always together on weekdays and most families gather regularly over the weekends and over dinners.
Arranged marriages
The survey also sheds light on how the couples got married and what causes divorces. Arranged marriages constituted 46.1% of first marriages of citizens, while 10.7% of arranged marriages were the result of families marrying off their children without seeking the latter's consent or opinion. Some 34.9% of marriages were the result of the individual's own decision and with their parent's approval. The rate of couples who eloped against the wishes of their families was 5.3%.
The arranged marriage rate was almost the same for men and women, but the proportion of women who married against their wishes and upon their parents' pressure was higher than men who committed to marriages arranged by their parents without their consent.
The higher the educational level, the less the rate was of arranged marriages without the consent of the spouses, the survey indicated.
The majority of marriages were between the ages of 20 and 24 for those who were married for the first time. Women married at an earlier age compared to men. For instance, the number of women who got married before the age of 18 was 24.2%, while this rate was only 4.4% for men. Women and men interviewed for the survey overwhelmingly said that the appropriate first marriage age for women was between the ages of 25 and 29. Only 1.4% of marriages were preceded by prenuptial agreements, the survey shows.
The survey also sheds light on people who abstain from marriage, at least for some time. People at the age of 15 and over who did not plan to get married at least within the next three years said they prioritized their education. Both women and men cited continuing their education as the main reason for delaying marriage plans. Other reasons to postpone or abstain from marriage were insufficient income and the lack of job prospects.
Money, indeed, is figured as the main reason for marriage problems. Spouses mostly had problems regarding expenditures, while the main reason for disputes among married couples was the devotion of less time to each other, income-related problems, individual responsibilities and smoking habits.
As for divorces, the primary reason for divorce was an "irresponsible and careless attitude," according to divorced spouses. It was followed by cheating, inability to financially provide for the family and domestic violence. Irresponsible and careless attitudes also refer to fading love between the spouses over years. Another important reason for divorce, after an irresponsible and careless attitude, was parents interfering with their family matters. For women, cheating came second in divorce reasons, ahead of domestic violence.
Source: Daily Sabah
https://www.dailysabah.com/turkey/women-do-more-than-men-in-turkish-family-survey-shows/news
--------
FRA Adopts UN Women's Empowerment Principles
April 4, 2022
The Financial Regulatory Authority (FRA) has adopted the United Nations Women's Empowerment Principles (WEPs), which was launched in cooperation with the United Nations Global Compact to affirm support for achieving gender equality and empowering women in workplaces.
With this step, the FRA becomes the first regulatory body to sign this Declaration after being endorsed by more than 2,600 companies and bodies worldwide.
Mohamed Omran, Chairperson of the FRA, called on all unions and entities operating in the non-banking financial sector to adopt the WEPs Declaration.
The Declaration presents seven principles, including creating an institutional approach to achieving gender equality, treating all women and men equally at work, and support human rights and non-discrimination.
The principles also include ensuring the health, safety and well-being of all working women and men, promoting education, providing training and professional development for women, adopting practices that support women's empowerment, promoting equality through community initiatives and encouraging enrollment, and working to measure and report progress in achieving gender equality openly.
Omran said that WEPs represent a journey of evolution from a social perspective that stakeholders are taking to help them not only invest in their commitment to gender equality, but also invest in their businesses, with the support of UN Women where the promotion of gender equality is important. This would improve corporate performance, attract investment, enhance innovation capacity, attract and retain talent, diversify the base of suppliers, and meet consumer needs and demands.
He added that the authority joining the WEPs would contribute to receiving international recognition for the efforts made to promote gender equality and empower women in Egyptian workplaces. The authority and its leaders are committed to implementing more work and providing more support in this field, bearing in mind that gender equality is not a women's issue but an economic issue.
The step to join the declaration supports the results revealed in the annual report issued by the World Bank for the year 2022, which is concerned with measuring the development of procedures and legislation related to empowering women, and studying laws and regulations covering the entire life cycle of working women in 190 countries. This includes the continued improvement in Egypt's ranking in the indicators of the report, which reflects the successive government actions to support the issues of women's empowerment at the economic, social and political levels.
Omran added that an action plan is being developed to identify the priority actions that the authority should take to stimulate gender equality and women's empowerment, which UN Women can support more. These actions include providing technical support to diversify the supply chain for business needs to incorporate more women-owned businesses, raise awareness and training among managers to address gender bias in workplaces, develop leadership skills to enable female employees to take up senior positions, and raise awareness among both male and female employees on positive parenting and shared caregiving responsibilities, as well as providing technical advice on policy development related to responsible work, childcare leave, equal pay, and the prevention of sexual harassment.
Omran noted that women represent 33% of the workforce in the FRA. They occupy 35% of the senior administrative positions, ranging from the rank of general managers to sector heads. They also occupy 32% of the specialists' positions, which represents the largest base of the work force in the authority, in addition to the fact that the percentage of women in new contracts has reached 52%.
Source: Daily News Egypt
https://dailynewsegypt.com/2022/04/04/fra-adopts-un-womens-empowerment-principles/
--------
URL: https://www.newageislam.com/islam-women-feminism/brooklyn-pakistan-arooj-grammy-mohabbat/d/126723
New Age Islam Islam Online, Islamic Website, African Muslim News, Arab World News, South Asia News, Indian Muslim News, World Muslim News, Women in Islam, Islamic Feminism, Arab Women, Women In Arab, Islamophobia in America, Muslim Women in West, Islam Women and Feminism