New Age Islam News Bureau
8 Sept 2014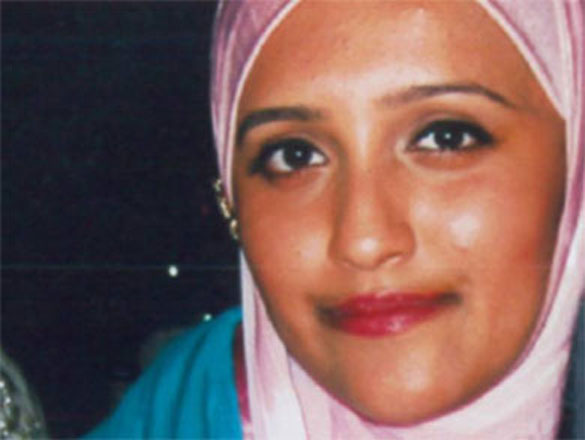 British women led by Aqsa Mahmood 'running sharia police
------------
• Women Prisons in Mosul Guarded by ISIS Leaders' Wives
• Female Lawmaker Endorses Taliban and Islamic State in Afghanistan
• Pakistani Gang Accused of Conning Woman into Working as Prostitute in UAE
• HRW Accuses African Union Military Forces of Sexual Assault
• New U.N. Rights Boss Urges World to Protect Women in Iraq' Syria
• Israeli Police Crackdown on Messianic Cult Involved In Prostitution
• Saudi Women More Keen to Achieve Than Men, Study Finds
• Bangladesh's Women's Rights Movement: Needs To Address Indigenous Plights
• US Trainers Recognize Khobar Schoolgirls' Story-Telling Talent
• Experts Seek Greater Role for Saudi Women in Oil Industry
Compiled by New Age Islam News Bureau
URL: https://newageislam.com/islam-women-feminism/british-women-running-sharia-police/d/98966
-------------
British women running Sharia police unit for Islamic State in Syria
08 Sep, 2014
As many as 60 British women have joined an all-female sharia police unit for the Islamic State (Isis), reprimanding those who fall foul of the jihad's strict rules
The al-Khansaa brigade is believed to be operating in the Syrian city of Raqqa, which is controlled by Isis militants and works as their Syrian headquarters.
According to the Terrorism Research and Analysis Consortium (TRAC), the militia group was established earlier this year to help expose male activists who attempt to disguise themselves in women's clothing to avoid detention.
A seminal figure in the police force, according to the UK-based International Centre for the Study of Radicalisation (ICSR), is Aqsa Mahmood, a privately-educated Glaswegian 20-year-old who fled to Syria last November.
Most of the British women who have travelled to the war torn region to fight, are between the ages of 18 and 24, the Daily Telegraph reports, a further three of whom are believed to have joined the military unit.
The ICSR says it monitors 25 British female jihadists who have left their lives in the UK to support Isis.
The brigade's women are reportedly paid a monthly salary of 25,000 Syrian Pounds (roughly £100), says TRAC, for duties that are not involved with acts of terror – instead insurgency operations.
They are not the only all-female brigade, either, with another – Umm Al-Rayan – also created around the same time.
Security services believe that it is likely that the women will know the true identity of 'Jihadi John', the Isis fighter believed to be the person responsible for the beheading of American journalists James Foley and Steven Sotloff.
According to Syria Deeply, the al-Khansaa brigade has also been tasked with cracking down on civilian women who fail to abide by the ultra-strict brand of sharia law implemented by Isis, including that women be fully covered in public and be chaperoned by a male.
An Isis official in Raqqa reportedly said: "We have established the brigade to raise awareness of our religion among women, and to punish women who do not abide by the law.
"There are only women in this brigade, and we have given them their own facilities to prevent the mixture of men and women."
On Thursday, the parents of Ms Mahmood made an emotional plea for their daughter to return and claimed that she had "betrayed" not only them but their community and "the people of Scotland" when she left to fight.
"Our daughter is brainwashed and deluded and helping those engaged in genocide," her parents said.
A Syrian airstrike targeting an Isis stronghold in Raqqa killed at least 25 people on Saturday – most of whom were civilians, with nine Isis fighters dead. Activists say the missile hit a crowded bakery.
http://www.independent.co.uk/news/world/middle-east/isis-british-women-running-sharia-police-unit-for-islamic-state-in-syria-9717510.html
-------------
Women Prisons in Mosul Guarded by ISIS Leaders' Wives
08 Sep, 2014
o one is allowed to enter women's prison in Mosul except those Islamic police-women who supervise it by the direct orders from ISIS's Amirs "leaders". But people fled Mosul are spinning tales most of which are difficult to verify according to "Al-Hayat" a London-based Arabic newspaper.
No one is allowed to enter women?s prison in Mosul except those Islamic police-women who supervise it by the direct orders from ISIS?s Amirs "leaders".
But people fled Mosul are spinning tales most of which are difficult to verify according to ?Al-Hayat? a London-based Arabic newspaper.
After the abduction of over 1200 Ezidi women, mostly young, after Shingal incident, people of Mosul started telling stories about those prisons and those women been held inside. Some of the Ezidi women have been detained there and others are sold to human traffickers. Many Shiia and Sunnis who refused to obey ISIS?s rules and laws are also kept here.
The newspaper interviewed some of displaced young people from Mosul now living in Suleimaniyah. They said that as the ISIS tightened the regulations against women and started liquidating men who worked with security forces despite their submission to Tawba system ?repentance, a campaign carried out by ISIS after overtaking Mosul for those who worked in the government security forces?.
The displaced young people say they know the reason why ISIS is moving women into the prisons but have no idea what?s going on inside them apart from some information told by local men working with ISIS and their wives who are working as the organization?s police-women that run the women prisons.
One of the young men said that his neighbor?s wife works with ISIS in one of the prisons. She puts on Burqa while at work and she gets orders from another high-ranking woman.
?There?s a woman who oversees the women?s police who calls the Amirs ?leaders? directly through official letters delivered by messengers, our neighbor also works in a women prison but she never talks about the captives and calls them ?infidels upon whom Sharia law must be imposed?.? The young man added.
The women who did not put on Burqa before the ISIS's deadline suffered tremendously. Those who scoffed the ?law? and refused to apply it, their husbands have been arrested or executed.
Faisal Sultan says one of his relatives passed a checkpoint in Mosul when ISIS members asked for his car?s papers and the reason his wife doesn?t put on Burqa, he handed them his documents and drove off at once, annoyed by their behavior. Next day, he bought his wife a Burqa and went to the same place and told them ?This is the Burqa, please give my papers back,? but they arrested him for not showing obedience and respect the previous day when he dashed off after handing them the papers.
The man was arrested alongside tens of others under various pretexts every day, but the new thing is the execution of prisoners. The Forensic Medicine Centre in the city is receiving bodies every day. Last week, a young man was stoned to death.
Dealing with women are done either through women?s police consisting of wives of ISIS members, who are deployed in the man-banned markets for observing women?s commitment to wearing Burqa and some others are guarding and supervising women prisons. In some markets ISIS members are carrying long sticks to beat women not wearing Burqa.
The women?s prison will remain mysterious around which many stories revolve before unfolding the secrets, though some international human rights organizations are observing the situation, attempting to find out what?s happening there as soon as possible.
http://www.kurdishglobe.net/article/92890359AFDDDE0FA6CBE7A89E3E40B6/Women-Prisons-in-Mosul-Guarded-by-ISIS-Leaders-Wives-.html
-------------
Female lawmaker endorses Taliban and Islamic State in Afghanistan
08 Sep, 2014
A female Afghan lawmaker Huma Sultani has said she supports the Taliban ideology and endorses an Islamic State in Afghanistan, similar as the Islamic State of Iraq and Syria (ISIS).
An audio tape of Huma Sultani which circulated in social media websites shows that she has close links with the Taliban group in Afghanistan.
Sultani is heard talking with an individual – Wahid Hasheimi in Australia where she claims that she was involved in the recent suicide attack on NATO troops convoy in capital Kabul.
he also said she strictly supports the Taliban ideology and endorses the rise of an Islamic State in Afghanistan, similar as the rise of ISIS in Iraq and Syria.
Sultani was requested for an interview regarding the audio tape; however, she refused and said she will not comment until the United States is not defeated in Afghanistan and other regions occupied by US forces.
Eng. Nafeesa Azimi, an Afghan lawmaker, has said that Huma Sultani has been deceived by certain circles and therefore she supporting the terrorist networks.
Ms Azimi said the Taliban group has always been against the women and rights and freedom of women, therefore the remarks of Huma Sultani supporting the radical militants, are baseless.
She also ruled out that Taliban supreme leader Mullah Mohammad Omar has contacts with Huma Sultani since Mullah Omar has always been against the presence of women in public and other social affaires.
According to Ms Azimi, Huma Sultani might be sufferig from some psychological disorders and therefore she is making such statements.
Another lawmaker Mohammad Akhlaqi said Ms Sultani has cut here ties with the lawmakers and family members long ago and therefore no one knows about her thinking and activities.
In the meantime, antoher lawmaker Chaman Shah Etimadi, criticized the security institutions for remaining reckless regarding Sultani's remarks where she publicly claims to have links with the terrorist groups but no step has been taken by the security institutions to launch a probe in this regard.
Etimadi confirmed that the audio tape is authentic and belongs to Huma Sultani.
Huma Sultani also claimed two years ago that Taliban supreme leader Mullah Mohammad Omar has been her guest for a long time and was in her house, but the security institutions did not confirm her claims.
The Taliban militants group has not commented regarding the remarks of Huma Sultani so far.
http://www.rawa.org/temp/runews/2014/09/07/female-lawmaker-endorses-taliban-and-islamic-state-in-afghanistan.html#ixzz3CitHmlOS
-------------
Pakistani gang accused of conning woman into working as prostitute in UAE
08 Sep, 2014
DUBAI // A woman claimed she was forced to work as a prostitute after being tricked into coming to the country to work in a beauty salon.
The Criminal Court on Sunday heard that the 23-year-old Pakistani was visited in her home country by a man and a woman.
"They spoke to me and my husband and said that I will be paid a lot of money if I joined them to work at a beauty salon in Dubai, so my husband agreed," she said. On March 31 this year she joined the couple on a flight to Shariah.
Once in the UAE, a man picked them up and took them to his house.
The next day, they went to a small apartment in Dubai, where the woman was told she would begin work. She assumed she would be going to a salon, but instead she was taken to a hotel.
"The same couple met with a man. He gave them money then I was forced to go with him and have sex with him against my will. I cried and I told them I wanted to return home to my family, but they locked me up and I was also beaten," she said.
On her third day in the UAE, she had an argument with the other residents of the apartment and the landlord told them all to leave.
As they were going to the house of the man who picked her up from the airport, she managed to escape and call the police.
R A, 45, a Pakistani, her daughter K A, 22, as well as their compatriots A S, 40, M Z, 45, and T A, 34, were arrested and charged with human trafficking.
KA, AS, M Z, and T A all denied running a prostitution business, while the mother and her daughter denied working as prostitutes while A S, M Z, and T A denied making a profit from prostitution. The next hearing is on September 21.
salamir@thenational.ae
http://www.thenational.ae/uae/courts/pakistani-gang-accused-of-conning-woman-into-working-as-prostitute-in-uae#ixzz3CirU1yoZ
-------------
HRW Accuses African Union Military Forces of Sexual Assault
08 Sep, 2014
An African military force in Somalia, which has received more than $20-million in funds from Canada, has been hit by allegations that its soldiers raped and abused vulnerable Somali women and girls.
The allegations, by Human Rights Watch, are based on interviews with 21 women and girls in Mogadishu, some as young as 12, who said they were raped or sexually exploited by Ugandan and Burundian personnel in the African Union military force.
Canada is one of several foreign donors that have supported the African troops in Somalia, seeing the troops as crucial weapons in the battle against al-Shabab, the Islamist radical militia that controls much of Somalia. Since 2011, the Canadian government has given nearly $21-million to the African Union force.
The troops, with a mandate from the United Nations, have pushed back the Shabab fighters from the capital, Mogadishu, and several other towns and cities. Canada has justified its financial support as an anti-terrorism measure, especially after the deadly terrorist attack on the Westgate shopping mall in Nairobi last year.
Al-Shabab's hardline leader, Ahmed Abdi Godane, was killed in a U.S. air strike last week. The militia this weekend named its new leader as Ahmad Umar, also known as Abu Ubaidh, a little-known lieutenant of Mr. Godane who shares his allegiance to al-Qaeda's terrorist tactics. The new leader is said to be a former Koranic teacher, about 44 years old.
Some analysts had predicted that al-Shabab might fragment after Mr. Godane's death, but so far the militia is pledging to support the new leader. They vowed to seek vengeance against the United States for the assassination of their leader.
Somalia has put its army on high alert for possible revenge attacks. A police officer said Sunday that mortar shells struck a residential neighbourhood in Mogadishu, wounding five people. No group has claimed responsibility for the attack.
In a 71-page report released on Monday, Human Rights Watch documented how some African Union soldiers have raped or sexually assaulted Somali women or girls who were seeking medical assistance or water at AU military bases. The troops have also used humanitarian aid to coerce vulnerable women and girls into sexual activity, the report said.
The sexual abuse is widely known to military officials, since the women and girls entered the AU bases through officially guarded gates, and some were even given official military badges to make it easier for them to enter, the report said. Senior officials in the military force seem to tolerate or even organize the abuse, it said.
Foreign donors who support the AU military force should ensure that there is greater supervision of the conduct of the soldiers, and they should halt their financial support if the abuse continues, Human Rights Watch said.
The sexual abuse victims are usually homeless women and girls who sought shelter in Mogadishu and became dependent on outside assistance after being forced to flee their homes in southern or central Somalia, the independent human-rights group said. They are "forced into exploitative and abusive situations to sustain themselves and their children," the group said.
In one case in late 2013, it said, a 15-year-old girl went to the base of the Burundian soldiers in Mogadishu to ask for medicine for her sick mother. She was told to follow two Burundian soldiers to get medicine.
They took her to a remote area, raped her and gave her $10 as she left, the report said.
Human Rights Watch said it documented 10 separate cases of rape or sexual assault by African Union soldiers in Mogadishu in 2013 and 2014. In several cases, the victims were given money or food "in an apparent attempt to frame the assault as transactional sex, or to discourage them from filing a complaint," the group said.
One rape victim told the researchers: "I was scared he would come back and rape me again or kill me. I want the government to recognize the power these men have over us."
In other cases, rather than raping the women, the soldiers exploited their desperate poverty and hunger, demanding sex in exchange for a few dollars, the report said.
"I was worried, I wanted to run," one 19-year-old woman told the researchers, describing how she was paid for a sexual encounter with a Ugandan soldier. It was only her hunger that forced her to stay, she said.
http://www.theglobeandmail.com/news/world/human-rights-watch-accuses-west-backed-african-union-military-forces-of-sexual-assault/article20464302/
-------------
New U.N. rights boss urges world to protect women in Iraq' Syria
08 Sep, 2014
GENEVA: The new U.N. human rights chief called on Monday for the world to protect women and minorities targeted by Islamic State militants in Iraq and Syria which he said were "increasingly conjoined conflicts".
Zeid Ra'ad al Hussein, Jordan's former U.N. ambassador, in a hard-hitting maiden speech to the U.N. Human Rights Council, said any country run by Islamic State "would be a harsh, mean-spirited, house of blood".
Islamic State's Sunni Muslim fighters have over-run large parts of Syria and Iraq since June, declaring a cross-border caliphate. The Geneva-based Council last week agreed to send a team to investigate crimes committed by the group on "an unimaginable scale".
"In particular, dedicated efforts are urgently needed to protect religious and ethnic groups, children – who are at risk of forcible recruitment and sexual violence – and women, who have been the targets of severe restrictions," Zeid told the forum.
He also called on Iraq's new government and prime minister to consider joining the International Criminal Court (ICC) to ensure accountability for crimes committed there.
Zeid described ISIL as "takfiris" - people who justify killing others by branding them as apostates.
"In the takfiri mind, as we have seen in Nigeria, Afghanistan, Pakistan, Yemen, Kenya, Somalia, Mali, Libya, Syria and Iraq, and throughout the world where they have attacked innocent people, including on 9/11, there is no love of neighbour - only annihilation to those Muslims, Christians, Jews and others, altogether the rest of humanity, who believe differently to them," Zeid said.
In wide-ranging remarks, he called for an end to Israel's seven-year blockade of Gaza and said Palestinians in Gaza and the West Bank deserved to lead a normal life free of illegal settlements and what he called excessive use of force.
http://www.thehimalayantimes.com/fullNews.php?headline=New+U.N.+rights+boss+urges+world+to+protect+women+in+Iraq%26sbquo%3B+Syria&NewsID=426801#sthash.hzHdeMxd.dpuf
-------------
Israeli Police crackdown on messianic cult involved in prostitution
08 Sep, 2014
Messianic cult exploited women for prostitution under influence of drugs, alcohol to save "Nation of Israel."
Judea and Samaria District Police arrested several leading members of a mysterious messianic cult on Sunday after it was revealed that the group exploited women to engage in prostitution while under the influence of drugs and alcohol in order to "save the Nation of Israel and bring about its salvation."
Police stated that, after an undercover investigation, four lead suspects were arrested. The investigation was initiated four months ago after police received reports that the group was taking advantage of women who had joined the cult.
The investigation revealed shocking practices which included a period of brain washing in which women were told that redemption would come to the "Nation of Israel" by lying with gentiles. Next, the suspected cult created a dependance in its female members on drugs and alcohol and encouraged them to perform sex acts while under their influence. The suspected cult members then took money from "gentiles" whom the women slept with.
The group was also suspected of encouraging some of its women to engage in religious Jewish observance in order to permeate the religious community in Israel and bring about its "redemption" in accord with the cult's beliefs.
The four suspects arrested by police included a a resident of Ashkelon, 47, two residents of Kiryat Arba, 40 and 60, as well as a 39-year-old resident of Jerusalem.
http://www.jpost.com/Israel-News/Police-crackdown-on-Messianic-cult-involved-in-prostitution-374637
-------------
Saudi women more keen to achieve than men, study finds
08 Sep, 2014
A considerably larger proportion of Saudi females are more likely to "strive to achieve" than their male counterparts, a survey found earlier this week, putting the figures at 35 percent and 20 percent of respondents respectively.
The survey, which was commissioned by Oxford Strategic Consulting, and released by the UK/Dubai-based HR consultancy, and polled nearly 1,000 Saudi nationals living in kingdom, asked respondents to list three things that most motivated them and three things that most discouraged them.
The survey indicated that Saudi women were also markedly more prone than men to feel discouraged by their own negative feelings (49% cf. 35%) and lack of personal achievement (24% cf. 14%), the report said.
These results indicate that that while Saudi females are eager to succeed, they're ability to do so is disproportionately impeded by certain factors in Saudi Arabia, the survey showed.
It stated that further research was required to single out the exact factors that were compounding these "negative feelings" and to determine whether this internal factor was universal to all women.
"There is a tremendous amount of untapped female talent in Saudi Arabia, with one of the challenges being internalized negative feelings. Subject to more detailed research, it may be possible to help adjust these feelings using advanced, but simple, interventions such as attribution style training – even in school," the report quoted Professor William Scott-Jackson, chairman of OSC, as saying.
And while Saudi women were most motivated by "striving to achieve," Saudi men were considerably more likely to be motivated by religion/beliefs (36% cf. 22%).
"Our organization has been finding innovative female employment solutions for organizations operating across the GCC for years. This survey provides further statistical evidence to our long-held belief that female talent is a key strategic capability for Saudi Arabia, and Saudi females are eager for the challenge," the report quoted Scott Druck, CEO of OSC, as saying.
The recent media interest in massive open online courses (MOOCs) has highlighted the challenges Saudi females face as they seek flexible and culturally acceptable working conditions.
However, they are unfortunately often categorized as "disadvantaged learners'' – a label OSC finds to be greatly inaccurate. The consultancy says women may in fact prove Saudi Arabia's most valuable resource with their educational achievements and ambitions far surpassing those of Saudi males.
http://english.alarabiya.net/en/perspective/features/2014/09/06/Saudi-women-more-keen-to-achieve-than-men-study-finds.html
-------------
Bangladesh's Women's Rights Movement: Needs to address indigenous plights
08 Sep, 2014
Bangladesh's women's rights movement will not gain momentum if it forgets the plight of indigenous women, said speakers at a conference yesterday.
They further said to strengthen women's rights movement, the organisations concerned should incorporate the struggle of rural women.
The two-day "National Indigenous Women's Conference 2014" was organised by Bangladesh Adivasi Nari Network and Kapaeeng Foundation at CBCB Centre in the capital. The event ends today.
Indigenous women face marginalisation because of their ethnicity, gender, and poverty, they said.
While they are marginalised because they live in rural areas, they are also marginalised as migrants when they leave their ancestral land and live somewhere else, said Sanjeeb Drong, secretary general of Bangladesh Adivasi Forum.
He also added that Bangladesh as a state is not friendly for women and for ethnic and religious minorities.
Minu Maria Mrong, convener of the network, said at least 18 indigenous women were subjected to sexual violence during the first four months of this year.
"The rate of such violence was higher this year compared to other years," she said.
About three million people of at least 54 different indigenous communities live in Bangladesh. Half of them are women, she stressed.
Ayesha Khanam, president of Bangladesh Mahila Parishad; Mangal Kumar Chakma, adviser of Kapaeeng Foundation; and Flora Bablee Talang, among others, spoke.
http://www.thedailystar.net/city/needs-to-address-indigenous-plights-40587
-------------
US trainers recognize Khobar schoolgirls' story-telling talent
08 Sep, 2014
JUBAIL — Trainers from Columbia University in New York praised the quality and content of English stories written by a number of female middle school students in Al-Khobar.
The stories were written as part of a story telling project adopted by Tatweer Company for Education Services and the Ministry of Education in cooperation with Columbia University.
The university has selected 30 stories written by female students for display during a training tour to different parts of the world, Alsharq daily reported.
The project was greatly successful when implemented by female teachers in Al-Khobar under the supervision of Wafa Al-Ghamdi and Hana Abdulbasit with followups conducted by English language supervisor in the Eastern Province Education Administration Najah Al-Rayyis. Female students from four different schools wrote a total of 200 stories in English.
A delegation from Tatweer Company and the Ministry of Education represented by female English language supervisors in the Eastern Province visited on Thursday Al-Khobar schools that ask students to write stories in English.
The delegation appreciated the efforts exerted by students in the Third Intermediate School in Dhahran and the works they presented as part of the project.
Meanwhile, English language training specialist in Tatweer Company, Shadha Safwan Al-Qadhmani, said the project was still in its initial stages. It focuses on teaching methods and their diversity as well as enhancing English language skills among male and female teachers through integrated and comprehensive training according to the needs of the project, she said.
In the initial phase, the project targets intermediate students and in 2015, it will include elementary and high school students.
Al-Qadhmani said the objective of the project is to give an opportunity to all students to participate and make use of their talent.
http://www.saudigazette.com.sa/index.cfm?method=home.regcon&contentid=20140908217437
-------------
Experts Seek Greater Role for Saudi Women in Oil Industry
08 Sep, 2014
ABU DHABI – Greater unified effort from the energy sector is needed to encourage women to pursue careers in the oil and gas industry, which statistics show continues to be a male-dominated field, experts said on Sunday during a VIP panel discussion.
Challenges to bridging the gender gap were addressed during this year's first panel discussion on "Women in Industry", an exclusive series of ADIPEC 2014 Middle East Petroleum Club (MEPC) events and initiatives dedicated to women in the energy sector.
Numerous reports have shown the critical role of gender diversity in meeting business goals, from sourcing talent pools to increasing profitability. However, a recent study by PricewaterhouseCoopers in association with the Women's Oil Council looked at the 100 largest listed oil and gas companies in the world and found that only 11 percent of board seats were held by women.
The study shows that while it is clear why women play a pivotal role in the energy sector, achieving progress remains a challenge.
Offering opportunities for professional development is key to making the oil and gas industry a viable career choice for women, said Souad M. Al Hosani, President and Founder of Nexus Business Services. "Oil and gas companies can retain women in their sector by offering them leadership positions and growth in their career," said Al Hosani. "Leading and mentoring are two important challenges that need to be looked at for women in the oil and gas sector."
These challenges go beyond the borders of the Middle East and are faced by the industry worldwide, according to experts. "This is not just a regional challenge, it is a global challenge," said Cynthia Babski, Internal Communication Manager at Qatar Shell Service Company. "Companies need to have a pro-active plan in place that goes beyond a recruitment quota."
"For example, Shell is addressing the gender imbalance by implementing supportive and inclusive corporate policies, from designating fieldwork timings, to protocols that address work-life balance. Such policies can change the dynamic of the work environment, and ultimately how people perceive the industry."
Strong female networks are crucial to building a sustainable professional environment for women in the industry, said Maryam Amiri, Senior Communications Advisor at the Abu Dhabi National Oil Company (ADNOC). "There are cultural barriers that we need to address, but these take time to change and will not happen overnight," Amiri said. "I would like to see a stronger support system among women. We need a 'sisterhood', a network of women who stand by each other, especially given these challenges that we all acknowledge. You often find this bond between men, but not so much among women because they are afraid of jeopardising their relationships."
The forum is of critical importance in light of new employment trends showing a growing number of women graduates considering the energy industry for long-term career opportunities.
According to a recent report by the Economist Intelligence Unit (EIU) 'UAE Economic Vision: Women in Science, Technology and Engineering' (STE), women account for 50.7 percent of graduates in STE and math-related courses across all institutions, and 56.8 percent in government universities in the 2011-2012 academic year.
The report showed that among those studying STE and mathematics (STEM), and wanting to stay in STE in the UAE, the energy sector was the second most attractive industry to work in (17 percent) after green technology (22 percent).
However both professional and cultural barriers continue to prevent women from making a smooth transition from university into the workforce. According to the EIU report, 60 percent of STEM respondents with experience working in an STE environment believe that female employees face obstacles when trying to manage work-life balance, and 66 percent of STEM respondents see cultural issues as a barrier to women in those fields.
"Managers must be continuously educated about what is needed to overcome these challenges," said Samar El Mnhrawy, Vice President of Human Resources at Baker Hughes. "For example, in addition to mandating that 30 percent of our field engineers must be women, we offer female employees a rotation schedule that encourages them to get experience on the field. We also have specially dedicated nursing rooms for new mothers.
"We have yet to fully tap into the potential of this talent pool. However, with these small but imperative steps, we are definitely moving in the right direction."
An important factor that should not be underestimated, experts said, is the pressure women often place on themselves.
Women should also take charge of their careers and should not be victims to circumstance," Babski said. "Do not be afraid to voice your opinion and share your thoughts with your line manager. Make it happen for yourself. It will be difficult, but you are paving the path for others to follow."
With a local, regional, and global mission to recruit more women in the energy sector, young female graduates must not be discouraged, say women pioneers in the industry.
"Women who are truly interested in engineering should not let anyone force them to change their career paths. It can be challenging at times, but the key is to focus on the positive and not the negative," said Mariam Al Hendi, Young ADIPEC Ambassador and a Mechanical Engineer at GASCO.
"Everywhere in the UAE there are people encouraging women to pursue their dreams; it is part of the vision and mission of our leadership. People subjecting women to gender profiling must realise half the global population is female, and not harnessing the talents of women because of their gender is not only discriminatory, but also a waste of human resources."
http://www.saudigazette.com.sa/index.cfm?method=home.regcon&contentid=20140908217417
-------------
URL: https://newageislam.com/islam-women-feminism/british-women-running-sharia-police/d/98966