New Age Islam News Bureau
3 Apr 2014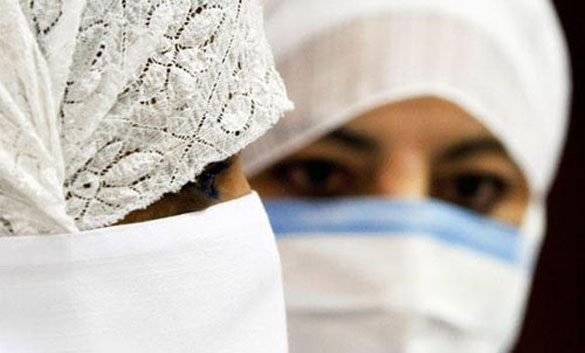 Photo: Saudi Women Medical Workers Slam Two-Shift Work Day
-----------
• IOC Supports Increase of Saudi Female Participation in Olympics
• Students and Faculty Wear Hijabs to Raise Awareness about Islam
• Afghan Girl Injured In War Gets New Arm, New Lease on Life
• Experts Shed Light on Women, Uprisings in Middle East
• Bastions of Human Rights: NGOs Vying for Top Slot in Aasia Bibi's Defence Counsel
• Battered Saudi Female Teachers Transferred For First Time
• Saudi Women Medical Workers Slam Two-Shift Work Day
• Gender In/Equality and the Recent Reforms of Moudawana in Morocco
• HRW: Proposed Burmese Marriage Law "Violates Women's Rights"
Compiled by New Age Islam News Bureau
URL: https://newageislam.com/islam-women-feminism/british-woman-jailed-tehran-insulting/d/66401
------------
British Woman Jailed In Tehran for Insulting Islam and Government, Fears Execution
Chris Green, The Independent | Apr 3, 2014
A British woman has been locked up in Iran for five months after posting derogatory comments about the country's government on Facebook and fears she will be executed, her husband has said. Concerns are growing for the welfare of Roya Saberi Negad Nobakht, 47, from Stockport, who has been charged with "insulting Islamic sanctities", a crime which can be punishable by death. The Foreign and Commonwealth Office (FCO) said it was "urgently" looking into her case. However, Britain currently has no embassy in Iran, making any negotiations more difficult.
Nobakht was in Iran visiting family in October last year when she was arrested by police as she arrived by plane in the south western city of Shiraz, according to an account given by her husband, Daryoush Taghipoor, to a family friend in Britain.
She was then taken back to Tehran and charged with "gathering and participation with intent to commit crime against national security" and "insulting Islamic sanctities", according to a copy of her chargesheet seen by The Independent.
Taghipoor, who is currently in Iran, claimed that his wife's arrest was over comments she had made on a Facebook group about the government being "too Islamic", and that she had only been charged after a confession was extracted from her "under duress". Facebook declined to comment.
She is believed to have been detained ahead of a trial at Evin prison in Tehran, which is notorious both for its harsh conditions and for its housing of political prisoners.
The couple have lived in the Stockport suburb of Heald Green for the past six years and have both been granted dual British-Iranian nationality. Nobakht had previously been a student at Stockport College, but a spokeswoman said today she had left four years ago.
Taghipoor told the Manchester Evening News: "It's a very bad situation. We don't know what's going on. Roya is not well at all. She has lost three stone and is frightened. She is scared that the government will kill her."
Nobakht's situation came to light after her husband approached his friend and former employer Nasser Homayoun-Fekri, who also lives in Stockport, who wrote a letter to his local MP Andrew Stunell.
"I must request, on humanitarian grounds as well as for the sake of justice, that you exert all possible pressure on the British government to do all that is feasible for the release of this innocent British citizen," he wrote. "Especially considering that the Islamic Republic, as acknowledged by the United Nations... is one of the most notorious human rights abusers at all the stages of arrest, custody and trial."
Homayoun-Fekri told The Independent he had spoken to Taghipoor on Tuesday but that his telephone line had since been cut off. "He used to work with me. He is not into politics or opposition groups, and neither is his wife," he added. "I was very surprised when he told me she had been arrested."
Stunell said he had "every reason to believe" that Taghipoor's account was true and that he had asked the FCO to seek consular access to Nobakht. However, he said this was proving difficult as the British embassy in Tehran was closed and a third party had to act as a go-between.
"I don't think anybody knows exactly and precisely what she's been arrested for," he added. "The randomness of these things is one of the areas of concern. But what she's been charged with appears to be an offence against attacking the holiness of Islam, which gives substance to [internet postings] being the reason."
Human rights groups have expressed concern about the reasons for Nobakht's arrest. Amnesty International's Iran researcher Bahareh Davis said: "If Roya Saberi Nejad Nobakht has been held solely for peacefully exercising her right to freedom of expression she must be released immediately and unconditionally.
"Regrettably, vaguely-worded and broadly-defined crimes such as 'gathering and colluding against national security' and 'insulting the Islamic sanctities', for which she appears to have been held, are often used by the Iranian authorities to curb those who peacefully express their opinions, including criticizing the government."
Faraz Sanei, Iran researcher at Human Rights Watch, said his organization had documented "many cases of political activists detained on trumped up charges" and that Iran had previously "used public information on Facebook and social media sites and other electronic outlets to charge individuals with insulting the government".
The FCO said in a statement: "We are aware of reports [about this case] and are looking into them urgently."
Despite the lack of a British embassy in Tehran, relations between the two countries appear to have thawed recently. In January, former home secretary Jack Straw headed the first UK delegation to travel to Iran in five years, accompanied by former chancellor Lord Lamont, Conservative MP Ben Wallace and Labour MP Jeremy Corbyn as guests of the Iranian Parliament.
Straw said on his return he felt there was a "lighter atmosphere" in the country, adding he believed President Hassan Rouhani was "committed to change" and would like to bring it "in from the cold". Evin jail in the northern suburbs of the Iranian capital, Tehran, was once given the moniker "Evin University" due to the number of political prisoners housed there. But the reality of the prison, which was constructed in 1972, is far less pleasant than the name suggests.
Standing at the foot of the Alborz Mountains, it is home to an estimated 15,000 inmates, including murders, thieves and rapists as well as intellectuals and dissidents. Former inmates have complained of human rights abuses such as beatings, torture and mock executions.
Hamid Ghassemi-Shall, a Canadian-Iranian businessman, was released from Evin in September last year after being convicted of "espionage" and sentenced to death. He told Amnesty International how he was blindfolded, dragged up a flight of stairs and made to sit against a wall in silence, convinced he was about to be killed.
One of the jail's most notorious cases of abuse involved Zahra Kazemi, a Canadian-Iranian photographer who was arrested in 2003 after taking pictures of her relatives outside Evin. She was later taken to hospital with severe injuries and later died. The Iranian government claimed she had suffered from a stroke while being interrogated.
http://timesofindia.indiatimes.com/world/uk/British-woman-jailed-in-Tehran-for-insulting-Islam-and-Iranian-government-on-Facebook-fears-execution/articleshow/33167150.cms
------------
IOC supports increase of Saudi female participation in Olympics
April 03, 2014
RIYADH — IOC President Thomas Bach offered his support Wednesday for increasing the participation of female athletes from Saudi Arabia in the Olympics.
Bach held talks in Riyadh with Prince Nawaf Bin Faisal Bin Fahd, President of Youth Welfare.
The International Olympic Committee said the two discussed a strategy for sports development in the Kingdom through 2020.
"President Bach promised full support for the plan, which also included proposals to increase women's participation in the Olympic Games and in sport in general," the IOC said in a statement.
After prolonged negotiations with the IOC, Saudi Arabia sent women to the Olympics for the first time in 2012, with two female athletes competing at the London Games.
Wojdan Shaherkani competed in judo and Sarah Attar in 800-meter race. Dalma Rushdi Malhas competed at the 2010 Singapore Youth Olympics and won a bronze medal in equestrian.
In an interview with Saudi Gazette after her Olympics participation, Attar said she realized how impactful, important, positive and influential her participation was for her country. Although she had never envisioned being part of the Olympics, she said it was a huge part of her life and will remain to be so. "It was impactful and an amazing experience. It was more empowering to be an influence on people than to focus on what was happening."
Saudi Arabia hopes to increase women's participation at the 2016 Games in Rio de Janeiro by introducing better training, particularly at the university level, the IOC said.
The IOC said Bach offered to work with international sports federations to draft a program for greater Saudi participation and help raise awareness of Olympic sports in the Kingdom.
http://www.saudigazette.com.sa/index.cfm?method=home.regcon&contentid=20140403200752
------------
Students and Faculty Wear Hijabs to Raise Awareness about Islam
April 03, 2014
To raise awareness and foster dialogue about the Hijab and Islam, students and faculty from across religious and cultural backgrounds wore Hijabs and stickers in support of "Hijab for a Day" on Wednesday, April 2.
The event was organized by the Students' Association for Interfaith Cooperation (SAIC) and the Muslim Students' Association (MSA). It was a part of MSA's Islam Awareness Week, which runs from April 2-10. The event was partially inspired by the global "World Hijab Day" campaign that occurs annually on February 1.
"We see religious and cultural diversity on our campus, and we're often curious about it, but we feel intimidated to ask questions about it," SAIC President and junior Fatima Bawany said. "I'm hoping this event makes the Hijab something that people feel is more of an approachable subject."
The event, which was open to students and faculty members, had 65 registered participants. However, the event organizers estimate that nearly double that number unofficially participated.
"The participation level goes way beyond what I had expected," MSA Secretary and sophomore Hiba Zafar said. "As a Muslim student who wears the Hijab, it's great to see how supportive of a community Rochester is."
Participants could choose to wear a sticker of support or a Hijab. Donations of Hijabs were collected from the local Muslim community. Junior and SAIC Publicity Chair Samantha Merrill elected to wear the Hijab.
"I [could] tell you the reasons why women choose to wear it, but there's a big difference between knowing it intellectually and experiencing it myself," Merrill said. "I wanted to know how people would respond to me wearing a Hijab and whether I myself would feel any different wearing it."
In addition to Tuesday's main portion, MSA and SAIC incorporated a Meet & Greet informational session on Monday evening. During this session, participants learned about the significance of the Hijab to Muslim women and Islam, met other participants, and shared their motivations.
"Our goal is to make sure that our participants are as informed as possible, so that if someone asks them a question about the Hijab in the future or during this event, they are able to understand what it actually signifies," Bawany said.
Both Bawany and Zafar believed that the biggest challenge for participants, particularly those wearing the Hijab, would be dealing with questions and unwanted attention. However, this hasn't been the case thus far.
"I haven't really gotten any strange looks or comments," Merill said. "I guess it's been a bit surprising that people aren't asking me about it."
The event will conclude Tuesday evening with a reflection where participants will be able to share their experiences and the way their perspectives may have changed. The organizers are optimistic that both participants and nonparticipants will learn and benefit from the event.
"I really hope they come out feeling more comfortable with the topic of Hijab, and if they have any friends who wear it, they'll be able to show their support and respect for those women," Zafar said.
Bawany shared similar sentiments. "Aside from learning more about the Hijab, I hope that this will help students feel more comfortable approaching topics related to religion," she said. "I think when we learn to dialogue with each other about sensitive topics in a respectful way, this helps us understand each other on a much deeper level."
Hansler is a member of the class of 2015.
http://www.campustimes.org/2014/04/03/students-and-faculty-wear-Hijabs-to-raise-awareness-about-islam/
------------
Afghan girl injured in war gets new arm, new lease on life
April 03, 2014
During an occupational therapy session Wednesday at Shriners Hospital for Children in Downtown Los Angeles, Shah Bibi carefully removed two snug rubber bands around a doll's hair with her new prosthetic arm. She slowly tied the laces on a large shoe placed in front of her and struggled to jump rope with her occupational therapist.
But it was hitting a beach ball on a cone with a plastic baseball bat — which she did with ease and strength — that clearly thrilled the 7-year-old Afghan girl the most. Shah Bibi, whose last name is being withheld for her privacy and safety, lost part of her right arm and an eye after picking up a grenade last summer in her native, war-torn Afghanistan.
She was brought to Southern California in December by the Los Angeles-based Children of War Foundation to receive months of donated medical treatment. She will head back home Monday to reunite with her family.
The new arm "is really good for writing, and for hitting the ball, and for braiding the doll's hair," Shah Bibi, who has acquired a taste for American singers Rihanna and Katy Perry in recent months, said through a translator Wednesday. "I like it (overall) for what it is."
Ammal Najjar, executive director of the Los Angeles-based nonprofit Children of War Foundation, wasn't sure this day would ever come.
She first heard of Shah Bibi's plight after she received an email in August from an American nurse who was helping care for the girl at a NATO hospital in northern Kabul.
"When I look back at it now and I see her today, it's incredible. It's a miracle," Najjar, said. "I felt like she's meant to go on and do better things now, seeing her with her new arm. There's a reason why she was spared... She's going to go home completely transformed."
Shah Bibi, who lost a sibling in last summer's explosion and had to be dug out of the rubble, wanted more than anything else to have a new arm, Najjar said. When she arrived, doctors weren't sure that fitting her with a prosthetic arm would be necessary since some people fare better without one. But Shah Bibi was so eager to have a new arm, she said. She wanted to feel normal.
"It's brought her self-confidence back because we didn't see her smile until she had her arm," she said.
Shriners Hospital for Children picked up the tab for much of her medical care, including Shah Bibi's prosthetic arm and accompanying occupational therapy; Dr. Mark Urata, chief of the division of plastic and reconstructive surgery of USC's Keck School of Medicine, removed some shrapnel from her body and some infected teeth. Children of War picked up most of her other expenses, including her visa, airfare and anesthesia, Najjar said.
Shah Bibi was fitted with a somewhat low-tech prosthetic so if something breaks while she's back home, it won't be impossible to get it fixed, said Dr. Phoebe Scott-Wyard, medical director of the Child Amputee Prosthetics Project at Shriners Hospital for Children.
Children of War also hopes to bring her back to the United States regularly since she's expected to outgrow the prosthetic about once a year.
The girl has been going through extensive training with occupational therapist Vivian Yip in recent weeks — first with a very short-term arm and now with a more long-term one — since she won't have access to that in Afghanistan, Scott-Wyard said.
"She's very motivated. She's a sweet, sweet girl and it's been a wonderful partnership with Children of War Foundation," she said.
On Wednesday afternoon, Shah Bibi — who loves to color — used her new prosthetic arm in a private painting session with artist Dayvd Whaley at Galerie Michael, a fine-art space in Beverly Hills.
Shah Bibi has been staying with a host family in Orange County while recuperating and learning how to read and write English at an Islamic school in Anaheim that is donating its services. Since her remote village in northern Afghanistan is occupied by Taliban forces, who do not permit girls to study, this is an experience Shah Bibi would not have at home, Najjar said.
"Being able to read and write the past four months has really changed her," she said. "It's opened her mind up."
Shah Bibi heads home to her family on Monday, though she will return to Southern California in coming summers for additional medical procedures, including receiving a prosthetic eye, Najjar said.
"I have a 2-year-old at home and I couldn't imagine if this were to happen to him and we weren't able to get the help," she said.
http://www.dailynews.com/health/20140402/afghan-girl-injured-in-war-gets-new-arm-new-lease-on-life
------------
Experts shed light on women, uprisings in Middle East
April 03, 2014
Nearly a century after the formation of the Muslim Brotherhood or The Society of the Muslim Brothers, Western countries still generally stereotype Middle Eastern countries for unfair treatment of women without examining their own mistakes.
The Arab Spring, a grassroots movement for democracy and human rights, has been demonized, while social progress remains unclear.
Two professors gave a panel presentation on "Women, Religion and the Uprisings in the Middle East" to shed light on this controversy yesterday at the Ruth Dill Johnson Crockett Building on Douglass campus.
Sponsored by the Rutgers Department of Women's and Gender Studies and Center for Middle Eastern Studies, each professor took a different approach in analyzing problems.
Beata Kowalska, a professor at Jagiellonian University in Poland, centered her presentation on the struggle Jordanian women face for equality in citizenship.
"Feminist sisterhood and feminist solidarity [are crucial] in times of huge conservative backlash and religious waves all over the world," Kowalska said.
Only a Jordanian male may pass on his citizenship to his children. A foreign wife can obtain citizenship after three years of marriage if she is an Arab and after five years if she is not.
"The marriage of Jordanian women to Palestinian men is seen as disloyalty to the nation," she said.
Such policies are supported by religious tradition. Kowalska cited section 33 of the Quran, which says "call them by the names of their fathers." This becomes a serious political problem when there are 84,711 Jordanian women married to non-Jordanian men.
The result is thousands of lives destabilized by fear. The children of these families are always under threat of being expelled from school.
Kowalska recounts the heartache of one woman who had not seen her son because he was denied reentrance into the country after visiting Egypt. She had not seen him for eight years and hopes to see him before she dies.
There are two opposing forces at work: socioeconomic and political changes brought on by Western influence against the traditions of tribal and religious law, Kowalska said.
Unfortunately, women do not play as much of a role in the Muslim Brotherhood either, she said.
"The biggest problem is economic dependence," she said.
Political participation is difficult given the stigma against working women. Yet, Kowalska is optimistic because women represent 65 percent of university students in Jordan.
Regardless of outside opinion on this policy, religion and the Muslim Brotherhood actually win much public sympathy in Jordan through hosting mass wedding ceremonies that make them integral to communities, Kowalska said.
What many Americans do not understand is that the Muslim Brotherhood was a reactionary group formed to fight American and British Christian missionaries, said Beth Baron, co-director of the Middle East and Middle Eastern American Center at the City University of New York.
Baron had a mission to deconstruct the Western view of the Egyptian Muslim Brotherhood as a terrorist group.
Her book, "The Orphan Scandal," detailed the story of a Muslim orphan beaten in a Swedish orphanage in the 1930s in an attempt to convert the child from Islam to Christianity. This served as a rallying point for Muslim Brotherhood supporters.
Baron believes the Muslim Brotherhood is not a terrorist organization, and the British and Americans should be looking at their connections with it.
Taking advantage of British occupation, both the British and Americans promoted Western rhetoric and religious conversion thinly veiled under social service projects, Baron said.
Hassan al-Banna, founder of the brotherhood, copied these conversion tactics by setting up schools and hospitals to win back Muslim believers.
Whereas Egyptian state schools had previously excluded religion, Western missionary schools taught religion and actually appealed to Muslim believers.
Saffo Papantonopoulou, a recently accepted student for the graduate program in the Rutgers Department of Women's and Gender Studies, criticized the American public for its lack of accountability.
"Many of these groups are recipients of U.S. aid money," she said. "When American tax dollars are playing this role, people have a responsibility to inform themselves and think critically."
The panel speakers echoed this sentiment.
http://www.dailytargum.com/news/university/experts-shed-light-on-women-uprisings-in-middle-east/article_f5da6b32-bace-11e3-b887-0017a43b2370.html
------------
Bastions of human rights: NGOs vying for top slot in Aasia Bibi's defence counsel
April 3, 2014
LAHORE: A number of lawyers and non-government organisations are in a race to take the credit for representing death-row prisoner Aasia Bibi in an appeal against her conviction in a blasphemy case, The Express Tribune has learnt.
There are at least 12 lawyers associated with this case – four representing the complainant against Aasia Bibi and seven others, including MPA Sardar Khalil Tahir Sindhu, claiming to represent Aasia Bibi. And yet, a Faisalabad-based organisation, which defended her throughout her trial, has been disassociated from the appeal after a Lahore-based organisation hired the same lawyer on a bigger fee than the one the Faisalabad organisation, Bishop John Joseph Shaheed Foundation (BJJSF), was paying him.
The BJJSF had hired Advocate SK Chaudhry to file Aasia Bibi's appeal in 2010. In 2013, Joseph Francis, director of Centre for Legal Aid Assistance and Settlement (CLAAS), offered Chaudhry Rs300,000 to represent Aasia Bibi in the Lahore High Court on the behalf of CLAAS, which Chaudhry agreed to do.
And even though the cause list issued by the court mentions seven lawyers, Francis sent statements to several newspapers insisting that no lawyers other than the ones hired by the CLAAS were representing Aasia Bibi.
In a statement, Francis claimed that Advocate Naeem Shakir and SK Chaudhry were defending Aasia Bibi on the behalf of CLAAS. However, Shakir has categorically denied having any connection with CLAAS. He told The Express Tribune that he had nothing to do with CLAAS and was representing Aasia Bibi on behalf of her husband Ashiq Masih. He said Advocate Nadeem Anthony was also with him on the case.
Michael Johnson, an office bearer of the BJJSF, told The Express Tribune that the BJJSF had defended Aasia in the trial court and had filed her appeal before the Lahore High Court "through a lawyer later hijacked by CLAAS". Considering the situation, he said the BJJSF had decided to disassociate itself from the case.
Johnson Nadeem, who takes care of Aasia Bibi's family, has told The Express Tribune that Aasia Bibi's family had not asked the CLAAS or any other organisation to represent Aasia Bibi. Advocate Naeem Shakir has been their attorney for the last two weeks, he said.
Nadeem said that Francis had hired the BJJSF's previous lawyer so the BJJSF had asked Aashiq to sign a letter of attorney on their behalf. Even though Aashiq did not sign the letter he told Michael Johnson that they had no objection if the BJJSF claimed that Shakir was their lawyer.
Nadeem said Francis had tried to convince Aashiq to let them represent Aasia Bibi in court. After a two-hour debate on the subject, Aashiq told Francis to keep himself away from the case. But the CLAAS then hired Advocate SK Chaudhry, who was already engaged for the case. Bishop Francis told The Express Tribune that he had paid Advocate SK Chaudhry Rs300,000 to switch over from the BJJSF to the CLAAS. He said the lawyer had complained that the BJJSF was paying him a meagre fee. Francis admitted that he had hired the lawyer without the consent of Aasia Bibi or her family because Aashiq had not given him a letter of attorney.
Advocate SK Chaudhry told The Express Tribune that he had been previously hired by the BJJSF, which had given him a meagre compensation but then the CLAAS offered him a decent fee and he accepted. "Michael Johnson is annoyed with me because of this," he said.
Aslam Parvaiz Sahotra, chairman of the Human Liberation Commission Pakistan, told The Express Tribune that he had also engaged a lawyer for the case that had been hijacked by Francis. He also accused Francis of superseding the power of attorney for Advocate Naseem Anjum, whom Sahotra had hired for Sawan Masih's bail. Sawan Masih was sentenced to death for blasphemy a few days ago. Sahotra said, after superseding Anjum, the lawyer hired by the CLAAS withdrew Sawan Masih's bail application so that he would stay in jail, allowing Francis to "mint more money off him".
Commenting on this allegation, Francis admitted that his lawyer had superseded Anjum and withdrawn the bail application. But, he said, he had done that because bails were never granted in cases tried under Section 295-C (blasphemy). Francis said the CLAAS received sufficient donations and did not need to keep Sawan Masih in prison for this.
Aasia Bibi's husband Aashiq Masih told The Express Tribune that Advocate SK Chaudhry had been their lawyer for this case, but now it was Advocate Naeem Shakir. He said Francis had tried to convince him to sign the letter of attorney, had even quarrelled with him over it, but Aashiq said he had refused. "Francis misbehaved with me after I refused," he said.
Advocates Amjad Ali Sherazi, Shehzad Chaudhry, Muhammad Yasin Badar (a member of Free Legal Aid and Settlement), and MPA Sardar Khalil Tahir Sindhu, parliamentary secretary for human rights, minorities' affairs and law and parliamentary affairs, also represent Aasia Bibi as her counsel. On the other hand, Ghulam Mustafa Chaudhry, Hamid Hameed Chaudhry, Khawaja Ibrar Majal and Mian Asghar Mahmood represent the complainant.
http://tribune.com.pk/story/690582/bastions-of-human-rights-ngos-vying-for-top-slot-in-aasia-bibis-defence-counsel/
------------
Battered Saudi Female Teachers Transferred For First Time
April 03, 2014
RIYADH — In an unprecedented move, the Ministry of Education transferred eight female teachers from one region to another because they were being subject to domestic violence, according to a ministry official.
A special circumstances committee transferred the teachers after they complained to the police, Ministry of Health and their school principal, Makkah daily reported.
Undersecretary of the Ministry of Education for School Affairs, Saad Al-Fehaid, said the delay in announcing the transfer of teachers was due to the ministry's comprehensive review of the whole process.
He said the teachers who have submitted applications for external transfer from one city to another during 2014 reached 61,649. Of these, 14,533 were transferred.
Meanwhile, female teachers who submitted applications for internal transfer reached 51,542. Of these, 8,416 were transferred.
Al-Fehaid confirmed that the external transfer process included all specializations and is carried out according to the regional need for each specialization.
Al-Fehaid confirmed the ministry receives teachers' applications for transfers throughout the academic year. It also studies the new cases according to certain controls and refers them to the officials. Cases made for health or humanitarian reasons are approved.
He added the ministry had uncovered discrepancies in medical reports for transfer applicants through the special circumstances committee. The committee wrote to the hospitals.
In one case the report said the teacher's child was suffering from speech difficulties and he was barely 2.
Al-Fehaid said transfer applications focused on the big regions: 7,341 female teachers submitted applications for transfer to Riyadh, 5,361 applications were for Jeddah and 3,759 for Makkah.
A total of 2,437 male teachers requested transfers to Riyadh, 3,583 to Jeddah and 5,229 to Makkah.
Al-Fehaid said the Control and Investigation Board (CIB) reviewed the number of jobs and the increase in teachers in some regions.
http://www.saudigazette.com.sa/index.cfm?method=home.regcon&contentid=20140402200563
------------
Saudi Women Medical Workers Slam Two-Shift Work Day
April 03, 2014
Women medical workers here have slammed a proposal by the Ministry of Health to introduce a two-shift work day by the end of May.
Female employees working at hospitals here reportedly recently filed complaints about the plan with their local health department. These would be sent to Minister of Health Abdullah Al-Rabeeah.
Women workers said they cannot work two shifts in one day because it would have a negative impact on their lives, especially on married women. They said the proposal was not in the public interest.
Hajar Ismail, a nurse, said the decision would expose women to many problems. Life would be difficult for them if they have to go home and then return to work twice daily.
The supervisor of a health center west of Dammam said women are unhappy about the plan, and argued that it would affect the productivity and efficiency of the facility.
A source at the Eastern Province health directorate said the plan was still under study. The heads of the country's health departments would hold a meeting soon on the matter.
Saad Al-Ghamdi, director general of health centers in the Kingdom, confirmed that the plan is being considered. "The health minister has ordered a study into the matter. The issue hasn't been decided yet."
He said there would be considerable consultation first before a decision is taken.
http://www.arabnews.com/news/549476
------------
Gender In/Equality and the Recent Reforms of Moudawana in Morocco
April 03, 2014
Rabat - After many years of struggle by women's organizations, the situation of women in Morocco has improved, thanks to the adoption of several reforms.
During the last two decades, Moroccan women have been calling for equal rights between men and women. Their efforts have given birth to many triumphs and contributed to the improvement of the status of women in Morocco. Theoretically, Morocco has some of the most improved laws for women's rights in the Arab world. However, these new laws are not applicable throughout Morocco, especially in rural areas.
Starting from the 1990s, women's struggle for reforms achieved a concrete victory and began to gain momentum. Conducted by the Union of Women's Action (UAF), a petition calling for the reform of the Personal Status Code and Sharia-based family law collected signatures of one million women. This petition demanded the government to sign the UN Convention on the Elimination of All Forms of Discrimination Against Women (CEDAW), and to use its articles to amend the country's Moudawana (the official family code that dictates the roles and relationships between men and women within the family). Consequently, Morocco ratified the CEDAW in 1993, but with a number of reservations. Moreover, during the last decade, the Moroccan government introduced more reforms to the Personal Status Code.
The terrorist attacks in Casablanca in 2003 represented an opportunity for the Moroccan government to reform the Moudawana, in spite of the objection of the Islamist leaders and the accusations that the king introduced these reforms under pressures from the European Union and the United States. Despite the fact that the reforms scored a victory for the Moroccan women movements, Islamists, including women, strongly opposed those reforms. The spokeswoman of Justice and Charity Islamic Movement, Nadia Yassine, described the reforms as representing the interests of foreigners and international feminist movements, rather than the legitimate will of the Moroccan people.
The reformed version of the Moudawana grants men and women equal rights within the family. Husbands and wives now have equivalent rights in house management, family planning, children upbringing, and legal cohabitation. The legal minimum age for marriage for both men and women is 18 years (it was previously 15 years for women). Special cases of marriage under that age now require permission from a judge. Also the free consent of both spouses is now required by law and women no longer need permission from a male guardian to marry.
The Moudawana does not entirely prohibit polygamy, but rather includes measures that make it very complicated. Those who want to marry another wife must obtain a judge's permission and provide a documentary evidence of their financial situation. They must also certify that all their wives will receive equal treatment, and that their first wife (or wives) has given her approval. Since the reforms were introduced, the number of new polygamous marriages has decreased. Furthermore, the new family code eradicated the concept of repudiation (that is to say, the husband's right to unilaterally divorce his wife) and gave women the right to divorce on the same grounds as men.
Morocco further amended the Family Code in 2007 by passing the Nationality Code, which granted Moroccan women married to foreigners the right to pass on their citizenship to their children. In the past, only fathers possessed this right.
Dr. Khalid Bekkaoui recently conducted a survey on 1,271 respondents who belong to different parts of Morocco. When asked their opinion about the Moudawana, the respondents' answers were as follows:
http://www.moroccoworldnews.com/2014/04/127352/gender-inequality-and-the-recent-reforms-of-moudawana-in-morocco-2/
------------
HRW: Proposed Burmese Marriage Law "Violates Women's Rights"
April 03, 2014
International rights group condemns marriage law proposal in Burma's parliament as violating the rights of women and religious minorities. In an interview with Karen News a human rights advocate warns that the proposed law is a "bluntly racist answer to a paranoid racist agenda."
Human Rights Watch has said that marriage legislation currently being considered by Burma's government would "strip Buddhist women of the right to freely choose whom they marry," HRW said, "Burma's donors should make it clear that passage of such a discriminatory law will put at risk continued increases in levels of aid and investment."
The proposed law, entitled 'The Emergency Provisions on Marriage Act for Burmese Buddhist Women,' makes it illegal for a Buddhist woman to marry a partner outside of her religion, unless the man converts to Buddhism before marriage.
Violation of the proposed law could lead to a 10-year prison sentence and confiscation of personal property.
David Mathieson, Human Rights Watch's senior researcher for Burma maintains that the legislation was evidence of an increasingly vocal racist nationalist movement in Burma. Mr Mathieson said in an interview with Karen News said politicians were taking advantage of nationalistic sentiment in the run up to the 2015 national elections.
"It didn't come out of thin air, but is the predictable next step of an emboldened nationalist movement that has seen little pushback from political and community leaders in Burma to their rising racist agenda. The marriage law, and others, is indicative of a conservative, anti-Muslim, faux-puritanical agenda by nationalists and this has crept into the national assembly where many opportunistic politicians will use it to play the race card ahead of the 2015 elections."
Mr Mathieson warned that the proposed law could be used against the countries religious or ethnic minorities. "From its gestation its clear the law is aimed overwhelmingly against the Muslim minority of Burma, but it has the potential to be used against other religious or ethnic minorities such as the Chinese or Christians," David Mathieson added.
When asked whether the marriage law proposal undermined reforms in Burma, Mr Mathieson said he questioned the extent to which reforms were taking root in the once-politically isolated country. "That really depends on what stock one places in the 'reforms' so far in the country, which are a mixed bag of real reforms, cynical moves to guarantee military influence, and rank opportunism," he said.
Mr Mathieson warned that the marriage law could derail Burma's reform process.
"Where this law does have the potential to retard reform is that it can inflame already tense anti-Muslim sentiment nation-wide, which has come out of Arakan State and its particular anti-Rohingya sentiment and is now virulently anti-South Asian and nationwide. It has the potential to tear the national political debate away from systemic problems such as economic inequality, health and education reform, employment, legal reform and other issues to racist fear mongering. That is the real danger, the derailing of what should be a long-term development and democratizing movement."
HRW points out that Thein Sein first raised the issue of a marriage law in Burma to 'preserve race and religion,' in a February 25 letter to the National Assembly Speaker Thura Shwe Mann.
HRW urged President Thein Sein and National Assembly Speaker Thura Shwe Mann to reject the proposed law. "The proposed marriage law would violate fundamental rights to liberty and religious belief, and prohibitions against discrimination enshrined in the Universal Declaration of Human Rights," HRW said.
HRW noted that the proposed law contravenes Burma's own constitution, that in article 348 states that the government should not discriminate any citizen based on race, birth, religion, official position, status, culture, sex and wealth.
"It is shocking that Burma is considering enshrining blatant discrimination at the heart of Burmese family law," Brad Adams, Asia director at Human Rights Watch, said, "This law would strip away from women their right to freely decide whom to marry, and would mark a major reversal for religious freedom and women's rights in Burma." 

Mr. Adams warned in his media statement that the government's position on the proposed new laws could further divide the country. "In ethnically and culturally diverse Burma, government leaders are playing with fire by even considering proposals that would further divide the country by restricting marriage on religious lines."
Mr. Adams called on international donors to pressure the government to ensure the proposed legislation did not become law. "Donors and development partners who care about progress towards human rights and democracy in Burma should demand the government end its contemplation of this shocking law." 

http://karennews.org/2014/04/hrw-proposed-marriage-law-violates-womens-rights.html/
------------
URL: https://newageislam.com/islam-women-feminism/british-woman-jailed-tehran-insulting/d/66401