New Age Islam News Bureau
20 Sept 2019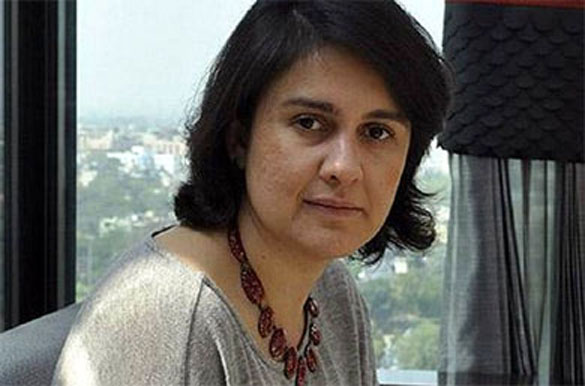 Kamila Shamsie, British-Pakistani Author, Photo Credit: Special Arrangement
----
• Pakistan Women Work Hard To Overcome Country's Taboos about Menstruation
• Woman Collapses In Agony as she's Savagely Caned for 'Having Sex Outside Marriage' In Front Of Indonesian Crowd
• FIFA Tells Iran It Is Time to Allow Women into Stadiums
• SC Summons UP Home Secretary in a Case by A 16-Year-Old Muslim Girl Seeking Validation Of her marriage under Muhammadan law
• The Toronto Raptors Now Sell Hijabs. What Does This Mean For Muslim Women?
• Pakistan Women's Rights Activist Who Highlighted Atrocities by Military Escapes to US
Compiled by New Age Islam News Bureau
URL: https://www.newageislam.com/islam-women-feminism/british-pakistani-author-stripped-german/d/119792
--------
British-Pakistani Author Stripped Of German Literary Award Over Her Anti-Israel Stance
SEPTEMBER 20, 2019
Islamabad: A British-Pakistani woman author has been stripped of a prestigious German literary award over her anti-Israel stance, a media report said here on Thursday.
Earlier this month, the German city of Dortmund announced acclaimed novelist Kamila Shamsie as this year's winner of the Nelly Sachs Prize -- named after a Jewish poet -- in honour of her literary work.
But the eight-member jury decided to cancel its original vote from September 6. It also decided not to nominate another winner for 2019, the Geo News reported.
In a statement on Wednesday, the jury said: "Despite prior research, the members of the jury were not aware that the author has been participating in the boycott measures against the Israeli
government for its Palestinian policies since 2014."
"Kamila Shamsie's political positioning to actively participate in the cultural boycott as part of the BDS (Boycott Disinvestment Sanctions) campaign against the Israeli government is clearly in contradiction to the statutory objectives of the award and the spirit of the Nelly Sachs Prize," it said.
Condemning the move, Shamsie said it was "a matter of outrage" to view the BDS movement "as something shameful and unjust".
"It is a matter of great sadness to me that a jury should bow to pressure and withdraw a prize from a writer who is exercising her freedom of conscience and freedom of expression," she said.
The BDS movement was launched in 2005 by Palestinians to generate international pressure on Israel to respect Palestinian human rights.
Shamsie, who was born and grew up in Karachi before moving to London, has written multiple fiction novels, including 'Broken Verses', 'Burnt Shadows' and 'House Fire'.
She won the Women's Prize for Fiction in 2018 and was longlisted for the 2017 Booker Prize. The Nelly Sachs Prize is awarded every two years, with the winner receiving a cash prize of USD 16,500.
https://www.news18.com/news/world/pakistan-origin-british-author-stripped-of-german-literary-award-over-anti-israel-stance-2315675.html
--------
Pakistan Women Work Hard To Overcome Country's Taboos about Menstruation
SEP 20, 2019
KARACHI/BOONI, PAKISTAN – Bent over her hand-cranked sewing machine, Hajra Bibi carefully stitches sanitary pads for the women of her mountainous village in northwestern Pakistan, one of many rural areas in the deeply conservative country where periods are still taboo.
"I am responding to a crisis," said the 35-year-old mother, sitting in front of her small, doily-covered work table in the village of Booni, close to the Afghan border.
"Before, Booni's women had no idea what sanitary towels were," she explained. Less than a fifth of women use sanitary pads in Pakistan, local charities estimate.
Traditionally women have used rags and cloth to soak up their menstrual blood, but the stigma around periods and a lack of reproductive education means hygiene standards are poor, and many contracted infections.
As with other areas of rural Pakistan, menstruating women were viewed as unclean and limited in what they were able to do.
Bibi was given training to make the disposable sanitary pads, made of cotton, plastic and cloth, by the Aga Khan Rural Support Program (AKRSP) — an NGO working with UNICEF — in a program that aims to change attitudes to women's health.
She took up the work to support her family because her husband is disabled and they have little income. Each pad takes around 20 minutes to make and is sold for 20 rupees (13 cents).
Initially her work disturbed the local community.
"At first, people were asking me why I was doing this, some were insulting me," Bibi recalled.
But now, "Girls in the village can talk about their periods," she said proudly, adding that she is fighting "for the basic needs of women."
In Pakistan, UNICEF has warned that in some cases information about menstruation has deliberately been withheld from women as a "means of protecting their chastity."
"This in turn negatively impacts their physical and emotional health," it said in a 2018 report.
Historically, the women of Booni have used cloth, but according to Bushra Ansari of AKRSP the taboo surrounding periods meant many were ashamed to dry them outside, unaware that damp cloths are a breeding ground for bacteria.
In addition, female family members often shared the same menstrual rags, increasing the risk of contracting urinary and reproductive tract infections, explained Wassaf Sayed Kakakhail, a doctor in the region.
"If there are three girls in the same family, they all use the same pieces of fabric," she said, adding many women are told not to wash during their period.
There is no sex education in schools, and the topic is rarely discussed — even between women — at homes in northern Pakistan, a particularly conservative part of the country.
According to a 2017 UNICEF survey, half of young Pakistani women had no knowledge of menstruation before their periods started.
"Teen girls told us that they thought they had cancer, or a very serious illness that made them bleed," said Kakakhail.
But Mohammad Haidar Ulmulk, the public health director for the district of Chitral, in which Booni is located, insisted the problem is under control. "There may be gaps, but we try to cover them," he said, adding that the area has hundreds of health workers trying to help young women.
The situation is different in cities, especially among the richest. But in the patriarchal Muslim country — ranked 148th out of 149 by the World Economic Forum for gender equality — and where sexist stereotypes persist, access to basic feminine hygiene products remains difficult.
In Karachi, a metropolis of 20 million people seen as the most liberal city in Pakistan, sanitary pads are easily accessible, though expensive.
Many women are still made to feel uneasy by leering shopkeepers and ask their husbands to buy them instead.
"Some people buy them late at night, others prefer to buy them in a different neighborhood," said Sajjad Ali, 32, a store owner.
In shops like his, sanitary pads are wrapped in opaque paper, instead of in transparent bags like other products.
"Periods are treated as taboo and surrounded by mystery," said Seema Shiekh, a women's rights activist.
But she asked, "Doesn't every man have a sister, wife or a mother?"
After 20 years of battling to introduce sex education classes in Pakistan, the first lessons are finally being given in public schools in Sindh province, of which Karachi is the capital.
Among their aims will be to put an end to the fear surrounding periods in a country where the onset of menstruation is one of the main reasons girls drop out of school.
Some 28 percent of women surveyed in 2017 by UNICEF indicated that they had missed school or work because of stomach pain or worry over staining their clothes.
Bibi — who is working alongside 80 other women trained to make sanitary pads — is confident things will change in Booni, too.
She mused, "With this project, I have made people aware."
https://www.japantimes.co.jp/news/2019/09/20/asia-pacific/social-issues-asia-pacific/pakistan-women-menstruation-taboo/#.XYSn8PAzbIU
--------
Woman Collapses In Agony as she's Savagely Caned for 'Having Sex Outside Marriage' In Front Of Indonesian Crowd
19 Sep 2019
THREE "canoodling" couples were cruelly whipped in a humiliating public punishment in Indonesia for violating local Sharia law.
After the backs of the six men and women had been flogged more than 20 times each, some collapsed, bleeding, crying with severe pain and had to be carried off stage, say reports.
The couples were punished in Banda Aceh for showing affection in public and their whipping – using a rattan cane – came after they'd already been jailed for several months, according to Gulf News.
They were beaten by a masked officer for behaving "amorously".
Merdeka reports that the "Islamic Sharia violators" were whipped at Bustanus Salatin Park "in the middle of the city", near the town hall.
The publication said that not many residents attended the punishment, but students from Malaysia, studying at the Ar-Raniry State Islamic University, witnessed the distressing beating.
Wincing with pain, some collapsed after the caning, while one man was so badly injured that paramedics tried to stretcher him off the stage, but he refused, and was instead carried down by cops.
The Mayor of Banda Aceh, Animulla Usman, said the aim of flogging the couples in public was to "make them repent".
KIDS BANNED
He said carrying out the whipping in the middle of a park, on a stage, was not to encourage people "to laugh at the perpetrators, but to serve as a lesson to us all".
Usman said that none of the couples were local residents, but had violated strict Shariah laws while in the city of Banda Aceh.
The Indonesian province routinely flogs gamblers, adulterers and homosexuals.
Usman told children they were banned from watching the punishment, as it could affect their "psychological development".
Amnesty International says that caning is an "inhman and degrading form of punishment that may amount to torture which should never be used in any circumstances.
"The Aceh authorities' decision to cane unmarried couples and sex workers, in front of hundreds of spectators, is an act of utmost cruelty."
The charity said that between January and April last year, a total of 47 people were flogged in public, "and the list is only getting longer.
"The provincial administration of Aceh must immediately remove this abhorrent form of punishment from its law books.
"It is also high time for the international community to press Indonesia to provide a safer environment for everyone in Aceh.
"The situation risks deteriorating rapidly unless the local administration is pushed to take its obligations to respect human rights seriously."
The Times says that about 90 per cent of Indonesia's 250 million people are Muslims, making it the largest Islamic population in the world.
But, it has long taken an inclusive and tolerant line.
Over the past two decades, though, more conservative rules have been established, and in ultra-conservative Aceh, Sharia is enforced by dedicated police, and offences are punishable by public flogging and prison sentences.
https://www.thesun.co.uk/news/9961935/woman-collapses-in-agony-as-shes-savagely-caned-for-having-sex-outside-marriage-in-front-of-indonesian-crowd/
--------
FIFA Tells Iran It Is Time to Allow Women into Stadiums
19 September 2019
FIFA president Gianni Infantino has told Iran it is time to allow women into football stadiums and the global soccer body expects "positive developments" starting with their next home match in October.
While foreign women have been allowed limited access to matches, Iranian women have been banned from stadiums when men's teams have been playing, since just after the 1979 Islamic revolution.
Infantino said in a FIFA statement he was hopeful that the Iranian football federation and government authorities had been receptive to "our repeated calls to address this unacceptable situation."
He added, "Our position is clear and firm. Women have to be allowed into football stadiums in Iran. Now is the moment to change things and FIFA is expecting positive developments starting in the next Iran home match in October."
Infantino's comments come after the death of Sahar Khodayari, an Iranian woman who set herself on fire after being given a prison sentence for attending a football game. Known as 'Blue Girl' for her support of FC Esteghlal, who wear blue jerseys, her death prompted Iranians to call for FIFA to act on social media.
A FIFA spokesman said last week that FIFA officials will visit Iran. Meetings with Iranian soccer officials, expected inside the next two weeks, were part of preparations for Iran's World Cup qualifying games - they face Cambodia at home on October 10 - and were not a specific response to Khodayari's death, said FIFA.
The FIFA officials, however, will check the preparations made by the Iranian FA to provide access to that October 10 match for women.
On Friday, Iranian media reported that a judge is issuing an arrest warrant for an Iranian actress for showing support for Khodayari on social media.
Iran is also under pressure in other sports. On Wednesday, the country was suspended from international judo competitions because it boycotts bouts with Israeli athletes.
https://english.alarabiya.net/en/sports/2019/09/19/FIFA-tells-Iran-it-is-time-to-allow-women-into-stadiums.html
--------
SC Summons UP Home Secretary in a Case by A 16-Year-Old Muslim Girl Seeking Validation Of her marriage under Muhammadan law
Sep 20, 2019
Irked over the Uttar Pradesh government's failure to respond to its notice on a plea by a 16-year-old Muslim girl seeking validation of her marriage under Muhammadan law, and release from a women's home where she is currently lodged, the Supreme Court summoned the state's home secretary, asking him to be present on September 23 before it.
A bench led by Justice NV Ramana retorted when the UP government counsel asked for 15 days to file a written response and said: "You are taking it so lightly. The girl is kept inside in Nari Home. Let your secretary home be present in person on Monday."
The girl approached the top court on September 10 against the Allahabad high court's decision to send her to a woman's shelter home, terming her marriage as void. Under the Special Marriage Act, 1954 and the Prohibition of Child Marriage Act, 2006 the legal marriageable age for a girl is 18 while for a boy its 21 years. But in its 2018 verdict in the Shafin Jahan case, the top court recognized the Muhammadan law and held that a marriage under the same is valid if both – the boy and girl -- profess Islam and had attained the age of puberty.
In this the girl has asked the top court to test her case on the touchstone of the Shafin Jahan verdict. Filed by advocate Dushyant Parashar the petition said his client's marriage was valid because both the girl (16) and her husband (24) had attained puberty, there was an offer and acceptance, giving and taking of Meher and a Nikahnama was drawn with the consent of both.
The matter reached the high court after the girl's father lodged a kidnapping case against the husband. In a statement recorded by the magistrate the girl stated she had married of her own volition without any pressure and that she wanted to live with her husband. She refused to go back to her parents after which she was sent to a women's home.
https://www.hindustantimes.com/india-news/sc-summons-up-home-secretary-in-muslim-girl-case/story-q4lQHuuIFmtI7cjURZmYCL.html
--------
The Toronto Raptors Now Sell Hijabs. What Does This Mean For Muslim Women?
by Irvin Zhang
September 19, 2019
After becoming the first Canadian team to win a championship in the National Basketball Association in June, the Toronto Raptors have made history once again.
The Raptors now say they are the first team in the league to market and sell athletic hijabs, which are head coverings worn by some Muslim women.
The team formed a partnership with Nike to design the hijabs, which bear the Raptors logo and the iconic swoosh, and unveiled them on Twitter last week.
Liz Bucar, a professor of religion at Northeastern who teaches a course on the politics of the veil, says that the new hijabs could help to increase the participation of Muslim women in sports.
"It's not an innovation on design, but it is significant that a major sports apparel company now has a swoosh on the side of a hijab," says Bucar, who recently published a book that examines how clerics, designers, politicians, and bloggers try to influence what Muslim women wear. "Representation matters, especially when you think about Muslim girls seeing themselves represented as athletes. It seems like a good sign for the Muslim community."
Bucar says the new hijabs mark the latest effort by apparel companies to create clothing for people of different ethnic backgrounds, cultures, and lifestyles. For example, Zappos, the online retailer, now sells clothes and footwear for people who may have difficulty dressing themselves.
"When you think of the bigger picture, a lot of apparel companies are starting to pay attention to consumers who want to buy these things," she says. "Consumers are putting value in brands that seem to care about diversity and inclusivity."
Bucar placed extra importance on the release of the new hijabs because they are being sold by a team in Canada. In June, the goverment of the province of Quebec banned newly hired public servants from wearing Muslim head scarves and other religious symbols, including Jewish yarmulkes, Sikh turbans, and Christian crosses. The government argued that the legislation was necessary to keep church and state separate.
"It's an important time for a major Canadian sports team to come out and support Muslim women," Bucar says. "I want to celebrate that."
https://news.northeastern.edu/2019/09/19/the-nbas-toronto-raptors-partnered-with-nike-to-create-team-branded-hijabs-for-muslim-women/
--------
Pakistan Women's Rights Activist Who Highlighted Atrocities by Military Escapes to US
Sep 20, 2019
Gulalai Ismail's campaigns to empower Pakistani girls have won her international awards and recognition as one of her country's foremost activists.
But when she spoke out against sexual violence and disappearances allegedly carried out by the army in northwestern Pakistan, her fortunes quickly changed.
The 32-year-old said she feared for her life. After four months on the run, she succeeded in eluding a vast hunt and has turned up in the United States, where she is seeking asylum.
Ismail said she never sought to become an overseas dissident but sees a closing of the political space in Pakistan, where the army has remained the dominant power-broker for most of the country's history.
"I never wanted to leave Pakistan," she told AFP in an interview in Washington. "I believe that I can better work towards democracy and civil supremacy and peace in Pakistan."
But she concluded she would be more effective abroad, saying: "If I had ended up in prison and tortured for many years, my voice would have been silenced."
Ismail, who speaks with poise and passion though she remains afraid, believed she posed a special threat as a vocal woman.
"When a man stands up, he is mostly against the state oppression," she said. "But when a woman stands up, she is fighting oppression on many levels -- fighting cultural norms, fighting the patriarchy and the state oppression."
Taking up an unpopular cause
Ismail was still a teenager when she co-founded Aware Girls in 2002, which promotes gender equality in the deeply conservative northwestern district of Khyber Pakhtunkhwa.
In 2017, she won the prestigious Anna Politkovskaya Award for human rights advocacy. The year before, she was honoured for conflict prevention by France's Chirac Foundation and has been welcomed by former first lady Michelle Obama.
But she came under greater scrutiny last year when she started speaking in support of the Pashtun Protection Movement, which defends the rights of the Pashtun tribal population in the northwest.
Quoting witnesses, Ismail said the army crackdown on Pashtun militants near the border with Afghanistan had led to frequent disappearances as well as sexual assaults.
Most women stay silent due to stigma, she said, but when a boy came forward about how security forces were barging into their home and harassing his mother, she went to investigate.
"Dozens of women had come to tell us that the incident of sexual harassment was not unique. It is systematic. It had been happening for years."
Eluding intense search
Ismail was detained briefly in 2018 but her fears mounted in February when she was taken into custody for two days after attempting to hold a news conference.
She said that she was held in a cold, dirty room with a urine-soaked sheet on the ground. She said she was denied food and water, with other female inmates warned against talking to the "high-profile terrorist."
In May, police filed a complaint against Ismail under an anti-terrorism law after she spoke out about the rape and murder of a 10-year-old girl.
Ismail declined to discuss how she escaped Pakistan, saying she did not want to put others at risk.
Authorities widely circulated her name to seek her arrest, with airport authorities told not to let her leave.
"There were videos created online by military trolls which were clearly saying that the moment I'm in custody they will teach me a lesson. I spoke about the issue of rape -- now they will 'teach me' what rape is," she said.
She said security forces roughed up both her driver and a friend who she said was handcuffed, beaten and administered electric shocks for 14 hours in a bid to extract information on her whereabouts.
Ismail is living for now with her sister in New York. She said her initial fears of being sent back to Pakistan, a historic ally of the United States, were eased after she held meetings in Washington at the State Department and with staff of lawmakers including Chuck Schumer, who represents New York and is the top Democrat in the Senate.
"I was told that there was no chance that the US will ever take such action as extraditing me or handing me over because they know that it is a case of political revenge," she said.
But she remains worried for her parents in Pakistan. She said that they have become socially isolated, with security forces interrogating anyone who does so much as text them.
"I wanted to speak freely and that's why I'm here," she said.
"However, when it comes to the future of Pakistan, I do not see a prosperous Pakistan until the military establishment decides it needs to go back to its barracks."
https://www.wionews.com/south-asia/pakistan-womens-activist-who-highlighted-atrocities-by-military-escapes-to-us-250783
--------
URL: https://www.newageislam.com/islam-women-feminism/british-pakistani-author-stripped-german/d/119792
New Age Islam, Islam Online, Islamic Website, African Muslim News, Arab World News, South Asia News, Indian Muslim News, World Muslim News, Women in Islam, Islamic Feminism, Arab Women, Women In Arab, Islamophobia in America, Muslim Women in West, Islam Women and Feminism