New Age Islam News Bureau
28 Jul 2014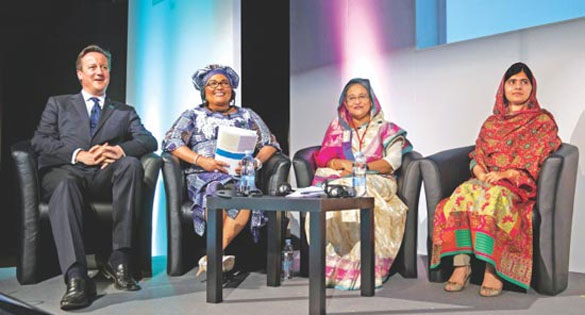 Prime Minister Sheikh Hasina sits with British PM, left, First Lady of Burkina Faso, and Malala Yousafzai, right, at the "Girl Summit 2014" at Walworth Academy in London yesterday. PHOTO: AFP
-----------
• Tamil Nadu Government Delays Aid to Society for Destitute Muslim Women
• Boko Haram Kidnaps Wife of Cameroon's Vice PM, Kills At Least Three
• Umrah Female Pilgrims Exploited By Gold Smugglers
• Britain Arrests Two in Suspected Female Genital Mutilation Case
• More Training Needed For Ireland Teachers on FGM to Identify Children at Risk
• WFP's Cash-For-Training Project in Jordan Boosts Opportunities for Women
Compiled by New Age Islam News Bureau
URL: https://newageislam.com/islam,-women-and-feminism/new-age-islam-news-bureau/british-muslims-ask-for-support-in-banning-burqa/d/98332
---------------
British Muslims Ask For Support in Banning Burqa
Jul 28, 2014
British Muslims have launched an official petition to ask parliament to debate banning the Burqa. If 100,000 people sign, the House of Commons will be obliged to hold a debate on whether Britain should introduce a French-style ban on full-face coverings.
The campaign has been set up by Imam Dr Taj Hargey of the Muslim Educational Centre of Oxford, who in a recent article for the Daily Mail, called the full-face veil an "ugly tribal contraption" and "alien cultural monstrosity".
According to the Times, the petition states: "Many Muslims have been misled by bogus propaganda from fundamentalists that the Burqa/Niqab is integral to Islam. This is untrue. It is a tribal cloth that is pre-Islamic, non-Qur'anic and un-Muslim. Female public anonymity is an imported Saudi-Afghan fad.
"The Burqa/Niqab must be resisted for compelling theological, social, health, security, gender equity and patriarchal reasons so that Britain's traditional character is preserved. We must oppose this salvo from theological extremists seeking to impose their warped version of Islam."
There is, however, an opposing petition, which currently has more signatures, that says women should be able to wear full-face veils because "British women should have the right to choose how they dress".
The Department for Culture, Media and Sport is also opposed to a change, saying: "If Britain's political establishment do not tackle and defeat Islamic religious fanaticism now, it will become impossible to do so when Muslims become a bigger proportion of British society."
Dr Hargey remains determined to ban the garments, however, saying: "In the past, only rightwing groups wanted to proscribe the Burqa and niqab. The difference now is that progressive and integrated Muslims are in the forefront of this extraordinary endeavour.
"If Britain's political establishment do not tackle and defeat Islamic religious fanaticism now, it will become impossible to do so when Muslims become a bigger proportion of British society."
http://www.breitbart.com/Breitbart-London/2014/07/25/British-Muslims-Ask-for-Support-in-Banning-Burqa
---------------
Tamil Nadu Government Delays Aid To Society for Destitute Muslim Women
M T Saju,TNN | Jul 28, 2014
CHENNAI: A couple of years ago, B M Khadeeja approached the Muslim Women Aid Society (MWAS) in Tuticorin for a grant to buy a sewing machine. Her husband didn't have an income and she had to work to take care of the family. More than two years later, Khadeeja has still not received help.
Formed in 2008 to help destitute Muslim women and girls in the state, many MWAS units are not functioning due to lack of government support. As per the order, the government would sanction a matching grant of a maximum of 10 lakh a year to each unit, equivalent to the donations collected by the unit. During Ramzan, there has been an attempt to activate many MWAS units by seeking donations from Muslims across the state.
"Lack of support from the government is the main problem. In some places, collectors are not even aware of the MWASs in their districts," says S Syed Ahmed, general secretary of the Federation of District Muslim Women Aid Societies (FeMWAS) in Tamil Nadu.
The aim of MWAS is to provide financial assistance and self-help training to the destitute Muslim women and girls to improve their livelihood. The government had issued seed money of 1 lakh each to every district to establish office for MWAS, which comes under the minorities welfare department of the state.
There have been instances where women have been awaiting grants for more than five years. Jameela's husband died in 2009. Since he was the sole breadwinner of the family, Jameela had a tough time taking care of her two children after his death. Even though she approached the Dharmapuri MWAS, she didn't get any help, as the MWAS there was waiting to get the matching grant from the government.
Delay in releasing the grant from the government is another reason behind the mal functioning of many MWASs. "The government is yet to release the matching grant for the amount we mobilized during 2012-2013. A few MWASs have been waiting for the matching grant for more than three years," says Ahmed.
According to Ahmed, the delay from the government in a way discourages the donors who donated to the MWASs to donate again. "Many who donated will not donate it again because of the delay. This makes generation of new donations difficult. So it's a long wait for the applicants, particularly those who applied for educational scholarships," he says.
http://timesofindia.indiatimes.com/city/chennai/Government-delays-aid-to-society-for-destitute-Muslim-women/articleshow/39132321.cms
---------------
Boko Haram kidnaps wife of Cameroon's vice PM, kills at least three
By Tansa Musa
Jul 28, 2014
YAOUNDE7 (Reuters) - Nigerian Boko Haram militants kidnapped the wife of Cameroon's vice prime minister and killed at least three people on Sunday in a cross-border attack involving more than 200 assailants in the northern town of Kolofata, Cameroon officials said.
A local religious leader, or lamido, named Seini Boukar Lamine, who is also the town's mayor, and five members of his family were also kidnapped in a separate attack on his home.
There was no immediate claim of responsibility.
Boko Haram, an Islamist group which made international headlines with the abduction of 200 Nigerian schoolgirls in April, has stepped up cross-border attacks into Cameroon in recent weeks. Cameroon has deployed troops to its northern region, joining international efforts to combat the militants.
"I can confirm that the home of Vice Prime Minister Amadou Ali in Kolofata came under a savage attack from Boko Haram militants," government spokesman Issa Tchiroma, who is also communications minister, told Reuters by telephone.
"They unfortunately took away his wife. They also attacked the Lamido's residence and he was also kidnapped," he said, adding that at least three people were killed in the attack.
"UNQUALIFIED VIOLENCE"
Tchiroma told a press conference later on Sunday that the Cameroonian army had taken the town of Kolofata back under control after repulsing the militants, who he said had used "brutal and unqualified violence".
"We do not have all the facts in order to give full information on the exact circumstances and the victim toll of this attack," Tchiroma said on state television.
A Cameroon military commander in the region told Reuters security officials had taken the vice prime minister away to a neighbouring town. He had been at home to celebrate the Muslim feast of Ramadan with his family when the attack happened.
The Sunday attack is the third Boko Haram attack in Cameroon since Friday. At least four soldiers were killed in the two previous attacks.
On Friday, some 22 suspected Boko Haram militants who had been held in Cameroon's northern hub of Maroua since March were sentenced to prison sentences ranging from 10 to 20 years. It was not immediately clear whether the attacks were related to the sentencing of the militants.
Boko Haram have killed hundreds of people this year, mostly in northeastern Nigeria, although they have bombed places across the country.
The group rejects Western-style education and is trying to carve out a de facto Islamic state in northern Nigeria.
On Sunday, a bomb attack on a Catholic church in northern Nigeria's main city of Kano killed five people and wounded eight, a senior police officer said. Christian churches have been a favourite target for the militants.
The attacker threw the bomb at worshippers on their way out of the church, police commissioner Adenrele Shinaba told Reuters. Police cordoned off the scene.
In a separate incident, a female suicide bomber tried to attack police officers on the streets. She killed herself but only wounded two of the officers, Shinaba said. (Additional reporting by Bate Felix in Dakar, Tim Cocks in Lagos and Nneluke Ikemfuna in Kano; Editing by Gareth Jones)
http://www.trust.org/item/20140727120140-jkh0m/?source=jtOtherNews1
---------------
Umrah Female pilgrims exploited by gold smugglers
Jul 28, 2014
HYDERABAD: Gold smugglers are now using Umrah pilgrims as carriers to ship the precious yellow metal across the borders easily.
Recently, directorate of revenue intelligence (DRI) had received specific information about the new modus operandi being adopted by gold smugglers, that of exploiting Umrah pilgrims returning to India from Saudi Arabia.
The gangs coordinate with Umrah tour operators accompanying pilgrims from Indian cities and, through them, convince women pilgrims travelling in big batches to wear pure gold jewellery.
"As customs officials arrest a person only if he or she is wearing gold valued over Rs 20 lakh, the smugglers take extra care that none of the carriers wears gold weighing more than 400 or 500 grams," a DRI official said.
The gangs also take care to see that one carrier does not know about the other.
Acting on a DRI tip-off on Wednesday, customs sleuths had detained 10 women returning to the city from Umrah pilgrimage on a Saudi Airline flight with gold bangles weighing 5.3kg.
The customs officials arrested Mustafa and his associate Rehman, who were accompanying the batch of 15 pilgrims.
During preliminary probe, the officials came to know that while Mustafa works for Zam Zam Travels in Asifnagar, Rehman was with Aviation Travels in Saifabad. The duo also has links with Sharif Travels in Saifabad. Mustafa and Rehman told interrogators that the raw gold bangles were provided to them in Saudi Arabia by one Ameen. The duo was supposed to collect the gold bangles from the carriers in Hyderabad and hand them over to Irfan and Amer, who had provided funding to purchase the yellow metal.
Based on the information given by Mustafa, the investigators tried to trap Irfan and Amer, but they could not succeed. Suspecting that the smugglers could be linked to travel agencies, customs officials are planning to interrogate owners of certain agencies and keep a watch on their activities.
As the intelligence inputs suggest that there were several gangs involved in exploiting Umrah pilgrims to smuggle gold, customs officials have started closely watching pilgrims returning from Saudi Arabia and the agents accompanying them.
According to a customs official, in the last week of Ramzan, over 15,000 pilgrims return to the city from Saudi Arabia after performing the Umrah.
http://timesofindia.indiatimes.com/City/Hyderabad/Umrah-pilgrims-exploited-by-gold-smugglers/articleshow/38987829.cms
---------------
Britain arrests two in suspected female genital mutilation case
Jul 28, 2014
British police have arrested two people in London on suspicion of conspiracy to carry out female genital mutilation (FGM) and placed a young girl in the care of social services, a police statement said today.
The arrests followed the arrival at the capital's Heathrow airport on yesterday from Kampala of a 72-year-old Ugandan man accompanied by an 11-year-old girl, the statement said.
They came only days after London hosted a one-day summit on FGM and forced marriage where the government announced it would earmark 1.4 million pounds (RM7.5 million) for a prevention programme and prosecute parents allowing the practice.
The man was arrested in Newham, east London, today and a 40-year-old woman was also arrested in Hackney, northeast London, it said. Both remain in police custody.
The statement did not say whether the girl had undergone FGM in Uganda. Immigrant families sometimes take girls back to their home countries for FGM, the partial or total removal of external female genitalia to suppress sexual desire and prevent what their traditional societies see as immoral behaviour.
"With concerns for her welfare, specialist officers took the girl – a UK national – into the care of social services," the statement said.
The Female Genital Mutilation Act 2003 made it illegal to participate in any sort of arrangement for FGM to be performed on another, either in or outside of Britain.
At the "Girl Summit" on Tuesday, Prime Minister David Cameron said 21 countries had signed an international charter to eradicate both practices and urged other countries to join them.
About 103,000 women aged between 15 and 49, as well as 10,000 girls under 15 who have migrated to England and Wales, are estimated to have undergone FGM, according to a report from City University London.
Worldwide, more than 130 million girls and women have undergone FGM are more than 700 million women alive today were children when they were married.
http://www.themalaysianinsider.com/world/article/britain-arrests-two-in-suspected-female-genital-mutilation-case#sthash.Y7wneWR4.dpuf
---------------
More Training Needed For Ireland Teachers on FGM to Identify Children at Risk
Jul 28, 2014
THERE HAVE BEEN calls for more training for teachers about female genital mutilation to help identify children at risk.
In Ireland it is estimated that 3,780 women have undergone female genital mutilation (FGM), although it is estimated that the numbers could be much higher.
Report cases
Last week British Prime Minster David Cameron said he wanted to introduce new laws to combat FGM including making it compulsory for teachers and health workers to report cases.
He also wants parents who fail to prevent their daughter being subjected to FGM to face prosecution under new legislation.
FGM is defined as the partial or total removal of the external female genitalia, or any practice which purposely alters or injures the female genital organs for non-medical reasons.
It is a tradition practised widely in many African and Muslim countries and often justified as a means of suppressing a woman's sexual desire.
Short term consequences include haemorrhage, infection such as tetanus and HIV, urine retention, injury to adjacent tissue, fracture and dislocation of limbs.
Long term consequences include painful sex, recurrent urinary tract infections, painful periods, potential trauma during childbirth, dysmenorrhoea, infertility, chronic pelvic inflammatory disease, sexual dysfunction and psychological trauma.
Speaking to TheJournal.ie, Salome Mbugua, Director of AkiDwA, a minority ethnic-led national network of migrant women living in Ireland, said they would like to see more schools increasing awareness of the procedure amongst their teachers.
School children
According to a government report, "State of the Nation's Children 2012″ the number of foreign national children in Ireland increased by 49.5% betweetn 2006 and 2011. This was an increase from 62,211 in 2006 to 93,005 in 2011.
Of the total, 45,791 are girls.
"People often take their children out of the country to have the procedure carried out, especially during the summer months," said Mbugua.
"We see there is more relevance in increasing awareness in schools. If a child is taken out of the country during their summer holidays sometimes they feel more comfortable telling a teacher when they return to school in September. Teachers often ask what everyone got up to during the summer holidays and young children might feel they can talk to a teacher they are close with," she added.
Young girls
"Children who have FGM carried out are often very young and they really don't understand what it is about or what has happened to them, so it may be difficult for them to say or describe what happened to them," she said, adding that they would like to start working with schools around the country to help teachers identify if young girls have had FGM carried out on them.
When asked by TheJournal.ie what guidance, advice or procedures educators are given in relation to this, the Department of Eduction said that "young people through their education gain knowledge about their wellbeing through, for example, the Social, Personal and Health Education Programme and the Relationship and Sexuality education. This gives the context within which young people can learn about important physical, social, emotional and moral issues around relationships, sexual health and sexuality".
The statement added:
As part of their programme, teachers may decide, if appropriate and if in context, to make reference to FGM but this decision would be made at school level.
The law
FGM was outlawed in 2012, under the Criminal Justice (Female Genital Mutilation) Act 2012.
This law makes it a criminal offence for someone resident in Ireland to perform FGM. The maximum penalty under all sections of this new law is a fine or imprisonment for up to 14 years or both.
It is also a criminal offence for someone resident in Ireland to take a girl to another country to undergo FGM.
"FGM is very hidden, but we have heard through discussions with communities that it has been done here in Ireland. But it is still very secret," she said.
While legislation making FGM illegal in Ireland is welcomed by Mbugua, she said that more has to be done in terms of monitoring the law and how it is working.
She said that there also needed to be more awareness and training rolled out at a local level with the gardaí, local communities and health workers.
When the law was being debated in the Dáil in 2011, TDs said that "legislative change should be accompanied by prevention, education and awareness-raising measures among communities where female genital mutilation is likely to be practised and among relevant service providers, such as medical personnel, gardaí, social workers and teachers".
Not just on paper
Mbugua said that more "monitoring" of the law and its effectiveness needs to be carried out, stating "we need to know that it is working and that it's not just on paper".
This May, Ireland's first FGM clinic opened in Dublin aimed at providing treatment to women who have had the procedure carried out.
However, since its opening no women have presented themselves for treatment at the clinic.
Medical Director of the Irish Family Planning Agency Caitriona Henchion said the lack of take up with the service is related to the stigma that is still associated with FGM coupled with the lack of awareness about what services and help is available to women.
She said that many of the women impacted by FGM are asylum seekers, which is why they are going to start visiting Direct Provision centres to speak about FGM in an overall health context.
"We hope that word of mouth will spread in the asylum community that there are services that are free and accessible to them," she said.
As the only FGM clinic is in Dublin, she said they are in discussions with the HSE and AkiDwA about covering travel and other expenses for women who have to come to Dublin from other parts of the country.
"Increasing awareness about it is the only way the stigma will be removed and women will come forward," she said.
http://www.thejournal.ie/female-genital-mutilation-ireland-teachers-schools-1589200-Jul2014/
---------------
WFP's Cash-For-Training Project In Jordan Boosts Opportunities for Women
Jul 28, 2014
In many parts of the world, women lack access to financial capital and opportunities to gain skills that can help boost their qualifications for the job market. Vocational training, which involves development of technical capacity and entrepreneurship skills, can play a key role in helping girls and women secure employment. WFP, in collaboration with Jordanian NGO NAJMA as well as vocational training centres in different areas of northern Jordan (Ramtha, Mafraq and Irbid cities) supported a vocational training program that boosted the technical skills of hundreds of participants, many of whom were women. 
WFP's cash-for-training initiative provided technical skills training for participants in their respective professional fields, and secured job placements for them in areas as varied as working with solar cooling systems, carpentry, mechanics, and baking of pastries and desserts.
For each day the trainees participated, WFP distributed cash to them. It continues to do so while they receive on-the-job training in different companies and organizations before they become full-time employees. Out of the 439 men and women who were initially enrolled in different areas across Jordan, 180 were women in Irbid and Mafraq. Of those, 116 women learnt how to cook and bake pastries so that they could become chefs.
Nadia, 41 years of age, is from Mafraq. She has ten kids, but struggled to find a job due to the economic situation in Jordan. She pursued WFP's vocational training program to become an assistant baker so that she could help her family. Nadia picked up the skills of the trade quickly, gathering 26 of her colleagues at the center to open their own business in Mafraq. They called it the "Sister's Gathering."
Nadia is becoming well-known in her field. She has received many requests for her date bars and desserts in preparation for the occasion of Eid al-Fitr which marks the feast of breaking the fast following the Muslim holy month of Ramadan. The expansion of her business will help provide financial support for her young children and those of her colleagues.
"I received valuable training on the secret of baking good pastries and thought of creating a business with 26 of my training mates. We put to very good use the skills and information we got from the WFP- NAJMA vocational training program."
http://www.trust.org/item/20140727185521-5s4q8/?source=fiTheWire
---------------
URL: https://newageislam.com/islam,-women-and-feminism/new-age-islam-news-bureau/british-muslims-ask-for-support-in-banning-burqa/d/98332