New Age Islam News Bureau
17 October 2021
• British-Iranian Woman Fears Return To Prison In Iran After Extra Year Added To Sentence
• Moral Policing, Mob Forces Woman To Remove Hijab And Burqa In MP
• Jennifer Gates Marries Egyptian Nayel Nassar In Muslim Ceremony, $2 Mln Wedding
• How Women In Australia's Football Community Helped Afghan Female Footballers Get Out Of Kabul
• Imperative For Women To Enjoy Their Rights, Powers: Chief Justice of Pakistan
• Bangladeshi Women's Leadership in Water Governance
Compiled by New Age Islam News Bureau
URL: https://www.newageislam.com/islam-women-feminism/nazanin-zaghari-british-iranian/d/125593
--------
British-Iranian Woman, Nazanin Zaghari-Ratcliffe, Fears Return To Prison In Iran After Extra Year Added To Sentence
By RFE/RL
October 17, 2021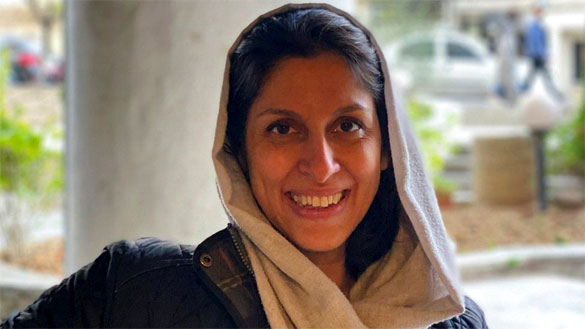 Nazanin Zaghari-Ratcliffe after she was released from house arrest in Tehran in March 2021
-----
The husband of a British-Iranian woman says his wife is "traumatized" by the possibility that she could be sent back to prison in Iran after an Iranian appeals court upheld a ruling that adds another year to her sentence.
Richard Ratcliffe said concerns have been raised that his wife, Nazanin Zaghari-Ratcliffe, may now be sent back to prison, telling the BBC on October 16 that his wife is "waiting for the call to summon her back" and said that she was "traumatized at the thought of having to go back to jail."
Ratcliffe, who has been campaigning for his wife's return to Britain since her original incarceration in 2016, said he was surprised to learn of the ruling upholding the additional year to her sentence.
Lawyer Hojjat Kermani said on October 16 that Zaghari-Ratcliffe was "concerned" when he informed her about the appeals court decision at a closed-door hearing. He said that she had been in touch with her family about the decision.
Zaghari-Ratcliffe was first jailed in 2016 after being accused of plotting against the regime -- charges that she, her supporters, and rights groups deny.
She was sentenced to another year of confinement in April on charges of "spreading propaganda against the system" while participating in a protest in front of the Iranian Embassy in London in 2009.
She spent the final year of her initial sentence on parole at her parents' home in Tehran as Iran temporarily released thousands of inmates in response to the coronavirus pandemic in 2020.
The initial court ruling against Zaghari-Ratcliffe was five years plus a one-year travel ban abroad. The extra year added to her sentence means Zaghari-Ratcliffe cannot leave Iran to join her husband and 7-year-old daughter in London for nearly two more years.
Ratcliffe said he held a strategy meeting with the British Foreign Office on October 15 anticipating something would happen to his wife's appeal during the autumn.
He said he had urged the government to take quicker action to get his wife out and criticized it for failing to deal with problems until they become crises.
Foreign Secretary Liz Truss said in a statement on October 16 that Iran's decision to proceed with the "baseless" charges against Zaghari-Ratcliffe was an "appalling continuation of the cruel ordeal she is going through."
She added: "We are doing all we can to help Nazanin get home to her young daughter and family and I will continue to press Iran on this point."
Employed by the Thomson Reuters Foundation, the charitable arm of the Reuters news agency, Zaghari-Ratcliffe was taken into custody at Tehran's Imam Khomeini International Airport in April 2016 when she tried to return to Britain after visiting family in Iran.
Rights groups accuse Iran of holding dual nationals as bargaining chips for money or influence in negotiations with the West. Tehran denies the accusation.
Source: www.rferl
https://www.rferl.org/a/iran-britain-zaghari-ratcliffe-prison/31513758.html
---------
Moral Policing, Mob Forces Woman To Remove Hijab And Burqa In MP
October 17, 2021
By India.com
New Delhi: In yet another case of moral policing, a group of people in Islam Nagar are of Madhya Pradesh's Bhopal forced a woman to remove her hijab and burqa after suspecting that the man on whose scooter she was riding pillion was a Hindu.
A video of the incident has also gone viral on social media wherein a man from the group, who is apparently capturing everything, is heard telling the girl her act was 'disgracing' the community, while some women can be seen forcing her to remove hijab, while she opposed.
Confirming the incident, Intkhedi police station in charge RS Verma said, "A youth and the girl arrived in Islam Nagar in the afternoon. Some people stopped them and asked the girl to take off her burkha and show her face. It is suspected that the people believed the man was Hindu and the girl Muslim."
Source: India.Com
https://www.india.com/news/india/video-aap-humare-kaum-ko-badnaam-kar-rahe-hai-mob-forces-woman-to-remove-burqa-in-mp-watch-5057525/
---------
Jennifer Gates marries Egyptian Nayel Nassar in Muslim ceremony, $2 mln wedding
Tala Michel Issa
17 October ,2021
Microsoft heiress and eldest daughter of Bill Gates, Jennifer Gates married Egyptian equestrian Nayel Nassar in a secret Muslim ceremony followed by a civil ceremony on Saturday in New York, the New York Post reported.
Rural roads were shut down by authorities on Saturday for the $2 million wedding to take place and saw hundreds of guests driven to the ceremony in SUVs at her $16 million Westchester horse farm.
The couple's wedding plans were revealed after online news media the Daily Mail reported that the pair were planning the ceremony on Wednesday. Following the report, photos of tents being set up at the estate surfaced on social media.
Masses of hydrangeas and other plants were wheeled in and pastry chefs from French shop Laduree carried a huge two-tiered white wedding cake into the property as the couple geared up for a second civil ceremony on Saturday, the Daily Mail reported.
"Absolutely swept off my feet this past weekend, surprising me in the most meaningful location over one of our many shared passions. I can't wait to spend the rest of our lives learning, growing, laughing ang loving together. Yes a million times over."
The wedding comes one month after Melinda French Gates threw an intimate outdoor party for her daughter, which was attended by the people closest to Jennifer.
"Thank you for this incredibly special celebration, @melindafrenchgates," Jennifer tweeted on September 14 alongside a series of photos from the outdoor bash, including a smiling snap of Melinda, 57.
"So deeply grateful for all the amazing women in my life who advise, support, and uplift me. [Cheers] to this new chapter!" she added.
Source: Al Arabiya English
https://english.alarabiya.net/life-style/entertainment/2021/10/17/Jennifer-Gates-marries-Egyptian-Nayel-Nassar-in-Muslim-ceremony-2-mln-wedding
---------
How women in Australia's football community helped Afghan female footballers get out of Kabul
By Samantha Lewis
17-10-2021
Three words were all it took. Three simple words – "are you OK?" – that, like a stone dropped in a lake, created ripple effects that would change the lives of some in Afghanistan's women's football community, perhaps forever.
In August, Australian referee Joanna Charaktis was sitting in lockdown in Melbourne. Like many around the world, she watched on the news as the Taliban rapidly took control of Afghanistan after capturing its capital city, Kabul.
Charaktis felt entirely helpless. She wanted to help, but she didn't know how. The problem was so big, so complex, and she was just one person. What kind of impact could she possibly have?
"I had met a girl in my football travels who was from Afghanistan, who is heavily involved in football there and I remembered that I had her on Facebook," Charaktis told ABC.
"So I thought, 'Maybe I should reach out?' but I got stuck because part of me felt like she probably had 100 other issues on her mind and I didn't want to contribute to that negatively. What can I really do, after all?
"She replied and said, 'Look, it's really bad; I'm fearing for my life, I'm scared the Taliban is going to come for me because of my involvement in football.'
"She was basically just sitting around waiting with not much hope. Again, I felt that same helplessness; I didn't even know what to say – what can you say? All you want to do is help them, to just say, 'I'm coming to get you, I'll get you out.'
"I told her I'd reach out again in a couple of days, but she reached out first. She sent me a letter that Alex Hawke, our Minister for Immigration, had released about bringing 3,000 Afghans to Australia on the rescue mission. She sent that to me and asked if I could help her with it. So I called his office, wrote an email, whatever. Didn't hear back.
"But then I thought, 'How can I help from a football perspective?' So I spoke to my mentor, [referee] Allyson Flynn, and told her the story. She had just been included in a mentoring program with Women Onside and had been paired with [former Matilda] Moya Dodd.
"She [Flynn] reached out to Moya, who said to her, 'There's this whole rescue mission happening for the national football team, so maybe we can get these people on that list'.
Over the next few days, Charaktis and Dodd found themselves as the contact points for some of the women on the ground in Kabul, relaying messages, tracking locations and fielding questions as the evacuation unfolded.
The fleeing Afghans were advised to write the Australians' phone numbers on their arms, to be called if a soldier asked to verify their identity. Photos of passports and birth certificates were sent to their overseas contacts via WhatsApp in case the Taliban destroyed the physical copies.
"It was that voice message I got from her," Charaktis said. "In the background, it was really loud, you could tell there were a lot of people. And just hearing the despair in her voice: 'I can't get in. We can't get in. The gates are shut, there's no-one there.' And I just thought, 'Oh my God, now what?'
"We've seen the photos and videos in the media of what was happening and the chaos of it all and you're thinking, 'How are they going to get in? How is this possibly going to work?'
"It's still that process of feeling helpless because it was up to them to get to the airport, it was up to the soldiers to go and find them outside and bring them in, it was up to them to continue with that whole journey.
"They were outside the airport for 36 hours and I was sitting here in Australia in lockdown being like, 'How is she going to charge her phone? Her phone is going to die, how will she contact us? She's gonna get lost in the crowds, then what?' All these sorts of things I was worried about.
"Like, what else can you say to someone when they're in that moment? It's hard to even put yourself in their shoes and understand what they're going through, but to be able to provide that tiny bit of support … that actually means something, you know?"
Charaktis remembers the moment her friend boarded the Australian Defence Force plane. "I was like, 'Take some photos if you can. You should document this journey'. She sent me some photos and there's one of her in front of the RAAF plane they got on, and I was like, 'This is amazing.'
"To see that after four days of almost hell, not knowing what was going to happen and probably little hope before that, to see her standing in front of the plane, smiling, showing the peace sign … it was amazing."
But the rescue mission wasn't over once they arrived: they still needed clothes, toiletries and other items to help them through two weeks of isolation, as well as into the next chapter of their lives.
That's when Women Onside, a non-profit organisation set up by a group of former Matildas and others in the Australian women's football community, stepped in.
Having watched the situation unfold in Afghanistan, Women Onside set up an Afghan football support network, which included a fundraiser and volunteer register. At the time of writing, almost 100 people have signed up to help in whatever ways they can.
The support network was led, in part, by Women Onside board director Asma Mirzae, herself a former Afghan refugee. She, like Charaktis, watched on with a sense of total powerlessness as the Taliban re-took control of Afghanistan.
"Just like for any Afghan diaspora, we watched the horror of the events unfolding in Afghanistan from far away," Mirzae told ABC. "I found myself and my family members watching the news all day long.
"The survivor guilt was quite surreal; no matter how far my family and I are from Afghanistan, Afghanistan will always be part of our identity.
"It was devastating to feel that we're so powerless, we're so helpless; we can't do anything other than to raise awareness and check on loved ones.
"But when we heard that there was a group of compassionate people here in Australia working behind the scenes to evacuate these girls, that was the moment that got us thinking in terms of what we can do now that they're here – and that's how the Afghan Football Support Network started."
"Although there are a few of them who can speak English, the majority of them are struggling," she said. "That's where I've been able to jump in and bridge that gap, the communication barriers they're experiencing.
"I've been proactively and constantly in touch with the girls. After they found out I speak the language, I've been getting numerous messages and calls just seeking some help and support wherever possible. Language has definitely been instrumental in terms of the girls being able to communicate and share their concerns and at the same time, I've been able to pass that on to the relevant volunteers to get the support they need."
Former Matildas such as Moya Dodd, Jess Mitchell and Kate McShea would shuttle back and forth between Kmart, Officeworks, and Woolworths, delivering bundles of clothes and food to the athletes and their families at their respective quarantine hotels, sometimes well into the night.
Mirzae's lived experience came in handy here, too. In addition to the care packages, she also helped coordinate the production and delivery of Afghan food to the groups living in post-quarantine accommodation. The comforts of home and seeing a familiar face sometimes making all the difference.
"I told my mum about the situation – and Mum was not fully aware of all the work I'm doing behind the scenes because she has her own concerns and is going through difficult times herself reliving the experience she'd gone through – but when I told her that I was supporting these athletes, it didn't take her too long to prepare some homemade meals and get some Afghan bread for all the girls and their families.
"One of them messaged me right after having that dinner saying that she felt like she was at home when she was eating that meal. That just brought tears to my eyes. It's the least we can do, right?
"Over the past few days, I've been actively getting other members from the community involved, particularly the Melbourne Afghan Soccer Association (MASA). We started another round of campaigning and we've decided to extend that support to the other newly-arrived refugees in that temporary accommodation because when I went there, there were so many more people who needed help.
"MASA have been extremely helpful to complement the work of Women Onside and to support the broader newly arrived Afghans. Members from MASA have delivered over 300 bags of Afghan bread twice a week to the hotel, as well as collecting and arranging donated items like clothing and footwear.
"It didn't take [the athletes] too long to bombard us with messages saying how thankful and appreciative they are of us for making that effort, although they are just small gestures from our perspective. But they're very grateful for the fact that we made this effort to bring them food and see them in person."
As the Afghan group begin to transition into the next stage of their lives with the help of more formal settlement services, the role of Women Onside will shift. Here, Mirzae says, is where football will play a bigger role.
"Football is such a powerful tool that mobilises you and empowers you to be your best self and to reach your fullest potential, so wherever possible, we'll be using football to make integration much easier for these girls.
"Where Women Onside will complement the [government] support is through the social engagement side of things, with football being one of the drivers. That goes back to my lived experience as well and how much of an impact football had on me as I was on a journey to resettle in Australia.
"The fact that I had my family, my siblings around me definitely made things easier and made me feel that I am at home. But as soon as you step outside of home, that's when challenges arise. That's when you start to feel out of your comfort zone and don't feel like you belong. For me, that's where football really came into play; it helped me overcome these challenges.
"The person I am today is because of football; football was the tool that helped me to resettle and make Australia home and to give back."
Incredibly proud of our Melbourne Afghan Girls Team (Melb United) coming together and supporting our newly arrived Afghan brothers and sisters inc. the Afghan football group! United - Always & Forever! ❤️ ⚽️ @WomenOnside pic.twitter.com/LMNppX4JwX
Whether any of the Afghan athletes decide to play football again at all – let alone for their national team – remains a lingering question. Few would blame them if they left the game altogether, having already suffered so much on its behalf.
For Mirzae, though, she sees football as more than just a tool of social integration and individual empowerment. For these newly arrived refugees, the game can act as a political symbol, too.
"It's the Afghanistan no-one wants to see or be portrayed like. For us to shift that narrative is through our actions and one action could be through our continued participation in football.
"Continuing to participate in football – whether that might be on a national level or grassroots level – is an opportunity for us to demonstrate our defiance against the Taliban.
"I'm in a position [now] to stand in solidarity with most of our Afghan women athletes, to stand against the Taliban and say, 'No, the Afghanistan you've portrayed to the world is not the Afghanistan we resonate with.' So for us to continue playing football is definitely a sign of defiance against the Taliban."
For Charaktis – the stone in the lake – this was a moment that not only confirmed the power of football but also the power of a single person to create positive change in the world.
"It all comes from football. You can get anything done because everyone can help with something and if they can't, they'll know someone who can help.
"Football has literally brought us all together. I would not have met my friend if I wasn't involved in football, or if she wasn't involved in football. I wouldn't have my connections to Allyson Flynn and she wouldn't have had her connection to Moya. None of this would have happened without football.
Source: ABC.net
https://www.abc.net.au/news/2021-10-17/former-matildas-help-afganistan-footballers-settle-in-australia/100517572
-----------
Imperative For Women To Enjoy Their Rights, Powers: Chief Justice of Pakistan
Our Correspondent
October 17, 2021
LAHORE: Chief Justice of Pakistan (CJP) Justice Gulzar Ahmed has said it was imperative that women enjoyed all rights and powers guaranteed by the Constitution.
He was addressing a ceremony on Saturday to inaugurate the Pink Ribbon Hospital, the first ever fully dedicated breast cancer facility in Pakistan and the world, on Saturday.
Justice Gulzar said that the Constitution has guaranteed many rights and powers to women which should be provide to them. He said that not only women should be given representation everywhere but all their rights should also be protected.
The CJP highlighted the constitutional rights of women in the country and said that the women were not only a valuable part of the country but the lifeline of the society, adding, "the wellbeing of women leads to wellbeing of the whole nation."
The Chief Justice of Pakistan Gulzar Ahmed said it was unfortunate that a country, with a huge women population, had no specialized breast cancer institute, adding that as many as 40,000 deaths a year due to breast cancer could not be overlooked.
He urged the need of comprehending the gravity of the situation and added that breast cancer hospitals and clinics should be established throughout the country to detect and treat the disease on the early stage. He assured the hospital administration of an unflinching support by the Supreme Court to the cause.
Earlier, the CEO of Pink Ribbon Pakistan Dr Omer Aftab said that his organization was working dedicatedly on the issue of breast cancer in the country for 17 years, adding, "the journey of the organisation has been full of challenges as there was a time when even mentioning the word "Breast Cancer" was taboo, which has now become a leading topic in the national health agenda."
He asserted that the organisation had educated 1.3 million young girls on the need of breast self-examination, and 18 million women on early detection techniques since the inception of the organisation back in 2004.
Dr Aftab highlighted that the consistent campaigns and various community engagement initiatives led to a 400 per cent increase in mammogram screening in the country.
The hospital was a fully charitable organization depending on donations. "Upon completion, the hospital will be able to provide world-class treatment to 40,000 deserving breast cancer patients, annually," he added.
Source: The News
https://www.thenews.com.pk/print/901085-imperative-for-women-to-enjoy-their-rights-powers-cjp
----------
Bangladeshi Women's Leadership in Water Governance
OCTOBER 16, 2021
ALBERTA, Canada — Women in Bangladesh play a crucial role in collecting water, often bearing the brunt of physical labor and household chores. Despite women and girls playing an instrumental role in water collection and facing disproportionate impacts of improper and unsafe sanitation facilities, they are vastly underrepresented in leadership positions within the water industry. Women often do not have the opportunity to participate in decision-making pertaining to water, sanitation and hygiene (WASH) as men overwhelmingly dominate these positions. In Bangladesh, only "20% of representatives in water management organizations" are women. To increase women's employment and potential leadership in water governance, the World Bank has introduced the Bangladesh Rural WASH for Human Capital Development program. The water sector acts as a crucial source of employment for women and the lack of women in the industry is representative of immense untapped opportunity.
A multitude of complex, intersecting factors prevents women's participation and employment in WASH. Barriers arguably begin in the education system, where a limited number of women graduate from STEM and TVET programs. Additionally, cultural norms in Bangladesh coupled with gendered expectations restrict women from even attempting to enter the workforce.
Because of these entrenched social norms, leadership positions in water governance often seem unattainable for women and many people label work in WASH as "dirty, dangerous and heavy." Moreover, barriers such as the lack of gender-friendly and private sanitation facilities, a lack of menstrual products and overt discrimination in the workplace prevent women from remaining in or moving up to leadership roles in the WASH industry.
Access to water and sanitation is still one of the most prevalent and pervasive global challenges. Remote and low-income areas often struggle to obtain access to water. To combat these inequalities, fresh perspectives are necessary to shape water availability in Bangladesh. Marginalized populations living in poverty, such as women, the elderly and people with disabilities, experience even more difficulties accessing water.
Bangladeshi women understand how households use and conserve water firsthand and also have the lived experience of attempting to properly manage a menstrual cycle without the necessary resources and facilities. By integrating women into the workforce and training them to take on leadership roles, new and necessary perspectives informed by experiences with inequality, intersectionality and marginalization can come to the table. Expanding the hiring pool to include women while dismantling barriers to leadership makes way for addressing the WASH sector's evolving needs more efficiently.
Furthermore, both women and companies benefit from gaining access to better jobs in WASH. Evidence proves that gender-diverse companies outperform less diverse companies and several studies link greater diversity to an expanded skillset within the company.
The Bangladesh Rural WASH for Human Capital Development program creates space for women's voices in WASH by "providing improved access to water, sanitation and hygiene services in 78 rural sub-districts in Bangladesh." The World Bank will provide "microfinance loans and sanitation grants for investments" in WASH facilities and hopes to "shift WASH decision-making from men in town markets to women in homes." The program will encourage female "representation and leadership in water management committees," with the goal of "women chairing 30% of these committees." Those chairing will receive training and support on how to use their voices to bring to light crucial WASH matters.
Finally, the program will support 150 female entrepreneurs to "market and sell soaps, disinfectants and menstrual hygiene products at household doorsteps," further encouraging ideal menstrual hygiene practices for girls and women.
Source: Borgen Magazine
https://www.borgenmagazine.com/water-governance/
-----------
URL: https://www.newageislam.com/islam-women-feminism/nazanin-zaghari-british-iranian/d/125593
New Age Islam, Islam Online, Islamic Website, African Muslim News, Arab World News, South Asia News, Indian Muslim News, World Muslim News, Women in Islam, Islamic Feminism, Arab Women, Women In Arab, Islamophobia in America, Muslim Women in West, Islam Women and Feminism