New Age Islam News Bureau
7 Sept 2014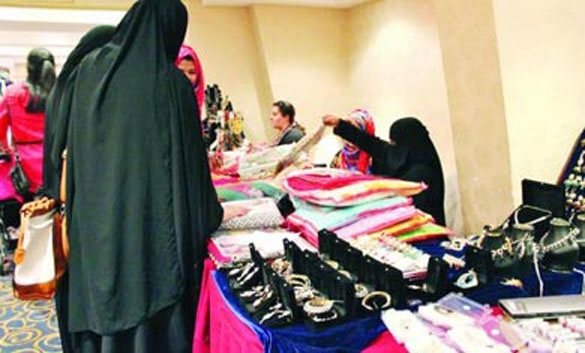 Women visit the "Needs & Style" festival organized by a Pakistani ladies club in Riyadh. AN photo
----------
• Saudi Special Criminal Court to investigate five female 'terrorists'
• Afghan Rape Gang Sentenced To Death after National Outrage
• Iraqi Yazidi Girl Reveals Horrifying Crimes of ISIL
• Runaway Saudi Maids Make For Lucrative Business
• Pakistan Ladies Club Organizes Fun-Filled Cultural Exhibition
• More than 100 Children Abducted by ISIL from Iraqi Orphanage
• Examining Health Care Resources for Syrian Women in Turkey
• Cape Ann Women Helping East African Orphans
• Zambia Grapples With Problem of Child Marriages
Compiled by New Age Islam News Bureau
URL: https://newageislam.com/islam-women-feminism/british-female-jihadis-sign-up/d/98949
------------
British female jihadis sign up to the Islamic State's all-women police force
07 Sep, 2014
British female Jihadis are running an ultra-religious police force that punishes women for un-Islamic behaviour in territory controlled by Islamist terrorists, The Telegraph can disclose.
New evidence shows a number of British female recruits to the al-Khanssaa brigade, an all-women militia set up by the Islamic State in Iraq and the Levant (Isil).
The al-Khanssaa brigade is operating in Raqqa, the Syrian city where Isil has set up its headquarters in the country. Security services believe that the American hostages James Foley and Steven Sotloff were both beheaded in the desert surrounding Raqqa.
It is quite possible that the British women involved in the al-Khanssaa brigade will know the true identity of the suspect - known in the media as 'Jihadi John' and thought to be from the south east England - who executed them.
A key figure in the al-Khanssaa brigade, according to researchers at the International Centre for the Study of Radicalisation (ICSR), based in King's College in London, is Aqsa Mahmood, a 20-year-old woman from Glasgow who fled to Syria in November last year.
Academics have identified three other women - all from the UK - who are members of the brigade. In all, ICSR believes about 60 British women have gone to Syria on jihad. The ICSR has a database of 25 British women it monitors.
The vast majority of the British women who have gone to Syria are aged between 18 and 24, typically 20 and under, with dozens more making inquiries about jihad in the past three weeks following the beheading of Mr Foley and the subsequent release of a video of his execution.
Mahmood, who was educated at private school and had wanted to be a doctor, is linked to the al-Khanssaa brigade through her Jihadi name Umm Layth, which she uses on social network sites.
The ICSR research team has linked Umm Layth to a cluster of at least three other women Umm Haritha, Umm Ubaydiah and Umm Waqqas all from Britain but whose true identities are not clear. Umm Ubaydiah, who also has Swedish connections, is thought to run the social networking account for al-Khanssaa.
In one internet posting at the end of August, Umm Waqqas describes the other women as 'her sisters' and links them to the al-Khanssaa brigade.
Another cluster of four British women have used Twitter to express interest in joining the al-Khanssaa brigade.
Those women are also living in Raqqa. One of them - known only as Umm Farriss - who arrived in Syria in February posted on the internet a picture of her suicide belt, the first evidence that British woman are being armed with bombs.
Under the isil interpretation of Islamic law, women are not permitted to fight but they are allowed to engage in suicide bombings.
According to the Terrorism Research and Analysis Consortium, a US-based monitoring group, al-Khanssaa was set up by Isil commanders in February this year.
Its members are all single women, who dress in black robes and wear a face veil. Brigade members are paid a monthly salary of 25,000 Syrian pounds - about £100.
Their duties include the strict enforcement of Sharia law dress code as well as searching Burqa-clad women to ensure they are not enemy fighters in disguise.
Melanie Smith, a research associate at ICSR, said: "Al-Khanssaa is a Sharia law police brigade. This is Isil's female law enforcement. We think it's a mixture of British and French women but its social media accounts are run by the British and they are written in English.
"Given how small the community networks are - we know there are about 500 male British Jihadis out there - it is quite likely these women move in the same circles as the British killer of Foley and Sotloff."
It is thought the British women are being given key roles in the brigade because they are considered by Isil commanders to be the most committed of the foreign female Jihadis to the cause.
Al-Khanssaa patrols walk the streets of Raqqa seeking out inappropriate mixing of the sexes and anyone engaging in Western culture.
Miss Smith said: "The British women are some of the most zealous in imposing the IS laws in the region. I believe that's why at least four of them have been chosen to join the women police force."
Miss Smith, who monitors social media for clues to the movements of British female Jihadis, said more women are heading for Syria on a daily basis.
"In the last week I have encountered two dozen Twitter accounts of women wanting to get across the border into Syria from Turkey," she said, "The number of women wanting to go has sky rocketed in the last week.
"It is now easier for women to make jihad than men because they are under less suspicion when they leave the UK."
By monitoring 25 British women, ICSR has built up a database of names and patterns of behaviour of the women who have gone to Syria for jihad.
Other British female Jihadis in Raqqa have gained a reputation for making blood-thirsty threats against the West.
Khadijah Dare, from Lewisham in south London, used Twitter to celebrate Mr Foley's beheading.
She announced on twitter that she wanted to become the first female to behead a western prisoner in Syria, while last week Sally Jones, 45, a former housewife from Kent who converted to Islam and is thought to use the name Umm Hussain al-Britani, said on Twitter: "You Christians all need beheading with a nice blunt knife and stuck on the railings at Raqqa... Come here I'll do it for you!"
Jones, although far older than the typical female British jihadi, is married to another jihadi fighter in Raqqa.
In the past week, Miss Smith has uncovered another cluster of young British women, at least two of whom have connections to the Ladbroke Grove area of west London but whose real identities are not yet known.
They include Umm Farriss, who posted the photograph of her suicide belt on July 17. Her friends use the aliases UkhtiB, GreenBirds22 and Umm Talib on Twitter and they all live close to each other in low blocks of flat around a courtyard.
While they have been living in Raqqa they continue to talk to friends in the UK. Some of them use Askfm to answer questions which help their friends know what life is really like in the Islamic State.
Their Twitter accounts reveal a mundane side to jihad for women in Syria. "They tweet pictures of suicide belts but then they also talk about food and clothes and going out and other gossip," said Miss Smith, "They are doing normal girlie things like going shopping but set against a context of Jihadi war. It's bizarre."
Many of the women heading for Syria had gone there to find a husband among the Jihadi fighters who they may have already made contact with on Twitter, Facebook and other social media.
Miss Smith says the Jihadi social media is 'buzzing' with marriage proposals and many of the fighters have taken several wives.
The British researchers now believe the 16-year-old twins from Manchester who travelled to Syria earlier in the summer have split up and are living with their own male fighter husbands.
Salma and Zahra Halane, who have 28 GCSEs between them left Chorlton, Greater Manchester and arrived in Raqqa in June.
Full report at:
http://www.telegraph.co.uk/news/uknews/terrorism-in-the-uk/11079386/British-female-jihadis-sign-up-to-the-Islamic-States-all-women-police-force.html
------------
Saudi Special Criminal Court to investigate five female 'terrorists'
7 September 2014
The Special Criminal Court is looking into the case of five female alleged terrorists (four Saudis and one Yemeni) who formed a group and tried to recruit and lure a number of women.
One of them was preparing to send her sons to participate in the fighting in Afghanistan.
She also sent her 12-year-old daughter, a minor, to get married to one of the Al-Qaeda terrorists there.
These female terrorists allegedly used to get support and guidance from the commanders and members of the terrorist organization in Yemen and Afghanistan.
When the security authorities countered the plans and activities of these terrorist women, Al-Qaeda in Yemen committed a serious crime by kidnapping the Saudi Deputy Consul General in Aden, Abdullah Muhammad Al-Khalidi, in 2012.
Several days after the abduction, the Kingdom's embassy in Sana'a received a telephone call from Mishal Muhammad Rasheed Al-Shadoukhi, one of the wanted terrorists, who demanded the release of the five women.
During his telephone call to the Saudi ambassador, the terrorist Al-Shadoukhi gave the names of these women and sought their custody.
http://english.alarabiya.net/en/News/middle-east/2014/09/07/Kingdom-s-Special-Criminal-Court-to-investigate-five-female-terrorists.html
-----------
Afghan Rape Gang Sentenced To Death after National Outrage
07 Sep, 2014
An Afghan judge on Sunday sentenced seven men to death for the gang-rape of four women in a case that has sparked nationwide outrage, with angry protests outside the court and proceedings broadcast live on television.
The seven men, who stood in the dock dressed in brown traditional clothing, were found guilty of kidnapping and attacking the female members of a group that was driving home to Kabul from a wedding.
President Hamid Karzai had earlier called for the men to be hanged, and the death sentences were technically handed down for the crime of armed robbery rather than rape.
In a trial that lasted only a few hours, the court heard that the men, who had obtained police uniforms and were armed with guns, stopped a convoy of cars in the early hours of August 23.
They dragged the four women out of the vehicles, robbed them, beat them up and then raped them. One of the women was reported to be pregnant.
"We went to Paghman with our families," one victim, dressed in a Burqa, told the packed courtroom.
"On the way back, they took us. One of them put his gun on my head, the other one took all our jewellery, and the rest started what you already know."
As noisy demonstrators outside the court demanded the death penalty, applause erupted inside after Kabul police Chief Zahir Zahir called for the men to be hanged.
"We want them to be hanged in public, so that it will be a lesson for others," he said.
"We arrested them with police uniforms. They confessed to their crime within two hours of their arrest."
The judge said the seven had the right to appeal against their sentences.
Women's rights have been central to the multi-billion-dollar international development effort in Afghanistan since the end of the Taliban regime in 2001.
Under the Taliban's harsh version of Sunni Islamic law, women were forced to wear the all-covering Burqa, banned from jobs, and from even leaving the house without a male chaperone.
Rape and violence against women and girls was rife, according to Amnesty International, which says that Afghan women are still routinely discriminated against, abused and persecuted.
The Taliban, who launched a resilient insurgency after being ousted, threaten a resurgence as US-led NATO combat troops withdraw from the country later this year.
Despite 13 years of fighting, foreign forces have failed to quash the Taliban, who have gained ground in a series of recent offensives.
The gang-rape unleashed a wave of public reaction via the media and the Internet, echoing recent similar crimes in India including the fatal attack on a student on a bus in New Delhi in 2012 that provoked headlines worldwide.
Last week the US embassy in Kabul released a statement, condemning "the brutal robbery, beating, and rape" and calling for Afghan authorities to bring the perpetrators to justice.
President Karzai's personal intervention came as he waits to step down after ruling Afghanistan since the fall of the Taliban.
The June 14 election to choose his successor has become engulfed in a prolonged dispute over fraud, with both of the two candidates claiming victory.
The United Nations has expressed fears the political stand-off could trigger a spiral of instability and a return to the lawless chaos of the 1990s civil war that allowed the Taliban to rise to power.
http://www.hurriyetdailynews.com/afghan-rape-gang-sentenced-to-death-after-national-outrage.aspx?pageID=238&nID=71389&NewsCatID=356
------------
Iraqi Yazidi girl reveals horrifying crimes of ISIL
07 Sep, 2014
The girl, in an interview with the Kurdish News channel, said women and girls were suffering from extensive abuse by ISIL Takfiris.
She said as a common practice, the ISIL terrorists singled out three captive women and girls each time to be raped by the ISIL Emir (commander) and then passed them round among other militants.
The victims are then taken to the market to be sold as sex slaves and another three women are chosen to experience the same fate, she added.
The girl went on saying that the militants were free to rape or sell the captive girls as sex slaves to other members of the gang.
The Iraqi female captives were sold for $800-1,000 and the Yazidi ones for $500, she said.
The girl who has witnessed numerous atrocities by ISIL terrorists underscored that the militants killed Yazidi men and boys at the sight of captive women and girls.
The girls recalls how militants separated young women and girls from the rest of the captives.
150 women captives were trafficked from their village in the northeast Iraq region of Sinjar to the northern Iraqi city of Tal Afar in Nineveh Province and were sexually abused by militants en route, she added.
The ISIL Takfiri terrorist group recently has abducted around 300 girls and women from the Yazidi ethnic minority, keeping them as spoils of war or selling them off as sex slaves.
http://www.abna.ir/english/service/middle-east-west-asia/archive/2014/09/07/635977/story.html
------------
Runaway Saudi Maids Make For Lucrative Business
07 Sep, 2014
Several Saudi families who once promptly reported runaway maids have either stopped altogether or have even welcomed runaways into their homes, paying them by the hour thanks to the dire shortage of manpower that has afflicted the country.
Many blame authorities for this change in attitude, since residents say that officials leave runaway reports to pile up unresolved.
Other expats, meanwhile, have taken advantage of this dynamic.
Mahboob, a Bangladeshi expat, shelters runaways and then sends them onto other employers.
"I am a legal expat who works as a driver," he said. "Many of the ladies I drive around are in need of maids, whom I then provide by the hour in collaboration with other maids of the same nationality. I charge a fee that we divide between us at the end of the month."
Mahboob has sheltered 40 housemaids, who end up making as much as SR2,500 a month instead of the usual SR1,500 offered to full-timers, guaranteeing him and his partners a decent profit margin at the end of the month.
Abdullah Al-Harbi, a Saudi taxi driver, said he sometimes finds himself cabbing runaways between various Jeddah neighbourhoods.
"I realize from our chats that they are part of a much bigger network of maids, who agree among themselves to take on different neighborhoods and whether they will charge by the hour, day or month," he said.
"I sometimes regret driving them, but I can never know for sure if they are runaways."
Salah Abdulhadi, another taxi driver, demands that taxis be directly linked with authorities so that they can report runaways more efficiently.
Majid Al-Hamdan, a sociologist, said there are many reasons why housemaids run away.
"Sometimes maids copy each other, while others suffer maltreatment. Others just want to work independently and get more money or do less work," he added.
http://www.arabnews.com/saudi-arabia/news/626481
------------
Pakistan ladies club organizes fun-filled cultural exhibition
07 Sep, 2014
The Pakistani expatriate community in Riyadh organized a festive bazaar for women and children at the Ramada Hotel recently.
The exhibition by the Pakistani ladies' club entitled "Needs & Style" showcased traditional dresses and other items.
Sajida Chaudhry, founder of the club, said she organizes these exhibitions as the group's focus is tending to the fashion needs of Pakistani and Indian women.
"These exhibitions promote Pakistan's rich culture internationally and the hosting of activities brings the community together giving the feeling of a home away from home," she said.
The exhibition featured 27 stalls filled with colourful embroidered Pakistani and Indian dresses, jewellery, cosmetics, accessories, and traditional snacks.
The food stall was the most popular attraction of the evening with many women tucking into several of the Pakistani delicacies on offer.
"It is not often that people get to have these snacks which remind them of home," Chaudhry said adding that this was why the food stalls were such a magnet for everybody.
Women at the exhibition were selling traditional tailored and unstitched dresses that they had ordered from Pakistan and India to cater to the demand of their clients.
Navera Shamsi, proprietor of Candy Boutique, was selling dresses that she had ordered from Pakistan but seemed disappointed at the low turnout of customers.
She said: "The reason for the rather low sales is that schools re-opened this week and ladies are more focused on shopping for their children than themselves."
Some 100 women of Pakistani, Indian, and Bangladeshi origin visited the bazaar which was advertised on the "Needs & Style" Facebook page, via text messages, and by word of mouth.
Chaudhry said: "People were drawn to the exhibition more by word of mouth than through social media."
http://www.arabnews.com/saudi-arabia/news/626466
------------
More than 100 Children Abducted by ISIL from Iraqi Orphanage
07 Sep, 2014
Takfiri radicals from the ISIL terrorist group abducted at least 100 Shiite and Ezadi children at an orphanage near the troubled Northern Iraqi city of Mosul.
Local residents say the militants kidnapped the children after they captured the city of Talafar in June and Shingal in August, Al-Alam reported.
Witnesses also say they have abducted large numbers of girls and women and brutally killed hundreds of people in recent months.
Sources say hundreds of Ezadi women and girls "who were abducted in Iraq have been distributed as spoils of war" to ISIL militants in recent weeks.
Meanwhile, a spokesman for Iraq's top Shiite cleric, Grand Ayatollah Ali al-Sistani, has urged the parliament to investigate the massacre of Iraqi soldiers at a military base in the North of the capital, Baghdad.
Ahmed al-Safi said on Friday that the parliament should punish all those who committed the crime at Camp Speicher near the city of Tikrit back in June.
This comes as new evidence, obtained by Human Rights Watch, revealed that ISIL Takfiri terrorists murdered between 560 and 770 Iraqi soldiers captured at Camp Speicher back in June.
Also on June 10, the terrorists took hundreds of prisoners from a Mosul prison. They ordered the prisoners to get on their knees and then opened fire, killing up to 670 people on the spot.
The ISIL terrorists have committed heinous crimes and threatened all communities, including Shiites, Sunnis, Kurds, Christians and Ezadi Kurds, during their fighting in Iraq.
The UK-based human rights group Amnesty International has recently condemned ISIL terrorists for committing "war crimes, including mass summary killings, beheadings, crucifixions, and abductions."
Senior Iraqi officials have blamed Saudi Arabia, Qatar and some Persian Gulf Arab states for the growing terrorism in their country.
http://english.farsnews.com/newstext.aspx?nn=13930616000437
------------
Examining health care resources for Syrian women in Turkey
07 Sep, 2014
In refugee settings, family planning is not a priority: The initial response in any widespread displacement is focused on providing food, shelter, and protection. Refugee aid in Turkey is no longer simply a matter of initial response, however: The country has received around one million refugees from Syria over the last two years. What maternal health and family planning resources are provided for Syrian refugees in Turkey, if any?
Despite an estimated $3 billion spent by the Turkish government for Syrian refugee response since the start of the crisis, the integration process for refugees settled in the country is incomplete; the future of Turkey's one million is still hazy. The rising numbers of Syrian beggars in large cities such as Istanbul and the growing anti-immigrant discourse and violence emerging within the Turkish population seem to be just the beginning of more economic and social problems to come.
Although the government has provided free healthcare to all Syrians, recent news reports suggest that the living conditions of the majority of refugees has been growing worse, Kemal Kirişçi, a senior fellow at the Brookings Institute, points out. Women and children are the most vulnerable members of the displaced population, and their problems are overlooked; women, for instance, suffer from social and cultural prejudices to a greater extent than do men.
A January 2014 report on sexual health risks in refugee settings by TAPV, the Turkish Family Health and Planning Fund, stresses that the health risks faced by refugees in any country are just as important for the citizens of the country to which they have moved. Therefore it is vital to take provide access specific health services for women refugees.
hy maternal health and family planning?
Maternal health is especially pressing in refugee populations: Fragile living conditions such as the trauma of conflict can increase the risk of death and disability for both newborns and mothers. According to IMPAC , around 15 percent of all pregnancies develop life-threatening complications that call for skilled care or require major obstetrical intervention to survive. Yet such care is seldom available in refugee settings. In fact, places of conflict receive 50 percent less funding for reproductive health than do stable settings, writes Lizzy Berryman in The Guardian.
Pregnant women forced to leave their homes have little to no access to health services, and women are often left to give birth in their homes or other unhealthy circumstances. Poor living conditions can also foster miscarriages and the spread of deadly diseases like HIV/AIDS.
Discrimination, marginalization, and a lack of peer support and health and social services also increase the risk of sexually transmitted infections (STIs) for refugees. In addition to difficulties locating access to health services, counseling, and medicine, refugees worldwide also face a number of legislative problems. These include inadequate information about health services and their costs, the inability to prove their identities and administrative barriers to further support. Women refugees struggle to find accessible health services compatible with their cultural ideals providing needed privacy.
Covering sexual education about STIs and infertility management, family planning is a vital support channel for the wellbeing of all women and mothers. In countries with large refugee populations struggling to meet the basic needs of the displaced, however, family planning support is often a secondary and under-budgeted concern. Private health care and planning support remains too expensive for most refugees, and women find themselves bearing this important responsibility alone.
Dr. Gökhan Yıldırımkaya notes that there is a lack of knowledge about how to develop necessary interventions, arguing that new research must identify the holes in current health services. Refugee groups must also be properly registered and included in a data pool, he says, so that appropriate health services have knowledge of specific health risks that are associated with refugees' sites of origin. Responsibility also falls on Disaster and Emergency Management (AFAD) and the Health Ministry to organize regional administrators, universities, non-governmental organizations, teachers, and municipalities in a way that strengthens refugee access to health services.
The reality in Turkey:
An estimated 40,000 Syrian refugees in Turkey were pregnant in July 2014, according to a UNFPA report of that month. If the Turkish government and related agencies do not respond to family planning and maternal health concerns, it will only become increasingly difficult to address the health, education and employment requirements that follow the population boost.
Before the civil war in Syria, family planning services in the country were free and used by 58 percent of women (WTO). Research on family planning access for Syrian refugees in Turkey is difficult, but UNFPA's records from refugee camps in Lebanon show that the number of married women among Syrian refugees there that now use contraception has decreased to 37 percent.
When examining Turkey's policies regarding female health, it's strikingly clear that policies concentrated on the reproductive capacity of the female population and growth policies until the '60s, on family planning from the beginning of the '60s, and on encouraging higher birth rates in at the beginning of the millenium, when the country's decrease in birth rates was viewed as a threat.
Turkey joined the UN's Convention on the Elimination of All Forms of Discrimination in 1979, but it fails to address the 12th amendment that requires countries to give females equal status in family planning and all health care services. Dr. Belkis Kümbetoğlu of Yeditepe University states that Turkey does not have a group of representatives or any institutions that have placed this topic on their agenda and push for its implementation.
In a 1994 agreement in Cairo at the Conference on Population and Development, Turkey was among the countries that forfeited control over population policies and officially accepted women's rights to their body and childbirth as a human right. But Pınar İlkkaracan, a founding member of Turkey's Women's Human Rights Institution (Kadının İnsan Hakları Derneği), draws attention to serious obstacles in the implementation of these principles. İlkkaracan emphasizes that the empowerment of young women on this issue is necessary for continuous equality between the sexes.
TAPV has been working to improve awareness on the health issues affecting Syrian women in Turkey, and to provide them with services and counseling. But the health of women in Turkey, whether refugees or not, has yet to become a fundamental topic in the country's political, social, and economic agenda. Now more than ever, Turkey faces the need, to work toward new arrangements on health care and education services for its women and mothers. Mobilizing international humanitarian aid and Turkish organizations to focus on this issue within the Syrian population might provide a place to start.
http://www.hurriyetdailynews.com/examining-health-care-resources-for-syrian-women-in-turkey.aspx?pageID=238&nID=71378&NewsCatID=373
------------
Cape Ann women helping East African orphans
07 Sep, 2014
GLOUCESTER, Mass. (AP) - Nearly three years ago, Mary Hintlian of Gloucester went on safari to Africa with her daughter, and they took a detour that would lead to a life-long commitment to an orphanage.
And they found a commitment to making deep improvements in that part of the world.
Astounded at the work of one American woman, India Howell, Hintlian is reaching out to her neighbors and fellow residents to spread the word about the Tanzanian Children's Fund, which runs the Rift Valley Children's Village that serves as home to more than 90 orphans.
Howell, who started the organization 10 years ago, is finding a growing number of interested locals, some who participate in volunteer service opportunities.
Earlier this year, Hintlian and Rockport artist Eileen Mueller did just that when they traveled to the village. But they found much more than an orphanage. The rural grammar school the organization oversees, Gyetighi Primary School, continues to be the No. 1 public school in the district, and was ranked in the top 2 percent of all primary schools (public and private) in Tanzania, Hintlian and Mueller said. In addition to education, the organization is at work at a larger economic development piece to bolster the region - all this within one decade.
Mueller always wanted to take part in a service trip to Africa, and found this a life-changing trip.
"I went with an open heart and mind, and was just astounded at what India is doing," she said. "The poverty in Africa is something you can't believe but the spirit of the people is enormous. I left feeling fortunate that I had this opportunity. India is changing lives."
Peggy Bacon, who chairs the board of the Tanzanian Children's Fund, said the organization has a contingent of supporters from Cape Ann, which is growing with Hintlian spreading the word. The Tanzanian Children's Fund was hatched in Maine with its first office in Portland, but in 2010 it was incorporated in Massachusetts where it has a Boston office.
Howell and Bacon recently visited Gloucester to meet with their supporters and others who wanted to learn more about this intercontinental connection.
"It is not just about the wonderful group of orphaned children any more. Rather, the Children's Village is one part of a multi-pronged community development program or, I like to call it an attack on generational poverty in Oldeani Ward, a coffee growing region in northern Tanzania," Bacon told the group.
Not only has Howell's work provided a home to orphans, it also has provided work to villagers who never had a job before, and scholarships to high-achieving students.
The micro-finance program is growing. Graduates from their teacher-training program are improving teaching methods throughout the country, and the 8,000 residents of Oldeani now have access to medical care. Their motto: "A Rising Tide Lifts All Boats."
Howell, the founder and executive director, lives in Tanzania permanently where she watches every penny of donor money, for which she is grateful for every cent.
One unique aspect of the orphanage is that the children are never put up for adoption; Howell's mission is to provide a family, forever, "and the intangibles needed for success and leadership - security, belonging, love and confidence."
The Hintlians' connection to the orphanage came from a serendipitous conversation, and has a connection to Iggy's bread, a popular item on the North Shore. Howell and Hintlian's daughter Lauren have a mutual friend from Iggy's. In a former career, Howell was a business consultant who worked with Iggy's to launch it on a larger scale. Lauren was told that she should visit Howell on her trip to Africa to see her latest effort.
Full report at:
http://www.washingtontimes.com/news/2014/sep/7/cape-ann-women-helping-east-african-orphans/
------------
Zambia Grapples With Problem of Child Marriages
07 Sep, 2014
LUSAKA: The rescuing of a 13-year-old girl from a forced marriage in north Zambia recently has ignited calls for invigorated efforts to put an end to child marriages in the southern African nation.
The incident, as well as other similar ones of girls being retrieved from forced early marriages, is a clear indication that Zambia is still far from winning the battle against the social disease.
The girl was retrieved from her marriage by education campaigners after her parents married her off to a 21-year-old man and was found to be pregnant. In southern Zambia, four girls, also aged 13, were reported to have been married off by their parents. Despite the Zambian law prohibiting sex with girls under the age of 16, stories of young girls being married off indicates that the law needed to be stiffened. Women and girl rights campaigners believe that current efforts to tackle the problem have not yielded any tangible results, hence the need for concerted efforts from all stakeholders to put an end to the vice.
The situation has been worsened by the fact that marrying off girls is deeply embedded in cultural beliefs of most rural areas of Zambia where girls are seen as a source of income. The situation was further worsened by the high poverty levels in rural parts of Zambia.
Campaigners are now calling for stiffening of laws to clamp down on the problem and leading the campaign is the country's First Lady Christine Kaseba-Sata.
She said at the launch of a national campaign to end child marriages that if such a problem is not tackled now, an estimated 453,000 young girls born between 2005 and 2010 in Zambia would be married or in a union before the age of 18 years by 2030.
Speaking at a regional symposium on ending child marriages, Kaseba-Sata said it was unacceptable that about 42 percent of girls are being married off or impregnated before they reach 18 years.
The high number of child marriages was a crisis which should be fought with the same vigor the country used in fighting the HIV/ AIDS pandemic, she said. Zambia has reduced HIV prevalence rate from 25 percent to the current 14.3 percent.
Increased awareness programs on the dangers of the vice were needed, she added.
To enhance the fight against the vice, the Zambian first lady believes that involvement of traditional leaders is cardinal because the trend is deeply rooted in the country's culture where marrying off young girls is seen as a normal practice.
Traditional leaders in various parts of the country have enhanced their efforts to end child marriages in their chiefdoms. Leaders in the south have teamed up, warning that all men that have married under-age girls have their days numbered.
These traditional leaders are concerned that that cases of child marriages had continued unabated and were hindering government efforts to empower the girl-child with education.
The Forum for African Women Educationists in Zambia, an organization promoting girl education, was concerned that forcing under-age girls into early marriages was depriving them of an opportunity to be educated and that it was also a human rights issue.
The organization was currently conducting programs to help people understand the importance of a girl child acquiring an education.
On the other hand, the United Nations Children's Emergency Fund (UNICEF) is currently supporting a national situation analysis on child marriages in Zambia which will contribute to the mapping of organizations working on child marriage and eventually towards the development of a detailed program document which will bring about national strategy on child marriages.
The Washington-based International Center for Research on Women estimates that one third of the world's girls are married before the age of 18 and that if the trend continues, 142 million girls will be married before their 18th birthday over the next decade.
http://www.dailytimes.com.pk/foreign/07-Sep-2014/zambia-grapples-with-problem-of-child-marriages
------------
URL: https://newageislam.com/islam-women-feminism/british-female-jihadis-sign-up/d/98949