New Age Islam News Bureau
19 Aug 2016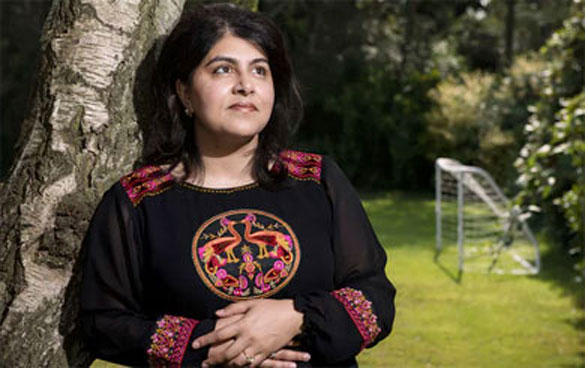 'Muslim women in the UK, including Baroness Warsi (above), are changing the world around them and contradicting the stereotypes that push down upon them.' Photograph: Paul Cooper/Rex
------
• French Police Have Already Punished Ten Muslim Women for Islamic Swimwear
• Morocco Cleric Blasts 'Nudity' Among Immodestly Dressed Women
• Germany Moves to Ban Burqas
• Muslim Woman Removed From Donald Trump Rally 'For Handing Out Pens'
• Pakistan CII Declares KP Assembly Proposed Women Protection Bill Un-Islamic
Compiled by New Age Islam News Bureau
URL: https://newageislam.com/islam-women-feminism/britain-full-inspirational-muslim-women,/d/108306
---
Britain Is Full of Inspirational Muslim Women, They're More Crucial than Ever
Friday 19 August 2016
When I think of Muslim women, I think of Khadija, the prophet Muhammad's wife and first convert to Islam, who was a successful merchant in her own right; of Fatima al-Fihri, who founded the oldest university in the world in Fez, Morocco; of historical women who make clear to me again and again that to be an educated, creative, interesting Muslim woman is nothing new.
This tradition continues in modern Britain, with Muslim women changing the world around them and contradicting the stereotypes that push down upon them, despite the multiple barriers they face for being women, for being Muslim and, for the majority, being BME; what a recent parliamentary report called a "triple penalty". They are women such as Malia Bouattia, the first Muslim to be elected the national president of the National Union of Students; Fatima Manji, a journalist who has defied Islamophobes and racists who have questioned the integrity of her work because she is a Muslim woman in a headscarf; Baroness Warsi, the first Muslim woman to have a seat in the cabinet.
Many Muslim women have sacrificed much in order to provide a life of better opportunity for their children
These women have achieved great things in the public eye in the teeth of stereotyping and disadvantage; stereotyping that led the former prime minister David Cameron to claim that Muslim women needed to learn English, despite the fact that so many are such active members of the societies in which they live, whether their English is a first or third language, broken or fluent. Many Muslim women are the backbones of their communities. They are the ones who encourage their children to reach for greater heights and provide comfort and company in a society that is constantly making it more difficult to be a Muslim. Indeed, many Muslim women are people who have sacrificed much themselves in order to provide a life of better opportunity for their children. They are diverse, intelligent, strong, funny and so much more. I see these women in my own life and they inspire me.
When I think of Muslim women I think of my friends, many of whom are in the first generation of their family to graduate from university. I think of Hareem Ghani, the first Muslim to become the national women's officer at the NUS. I think of the women who helped raise me – of my own mother, who attended college and returned to work after taking time out to raise her children, and instilled in me and my younger sister and brother the importance of education, and the duty we have to be a force for good in whatever way we can.
When I search for "Muslim women", a suggestion for another search pops up. It says "Muslim women without hijab". People want to "see" Muslim women, but they want to see them on their own terms. Muslim women, particularly those who are visibly Muslim, as a result face the brunt of Islamophobia, with every Muslim woman I know having a story of at least one incident of being abused or insulted in public, and often more. The situation is getting worse, with reports of the ban on the burkini in France providing encouragement to those who believe that there is only one way to be a "free" woman. Mass media constantly try to force an identity on to Muslim women through images, headlines and films.
This climate of heightened prejudice and Islamophobia has at times made me fear for my safety, consider my ability to succeed, and even question if I am welcome in the country of my birth. But still, through the example of those women who came before me, the support of those who are with me, and the thought of those who will come after me, I and so many others will continue to live our lives as Muslim women in our own way.
https://www.theguardian.com/commentisfree/2016/aug/19/britain-inspirational-muslim-women-islamophobia
--
French Police Have Already Punished Ten Muslim Women for Islamic Swimwear
19 Aug 2016
Ten Muslim women have been warned or fined for wearing Burkinis – or full body swimsuits – on a French beach after three seaside towns banned the Islamic garments since the end of July following a series of Islamist terror attacks.
All of the women flouting the new laws were caught by police officers in the Riviera resort of Cannes and forced to leave the beach. Four were fined the equivalent of £32, while all received "warnings" that will now technically form part of their criminal records.
"They are young mothers or grandmothers, and they do not believe they are criminals," a local council source told the Mail Online. "All were very upset at the way they were treated."
Cannes banned the garments at the end of July, nearby Villeneuve-Loubet flowed a few days later and Sisco on the island of Corsica joined them after five people were injured in riots after "bathers of North African origin" attacked a tourist taking a photo of a Muslim woman in a Burkini on a public beach.
The bans have come among a wave of Islamist terror attacks that have rocked France, leaving the country under a state of emergency. An Islamic State ram-raid killed 85 people in July in Nice, just meters from the beach.
The mainly conservative mayors who have imposed the bans say that the swimsuits defy French laws on secularism and Cannes won court backing when their new law was challenged.
Prime Minister Manuel Valls attacked the Burkini for "not being compatible with the values of France and the Republic". The socialist government's minister for women's rights, Laurence Rossignol, also defended the ban.
"The burkini is not some new line of swimwear, it is the beach version of the burqa and it has the same logic: hide women's bodies in order to better control them," she told French daily Le Parisien.
Italy, meanwhile, has ruled out following France in banning the garments.
Interior minister Angelino Alfano told the Corriere della Sera daily that he regarded the French bans as counter-productive because of the potential backlash it could provoke.
"The interior ministry's responsibility is to guarantee security and to decide the severity of responses which however must never become provocations that could potentially attract attacks," Mr. Alfano said.
http://www.breitbart.com/london/2016/08/19/burkini-ban-police-have-already-punished-ten-muslim-women-for-islamic-swimwear/
--
Morocco cleric blasts 'nudity' among immodestly dressed women
08/19/2016
Rabat - A senior Moroccan cleric has lashed out at what he called "nudity" in the Muslim kingdom, claiming that more and more women are immodestly dressed, sparking criticism in the media.
Morocco is seen as promoting a more tolerant form of Islam than some Arab countries, and woman in cities and towns often eschew the Islamic veil in public.
While the countryside is somewhat more conservative, attitudes to female dress vary according to local social and cultural customs and in the cities many women don Western-style clothes.
Omar al-Kazabri, imam of Casablanca's Hassan II mosque, Morocco's largest house of worship, said there is a growing trend among women across the country to go about "unclothed".
"Nudity is no longer confirmed to season, it is spreading before our eyes in winter and summer," he said on his official Facebook page earlier this week.
"Look at the streets. It breaks your heart to see the situation we find ourselves in. Obscene nudity [is an] affront to God's commandments and an insult and an outrage to the population," he wrote.
"Young women, unclothed, smoking cigarettes. Where are their guardians?" he asked.
And he warned that "impudent women could go to hell".
Kazabri said what he calls "nudity" is part of a "conspiracy" against Morocco by people who wish to "kill modesty, values and principles".
The outburst from one of Morocco's most prominent clerics was criticised in the media.
"What's gotten into him?" the private news site Media24 asked on Thursday.
It said such remarks are "scary" coming from a top cleric.
Another private site, Telquel, said Kazabri had a "peculiar concept of nudity".
http://www.news24.com/Africa/News/morocco-cleric-blasts-nudity-among-immodestly-dressed-women-20160818-3
--
Germany Moves to Ban Burqas
Aug. 19, 2016
BERLIN, Aug. 19 (UPI) -- German leaders are mulling a ban on face veils worn by some Muslim women, saying Burqas hinder integration and are incompatible with German culture.
Interior Minister Thomas de Maiziere proposed the ban, saying the conservative Islamic clothing "does not belong in our cosmopolitan country."
"We agree that we reject the burqa, we agree that we want to introduce a legal requirement to show one's face in places where it is necessary for our society's coexistence -- at the wheel, at public offices, at the registry office, in schools and universities, in the civil service, in court," he said after a meeting with regional party counterparts.
German Chancellor Angela Merkel supported De Maiziere's proposal, saying burqas are "contrary to integration."
"This is a question of finding the right political and legal balance and Interior Minister Thomas de Maizière has my full support in finding a solution," she said
The move comes in response to public outcry over the arrival of some 1 million refugees, many Muslim, in nearly two years and recent Islamic-extremist-tied terror attacks. The move still has to be approved by party leaders.
In early August, lawmakers banned the burqini, full-body swimwear worn by some Muslim women, from the beaches in Cannes, France. Officials said the move was in response to the July 14 extremist truck attack in Nice that left some 80 dead. Two other seaside towns in France followed suit.
http://www.upi.com/Top_News/US/2016/08/19/Germany-moves-to-ban-burqas/2261471596933/
--
Muslim woman removed from Donald Trump rally 'for handing out pens'
Friday 19 August 2016
A Muslim woman has been ejected from a Donald Trump rally after handing out pens inscribed with the word "peace".
Rose Hamid said a member of the Republican Presidential candidate's security staff removed her from the event in Charlotte, North Carolina, because she was causing a "disturbance".
"I just wanted to let people know that Muslims who don't support Trump can get along with people who do support Trump," she told WBTV News on Thursday, saying she had positive conversations with Trump supporters.
Donald Trump blamed for stoking Islamophobia after imam and assistant shot dead
"[The guard] claimed that I had been at several other events and caused disturbances, which is a lie, so that tells me they have a prejudice against Muslims."
Ms Hamid remained outside the convention centre to give out the pens, which were in the shape of roses and displayed the Arabic word "salam", which means "peace" and is used as a greeting.
The 56-year-old was escorted out a previous Trump rally in Rock Hill, South Carolina, after holding a silent protest over his policy on Syrian refugees in January.
As Ms Hamid stood wearing a hijab and yellow star with the word "Muslim" written on it, reminiscent of those worn by Jews in Nazi Germany, she was shouted at by supporters including one who yelled: "You have a bomb, you have a bomb."
Police said they ejected her from the event because Mr Trump's campaign staff instructed officers to remove "anybody who made any kind of disturbance".
The billionaire had previously provoked global outrage by calling for a temporary ban on Muslims entering the US and forcing them to carry special ID cards.
Mr Trump has since backed down on the proposal and appeared to deliver a scripted apology to people offended by a string of controversies at his rally on Thursday night.
"Sometimes in the heat of debate and speaking on a multitude of issues, you don't choose the right words or you say the wrong thing. I have done that," said the GOP nominee.
"And believe it or not, I regret it - and I do regret it - particularly where it may have caused personal pain."
Mr Trump has recently drawn criticism for a public feud with the family of a Muslim soldier who was killed serving in the US military in Iraq.
The rare apology came after a shake-up was announced in his campaign as Mr Trump trails against Democrat rival Hillary Clinton in the polls.
http://www.independent.co.uk/news/world/americas/donald-trump-rally-woman-muslim-removed-pens-rose-hamid-carolina-peace-salam-a7198616.html
--
Pakistan CII Declares KP Assembly Proposed Women Protection Bill Un-Islamic
08/19/2016
Peshawar: The council of Islamic Ideology (CII) has termed Khyber Pakhtun-khwa proposed bill for women protection against the injunction of Islam, 24 News reported on Friday.
The proposed bill for women protection on domestic violence has been submitted by the Khyber Pakhtun-khwa (KP) government for approval.
According to human rights group, ratio of domestic violence is very high in Khyber Pakhtunkhwa as compared to other provinces.
Earlier, the CII was being criticized for not giving comment on proposed bill about women protection.
http://channel24.pk/breaking-news/2016/08/19/cii-declares-kp-assembly-proposed-women-protection-bill-un-islamic/
-----
URL: https://newageislam.com/islam-women-feminism/britain-full-inspirational-muslim-women,/d/108306
New Age Islam, Islam Online, Islamic Website, African Muslim News, Arab World News, South Asia News, Indian Muslim News, World Muslim News, Women in Islam, Islamic Feminism, Arab Women, Women In Arab, Islamophobia in America, Muslim Women in West, Islam Women and Feminism