New Age Islam News Bureau
22 Aug 2015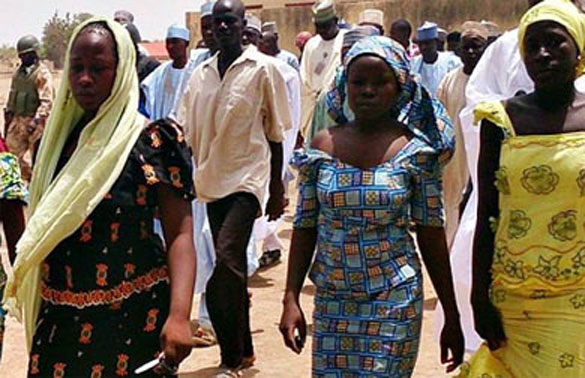 An advocacy group in Washington, D.C. is working to raise funds to keep ten Boko Haram escapees in American schools, with two accepted to four-year universities
-----------
• Bangladeshi Girl Tanjila's Struggle On To Save Herself from Becoming a Child Bride
• Eleven Things Women in Saudi Arabia Cannot Do
• Women to Parade Topless Through New York On Sunday Celebrating the Annual GoTopless Day
• E-Commerce the Best Platform for Women to Build Careers, Says Rosmah
• Two Moroccan Women Destroy Tens of ISIS Militants with HIV Disease
• Most Young Saudi Women Seek College Education
• Study Shows Accidents Involving Female Teachers on the Rise in Saudi Arabia
• Farida Malek Injured Still Bear Pain 11 Years after Bangladesh Grenade Attack
• Boko Haram: 'WAEC Provided Chibok Girls' Data'
Compiled by New Age Islam News Bureau
URL: https://www.newageislam.com/islam,-women-and-feminism/new-age-islam-news-bureau/bring-our-girls-back-to-school--campaign-hopes-to-send-boko-haram-escapees-to-college/d/104351
-----------
Bring Our Girls Back To School: Campaign Hopes To Send Boko Haram Escapees to College
21 Aug 2015
n advocacy group in Washington, D.C. is working to raise funds to keep ten Boko Haram escapees in American schools, with two accepted to four-year universities but lacking resources and family to keep them going.
The ten girls are from Chibok, the town in which, in April 2014, ISIS-affiliate Boko Haram invaded an all-girls' school and abducted more than 200 teen girls, most working on a physics examination at the time. Few escaped, and none were rescued; these girls jumped off moving trucks and deep into the dense Sambisa Forest of northern Borno state, Nigeria, to get away.
More than a year later, some of these then-high school girls are ready to go to college, and all want to continue their educations in America. A group called the Education Must Continue initiative has started a Go Fund Me page to raise money for their tuition as well as basic needs like school supplies, clothes, and hygiene products. They are seeking to raise $75,000; at the moment, they have raised $200.
The group argues on their Go Fund Me page that a donation will help the girls "become living testaments to the good that came out of this horrid atrocity that sparked the global BringBackOurGirls campaign," and that educating them is a "significant forward-looking human capital investment"– with education, the girls may one day return to their villages and help reconstruct what Boko Haram has destroyed.
Spearheading the initiative is Emmanuel Ogebe, a human rights lawyer instrumental in getting the girls out of Nigeria and bringing them to the United Stats for safety. Ogebe, who has written about his experience working with victims of Boko Haram in Nigeria for Breitbart News, brought the girls to the United States in April, the one-year anniversary of their abduction and escape. At the time, the Washington Post reported that all ten girls were placed in schools and all received scholarships. Some will move on to vocational schools, but at least two have, since then, been accepted to college.
"For the moment, the girls have a very sheltered experience that is not fully American," said Ogebe in a recent interview. "At some point, they have to encounter the 'real' America. Very frankly they need coping skills. They need survival skills." A full college experience could help provide that. Ogebe noted that it is difficult even for rural Americans to move to a city like Washington, D.C., "but the transition from rural northern Nigeria to the capital city of the United States of America is a much tougher road to travel."
Breitbart News reached out to Ogebe for more information on his project; he replied with an except from an unpublished speech delivered at Bowie State University this year, where he explains that his conscience drove him to raise the funds to get them out of Nigeria in the first place, but now their potential must be fully realized:
Okay we can't all go to the forest & bring back those girls. But what are we doing about the ones that escaped, the ones that took their lifes into their hands. & the ones that jumped. What are we doing? And I left & came back to the states with no clear plan of what to do, couple of weeks later, I got an email, oh their hiding in the forest because there is another attack, & it haunted me. They escaped once, will I leave them to be attacked again. Could I live with myself if that happened? […]
For me the driving force of bringing these ten girls to America if a bunch of evil people could sit down & plan systematically to go to a school & take hundreds of girls out & enslave them can't a bunch of decent people say you know what we too can take a few girls & put them back in school.
Leaving the girls in the "very conservative north of Nigeria, which is predominantly Muslim," he says in the speech, would have been to expose them to further trauma from the stigma of having been, if only for some hours, a "Boko Haram wife."
http://www.breitbart.com/national-security/2015/08/21/bring-our-girls-back-to-school-campaign-hopes-to-send-boko-haram-girls-to-college/
-----------
Bangladeshi Girl Tanjila's Struggle On To Save Herself from Becoming a Child Bride
August 22, 2015
For 15-year-old Tanjila of Gourichanna village of Barguna sadar upazila, August 9 would prove to be a fateful day. Her parents Jahangir Khan and Helena Begum chose the date for her marriage to local rickshaw puller Shahin. But Tanjila didn't agree.
It would take all of Tanjila's courage and then some, to save herself from becoming yet another victim of child marriage. Yet her struggle is far from over.
A dedicated class 9 student of Gourichanna Nawab Samiullah High School, Tanjila is ambitious. "I don't want to marry now because I want to be a physician," she says.
The school principal Nazmul Faruque has confidence in her. "She is very attentive and regular in attendance. She has a bright future and we should all help her fulfil her dream," he says.
Unfortunately it is a dream Tanjila's parents do not share.
Tanjila's father works abroad but returned home three months ago on leave from his job. As he is due to go abroad again shortly, neighbours say, he wishes to have his daughter married off before leaving.
When the proposed marriage was first suggested to Tanjila, she refused. But arrangements went ahead regardless.
Concerned, Tanjila then submitted a complaint to the upazila nirbahi office that was forwarded to the local union parishad chairman, a source said.
The chairman, Md. Zakir Hoosain, attempted to mediate. "It's really shameful when a guardian is persisting in trying to marry off their underage daughter."
Tanjila found an ally in her uncle Panna Khan, who believes in her ability. As a result of mediation it was agreed Tanjila would stay at her uncle's house.
"Tanjila took shelter in our home to save herself from child marriage," says Shewly Begum, Khan's wife.
However, on August 9, Tanjila was called home by her parents, who choose to believe their daughter's refusal to marry is the result of her being possessed. They enlisted the help of Tanjila's elder sister Jesmin, Jesmin's husband Milon Mia and one Salma who has a reputation as an exorcist.
The five subjected Tanjila to mental torment and beating to exorcise the 'jinn' and force the marriage.
After some hours, her uncle, together with neighbours, was able to rescue the girl and admit her to Barguna general hospital for treatment of her injuries.
Later that evening, Tanjila filed a case with Barguna Police Station accusing her four family members and Salma of physically torturing her in the name of exorcism.
Police later arrested Jesmin and her husband who were sent to jail after appearing in court on 10 August.
On the following day Tanjila's parents surrendered to the court and were granted bail.
"Currently Tanjila is suffering mentally more than physically," says Md. Kamrul Islam, residential medical officer at the Barguna hospital.
"If I am forced to marry I'll commit suicide," says a distraught Tanjila from her hospital bed.
The officer-in-charge of Barguna police station says they are keeping a close watch on Tanjila to ensure her safety in light of her mental state.
Meanwhile, Tanjila's mother has filed a case with the women and children repression prevention tribunal in Barguna, accusing Tanjila's uncle Panna Khan of kidnapping her daughter, a charge Khan denies.
"The chairman entrusted the girl to me because she wants to be a doctor," Khan says.
According to a local woman's rights leader Hosneara Hasi, Tanjila has already proven to be courageous and determined.
"I saw bruises on her body," says Hasi, "It's very sad. We must provide help to Tanjila so she can resume her normal life as soon as possible."
The Daily Star contacted Tanjila's father several times for comments but was refused every time.
http://www.thedailystar.net/backpage/tanjilas-struggle-save-herself-130627
-----------
Eleven Things Women In Saudi Arabia Cannot Do
Aug 19, 2015
Women in Saudi Arabia are registering to vote for the first time in history, more than four years after King Abdullah granted equal voting rights.
They will be allowed to vote in municipal elections due to take place in December and can also stand as candidates.
"[Voting is] a dream for us," Jamal Al-Saadi, the first woman to register in Medina told the Saudi Gazette. "[It] will enable Saudi women to have a say in the process of decision-making."
Human rights campaigners have welcomed the move, but warn there is still a long way to go in the fight for gender equality in the conservative Muslim nation.
Saudi Arabia has an abysmal human rights record, particularly with regards to protecting women. Although in recent years the rights of women have been incrementally extended, their actions are still severely restricted.
"This long overdue move is welcome but it's only a tiny fraction of what needs to be addressed over gender inequality in Saudi Arabia," Amnesty International's Karen Middleton told The Independent.
"Let's not forget that Saudi Arabian women won't actually be able to drive themselves to the voting booths as they're still completely banned from driving," she says.
In a country where a woman cannot even open a bank account without her husband's permission, here are several other things women in the Muslim kingdom are still unable to do:
Go anywhere without a chaperone
Saudi women need to be accompanied by a male guardian known as a 'mahram' whenever they leave the house. The guardian is often a male relative and will accompany women on all of their errands, including shopping trips and visits to the doctor.
Such practices are rooted in "conservative traditions and religious views that hold giving freedom of movement to women would make them vulnerable to sins," according to The Guardian.
In one extreme case, a teenager reported that she had been gang-raped, but because she was not with a Mahram when it occurred, she was punished by the court. The victim was given more lashes than one of her alleged rapists received, the Washington Post reports.
The Saudi Arabian government recently announced that it was considering lifting restrictions on women that would allow them to travel without the approval of their relatives, but human rights groups warn the move is likely to be vetoed by senior clerics.
Drive a car
There is no official law that bans women from driving but deeply held religious beliefs prohibit it, with Saudi clerics arguing that female drivers "undermine social values".
In 2011, a group of Saudi women organised the "Women2Drive" campaign that encouraged women to disregard the laws and post images and videos of themselves driving on social media to raise awareness of the issue in an attempt to force change. It was not a major success.
Saudi journalist Talal Alharbi says women should be allowed to drive but only to take their children to school or a family member to hospital. "Women should accept simple things", he writes for Arab News. "This is a wise thing women could do at this stage. Being stubborn won't support their cause."
Wear clothes or make-up that "show off their beauty"
The dress code for women is governed by a strict interpretation of Islamic law and is enforced to varying degrees across the country. The majority of women are forced to wear an abaya – a long black cloak – and a head scarf. The face does not necessarily need to be covered, "much to the chagrin of some hardliners," says The Economist. But this does not stop the religious police from harassing women for exposing too much flesh or wearing too much makeup.
The dress code was extended to all female television presenters earlier this year. The king's advisory body, the Shoura Council, ruled that the women should wear "modest" clothes that do not "show off their beauty", according to Arab News.
Interact with men
Women are required to limit the amount of time spent with men they are not related to. The majority of public buildings including offices, banks and universities have separate entrances for men and women, the Daily Telegraph reports. Public transportation, parks, beaches and amusement parks are also segregated in most parts of the country. Unlawful mixing will lead to criminal charges being brought against both parties, but women typically face harsher punishment.
Go for a swim
Reuter's correspondent Arlene Getz describes her experience of trying to use the gym and pool at an upmarket Riyadh hotel: "As a woman, I wasn't even allowed to look at them ('there are men in swimsuits there,' a hotel staffer told me with horror) — let alone use them."
Compete freely in sports
Earlier this year, Saudi Arabia proposed hosting an Olympic Games without women. "Our society can be very conservative," said Prince Fahad bin Jalawi al-Saud, a consultant to the Saudi Olympic Committee. "It has a hard time accepting that women can compete in sports."
When Saudi Arabia sent its female athletes to the London games for the first time, hard-line clerics denounced the women as "prostitutes". While they were allowed to compete, they had to be accompanied by a male guardian and wear a "Sharia-compliant" sports kit that covered their hair.
Try on clothes when shopping
"The mere thought of a disrobed woman behind a dressing-room door is apparently too much for men to handle," says Vanity Fair writer Maureen Dowd in 'A Girl's Guide to Saudi Arabia'.
Other more unusual restrictions include:
Entering a cemetery
Reading an uncensored fashion magazine
Buying a Barbie
However, explains Dowd, everything in Saudi Arabia "operates on a sliding scale, depending on who you are, whom you know, whom you ask, whom you're with, and where you are".
But things are slowly beginning to modernise in a country that has historically had some of the most repressive attitudes towards women. "Women in Saudi Arabia are highly educated and qualified," says Rothna Begum from Human Right Watch. "They don't want to be left in the dark."
http://www.theweek.co.uk/60339/eleven-things-women-in-saudi-arabia-cannot-do
-----------
Women to Parade Topless Through New York On Sunday Celebrating the Annual GoTopless Day
22 August 2015
The marches are organized by women's rights group GoTopless, which campaigns for women to be able to go shirtless across the world.
It is already legal for women to bare their breasts in public in America's biggest city, and police will seal off the route of the parade from Columbus Circle to Bryant Park, organizers said.
Dozens of people are expected to take part when the march begins at 12.30pm (12.30am Monday, Malaysian time).
Parallel events will take place in Los Angeles' Venice Beach as well as other US and European cities.
"People should not feel that it needs to be a taboo" to go topless, said the head of the group's New York chapter, Rachel Jessee, who is also an actress, model and performer.
"It's a human right, and women should be created equally, but a lot of people view it as something very sexual."
She told AFP that forcing women and girls of a certain age to cover up subjected them to "shame and embarrassment," which is "not healthy for the mind".
GoTopless believes its campaign has been given a shot in the arm by the 2014 comedy film "Free The Nipple" and celebrities such as Miley Cyrus flashing their breasts in public.
Both men and women are invited to take part in Sunday's events, which fall a few days from the 95th anniversary of Women's Equality Day, when American women were given the vote. – AFP, August 22, 2015.
http://www.themalaysianinsider.com/world/article/women-to-parade-topless-through-new-york-on-sunday
-----------
E-Commerce the Best Platform for Women to Build Careers, Says Rosmah
22 August 2015
She said commitment and passion in entrepreneurship through the platform could be a catalyst for their success, both locally and globally.
"For women to be successful, they should inculcate competitiveness, sustainability, optimism and creativity.
"Being courageous and not afraid of taking risks are the first steps toward success," she said when launching the Malaysian Chinese Women's Economic Convention themed "E-trade-Global Fortune" today.
Rosmah said that trade via the Internet was not only efficient and effective, but also lowered operating costs, saved business transaction time and widened strategic alliance among entrepreneurs.
She said global companies such as Alibaba, Amazon, eBay and Walmart were among leading companies that flourished through the Internet and optimised opportunities to generate income through the platform.
She said a similar scenario was seen in the country with e-commerce beginning to dominate the domestic market with more and more consumers turning to the Internet to make purchases.
"Looking at the marketability and potential of e-commerce, online business has become a phenomenon among entrepreneurs, especially women entrepreneurs.
"They use popular applications to market products like clothing, women's accessories, handicrafts, educational materials and food on Instagram, Facebook and blogs," she said.
She said e-commerce was preferred as it was more flexible in terms of time and space, cost-effective, emphasised on creative and innovative thinking, and low-risk.
The one-day convention, organised by Wanita MCA with the cooperation of the Women Development Foundation and Malaysia External Trade Development Corporation, is aimed at empowering women in entrepreneurship through the use of the Internet and information and communication technology. – Bernama, August 22, 2015.
http://www.themalaysianinsider.com/malaysia/article/e-commerce-best-platform-for-women-to-build-careers-says-rosmah
-----------
Two Moroccan Women Destroy Tens of ISIS Militants with HIV Disease
August 22, 2015
Ahlul Bayt News Agency - The so-called Islamic State (IS, formerly ISIS/ISIL) terrorist group plans to send 16 of its fighters on suicide missions after they were tested positive for AIDS, a Syrian source claimed.
The militants are currently in quarantine in a hospital in the city of Mayadeen in the eastern Syrian province of Deir ez-Zor, the Kurdish Syrian ARA news reported.
"Most of those infected are foreign militants who had sexual intercourse with two Moroccan women. The women passed on the disease to the militants before their infection was revealed. We were ordered by the group's local leadership to transfer the infected militants to a quarantine centre in the city," the agency cited a local Syrian doctor as saying.
The doctor said the two women escaped to Turkey fearing they would be executed for giving the disease to IS fighters.
The leaders of the group ordered screen tests for AIDS for their troops in the province and are planning to get rid of those who are infected, the report said.
"IS leadership is planning to assign suicide attacks for its militants who are tested positive with AIDS," a civil rights activist in al-Mayadeen told the agency.
The report said a similar outbreak of AIDS happened in the IS-controlled city of Shaddadi in Hasakah province in the spring, after an Indonesian fighter passed the disease to a sex slave who was later sold on. The man, who also donated blood for transfusion, was reportedly executed in June.
The self-proclaimed Islamic State terror group is a radical Islamist group that has announced a caliphate straddling Iraq and Syria. The US is leading a coalition of nations in a bombing campaign designed to weaken IS and allow allied troops on the ground to destroy them, but so far the effort has had limited success.
http://en.abna24.com/service/middle-east-west-asia/archive/2015/08/22/707169/story.html
-----------
Most young Saudi women seek college education
22 August 2015
RIYADH: A total of 88.8 percent of young Saudi women in the Kingdom want to continue their college education, a local survey has found.
Data was gathered from universities in the country's 13 regions. The survey sought to determine their major priorities, including how they viewed events in Arab and Islamic countries, and views on Saudi society, the future, partners and leisure activities.
About 55.6 percent of the women surveyed said that continuing education was their first priority and 38.1 percent said the desire to pursue a university education was an impediment to marriage.
The poll results also showed that young women who had graduated from high school immediately enrolled in college for a degree. The researchers have recommended that the government draw up a strategy to help young Saudi men and women face the future.
This should be done in collaboration with the Presidency of Youth Welfare in accordance with the national vision, they said. Jobs should also be provided for young people so that they become productive members of society, they said.
They also suggested that the youth undergo training so that they can find jobs because of the negative consequences of being unemployed. The survey included university students between the ages of 18 and 26 years. The areas covered included the southern region covering Najran and Abha, eastern region including Dammam and Hafr Al-Batin, western region covering Jeddah and Makkah, northern region including Hail and central region covering Riyadh and Qassim.
http://www.arabnews.com/saudi-arabia/news/795066
-----------
Study Shows Accidents Involving Female Teachers on the Rise in Saudi Arabia
August 22, 2015
THERE are no accurate statistics on the exact number of female teachers who have been killed in road accidents while on their way to school and back.
However, a recent study indicated that around 150 female teachers died in accidents last year alone. The study noted 56 percent of vehicles used for transporting teachers are not fit to travel on highways while a further 22 percent have worn out tires, Al-Riyadh daily reported.
Umm Fatimah works as a teacher at a school hundreds of kilometres away from where she lives. The trip to her school and back home takes 5 hours.
Sometimes, the vehicle breaks down midway, causing the teachers to be late for class. "I remain constantly worried throughout the long trip.
I travel with 35 other teachers in a bus and all of us are scared of having an accident any time because the driver speeds all the time," she said while adding that her husband too was worried for her safety.
Aisha works in a school, which is about 580 kilometres away from her home. A few of her colleagues have been killed in road accidents while they were going to work and Aisha said she is in constant fear of having an accident.
"I feel depressed and worn out all the time because of this situation. The long trip affects my capabilities and skills as a teacher and takes a toll on me," she said.
Sometimes, Aisha rents a place near her school and stays there for a few days to spare herself the agony of the long journey.
Zainab Abbas urged the concerned authorities to stop assigning teachers to remote schools and instead hire teachers who live nearby.
She also said the Ministry of Transport should set up a transport company exclusively for teachers. "The young women living in villages and towns should be given preference to work in the schools in their location, instead of hiring teachers from outside the area.
Any unpaved roads leading to a school should be paved. Most importantly, the Ministry of Education should set up a transport company to take teachers to their places of work and back home," she said.
Dr. Mahdi Al-Tahir, a psychologist at Dammam University, said it was important that female teachers working in remote schools should be provided with all facilities to make their journeys less difficult.
"Teachers help educate the next generation and they should go to the school well-prepared and with peace of mind. This is the only way they can give their best to students," she said.
Hussain Al-Haji, an economist, said the concerned authorities needed to find drastic solutions to the problem.
"So many female teachers lost their lives needlessly on the roads because they had to travel long distances to their workplaces.
Accommodation near the workplace and transportation services should be provided to all teachers," he stressed.
Basim Abu Al-Saud, professor at King Fahd University of Petroleum and Minerals, is pessimistic about the authorities finding a solution to the problem in the foreseeable future.
"Many promises have been made to end this problem but nothing has materialized on the ground," he said. Al-Saud suggested the authorities come up with short- and long-term solutions and try to solve the problem gradually.
"Most drivers who transport female teachers are reckless and travel at high speeds. The ministry should sign a contract with a reputable transport company and provide safer transportation services to the teachers."
http://www.saudigazette.com.sa/index.cfm?method=home.regcon&contentid=20150822254112
-----------
Farida Malek Injured Still Bear Pain 11 Years after Bangladesh Grenade Attack
August 22, 2015
Eleven years ago, Farida Malek, full of energy and vigour, had walked around 10 kilometres with her party activists to join an Awami League rally on Bangabandhu Avenue on August 21.
She came to the same place yesterday to join another rally, but not on foot. She now finds it difficult to move. She came by a bus with a fellow colleague. With swollen legs, she sat in a specially arranged chair with others, giving a vacant look as people placed floral wreaths in memory of those who had lost their lives in the August 21 grenade attack.
"I saw death up close," murmured Farida, now in her mid forties. She was the woman affair secretary of Ward-19 Dhaka City AL at that time and still holds the post.
Yesterday she heard the speech of her leader Sheikh Hasina, now the prime minister, as she was doing on that humid afternoon in 2004, when Hasina, then opposition leader, was speaking against a series of bomb blasts in the country.
Much like the previous years, the ghastly scenes of blood spilling and people groaning in pain came to her mind as she turned up at the AL central office to mark the anniversary of the grisly attack.
"The scenes of that fateful day flash through my mind. I still remember I sat near Ivy apa ... I remember journalists requesting Sheikh Hasina to wait a bit for pictures, for which she had survived ... blood dripping from Hanif Bhai's head is still fresh in my mind," said Farida who still has several hundreds of splinters in her body, especially from her lower waist to the ankles.
The grenade attack killed 24 people, including the AL woman affairs secretary Ivy Rahman, and left more than 300 injured.
"It pains me so much. The doctors said those splinters cannot be removed. I have to bear these till my death," Farida said with a choked voice.
The ruling party organised a programme in front of its central office yesterday to commemorate those who were killed in the grisly attack. Family members of the dead and the injured attended the programme. The prime minister met the victims' families and the injured party men after addressing the rally.
Like Farida, Rashida Akhter Ruma too had attended the rally in perfect shape on that day in 2004. But yesterday she came as a physically disabled person. She still shudders while recalling the fateful day.
She thinks she has been leading a cursed life for the last 11 years with nearly 700 splinters still in her body. She will have to spend the rest of her life this way.
"I would have been saved had I died on that day [August 21]. Escaping death, I now taste the pain of death every moment," she said.
Ruma is now a councillor in the reserved seats for women in Dhaka South City Corporation.
Narrating the horrifying event, she said that after the attack she was rushed to the Dhaka Medical College Hospital, and doctors had initially declared her dead as she was unconscious.
"Although I survived miraculously, my life will never be normal again as I have to bear the unbearable pain from the splinters till my death," said Ruma, women affairs secretary of ward-69 of Dhaka City AL Mahila League.
"When the pain from the splinters intensifies, I go almost mad," she said.
Similar is the condition of Khurshida Baby Hena, another victim. She said her pain was inexpressible.
"I came with a procession from Mohammadpur to join the rally. An awful situation was prevailing in the country at that time, but I couldn't imagine such a dreadful situation was waiting for me that would make my life meaningless," Hena, member of Mahila League, Dhaka City unit, said.
She has been suffering from diabetes for long and due to this problem she could not get proper treatment that required several operations.
"I lost my father, mother and husband ... I have none to take care of myself now. Only apa [Sheikh Hasina] looks after me," she said with an emotion-chocked voice.
Nihar Ranjon Kar, AL chief Sheikh Hasina's personal security staff, was on duty on that day. He still holds that position, but cannot discharge his responsibility as his both legs were badly damaged with splinters.
After being treated from India, he can walk now, but with the help of a crutch.
"I survived the attack, but it left me to a painful life," said Nihar, a former army warrant officer.
http://www.thedailystar.net/frontpage/11-years-they-still-bear-the-pain-130588
-----------
Boko Haram: 'WAEC provided Chibok girls' data'
August 22, 2015
The Head of the Nigerian National Office of the West African Examination Council (WAEC), Mr. Charles Eguridu, yesterday revealed that he gave the Nigerian government data of the abducted Chibok girls.
Over 200 students of Government Secondary School, Chibok, Borno State, were abducted on April 14, 2014 by the Boko Haram sect.
The girls, who were writing their West African Secondary Certificate Examination (WASSCE) when they were kidnapped, are still missing.
Speaking with the Education Correspondents' Association of Nigeria (ECAN) in Abuja on recent developments in the WAEC, Eguridu said security agencies and the Ministry of Education could not provide the data.
He said: "We do not rely on invigilators or security operatives to detect examination malpractices; we have technology to do that.
"You will recall the unfortunate incident in Chibok. I mean when those innocent girls were abducted by Boko Haram. The security agencies and the Ministry of Education could not provide our country the data of those who were abducted.
"It was the WAEC that provided the pictures, names and dates of birth of the abducted girls. This was possible because of our secure and credible database."
The WAEC boss said some ministry officials, parents and teachers help students to cheat while writing their examinations.
Eguridu said: "Some parents have not shown good examples. What we are having today in Nigeria is organized examination malpractices being perpetrated by parents, school authorities and, in some cases, ministry officials. We have teachers dictating the answers for their candidates and parents registering their children in two places.
"Let me quickly warn that, like Chinua Achebe said in his book, Things Fall Apart, since hunter has leant to shoot without missing, the WAEC too has learnt to fly without perching.
On 13 states owing the WAEC, Eguridu said: "We are under threat by creditors. Their assumption was that we have money, but we do not want to pay. We are not a profit-making organization. We are a service organization, and we were established to conduct examinations in the public interest. That public interest is defined by the government of the day. We are responsible to the government and the people of Nigeria.
"We are confident in our expectation that the governments that owe will keep to their promise and pay. I believe in a matter of weeks, the money will be paid."
http://thenationonlineng.net/boko-haram-waec-provided-chibok-girls-data/
-----------
URL: https://www.newageislam.com/islam,-women-and-feminism/new-age-islam-news-bureau/bring-our-girls-back-to-school--campaign-hopes-to-send-boko-haram-escapees-to-college/d/104351