New Age Islam News Bureau
28 Dec 2015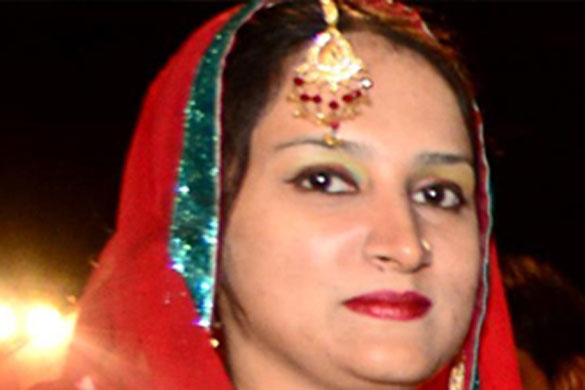 Photo: Anila (31), who married Azmuddin Mahmood from Bundi in 2007, has visited her home in Karachi only two times since. (HT Photo)
-----------
• Washington Muslim Women Fight Fear with Self-Defence Lesson
• St. Louis Muslim Women Reach Out To Build Bridges
• New Labour Policy Hits Children of Non-Saudi Fathers
• Eight Years On, Benazir Bhutto Assassination Case Remains A Mystery
• 15 Couples Tie the Knot at Mass-Wedding in Pakistan
• Three Bangladeshi Girls Return from Indian Jail
• Saudi Women Outnumber Men in Getting Scholarships
• Pair Caught with Heroin in Dubai, Disguised as Women's Accessories
Compiled by New Age Islam News Bureau
URL: https://www.newageislam.com/islam-women-feminism/new-age-islam-news-bureau/brides-pakistan-settled-kota-hope-better-indo-pak-ties/d/105765
---------
Brides from Pakistan Settled In Kota Hope for Better Indo-Pak Ties
Dec 28, 2015
Pakistani women who married across the border are upbeat over Prime Minister Narendra Modi's visit to Lahore, believing that better ties could ease visa and citizenship rules.
Among the hopefuls is Shrishti Jhamnani (31), who has visited her parents home in Pakistan's Sindh only thrice since her marriage to Kota-based businessman Bharat Jhamnani in 2005.
Shrishti is optimistic that Modi's impromptu visit would improve relations between the two countries, thus helping her bid for Indian citizenship.
"The improvement in Indo-Pak ties would not only ease visa norms but also help brides from Pakistan who are settled in India and seeking citizenship," she told Hindustan Times.
Anila (31), who married Azmuddin Mahmood from Bundi in 2007 and has visited her home in Karachi only two times since, is among those who wish that people could visit their folks across the border more frequently.
"My parents arrived from Pakistan for a wedding in the family last month but had to go back after just 25 days as the visa limit was for one month. This should be at least two months, but that can happen only if better Indo-Pakistan relations bring about relaxation in visa norms," she said.
Anila's aunt Raziya (58), who married Abdul Haneef Zaidi from Kota in 1978, said the families never visited reach other much over the years because of the ups and downs in bilateral relations.
Shrishti's father-in-law Parasram Jhamnani says in Kota there are at least four more brides from Pakistan who face problems because of visa restrictions.
"Getting a visa to the US or UK is easier than getting one to Pakistan...It is tragic for people who have relatives across the border", Jhamnani said.
In Kota and Bundi areas of Rajasthan , there are also at least six families whose daughters found husbands in Pakistan.
Anila's father-in-law Noorudin 'Advocate', who is also the chairperson of the Waqf Committee in Bundi, says his sisters and nieces were married in Pakistan and could seldom attend family functions.
"Modi's visit has certainly given a ray of hope to these families, he said.
http://www.hindustantimes.com/india/pak-brides-settled-in-kota-hope-for-better-indo-pak-ties/story-GUHEghN1tA10JYj0E6QgIN.html
---------
Washington Muslim women fight fear with self-defence lesson
December 27, 2015
WASHINGTON (AP) — Rana Abdelhamid was 16-years-old when a man attacked her and attempted to remove her headscarf as she was walking on a New York City street six years ago. The incident left her feeling vulnerable and alone, she told a group of local Muslim women at a self-defense workshop Dec. 18.
A group of 20 local women gathered, some with babies in tow, in the basement of the St. Stephen and Incarnation Episcopal Church, in Northwest D.C., to learn self-defense and discuss what it's like to be a Muslim woman in America today.
Amid the political climate following the Paris attacks, the San Bernardino shooting and GOP presidential candidate Donald Trump's proposal to ban Muslims from entering the United States, Muslims — and particularly Muslim women — have felt susceptible to hate crimes.
"It feels that there's a unique way that Muslim women are being targeted. I think it has to do with the intersection of patriarchy and anti-Muslim hatred and bigotry," says Darakshan Raja, a D.C. resident and founder of the Muslim American Women's Policy Forum, an organization aimed at working against state- and gender-based violence.
Raja, program manager at the Washington Peace Center, teamed up with Abdelhamid, a black belt in shotokan karate and founder of the Women's Initiative for Self-Empowerment — an organization which provides young Muslim and Jewish women with training in self-defense, social entrepreneurship and leadership — for WISE's fourth self-defense workshop in D.C. in the past month.
"I thought it was a good opportunity to bring together Muslim women in an offline space, in person, engaging these issues and trying to figure out how to heal from these horrible experiences," says Abdelhamid, 22, a master's student of public policy at Harvard University's John F. Kennedy School of Government.
Abdelhamid kept reading on her social media newsfeed about how other Muslim women felt afraid. She says Muslim women are vulnerable, especially those who don the hijab — headscarf, burqa or niqab.
According to FBI records, 16.3 percent of hate crimes reported in the U.S. in 2014 were anti-Islamic in nature. But since the Paris attacks, the rate of suspected hate crimes against Muslims has tripled, The New York Times reports.
"People affiliate you with the religion of Islam, affiliate you with the stereotypes that they see of Muslims on TV, and you become a walking target, unfortunately," Abdelhamid says.
For Abdelhamid, self-defense is one way to empower women because, she says, it gives them agency over their bodies.
She starts every self-defense class with an overview of the different pressure points to attack — the eyes, nose, chin, solar plexus, neck, biceps, ears, kneecaps, behind the knees, the groin area and toes.
She says attacking a pressure point is the best thing to do in a dangerous situation because it will cause a lot of pain and, therefore, allow for more time to get away, which is the ultimate goal.
Abdelhamid also teaches techniques including a punch, a triangle maneuver to get out of an arm grab, a front kick and a knee jab — the latter two useful for attacking the groin area.
Rofaida Elzubair, a 31-year-old American Red Cross fellow living in D.C., attended the workshop and discussion.
"With everything I hear on the news and the Islamophobic issues, it really made me concerned, and I wanted to be aware of how to defend myself in case of any emergency," says Elzubair, who moved to the U.S. from Dubai about a year ago.
She says she enjoyed the discussion portion of the event.
"It was so touching," she says. "It opened my eyes that I'm not alone in this."
Hind Essayegh, 33, a mother from Silver Spring, Maryland, says the discussion was equally important and empowering because, like Elzubair, it made her feel like she wasn't alone.
"I want to strengthen myself by any means possible to be able to defend myself and my family," Essayegh says.
Abdelhamid says she could sense a lot of the anxiety the women felt through the discussion they had.
"It's disheartening to hear how almost every single woman in that space felt insecure, felt she had to be way more careful walking out of her home, doing mundane day-to-day tasks like going shopping for groceries, or taking a bus," Abdelhamid says.
Safety of the hijab
The fear Abdelhamid points to has some Muslim women questioning whether it's safe to wear their headscarves. Some have suggested wearing a hoodie or beanie on top of the hijab to attract less attention.
Imam Suhaib Webb, a D.C.-based religious leader, says there are temporary occurrences, called nawazil, which can cause Muslims to not be able to do something for a moment, such as wearing the hijab.
"It's up to the woman to make her call in her own life. No one knows her life like she does," says Webb, the founder of City Sundays, a D.C. faith-based monthly gathering aimed at creating cross-cultural relationships between people from different backgrounds across the D.C. area.
However, Webb says, Muslims shouldn't succumb to fearmongering.
"When we start to give up our constitutional rights, we are inviting the Islamophobes to silence Islam and Muslims," he says.
Abdelhamid has worn her hijab for seven years, since she was 15.
"I don't feel the need to take it off. In fact, what's happening makes me want to embrace my faith and embrace my practice even more strongly," she says.
Even so, Abdelhamid encourages other Muslim women to do what they feel is best. "Everyone deals with this type of violence in different ways. Not everyone is going to deal with it in the way that I am," she says.
Like Abdelhamid, Webb says self-defense is important and should be a community obligation. He says his own daughter is trained in taekwondo.
"I think it's highly commendable for women to protect themselves as well as the Muslim community," he says.
WISE's next three self-defense workshops will be held in Massachusetts, Texas and New York throughout January, Abdelhamid says.
http://wtop.com/dc/2015/12/washington-muslim-women-fight-fear-with-self-defense-lesson/
---------
St. Louis Muslim Women Reach Out To Build Bridges
December 27, 2015
ST. LOUIS - In light of national security concerns and ongoing debate over Donald's Trumps proposal to temporarily ban Muslims from entering the country, a group of St. Louis area Muslim women are speaking out.
They're inviting women of all religions into their mosque Saturday to show the community what they'll all about.
The Dar Al Jalal Mosque in Hazelwood was packed last weekend for a dinner
to welcome Syrian and Iraq refugees to the St. Louis region.
On Saturday, the mosque will be full of Muslim women showcasing their talents to the St. Louis community.
Nawal Abudhamdeh says Muslim women haven't had it easy, in light of national security concerns and hurtful religious claims and stereotypes. She says the event will be a great opportunity to support each other, in light of these fears.
During Saturday's event, here will be Muslim women nurses taking blood pressure, doing makeup and hair, doing henna and cake decorating and having a good time with people from other religions in the community.
http://www.ksdk.com/story/life/2015/12/27/muslim-women-reach-out-to-build-bridges/77961174/
---------
New Labour Policy Hits Children of Non-Saudi Fathers
Dec 28, 2015
Abdul Rahman
Al-Misbahi
JEDDAH — The children of Saudi women from non-Saudi husbands will not be considered as citizens in the Nitaqat program after the death of their mothers, the Labor Ministry has announced.
"These children carry Iqamas (residence IDs). The ministry considers them as Saudis as long as they are under the sponsorship of their mothers," Deputy Minister Ahmed Al-Humaidan said.
When the mother dies, her offspring from a non-Saudi father will automatically lose the privilege of being Saudi citizens in the Nitaqat program, he said.
The deputy minister said the presence of these children in the Kingdom after the death of their mother does not concern the Labor Ministry.
"This is a matter that should be decided by the Interior Ministry," he added.
There are 700,000 Saudi women who are married to non-Saudis, representing around 10 percent of the overall population, according to a Ministry of Justice report issued in 2012.
According to a 2011 report issued by the Ministry of Labor, Yemenis ranked first among foreign men who married Saudi women, followed by Kuwaitis, Qataris, Syrians, Emiratis, Egyptians, Lebanese, and Pakistanis. According to the report, eight Americans, seven Brits and Europeans, and three Turks married Saudi women in 2011.
A decree issued in 2012 gave Saudi citizenship rights to children of Saudi women married to foreign men. According to the decree, the state will pay for the residence fees of children who are half Saudis but from foreign fathers and will allow them to work in private sector companies. The children will be treated as Saudi citizens in education and medical care and will be included in the Saudization program in the private sector.
Meanwhile, the Labor Ministry said that efforts were being made to increase the recruitment of manpower from Bangladesh.
He said the recruitment of male workers from Bangladesh should not exceed 20 percent of the government contracts while the recruitment of women is unlimited.
Al-Humaidan said the ministry has halted all its services from the private establishments which are importing manpower from the countries from which recruitment has been banned.
The deputy minister said the nationals from the banned countries who are still working in the Kingdom will be deported when their contracts have expired.
http://saudigazette.com.sa/saudi-arabia/new-labor-policy-hits-children-of-non-saudi-fathers/
---------
Eight Years On, Benazir Bhutto Assassination Case Remains A Mystery
Dec 28, 2015
Even after eight years, Benazir Bhutto's murder case remains mysteriously unresolved.
The former prime minister was assassinated on December 27, 2007 as she was returning after a successful election campaign rally from Liaquat Bagh.
Reportedly, the Benazir Bhutto murder case has failed to reach its logical end despite having as many as 255 hearings in court. Key people from the case have also been killed.
From the day of murder until date, testimonies have been removed and the case seems ever complicated instead of resolved today. One of the most high profile murders of the country's history has left several questions unanswered.
Among many mysteries are the murder of eight suspects, eyewitnesses and a prosecutor, one after another. The fact that the crime scene was washed hours after the assassination has also not been explained.
Punjab Police carried out the initial investigation of the murder, which was later taken over by the Scotland Yard, United Nations, and the Federal Investigation Agency (FIA).
Initially, five suspects were arrested, and then two police officers and former president Pervez Musharraf were named as those responsible for the assassination.
The prime accused, Tehreek-e-Taliban's Baitullah Mehsud, has already been killed along with his seven accomplices in drone attacks.
The man who was seen doing suspicious movements on stage, Khalid Shehenshah, was killed during a targeted attack in Karachi. The public prosecutor was killed in Islamabad.
As many as eight challans of the case were presented in the court, while seven judges hearing the case were replaced. The case has seen no significant developments in the many years that it has been heard in court.
http://www.pakistantoday.com.pk/2015/12/27/national/eight-years-on-bb-assassination-case-remains-a-mystery/
---------
15 Couples Tie the Knot at Mass-Wedding in Pakistan
December 28, 2015
HAFIZABAD
Fifteen poor and deserving couples tied the knot at a mass-wedding arranged by Mian Saifullah Memorial Trust in Kolo Tarar, the native village of State Minister Saira Afzal Tarar here on Sunday.
On the occasion, Mian Saifullah Memorial Trust Chairperson Aliya Usman Tarar and General Secretary Ch Mamoon Jafar Tarar informed that the trust has arranged dowry worth about Rs150,000 for each bride. More than 200 guests from the families of brides and bridegrooms as well as villagers attended the function. The brides expressed gratitude to the organisers for this noble gesture and said that such ceremonies are need of the hours.
Later, all the guests were entertained with lunch.
GREETED: The lawyers and citizen of Hafizabad have greeted Ch Muhammad Ahsan Bhoon, Ch Azam Nazir Tarar and Abid Saqi for their election as members of Pakistan Bar Council. In a statement to the press, over five dozen advocates and citizen including DBA General Secretary Amanullah Sandhu, Mirza Muhammad Ajmal Jurral said that it is a great honour for Hafizabad from which all the three renowned lawyers belong.
http://nation.com.pk/national/28-Dec-2015/15-couples-tie-the-knot-at-mass-wedding
---------
Three Bangladeshi Girls Return from Indian Jail
December 28, 2015
Indian Border Security Force (BSF) and immigration police handed over three Bangladeshi teenage girls to Border Guard Bangladesh (BGB) through Benapole check post yesterday. They had spent two years in jail.
The returnees hail from Demra upazila in Dhaka district and Palash Upazila in Narshingdi district.
They were taken to India by human traffickers two and a half years ago. Indian police arrested them from a house in Kolkata city. Later, an Indian court sent them to jail.
The girls were handed over to BGB after completion of all the formalities. Later, BGB handed them over to Benapole Port Police Station.
http://www.thedailystar.net/country/three-girls-return-indian-jail-193111
---------
Saudi Women Outnumber Men in Getting Scholarships
28 December 2015
RIYADH: Female students outnumber their male counterparts in the pursuit of higher studies in the government's foreign scholarship program. According to statistics released recently by the Ministry of Education (MoE), Saudi female students constituted 62.3 percent of the foreign scholarship program, exceeding male students by 12.9 percent between 1431 and 1435 AH.
The statistics further showed that the number of students increased substantially between 1431 and 1435 from 106,095 to 152,032.
The number of students pursuing bachelor's program abroad has increased from 4,397 students in 1431 to 80,786 in 1435. The number of students pursuing a master's degree abroad registered a substantial growth with the total number rising from 22,408 students in 1431 to 33,455 students at present.
The number of students pursuing doctoral degrees also
doubled from 5,026 students in 1431 to 10,323 in 1435.
According to data available up to 1435, the students enrolled in undergraduate courses accounted for 58.8 percent, MBA students accounted for 24.4 percent and those at doctoral level accounted for 7.5 percent while the rest are distributed among language learners and students pursuing diploma courses.
Medicine, engineering, business administration, management and law are popular disciplines among students pursuing higher studies abroad in response to the expanding labor market and ongoing rapid economic development.
The countries popular among students were the United States, the UK, Australia, Canada, New Zealand, Malaysia, France and Germany.
A Saudi woman must be accompanied by a Mahram (a legal guardian) who travels and stays with her until the completion of her studies.
Launched in 2005, the foreign scholarship program is the largest such program in the history of the Kingdom with students studying at premier institutions around the world.
All students sponsored under the scholarship program are provided benefits during their study period abroad which include full tuition, academic supervision, monthly stipend for living expenses, full medical and dental insurance, annual round-trip tickets and financial incentives for a high GPA. Dependents of students receive the same benefits.
http://www.arabnews.com/saudi-arabia/news/856701
---------
Pair Caught with Heroin in Dubai, Disguised as Women's Accessories
December 27, 2015
Dubai: Two suspects were arrested in Dubai for smuggling seven kilograms of women's accessories packed with heroin.
Maj Gen Khalil Ebrahim Al Mansouri, Assistant to the Dubai Police Chief for Criminal Investigation Affairs, said the smuggling method the suspects used was sophisticated and not easily detectable.
The two suspects, an African man and an Asian woman, were arrested in a park in Dubai, where the woman was handing over a bag full of accessories to the other suspect.
Colonel Eid Thani Hareb, Director of the Anti-Narcotics Department at Dubai Police, said the man, A.G.H., 33, tried to escape the police, but they were able to subdue him and cuff him.
When the woman, S.K.M., 39, who was on a visit visa, saw her partner had been caught, she attempted to flee without causing suspicion, by walking faster, but she too was caught.
The bag was seized from S.K.M. and seven kilograms of accessories were found in the bag. The accessories included bracelets, pendants, coloured beads.
The drugs were hidden under a thin transparent plastic film that coated the accessories.
Between January and November 2015, the Anti-Narcotics Department seized 99.178kg of Heroin in 104 cases.
The two suspects were transferred to public prosecution on charges of possession of drugs for A.G.H., and smuggling drugs into the country for the purpose of selling for S.K.M.
http://gulfnews.com/news/uae/crime/pair-caught-with-heroin-disguised-as-women-s-accessories-1.1644282
URL: https://www.newageislam.com/islam-women-feminism/new-age-islam-news-bureau/brides-pakistan-settled-kota-hope-better-indo-pak-ties/d/105765
New Age Islam, Islam Online, Islamic Website, African Muslim News, Arab World News, South Asia News, Indian Muslim News, World Muslim News, Womens in Islam, Islamic Feminism, Arab Women, Womens In Arab, Islamphobia in America, Muslim Women in West, Islam Women and Feminism