New Age Islam News Bureau
4 Nov 2019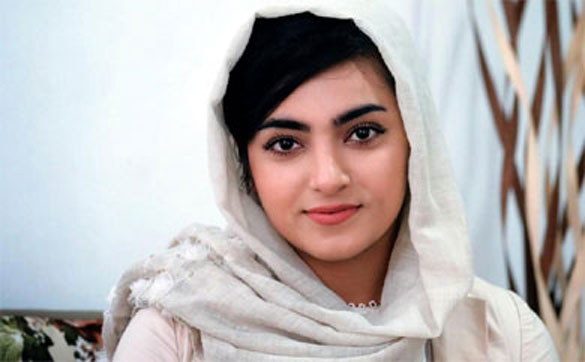 Breshna Musazai, a 29-year-old activist and law graduate at The American University of Afghanistan, was shot by the Taliban in 2016. One Young World
-----
• Iranian Activists Mourn Azam Taleghani, Campaigner For Women's Rights
• Mumbai: Tybcom Student Files Triple Talaq Case
• Fear against Violence Hinders Girls' Education in South India
• Pepsico Foundation, INJAZ Al-Arab to Empower Young Saudi Female Entrepreneurs
• Women come to the fore in Iraq protests
• 600k National Ids Issued For Women Receiving Monetary Subsidies in Egypt
Compiled by New Age Islam News Bureau
URL: https://www.newageislam.com/islam-women-feminism/breshna-musazai-student-turned-activist/d/120174
-------
Breshna Musazai: The Student Turned Activist Who Was Shot By the Taliban
Jack Dutton
Oct 31, 2019
Breshna Musazai says she believes that to achieve peace in Afghanistan, powerful nations such as the US must put pressure on Kabul's neighbours that support and fund terrorism to force them to stop.
Talks between America and the Taliban had been in process for nearly a year, but US President Donald Trump called them off in September after a bomb attack by the insurgents in Kabul killed at least a dozen people, including a US soldier.
But Breshna says that even if those talks didn't break down, they wouldn't help achieve peace in Afghanistan.
"That doesn't mean peace to us," she tells The National. "We want real peace. The Taliban didn't promise they would stop killing us, they just wanted to a make a deal with the Americans, which is not in our interest."
"If they do come to an agreement, only US and the Taliban will benefit from it."
Breshna, 29, has had her own run-in with the Taliban. She was nearly killed by the group in 2016 when she was studying for her law degree in Kabul.
Shooting at the university mosque
In August that year, when she was about to leave a mosque on the university complex after evening prayers, an explosion went off and the Taliban shot their way into the compound.
Students were screaming and trying to hide. Breshna tried to escape, but without shoes from prayers, she had to run barefoot over rubble with broken glass everywhere. When walking through the hallway, she saw a man in what looked like a police uniform, who shot her in the leg.
The pain was agonising but she tried to play dead to make sure they didn't shoot her again. But that didn't stop the man, who fired another bullet into her foot on that same leg. The pain was excruciating, but Breshna continued to play dead, lying there motionless for five hours. She hoped it would be enough to guarantee her survival.
When the first bullet hit her, Breshna's phone had flown out of her hand, landing just in front of her face.
"The whole time I was scared - what if my phone rings? What if they know that I'm alive? What if they come closer to me?" she said.
Later, she realised to her relief, her phone was on silent. "I saw my family were calling me and I knew they were so worried about me. Inside my heart I was telling them to be patient, I'm still alive."
Later that evening, a police officer entered the building and began firing bullets blindly into the dark hallway. Breshna could feel the whistle of the rounds passing directly above her.
"I thought I wouldn't survive because hundreds of bullets were going over me when they started shooting and during that time, a third bullet hit me on that same leg. I then decided to move because I realised if I didn't move I would definitely die," she says.
After standing up, the police saw her and stopped firing, before taking her to the hospital. After getting treatment for a few weeks at a hospital in Kabul, her university sponsored her to get her remaining treatment at a hospital in Texas, US.
Following a recovery after several months of treatment, Breshna's fiancé, who travelled with her to the US, moved to Canada. But she refused to, because she felt she had a duty to come back to Afghanistan to educate people and spread her message.
Breshna defied all odds in June last year, when she graduated with a bachelor's degree from the American University of Afghanistan. Paralysed by polio in one leg and shot by militants in the other, she had triumphed over the extremists.
She has often been compared to Malala Yousafzai in Pakistan, who was shot by the Taliban aged 15 and went on to receive the Nobel peace prize. Like Malala, Breshna will not be silenced and looks to educate people about their human rights.
Educating Afghans
Her mission now is to educate Afghanis and allow more young people in the country to go to school and become educated about the country's complicated political picture.
Afghanistan has high numbers of children without access to basic education. Unicef has estimated 3.7 million children are out-of-school in Afghanistan – 60 per cent of them are girls.
Not only that, many children are traumatised after an 18-year war between coalition forces and the Taliban. And the war has closed many schools, with at least 700 shutting last year as a result of the conflict and 3.8 million children needing humanitarian assistance.
"We need good leaders and a good system, not a corrupt one," Breshna says. "We need someone who really works for the country and not just for themselves. It's hard to trust our system and our leaders so I think young, committed leaders can help.
She says that Afghanistan needs to put more pressure on its neighbours to not support terrorism.
"The US and other powerful countries also must help Afghanistan. If they really want peace in Afghanistan, they should put pressure on other countries like Pakistan and other countries supporting terrorism."
Breshna believes that young Afghans need to be educated to "spread awareness so they know what is wrong and what is right".
"There are people who are not educated, who are not aware of their rights. These kind of people support the Taliban," she says.
Even some of Breshna's relatives believe that Taliban are not wrong and some even said she deserved to be shot for studying at an American university. Breshna says that this is because they've not been educated properly.
"We really need education for these kinds of people who are ignorant and don't value the rights of women. Even there are women who are don't value their own rights."
"The people in Afghanistan who are not educated, they think foreigners are here to invade us, to convert us to Christianity, to end religion and take Islam from Afghanistan. Some people have this kind of mentality, so it's the lack of awareness, lack of education and that's why they support the Taliban and these kind of people are usually in rural areas."
Breshna has been working with several NGOs, most recently the Women's Initiative to Strengthen and Empower, and delivering speeches to help educate young people about the dangers of the Taliban. She addressed crowds of young leaders last week at the One Young World conference in London, sharing her story. Working with the Women's Initiative, Breshna is looking to provide more young Afghan girls with the opportunity to study.
Looking back, the young activist says she does not regret returning to Afghanistan, despite being advised against it.
"I've always felt I had a responsibility as an Afghan citizen to do something for the people [in my country] who are in need. I really wanted to do something even before I got injured so when I came back, I realised that I made the right decision because many people were inspired."
"We really need the commitment of young Afghans for a better future," she says.
https://www.thenational.ae/world/mena/breshna-musazai-the-student-turned-activist-who-was-shot-by-the-taliban-1.931301
-------
Iranian Activists Mourn Azam Taleghani, Campaigner For Women's Rights
November 03, 2019
Activists, cultural figures, and other prominent Iranians have mourned the death of Azam Taleghani, a women's rights activist who fought repeatedly, and unsuccessfully, to become Iran's female presidential candidate.
Dozens of prominent Iranians attended funeral ceremonies on November 1 for Taleghani, who was buried at Tehran's Behesht-e Zahra cemetery, alongside her relatives.
Taleghani, 76, died on October 30 at Pars Hospital in the Iranian capital. Her brother Mohammadreza Taleghani said in a statement that she had been admitted with an unspecified brain condition.
Taleghani was among Iran's most active campaigners of women's rights, challenging hard-line interpretations of Islamic laws.
She gained renown for repeated attempts to run as a candidate for the presidency -- efforts that were aimed at highlighting state discrimination in the Islamic republic, where no woman has ever been allowed to stand for the presidency.
Her efforts to run -- five, in all -- were a direct challenge to hard-liners in control of the Guardians Council, the unelected body that is in charge of vetting candidates for presidential and parliamentary votes.The council has rejected all female candidates, based on a strict interpretation of the country's constitution.
Following the 1979 Islamic Revolution, Taleghani became a deputy in the Iranian parliament -- one of the first women to enter the legislature.
For years, she edited the magazine Payam Hajar, which questioned issues such as polygamy and published articles in favor of more rights for women, including equal rights to inheritance. The magazine was shut down by the authorities in 2000 as part of a crackdown on the liberal and reformist press.
In 2003, Taleghani launched a solo protest outside Evin prison in Tehran to protest the treatment of political prisoners following the death in custody of Iranian-Canadian photojournalist Zahra Kazemi.
She was also critical of the brutal state crackdown that followed the 2009 disputed reelection of President Mahmud Ahmadinejad.
And she publicly condemned the house arrest of opposition figures Mir Hossein Musavi, his wife, university professor Zahra Rahnavard, and reformist cleric Mehdi Karrubi. The trio were arrested in 2011 for repeatedly challenging authorities over Ahmadinejad's reelection and for highlighting human rights abuses. They remain in state custody.
In a 2013 interview, Taleghani said she believed that Iran's revolution had strayed from its original path to bring Iranians freedom and justice.
According to the Tehran Times, President Hassan Rouhani sent a message of condolences to Taleghani's relatives following her death.
News reports said Taleghani's husband died in 2017. She is survived by four children, her nine siblings, two half sisters, and two half brothers.
https://www.rferl.org/a/iranian-activists-mourn-azam-taleghani-campaigner-for-women-s-rights/30250927.html
-------
Mumbai: Tybcom Student Files Triple Talaq Case
Nov 4, 2019
NAVI MUMBAI: A 20-year-old TYBCom student on Friday approached the Kharghar police claiming that her husband (aged 28) had given her instant divorce by uttering 'talaq' thrice at his Kurla residence in May. She also alleged that her husband and inlaws had cheated her by not disclosing that he was already a divorcee and they harassed her for dowry. She also accused her husband of marrying a month after giving her instant talaq.
It is the third case under the Muslim Women (Protection of Rights on Marriage) Act, 2019, in the Mumbai metropolitan region.
"In her complaint, the woman said her husband had befriended her during her cousin's marriage in Satara two years ago. They got married in May 2018," assistant police inspector Sachin Rane said. "She said in June 2018, when she was cleaning her house during Ramzan, she found photographs of his first marriage. When she confronted him, he told her that he had got married five years ago and divorced his first wife two years later. The complainant forgave him to save her marriage. But later she learnt about his extramarital affairs, and there were frequent quarrels between the couple."
The complainant alleged that her husband and in-laws took all her gold ornaments and forced her to tell her father to make him a partner in his home interiors business. "Since then her husband and in-laws allegedly started harassing her for dowry," said Rane. "In May, after a verbal spat, her husband uttered talaq thrice, while her in-laws continued to humiliate her. She left her husband's house in July 2019 and moved into her father's house in Kharghar Sector 12. Later, she learnt that after she left her husband's house, he married again." In her complaint, the woman said her husband's new wife called on her phone and threatened her against taking any legal action against her husband. Fed up of the harassment, she registered an FIR against her husband and in-laws at Kharghar police station on Friday.
The husband, his parents and brother have been booked under Section 4 of the Muslim Women (Protection of Rights on Marriage) Act, 2019, along with Indian Penal Code sections 417 (cheating), 494 (marrying again during lifetime of husband or wife), 498A (husband or relative of husband of a woman subjecting her to cruelty), 504 (intentional insult with intent to provoke breach of the peace) and 506 (criminal intimidation). Rane said, "We have issued summons to the husband and in-laws to record their statements."
https://timesofindia.indiatimes.com/city/navi-mumbai/mumbai-tybcom-student-files-triple-talaq-case/articleshow/71883636.cms
-------
Fear against Violence Hinders Girls' Education in South India
November 4, 2019
Concerns for their daughters' safety are forcing parents to discourage them from pursuing higher education, say members of a social welfare organisation. This fear must be removed through awareness programmes and new policies initiated to promote women's safety.Education are a fundamental right. To make sure that every child in this country is able to get free and compulsory education, the government of India constituted the Right to Education Act. But still, 100 per cent literacy has not been achieved, and especially among girls, the literacy rate is even lower. There are a lot of social constraints that hold women from pursuing education. Particularly among the marginalised and the minority communities, girls are denied education and married at a young age. According to the 2011 census; the rate of illiteracy among the Muslims in India is 42.72 per cent. If this figure is broken down into male and female segments, the illiteracy rate among women is higher (48.1) than men (37.59).There is activists and organisations constantly working to achieve 100 per cent literacy rate. The Covai Post spoke to some of the office-bearers of the Coimbatore chapter of Jamaat-e-Islami Hind (JIH), an organisation working for the welfare of the Islamic community. Zaheena Ahamed.N, President of JIH said," In this modern world, education becomes mandatory for everyone. Girls must be educated compulsorily so that they stand on their own feet."Zaheena said many girls, especially in the rural areas, are denied higher education as parents are anxious about the safety of their daughters."The government must initiate awareness programmes to eradicate this fear among the parents so that the girls are given education. May be girls can be taught self-defence so that they become bold enough to face any kind of difficulty".Khadeeja Khaja, the State President of the women's wing of JIH told The Covai Post, "Education must be equal to all irrespective of gender. If a man is educated, he alone benefits, if a woman is educated, it benefits the entire family and in turn the society."She said development of a country is dependent on the educational growth of women. So if issues of safety acts as a hurdle for girls' education, then that must be removed. New policies must be formulated to ensure protection of women. Only then, parents will have no hesitation in allowing their daughters to pursue higher education."A. Juwauriya, State President of the Girls Islamic Organization, Coimbatore, told The Covai Post, "Our organisation is the girls' wing of the JIH which includes members between 15 and 28 years."Education is essential for girls and it is the only tool to build self-confidence in them. Islam says that girls ought to be educated, and the religion does not hinder the progress of women, but social constraints, do. Parents fear that their daughters can be harassed by men."However, she said that there is a considerable awareness among the parents nowadays. But that is only 75 per cent. The rest still remain anxious."We conduct many programmes that bring out the talents of young girls. We also encourage and counsel the girls so that they pursue education. In my opinion, parents must be counseled too about the need for education. It's only then girls would be released from the familial restrictions"
https://www.covaipost.com/coimbatore/fear-against-violence-hinders-girls-education/
-------
Pepsico Foundation, INJAZ Al-Arab to Empower Young Saudi Female Entrepreneurs
November 3, 2019
RIYADH — The PepsiCo Foundation – the philanthropic arm of PepsiCo, one of the world's leading food and beverage companies – and INJAZ Al-Arab, have partnered to launch a new entrepreneurship development program to support and inspire generations of women in the Kingdom.
The program is part of PepsiCo's expansive women's empowerment platform Tamakani that was launched in June 2019 and it will provide professional training, mentorship, soft and technical skills education to 500 female Saudi university students through June 2020. PepsiCo's aims to provide support for young entrepreneurs to transform their business ideas in the food and beverage industry into successful regional business ventures. Students will be eligible to participate in an Innovation Camp and Company Program.
Speaking at the launch ceremony, Tamer Mosalam, PepsiCo's Gulf & Levant Foods Vice President and Business Unit General Manager, said: "We are extremely proud to partner with INJAZ Al-Arab to launch this new entrepreneurship development program in Saudi Arabia which is the next phase of our Tamakani platform. Empowering women in Saudi Arabia and around the world is a priority for The PepsiCo Foundation. It is a source of great pride that we are helping to develop the ideas of the Kingdom's future entrepreneurs."
Globally, the PepsiCo Foundation works with leading non-profit organizations like INJAZ Al Arab to empower women around the world, understanding that when a woman has the time and opportunities to learn, her children are better fed, healthier, and more likely to be educated themselves. PepsiCo plans to invest $100 million in initiatives that will benefit 12.5 million women and girls by 2025. In doing so, PepsiCo believes it can help spark a virtuous cycle that is essential to building a more sustainable food system.
The PepsiCo Foundation in coordination with INJAZ Al-Arab will commence volunteer recruitment and training, after which the initiative will be announced at universities in Riyadh, Jeddah, and Dammam, calling on ambitious female students with entrepreneurial aspirations to apply.
The 500 selected students will then enter, the entrepreneurship development program run by The PepsiCo Foundation and INJAZ Al-Arab - through INJAZ Saudi. The program includes a series of one-day Innovation Camps, at which the students will present their business plans to an expert panel of judges comprised of members of PepsiCo's leadership. Ten students' teams will be chosen from the Innovation camps and invited to a Job Shadow Day at PepsiCo's local manufacturing facilities and offices, where they will learn firsthand about business practices across - including product lines management, manufacturing procedures and supply chain processes.
Next, the five winning teams will be enrolled in INJAZ Saudi's flagship Company Program; a customized 10-week business simulation specifically designed to enable university students to undergo and complete the full cycle of establishing and operating an enterprise. This encompasses identifying a viable business idea, raising capital, recognizing challenges and opportunities, preparing a business plan and marketing their product or service. The teams will then present their products and services to a panel of prominent local business leaders during a national contest, where they will be competing for the coveted 'Best Company of the Year Award'.
Two of the five finalist teams will be selected by a panel of judges comprised of PepsiCo employee volunteers, academic experts, other members of the private sector, as well as INJAZ Saudi for seed funding and advanced mentorship. These teams will receive a financial contribution, as well as four months of hands-on business training from a local startup mentorship organization.
Akef Aqrabawi, President & CEO, JA Worldwide Inc. (INJAZ Al-Arab), said "our strategic partnership with PepsiCo Foundation is aligned with the country's 2030 vision in supporting women empowerment initiatives and facilitating job creation through entrepreneurship, to help create economic independence for Saudi women, as well as positively influence their role as key players in the country's economy. "
Earlier this year PepsiCo launched the Tamakani platform, which supports women in the workforce and addresses topics including work-life balance; career growth; overcoming professional challenges; female empowerment support and mentor to younger generations of Saudi women to push boundaries. The platform aims to highlight women with influence who are shaping the future of the Kingdom. The initiative will also focus on engaging men as advocates who support women as co-workers and family members. — SG
http://saudigazette.com.sa/article/581638/BUSINESS/PepsiCo-Foundation-INJAZ-Al-Arab-to-empower-young-Saudi-female-entrepreneurs
-------
Women come to the fore in Iraq protests
Pesha Magid
Nov 4, 2019
Iraqi women have turned out in vast numbers during the current anti-government protests despite the violent response from security forces, ignoring societal norms and the danger posed by the violent response of security forces.
Throngs of women, young and old, were among the crowds packing Baghdad's Tahrir Square well past midnight on Wednesday, where dozens of people had already died since the protests resumed on October 24. Earlier, women gathered together chanting, "Down, down with the regime."
"It's important for the women to go out so the riot police, [political] parties and all of them see what we can do. This is us. These are the Iraqis. We are one good heart," said Da'a Mohamed Kahder, 17, a high school student who had come out to protest with her entire family.
"All the women, all the oppressed must go out, even if we die. We're not afraid," said her mother, Sanaa Ghrany, 50. "They want to step on us, but we will become the ones who can step on them."
Other women who spoke to The National expressed a similar attitude.
"We need to get rid of the idea that it's not alright for women to participate in everything," said Shaima, a protester who did not want her real name revealed. "Women must participate in everything. If women were inside government it would better."
Shaima had come to the square for the first time the previous night, bringing with her daughter, her sisters and her nieces. She said the latest demonstrations were different from previous protests because people from across Iraqi society were taking part.
The protests that began on October 1 have been growing in strength, with students, teachers and professional groups joining the demonstrations in Baghdad and southern provinces despite a security crackdown that has claimed more than 250 lives so far. More than 100 people have died in the latest round of protests, according to the Iraqi High Commission for Human Rights.
Manal Jabar, 30, a civil and women's rights activist, said that for many women, the violence against the protesters had made it impossible to stay at home.
"At the beginning of protests the presence of women was symbolic, it was small. Of course, there were threats and there was fear in the square, so they didn't want to go out in force," she said.
"But after the oppression of our young men and the widespread killing, women felt they had to be there next to their fathers, brothers and sons so that our protests would succeed."
"Now a woman when she's at home she watches TV and cries," said Shaima, the protester in Tahrir Square. "We have traditions, unfortunately, that slightly held people back. But now women in all the provinces have gone out; even if a woman doesn't go out, you see her standing at her door carrying the Iraqi flag. This is the first time that has happened.".
Shaima believes the young men who make up the majority of the protesters had begun to change their attitude towards the women joining them. "A boy sees his mother and sister carrying the Iraqi flag and does not reject it, because he sees there is something strong inside of us," she said.
Later, at 2.30 am, Ismaa Saoud Jabar stood in line of protesters clearing rubbish from the streets in Tahrir Square. Wearing rubber gloves, she shoved plastic bottles, empty cans and discarded face masks into black plastic bags.
Like many of the women taking part, the 35-year-old has taken on a vital role in the informal organisation of the protests. "This is the third day I came out," she said. "I continue here until 4am, then in the morning I will go back to my work as a state employee."
Ms Saoud said she would not stop coming until the protests ended. "When you come to this place, you can expect everything in front of you," she said. "Iraqi people, in general, are not afraid: even the young people and children, they all participate without fear. Quite the opposite; they participate with determination and will."
The presence of women in the square proved that every section of Iraqi society stood behind the protests, and that women had to take part for them to succeed, she said.
"No one can represent our voices. No one can represent me. If my brother went out to protest he would only represent his voice.
"We want to present the voices of all of Iraq, all of society and all of its people."
https://www.thenational.ae/world/mena/women-come-to-the-fore-in-iraq-protests-1.932768
-------
600k National Ids Issued For Women Receiving Monetary Subsidies in Egypt
Nov. 3, 2019
CAIRO - 3 November 2019: Minister of Social Solidarity Ghada Wali stated in the meetings of the IMF and WBG, particularly the sessions on social safety networks and employment, that a by-product outcome of the program is the issuance of 600,000 national identity cards for women who were applying in the program.
Wali talked about Takaful and Karama Monetary Subsidies Program having 2.3 million beneficiary families and around 8 million individuals around the country. The minister expressed her pride in the children of the families benefiting from the program as they all attend schools and none of them is a drop-out.
The minister met with Senior Director for Social Protection and Jobs at the WBG Michal Rutkowski to discuss the executive measures of the funding recently made available to the ministry and the technical support to be given to the Social Insurance Authority to implement the new social insurance law.
The minister displayed to the bank officials concerned with reproductive health and human development the program called Two are Enough. They praised the ministry's cooperation with NGOs in that realm.
https://www.egypttoday.com/Article/1/77436/600k-national-IDs-issued-for-women-receiving-monetary-subsidies
-------
URL: https://www.newageislam.com/islam-women-feminism/breshna-musazai-student-turned-activist/d/120174
New Age Islam, Islam Online, Islamic Website, African Muslim News, Arab World News, South Asia News, Indian Muslim News, World Muslim News, Women in Islam, Islamic Feminism, Arab Women, Women In Arab, Islamophobia in America, Muslim Women in West, Islam Women and Feminism