New Age Islam News Bureau
4 March 2015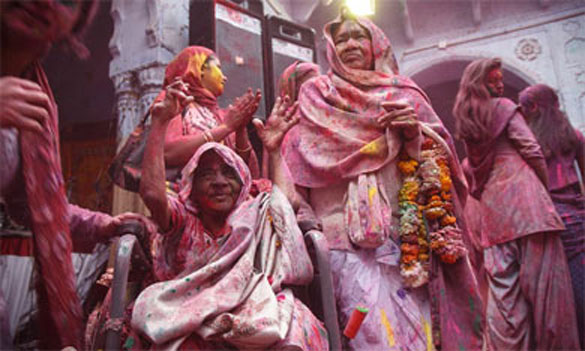 Kanika Adhikari, 102, is the oldest widow living in the Pagal Baba Ashram (shelter). She was 17 when her husband died. Since then, she says, she has celebrated Holi only twice.
-------------
• Why Some Muslim Women in the West Are Trying To Pass As Non-Muslims
• Five Reasons Cited For Growing Infertility among Saudi Women
• More Malaysian Women Holding Management Positions
• 21 Saudis among 100 Most Powerful Arab Women
• Stepping up Equality on Int'l Women's Day 2015
• Where Sharia Law Reigns In Europe, And the Muslim Woman Fighting it
• Symphony of Soul, Depicting the Feminist Feel, Portrays Feminine Emotions
• Aafia's Release Not a Priority for Rulers: Fowzia
• Zakir Naik, Who Said Muslims, Can Have Sex with Female Slaves, Gets Saudi Arabia's Highest Honour
Compiled by New Age Islam News Bureau
URL: https://www.newageislam.com/islam,-women-and-feminism/new-age-islam-news-bureau/breaking-taboos--first-holi-ever-for-indian-widows-at-vrindavan/d/101820
-----------
Breaking Taboos: First Holi Ever For Indian Widows at Vrindavan
By Baba Tamim
March 4, 2015
Breaking away from the societal pressures, thousands of Indian widows take part in playing Holi - a Hindu festival of colours - in the northern city of Vrindavan.
Organised by NGO Sulabh International, about one thousand kilos of colour has been arranged for the four-day long activity, which has conventionally remained a non-event for widows.
Having been bereft of their families and living life normally after the death of their husbands, any chance of indulging in festivities is enough to uplift their spirits.
According to Hindu mythology, Vrindavan - a historic town in the Mathura district of northern Uttar Pradesh state - is a place where Hindu Lord Krishna grew up.
Today the city, some 150 kilometres from capital New Delhi, is known as the 'abode of widows' that shelters widows, mostly destitute, from across India after relatives and friends reject them.
In orthodox India, widows dress in white most of the time; forever grieving the loss of their husbands. They are not allowed to play with colours and partake in any function after their husbands' death.
Organisers told Dawn that it was a "herculean task" to get these widows to play Holi in Vrindavan.
"It's very difficult to protest against the social order. Usually widows are not allowed to enjoy the arrival of spring and play Holi. This is war and we're fighting our enemy – Bad tradition," Bindeshwar Pathak, advisor of Sulabh Movement told Dawn.
To Bindeshwari Devi, 92, whose husband died 25 years ago, her dream of playing with the colours has come true.
"It's my first Holi after my husband's death. It's like a dream come true. None of my relatives are here. They have abandoned me. But I will remember this day. Not only I played Holi but I was also photographed for the first time in my life," she told Dawn.
And Urmila Tiwari, 65, doesn't want to return to her family in eastern West Bengal state who abandoned here immediately after her husband's death in 1990.
"At home widows have borders. But here (at widow shelters) there is no barrier to happiness. If I would ever go back to my home, I will feel like a guest there."
She said playing Holi against the harsh customs is a "new revolution."
"The change has come. And that is how a change must be celebrated," she told Dawn.
India is celebrating Holi on March 6.
http://www.dawn.com/news/1167304/breaking-taboos-first-holi-ever-for-indian-widows
------
Why Some Muslim Women in The West Are Trying To Pass As Non-Muslims
March 03, 2015
"It would be difficult to tell you who I know who hasn't read this piece," says Usra Ghazi, a research assistant with the Islam in the West Program at Harvard University.
The title should have been a tip off that the essay would cause a stir. It's called "Practicing Islam in Short Shorts." It describes what El-Naggar says is a common experience for her: Walking into a shop in a Western city and stopping herself before greeting a Muslim clerk who, unlike herself, is veiled.
"As soon as I walk into the store, I feel like she's my sister. The way she wears her headscarf, the way she covers her arms and legs. I've sort of grown up with her. She looks like, you know, she's wearing something my mother would wear," El-Naggar says. "I feel a sense of community with her."
But El-Naggar isn't covered. Her shorts aren't long and she has piercings in her nose and belly button. She says she'd like to establish a connection with the Muslim clerk, but she doesn't greet her.
"Because of the way I'm dressed, I don't think she will see the same sort of sisterhood that I see," she says. "I'm worried that she will look at me and think I'm a bad girl, a bad Muslim, someone who brings shame to the community, someone who's lost her way."
El-Naggar calls herself a practicing Muslim. She grew up in the Arab world and has been living in the US for the last 19 years. She says she has a large group of Muslim friends who dress as she does. She says her acquaintances are tired of hearing others talk about them in a way that's "riddled with judgment and condescension."
But these days, she says she has a new mantra — one that will allow her to greet anyone.
It's a short surah — a verse or chapter in the Quran — titled Al-Kafirun. The last line in that surah is "Lakum deenakum wa liya deen," meaning "for you is your religion, and for me is mine," she says. "I have to admit that I created the meaning of that Surah a little bit to sort of fit my view on life. But I think the overall meaning is that we should live and let live."
Ghazi, the Harvard researcher, says she can relate to El-Naggar's experience. But she says parts of her fellow Muslim's essay "trouble" her.
"She misinterprets the reasons why Muslims in the community she has been involved in would treat her in that way," Ghazi says. "Those admonishments, that chastisement comes from a place of love, and [from] taking really literally and personally the Quranic commandment to enjoin good and forbid evil for the sake of the salvation of other Muslims."
Ghazi acknowledges that many women in the Muslim community often feel objectified. "It's degrading to be told to dress a certain way," she says. "But it's also degrading, the broad brush with which [El-Naggar] paints Muslims who follow traditional practices. ... The Muslim world is such a beautifully diverse community, and I think I would give a little more credit on the other side of that store counter."
Ghazi urges honouring women who cover themselves, as well as those who don't. And she says she'd appreciate hearing the Muslim greeting, Salaam-Alaikum, or "peace be upon you," from a stranger.
"In a time when there's a lot of tension in light of the Charlie Hebdo attacks and all the conversations about a rise of Islamophobia in Europe and the US, when someone approaches a Muslim, a visibly Muslim person, with an Islamic greeting, it's the best type of scenario to be in," she says.
Finally, Ghazi urges El-Naggar to reconsider living a "dual life." "I'd tell her, you don't have to do that," Ghazi says. "Let's talk, let's have a conversation, even with our disagreements. I think there's a lot we can come together around."
http://www.pri.org/stories/2015-03-03/why-some-muslim-women-west-are-trying-pass-non-muslims
-----------
Five reasons cited for growing infertility among Saudi women
3 March 2015
Experts have identified five main reasons including late marriages and increasing cases of abortion for the fall of fertility rate among Saudi women.
"The fertility rate of Saudi women declined from 2.9 children in 2013 to 2.8 children in 2014," said one expert. The Kingdom maintained its second position in the Gulf, after Oman (2.9 children), in fertility rate.
However, Saudi Arabia registered considerable fall in fertility rate during the past 10 years as it declined from 3.6 children in 2004 to 2.8 children in 2014.
This trend has prompted experts to reiterate that the Kingdom does not require measures for family planning.
Late marriage among both men and women occurs due to study, work and economic condition, the experts said.
"High cost of living is another issue while widening duration between births from one to two years in the past to several years is another major reason for lower birth rates," another expert said.
Growing abortion cases among women who get pregnant after 40 is another reason, the expert said, adding that growing cases of infertility have been reported in recent years.
Dr. Hamad Al-Sufyan, obstetrics and gynecology consultant, said there are five reasons for increasing cases of infertility among Saudi women — obesity, unhealthy food, diabetes and high blood pressure, smoking and unsuitable environment.
Dr. Abdullah Al-Salman, director of Human Development Center, said there is a gradual decline in Saudi population. "We don't need to adopt any measures to bring down population further as we need manpower to accelerate the country's development, and reduce dependence on foreigners," said Dr. Al-Salman.
http://www.arabnews.com/saudi-arabia/news/712961
-----------
More Malaysian women holding management positions
March 3, 2015
KUALA LUMPUR: With 34% of management positions held by women in Malaysia, the South-East Asian nation is only slightly behind China which, at 36%, remains the region's diversity leader.
According to recruiting expert Hays' 2015 Hays Asia Salary Guide, the figure for Malaysia was up from 29% last year.
Malaysia was followed by Hong Kong (31%, down from 33% the previous year) and Singapore (27%, unchanged year-on-year).
The Asian average is 29%.
Hays found that Japan was still falling behind in the diversity stakes, with women in that country filling just 19% of managerial positions.
According to Hays, whose office here is located at the Kuala Lumpur City Centre, diversity remained a business critical issue.
Hays in Asia managing director Christine Wright noted that given all the research espousing the benefits of a gender diverse workforce, women were not equally represented in leadership positions, and encouraged to reach their career goals.
In calling for greater gender equality, she said more workplaces should embrace flexible working practices, highlight female role models, change organisational policy in support of gender diversity and give better board backing for diversity issues.
"One of the best practical measures is to put performance-related promotion policies in place," she said, adding that it would help build a culture of meritocracy and remove unconscious bias from the decision-making process. -- BERNAMA
http://www.thestar.com.my/News/Nation/2015/03/03/Malaysian-women-management/
-----------
21 Saudis among 100 most powerful Arab women
4 March 2015
Saudi Arabia has 21 women ranked in the top 100 list of the most powerful Arab women, determined by Arabian Business magazine every year for the past five years.
Number one on the list is Sheikha Lubna Al-Qasimi from the United Arab Emirates (UAE) for her achievements in government. Lawyer Amal Clooney from Lebanon is in second.
Loujain Al-Hathloul from Saudi Arabia is in third place for her achievements on the cultural and social fronts, while Saudi businesswoman Lubna Olayan came in at fourth for her role in the banking and finance sector.
Reem Al-Hashimy from the UAE came in at fifth for her government work and the UAE's fighter pilot Mariam Al-Mansouri came in at sixth. The seventh spot went to Saudi sociologist Mona Al-Munajjed.
Moroccan retail tycoon Salwa Idrissi Akkannouch ranked eight, the UAE's Amina Al-Rustamani, the chief executive officer of TECOM Business Parks, came in at ninth, and the UAE's Zainab Mohammed came in 10th for her work in the property sector.
Other Saudis on the list include Haifaa Al-Mansour in the arts and entertainment sector and ranked 13, Batan Mahmoud Al-Zahran in law at 14, Hayat Sindi in science at 15, Huda Al-Ghoson in energy at 19, Somayya Jabarti in media at 28, Samia Al-Amoudi in the health sector at 37, Samira Islam in science at 40, and Khawla Al-Kuraya in science at 41.
Others include Muna Abu Sulayman in society and culture and ranked 42, Samar Nassif in the health sector at 47, Ruha Al-Muharraq at 50 for climbing Mount Everest, Thoraya Obaid in culture and society at 56, Nahed Taher in the banking and finance sector at 68, Dima Ikhwan in banking and finance at 71, Nermeen Saad in the technology sector at 73, Badreya Al-Bishr in the media at 78, Manal Al-Sharif in culture and society at 82, and Mashael Al-Shammari in the aerospace industry at 97.
http://www.arabnews.com/featured/news/713441
-----------
Stepping up equality on Int'l Women's Day 2015
MARCH 04, 2015
This year marks 20 years since the Fourth World Conference on Women in Beijing in 1995, as well as the 20th anniversary of Malaysia's ratification of the Convention on the Elimination of All Forms of Discrimination against Women (Cedaw).
Today, while Malaysia has done an admirable job at addressing a number of critical concerns outlined in the Beijing Declaration and Platform for Action, political developments in the country over the last decade continue to throw up barriers to the overall goal of gender equality.
Persatuan Kesedaran Komuniti Selangor's (Empower) core work is in the area of women's participation at all levels of governance and political processes. We have trained over 800 women across political divides and from diverse communities, and saw successes in several women elected to Parliament and state assemblies as well as appointed to local councils.
The low number of women among elected representatives is fairly well-known: in the 13th general election, only 10 percent of Members of Parliament elected and 11 percent of state assemblypersons are women. What has received relatively less attention is the effect Malaysia's political culture and rising economic inequalities on the stagnation of women's progress.
UN Women executive director Phumzile Mlambo-Ngcuka's IWD 2015 message noted that "not one single country has achieved equality" today. This critical and timely reminder should not be twisted into an excuse not to do better.
Malaysia needs to reflect on why it is that only last year, sexist jibes were publicly aired at a political party assembly, a woman candidate at a by-election faced misogynistic attitudes even from supporters of her political party, and menstruation was used as justification to bar women from top decision-making posts. This is not an environment that enables progressive lawmakers, least of all women.
It would be a mistake to assume that the erosion of civil liberties is not part of 'women's issues'. Crackdowns under the Sedition Act and other repressive laws do not only silence political dissenters, in the long term they also smother the voices of women human rights defenders fighting for indigenous land rights, single mothers, and the eradication of domestic violence.
The crackdowns foster a culture of fear among the people and a perception of impunity among the authorities, where questioning problematic actions by the government are met with accusations of treason and sedition.
It would be wrong, as well, to assume that gender inequality has no impact on the strength of democracy in this country. Women make up about half of all voters, and research on political attitudes and electoral behaviour among Malaysian women indicate that their voting choices are strongly informed by practical considerations such as money and hand-outs.
Choices reflect this reality
At a recent presentation, this fact was greeted with laughter by a mostly-male crowd. However, Empower puts forward the suggestion that women, especially among the middle to low income group, are well aware of the precariousness of their lives. Their choices reflect this reality.
Middle to low income women are at the frontlines of economic depression due their relatively vulnerable financial situation. Even well-off women are not necessarily insulated. The UNDP's Malaysia Human Development Report 2013 showed how gender discrimination affects women workers, from hiring disparity to labour practices to inadequate measures to tackle sexual harassment.
Women consistently earn less than men across all formal jobs. Even in jobs where women dominate, such as clerical positions, men are paid more for doing the same work. A woman's purchasing power is at least 33 percent lower than a man of the same social characteristics. Violence against women and cultural expectations of care-giving and child-rearing also have significant financial implications for women, and thus impact their social and political priorities.
Those seeking a more robust and participatory form of democracy in Malaysia must, by sheer necessity, also support gender equality. Anything less threatens to leave us mired in a situation where the country is ruled by political elites, for the elites.
Political participation in Malaysia must reflect its diverse and amazing people: the voice of a woman living in a low-income rural community should carry the same weight as a wealthy man in the city. Malaysia's survival depends on it.
https://www.malaysiakini.com/letters/290922
-----------
Where Sharia Law Reigns In Europe, And The Muslim Woman Fighting it
2015-03-03
KOMOTINI — In the privacy of a cosy flat in this city in northeastern Greece, Shatitzeh Molla Sali speaks to us softly, so softly that she is sometimes barely audible. Hers is the voice of a weary 65-year-old who says she always "lowered her head and accepted everything."
But her gaze now shows the steely resolve of a changed woman. Molla Sali has just become the first member of Greece's Muslim minority to lodge an appeal at the European Court of Human Rights against a court ruling based on Islamic Sharia law, in her case on charges that she was deprived part of her inheritance.
When her husband died in March 2008, Molla Sali inherited everything through his will, a Greek document registered at a notary's office. But her in-laws immediately challenged the bequest with the local mufti — a Muslim jurist and theologian — in the name of Sharia law, which forbids Muslims to write wills.
Molla Sali took the matter to a civil court and won. But in a decision published in October 2013, the Greek Supreme Court established that matters of inheritance among the Muslim minority must be resolved by the mufti, following Islamic laws.
Does this mean that there is Sharia law in Greece, in the heart of Europe? In the home of Orthodox Christianity where Church and State are not separated? The background to this situation is in the troubled relations between Greeks and Turks. Greece became independent in the early 19th century, after four centuries of occupation by the Ottoman Turks. But the two antagonists did not establish a near-definitive frontier until 1923, with the signing of the Treaty of Lausanne.
The treaty regulated a massive population exchange. The Greeks and Turks agreed to send each other hundreds of thousands of their nationals, with one concession on both sides. Turkey agreed to maintain the seat of the Patriarch of Constantinople in Istanbul and to not expel the city's Greek residents. In exchange the Muslims of Thrace, numbering some 120,000, were excluded from any exchange of populations. This "Muslim minority of Greece" as it is officially known, consists mainly of Turks but also gypsies, Pomaks and Bulgars converted to Islam under the Ottoman Empire and living in mountainous villages.
The Treaty of Lausanne recognizes certain exceptional rights for this minority, including that of living by their customs. Three official muftis, who hold office for life and are appointed by Greek authorities, function as religious leaders but also judges, which allows them to apply Sharia norms to family law, though not criminal affairs. Thus marriages, divorces and matters of inheritance are settled in one of the muftis' offices in Xanthi, Komotini or Didymoteicho, the main cities of Thrace.
"Sharia must rule the world," says Meço Cemali, the Komotini mufti. "These are God's just rules for living your life."
Yet the jurist Yannis Ktistakis, Molla Sali's lawyer, says "the Lausanne Treaty does not mention Sharia law or muftis. It is the Greek state that interpreted things this way. In 1923, Turkish society in Ataturk's time was very progressive and secular. So Greece, which was a very conservative, Orthodox state, decided that reinforcing Islamic laws could help reduce Kemalist influence on the Turkish-speaking community in Thrace."
How can one explain that a little under a century later, the Greek state, a member of the European community since 1981, encourages "rule of Sharia" in its territories? How can one understand its failure to impose the Greek civil code?
The official position is that the government does not want to renege on the terms of the Lausanne Treaty, to avoid possible, negative repercussions on the Greeks living in Istanbul. "The fate of the Thrace minority is closely tied to the vicissitudes of Greek-Turkish ties," says Konstantinos Tsitselikis, professor of minorities law at the Macedonian University in Thessaloniki and author of Old and New Islam in Greece. He adds that "in 1985, faced with a fairly hostile Greek nationalist current, Turkey began to finance a political party in Thrace. The party promoted the minority's Turkish identity and notably claimed the right to elect muftis" for itself.
There are five muftis in Thrace since 1990: three appointed by the Greek government and two elected by the Muslim minority, but without official recognition and thus unable to act as judges. In light of the Greek government's reluctance to do away with Sharia, the official muftis here are effectively civil servants and official agents of the Greek government.
"There is a geopolitical game here between Ankara and Athens," says Yannis Ktistakis. "Sharia is just an instrument of control to counter Turkish influence. And that's tough luck for the women of this minority, its main victims, who will suffer."
From the 1920s to the 1990s, the muftis' decisions were written in Turkish or Arabic and were not subject to revision by the Greek state. Since 1990, a law requires them to be translated into Greek and submitted to an ordinary judge to ensure they are constitutional. "But the Greek courts have just acted like registry offices, never checking the real substance of the rulings," says Ktistakis. "This is exceptional in juridical terms and unacceptable in Europe. It directly violates the Greek constitution, the European Convention on Human Rights and the UN convention on the rights of women and children.
Ktistakis is clear: Sharia must be eliminated in Greece. "Greek civil code must apply equally to all Greeks. Before being members of a minority, they are Greek citizens and their rights must be respected."
Professor Tsitselikis is a bit more nuanced, suggesting that members of the minority should have a choice: those who want the mufti to resolve their problems "should be able to do so, while those who prefer to go to the civil courts should also be able to do this. It's better to help people, especially women, to free themselves and demand more rights. Otherwise there is always a danger of the most conservative elements locking women up at home or creating clandestine justice systems to determine family affairs in secret."
Following a key ruling in 2000 by a court in Thebes in central Greece, the issue of juridical choice appeared a viable compromise solution. The court had for the first time given a member of the minority the right resolve a divorce through the Greek justice system. Ktistakis says that was an "opening," but "not enough."
So the Greek Supreme Court's ruling on Molla Sali's case has brought the issue back to the fore. The widow says "it crushed me, but I was determined to fight and go to the European Court of Human Rights, because I am a Greek citizen: Europe must protect my rights."
She filed a complaint with the EU court in February 2014. Ktistakis says "this case is a historic opportunity to end, for good, this discriminatory juridical order."
The court will need two or three years to issue its ruling, but as the EU's rights commissioner, Nils Muiznieks, has said, Greek authorities should not wait for that before making improvements. "There is already ample national and international documentation showing how the application of Sharia law is imposing outdated conditions on numerous Greek citizens," Muiznieks said.
Shatitzeh Molla Sali is a very religious woman, and still views the mufti in paternal terms, but she is questioning his legitimacy as a legal authority. She has become the symbol of the fight against Sharia law in Greece.
http://www.worldcrunch.com/world-affairs/where-sharia-law-reigns-in-europe-and-the-muslim-woman-fighting-it/sharia-islam-europe-thrace-greek/c1s18199/#.VPbee3yUd5s
-----------
Symphony of Soul, Depicting the Feminist Feel, Portrays Feminine Emotions
March 04, 2015
Rawalpindi - An exhibition of paintings by 20 women artists titled 'Symphony of Soul' depicting the feminist feel, vision and passionate expression of women's agony was inaugurated Tuesday at Rawalpindi Arts Council (RAC) in connection with the 4th National Women at Work Festival — an annual public advocacy and outreach event of Development Communications Network (Devcom-Pakistan) — to commemorate the International Womens Day.
The exhibition was inaugurated by PML-N MNA Tahira Aurangzeb and a well-known artist Tasneem Abbas. The participating artists were Nahida Raza, Farah Adnan, Riffat Ara Baig, Beenish Azam, Shaheena Mir, Farwa Batool, Syeda Sadaf, Ammara Shakir, Fatima Ilyas, Zara Qamar, Andleeb Tabassum, Semeen Farrukh Alam and some female students from Islamia University Bahawalpur and Rawalpindi Arts Council.
MNA Tahira Aurangzeb termed the exhibition a real spirit of women feelings. Pakistani women are no less in creativity and aesthetics, but their work needs to be mainstreamed at national and international forums, she said appreciating the RAC for imparting skills to young women.
Tahira Auranzeb termed National Women at Work Festival a grand milestone in promoting the women development and empowerment agenda. She said Devcom-Pakistan is doing a great job without any donor funding, and this example of dedicated work should be adopted by the other organisations too.
Tasneem Abbas urged the artists to groom the young ones to promote the thematic work. It is time to do more thematic work than making flowery exhibits. Women artists' work is very strong and bold in nature, and tells the stories of the soul of womanhood that is never well-understood, she said. The oil on canvas paintings by Nahida Raza reflects the social burden the young women carry all their life. She says it is unnecessary to suppress the identity of women in the name of so-called honour and social values.
Farah Adnan said the women are the most sensitive segment of society and their potential can help create a peaceful social structure if given confidence to bring about a change. She says, "My artwork reflects the suppressed dialogue that may not happen in real world between the women and those who run the affairs."
The rhythm of vibrant colours and creative ethos make a wonderful combination for Riffat Ara Baig to express the world of emotions and happening around herself. The nature painter has let herself to explore another contemporary medium for her recent artwork and that is etching on paper. Her extremely powerful art pieces invite the art lovers aesthetical intuition to guess the emotional deficit in the man-woman relationship and with the surroundings.
Graduated from the University of the Punjab in 1995, Riffat Ara Baig has shown her creative genius while portraying the feminine emotions, the incomplete and unfulfilled aspirations. The expressionistic figurative and powerful abstract images inspire the aesthetics of onlooker and also provoke to explore more out of it.
Munir Ahmed, Executive Director Development Communications Network (Devcom-Pakistan) and the founder of the festival, said women art is more inspirational and also influences the life. The work presented in the exhibition shows the strength and creativity of womanhood. "We need to understand the womanhood if we like to have a peaceful society."
http://nation.com.pk/islamabad/04-Mar-2015/symphony-of-soul-portrays-feminine-emotions
-----------
Aafia's release not a priority for rulers: Fowzia
March 03, 2015
KARACHI - The release of Dr Aafia Siddiqui is possible through diplomatic channels, but sadly, it is not amongst priorities of sitting Pakistani rulers, said Aafia Movement leader Dr Fowzia Siddiqui, here Monday.
Addressing a protest at Karachi Press Club (KPC) on completion of twelve years of Aafia in detention, she said Americans are ready to repatriate Aafia, but Pakistani rulers are not.
She said PM Nawaz Sharif promised to bring Aafia back but due hidden pressure PML-N leader was backtracking from his promise.
Raymond Davis who killed three Pakistanis got freedom without any difficulty but rulers have kept a mum on Aafia's case said Fowzia adding that Americans are going out of the way to free their agent Dr Shakeel Afridi.
On the occasion, Aafia`s daughter Mariam appealed to the PM and COAS to make efforts for Dr Aafia on humanitarian grounds.
Speaking on the occasion, Jamaat-e-Islami leader Muhammad Hussain Mehnati said that when parties are in opposition, it promises Aafia's release but forget her after coming in power.
Pasban Chief Altaf Shakoor, former MPA Muhammad Yunus Barai, Shamim Kazmi of Business Women and other also spoke on the occasion.
http://nation.com.pk/karachi/03-Mar-2015/aafia-s-release-not-a-priority-for-rulers-fowzia
-----------
Zakir Naik, Who Said Muslims, Can Have Sex with Female Slaves, Gets Saudi Arabia's Highest Honour
March 3, 2015
Zakir Naik, a renowned Indian Islamic scholar and an authority on comparative religion, has received one of Saudi Arabia's most prestigious prizes from the country's new King Salman for his service to Islam.
He is the same man who had earlier said that 'Quran allows Muslims to have sex with female slaves'.
Naik has been frequently at odds with the West for his views on terrorism.
In 2010, Britain had banned Naik from entering the country, citing his "unacceptable behaviour".
Ads by ZINC
Naik had reportedly said Muslims should beware of people saying Osama bin Laden was right or wrong, adding: "If you ask my view, if given the truth, if he is fighting the enemies of Islam, I am for him."
In a story published in Mail Online, he was quoted as saying, "'There are many verses in the Quran which say you can have sex with your wife and with whatever your right hand possesses."
"Right hand possesses," he went on. "Which means your slaves."
King Salman presented the King Faisal International Prize (KFIP) 2015 in five categories on Sunday at a glittering awards ceremony in Riyadh.
The KFIP recognises the outstanding works of individuals and institutions in five categories -- Service to Islam, Islamic Studies, Arabic Language and Literature, Medicine and Science.
Each prize consists of a handwritten Arabic certificate on the laureate's achievements, a commemorative 24-carat 200-gramme gold medal and a cheque of USD 200,000.
"Islam is the only religion that can bring peace to the whole of humanity," Naik said in a video biography aired at the ceremony.
Mumbai-born Naik, 49, is the president of the Islamic Research Foundation in India and one of the world's most renowned non-Arabic speaking Islamic scholars.
He was awarded the KFIP for his services to Islam for a lifetime's teaching about Islam, his work on comparative religion and for founding the Peace Channel, a comparative religion TV channel.
The other prize winners included Saudi Arabia's Abdulaziz bin Abdulrahman Kaki in the Islamic Studies category for his research on the cultural heritage of the Muslim holy city of Medina and Jeffrey Ivan Gordon of the United States in the field of medicine for his research which has enhanced understanding of diseases such as obesity -- a growing problem in Saudi Arabia.
In the science category -- Michael Gratzel of Switzerland - was awarded for his development of solar cells while Omar Mwannes Yaghi of the US was the co-winner for his work in the new field of metal organic frameworks.
No prize was awarded in the Arabic Language and Literature category this year.
http://indiatoday.intoday.in/story/zakir-naik-known-for-controversial-remarks-gets-big-saudi-prize/1/422034.html
-----------
URL: https://www.newageislam.com/islam,-women-and-feminism/new-age-islam-news-bureau/breaking-taboos--first-holi-ever-for-indian-widows-at-vrindavan/d/101820