New Age Islam News Bureau
20 Feb 2014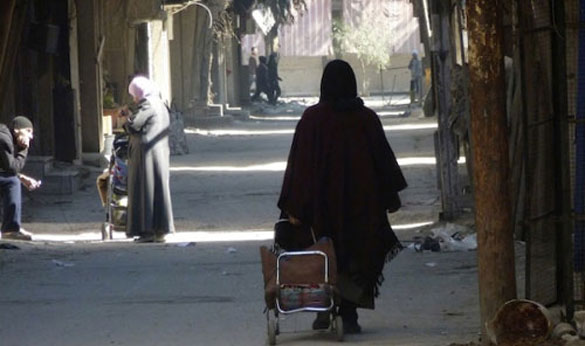 Islamic rebels in eastern Syria warn that women who do not put on the Islamic veil will be held to account. – Reuters pic, February 20, 2014.
-----------
• Ghanaian Women Being Forced Into Prostitution in Middle Eastern Countries
• Twelve Foreign Women Arrested In Islamabad Crackdown, Involved In Immoral Activities
• Islamists Order Women to Don Veil in Eastern Syria
• Saudi Arabia Moves To Protect Rights of Indonesian Maids
• Extreme Genital Mutilation on Retreat in Somaliland
• Libya: Justice Minister Details Plan for Compensation to Rape Victims
• Nigerian Government Invests N3.2 Billion on Projects to Address Girl-Child Education
• Malala Sympathises With Syrian Refugee Children
• Sister, Brother Conquering Seven World Peaks
Compiled by New Age Islam News Bureau
URL: https://www.newageislam.com/islam,-women-and-feminism/new-age-islam-news-bureau/brainwashed-british-girls-flock-to-syria-to-wed-wahhabi-terror-fanatics/d/35852
---------------
Brainwashed British Girls Flock To Syria to Wed Wahhabi Terror Fanatics
February 20, 2014
Brainwashed British girls are flocking to war-torn Syria to shack up with Wahhabi terror fanatics, a report said.
The girls follow the hundreds of British men now fighting in rag-tag rebel groups bidding to topple Syrian leader President Bashar al-Assad, Daily Star reported.
Experts say the fanatical gangs attract female followers by posting heroic-sounding messages and photos online.
At least four British women, two from Portsmouth, one from London and one from Surrey, are known to have been married in the war zone. But researchers from King's College, London, reckon the total is much higher.
One Jihadist fighter from Portsmouth was asked by a female fan, "How can a sister ask for marriage? Are you interested? After asking Allah of course."
Another woman vowed to have as many children as possible, offering to "make soldiers of Allah, for the sake of Jihad".
It is thought that the wannabe wives fly out to tourist destinations in Turkey first to avoid suspicion.
Some of them "marry" over Skype before travelling.
British student Nawal Msaad, 26, has been charged with terrorist offences for allegedly carrying £16,500 in her underwear for a fighter in Syria.
It emerged yesterday that a convicted suicide bomber who planned a terror attack in the UK was also caught attempting to get into Syria.
The unnamed man tried to board a plane to Turkey shortly after he was released from a lengthy jail term for a bomb plot in Britain.
http://english.farsnews.com/newstext.aspx?nn=13921130000437
---------------
Ghanaian women being forced into prostitution in Middle Eastern countries
February 20, 2014
The United States government says Ghanaian women are being forced into prostitution and forced labour in foreign countries, particularly in the Middle East.
According to the US State Department's Trafficking in Persons Report 2013, Ghanaian women migrating to the Middle East to work are forced into prostitution upon their arrival.
The report attributed the phenomenon to the, emergence of fraudulent recruitment agencies that advertised locally for jobs abroad, generally in the domestic service and retail sectors.
"Ghanaian women and children are recruited and transported to Nigeria, Cote d'Ivoire, Burkina Faso, The Gambia, South Africa, Israel, Syria, Lebanon, the United Arab Emirates, Saudi Arabia, Kuwait, Russia, France, the United Kingdom, Germany, and the United States for forced labour and prostitution," it said.
The report also revealed that women and girls voluntarily migrating from China, Nigeria, Cote d'Ivoire, Burkina Faso, and Benin are subjected to commercial sexual exploitation after arriving in Ghana.
It noted that citizens from other West African countries are subjected to forced labour in Ghana in agriculture or domestic service.
"Ghana is a country of origin, transit, and destination for men, women, and children subjected to forced labour and sex trafficking," it stated.
The report said the trafficking of Ghanaians, particularly children, within the country is more prevalent than the transnational trafficking of foreign migrants.
"Ghanaian boys and girls are subjected to conditions' of forced labour within the country in fishing, domestic service, street hawking, begging, portering, artisanal gold mining, and agriculture. Ghanaian girls, and to a lesser extent boys, are subjected to prostitution within Ghana," it added.
According to the report, child prostitution, and possibly child sex tourism, is prevalent in the Volta Region and is growing in the oil-producing Western Region.
The report said during the reporting period, the government initiated 75 trafficking investigations and secured three convictions and this demonstrates a significant decrease from the previous reporting period, when the government initiated 91 investigations and convicted 29 traffickers.
It noted that all three offenders were convicted for sex trafficking offenses; two received five-year prison sentences and one received a seven-year sentence.
The report indicted the Government of Ghana of not fully complying with the minimum standards for the elimination of trafficking; however, it is making significant efforts to do so.
The government also drafted a new five-year national action plan and continued to conduct information and education campaigns throughout the country.
At the close of the reporting period, two prosecutions and 42 investigations remained pending.
In October 2012, the Government of Ghana collaborated with the Government of Burkina Faso in an INTERPOL-led operation, which resulted in the rescue of 387 child trafficking victims from various West African nations subjected to forced labour in gold mines and cotton fields in Burkina Faso; the Ghanaian Police sent 16 officers to participate in the operation and assisted in 30 arrests.
During November and December 2012, the government began an operation against sex trafficking in close co-operation with the Government of Nigeria's National Agency for the Prohibition of Trafficking in Persons and Other Related Matters (NAPTIP); as a result of this operation, authorities rescued 82 Nigerian and 41 Ghanaian victims and apprehended 10 Nigerian and six Ghanaian suspected trafficking of-fenders.
As a result of these investigative efforts, five prosecutions were completed during the reporting period; one additional case is pending.
The report recommended to government to increase efforts to investigate and prosecute trafficking offenses, convict and punish trafficking offenders to ensure that the police's Anti-Human Trafficking Unit (AHTU) discharges its duties effectively.
http://www.ghanaweb.com/GhanaHomePage/NewsArchive/artikel.php?ID=301159
-------------
Twelve Foreign Women Arrested In Islamabad Crackdown, Involved In Immoral Activities
2014-02-20
ISLAMABAD: The Federal Investigative Agency (FIA) personnel carried out an operation in the federal capital on Thursday and arrested 12 foreign women and two men, DawnNews reported.
In a bid to arrest two Uzbek women who had fled the Islamabad airport without passing the immigration counter, the FIA launched a crackdown in four different locations of Section F3 area of Islamabad.
Subsequently, twelve foreign women and two men were detained.
According to the Deputy Director of FIA Nasrullah Gondal, the detained women hailed from Central Asian States and were involved in immoral activities.
According to sources, the visas of some women had expired and they were staying illegally in the city. They would be exiled after legal action.
https://www.dawn.com/news/1088293/twelve-foreign-women-arrested-in-islamabad-crackdown
---------------
Islamists order women to don veil in eastern Syria
February 20, 2014
(Reuters) - Islamist rebels in eastern Syria have ordered women to put on the Islamic veil, warning that anyone not doing so would be held to account, in a concerted new attempt by hardliners to impose their strict views on society.
In a statement, an organization calling itself the Islamic Law Council of Deir al-Zor gave women until Saturday to don the face veil. It did not say what punishment would befall women who fail to comply with the order.
Armed Islamist groups have become the most powerful force in the almost three-year-old uprising against President Bashar al-Assad, who has long portrayed himself as the defender of a secular order in Syria.
"Given that sins are the main reason delaying victory, the legal council in the town of Deir al-Zor is obliged to promote virtue and prevent vice," said the statement posted by an activist on Facebook and also reported by the Syrian Observatory for Human Rights, whose monitors records violence in the Syrian civil war.
Last month, the New York-based Human Rights Watch reported that the Nusra Front and the Islamic State of Iraq and the Levant - both hardline Islamist rebel groups - were enforcing their strict interpretation of Islamic law by requiring women to wear head scarves and full-length robes.
Citing interviews with refugees, Human Rights Watch also said Islamists were imposing discriminatory rules banning women and girls, particularly those not abiding by their dress code, from moving freely in public, working and going to school.
http://www.reuters.com/article/2014/02/19/us-syria-crisis-islamists-dress-idUSBREA1I1OX20140219
-------------
Saudi Arabia moves to protect rights of Indonesian maids
February 20, 2014
Saudi Arabia has signed an agreement with Indonesia aimed at protecting the rights of Indonesian maids in the country following allegations of abuse.
The domestic workers will no longer be deprived of their passports nor prevented from communicating with the outside world.
They will also be guaranteed the payment of a monthly wage and time off.
Indonesia's government will wait to see how the agreement is implemented before allowing recruitment to continue.
It has been pushing for the guarantees for four years following of allegations of overwork, forced confinement, non-payment of wages, food deprivation, and psychological and sexual abuse.
Workers who attempted to report employer abuses have sometimes faced prosecution based on counter-claims of theft or "sorcery".
Earlier this month, King Abdullah pardoned an Indonesian maid who was sentenced to death in 2003 after being convicted of witchcraft.
'Price hikes'
According to Saudi media, the agreement signed on Wednesday also commits the Indonesian authorities to ensuring that prospective maids have had medical check-ups and have not been involved in any crimes.
The Saudi Deputy Minister for Labour Affairs, Ahmed al-Fehaid, said last week that the accord did not cover pay rises or fees, but that he was "committed to offering more options to Saudis to prevent a price hike".
In July, the Saudi cabinet passed a new regulation governing the treatment of the 1.5 million migrant domestic workers in the Gulf kingdom.
The regulation offers certain basic protections for the first time, such as requiring a nine-hour daily break, prompt salary payment at the end of each month, sick leave, and a one-month paid vacation every two years. It also prohibits sponsors from assigning work harmful to their health.
However, the regulation also states that workers must respect the teachings of Islam and carry out their duties "perfectly". They are also expected the "obey the employer", preserve family secrets, and not to "reject work or leave the job without any genuine reason".
In November, following a seven-month "grace period", the Saudi authorities began deporting foreign workers considered to be residing in the country illegally or violating local labour laws. By 21 January, more than 250,000 people had been forced to leave.
On Tuesday, Human Rights Watch reported that more than 12,000 people had been deported to Somalia since 1 January, including hundreds of women and children, non of whom had been allowed to make refugee claims.
http://www.bbc.co.uk/news/world-middle-east-26259326
---------------
Extreme genital mutilation on retreat in Somaliland
Somalian female genital mutilation decreases
AFP, February 20, 2014
Hargeysa — It is a ritual supposed to keep women "pure", but an increased understanding of the severe health risks of extreme forms of female genital mutilation appears to be slowly rolling back its prevalence in Somalia's northwest.
In the self-declared Somali republic of Somaliland, most women over 25 have undergone the most extreme form of FGM, known as "pharaonic". This entails removal of the clitoris and the labia minora, cutting out flesh from the vulva and sewing up the outer labia, leaving only a tiny orifice for the passage of urine and menstrual flow.
The procedure is normally done with a razor blade when the girl is between 5 and 11 years old, and without any pain killers. They remain sewn up until marriage, at which point they are either opened up during sex -- causing pain and distress to both partners -- or cut open with scissors.
"I cut girls for 15 years. My grandmother and mother taught me how and it was a source of income for me -- but I stopped doing any cutting four years ago," recounted Amran Mahmood.
"I decided to stop because of the problems. The worst time was when I was cutting a girl and she started bleeding. I injected the muscle to stop the bleeding and I cleaned the area and she kept on bleeding."
As well as social status, being a so-called "cutter" brought in good money. Cutting one girl takes 30 minutes and brings in between $30 and $50, a large sum of money for Somaliland.
Amran's own daughter was cut, but she swears her granddaughters will not undergo the full procedure.
After attending awareness programmes organised by Tostan, an anti-FGM NGO financed by the UN children's agency UNICEF, Amran has become an anti-cutting advocate.
- 'Things are changing' -
The medical consequences of the stitching -- urine retention, blocking of menstrual flow, pain, bleeding, infection and childbirth complications -- have brought the practice into disrepute.
In the urban setting of Hargeysa at least, the generation who are adolescents today have largely abandoned it in favour of less extreme forms, which still involve the removal of the clitoris.
Their mothers, mindful of the pain they themselves have endured, support the change.
"Things are changing. There are now men willing to marry uncut girls," said village headman Mohamed Said Mohamed, a Muslim like most in Somalia, sporting a greying beard and a traditional sarong.
"I am totally against cutting. It is not accepted by our religion."
FGM is concentrated in some 29 countries in Africa and the Middle East, according to the World Health Organization which says cutting has no health benefits and brands the practice a violation of human rights. It says more than 125 million girls and women today have undergone the procedure, whose roots are a mix of cultural, social and supposedly religious factors.
The UN General Assembly adopted a resolution to eliminate FGM in December 2012.
At Sheikh Nuur primary school the girls sit on one side of the classroom in long beige skirts topped off by a black hijab, the boys on the other in beige trousers and white shirts.
"People are beginning to see how dangerous the extreme form is," said 14-year-old Sagal Abdulrahman, a slim, articulate and slightly solemn girl.
"The first type involved stitches, and is the painful one, because there are many times when the woman gives birth and has pain. And ? when she has her period, it causes pain. The second type is not that painful," said her classmate Asma Ibrahim Jibril.
"I'm very happy because my parents chose the less severe one, and I was very OK with that. And I won?t face the painful things that would come in the future," she said.
- Islamic jurisprudence -
For Charity Koronya, a UNICEF protection officer, all forms of FGM must be stopped.
"To me total abandonment is the key because even if it is just a small cut it is still a violation," she said, explaining that she herself comes from a Kenyan tribe that practices the clitoridectomy form of FGM.
She escaped the practice because her father, who travelled outside their home district for his work, refused it.
The issue of whether of whether Islamic law requires FGM is the subject of much discussion, with several clerics admitting they themselves are confused.
"Completely stopping FGM is not going to work in our country," Abu Hureyra, a local religious leader taking part in a roundtable said, "but we are in favour of stopping the extreme type."
"There are doctors who say cutting is good for a woman's health," insisted Mohamed Jama, an elder from Somaliland's religious affairs ministry.
"If you cut a woman you are killing her," countered a younger leader Rahman Yusuf.
Other clerics seemed puzzled, saying they had consulted experts in Islamic law in Saudi Arabia and Qatar only to receive contradictory responses.
For Koronya the mere fact that the practice is now being discussed in public was a victory.
"Initially it was difficult to discuss FGM in public. Today religious leaders, women's leaders talk about it and even talk about the link between FGM and sexuality," she said.
"Having public discussions about FGM is a big step forward."
Source: Copyright © 2014 AFP. All rights reserved.
-------------
Libya: Justice Minister Details Plan for Compensation to Rape Victims
By REUTERS
February 20, 2014
Women raped during the 2011 uprising that toppled Col. Muammar el-Qaddafi will be offered compensation, Libya's justice minister, Salah al-Marghani, said on Wednesday. Though an exact number of rapes was not available, the International Criminal Court has collected evidence that pro-Qaddafi forces used rape to spread fear among their opponents. Human rights activists have pushed for compensation, but victims are often ostracized in the conservative Muslim country, where discussion of the crime remains taboo. Mr. Marghani said that the women would be recognized as war victims, putting them on the same level as former rebel fighters requiring medical treatment. Benefits for other war victims may include medical care, havens and financial assistance.
http://www.nytimes.com/2014/02/20/world/africa/libya-justice-minister-details-plan-for-compensation-to-rape-victims.html
-------------
Nigerian government invests N3.2 billion on projects to address girl-child education
February 20, 2014
The government inaugurated a new school in Ebonyi.
The Federal Government on Saturday said it had invested N3.2 billion on projects aimed at addressing education imbalance, particularly girl-child education.
The Supervising Minister of Education, Nyesom Wike, said this during the inauguration of the Junior Girls' Secondary School Ikwo, Ebonyi.
The school was constructed by the Universal Basic Education Commission, UBEC, under the Girls' School Initiative in Nigeria.
Mr. Wike expressed Federal Government's commitment to reducing the number of out-of-school children.
According to him, 62 per cent of out-of-school children in Nigeria are girls.
He said that the government had approved the construction of 15 model schools for the girl-child in 13 states, including Ebonyi, to complement the efforts of states.
"The Girls' School Initiative is part of Federal Government's efforts to increase the enrolment, retention, completion and transition of the girl-child from primary to junior secondary school.
"This is to reduce drop-out and failure rate among students and also to achieve education for all and the Millennium Development Goals targets," he said.
He directed UBEC to construct a laboratory and an Information Communication Technology, ICT, centre in the school. He also commended the Ebonyi Government for facilitating the completion of the school.
Governor Martin Elechi of Ebonyi expressed satisfaction at the completion of the project in spite of challenges.
He commended the Federal Government for including the state among the beneficiaries.
"The Ebonyi Government pledges continued partnership with the Federal Government to enhance the quality of education.
"It has also approved the release of land for the construction of boys' vocational schools in the state," he said.
The governor charged the school's teachers and students to work hard to justify huge government investment.
Mr. Elechi renewed his appeal to UBEC to review the conditions for accessing funds for education projects.
The UBEC Executive Secretary, Dikko Suleiman, said that the commission had developed a set of guidelines for effective implementation of girl-child education that would be adaptable to each state's peculiarities.
"I, therefore, call on parents to give priority to the education of the girl-child to guarantee their future," he said.
The Ebonyi Commissioner for Education, Ndubisi Chibueze-Agbo, announced the release of N49 million for the purchase of basic facilities to ensure smooth take-off of the school.
Highlights of the occasion included goodwill messages from some education stakeholders, and cultural performances by various groups.
http://premiumtimesng.com/news/155230-nigerian-government-invests-n3-2-billion-projects-address-girl-child-education-others-wike.html
-------------
Sister, brother conquering seven world peaks
February 20, 2014
Islamabad—It was a unique diplomatic function. The diplomats gracing the occasion were not in pursuit of political diplomacy nor was economic or trade diplomacy the high mark. A new genre of diplomacy was at work. Two young Pakistanis, sister and brother are on world tour to conquer seven main peaks in various parts of the world.
Samina has conquered the highest peak of the world Mount Everest and three other peaks. Her brother Mirza has conquered three major peaks but not yet Mount Everest.
The two have resolved to complete the tally of seven as soon as possible.
Ambassador Rodolfo Martin Saravia of Argentine who is Dean Diplomatic Corps arranged a reception to honour the mountaineering icons, sister and brother. Ambassador Richard Olson of United States, Ambassador Cyrill Nunn of Germany, Swiss Ambassador and ambassadors of several other countries attended the reception. The Serena Hotel collaborated with the Argentine Embassy in holding of the reception.
Addressing the reception, Ambassador Saravia highly appreciated the spirit of two young Pakistani mountaineers.
He said adventure diplomacy would greatly contribute to promoting understanding and good will at world level. Samina and Mirza also addressed the reception. They said the main purpose of their adventure was to promote soft image of Pakistan.
http://pakobserver.net/detailnews.asp?id=234126
---------------
UIRL: https://www.newageislam.com/islam,-women-and-feminism/new-age-islam-news-bureau/brainwashed-british-girls-flock-to-syria-to-wed-wahhabi-terror-fanatics/d/35852