New Age Islam News Bureau
14 March 2014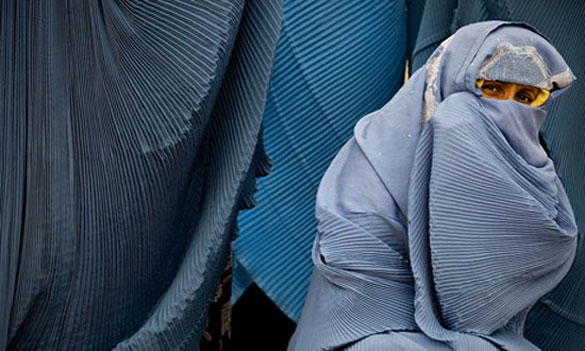 Franz-Michael Mellbin said the Afghan government had failed to prioritise women's rights. Photograph: Paula Bronstein/Getty Images
------------
• Syrian Women Face Abuse and Violence at Iraqi Refugee Camps
• 5 Inspired Women to Address Jeddah Forum
• Bangladesh Deputy Speaker for Ensuring Education for Girls
• Women Won't Be Allowed To Vote a Second Time for the Board of the Asharqia Chamber
• Pakistani Nurses Split Over Talks with Govt
• Time for Pakistan's Leaders to Stand Up For Women
• Khalida Brohi Gives Pakistani Women the Tools to Lead
• 'Signature' Celebration of Pakistani Women
• Demanding Release: Aafia Siddiqi's Sister Criticises K-P Government
• Afghanistan Still One of the Worst Places to Be a Woman, Says EU Ambassador
• Troop Withdrawals and Women's Rights in Afghanistan
• 170 Including 67 Women Held In Jleeb Crackdown
• HNPIP Sitting Stresses Education to Empower Women
Compiled by New Age Islam News Bureau
URL: https://www.newageislam.com/islam,-women-and-feminism/new-age-islam-news-bureau/book-on-women-driving-banned-at-riyadh-book-fair/d/56143
---------------
Book on Women Driving Banned At Riyadh Book Fair
March 14, 2014
RIYADH — Riyadh Book Fair organizing committee has banned Dubai-based Madark Publishing House from selling a book on women driving. "When will the Saudi woman drive a car?" by Abdullah Al-Alami has been banned for the second time since it was published. The writer received threats over the phone and on social media from opponents of women driving when he published the book the first time. The majority of women support him and the book, he said.
http://www.saudigazette.com.sa/index.cfm?method=home.regcon&contentid=20140314198577
------------
Syrian women face abuse and violence at Iraqi refugee camps
13.03.2014
In the camps in the Kurdistan region of Iraq, Syrian women fleeing violence in their native country live in fear.
Many young women are forced into marriage by their families where domestic abuse is common.
This 20-year-old woman who asked not to be identified – was forced to marry a relative.
"He decided to marry me off to my cousin by force. I stayed with him for a month. During that month, my life was equal to death," said Syrian refugee victim. "I was beaten up. I was slapped. I was lucky not to be killed."
The United Nations Development Programme in partnership with the Directorate of Combatting Violence Against Women is working in the camps to train Syrian women about their legal rights and provide pyscho-social counseling.
"It was very good initiation from UNDP and with the NGOs and our staff we could establish a good office there that enable us to support the refugees by providing legal and social services," said Sarkawtomer Ahmed, Director, Directorate of Combatting Violence Against Women, Kurdistan Regional Government.
Women who refuse to stay in the marriage are often threatened by their families.
"The cases that I have seen are those who are talking about forced marriage, yes they faced abuse when they refuse and disagree," said Shadman Ahmad, Development of Human Rights and Democracy. "The training that we have today is legal awareness training on Iraqi law particularly criminal law which identifies crime and punishment abuse."
Such was the case with this young woman who eventually ran away and found refuge in a shelter
"When I arrived here I was like a dead person. I was full of fear," said Syrian refugee victim. "The Department supported me a lot. I thank them for empowering me. They helped me overcome my fear."
The trauma of fleeing a brutal conflict and then facing more violence is almost too much to bear. But through UNDP support, women like her have a safe place to sleep at night and people to support them.
http://en.cihan.com.tr/news/Syrian-women-face-abuse-and-violence-at-Iraqi-refugee-camps_8649-CHMTM3ODY0OS80
------------
5 inspired women to address Jeddah forum
March 14, 2014
JEDDAH — Five inspired women in business and life are among the confirmed speakers for next week's Jeddah Economic Forum, the Chairman of the Board of Directors of the Jeddah Chamber of Commerce and Industry (JCCI) said on Thursday.
Speaking about the participation of women in this year's forum, Sheikh Saleh Kamel said: "Definitely, women will be on stage of this year's Jeddah Economic Forum."
Stressing that women represent half of society and the issue of unemployment not only for young people but also among young women, he said that unemployment is greater among women than among men.
"Having these highly accomplished women present at the forum will add value and insight to the proceedings and delegate experience," said Sheikh Saleh.
"The messages from these extremely powerful speakers of what women can accomplish in our industry and in the business world will be particularly relevant to our attendees, who are looking to learn from mentors, and advance and deepen their experiences in such issues," he added.
He noted that this year's event has a rich and diverse range of speakers representing a very broad range of the local and world's business perspectives.
The chamber of Commerce and Industry announced the names of the women taking part in this year's forum and they are:
Joanna Rees
Joanna Rees is managing director at Endeavor Catalyst LP and at Soda Rock Partners LLC. Rees, who founded San Francisco-based VSP Capital, ran for mayor of the city in 2011. She has served on the boards of more than 25 venture-backed companies.
Stephanie Fahey
Stephanie is Deputy Chair of the Australia China Council and is Vice-President of the European Australia Business Council. Stephanie has served on various government and private sector boards including the Australia East Timor Business Council, the Foreign Affairs Council, the Australia Korea Foundation, a subcommittee of PMSEIC, NSW Asia Business Advisory Council, Australian PECC and AusCSCAP. She has an impressive track record in university transformation, both domestically and internationally. Her extensive international experience equips her to bring a global best practice perspective to performance improvement in the education and research sector.
Prior to joining EY Stephanie was the Deputy Vice Chancellor (Global Engagement) at Monash University in Melbourne for seven years. She was responsible for setting the international strategy for the university in research and education, negotiating contracts with international partners and establishing and managing the university's international campuses. In addition under this portfolio, she led the marketing and student recruitment teams. This work involved restructuring the marketing and student recruitment capacity of the university, managing the university's branding, web presence, advertising, media, domestic and international recruitment and load planning.
During her tenure, Monash was awarded Victorian Exporter of the Year in 2010 (the only university to achieve this honor).
In addition to her management expertise, Stephanie has over 20 years of experience in teaching and research at a university level including design, delivery and evaluation of courses at the undergraduate, masters and PhD levels.
Stephanie taught research methods and also supervised masters and PhD students at the University of Sydney and Victoria University. Her research led to the publication of some six books, 16 major reports, 20 journal articles/book chapters and the delivery of over 50 conference papers. In the course of her work as an academic, Stephanie's innovative approach to funding secured grants from a broad range of sources including public sector agencies, the corporate sector, multilateral aid agencies and international philanthropic organizations.
Sumaira Isaacs
Sumaira Isaacs is COO of MCI Global (IMEA). A creative juggernaut who has weaved her magic in everything that she has explored, from glamor to travel from arts to events. She has excelled in all. Presenting the woman of substance, she is dynamic, practical, lovable.
With a mission to deliver the best and a passion to outshine the rest, this vibrant personality with her sheer perseverance and hard work has scaled the ladder of success to become a robust business power woman.
For one who started off with humble beginnings of a simple ticketing supervisor, she propelled herself to be general manager of Net Tours and managed Tourism Operating Company. She moved strength by strength, taking on Arabian adventures management for Emirates Airlines leading a team of over 40 employees, within an organization of over 400 staff.
Sumaira let her artistic juices flow along the way with Kenza Art Gallery. A resident artist and a gallery director she owns this vibrant art arcade. From being responsible for all the strategic management, planning, positioning of the Art Gallery and its business, she ensures that it maintains a key position within the local art scene.
Presently she is the backbone of MCI in this region, as COO for IMEA (India, Middle East, Africa) of a business that was started from scratch. In partnership, it has now turned into a local success story. Sumaira has been responsible for the Strategic management and leading a team of over 90 fulltime staff spread over Dubai, India and Canada, monitoring the day-to-day operations, business development, and bottomline results of the company. MCI is one of the reputable conference and meetings organizer in the world.
With so many feathers on her cap, this go-getter entrepreneur still feels that there are more dreams to achieve and more goals to attain.
Dalia Schipper
Dr. Schipper is the Director of the Swiss Federal Institute of Vocational Education and Training (SFIVET), the Swiss governmental center of competence for the provision of tertiary-level basic and continuing training to VET actors, for the development of professions and for VET research. SFIVET contributes accordingly to the development of the successful and internationally recognized dual-track VET system in Switzerland.
Dr. Schipper has worked in leadership positions across areas of education and VET for two decades. She graduated in Education Science from University of Berne and followed up with doctoral studies at University of Zurich. Since then, she has spent many years in the Department of Education in the Canton of Berne, among others as Head of Universities of Applied Sciences Division. Later she headed the Continuing Training Division at Swiss Federal Institute of VET (SFIVET) where she was appointed Director in 2007. Dr. Lama Al-Sulaiman, board member of the Jeddah Economic Forum and the Rolaco Holdings, was listed in the forum's website to be among the speakers.— SG
http://www.saudigazette.com.sa/index.cfm?method=home.regcon&contentid=20140314198608
------------
Bangladesh Deputy Speaker For Ensuring Education For Girls
March 14, 2014
Deputy Speaker of the National Parliament Advocate Fazle Rabbi Miah has stressed the need for ensuring education for all the girls in order to build an "enlightened nation."
"As half of the country's total populations are women, it is quite impossible to push forward the country towards desired development without their uplift," he said.
The local lawmaker made the statement while addressing a function on foundation laying programme of a four-storied academic building of Udalkhali Girls' High School in the district around 11 am on Friday.
He said: "Only education can help make the girls students worthy citizens of the country and build them self dependent economically in a bid to poverty and hunger free society."
Education Engineering Department was constructing building at the cost of TK 61.11 lakh while government of Bangladesh was providing the fund, said Jahidul Bari, an assistant engineer of the department.
Talking to the Dhaka Tribune, executive engineer Arun Kumar Singh said the construction work of the building was expected to be completed by this December.
http://www.dhakatribune.com/bangladesh/2014/mar/14/deputy-speaker-ensuring-education-girls
------------
Women Won't Be Allowed To Vote a Second Time for the Board of the Asharqia Chamber
14 March 2014
Women will not be given a second chance to vote for the new board of the Asharqia Chamber, the body's election committee said.
This comes in the wake of a poor turnout of women on Sunday, the day allocated for them to cast their ballots in Jubail, Dammam and Abqaiq.
The voting for the 17th board of the chamber ended Thursday.
"All women members had the chance to vote for a whole day. Only 80 women used their right to vote out of 4,000 members registered with the Eastern Province chamber," the committee said in a statement quoted by local media.
Yaha Azzan, chairman of the electoral committee, said women had voted at other branches when only a few men turned up. "It is extremely difficult for women to vote in Dammam center or at the Dhahran International Exhibition Center," he said.
"The day allocated for women ended in less than 30 minutes. We had expected large numbers of women to show up," he said.
He said the Dammam election center handled more than 1,500 voters. This figure would grow to about 3,000 by the end of the elections.
"Qatif electoral center received 700 voters, Jubail 500, Ras Tanura 400, Khafji 180, Abqaiq 130, and Nairiyah 90 voters," said Azzan.
He said the elections had gone smoothly. One thousand voters turned up in the first two hours after the voting opened, he said.
The Dammam and Dhahran electoral centers received large numbers of voters during the first few hours, with fewer people coming after Asr prayers, he said.
The process was characterized by voters arriving in groups to vote for certain candidates. Some turned up in luxury cars and others in buses.
It appeared that most of the groups came out to support five candidates, and that voting took place along tribal lines.
Several candidates claimed that some people were buying votes for a few contenders.
Voters were asked to swear on the Holy Qur'an that they would vote for certain candidates, it was claimed.
Some voters claimed that they were offered money to support some candidates, including having their membership fees paid. Some said they voted for those who paid the most.
Abdulrahman Al-Rashid, former chairman of the chamber, said all businesspeople and the chamber's members should not get involved in these activities.
Al-Rashid said the Asharqia elections were one of the most organized and well attended in the country.
He conceded that there was a poor chance of women making it onto the board, but said this would change in future because more women were now getting involved in business.
He said the chamber would appoint women if the Ministry of Commerce and Industry demands it. However, there was no communication between the ministry and the chamber on this issue.
Earlier this week, several businesswomen urged the ministry to institute a quota for women on the Asharqia board.
Meanwhile, more than 25 foreign investors voted in the elections after the Commerce Ministry gave them clearance to do so.
http://www.arabnews.com/news/539951
------------
Pakistani Nurses Split Over Talks with Govt
March 13, 2014
LAHORE: The Young Nurses' Association (YNA) has developed a split over whether or not to negotiate with the Health Department.
On Wednesday, a group of YNA members announced they were ending their protest sit-in after receiving an assurance from the Health Department that ad hoc nurses would be welcome to re-join work.
Many nurses working on contracts, however, refused to accept the negotiations and said they would not end the sit-in until a notification was issued in that regard.
YNA President Rozeena Manzoor said the department had agreed to accept their demands.
"We are getting threats from the hospital administrations and the YNA to call off the protest but we will not end it.
We have nominated our own representatives," said Madeeha, a nurse from Children's Hospital.
On Wednesday, the third day of the sit-in, a number of nurses who had served on ad hoc basis and had been terminated continued their protest.
"These nurses have no connection with the YNA.
They don't even know that it is mentioned in their appointment orders.
They can be regularised only by the Punjab Public Service Commission," said YNA President Rozeena Manzoor. The protests will enter the fourth day on Thursday if the split continues.
Published in The Express Tribune, March 13th, 2014.
http://tribune.com.pk/story/682144/protests-nurses-split-over-talks-with-govt/
------------
Time for Pakistan's leaders to stand up for women
By Farahnaz Ispahani
March 14, 2014
Editor's note: Farahnaz Ispahani, a former member of Pakistan's parliament, is currently a Public Policy Scholar at the Woodrow Wilson Center in Washington DC. The views expressed are the writer's own.
International Women's Day, being marked Saturday, is as good a time as any not just to celebrate how much progress has been made, but also how much farther there is to go on the road toward guaranteeing women's rights. Sadly, for women in at least one country, the journey is getting increasingly arduous.
For decades, the status and rights of women in Pakistan have been a casualty of concessions made by the state to those clamoring for what they describe as Islamic rule. But with the Taliban's call for the imposition of Sharia law during current peace talks between the Tehreek-e-Taliban Pakistan (TTP) and the Pakistani government, there are growing concerns that women's freedoms will be further eroded.
The reality is that Pakistan's women have no real voice in the government's talks with the Taliban – not only is there a lack of representation on the government's negotiating team, but negotiators from both sides represent a similar conservative religious viewpoint. And despite some changes in the negotiating procedure, and the men who will negotiate, the government remains committed to working with the Taliban instead of fighting them."
As we have seen in numerous conflict zones over the centuries, women's participation in negotiations increases the chance of humanitarian concerns being at the center of the negotiating process. Without their involvement in the peace and security process, their voices and rights – as well as those of minorities – are generally ignored.
It is ironic that the country that gave the Muslim world its first female prime minister is today held hostage by reactionary ideologues and their appeasers. The late Benazir Bhutto was murdered for taking a stand against extremist forces, while young Malala Yousafzai was attacked on a bus by extremists for having the courage to challenge the Taliban's writ against female education. But those leading Pakistan today sadly lack the will and the strength displayed by these two women to defend Pakistan against the forces of barbarism.
The Pakistani Taliban has officially existed since 2002 and, although comprised of disparate groups, its members share the worldview of the Afghan Taliban, which ruled most of Afghanistan during the late 1990s. And the Taliban's misogyny is well known – it imposed a violent and narrow view of religion in a way that resulted in great suffering among Afghan women, children and religious and ethnic minorities.
Unfortunately, there is no indication that the Pakistani Taliban is any different.
When the TTP secured control of the Swat Valley in 2008-2009, its rule was as brutal as that of Mullah Omar's Afghan gangs a few years earlier. Women were forced to stay at home. Female children were denied schooling. Public lashings of women took place – for perceived infidelities or sometimes just stepping out of their homes. Pakistani women, including those from the tribal areas, deserve better than to have to live in such a barbaric culture.
Fast forward to today, and the Taliban's refusal to accept Pakistan's constitution is a complete repudiation of the Pakistan that was envisaged by the country's founder, Quaid-e- Azam Muhammad Ali Jinnah. Since the Objectives resolution, passed by Pakistan's Constituent Assembly in 1949, successive Pakistani governments have gradually ceded ground to Islamists, hoping each time that the latest concession would hold extremism at bay. That strategy, if it can be called such a thing, has resulted in anti-women Hudood ordinances and anti-minority blasphemy laws.
Already, around two-thirds of Pakistan's women are illiterate, while around 1,000 women and girls are victims of "honor killings" each year, according to Pakistan's Human Rights Commission. Previous estimates have suggested between 70 and 90 percent of women in Pakistan have faced domestic violence.
The picture is no better economically – the World Economic Forum's latest Global Gender Gap Report ranked Pakistan 135th in the world in terms of gender equality, and it has previously cited physical and sexual violence, honor killings, forced marriages and structural inequalities within society as factors responsible for the abysmally low ranking.
The Taliban's version of Sharia will diminish women's education opportunities while increasing violence against women, violence that is justified in the name of religion. On International Women's Day, I urge Pakistanis to consider the disastrous consequences for the country's women of appeasing the Taliban before the country turns down a road from which it won't be able to return.
http://globalpublicsquare.blogs.cnn.com/2014/03/07/time-for-pakistans-leaders-to-stand-up-for-women/
------------
Khalida Brohi Gives Pakistani Women the Tools to Lead
MAR 12, 2014
BY ANA CECILIA ALVAREZ
Khalida Brohi isn't afraid to risk her life for her activism. On the contrary: "Not doing this work would kill me. Doing this work would keep me alive," she said at the 2013 Women in the World Summit, where she was part of a panel called "The New Malalas"—Pakistani women whose fearless activism "can only be stopped with a bullet."
After losing a friend to an honor killing in her Pakistani village, 16-year-old Brohi founded Sughar Empowerment Society, a non-profit that equips rural Pakistani women with the skills and resources necessary for economic and personal growth. ("Sughar" translates as "skilled and confident woman"—the very role Brohi herself embodies.) The organization educates women from 23 villages in a six-month class where they learn how to use their embroidery skills to create fashionable products and sustain a small company. Graduates also receive small loans to help kick-start their ventures.
Brohi's work with Sughar earned her a spot on Forbes 30 under 30 list of social entrepreneurs, and she is also the subject of a forthcoming documentary by filmmaker Sharmeen Obaid Chinoy.
At last fall's Clinton Global Initiative, Brohi gave the audience an inkling of the heritage and family support that sustains her work when she quoted her father's empowering advice: "My dear," he told a young Brohi, "don't cry, strategize."
Tune in to hear Brohi talk about her activism when she joins Women in the World in Los Angeles on Friday, March 14 at 3:45 p.m. EST/12:45 p.m. PST on The Daily Beast.
http://www.thedailybeast.com/witw/articles/2014/03/12/khalida-brohi-gives-pakistani-women-the-tools-to-lead.html
------------
'Signature' Celebration Of Pakistani Women
By Maryam Usman
March 14, 2014
ISLAMABAD: In a sustained gesture to celebrate Pakistani women, an exhibition showcasing paintings and prints by seven artists opened at Nomad Gallery on Thursday. Titled "Signature", the collection features assorted artworks of Samina Ali, Tayyaba Aziz, Abrar Ahmad, Samreen Asif, Zarah David, Anjum Ayub and Iram Wani.
On the side, the exhibition also includes Karachi-based designer Mahin Hussain's collection of accessories inspired by Parveen Shakir's poetry. Titled "Get drenched", the series bears the translated verse "Listen girl, these moments are clouds; you let them pass and they've gone. Soak up their moist. Get drenched" while a portrait of the late poet has been collagraphed by artist Rabeya Jalil. Emanating a desi-meets-vintage feel, the accessories include handbags, scarves and tees.
Meanwhile, the canvases coloured with paint or print leave their imprint on the viewer.
With her current showcase, Samina Ali has stepped up her practice of merging history with aesthetic contemporary imagery. Her pieces reflect unique elements on a juxtaposed surface of woodcut, calligraphy, natural dyes, stains, gold and silver leaf with powerful compositions and fine details. Ali, who has earned an MFA with distinction from Punjab University, has exhibited numerous solos and group shows at home and abroad.
In her artist's statement, Tayabba Aziz describes herself as an analytical cubist. Her work is figurative, abstract cubism, oils on canvas. Her palette blends metallic bronze with fresh yellow and orange, dominated by sea green.
Taking a geometrical approach in her work, she uses fragments, portioning and segments to reveal the sides and angles of objects all at the same time. She experiments with analytical cubism by detaching it from monochromatic expression to bring more life to it.
Abrar Ahmed, a celebrated artist from Karachi, maintains his skilful, fine lines, spontaneous strokes and solid colour. He prefers to paint women, often adorned with jewellery in an attempt to show dissatisfaction, a contrast to their apparent opulence. Abrar's work carries a world within, stirring a reflection of Gandhara-esque images, pictures miniature paintings and Bengali art. He has exhibited within the country as well as the Middle East and the US.
Iram Wani elicits her artwork from a dialogue between the conditioned and unconditioned self. Emotion runs deep as the artist expresses her themes using a bold palette. Wani is a printmaker with a BFA from NCA, Lahore. She is a lecturer at the National Council of the Arts (NCA), Rawalpindi and has participated in many group and solo exhibitions
Zarah David, the daughter of iconic Polish-Pakistani artist Anna Molka Ahmed and married to a master painter, Colin David, belongs to an artists' clan. Her artwork reflects upon her feelings, not only about herself, but also the world around her. Fascinated by the idea of reunion, her work shows a deep longing to be reunited with her mother and husband in the hereafter. From the monochrome pieces of art to the vibrant ones, there is a unique quality in her work.
The exhibition will continue until March 31.
Published in The Express Tribune, March 14th, 2014.
http://tribune.com.pk/story/682593/art-signature-celebration-of-pakistani-women/
------------
Demanding release: Aafia Siddiqi's sister criticises K-P government
March 13, 201
PESHAWAR: Fauzia Siddiqi, who is campaigning for the release of her sister Dr Aafia Siddiqi from a United States prison, said the Pakistan Tehreek-e-Insaf-led government is yet to take any action for Aafia's release despite many promises.
Addressing a news conference on Wednesday at the Peshawar Press Club alongside American human rights activist Muria Salakhan, Fauzia said that she met with Khyber-Pakhtunkhwa (K-P) Chief Minister Pervez Khattak and the K-P Assembly Speaker around eight months ago and they assured her that a resolution demanding the release of her sister will be passed.
However, she added, nothing has been done since then. Fauzia claimed she has been visiting all the cities of the country to raise the issue. Earlier, Fauzia and Salakhan marched from Hashtnagri Chowk to the press club in protest.
Published in The Express Tribune, March 13th, 2014.
http://tribune.com.pk/story/682086/demanding-release-aafia-siddiqis-sister-criticises-k-p-government/
------------
Afghanistan still one of the worst places to be a woman, says EU ambassador
7 March 2014
President Hamid Karzai's government has let down Afghan women, according to the new EU ambassador to Kabul, who singled out the failure to end prosecution of rape victims and other abused women for "moral crimes" as a particular "disgrace".
Franz-Michael Mellbin said that despite huge practical improvements in areas from maternal mortality to the number of girls in schools, Afghanistan was still one of the worst places to be a woman and a frontline in the global battle for women's rights.
Mellbin, who previously served in Afghanistan as the Danish envoy, declined to criticise Karzai directly but said the government overall had failed in its responsibilities to be a voice for women's rights, as conservatives opposed to women having any role outside the home gathered strength.
"We cannot be satisfied with what has been done. Right now what I feel is unfortunately very much lacking is that the government is not showing a sense of priority and urgency that we'd like to see," he told the Guardian in an interview to mark International Women's Day.
"What we are lacking is a strong official voice to counter those reactionary voices … this makes it very difficult to fight for progress. We look in vain for strong government policy."
Karzai has always described himself as a supporter of women's rights, but recently there has been heavy pressure on the fragile gains made after the Taliban's fall from power.
Last year a landmark law to prevent violence against women was pushed out of parliament, the quota of seats for women on provincial councils was cut, and a proposal to reintroduce stoning as a punishment for adultery – used more against women than men – put forward by the justice ministry.
Earlier this year, parliament passed a law that gagged victims of domestic violence by preventing relatives testifying against each other, although it was later modified on Karzai's orders.
Many women believe this is happening because political interest in Afghanistan is fading in the west as troops head home. They fear that with the complete departure of foreign forces this year, conservatives will chip away faster at their rights or simply use them as a bargaining chip in peace talks with the Taliban.
"I understand why Afghan women are very worried about the future, and they are, they constantly raise this issue with me," Mellbin said, adding that he was inspired by Afghan women's determination to seize every opportunity made available to them.
"All over Afghanistan women today are 'first movers'. Some will be the first woman in their family to go to school, others to open a business or take public office. There is a tremendous awareness among Afghan women that they are trail-blazing for the next generation, for their daughters."
He plans to make women's rights a priority during his time in Kabul, as part of the EU's "value-driven foreign policy", at least until he sees a government more focused on protecting and expanding gains so far.
"I do not subscribe to the view that silence is an option," Mellbin said. "We need to be more ambitious. Our agenda has to be continued progress, continued advancement."
The ambassador said the campaign for the presidential election on 5 April was encouraging, with all the leading candidates to replace Karzai, who cannot stand again, pitching themselves as modernising nationalists.
"We're trying to prepare a list of issues that we would like to raise with the new government with regard to women's rights as soon as it comes into power," he said.
He plans to push for an end to the trial of women for "moral crimes", which are mostly violations of social norms, such as running away from a forced or abusive marriage. Rape victims have also been jailed for having sex outside marriage.
"[The prosecution of] moral crimes is something that is a scourge for women in Afghanistan, it means that girls and women who are victims … are further victimised by the state," he said. "Its a disgrace for any country to have such an institution."
Activists are likely to welcome Mellbin's stance, after strong criticism of western nations that fund the Afghan government but have often seemed unwilling to speak out on women's rights.
"Over the past year, through an escalating series of serious attacks on women's rights, the response from donors has largely been a deafening silence," said Heather Barr, Afghanistan researcher for Human Rights Watch.
"No government as dependent on foreign aid as this one has the luxury of not caring what donors think. Donors need to speak out quickly and forcefully every time there is an attack on women's rights. When they fail to do so it just makes it look like they don't care."
http://www.theguardian.com/world/2014/mar/07/hamid-karzai-afghanistan-women-eu-mellbin
------------
Troop withdrawals and women's rights in Afghanistan
13 March 2014
Military withdrawal and the departure of international forces have been framed as a nightmare scenario for women's rights by different groups inside and outside Afghanistan. However, the ironic fact about the much vaunted withdrawal is that so far, at least, there is no concrete proposal that operationalises a scenario of full withdrawal by 2014 - or what is known as the "zero option". The "zero option" is repeatedly deployed as a form of pressure or implied threat to the government of Afghanistan to facilitate the signing of the bilateral strategic agreement (BSA). The telephone conversation between Obama and Karzai on February 25th 2014 is not an exception in this context. As events have developed, NATO representatives have met and in a carefully diplomatic fashion have stated: "Today we agreed the need to plan for all possible outcomes including the possibility that we may not be able to deploy to Afghanistan after 2014 due to the persistent delays we have seen". What is happening, I believe, is more closely related to the political bargaining over matters that concern the future of the government of Afghanistan, the role of president Karzai versus that of internationals in fashioning the upcoming presidential elections, and mediating a "peace process" or bringing the Taliban into direct contact as well as negotiations with the government.
What is really at stake is a change in the mode of relations between Afghanistan's government and its international donors, although it must be noted that even such change is not expected to be dramatically transformative. In other words, now that the troops' surge is over, there are possibilities that special forces operations will be limited, and more importantly, that the intense funding that flooded into Afghanistan - particularly during the surge years (2009-2012) - is going to decrease. And it is this decrease in funding flows, rather than the presence or absence of international personnel in uniform per se, that will have an important impact on Afghanistan's future, and how the systems and institutions that have been created in the context of acute donor dependency will survive once the funding flow dries up or diminishes.
The way things are developing in domestic politics point to an increasing level of continuity with what is already in place, at least concerning the government and its commitments about what it will deliver to its people as the country transitions to a new presidency after the April 2014 elections. This continuity means that while there is a possibility of less eventual international engagement and support for women's rights, the newly elected government will continue to have a mixed position, supporting some and resisting other aspects of women's full inclusion in different public spheres. For instance, the government's efforts focusing on service delivery in the fields of education, health and access to justice will continue, while it is possible that Afghan women will face a backlash and resistance to further advances in their political decision-making roles. This is mainly because women's public role and their presence in decision-making have been symbolic - and driven primarily by the international donors, or by government initiatives to please international supporters. Given the acute donor dependency of these efforts, as funding levels decline this will affect every aspect of these struggles in the years to come. Having said that, one cannot ignore the fact that a momentum has been created that brought women into the public sphere. In other words, while "donor-driven activism" might have provided a push, Afghan women from grass-roots organisations, and those working as civil servants across the country, have become active and more conscious of the importance of their presence in the public sphere. An example of this can be found in the case of Laghman province's women's affairs directorate position that did not remain vacant even after the second director's assassination. Although the dangers of women's civic and political rights remaining symbolic persist, the impact of sustained international interventions - despite all their problems - cannot be simply ignored. The notion that things will regress to the situation of the late 1990s is impossible.
Afghanistan's commitment towards women's rights, and ensuring that the advancement of Afghan women in different fields can be sustained, will continue to be important sources of concern for the coming years, as will anxiety that the future leadership might compromise women's rights for the sake of political deals with conservative forces inside or outside the government. With the support of international donors, and under pressure from civil society and the media, the current government has managed (despite challenges) to make some improvements in different political, social and economic fields. However, there are serious concerns over the lack of balance between what the vast majority of women who live in rural areas are gaining from these achievements, and what the smaller numbers of urban-based women who are closer to the centre get. Although Afghanistan's rural women have manifested a strong level of agency, neither they nor the programmes and projects that were implemented such as National Solidarity Program (NSP) in their communities, have encouraged them to transcend their socially prescribed gender roles. This is mainly because Afghan women have learnt lessons from the past experience of the People's Democratic Party of Afghanistan's ( PDPA) radical approaches to changing society. A now prevalent approach by women, particularly in the rural context, has been to pursue gradual and moderate change rather than a radical transformation. Hence, while women are active and working, they continue their own ways of resistance under a strongly patriarchal system of norms and rules.
The parliament of Afghanistan on the other hand, has a mounting record of rejecting laws and bills that support women rights. It rejected the Elimination of Violence Against Women's Law (EVAW) in 2009 and in 2013. It resisted the idea of gendered budgeting when some of female MPs raised the question of how national budgeting would affect women across sectors. It has been locked in controversy over the issue of protection of women's shelters, calling them centres for immorality. Although part of the resistance by highly influential conservative members of parliament has to do with a dominant mentality in Afghan society that takes the subordination of women for granted, another part is mainly to do with the politics of relations between the president and the parliament. In other words, there is ongoing bargaining between the legislative and executive branches of government when ministers appointed by the president are not approved by the parliament, and when parliament uses its power to block laws intended to protect women that come to them through the Ministry of Justice. The question of women's rights serves as a bargaining chip in these cases, establishing their respective legitimising agendas. Although the conservative MPs may not establish clear technical grounds for their refusal, they resort to invoking a particular version of Islamic interpretation to "prove" how "un-Islamic" these laws or bills or mechanisms are. Given that not all members of the parliament are well-informed and competent on the technical aspects of the laws, they follow the verdicts of the so -called "scholar" or the man whose appearance is more "Islamic", rather than hearing the voices of women or other MPs.
The overall effects of donor assistance on women's rights in Afghanistan have been quite problematic. At the heart of the problem is an interventionist approach, where not only the funding but the soft-ware aspects of the planning are normative, and applied in a cut-and-paste fashion - overlooking the demands of the context in which they are applied. One example of such an approach is the facile assumption that has influenced international perceptions, namely portraying the Taliban as the sole enemy of women's rights in Afghanistan.
It has been proven repeatedly over the past decade that there are other conservative forces within the system who cannot tolerate the active presence of women in any sector. The parliamentarian blockage of EVAW law, and the anti-safe house reactions by Ministry of Justice and other government officials are examples of this. Most of the programmes and projects put in place have somehow ignored this reality, and have fallen into the trap of not seeing the enormous challenge that women's rights defenders and activists are facing, not only by being targeted, threatened or humiliated by the Taliban, but also by other forces who appear modern - being clean-shaven and in suits and ties - and who occupy seats in Afghanistan's parliament or other government positions. These men are as conservative as those whose appearance automatically singles them out as conservative and misogynist. This also suggests that a critical lesson could be learnt from the past decade: that it is necessary to address the mentality underlying the subordination of women as key to discrimination, rather than just accepting at face value the superficial jargon that some use to claim the extent of their "respect" for women's rights. The fact that gender equality was turned into a political slogan by the international donors and was used as justification for military intervention, meant that Afghan women on the ground were given less opportunity to take an active part in the formulation, design and implementation of the programmes, and the gap was filled by those who might have had "technical" expertise in the field of gender, but lacked familiarity with the local context and its dynamics.
In sum, it is hugely problematic to connect the status of women's rights to the presence or absence of international security forces in Afghanistan. Such an assumption or understanding is tantamount to believing that the troops were here to 'liberate' Afghan women, which was certainly not the case. It can also be argued that the subordination of women and their discrimination is not the monopoly of one group who led Afghanistan between 1996-2001, such as the Taliban. It goes well beyond that since there are conservative forces within the current system who over the past decade have continued to jeopardize women's rights in the fields of legal reform, political participation and across governance sectors. As we move on to the next phase, while a real "zero option" is not so far seriously part of the agenda, the decrease of funding levels and political commitment by the international community certainly is. The question remains as to whether the main slogans such as "reform and continuity"; "moderation and equality", "reform and convergence" of the leading presidential contenders, carrying messages of continuity and preservation and protection of the achievements of the past decade, will go beyond empty promises. This will be crucial not only to sustain these achievements, but also to take corrective action by addressing past failures. This can only be achieved by opening new spaces for Afghan women, as well as men, working for women's rights, to come together and take stock of the lessons learnt in order to ensure that the next phase is more inclusive of women across the country, in rural and urban areas, than it has been for the past decade.
http://www.opendemocracy.net/5050/orzala-ashraf-nemat/troop-withdrawals-and-women%E2%80%99s-rights-in-afghanistan
------------
170 Including 67 Women Held In Jleeb Crackdown
14/03/2014
KUWAIT CITY, March 12: Officers from General Immigration Department and Private Security Forces arrested 170 individuals including 67 women during a security campaign on Tuesday in Jleeb Al- Shuyoukh area. According to security sources, the campaign was held based on the guidance from the Undersecretary of Ministry of Interior Lt General Sulaiman Al-Fahad and other highranking officials.
Among the arrested individuals, many were violators of the residency law, some were wanted by law, some were reported as absconding, some violated the labor law while others were marginal workers and domestic workers of Article 20 visa.
They were referred to the concerned authorities for necessary legal action against them. Media Security Department affirmed that such surprise campaigns will continue in all governorates to arrest the violators of residency law.
http://www.arabtimesonline.com/NewsDetails/tabid/96/smid/414/ArticleID/204407/reftab/73/t/170-including-67-women-held-in-Jleeb-crackdown/Default.aspx
------------
HNPIP sitting stresses education to empower women
March 14, 2014
JAVED IQBAL 0
LAHORE - The speakers at Hameed Nizami Press Institute of Pakistan (HNPIP) have said that education is an essential means to empower women with knowledge, self-confidence and earning capacities so that they could produce a bright generation.
They were speaking at an HNPIP seminar entitled 'Status of Women-Issues of Economic Empowerment' Thursday.
Justice (r) Fakhrun Nisa Khokhar presided over while PU ICS Director Dr Nousheena Saleem was the chief guest. Speakers included Dr Rashida Quraishi and Working Women Organization Director Aima Mehmood. HNPIP Director Absar Abdul Ali was the moderator.
They said that like other parts of the world, the women empowerment issue exists in Pakistan as well. They emphasized that women needed to recognize their own potential besides overcoming the barriers they had been facing since long.
Fakharun Nisa criticized the antique customs and trends of the society that discouraged women education even the status she could have enjoyed otherwise. She could not be elevated as Chief Justice of the Lahore High Court, she regretted despite she the senior most judge of the court. Citing Malika Saba, a queen, she said that women could be a ruler as well and play a constructive role in every walk of life. She also recalled her efforts for women empowerment legislation.
Dr Noushina Saleem said that sustainable development is only possible when men and women enjoy equal opportunities. It was feared, she said, that the educated ladies would challenge male chauvinism. Quoting the Holy Quran, she said, it emphasized education of men and women. Education is the only factor that could bring constructive changes in the society, the ICS director highlighted.
Dr Rashida Quraishi said that as the women were not empowered enough because they were less qualified than men. The only reason for such state, she said, was the concept that the women were not supposed to earn their livelihood. She said that only education adorned women could survive in the rainy days. Why a part of women population was not allowed to cast their votes in northern areas. She said 52 percent of women as per a UNDP report, would play a pivotal role in elections. If educated and empowered, the women she stressed, would make the country a prosperous one.
Aima Mehmood said that the women should not surrender their due rights in property etc otherwise they would not be able to stand high in the social arena. She also highlighted issues relating to the professional development of women.
http://www.nation.com.pk/lahore/14-Mar-2014/hnpip-sitting-stresses-education-to-empower-women
------------
URL: https://www.newageislam.com/islam,-women-and-feminism/new-age-islam-news-bureau/book-on-women-driving-banned-at-riyadh-book-fair/d/56143