New Age Islam News Bureau
16 Apr 2014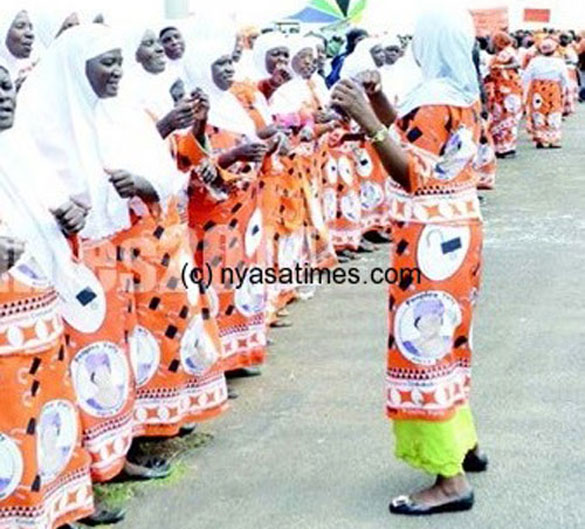 Muslim women in Hijab wear ruling PP cloths
------------
• Two Egyptian Female Teachers Suspended For Ordering 120 Female Students to Strip
• Israeli Teenagers Risk Being Sent To Prison by Refusing To Join the Army
• Women's Abusers in Saudi Arabia to Pay up To SR50, 000 In Damages
• After Prank by Dutch Girl on Twitter, Real Trouble
• Women's Media Group Names Courage Award after AP Photographer Anja Niedringhaus
• Veiled Muslim Dancers Spark Ire in Malawi
• Female MP Injured Following an Attack By A Member Of Afghan Security Forces: Moi
• Malaysia: Indira Can Turn To Shariah Court to Get Justice, Lawyer Tells High Court
• Business World's Help against Domestic Violence Sought
Compiled by New Age Islam News Bureau
URL: https://newageislam.com/islam-women-feminism/boko-haram-kidnaps-200-girls/d/66583
----------
Boko Haram Kidnaps 200 Girls from Borno State School
April 16, 2014
Members of the Boko Haram Islamist terrorist group have allegedly kidnapped at least 200 girls from a school in northeastern Nigeria's Borno state, according to reports.
Parents of the girls told the BBC that attackers arrived at the school in Chibok and forced the teenagers at gunpoint on to four lorries.
Boko Haram, which has been conducting an armed campaign to establish an Islamic state in northern Nigeria, is also thought to be responsible for a series of attacks that left at least 120 civilians dead last week.
The group, whose name translates as "Western education is sinful", had attacked a teacher training college in Dikwa, Borno state. Five people were killed and an unsp[ecified number of women kidnapped before the assailants burnt down the library and fled.
Amnesty International estimated that 1,500 civilians had died since the beginning of the year in Boko Haram assaults but the group blamed the Nigerian army for many of the deaths. After a Boko Haram attack in March, troops army killed 600 people in Maiduguri, Amnesty said.
Boko Haram is behind several massacres in the area. Nigeria's own relief agency estimated that 250,000 people had fled their homes because of fighting in the region.
http://www.ibtimes.co.uk/nigeria-boko-haram-kidnaps-200-girls-borno-state-school-1444938
----------
Two Egyptian Female Teachers Suspended For Ordering 120 Female Students To Strip
April 16, 2014
The spokesman for Egypt's education ministry has called an incident in which 120 female students were forced by two teachers to strip off their clothes as "sad and immoral," the daily Arabic newspaper Al-Shorouk reported on Sunday.
During a phone interview with host Sherif Amer on TV channel MBC Masr, ministry spokesman Ahmed Helmy said that the two female teachers had made the girls take off their clothes so that they could search for LE40 that had been stolen.
The spokesman said that the governor of the Upper Egyptian city of Beni Suef, where the incident took place, had decided to suspend the teachers from work and launch an investigation into the incident.
"The necessary measures will be taken against them, pending the results of the investigation," Helmy said.
http://english.ahram.org.eg/NewsContent/1/64/99042/Egypt/Politics-/Two-Egyptian-teachers-suspended-for-ordering--stud.aspx
----------
Israeli teenagers risk being sent to prison by refusing to join the army
April 16, 2014
Draft-age pupils in Israel have defied the law and Benjamin Netanyahu by telling him they will not join the army after leaving school
To some, they are heroes ready to trade their personal liberty for the sake of high principle. To others, they are spoiled rich kids, shirking their national duty on the backs of the less fortunate.
Now dozens of Israeli teenagers face possible jail terms and blighted career prospects after declaring that they will not join the army because of its "war crimes" in the occupied Palestinian territories.
Their stance is a wholesale rejection of the political consensus in Israel, where army service is seen as a near-sacred duty, essential to protect a country surrounded by enemies. But it has drawn a rebuke from one of Israel's most powerful politicians, who has accused the youths of "dodging responsibility".
The mass act of conscientious objection is set out in a letter signed by around 70 senior secondary pupils, who are refusing to fulfil their legal obligation to enlist when they leave school.
"We, the undersigned, intend to refuse to serve in the army and the main reason is our opposition to the military occupation of Palestinian territories," the pupils write.
The letter to Benjamin Netanyahu, Israel's prime minister, accuses Israeli forces of committing human rights abuses and war crimes "on a daily basis", including assassinations, torture, and collective punishment.
It also charges the army with damaging Israeli society and creating "a violent and militaristic masculine ideal where 'might is right'". "It shapes the educational system, our workforce opportunities, while fostering racism, violence and ethnic, national and gender-based discrimination," the text says.
While conscientious objectors - also known as refuseniks - are a long-standing phenomenon in Israeli society, the latest episode is the first mass refusal from pupils approaching draft-age in the past decade.
All men and women are obliged to join the Israeli Defence Forces at age 18, although exemptions exist for Arab citizens and ultra-Orthodox Jews engaged in religious studies.
The movement to write to Mr Netanyahu gathered pace after would-be refuseniks contacted each other through social media.
The prime minister has not responded, but the missive provoked condemnation from Yair Lapid, the Israeli finance minister and leader of the secular Yesh Atid party. He called the teenagers "pampered, wealthy youngsters" on his Facebook page, and compared them to ultra-Orthodox Jews who refused to join the army on religious grounds.
"To start with let's call this by its real name - this is not refusing, but dodging responsibility ," wrote Mr Lapid - who initiated recent legislation curtailing army exemptions for religious Jews "Their secular evasion is not ideological. It is the pampering of wealthy youngsters who believe they deserve everything when others - your sons and mine - have to serve in the army instead of them. I'm ashamed of them."
The signatories have responded by saying they hail from a variety of backgrounds - modest as well as affluent - and insist they represent a cross-section of Israeli society.
Sitting in a cafe in Tel Aviv's southern suburbs, Daniel Elsohn, 17, refuted Mr Lapid's accusation that his refusal endangered other Israelis.
"I think the people who say this are trying to paint it as if going to the army protects," he said. "I think going to the army is actually damaging my security as a citizen. I am terrified of missiles, I am terrified of explosions, of sirens, of all those things. But I think they won't be stopped if we continue doing offensive acts in the name of defence."
Some signatories say they have encountered abuse on the internet and confrontations from fellow pupils after the letter was publicised in Israeli media. They say they expect to see their employment prospects damaged in a country where army service is a vital stepping stone to the jobs market or further education.
Refusing to join the army does not automatically entail a jail sentence in Israel, where exemptions can be given to pacifists or on psychological grounds. However, Omar Sa'ad, a Druze from northern Israel, is currently serving his fifth term in jail for refusing to serve, while another refusenik, Natan Blanc, was freed last June after being incarcerated for 170 days.
Dafna Rothstein-Landman, 17 - daughter of a British-born mother - said she would risk jail to challenge the popular Israeli view of army service as a patriotic rite of passage.
"If necessary I am willing to go to prison," she declared, saying she she had witnessed military violence while attending demonstrations against Israel's separation barrier in the West Bank. "The main purpose of the letter is to promote dialogue. We want to raise the question that is never asked - which is that serving in the military is seen as a matter of course."
http://www.telegraph.co.uk/news/worldnews/middleeast/israel/10763735/Israeli-teenagers-risk-being-sent-to-prison-by-refusing-to-join-the-army.html
----------
Women's Abusers in Saudi Arabia to Pay up To SR50, 000 In Damages
Apr 16 2014
A man found guilty of emotional, verbal and physical abuse of any female member of his family will have to pay the victim compensation of between SR5, 000 and SR50, 000, according to a new law that came into force last month following directives from the Supreme Judicial Council.
The perpetrator also faces jail of between one month and a year for such crimes.
The courts would sentence perpetrators once it receives medical reports as evidence from the Ministry of Social Affairs, said Muhammad Al-Harbi, from the ministry, on Tuesday.
He said the courts could also punish males for emotional and verbal abuse.
Al-Harbi said the law covers husbands, brothers, sons or any male member of an extended family. "The victim can be a daughter, sister, wife or grandchild."
"However, if a blow leads to a woman's disability or death, the payment of compensation will not be enough. The guilty will have to face criminal charges for such offenses," said Al-Harbi.
"We have conducted workshops over the past three months in various parts of the country with those seeking to protect the rights of women. The ministry used a consultancy to prepare the draft law," he said.
Women have welcomed the new legislation.
"This is great news for all those who are abused and forced to stay in their marriages because they have no money to start new lives," said Hanan Mohammed, who recently divorced her abusive husband.
"My husband abused me, both physically and emotionally, for years. I couldn't leave him because I did not have the finance to move out and rent an apartment," she said.
"I felt bad but I finally decided to leave him after my son got a job and started paying the rent of my apartment." she said.
"This is a great decision. It will ensure that women do not rely on their husbands for money because the government would give them what they need."
http://www.arabnews.com/news/556411
----------
After Prank by Dutch Girl on Twitter, Real Trouble
April 16, 2014
PARIS — Youthful pranks in the age of Twitter are no laughing matter, especially if you are a 14-year-old Dutch girl impersonating a terrorist.
When the girl, using the Twitter handle @QueenDemetriax_, sent a threat to American Airlines on Sunday, she surely could not have imagined that by Tuesday she would be arrested by the Rotterdam police, attract a global media storm and become the object of both fierce derision and sympathy.
The episode began when the girl, who posted under the name Sarah, sent a message to the American Airlines Twitter account. "Hello my name's Ibrahim and I'm from Afghanistan," it read. "I'm part of Al Qaida and on June 1st I'm gonna do something really big bye."
Six minutes later, she had her reply from the airline: "Sarah, we take these threats very seriously. Your IP address and details will be forwarded to security and the FBI." That, in turn, prompted the girl to write a series of frantic and panicked tweets, pleading, "I'm just a girl."
"I'm so sorry I'm scared now," she posted, insisting variously that her original message had been a joke; that it had emanated from a friend's Internet protocol, or I.P., address; and that her account had been hacked. "My parents are gonna kill me if I tell them this omg pls," she wrote, before adding: "I need a lawyer. Any lawyers on here?"
The Rotterdam Police Department said Tuesday that she could face criminal charges for posting a false or alarming announcement. Tinet de Jonge, a spokeswoman for the department, said by phone that the girl had been released Monday but remained a suspect, pending an investigation. She said it was up to American Airlines to decide whether to press charges. "Some people think it's fun to send a threatening message on Twitter," she said. "But American Airlines didn't think it was funny at all."
Matt Miller, a spokesman for American Airlines, declined to comment on how the carrier might proceed. "The safety of our passengers and crew is our top priority," he said Tuesday. Dozens of threatening copycat tweets had been sent to the airline by Tuesday.
As the exchange spread online, the girl acquired thousands of new followers and appeared to at least momentarily revel in the attention. She offered to auction her Twitter handle, and suggested $500 as the starting bid. "I feel famous omg," she wrote. Her Twitter account has since been suspended.
The girl's father defended her, telling the Dutch newspaper Algemeen Dagblad on Tuesday that his daughter was a typical teenager, not a criminal. "It was just a joke, from a girl who should have been doing her homework," he said. He said he had not been aware that she had drawn global attention. "World news? I had no idea," he told the newspaper.
Reactions on social media sites were divided. Some denounced the girl as a foolish racist while others said her post was merely a youthful indiscretion. "Overreaction. Seriously she's just 14," a Twitter user called @samet63 from Montreal wrote. "Go and catch bad guys," a Dutch user called @nonfreak added.
But others were less charitable. "Remember when you're feelin stupid, at least you're not @queendemetriax_ stupid," wrote a user called @amazing__matt.
The Dutch girl is not the first person for whom a Twitter message has backfired spectacularly. In 2012, two British tourists spent 12 hours behind bars after landing in Los Angeles, after writing in a tweet in jest that they planned to "destroy America" and "dig up Marilyn Monroe" while on vacation, according to The Telegraph, a British newspaper. The newspaper noted that the American authorities did not understand that "destroy" was slang for "party."
http://www.nytimes.com/2014/04/16/world/europe/dutch-girl-twitter-threat.html
----------
Women's media group names courage award after AP photographer Anja Niedringhaus
April 16, 2014
NEW YORK – A women's media group has created a new award for courage honoring Associated Press photographer Anja Niedringhaus.
The International Women's Media Foundation announced Tuesday that the award will go out every year to a female photojournalist whose work "follows in the footsteps of Anja Niedringhaus."
Niedringhaus was shot and killed April 4 while on assignment in Afghanistan. A colleague who was with her, reporter Kathy Gannon, was wounded.
The award is funded with a $1 million gift from the Howard G. Buffett Foundation, a private family foundation that seeks to improve the lives of the world's poor and marginalized — often the subjects of Niedringhaus' photographs.
Niedringhaus, 48, was a prize-winning photographer who started her career at 16 as a freelance photographer, working for a newspaper in her native Germany.
http://www.foxnews.com/us/2014/04/15/women-media-group-names-courage-award-after-ap-photographer-anja-niedringhaus/
----------
Veiled Muslim Dancers Spark Ire in Malawi
Apr 16 2014
LILONGWE – A leading Islamic organization in Malawi has protested the use of veiled Muslim women to dance in political campaigns and rallies, rejecting the phenomenon as contradicting with Islamic teachings.
"The Mangochi Islamic Movement is concerned by the tendency of some political parties, particularly the People's Party, who are taking Muslim women dressed in Islamic attire (Hijab) to dance at political rallies using songs and other Islamic holy words such as Taqbeer( proclaiming greatness of Allah)," Kassim Kasinde, Secretary of Mangochi Islamic Movement, told Naysa Times on Tuesday, April 15.
Kasinde's angry comments followed a new phenomenon in election rallies for President Joyce Banda in which Muslim women donning Islamic headscarf, or hijab, were used as dancers.
Rejecting the practice, several Muslim groups have voiced concerns, arguing that it is against Islamic teachings and instructions.
The issue developed into protest rallies including the one organized last Friday by Mangochi Islamic Movement organized a rally at in lakeshore eastern district of Mangochi.
The movement has also filed a petition against the practice to Mangosgi commissioner, urging to end the use of veiled Muslim woman as dancers at rallies.
On the other hand, the Muslim Association of Malawi (MAM) came under fire for allowing women wearing Hijab to dance at political rallies.
Mangochi movement has called for the resignation of MAM leader sheikh Idrissa Muhammed who was accused of involvement in the issue to achieve personal benefits.
"Muslims have been complaining since last year, but the practice has not stopped because PP is taking advantage of our poverty to continue using Muslim women as dancers at political rallies," Kasinde argued.
Kasinde, the Secretary of the Islamic movement, opines that Muslim women are allowed to participate in rallies as long as they will not show up in religious attire and avoid using Islamic songs and holy words.
Abuse
Along with the Mangochi Islamic Movement, several Muslim groups have condemned using veiled Muslim women in political campaigns.
The Islamic Concern of Malawi group has rebuked MAM "for allowing Muslim women to be abused".
The groups said that it expected MAM to condemn the practice.
"We have been expecting MAM to come forward in the media and clear the air concerning the issue of Muslim women dancing at political rallies," Yusuf Sambo, MAM vice-chairman said.
"But sadly it hasn't and it has left us thinking that maybe there is some sort of relationship between the leadership of MAM and the political party in question," he added.
Islam is the second largest religion in the southern African country after Christianity.
Official statistics suggest Muslims constitute 12 percent of the country's 14 million people, but the umbrella Muslim Association of Malawi (MAM) puts the rate at 36.
It is not permissible for Muslim women to participate in folk dancing groups as such act is Haram in Islam.
Men and women dancing together is absolutely haram in all cases, except when a wife dances in front of her husband.
It is permissible for women to dance and sing as long as there are no males around.
http://www.onislam.net/english/news/africa/471405-veiled-muslim-dancers-spark-ire-in-malawi.html
http://www.nyasatimes.com/2014/04/14/malawi-muslims-hold-demo-over-hijab-women-dancers-at-political-rallies/
----------
Malaysia: Indira Can Turn To Shariah Court to Get Justice, Lawyer Tells High Court
Apr 16 2014
Kindergarten teacher M. Indira Gandhi must go to the Shariah Court to challenge a custody order given by the religious court to her estranged husband, the High Court was told today.
Lawyer Asmuni Awi, who was appearing for Indira's ex-husband Muhammad Ridzuan Abdullah (formerly known as K. Patmanathan), said disallowing non-Muslims to defend their rights in the Shariah Court was not consistent with Islamic law.
"It will tarnish the image of Islam in the eyes of non-Muslims," he said when making submissions in a contempt proceeding brought by Indira Gandhi against Ridzuan who had converted to Islam.
He subsequently converted their children – Tevi Darsiny, 16, Karan Dinish, 15, and Prasana Diksa, 5 – and obtained custody from the Shariah Court in September 2009.
Indira obtained her custody order from the High Court in 2010.
However, Ridzuan refused to return their youngest child, Prasana Diksa, to Indira, and has been holding on to the child since April 2009 when she was 11 months old.
Asmuni said Indira could appear in the Shariah Court as the Shariah Court Civil Procedure (Perak) 2004 stated that the religious court was duty bound to prevent injustice and abuse of court process.
He said the Shariah Court was the proper forum to resolve whether it had jurisdiction in granting the order to Ridzuan and this would be known if the validity of the order was challenged by Indira.
"It is not for the High Court to rule or give opinion that Indira is not allowed to appear in the Shariah Court. This is only possible if she appears in the religious court," he said.
He said it was premature and unfair for the High Court to cast aspersions by ruling that a non-Muslim could not appear in the Shariah Court.
"It is not for the courts to legislate to provide a remedy. The role of the court is to interpret the laws and give effect to the purpose as to why a legislation was enacted," he said.
He said contempt must be established beyond reasonable doubt and it must be shown that the act of disobedience was deliberate.
Asmuni said Ridzuan did not show disrespect to the 2010 High Court order because he had acted based on legal advice provided by his counsel.
"After all, the High Court is not superior to the Shariah Court as both are of equal standing under the Federal Constitution," he said.
Asmuni said the custody order of the Shariah Court was issued by a competent authority and the civil court could not interfere as the subject matter came under the jurisdiction of the religious court.
Lawyer Lim Heng Seng, who appeared for the Malaysian Consultative Council of Buddhism, Christianity, Hinduism, Sikhism and Taoism said a Federal Court ruling on unilateral conversion had held that a Shariah Court order which was in conflict with a civil court order was ineffective.
Lim, who appeared as amicus curae (friend of the court) on the invitation of High Court judge Lee Swee Seng, said Ridzuan could not run away from his responsibility arising from the civil marriage by converting to Islam.
He said the apex court had also held that a non-converting spouse could not be compelled to go the Shariah Court.
"But the spouse who had converted can come to the civil court," he added.
Counsel Philip T.N. Koh, who appeared with Lim, said although Islam was the religion of the federation, it did not render Malaysia to be non-secular .
On July 25 last year, Lee, in a landmark decision, quashed the certificates of conversion of the three children and ruled that the documents were null and void because they were unconstitutional.
He said under the Perak state enactment, it was a statutory requirement for a child to be present before a certificate of conversion could be issued.
He also cited provisions under the Perak Shariah law, which require the children to be present to utter the affirmation of faith (Kalimah Dua Syahadah).
Indira married the then Patmanathan 20 years ago according to Hindu rites.
Lee will deliver his ruling whether Ridzuan is guilty of contempt of court on May 30.
http://www.themalaysianinsider.com/malaysia/article/indira-can-turn-to-shariah-court-to-get-justice-ex-hubbys-lawyer-tells-high
----------
Business World's Help against Domestic Violence Sought
Apr 16 2014
Operating from the starting point that the measures taken by the state are not enough to fight domestic violence, Sabancı University has launched a project to seek the involvement of the business community to tackle the problem.
"The business world is affected by domestic violence even if it is not aware of it," said Melsa Ararat, the director of the university's Corporate Governance Forum of Turkey.
The project, supported by the Dutch Consulate, aims to raise awareness that, along with its many other negative effects, violence against women affects efficiency in the work place. However, according to Ararat, earlier contacts made with the human resources departments of a number of companies show that domestic violence remains something of a taboo in the work place. She said that as employees' working hours are rarely limited by their official work hours, and as employers' ethical codes cover their employees' private lives, it is the responsibility of companies to protect their workers outside the workplace. "Men usually know how to deal with the state or police authorities when it comes to domestic violence. But they would not know how to deal with companies if they were to stand behind the women," said Ararat, adding that research showed that support from companies could serve as a deterrence.
The first step of the project involves a research project on the best examples both in Turkey and the world regarding practices endorsed by companies to fight violence against women. A survey will also be conducted in order to determine the effects of domestic violence in the work place. In the third phase, by 2015, project managers are hoping to work together with Turkish companies in order for them to endorse best practices.
"Violence against women is a global phenomenon. It is not a Muslim thing or a Christian thing," said Dutch Consul General Robert Schuddeboom. It is not enough to be aware of the problem, but there is a need to find creative ways to solve the problem, he added.
http://www.hurriyetdailynews.com/business-worlds-help-against-domestic-violence-sought.aspx?pageID=238&nID=65095&NewsCatID=345
----------
URL: https://newageislam.com/islam-women-feminism/boko-haram-kidnaps-200-girls/d/66583