New Age Islam News Bureau
23 Oct 2014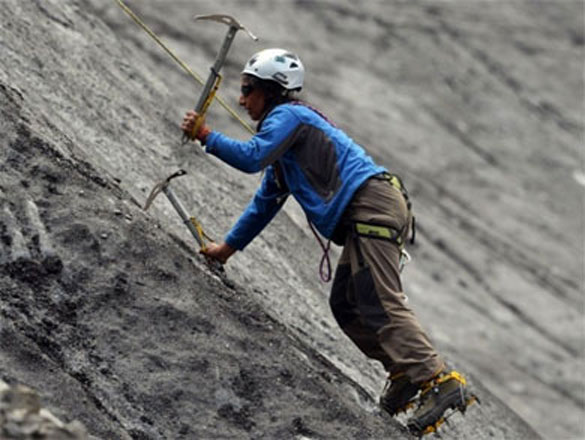 A student from the SM School uses ice axes to climb a slope on a glacier in the northern Hunza valley. PHOTO: AFP
----------
• Four Saudi Women among 5 Jailed For Terror Links
• Woman Arrested In UK on Terrorism Charges
• High in Pakistan's Mountains, Women Break Taboos
• In Iran, Lavish Divorce Parties on the Rise
Man in Pakistan Guns down Wife, Infant for 'Honour'
• Sindh Govt Endorses Mol's Proposals for Women Empowerment Package
• More Women Cops Need of the Hour: Pak Ex-Secy
• Buses Featuring Women of the Wall Posters Vandalised By Haredi Extremists
• No Celebrations for Malala's Nobel in Pakistan For fear Of Taliban
• All Female e-Mail at BHP Shows Mine Shift from Boys' Club
Compiled by New Age Islam News Bureau
URL: https://www.newageislam.com/islam,-women-and-feminism/new-age-islam-news-bureau/boko-haram-abducts-60-women-in-adamawa/d/99689
---------------
Boko Haram Abducts 60 Women in Adamawa
23 Oct 2014
Tobi Soniyi, Muhammad Bello in Abuja, Michael Olugbode in Maiduguri and Daji Sani in Yola
Despite the ceasefire declaration and efforts by the federal government to negotiate the release of over 200 Chibok schoolgirls who were abducted by Boko Haram in April, about 60 women were reportedly kidnapped by the terror sect from Waga Mangoro and Garta villages in Madagali Local Government Area of Adamawa State following renewed attacks unleashed by the insurgents.
However, as news broke about the most recent abductions in the North-east, the House of Representatives on Wednesday approved the $1 billion loan request made by President Goodluck Jonathan for the procurement of military hardware to end the insurgency.
Whilst 40 women were said to have been abducted from Waga Mangoro, 20 were forcibly uprooted from their homes in Garta.
Locals in the affected areas, who escaped during the attacks, confirmed the kidnapping to THISDAY on the phone, saying hundreds of insurgents overran the area on motorcycles and in vans during a rampage on Saturday.
They said in the course of the attacks, the insurgents burnt houses and abducted young women.
One of the locals in Garta, Tizhe Kwada, who escaped by a whisker, said the onslaught on his community was still ongoing yesterday, forcing many residents to flee the area which has been under Boko Haram siege for almost two months.
Kwada said the insurgents cordoned off houses in Garta in search of young women and took them in their vans to an unknown destination.
"The insurgents are still in the area. They slit the throats of three men in Garta and abducted many young women. We also heard from residents of Waga that they killed two men and took 40 women away," he stated.
Similarly, a community leader from Michika, Emmanuel Kwache, confirmed the incident to journalists in Yola, saying he got the information from villagers in the area that the attack on Garta was still in progress.
When contacted, the Chairman of Madagali Local Government Area, James Watharda, said he had been in Yola since the insurgents took over his council and could not speak on the matter.
However, other sources revealed that the insurgents invaded the villages last Saturday and that several of the residents had fled to other communities including Yola, the state capital, which is about 88 kilometres from Madagali.
Ahmadu, a resident in Waga Mangoro, also confirmed that the insurgents invaded his community, which borders Gwoza in Borno State. He said the insurgents used the abducted ladies as human shields during reprisals by Nigerian troops.
Ahmadu added that the attackers carted away food items, animals and household belongings of residents.
Two other residents, Titus and Ayuba, who managed to escape to Yola, said they travelled through bush paths to avoid the rampaging terrorists.
According to them, the insurgents stormed the town at the weekend through the road leading to Sambisa forest.
In another incident, suspected members of Boko Haram attacked another Borno town where they killed three persons and set ablaze houses including churches.
Sources revealed that scores of insurgents attacked Pelachiroma village in Hawul Local Government Area of Borno State on Monday.
"Three people have been killed by members of the Boko Haram sect who attacked Pelachiroma village of Hawul Local Government Area in Borno State on Monday," the source revealed.
A resident of the area, Ignatius Musa, said the insurgents stormed the village around noon.
He disclosed that the insurgents went berserk and "churches were not spared".
Pelachiroma is a few kilometres from Azur forest where eight people were killed on Friday by the insurgents.
The caretaker chairman of Hawul, Dr. Andrew Malgwi, who confirmed the attack yesterday, said the insurgents also destroyed many houses during the siege.
The terror sect also laid ambush on a Borno highway, killing a soldier of the Nigerian Army on Wednesday.
Though details of the ambush were sketchy at press time, a security sources said that the slain soldier was among the Nigerian troops who were travelling from Maiduguri to Damboa where 25 insurgents were killed on Sunday.
The source, who could not confirm if there were casualties on the part of the insurgents, said the troops were travelling along the dangerous Maiduguri-Biu highway before the ambush.
He said the insurgents may have laid in ambush for the troops in a reprisal after their members were killed on Sunday.
The source said the insurgents laid in ambush at a spot not far from Damboa and on sighting the troops opened fire on them.
Reports on the weekend kidnappings and attacks in Borno State came just as the House of Representatives approved the president's request for a $1 billion loan to procure military hardware for the war against Boko Haram in the North-east.
The House, during yesterday's plenary, towed the line of the Senate, which had approved the request more than three weeks ago.
All the four clauses contained in the report of the House Committees on Aids, Loans and Debt Management and Finance on external borrowing of not more than $1 billion "to tackle the national security challenges in the country" were considered and approved. According to the approved report, the National Security Adviser (NSA) was asked to furnish the legislators with details of allocations that are supposed to accrue to the Nigerian Air Force, Navy, Army, Department of State Services (DSS), police and Nigeria Intelligence Agency (NIA).
The legislators also wanted to know from the Coordinating Minister for the Economy and Minister of Finance Dr. Ngozi Okonjo-Iweala, the sources of funds, terms and conditions of the loan, as well as details of the tenure and interest repayment schedules.
Jonathan had on July 16 written the National Assembly seeking approval to borrow $1 billion (N168 billion) to fight Boko Haram.
In the letter, Jonathan spoke about the need for external borrowing to enable the upgrade of security equipment in order to fight the insurgency ravaging the country, particularly in the North-east.
Meanwhile, the Central Bank of Nigeria (CBN) has denied allegations that there are people using the bank to fund Boko Haram.
This was disclosed in a letter dated October 16, 2014 and addressed to the Socio-Economic Rights and Accountability Project (SERAP). The letter, with reference no: LSD/ACL/GEN/SRP/02/090, was signed by O.A. Ogundana on behalf of the Director, Legal Services Department of the central bank.
CBN was reacting to the demand for information under the Freedom of Information (FoI) Act by SERAP and a lawsuit it instituted against the central bank, following recent allegations made by an Australian negotiator, Dr. Stephen Davis, that certain yet-to-be identified officials of the CBN had used it as a conduit to fund Boko Haram activities.
The letter by the CBN read in part: "We write to acknowledge the receipt of your letter dated 15th September 2014 on the subject captioned: request to provide information about alleged money laundering to Boko Haram through the Bank.
"In your letter, you had requested from the CBN information about persons or office involved in alleged money laundering activities of the Boko Haram through the CBN; and information on the exact nature and duration of any such transactions.
"We wish to inform you that after investigating the allegations across various Departments at the Bank that deal with payments, the Bank could not find any information pertaining to persons involved in money laundering through the CBN to fund the activities of Boko Haram.
"The CBN as Banker to the Federal Government only maintains accounts for and on behalf of the government, its ministries, departments and agencies; deposit money bank; and other financial institutions in Nigeria, and can only make payments on their behalf based on authorised
mandates.
"Consequently, the CBN does not maintain or operate any accounts for individuals, officers or offices within the Bank. In conclusion, your organisation may wish to note that the Bank maintains a robust Anti-Money Laundering/Combating the Financing of Terrorism framework to prevent the use of its platform for financial crimes. Please, accept the assurances of the Governor, Central Bank of Nigeria."
Citing the FoI Act, SERAP had on October 14 sued the CBN at the Federal High Court in Lagos after it refused to respond to the questions SERAP had asked in respect of funding of Boko Haram by the bank.
The originating summons, with suit number FHC/L/CS/1547/2014, was filed on behalf of the organisation by Adetokunbo Mumuni.
Among others, SERAP is seeking the court to determine "whether by virtue of the provision of Section 4(a) of the Freedom of Information Act 2011, the CBN is under obligation to provide the plaintiff with the information requested for".
No date has been fixed for the hearing of the application.
http://www.thisdaylive.com/articles/boko-haram-abducts-60-women-in-adamawa/192016/
---------------
Four Saudi women among 5 jailed for terror links
23 October 2014
Five women (four Saudis and a Yemeni) have been sentenced to a total of 33 years in prison for joining al-Qaeda to support terrorism and finance it.
They have been banned from travel for periods similar to their jail terms. The head of the group has been sentenced to 10 years in prison.
Meanwhile, a special court sentenced 14 terror suspects to prison for periods ranging between six months and 23 years for plotting to attack U.S. soldiers in Qatar and Kuwait, the Saudi Press Agency reported. They represent the second group in the cell of 41.
The first group of 13 - 11 Saudis, a Qatari and an Afghan citizen - were sentenced to up to 30 years in prison on Tuesday.
Separately, two Saudi citizens were sentenced to death on Monday after being convicted of attacking a police station with Molotov cocktails in Awamiya in the Eastern Province.
The court ruled on Tuesday that the 13 men had exploited Saudi territory "to form a terrorist cell seeking to carry out a terrorist operation in the state of Qatar against American forces, supplying the cell with arms and money for that operation, recruiting people for that cell."
The men were also convicted of "preparing to participate in a terrorist operation in the state of Kuwait targeting American forces there," SPA added.
The accused leader of the group, a Qatari man, was sentenced to 30 years in jail, after which he would be expelled from Saudi Arabia, while the other 12 were jailed for between 18 months and 18 years, SPA said.
They were among a group of 41 people rounded up in 2011 on suspicion of forming a terrorist cell that planned to hit US forces in Qatar and Kuwait. Two people had already been sentenced to death in June for taking part in forming a terrorist group and other crimes. Several others have received multi-year jail sentences.
Last month, four Saudi men were sentenced to death for their role in one of the Kingdom's "bloodiest terror cells."
A special criminal court in Riyadh jailed "as many as 20" others for between two and 23 years for a variety of crimes. These included embracing deviant thinking contrary to the teaching of the Qur'an.
The defendants were also convicted of fighting abroad and purchasing five tons of aluminum nitrate — which can be used to make explosives.
They were also found guilty of booby-trapping vehicles to kill policemen, carrying out suicide bombings inside the country, planning to explode oil pipelines and killing foreigners as well as Islamic religious leaders, SPA said.
This article was first published in Saudi Gazette on Oct. 22, 2014.
http://english.alarabiya.net/en/News/middle-east/2014/10/23/Four-Saudi-women-among-5-jailed-for-terror-links.html
---------------
Woman arrested in UK on terrorism charges
22 Oct 2014
British police have taken a 25-year-old woman into custody on suspicion of terrorism offences related to the ongoing civil war in Syria, officials have said.
London's counter terrorism command said on Wednesday that officers had arrested the woman in Bedfordshire, north of the capital, on suspicion of preparing terrorism acts.
The police said she had been taken to a police station in London for questioning.
Two addresses in Bedfordshire were being searched, they added.
Last week, four men were charged with swearing allegiance to the Islamic State of Iraq and the Levant (ISIL), who have seized large swathes of Syria and Iraq, and preparing to launch an attack on policemen or soldiers in the capital.
On Tuesday, London police chief Bernard Hogan-Howe said at least five Britons were travelling to Iraq and Syria every week to fight for ISIL, while the authorities estimate that about 500 Britons have already travelled to the region to join the fighting.
Mark Rowley, Britain's national policing spokesman for counter-terrorism, said last week that the police had made 218 arrests so far this year, and that detectives were carrying out security investigations at an "exceptionally high" pace not seen in years.
http://www.aljazeera.com/news/europe/2014/10/woman-detained-uk-terrorism-charges-2014102285314995838.html
---------------
High in Pakistan's Mountains, Women Break Taboos
22 October 2014
HUNZA: A group of young girls sit on a carpeted floor listening as their teacher writes on a whiteboard, preparing his students for the rigours of climbing some of the world's highest peaks.
This is Shimshal Mountaineering School, tucked away in a remote village in the breathtaking mountains of Pakistan's far north, close to the border with China.
While most of Pakistan's overwhelmingly patriarchal society largely relegates women to domestic roles, in the northern Hunza valley, where most people follow the Ismaili sect of Islam, a more liberal attitude has long prevailed.
Now the women of the region are breaking more taboos and training for jobs traditionally done by men, including as carpenters and climbing guides on the Himalayan peaks.
"You have to be careful, check your equipment and the rope, any slight damage can result in death," Niamat Karim, the climbing instructor warns the students.
Karim is giving last-minute advice to the eight young women who are about to embark on a practical demonstration of climbing class.
They are the first batch of women to train as high altitude guides at the Shimshal Mountaineering School, set up in 2009 with support of Italian climber Simone Moro.
The women have spent the last four years learning ice and rock climbing techniques, rescue skills and tourism management.
At 3,100 metres above sea level, Shimshal is the highest settlement in the Hunza valley, connected to the rest of the world by a rough jeep-only road just 11 years ago.
The narrow, unpaved road twists through high mountains, over wooden bridges and dangerous turns with the constant risk of landslides to reach the small village of 250 households.
There is no running water and electricity is available only through solar panels the locals buy from China, but despite the isolation, the literacy rate in the village is 98 per cent — around twice the Pakistani national average.
t has produced some world famous climbers including Samina Baig, the first Pakistani woman to scale Mount Everest.
The people of Shimshal depend on tourism for their income and the village has produced an average of one mountaineer in every household.
The eight women training as guides have scaled four local peaks, including Minglik Sar and Julio Sar, both over 6,000 metres.
For aspiring mountaineer Takht Bika, 23, the school is a "dream come true".
"My uncle and brother are mountaineers and I always used to wait for their return whenever they went for a summit", Bika told AFP.
"I used to play with their climbing gear, they were my childhood toys — I never had a doll."
For Duor Begum, mountaineering is a family tradition — and a way of honouring her husband, killed while climbing in the Hunza Valley.
"I have two kids to look after and I don't have a proper means of income, "she said.
Begum joined the mountaineering school with the aim of continuing the legacy of her late husband and to make a living.
"I am taking all the risks for the future of my children, to give them good education so that they can have a better future", she said.
But while the women are challenging tradition by training as guides, there is still a long way to go to change attitudes, and so far Begum has not been able to turn professional.
"I know its difficult and it will take a long time to make it a profession for females but my kids are my hope," she said.
Lower down in the valley, away from the snowy peaks, Bibi Gulshan, another mother-of-two whose late husband died while fighting in the army has a similar tale of battling to change minds.
She trained as a carpenter under the Women Social Enterprise (WSE), a project set up in the area by the Aga Khan Development Network to provide income opportunities for poor families and advocate women's empowerment at the same time.
Set up in 2003, the WSE now employs over 110 women, between 19 and 35 years of age.
"I want to give the best education to my kids so that they don't feel the absence of their father," Gulshan told AFP.
"I started my job just 10 days after my husband was martyred, my friends mocked me saying instead of mourning my husband I had started the job of a men but I had no choice — I had to support my kids."
With the 8,000 rupees ($80) a month she earns in the carpentry workshop, Gulshan pays for her children to go through school, and she has also used her skills to build and furnish a new house for her family.
As well as giving poor and marginalised women a chance to earn a living, the WSE project, funded by the Norwegian embassy, also aims to modernise local skills.
Project head Safiullah Baig said traditionally, male carpenters worked to a mental plan of houses they were building — a somewhat unscientific approach.
"These girls are using scientific knowledge at every step right from mapping and design and their work is more feasible and sustainable," Baig said.
http://www.dawn.com/news/1139637/high-in-pakistans-mountains-women-break-taboos
---------------
In Iran, lavish divorce parties on the rise
22 October 2014
Weddings in Iran have long been an over-the-top affair with families spending thousands of dollars to celebrate a union. But now some couples are splurging on an entirely different sort of nuptial celebration: a divorce party.
Local media outlets and blogs have been abuzz for months about lavish parties, complete with sarcastic invitations and humorous cakes, for couples splitting up. The phenomenon has become so widespread in Tehran and other large cities that one prominent cleric said couples who throw these parties are "satanic."
Still, the divorce parties are a sign of an undeniable trend: divorce in Iran is soaring. Since 2006, the rate of divorce has increased more than one a half times to the point where around 20 percent of marriages now end in divorce.
In the first two months of this Iranian calendar year (late March to late May) alone, more than 21,000 divorce cases were logged, according to official statistics.
The rise in the number of couples choosing to split up has angered conservatives in Iran who see the increase in divorce as an affront to the values of the Islamic Republic.
Last month, Mustafa Pour Mohammadi, the current justice minister who is also a cleric, said that having 14 million divorce cases within the judiciary is "not befitting of an Islamic system," according to the Iranian Students News Agency.
Some of the causes for divorce in Iran, like many other countries, include economic problems, adultery, drug addiction or physical abuse. But the increase in the divorce rate points to a more fundamental shift in Iranian society, experts say.
"There has been a big growth in individualism in Iran, especially among women. Women are more educated and have increased financial empowerment," said Hamid Reza Jalaipour, a sociologist at Tehran University.
"It used to be that a woman would marry and she would just have to get along. Now if she's not happy, she'll separate. It's not taboo," he said.
Divorce party
One 41-year-old woman, a chemistry graduate who is now head of public relations at a Tehran factory and who has a teenage daughter, said she divorced her husband because he was an abusive drug addict.
It took four years to deal with the government bureaucracy. "They don't like divorce to come from the side of women," she told Reuters, asking that her name not be used. But in the year since the divorce "I've been in heaven."
While she was married, an aunt had told her not to wash the dishes at a certain time in case it gave her husband a headache.
"I said to hell with the headache, why doesn't he get up and do the dishes himself?"
She had never been to one of Tehran's notorious divorce parties, but added: "The day that I got my divorce finalized I invited some friends over to celebrate too."
The marriage law in Iran traditionally favors the husband, who has the right to ask for a divorce. But in most cases being brought to court now, the husband and wife have generally come to a mutual agreement to separate, Iranian lawyers say.
In the cases where the husband is unwilling to divorce, the wife must legally prove that the husband is abusive, has psychological problems or is somehow unable to uphold his marriage responsibilities in order to separate.
Gold coins
Alternately, the wife could push for the payment of her mehrieh, or dowry, if it was not paid when the couple married. Dowries in Iran, usually in the form of gold coins, have skyrocketed in recent years with families sometimes paying tens of thousands of dollars.
If the husband is not able to pay the dowry, the wife could waive some or all of it as part of a separation settlement. In some cases, the husband can go to jail if he cannot pay the dowry.
"In the past two years the issue of divorce in Iran has reached unprecedented levels," said Mohsen Mohammadi, the head of the Yasa law group in Tehran.
"We didn't even have an interest in family and divorce law. But because of the large number of requests it made sense for us to get into this. The legal side of family and divorce has become a big business in Iran."
And it does not appear that the broader trend partly driving the rise in divorce, the greater number of women being educated and their larger presence in the work force, is going to change, experts say. For the current school year, 60 percent of enrolled university students are female, according to official records cited by the Islamic Republic News Agency.
When these women graduate, their first priority may not be to get married because they can now find jobs. And if they do get married, it will now be easier for them to leave a troubled marriage or to support themselves financially, experts say.
This is not only a trend among the top tier of Iranian society.
"We're not talking about a middle class anymore or the northern Tehran elite. This is not the upper crust becomes Western and gets divorced," said Kevan Harris, a sociologist and associate director at Princeton University's Center for Iran and Persian Gulf Studies.
"This is because of internal change in society. We balance the power of women through the kind of credentials and experience that they have. Because otherwise it can't be so huge. If this were just happening in the upper crust you wouldn't see these kinds of numbers."
The rise in the divorce rate worries government officials in Iran because it comes as the birth rate is plunging.
Last year, parliament's social affairs committee proposed that $1.1 billion be dedicated to facilitating marriages but the motion did not pass in parliament. "If the representatives and officials are sympathetic to the youth of the country, it would be better if they approved these kinds of plans," said the head of the committee, Abdul Reza Azizi, according to Mehr News.
Ministry of Marriage and Divorce
A more controversial proposal has been to create a Ministry of Marriage and Divorce, which some officials have criticized on the grounds that a new ministry would create more bureaucracy rather than address the overall issue of rising divorce.
Whatever the government does, it will be hard to change a new tolerance for divorce.
"It's not because somebody asks 'Please, I want to get divorced' and you convince a conservative society that divorce is ok. That's not the way it works," said Harris. "People have to do it. And the other side can't take it back."
http://english.alarabiya.net/en/perspective/features/2014/10/22/In-Iraq-lavish-divorce-parties-on-the-rise.html
---------------
Man in Pakistan Guns down Wife, Infant for 'Honour'
October 23, 2014
LAHORE - A man gunned down his wife and a ten-month-old son at his house in Nolakha on early Wednesday, police said. The killer has confessed to the police investigators that he committed the double-murder in the name of honour.
On early Wednesday, Sajjad entered the bedroom and opened fire on his wife who was sleeping along with her 10-month-old boy Amaan. As a result, Sumera 24, and Amaan sustained serious bullet wounds and died on the spot.
Soon after listening to the gunfire before dawn, the locals rushed the house, police sources said. They managed to capture the killer when he tried to flee the crime scene. Sajjad was handed over to the police for interrogation. The bodies were sent to the morgue for autopsy.
Police have registered a double murder case against the father on the complaint of Muhammad Imran, brother of the deceased woman. The killer was later locked up in the Nolakha police station.
While talking to reporters from behind the bars, Sajjad said that he wanted to kill his wife but a bullet accidentally struck the baby boy too. The police investigators rebut the claim saying that he deliberately committed the double murder. According to the killer, his wife had developed affairs with other men and therefore he shot her dead. On the other hand, the relatives of the deceased woman told the police that jobless Sajjad was unable to feed his family. The poor lady used to clash with her husband over his idleness, they added.
Another family member of the deceased told this reporter that the husband was a drug addict and had no work to do. Late on Tuesday night, the couple exchanged harsh words over domestic spending. Before dawn, the man took out a gun, entered the bedroom, and killed his wife and son. Further investigation was underway.
SHOT DEAD: A 40-year-old man was found shot dead under mysterious circumstances at his house located in Sanat Nagar in Islampura on Wednesday.
Police said that the man, identified as Muhammad Arif, was lying dead with bullet wounds in his forehead as they reached the crime scene. Sajjad told the police that his brother Arif committed suicide by shooting himself in the temple. Police sources said that the deceased was a bachelor and he had been residing along with his brother and his wife at their combined house. He had also a property dispute with his brother. Police have removed the body to the morgue for autopsy and are investigating.
http://nation.com.pk/lahore/23-Oct-2014/man-guns-down-wife-infant-for-honour
---------------
More Women Cops Need of the Hour: Pak Ex-Secy
October 23, 2014
Islamabad - Syed Kamal Shah, former secretary interior, Wednesday said that there was a dire need to increase the number of women in police department.
Speaking at a two-day seminar "Women Police: The Silver Lining" organised by Individual land Pakistan, Shah said that less than one percent population of women were recruited in the police departments.
Niaz Ahmed Siddiqui, former IG Sindh who chaired the panel, drew attention of the audience towards women within Pakistan police and was of the view that "there is a need to say goodbye to the culture of firearms. Carrying weapons along promotes the trend of tribalisation and there is a need to move towards civilisation." While talking of presence of women police officers in the police department, he praised the role of women police and suggested that there should be at least 20 per cent female representation in police department.
Individual land Director Gulmina Bilal said that a team of Individual land had been working for the past seven years on police reforms. Emphasising on the role of women police officers she identified the achievements and challenges of women police officers. In response to the debate generated by the panel members, Sub-Inspector Najma Khuro from Hyderabad shared her experience, saying: "There is a lack of awareness regarding the need to have women in police department. We live in a society where parents prefer their sons to join police department and discourage their daughters to adopt the same field."
The seminar will continue today (Thursday).
http://nation.com.pk/islamabad/23-Oct-2014/more-women-cops-need-of-the-hour-ex-secy
---------------
Buses Featuring Women of the Wall Posters Vandalised By Haredi Extremists
By DANIEL K. EISENBUD
10/21/2014
One week after Women of the Wall launched an ad campaign promoting bat mitzva ceremonies at the Western Wall on Egged buses in Jerusalem, the women's prayer rights group said on Monday night that several of the advertisements have been defaced by ultra-Orthodox extremists.
According to the organization, the campaign is designed to encourage girls to hold bat mitzva ceremonies at the holy site, with a Torah scroll if they choose, although women are presently unable to read from the Torah at the site under current religious regulations.
Women of the Wall director Lesly Sachs said 50 percent of the images featuring young women were torn down, and the tires of some of the public buses were slashed, in the primarily ultra-orthodox neighbourhood of Mea She'arim.
"It is sad to yet again see the ultra-Orthodox men take the law into their own hands and using Judaism as an excuse for the use of force, threat and violence against women," Sachs said. "We call on ultra-Orthodox leadership to strongly denounce this act of violence and all others."
Last week, Shmuel Rabinowitz, the rabbi of the Western Wall and the holy sites, dismissed the bat mitzva campaign as irresponsible.
"I am saddened that there are people who want to fan the flames of argument, and to employ bullying media tactics, as the Women of the Wall have done to our regret in recent days, through an irresponsible campaign whose goal is to prevent an arrangement that is acceptable to all sides," he said.
Since the ad campaign was launched, the women's group claims that it has received over 60 calls from Israeli women inquiring about holding a bat mitzva at the Western Wall, as well as numerous harassing calls.
"Women of the Wall remain determined to pray according to their tradition and the rights guaranteed to them by the Jerusalem District Court decision of April 2013, written by Judge Moshe Sobel," the organization said.
http://www.jpost.com/Israel-News/Haredi-extremists-vandalize-Egged-buses-featuring-Women-of-the-Wall-posters-in-Jerusalem-379410
---------------
No celebrations for Malala's Nobel in Pakistan for fear of Taliban
By Ashfaq Yusufzai
October 23rd, 2014
PESHAWAR: Malala Yousafzai has received several international awards for running a courageous campaign to promote education in Swat during the Taliban's rule but there is no government-sponsored event to honour the young education campaigner even after she got the Nobel Peace Prize 2014, mainly for fear of militant attacks.
"Both the Khyber Pakhtunkhwa and federal governments not only feared the Taliban's reprisals by holding functions to appreciate the girl, who defied the militant campaign against education," Dr Khadim Hussain, head of the Bacha Khan Education Foundation, told Dawn.
Dr Khadim said the foundation had been able to organise few events in own capacity but there's no government patronage to organise a full-scale event and own her publicly.
He said by not holding high-profile events at official level, the country was losing a big opportunity to integrate with the world.
The BKEF head said the militancy-hit Pakistan faced isolation in the world, so it could well take advantage of Malala's international fame.
Educationist insists country losing chance to integrate with world by not honouring activist at official level
"We can build new schools and colleges and repair those damaged by militants in Swat and tribal areas but it is unfortunate that the government has yet to accord her the status she deserves," he said.
The Khyber Pakhtunkhwa government disallowed the launch Malala's book, 'I am Malala' at the eleventh hour supposed to be held at the Area Study Centre of the University of Peshawar in January this year.
The university, where discussions, seminars and debate on political, cultural and other issues were frequently held, disappointed organisers.
The book, she co-authored, isn't freely available throughout the country for fear of attacks by the Taliban.
Hussain said he was not surprised over the Pakistan Tehreek Insaf-led coalition government in Khyber Pakhtunkhwa due to its 'soft corner' for the Taliban.
The federal government's inability to acknowledge her as champion doesn't bring any amazement either as the PML-N had never opposed militants and terrorism.
According to him, also worrying is the unwillingness of academicians, who frequently speak at different topics at the university but failed to arrange any event to celebrate Malala Yousafzai's awards on their premises. The professionals don't hesitate to speak on any subject but don't utter few words about Malala because of their jobs. Privately they recognise her achievement. Everyone acknowledge that she could be an inspirational force for the youths but stayed away from talking about Malala.
"We are unlucky as we are in position to retrieve social, political and economic benefits Malala, who is international celebrity, but the government is complicit," Hussain said.
She has invited the Pakistani and Indian prime ministers to attend the ceremony where she would be receiving the Nobel Prize.
Hussain said rallies in press clubs of Islamabad, Mingora and Peshawar to express joy over Malala weren't suffice considering the respect the youngest recipient of the award had brought to Pakistan.
"She has been widely acclaimed by the bravery even before Nobel Peace Prize. Even Afghanistan organised a function at the Presidential Palace to honour her," he said.
The BKEF head, also a political analyst, believed that she would act as gravitational force for the young girls not only in Pakistan but throughout the world and that the youths would now struggle to achieve biggest milestones like getting the Nobel Peace Prize.
"Once we get out of state of fear, it would become obvious that Malala enjoys overwhelming popular support among the people from all ages in the country," he said.
Hussain said Prime Minister Nawaz Sharif, PTI chief Imran Khan and leaders of other political parties appreciated her on statements or newspaper advertisements, which didn't reflect their full support.
http://www.dawn.com/news/1139834/no-celebrations-for-malalas-nobel-for-fear-of-taliban
---------------
All Female e-Mail at BHP Shows Mine Shift From Boys' Club
By David Stringer
Oct 22, 2014
The e-mail Jacqui McGill received from one of her teams at a BHP Billiton coal mine in northern Australia contained great news: output delays were down 75 percent in a year.
That wasn't the only reason she let out a whoop of excitement. "I did my little yeehaw, because every single person on the e-mail was a woman in a production role," said McGill, asset president for two of the world's biggest mining company's operations in Queensland's Bowen Basin.
"That's the first time that's happened in my career," McGill, an industry veteran of more than 20 years, said of the July e-mail. "I have plenty of men in my business in senior roles, but I thought, that's critical mass."
Mining remains the most male-dominated business, with men holding more than 90 percent of executive positions. That's starting to change, as retiring employees help open the $1 trillion industry's door to female successors.
"It lags behind, it's historically been male," US Labor Secretary Tom Perez said Sept. 10 in an interview in Melbourne. "They are missing out on great talent. They are missing out on recruiting some of the best and the brightest."
From female-only leadership training at Canada's Goldcorp to scholarships offered by South Africa's Lonmin, the world's third-largest platinum producer, mining companies are implementing initiatives aimed at guiding women into senior roles. London-based Rio Tinto Group, the second-biggest miner, has set a goal of having women make up 20 percent of its senior managers by 2015, from 14 percent last year.
In the global mining industry, women hold 8 percent of executive committee positions reporting directly to the chief executive officer, according to a study by the gender-consulting company 20-first. That compares to 18 percent in the $2.9 trillion pharmaceutical industry, the best performer in the survey.
Efforts to attract women go beyond recruiting and career-development initiatives. OZ Minerals, Australia's third-biggest copper producer, no longer makes presentations at the nation's main mining conference.
The Diggers & Dealers Mining Forum is held annually in Kalgoorlie, a desert city known for its raucous nightlife. Some bars near the conference employ topless bartenders, known locally as skimpies.
"The entertainment provided by the town was not reflective of our values," former Chief Executive Officer Terry Burgess, who left his position Oct. 17, said in an e-mailed response to questions.
It sends the wrong message for an industry seeking more women, according to Elizabeth Broderick, Australia's sex discrimination commissioner. "When you participate in sexualized corporate entertainment, you are excluding women — and not only that, but potentially excluding men as well," she said by phone from Sydney.
The forum doesn't "conduct any function that could be seen as derogatory to women," or "create anything at the event that could be seen as embarrassing or uncomfortable for any participant," John Langford, a director of Palace Securities, which runs and owns Diggers & Dealers, said in an e-mail. It has no control over events external to the forum, he said.
"We kind of walk the gender talk," said Langford, pointing to the fact that the forum's owner Kate Stokes and its only full-time employees, are women.
Ashok Parekh, owner of the city's Palace Hotel, which hires skimpies in its bars, said delegates aren't compelled to attend venues where partially clothed women are present. "You only go to those places if you want to go," he said in an Aug. 6 interview at the forum. "Skimpies are basically a side issue."
An aging workforce across the mining sector means producers worldwide face a lack of sufficient candidates for management positions and should seek a more diverse range of employees, including more women, according to Ernst & Young. In Canada alone, about 20 percent of the mining workforce will be eligible to retire by 2018, the country's Mining Industry Human Resources Council said in a report last year.
"We've been fishing from the same pool for a very long time, and it is exhausted," Debbie Butler, a talent manager at Anglo American responsible for coal operations in Canada and Australia, told a Melbourne conference Sept. 22. "Our industry needs to focus on bringing new people into mining and this means looking beyond the traditional demographics."
Glencore, the Swiss commodity producer and trader, in June appointed Patrice Merrin as its first female director, ending its status as the only company on the UK's FTSE 100 Index with an all-male board. At Brazil's Vale, which hired its first female worker in 1928, 13 percent of employees are women, according to its 2013 sustainability report.
Seeking to promote mining to young women, Gina Rinehart, Asia's wealthiest woman and chairman of the Australian mining company Hancock Prospecting, this month invited students at the private girls' schools where she studied in Perth to take up work placements at her Roy Hill iron ore mine.
Gold producer St Barbara's offer of additional parental leave is helping attract more women, Executive General Manager for People and Business Services Katie-Jeyn Romeyn said in an interview. The company has also reduced the salary gap.
Male workers at the Melbourne-based company earn an average of 11.7 percent more than women, down from 43 percent in 2007, she said. "Our target now will be to get that to 8 percent." Across all Australian industries, the average wage gap is 18.2 percent, according to government data.
One of the biggest barriers to women moving into mining may be their perception of the industry, said Laura Tyler, asset president for BHP's Cannington mine in Australia, the world's largest silver and lead operation.
"My father was particularly horrified when I told him I was going into mining, and I grew up on the edge of the Lancashire coalfields," in England, said Tyler, who hires the same number of male and female graduates at the mine and began a mentorship program to accelerate women into leadership.
Increasing numbers of women in mining is creating opportunities for new businesses.
After seeing a pregnant colleague at an Anglo American coal mine in Queensland wearing a large, ill-fitting uniform to accommodate her bump, Kym Clark last year started a business selling luminous, high-visibility work clothing for women in mining and construction, including maternity wear.
"I noticed how comfortable all the men were in their high-viz, and how uncomfortable she looked," said Clark, a former management accountant at Anglo, who began selling uniforms in November to Glencore, BHP and other customers.
Still, mining is behind every other industry, including oil and gas, in terms of gender diversity, according to a February report by Women in Mining UK and PricewaterhouseCoopers.
Women occupy an average of 8 percent of board positions and 12 percent of management posts at mining companies with a market value of at least $500 million, according to data compiled by Bloomberg. This compares equivalent-sized food, beverage and tobacco companies where 13 percent of directors are female.
Appointing more women to key positions may boost mining companies' income.
"There's a significant correlation between bottom line profit and how well a company does and having more women and diversity in your senior roles," said Ottawa-based Clare Beckton, executive director at Carleton University's Center for Women in Politics and Public Leadership.
And with companies looking for ways to cut spending, mining crews with more female staff at BHP have lower maintenance costs, according to the company's Tyler, its first female asset president. Diversity also breeds better team work, she said.
"The behavior is not quite as macho," Tyler said. "It feels more like a team that you want to be a part of, than some teams that are all middle aged, white guys."
http://thejakartaglobe.beritasatu.com/business/female-e-mail-bhp-shows-mine-shift-boys-club/
---------------
URL: https://www.newageislam.com/islam,-women-and-feminism/new-age-islam-news-bureau/boko-haram-abducts-60-women-in-adamawa/d/99689