New Age Islam News Bureau
3 Nov 2014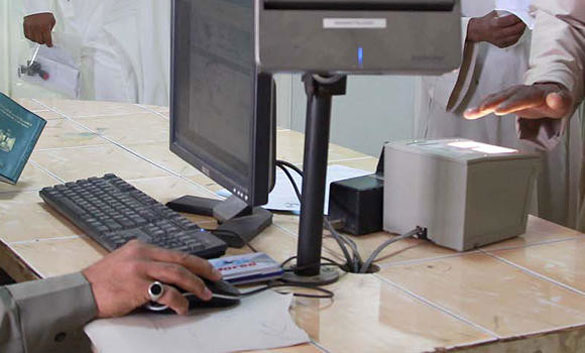 Sponsors to get Female workers fingerprinted, Arab News – 1
-----------
• Sponsors in Saudi Arabia Told To Ensure Female Workers Are Fingerprinted
• Two Saudi Women on Trial for Trying To Join Al-Qaeda
• Jewish and Muslim Women Join at Interfaith Conference at Temple
• V-P and PM of UAE to open Arab Women Leadership Forum
• 423 Bangladeshi Women Victims of Violence in Oct
Compiled by New Age Islam News Bureau
URL: https://www.newageislam.com/islam,-women-and-feminism/new-age-islam-news-bureau/blasphemous-tweets-land-saudi-woman-in-the-soup/d/99847
------------
Blasphemous tweets land Saudi woman in the soup
2 November 2014
A Saudi woman has been arrested in Jeddah for openly criticizing the basic tenets of Islam. A warrant was issued to take Suad Al-Shamri into custody after she allegedly posted anti-Islam statements demeaning Prophet Muhammad (peace be upon him) on Twitter.
The woman's attack against Islam had provoked an outcry and prompted many to demand her arrest and the closure of her social media accounts.
The arrest warrant was issued by the Bureau of Investigation and Public Prosecution.
An international organization shedding light on the life of Prophet Muhammad (peace be upon him) had demanded that Saudi authorities stop the woman from cursing Islamic law and holy texts several months ago.
The organization also called for trying the woman in an Islamic court and urged the Saudi Communications and Information Technology Commission to shut down her online accounts.
http://www.arabnews.com/science-technology/news/653831
------------
Sponsors in Saudi Arabia Told To Ensure Female Workers Are Fingerprinted
3 November 2014
The Directorate General of Passports (DGP) has begun a text messaging awareness campaign requesting citizens and residents to have their female employees fingerprinted and get their vital signs checked in order for them to be registered.
The DGP further said that the registration is mandatory and that sponsors will have to ensure that their household workers have been fingerprinted before they can carry out any transaction.
The DGP has facilitated the process by having passport offices in all major cities and towns in the Kingdom offer the registration service.
Fingerprinting and checking of vital signs of female employees was first introduced on Mar. 31, 2012.
http://www.arabnews.com/saudi-arabia/news/654236
------------
Two Saudi Women on Trial for Trying To Join Al-Qaeda
3 November 2014
Two Saudi women are to stand trial this week for attempting to join Al-Qaeda after illegally infiltrating into neighboring Yemen, an online paper reported.
The women were reportedly accompanied by six children and three Yemeni smugglers, the paper said. The two women, both government employees, were known for their extreme and anti-government opinions and had reportedly tried to incite youth into joining the terror group, burnews.com reported, quoting local media.
The duo had even encouraged young Saudis on social networking sites to fight abroad and had tried to incite dissidence among women and minors, the paper said.
The two women were formally charged with inciting sedition after their Twitter accounts were found to contain calls for staging demonstrations in contravention of a previous pledge they had undertaken when arrested for taking part in a protest in Buraidah, Qassim.
In the pledge, the women accepted having legal action taken against them in the event they engaged in demonstrations again, the paper reported.
http://www.arabnews.com/saudi-arabia/news/654271
------------
Jewish and Muslim women join at interfaith conference at Temple
November 3, 2014
The director of a major Muslim group told Muslim and Jewish women gathered Sunday that God "has put the spark of the divine in all of us."
Daisy Khan, executive director of the American Society for Muslim Advancement in New York City, was among the speakers at the Muslim-Jewish Women's Leadership Conference at Temple University. Its organizers called it "the first-ever national gathering of Muslim and Jewish women." About 100 women participated.
Khan urged audience members "to try to see things from God's perspective - that religions are part of the divine plan - and to see ourselves as part of the plan."
She said the goal of such interfaith efforts was "to celebrate these religions as God would want to celebrate them - to see ourselves as equals." Sheryl Olitzky, executive director of the Sisterhood of Salaam-Shalom in North Brunswick, N.J., told the group such discussions "could not happen until we built trust and respect."
The sisterhood - its name means "peace" in Arabic and Hebrew, respectively - organized the event with the Foundation for Ethnic Understanding in New York City, Olitzky said.
Walter Ruby, director of the Muslim-Jewish Program for the Foundation, said in an interview the gathering was meant to show "Muslim and Jewish women can be each other's best allies in dealing with issues that confront women of faith."
The conference was an outgrowth of the Foundation's Weekend of Twinning, begun in 2007 in New York City with a summit of rabbis and imams from around the U.S., Ruby said.
This year, the weekend of Nov. 14 to 16 is to be marked by Muslims and Jews in more than 30 countries whose efforts on those days are to range from visiting houses of worship to feeding the homeless, he said.
The purpose of the women's Philadelphia gathering, Olitzky said, was "to provide these women with the skill sets and motivation to go back to their communities as advocates for Muslim-Jewish dialogue and engagement."
Recent events, Ruby said, "had made it seem like it's hopeless to bring together Muslims and Jews."
"But this event is saying that women can play a very significant role in the process of reconciliation between our communities."
Olitzky said the sisterhood consisted of chapters of Muslim and Jewish women in Baltimore, Boston, Kansas City, Mo., New York City, and five locations in New Jersey.
The Dialogue Institute at Temple University hosted the event.
http://www.philly.com/philly/news/local/20141103_Jewish_and_Muslim_women_join_at_interfaith_conference_at_Temple_U_.html
------------
V-P and PM of UAE to open Arab Women Leadership Forum
November 3, 2014
Dubai: His Highness Shaikh Mohammad Bin Rashid Al Maktoum, Vice-President and Prime Minister of the UAE and Ruler of Dubai, is to open the Fourth Arab Women Leadership Forum on Tuesday.
The two-day conference is taking place at Emirates Towers.
It is a flagship annual event organised by the Dubai Women Establishment (DWE), hosted under the guidance of Shaikha Manal Bint Mohammad Bin Rashid Al Maktoum, president of DWE.
This year's theme is "Towards Global Competitiveness", which will explore how UAE women can take on even higher roles in the workforce and boost the UAE's competitiveness globally.
Mona Al Merri, chairperson of the board of directors of DWE, said women empowerment and contribution remain strong in the UAE.
The forum will feature regional and international decision-makers, CEOs, and experts representing various industries and sectors.
Keynote speakers are Dr Abdul Latif Al Zayani, secretary-general of the Gulf Cooperation Council, and Shaikha Lubna Al Qasimi, Minister of International Cooperation and Development and President of Zayed University.
In addition, the DWE chairperson will speak on behalf of Shaikha Manal.
http://gulfnews.com/news/gulf/uae/general/shaikh-mohammad-to-open-arab-women-leadership-forum-1.1407615
------------
423 Bangladeshi Women Victims Of Violence in Oct
3 November 2014
At least 423 women were victims of violence across the country last month, according to Bangladesh Mahila Parishad.
The total number of women raped was 103. Of them, 19 were gang raped, while 11 were killed after being raped, said a press release of the organisation yesterday.
Six women were abducted in October, and one woman was sold to a brothel.
The parishad made its report based on news reports published in 13 Bangla and English national dailies.
The statement, signed by Maleka Banu, general secretary of the organisation, said as many as 94 women and children were murdered last month.
It also said 22 women, who were tortured, committed suicide, while 21 others died "mysteriously". Eleven women fell prey to acid attacks, one of whom died later.
As many as 40 women were tortured due to dowry related issues. Of the victims, 16 succumbed to their injuries.
http://bd.thedailystar.net/city/423-women-victims-of-violence-in-oct-48665
------------
URL: https://www.newageislam.com/islam,-women-and-feminism/new-age-islam-news-bureau/blasphemous-tweets-land-saudi-woman-in-the-soup/d/99847