New Age Islam News Bureau
25 Oct 2013
• How Kurdistan Ended Female Genital Mutilation
• Iran Warns Malaysia against Hanging Iranian Women
• Syrian, Afghan Female Journalists Receive Media Awards
• Female Paperwork Agents Make A Killing in Saudi Arabia
• Only Woman Running for Afghan President Gets Disqualified
• Veena Malik Unveils Herself as A 'Powerful Muslim Woman'
• Aafia Case Not Open To Discussion: US
Compiled by New Age Islam News Bureau
URL: https://newageislam.com/islam-women-feminism/bihar-woman-set-share-stage/d/14140
------------
Bihar Woman Set To Share Stage with Malala Yousufzai at UN
October 24, 2013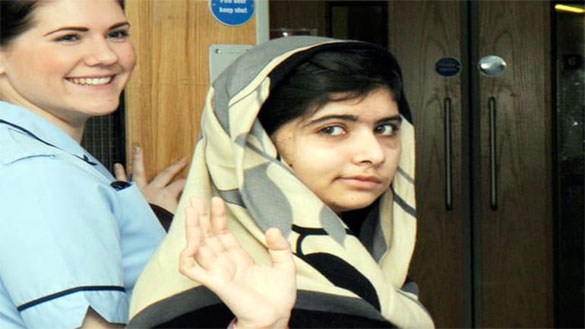 A Bihar woman health official is set to share stage with Malala Yousufzai, who was shot in the head and neck by the Taliban for advocating girls' education in her country Pakistan, in New York next month, officials Thursday said.
Martha Dodray, in her mid-40s, is an auxiliary nursing midwife posted at Kusheshwarsthan primary health centre in the state's Darbhanga district. She was selected by the United Nations Foundation (UNF) for her extraordinary work to eradicate polio.
"I am happy that UNF would honoured me for my work in polio immunization campaign at a function to be held at New York Nov 6, where Malala would be also be felicitated," Martha, a tribal native of Palamu district of neighbouring Jharkhand, said.
She said she walked several kilometres each day to reach remote and inaccessible villages to administer polio vaccine to hundreds of children, mostly belonging to poorest of the poor.
Darbhanga district magistrate Kumar Ravi said Martha has contributed in the polio vaccination drive in remote pockets of the flood-prone rural areas.
"Marha was recently selected as one of the best polio workers in India for her devotion and hard work in polio vaccination drive. Her name was recommended for the award ceremony in New York," Darbhanga civil surgeon U.K. Choudhary said.
Bihar has not reported a single case of polio in the last three years and has virtually remained polio free since August 2010.
State Health Secretary Sanjay Kumar, who is also executive director of Bihar State Health Society, said the state has become a near polio-free region as it has not recorded a single case of the disease. But Bihar will have to wait till Jan 14, 2014, to be officially declared a polio free state, when India too will be declared a polio-free country.
http://indiatoday.intoday.in/story/bihar-nurse-to-share-stage-with-malala-at-un-function/1/320014.html
------------
How Kurdistan Ended Female Genital Mutilation
October 24, 2013
Toutkhal: Kurdistan is one of Iraq's rare success stories; autonomous from Baghdad since 1991, the region has recently enjoyed an oil boom that's fuelled foreign investment unknown elsewhere in the country.
And recently Iraqi Kurdistan has been looking closely at its human rights record. Two years ago Female Genital Mutilation was banned, as part of a wide-ranging law to improve women's rights, and since then the rate of FGM has fallen dramatically.
But how have they achieved this? Kurdistan is very much the exception.
Many other countries in the Middle East and Africa still suffer from high rates of FGM. According to Unicef the countries where FGM is most prevalent is Somalia and Guinea, while Egypt is in the top five.
However according to Unicef the practice is 'practically non-existent' in the rest of Iraq. In a special report that is part of the BBC's 100 Women Season, I found out more about the grass roots campaign that led to this practice being outlawed. I wanted to know if enough is being done to enforce the law, and end FGM in Kurdistan altogether.
One leg of my journey was to the sleepy village of Toutkhal — in a remote and mountainous area in Iraqi Kurdistan. At first glance, life seems untouched by the modern world. The small mud houses, surrounded by farm animals and people living off the land make it hard to imagine why this village would make the news.
But there have been dramatic changes here. Toutakal is one of a handful of villages in Iraqi Kurdistan to have banned female gentile mutilation after the practice was outlawed in 2011. The mayor of the village, Sarhad Wahab, proudly told me that after the ban the government started paying attention to Toutkhal — providing the village with a new school and electricity in the past few months alone. But he tells me that's not why they banned it.
"We believe that your body is yours and cutting part of it is an act of violence. We are very proud to be the first to start this campaign. We banned FGM because we knew it was wrong". The mayor and his wife Nesri seem to have a genuine commitment to the cause — they stopped their youngest daughter Dunia from being cut years ago. But her elder sister Seibar was cut in secret by her grandmother while her parents were out of the house.
Nesri told me what happened to her eldest daughter. "They knew I would not want to cut my girl. So they cut her when I was out. And it was irreversible. For many, the ban has come too late here — almost every woman and girl I spoke to had already had 'khatana'.
Deeman, one of Dunia's friends, told me about her experience: "I was very little and I was playing with a friend of mine when my mum grabbed me and said the man who sells fruits and vegetables and sweets is here in the village, so we're going to buy you something. They took me to a house and that's where i had khatana. If I had known I would not have gone."
She told me,"I remember it was very painful...two women held me down. I know our bodies belong to us so why did they take something that was mine why did they cut a piece of me that was mine?"
Her mother Talaat cut all five of her daughters — including Deeman. She told me she never meant to harm her daughter, she was only doing what she thought was best.
Sitting next to her mother, Deeman looked upset. I asked her if she was angry at her mother.
"There's no need to be angry with my mother. It was a widespread practice and we love her. We should be angry with those who spread this practice in the name of religion," she told me.
One of the main reasons why Khatana or FGM is prevalent is that many still believe that it's part of Islamic practice.
Mullah Omar Chngyani, an Islamic scholar, has written extensively about the subject. "This practice is not in Islam, it's a traditional practice not a religious one — it's a form of oppression for women". It's a tradition that's been passed on through generations.
Chngyani says, "Some people choose to follow a certain school of Islam literally without really understanding the teachings. But if you read and understand deeply you'll know that Islam could never tell us to hurt anyone."
The dramatic change in the village of Toutakal is part of a campaign funded by a local charity — Wadi — to end FGM in the Middle East.
When FGM was uncovered, it sent shock waves through society. What's remarkable is that it was discovered by chance. In 2004 — following the fall of Saddam Hussein — Kurdistan was braced for refugees from the rest of Iraq. And Wadi sent teams into the villages to provide support.
The refugees never arrived, but Wadi's staff started coming back with stories of young girls being cut. Falah Muradkan Shaker is the head of Wadi and one of the champions of the campaign. "One of our team members in Gamiyan region informed us that people were asking them about female genital mutilation: if they cut how they should cut, these kind of things, and we were quite surprised. We knew that it existed but we didn't know this practice was still continuing."
Falah took his findings to the authorities, who were shocked by the idea that FGM could still be happening in Kurdistan. "When the reports came out the Kurdistan Regional Government denied it.
"Then it became a kind of challenge between us and we needed to prove whether or not it existed." This was a start of a seven-year campaign with other charities and film makers who travelled from village to village to get women's testimonies on camera.
After years of campaigning, a law was eventually passed criminalising FGM.
Gasha Dara was head of the Women's Rights Committee when the law was passed and helped push the ban through parliament. "This matter has been difficult for the members of parliament and even society to accept. We were often told by ordinary people — don't you have anything better to work on than FGM?' We knew we might face difficulties in mentioning FGM due to cultural sensitivities, so we decided we should put FGM within a wider proposal for a law against domestic violence," Gasha said.
The law was a huge milestone but the campaign to end FGM was not over. When the law changed in 2011 some warned that banning the practice would simply drive it underground.
"This law is trying to change a culture that existed for a long time. As a result, the law has not penetrated people's minds yet. In the next term we need to work more to understand the problems with this law and why it isn't being implemented. Is it a problem with the law itself, or the way it is policed? We have to make sure this law will prevent FGM," Gasha added.
The Kurdish Government has now promised a comprehensive survey of the levels of FGM, which should be delivering results in the next few years. But the human cost of this practice is much harder to quantify.
— Shaimaa Khalil is a BBC journalist
http://gulfnews.com/news/region/iraq/how-kurdistan-ended-female-genital-mutilation-1.1246823
------------
Iran warns Malaysia against hanging Iranian women
Oct 24, 2013
TEHRAN: Iran's foreign ministry warned Malaysia on Wednesday against executing two Iranian women convicted of trafficking methamphetamine into the Southeast Asian country.
"The execution of two Iranian women in Malaysia will have negative effect on our bilateral ties," Hassan Ghashghavi, deputy foreign minister in charge of consular affairs, was quoted as saying by official news agency IRNA.
http://articles.timesofindia.indiatimes.com/2013-10-24/middle-east/43362015_1_malaysia-irna-iran
------------
Syrian, Afghan female journalists receive media awards
24 October 2013
A Syrian photojournalist working for Reuters was one of three women to receive the Courage in Journalism award from the International Women's Media Foundation on Thursday.
Nour Kelze was unable to attend the ceremony in New York, but spoke about her work in a short video.
Najiba Ayubi, the director of Afghan news organization The Killid Group, and Bopha Phorn, a Cambodian investigative reporter, also received the Courage in Journalism award.
Ayubi "has faced direct threats from many sources. Politicians have sent gunmen to her home, anonymous aggressors have vowed to harm her family, and she has been publicly defamed," the IWMF said at the ceremony.
Phorn, who writes for The Cambodia Daily, "narrowly escaped with her life when the vehicle in which she was traveling came under heavy fire" while she and colleagues were investigating claims of illegal logging, the IWMF said.
An activist traveling with Phorn was killed, the Associated Press reported.
Past winners of the Courage in Journalism award include Helen Thomas, who covered 10 presidents as a White House reporter and died in July aged 92; Marie Colvin, Britain's Sunday Times correspondent who was one of 28 journalists killed in Syria in 2012; and Anna Politkovskaya, a Novaya Gazeta reporter who was gunned down in the elevator of her Moscow apartment building in 2006.
The IWMF also honored the first black female editor of a newspaper in Zimbabwe, Edna Machirori, with its annual lifetime achievement award.
"I began my journalism career as a teenager, and I've never done anything else, this is my life," Machirori told Al Arabiya Television.
"When you do something, maybe cover a little story, and it has an impact, that's very satisfying," she added.
The IWMF said its lifetime achievement award "recognizes a pioneering spirit and determination that has opened doors for women everywhere."
http://english.alarabiya.net/en/media/print/2013/10/24/Syrian-Afghan-female-journalists-receive-media-awards.html
------------
Female Paperwork Agents Make A Killing in Saudi Arabia
25 October 2013
Several Saudi women have recently been deployed as paperwork agents, seizing the opportunity of the legalization period to make profits.
A group of Saudi paperwork agents await female clients in the female section of the Passport Department in Jeddah, who visit the department to review or follow up on their cases.
Um Samer, a 36-year-old divorcee who has worked as a paperwork agent for the past three years, said: "After my divorce, I found myself without a home and it was difficult to go back to my father's house with my children. So I began to look for a secured job as a source of income. One of my relatives suggested I work as a paperwork agent."
"I began working from home and then from a small office and I have now managed to successfully establish an organization that provides public services," she added.
Applicants must be Saudi citizens and able to read and write Arabic fluently.
Um Samer pointed out that the legalization period has had a great impact on her work as a paperwork agent in the public service sector.
"The correction period has no doubt created competition between female agents. Several agents are working without licenses from the Ministry of Trade and Industry. Their sole interest is to earn as much as possible during this period without taking into account the reputation of the field," she added.
Abu Rakan, another paperwork agent, asserted that men are more suitable for this field of work. He emphasized the fact that women are forced to rely on male agents since government departments do not have special sections for women, thus restricting the ability of female agents to move and interact with clients.
Um Samer acknowledges that there are many obstacles that face her as a female paperwork agent.
However, she said: "Such constraints do not mean we should abandon the field and allow it to be exclusively male-dominated, especially since it offers good salaries. Menial procedures cost SR3, 000, while more complex cases provide higher pay, as many are willing to pay high amounts to get their paperwork done."
She also highlighted the fact that female paperwork agents are at an advantage because female clients prefer dealing with them as opposed to their male counterparts due to social and religious factors.
Women entered the profession in 2006, when the Ministry of Industry and Trade appointed its first female agent, Fawzia Mbarki. Since then, obtaining a license for this occupation is considered a positive achievement for Saudi women, paving the way for greater opportunities in the work force.
Grand Mufti Sheikh Abdulaziz Al-Asheikh has reproached paperwork agents who have exploited the need for their work by raking in large sums of money from expatriates and citizens.
http://www.arabnews.com/news/468757
------------
Only Woman Running for Afghan President Gets Disqualified
Oct. 24, 2013
By Krista Mahr
Khadija Ghaznawi says she knows exactly how to end the long-simmering conflict in Afghanistan: build more factories. A logistics company owner by profession and peace activist on the side, Ghaznawi says that if the government had been diligent about creating more jobs for Afghans, militants would have laid down their arms already.
"The Afghan Taliban are also sick of fighting," she says. "They haven't gotten any of the opportunities from aid money that came into this country. If we provide work and education for their kids, they'll stop."
That was one of the causes Ghaznawi was planning to champion as the only woman running for president in Afghanistan's upcoming national elections — that is, until she was disqualified a few days ago. In 162 days, Afghan voters will choose their next president, in an election that stands to shape the future of this troubled nation in the year the U.S. completes its withdrawal after more than a decade-long occupation. But Ghaznawi will most likely not be on the ballot. On Oct. 22, Afghanistan's Independent Election Commission (IEC) announced that over half the candidates who had put their names forward for the job did not qualify to run. Ghaznawi says she has no idea why she was booted off the list. "The elections commission didn't tell me why," she said. "I haven't received one phone call… I'm very angry with the decision."
This fall, a motley cast of characters threw their hats in the ring to take over from President Hamid Karzai, who is constitutionally banned from running again in the polls scheduled for April. Twenty six candidates, with two vice presidential running mates apiece, formally submitted their names to the IEC, saying they had come up with, among other requirements, the compulsory amount of cash and 100,000 voter signatures required from across the country to run.
Evidently not. A little over two weeks after registration closed, IEC chief Yusif Nuristani told reporters in Kabul that after reviewing the candidates, the elections body deemed only 10 to be eligible for its preliminary list. The frontrunners remain, including Abdullah Abdullah who ran against Karzai in 2009, Karzai's brother Qayyum Karzai, former minister of finance Ashraf Ghani Ahmadzai and former minister of foreign affairs Zalmai Rassoul.
The ousted aspirants, all of whom were more minor players, have 20 days to appeal. The IEC says that the reasons for their disqualification included holding two passports, which is banned, insufficient education, and failure to furnish the required voter signatures. But the lack of specifics and communication with candidates as to why they were left off the list seems a less than ideal way to kick off the transparent elections everyone is hoping for. "I was certain I gave them everything they wanted," Ghaznawi says. "I will keep trying to find out what the problem what was."
Others, too, have said they will fight their case. The fact that the president appoints IEC's leadership has cast a shadow over the announcement, sparking outcries that Karzai is trying to install his choice of government in April's vote. Jandad Spinghar, executive director of the Free and Fair Election Forum of Afghanistan (FEFA), says the cozy ties between the IEC and the palace translate into lack of professionalism that is harmful to Afghanistan's fragile democracy. "The government is very much keen to interfere," Spinghar says. But unlike other countries whose elections commissions retain more independence to resist such meddling, he says, Afghanistan's IEC "does not have the capacity to stop it."
It's a problem that starts in the capital and spreads to the most remote reaches of the country, he says. During the 2009 vote, FEFA found that IEC employees, under orders from superiors in Kabul, were stuffing ballot boxes or changing the results of votes after hours. The 2014 polls are still more than five months away, but reports of vote buying are already rife in the candidate registration process, and an illegal trade in vote card buying is reportedly taking root. "Most of the candidates have sent their people to buy votes," says Spinghar. "It's happened already, across the country."
To what degree, it's impossible to say, but such reports can't help but lend a whiff of arbitrariness to who's in and who's out. At the very least, they underscore the fact that the remaining candidates, including former warlord Abdul Rasul Sayyaf, should not be spared further scrutiny.
The other problem observers note is that he and many of the other 9 candidates are close to Karzai, raising questions as to what real change this election is destined to bring. Will any of the qualified candidates, for instance, pick up Ghaznawi's important — if, admittedly, narrow — point of job creation as a means of keeping Afghanistan's impoverished youth out of militants' hands? "The 2014 election has started with a lack of transparency, accusations of serious fraud and a further limitation of choice," writes Kate Clark of the Afghanistan Analysts Network. "It is not a promising beginning to the campaign to chose Afghanistan's next president."
http://world.time.com/2013/10/24/only-woman-running-for-afghan-president-gets-disqualified/
------------
Veena Malik unveils herself as a 'powerful Muslim woman'
By Saadia Qamar
October 24, 2013
KARACHI: Often the subject of muckrak in tabloids, Veena Malik is a woman on a mission.
Under the wild girl image, there resides a more sensitive woman (who we have seen doing Astaghfar on a Ramazan TV show already).
The actor-singer's haters may sling mud at her, but she says her resilience and indomitable strength will get her through the most tumultuous of times.
She will soon be featuring in a Dutch documentary tentatively titled Women in Islam, which will cover the lives of six most powerful Muslim women from across the globe. The documentary, scheduled to air in May 2014, devotes its third episode to Malik's life and depicts a side to her that she doesn't often show on screen.
On how she managed to secure the part, Veena tells The Express Tribune, "The Dutch National TV team contacted me. They said they have chosen me to be part of [a documentary] along with five other individuals. They stated that they have handpicked 'six of the most powerful women of the Islamic world'." In October 2013, the documentary crew closely assessed her life in Mumbai for a week. "It's an experience of great personal value; one will get to see the real Veena Malik rather than the one projected on screen. This is a personal story of how I interact with the people around me," she said.
What most people don't know about Malik are the philanthropic projects that she has been associated with. Back in Pakistan, she worked with the World Health Organisation (WHO) on a polio campaign. "With WHO, I travelled to Quetta and Sibi for polio vaccination but I never flaunted it. People should know that I have various sides to my personality and that I love to work for humanity on a global level," she said.
On the question of what matters to her most, she said, "For me, spirituality, humanity and religion matter — my religion that tells me to respect other religions. My bonding with God has strengthened over time … For now, my life is about my family, extended family and the people I know. I know that I need to do a lot more for humanity but for now, I need to work for my family."
Song release and other projects
Malik's second solo single, Rum, released on October 23 in Mumbai. "My second solo is Rum — it is about what we call 'daroo'," she said with a laugh. In India, she hasn't got the time to get professionally trained but she said that she took training lessons in Pakistan. For the song, she has borrowed Aziz Mian Qawwal's line from the qawwali Main Sharabi. "I used to listen to this qawwali as a six-year-old when my father used to play it on the tape recorder. It had a great impact on me. Even when I listen to it today, its impact is just as strong. I find a spiritual connection with it. While working on Rum, I only thought about this qawwali," Malik said.
When enquired about her future singing plans, Malik said that she intends to make more solo tracks and even plans on making remixes of old Pakistani songs.
She disclosed that novelist Shobhaa De and an Indian photographer have expressed interest in penning the life of Malik. "Who is the real Veena Malik? She is a strong person. She was broken and shattered, but she stood up and faced all the challenges," said Veena. "I would like to share my personal challenges in a book," she added.
In terms of her connection with Pakistan, Veena said, "I will never let go of my association with Pakistan. I am, first and foremost, a Pakistani, then an army official's daughter. I am like a kite that floats in the boundless air, but always stays linked with its string," she said with pride.
http://tribune.com.pk/story/621912/veena-malik-unveils-herself-as-a-powerful-muslim-woman/
------------
Aafia case not open to discussion: US
ANWAR IQBAL
2013-10-25
WASHINGTON: There will be no change in US drone policies, senior American officials said on Thursday while acknowledging that Prime Minister Nawaz Sharif had raised the issue at both private and public meetings during his four-day stay in the US capital.
The officials said that the prime minister also mentioned Dr Aafia Siddiqui, a Pakistani-American imprisoned in the US for allegedly attacking American soldiers in Afghanistan, in one of the meetings.
"But there's no discussion on this issue as this issue is not open to discussion," one of the officials said.
The officials said the United States understood that there's a consensus in Pakistan for holding talks with Taliban militants and the US had no objection to this decision.
At a special briefing for Pakistani journalists in Washington, the officials described the visit as "historic", which kept the prime minister "unusually busy".
The prime minister, who held a series of talks with US leaders, military officials, lawmakers and think-tank experts, also had a two-hour meeting with US President Barack Obama before flying home on Wednesday evening.
The officials said that the prime minister had "an honest and warm tone" in his talks in Washington and the US administration would like this to continue in future meetings as well.
"The PM raised the drone issue at his public and private meetings (in Washington)," said one of the officials, adding that the US was still committed to the policy President Obama announced in May this year.
In a speech in May at the National Defence University, Washington, President Obama described the drones as a necessary evil, pledged to contain them but also warned that the strikes would continue.
"The PM said Pakistan was talking to TTP and we expressed our support to this position," said one of the officials. "We understand there's a political consensus on this issue. We have no objection as long as the Taliban are required to accept the Constitution and the rule of law."
The prime minister also expressed his concern about the use of Afghan territory for stirring up troubles in Balochistan and KP and in some meetings he also named India as one of the countries using Afghanistan for this purpose, the officials said.
The two leaders also discussed cross-border terrorism, both from and into Pakistan, and Mr Sharif agreed with Mr Obama that all such activities must stop and no country should allow the use of its territory for creating problems for others.
"Aafia Siddiqui, I don't believe it was raised," said one official. "Dr Afridi was raised in several meetings," he added, noting that President Obama and other US officials and lawmakers had urged Mr Sharif to release Dr Afridi.
The officials said that Pakistan's relations with India were "discussed at some length" in all the meetings the prime minister held in Washington and the United States reaffirmed its conviction to continue to work with the two countries to improve their ties.
The talks covered violence along the LoC, the Kashmir dispute and all major aspects of India-Pakistan relations, said the officials, noting the prime minister's desire to improve his country's ties with both India and Afghanistan.
Mr Sharif informed the Americans that after his meeting with Indian Prime Minister Manmohan Singh in New York last month, the two leaders had tasked their DGMOs with reducing tensions along the LoC.
But Mr Sharif also told US officials that this mechanism had not always been very effective and that's why he urged them to work with both the countries to help lower tensions.
"We will continue to use our influence on both to encourage them to reduce tensions," said one of the officials when asked what the US response was.
The officials said that although there's a substantive dialogue on Pakistan's energy needs, there were no talks on providing civil nuclear technology to Pakistan.
The United States, however, was helping enhance its traditional and non-traditional sources of energy, such as hydro, gas, etc, the officials added.
http://www.dawn.com/news/1051620/aafia-case-not-open-to-discussion-us
------------
URL: https://newageislam.com/islam-women-feminism/bihar-woman-set-share-stage/d/14140