New Age Islam News Bureau
2 Apr 2018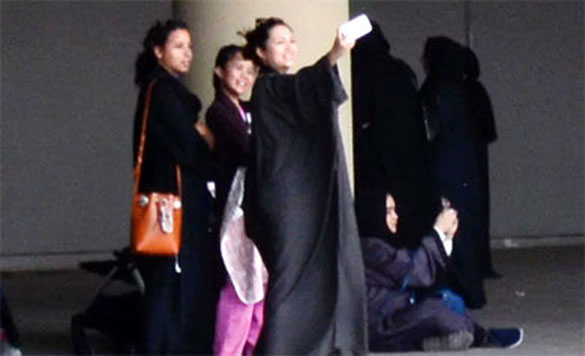 The race was held in a fully equipped sports environment and ladies were free to wear normal sports suits, as it was an all-female event. The marathon fence was covered with black satin to maintain the participants 'privacy. (AN photos)
-----
• Women Pedal En Masse In Karachi, Lahore And Islamabad
• Muslim Woman Wearing Headscarf Violently Attacked In US Hospital
• Hijab Ban Attempt Is 'Racism Dressed Up As Liberalism', Teachers' Conference Told in UK
• Muslim Women's Conference Tackles Taboos of Sex, Intimacy
• Malala Says Her Return Shows Pakistan's Success in War on Terror
• Resistance to Ending Child Marriage Continues in Northern Nigeria
• Lebanon Polls to Gauge Whether Society Ready For Women Representation
• Iran: Woman Sentenced One Year for Protesting The Compulsory Veil
Compiled by New Age Islam News Bureau
URL: https://www.newageislam.com/islam-women-feminism/big-cheers-participants-womens-races/d/114795
--------
Big cheers for participants in women's races in Jeddah
2 April 2018
NADA HAMEED
JEDDAH: King Abdullah Sports City (KASC) witnessed a rare event on Saturday: The biggest women's running event in the city.
A public women's running event is an unusual sight in the Kingdom. Many women's races have been held in the past few years but privately, and they have been limited to certain universities and schools unlike this one, which was done on a city level.
The race was held in a fully equipped sports environment and ladies were free to wear normal sports suits, as it was an all-female event.
The marathon fence was covered with black satin to maintain the participants' privacy.
The event, organized by Activity Team and Petromin Corp. and supported by the Saudi Mass Participation Federation, aimed to introduce the Saudi community to sports and encourage more people to participate in the forthcoming events.
There was a male running event in the morning at the same place, which was attended by males of all ages, and a chance for people with special needs (in wheelchairs) to participate from 7 a.m. to 9:30 a.m. Access to the race was free for all the audience. More than 350 female participants gathered in the KASC around 5 p.m. They were divided into three groups, as follows:
1. 4km group, children from 8 to 13
2. 8km group, teenagers from 14 to 17
3. 20km group, women between 18 and 60
Winner of the children's group race, Lara Al-Saggaf, 12, who was awarded a PlayStation3, told Arab News: "I'm so happy. I challenged myself to reach the endpoint."
Winner of the second race, Nadimah Abu Alaineen, 17, who won SR2,000 ($533), said: "It's more than great to feel the spirit of the audience who were cheering for me."
Arwaa Al-Amoodi, who won the third and longest race, told Arab News: "I am glad to win this race. I am actually a fitness coach."
King Abdul Aziz Stadium and Al Wehda Club (a multi-sports club team from Makkah) will host the first women's marathon in Makkah on April 6 under the patronage of the General Authority for Sport and the president of the Saudi Federation of Community Sports, Princess Reema bint Bandar.
http://www.arabnews.com/node/1277576/saudi-arabia#photo/2
--------
Women pedal en masse in Karachi, Lahore and Islamabad
Apr 02 2018
Dozens of women across major cities of Pakistan participated in the third annual bike rally by Girls at Dhabas on Sunday.
The all-women rally, an initiative aimed at collectively asserting a woman's right to reclaim public spaces, was held in Lahore, Karachi and Islamabad.
In Lahore, the rally started from Siddique Trade Centre and saw celebrities, including Meesha Shafi and Zara Peerzada, join in. While in Karachi, the rally started from Tariq Road and from Haunted Hill in Islamabad.
Many women cycled with posters reading, "Ride your bike and put pressure on patriarchy", "Our roads, our city" and placards asking men to not stare.
The women who did not own bicycles were provided them on rent.
The bike rally was first started two years ago in support of Aneeqa Ali, a cyclist in Lahore who was harassed, hit and injured by men in a car for riding her bike.
The incident had triggered a debate and urged women to reclaim public spaces and fight for their right to cycle on the streets of their cities.
Actor and singer Meesha Shafi took to Twitter after the rally and said, "Supremely liberating experience to bike on the Main Boulevard, MM Alam Road and Liberty Market today with an army of #girlsonbikes #reclaimpublicspaces kudos to @girlsatdhabas for the third annual rally!"
Another Twitter user who goes by the name Disco Spider said, "Words cannot begin to explain how I feel. All I will say is that the sisterhood is strong and may we prosper!"
"Loved taking on Isb streets on wheels with @girlsatdhabas for third women bike rally. It did give my muscles a run for money biking after so long but not going to stop now!" Zunaira Ali said.
https://www.geo.tv/latest/189092-women
--------
Muslim woman wearing headscarf violently attacked in US hospital
April 2, 2018
A woman wearing the Muslim headscarf at a hospital in the U.S. state of Michigan has been violently attacked by a stranger while checking in at the emergency room, reports said Saturday.
According to video footage obtained from the Beaumont Hospital in Dearborn, a man approached the 19-year-old Muslim woman from the back and punched her in the head several times before being stopped by a security guard.
The incident reportedly took place on Feb. 10.
The attacker was identified as 57-year-old John Salvatore Deliz, Dearborn police said, while local WDIV TV noted that he was discharged from the hospital that day and had been harassing people in the lobby.
He was restrained by hospital security and was detained by police, who charged him with assault.
The Muslim woman is filing charges against the hospital for not doing enough to monitor the violent man.
"We want to hold them accountable for not looking out for the safety of other patients," Majed Moughni, the victim's attorney, told The Detroit News, adding that their main goal is to ensure that other people are not attacked the way his client was.
The attorney claimed that the attack was racially motivated as the perpetrator and the victim did not know each other.
"She'll never probably be the same person again. She's emotionally distressed. She's always looking behind her to make sure she's not going to get attacked again," Moughni said.
Islamophobia has been on the rise in the U.S. in the past several years, boosted by the election of Donald Trump as president and his discriminative political rhetoric, as well as the media bias against Muslims and Islam.
According to the Council on American-Islamic Relations (CAIR), "the number of hate crimes in the first half of 2017 spiked 91 percent compared to the same period in 2016."
https://www.dailysabah.com/islamophobia/2018/04/01/muslim-woman-wearing-headscarf-violently-attacked-in-us-hospital
--------
Hijab Ban Attempt Is 'Racism Dressed Up As Liberalism', Teachers' Conference Told in UK
2 Apr 2018
Efforts to bar girls from wearing the hijab at primary schools were "naked racism dressed up as liberalism", a teachers' union conference heard as it unanimously backed a motion attacking official support for the ban.
The National Education Union's annual conference in Brighton voted to challenge statements by Amanda Spielman, the head of Ofsted and the chief inspector of schools in England, over the issue of girls as young as five wearing the hijab in state schools.
The motion accused Spielman of going beyond her remit as chief inspector of schools over her recent comments linking the wearing of the hijab to sexualisation of young girls and her call for "muscular liberalism" to promote British values in schools.
Latifa Abouchakra, a teacher from Ealing, told the conference that such language was "just another term for racism and Islamophobia", and made Muslims an easy target.
Abouchakra related how she had been called a "terrorist" while leading a secondary school class trip to Hampton Court.
"[Ofsted's] stance has other ramifications. It signals to the British public that women are oppressed by Islam, and emboldens groups such as EDL [English Defence League], BNP [British National party] and other racist groups," she said.
Last year, Spielman said Ofsted school inspectors could ask young girls why they wore the hijab, when wearing it "could be interpreted as sexualisation" of girls as young as four or five. Most Islamic teaching requires headdress for girls only at the onset of puberty.
Mehreen Begg, a teacher from Croydon, said Ofsted's position was "unwarranted and draconian".
"It is wholly inappropriate for Ofsted inspectors to question primary-age Muslim girls on their choice of dress. This is an act of intimidation by a powerful adult on a young child and has no place in our education system," Begg said.
Pete Smith, a delegate from Swindon, accused Ofsted of aiding a hostile climate for Muslims, calling its policy on hijabs as racism "dressed up as liberalism".
"Let's tell Ofsted, let's tell the DfE [Department for Education], that we are not prepared to stand up for their racism. We will face them down, we will push that racism back by any means necessary," he told delegates.
After the motion was passed on Sunday morning, the NEU section president, Kiri Tunks, said: "It sends a really important message to the Muslim community that we will stand with you against these attacks."
A spokesperson for the Muslim Council of Britain (MCB) said it welcomed the union's efforts: "It appears that Ofsted is becoming increasingly isolated in its 'muscular liberalism' approach on imposing clothing restrictions for young Muslim girls."
The controversy grew earlier this year when Spielman publicly supported an effort by the leadership of St Stephen's primary school in Newham to stop young girls wearing the hijab at school. The school's head dropped the ban after an outcry.
"Given St Stephen's primary school, where this began, has acknowledged its ban was a 'huge error of judgment', we can only hope that [Ofsted] will listen and learn rather than continue on its confrontational non-engagement strategy, which will only harm the very young children Ofsted is meant to support," the MCB said.
When the motion was first announced, a spokesperson for Ofsted said: "There's nothing political about ensuring that schools and parents aren't being subject to undue pressure by national or community campaign groups.
"Headteachers need to be able to take uniform decisions on the basis of safeguarding or community cohesion concerns, and Ofsted will always support them in doing that."
https://www.theguardian.com/education/2018/apr/01/attempt-to-ban-hijab-racism-dressed-up-as-liberalism-teachers-conference-told
--------
Muslim Women's Conference Tackles Taboos of Sex, Intimacy
Apr 01, 2018
Sex and intimacy are topics that are difficult for many to talk about. But at Saturday's Being ME (Muslimah Empowered), a conference for Muslim women, they were on centre stage, along with other taboo issues like mental health.
Dr. Farah Islam was one of the organizers behind the seventh annual Being ME conference and said she spoke with many women ahead of the event who were excited that the focus this year was on sex and intimacy.
"We got this incredible groundswell where people obviously — it was a silenced issue and people really wanted to talk about it," she told CBC Toronto. "So we met that demand, and we brought this workshop to the floor because we need to know about how to have [a] better family and have a better married life."
Islam said many Muslim women don't get "the talk" from their parents, but soon find themselves in a marriage with sex suddenly becoming a part of their lives.
She recognized there are some Muslims who are looking for a safe space to discuss sex and intimacy, she added, and Being ME provided that space with a counsellor on hand and a group of engaged women.
"We have a professional, we have our community around us and actually start talking about something that's important in our lives," Islam said. "It's 5,000 women in this room altogether, so what a wonderful thing to really build those bonds of sisterhood and really feel that energy in the room."
Being ME also takes inspiration from the Qur'an. According to organizer Islam, the prophet had uncomfortable conversations and encouraged people to ask questions.
"He never shied away from answering these questions, so it's sort of an example that we need to sort of revive in our communities," she said. "That's what we're trying to do in this conference, come out and talk about taboo topics: talk about mental health, talk about sexuality, talk about all of these things that are part of our lives."
Having 'the talk' with kids
Nadira Yasmin agreed that frank talks are important. She attended the event with her children and said that discussions about sex and intimacy should happen between parents and their children so children can grow up having the right information at hand. It's a discussion she has already had with her own kids.
"You don't want them to get it from somewhere else because you don't know what the source of that person is or who that person is or their goal or intention might be," she said.
"Even within our friend circles, we say, 'Please talk to your kids.' It's a discussion they should have with you and you should not say, 'No, we cannot talk about it.'"
#MeToo not off limits
One of those topics not off limits was the #MeToo and #TimesUp movements, which brought the issues of sexual harassment and assault to the forefront. The conference had a session specifically on how to deal with harassment in the workplace, mosque or elsewhere in the community.
"It happens to all of us. It has nothing to do with how you dress, or what religion you are or what colour or background you are," she added. "All women face sexual violence in their lives, and so it is such an important topic to bring to the table."
Shukri Abdullahi said that as Muslims are part of the Canadian community at large, they need to talk about workplace harassment. NISA, the first helpline for Muslim women in North America, was also at the event.
"As sisters here, we created a beautiful network of sisterhood to have those discussions, people to call. There's phone lines that are going to be available to young girls or sisters who joined the corporate world," Abdullahi said.
"A lot of workplace harassment happens after working hours in private spaces, so don't subject yourselves. If you feel the environment is not right, just get out."
While Being ME has wrapped up in Toronto, another conference is set for May 5 at the Calgary Telus Convention Centre.
http://www.cbc.ca/news/canada/toronto/muslim-womens-conference-sex-intimacy-1.4601813
--------
Malala says her return shows Pakistan's success in war on terror
APRIL 2, 2018
ISLAMABAD: Pakistan's youngest Nobel laureate Malala Yousafzai said on Sunday that the law and order situation prevailing in the country showed that peace had been restored completely.
"This was made possible only with the sincere efforts of security forces and great sacrifices of civilians and Pakistan Army. My return to Pakistan is actually a success of Pakistan's war against terrorism," she said in an interview with APP.
Malala praised the role of the government and Pakistan Army in restoring peace. "My dream of returning to Pakistan was fulfilled due to the government of Pakistan and Pak Army's sincere efforts," she said, adding, "It was my dream to go back to Pakistan which comes true now. I waited for this moment for several years, hoping one day to return."
She said, "Now I can tell the whole world with more confidence that there is complete peace in Pakistan and my return to my country was a proof."
She said now people could go to Swat, Hunza or anywhere in Pakistan as there was no terrorism and the people of Pakistan were welcoming and peace-loving.
Malala, appreciating the present democratic government on completing its constitutional tenure, hoped that the next democratic government would also complete its tenure in Pakistan.
She said there was a great responsibility on Pakistani politicians' shoulders and they needed to include the problems of the people in their parties' manifestos ahead of the next election. Malala urged the political parties to extend bipartisan support to issues in the education and health sectors.
She appealed the political leaders to ensure inclusion of matters like girls' education in their manifestos and make plans to ensure girls' access to primary, secondary and higher education. She said, "Now a days, my focus is on my education, besides ensuring that every girl has right to higher education and to make her future on her. This approach is not only beneficial for a girl but also for entire society."
She said she avoided paying attention to negative comments on social media and also advised her supporters not to use harsh language against her opponents.
https://dailytimes.com.pk/222691/malala-says-her-return-shows-pakistans-success-in-war-on-terror/
--------
Resistance to Ending Child Marriage Continues in Northern Nigeria
April 01, 2018
The United Nations Children's Fund says Nigeria has the largest number of child brides in Africa. The custom of young girls marrying much older men happens mostly in the Muslim-majority northern states. Girls in the area are usually married by their early teens, whether they want to be or not. Conservative Islamic groups in the area resist efforts to ban child marriage. But times are changing.
Hajia Rabi Salisu is the founder of Arrida Relief Foundation and owner of a children's home in Kaduna. She says that girls are increasingly "running away from child marriages."
Salisu and other activists want states to ban marriage before the age of 18. She says she receives death threats because of her activism.
She told VOA, "I sleep in a different home almost every night because my life is at stake simply for trying to protect the lives of children."
Rahmatu Ibrahim and Naja'atu Abdullahi are both 14 years old. Both girls ran away from their homes so they would not have to get married. They met at Salisu's home for children.
Rahmatu says, "I was being forced into an arranged marriage. That was why I ran away. I don't love him and I don't know him. I had never seen him before…"
Naja'atu told VOA she wants to get an education.
In another village in Kaduna State, VOA spoke with 18-year-old Sumayya Musa. She has resisted the expectations of her community.
She said, "My father wanted me to get married when I was 13, but my mother said no, because she was in support of my decision to further my education."
She added, "People here in this village laugh at me because I am not yet married."
She said that used to make her cry sometimes. But, she said, when she thinks about how her education will better her life, she stops crying.
Nigerian lawmakers have been debating marriage customs for more than 20 years. The country's 2003 Child Rights Act says that people must be at least 18 years old to marry. But individual states can decide whether to approve the law. Most northern Nigerian states have not.
Muslim rights groups have been meeting with northern lawmakers to express their concerns. Some activists propose a law that requires a person be at least 15 to marry. But that idea offends Awwal Tesleem Shittu. He is a member of the Muslim Lawyers Association of Nigeria.
He argues that a girl's readiness for marriage cannot be decided by her age. He says some 15-year-olds might not be ready for marriage while some girls as young as nine might be. He says "in Islam there is no barrier to that."
In 2013, a social media campaign #ChildNotBride began to spread in Nigeria after senator and former governor Ahmad Sani Yerima was accused of marrying a 13-year-old girl. Yerima denied the accusation, but would not tell his wife's age. Yerima also supported a law that would legally recognize any married female as an adult.
In 2014, a 14-year-old girl in Kano admitted to killing her 35-year-old husband with poison. Police said the girl's father had forced her to marry. Later, the murder charges were withdrawn.
Rights activists say poverty leads parents to force their young daughters to marry.
Activist Mustapha Wakil says, "They just want to take these girls off their hands as fast as possible." He notes that financially poor parents have been accepting unusually low dowries. Some are as little as $8. Parents used to request at least $112.
Wakil is campaigning for his state of Yobe to pass the federal Child Rights Act. He says the current laws on marriage are not clear.
Rahmatu and Naja'atu want to hold on to their childhoods a little longer. They are attending school and hope their families will one day forgive them for running away.
https://learningenglish.voanews.com/a/4319745.html
--------
Lebanon polls to gauge whether society ready for women representation
April 1, 2018
Damascus: An impressive 113 women are running for parliament in Lebanon next month, competing with 976 men for the 128-seat Chamber.
This is record-high, given that Lebanon has only had 10 women MPs since voting rights were granted to women back in 1953.
In the present chamber, elected back in 2009, only 12 women ran for office, out of 702 candidates.
Only four of them ended up winning — all hailing from hereditary political families.
They were voted in for their last name, rather than their political programme, and the list included Bahia Hariri, the sister of late Premier Rafik Hariri and aunt of current premier Sa'ad Hariri; Strida Geagea, the wife of Samir Geagea, commander of the Lebanese Forces (LF); Nayla Tweini, daughter of assassinated publisher Gibran Tweini; and Gilberte Zouein, the daughter of a former MP.
Of the 113, a few names are expected to drop within the next few days, leaving the number, by all estimates, between 100 and 110.
Although many of those traditional faces are still in the race, other fresh newcomers have nominated themselves this year, promising change in the legislative branch.
"We need to push for change and seek to make it happen" said Dima Jamali, a professor at the American University of Beirut (AUB) who has nominated herself for an independent seat in Tripoli, northern Lebanon.
"We would be using only slogans if competent women do not actually join the race and try to get access to Parliament" she told Gulf News.
Jamali, young and dynamic, comes from a brilliant career in academia, where she is presently an Endowed Chair at AUB and National Representative for the Global Compact in Lebanon, working on Sustainability and the Sustainable Development Goals (SDGs). "I think I can bring this experience to Parliament" she said, "…and make a difference. Whether I get elected or not will show the extent to which Lebanon is really ready for change and to break from traditional stereotypes."
All of Lebanon's main political parties are publicising their women candidates, with the sole exception of Hezbollah, which came out with a statement saying that it had "reservations" about an expanded role for women in the legislative branch, saying that such duties "distract them from their homes."
Hezbollah's traditional ally, the all-Shiite Amal Movement of Parliament Speaker Nabih Berri, is also peddling its own candidate, being current Administrative Reform Minister Enaya Ezz Al Deen.
Other prominent candidates are famous media personalities like television host Paula Yacoubian, Raghida Dergham of the London-based Al Hayat daily, and Jessica Azar of Lebanon's MTV.
"Definitely we are seeing some change when it comes to women representation" said Zeina Helou, the ex-secretary general of the Lebanese Association for Democratic Elections (LADE).
Speaking to Gulf News, she added: "The majority of those running are independents and not on party lists. But it is still not enough; 113 out of 976 is not enough. More and more women need to be aware of their role and to have a greater political voice in society."
Lebanese women were given the right to vote and run for office back in 1953, during the presidency of Camille Chamoun.
They only got their first MP in 1963, however, when Myrna Bustani was chose to replace her father Emille Bustani, a famous businessman and philanthropist, who was killed in an airplane crash. They had to wait for another 28-years to get their second MP, being Nayla Mouawad, the widow of slain President Rene Mouawad. She was appointed to the Lebanese Parliament in 1991.
Nobody knows for sure how many of the women MPs will make it into the chamber next May.
"Not all of them would make good MPs" said Helou, stressing that being a woman doesn't automatically qualify any candidate for being a good parliamentarian. Once inside the chamber, she expects them to tackle three main issues that are vital for women empowerment in Lebanon.
"One is the right of a Lebanese women to grant nationality to her children if married to a non-Lebanese. This is an important topic that has been mentioned by several of the candidates in their election programmes. Second would be combating discrimination against women that still exists in Lebanese legislation, especially in labor laws. Third would be gender quota in government."
http://gulfnews.com/news/mena/lebanon/lebanon-polls-to-gauge-whether-society-ready-for-women-representation-1.2198049
--------
Iran: Woman sentenced one year for protesting the compulsory veil
28 March 2018
Maryam Shariatmadari was sentenced to one year in jail on the charge of "encouraging corruption through removing her veil."
The decree was issued on March 25, 2018, by the 2nd Criminal Court of Tehran Province.
Former political prisoner Nasrin Sotoudeh who is Ms. Shariatmadari's lawyer emphasized that her client had been discriminated against by the Iranian regime's Judiciary.
She said, "Ironically, the Judiciary ignored the case of a girl who had been sexually abused by her father, but surprisingly issues such heavy sentences for women who remove their scarves."
Ms. Sotoudeh added, "I believe that the protests against the compulsory veil will not be subdued by such unusual decrees that do not comply with legal and judicial standards."
Maryam Shariatmadari, 32, is a student of Computer Sciences at Tehran's Amir Kabir University. She was pushed off a telecoms box by a State Security Force officer and hurt in the knee on February 23, 2018, when she was protesting the compulsory veiling by removing her shawl.
The Women's Committee of the National Council of Resistance of Iran condemns any form of attack, brutalizing or hurting the women who oppose the compulsory veil. The Women's Committee has also called for the immediate release of all women who have been arrested and imprisoned for improper veiling or removing their veil, and for protesting and opposing the compulsory veil and considers imprisonment verdicts for protesters against the compulsory veil as unjust.
http://women.ncr-iran.org/iran-women-news/4906-iran-woman-sentenced-one-year-for-protesting-the-compulsory-veil
--------
URL: https://www.newageislam.com/islam-women-feminism/big-cheers-participants-womens-races/d/114795
New Age Islam, Islam Online, Islamic Website, African Muslim News, Arab World News, South Asia News, Indian Muslim News, World Muslim News, Women in Islam, Islamic Feminism, Arab Women, Women In Arab, Islamophobia in America, Muslim Women in West, Islam Women and Feminism