New Age Islam News Bureau
19 May 2013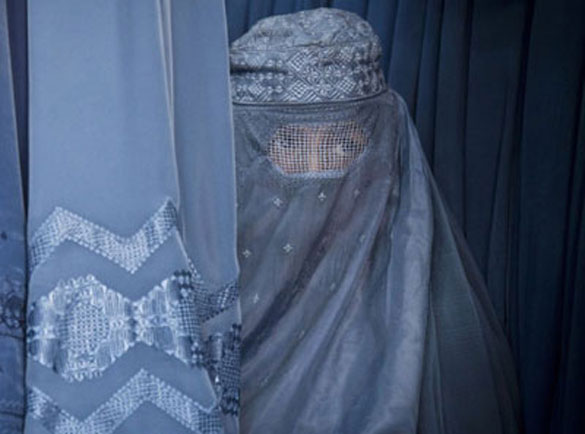 Photo: An Afghan woman peers through the eye slit of her burqa as she waits in shop in the old town of Kabul
-----------
• In Jamia, underprivileged girls learn to teach a lesson to molesters
• Courageous Women Can Change the World: Malala Yousafzai
• Hijab Ban Troubles Nigeria Muslims
• 11 Ladies-Only Taxis Launched In Ajman
• Samina Baig: First Pakistani Woman to Scale Mount Everest
• Kingdom Becoming More Tolerant — Saudi Woman Filmmaker
• Tension High as Imran Khan Party's Senior Woman Leader Murdered
• US Takes No Stand as Women Barred From Iran Elections
• Girl-Child Education Grim In North Nigeria
• Put a Spotlight on African Women's Reproductive Rights
• Bangladeshi Woman 'strangled by in-laws' for dowry
Compiled by New Age Islam News Bureau
URL: https://newageislam.com/islam-women-feminism/bid-protect-women's-rights-'is/d/11635
-------------
Bid to Protect Women's Rights 'Is against Islamic Law,' Afghan Lawmakers
Associated Press | 13/05/18
KABUL, Afghanistan — Conservative religious lawmakers in Afghanistan blocked legislation on Saturday aimed at strengthening provisions for women's freedoms, arguing that parts of it violate Islamic principles and encourage disobedience.
The fierce opposition highlights how tenuous women's rights remain a dozen years after the ouster of the hard-line Taliban regime, whose strict interpretation of Islam once kept Afghan women virtual prisoners in their homes.
Khalil Ahmad Shaheedzada, a conservative lawmaker for Herat province, said the legislation was withdrawn shortly after being introduced in parliament because of an uproar by religious parties who said parts of the law are un-Islamic.
"Whatever is against Islamic law, we don't even need to speak about it," Shaheedzada said.
The Law on Elimination of Violence Against Women has been in effect since 2009, but only by presidential decree. It is being brought before parliament now because lawmaker Fawzia Kofi, a women's rights activist, wants to cement it with a parliamentary vote to prevent its potential reversal by any future president who might be tempted to repeal it to satisfy hard-line religious parties.
The law criminalizes, among other things, child marriage and forced marriage, and bans "baad," the traditional practice of exchanging girls and women to settle disputes. It makes domestic violence a crime punishable by up to three years in prison and specifies that rape victims should not face criminal charges for fornication or adultery.
Kofi, who plans to run for president in next year's elections, said she was disappointed because among those who oppose upgrading the law from presidential decree to legislation passed by parliament are women.
Afghanistan's parliament has more than 60 female lawmakers, mostly due to constitutional provisions reserving certain seats for women.
There has been spotty enforcement of the law as it stands. A United Nations analysis in late 2011 found only a small percentage of reported crimes against women were pursued by the Afghan government. Between March 2010 and March 2011 — the first full Afghan year the decree was in effect — prosecutors filed criminal charges in only 155 cases, or 7 per cent of the total number of crimes reported.
The child marriage ban and the idea of protecting female rape victims from prosecution were particularly heated subjects in Saturday's parliamentary debate, said Nasirullah Sadiqizada Neli, a conservative lawmaker from Daykundi province.
Neli suggested that removing the custom — common in Afghanistan — of prosecuting raped women for adultery would lead to social chaos, with women freely engaging in extramarital sex safe in the knowledge they could claim rape if caught.
Adultery itself is a crime in Islam, whether it is by force or not
Another lawmaker, Mandavi Abdul Rahmani of Barlkh province, also opposed the law's rape provision.
"Adultery itself is a crime in Islam, whether it is by force or not," Rahmani said.
He said the Qur'an also makes clear that a husband has a right to beat a disobedient wife as a last resort, as long as she is not permanently harmed. "But in this law," he said, "It says if a man beats his wife at all, he should be jailed for three months to three years."
Lawmaker Shaheedzada also claimed that the law might encourage disobedience among girls and women, saying it reflected Western values not applicable in Afghanistan.
"Even now in Afghanistan, women are running from their husbands. Girls are running from home," Shaheedzada said. "Such laws give them these ideas."
More freedoms for women are one of the most visible — and symbolic — changes in Afghanistan since the 2001 U.S.-led campaign that toppled the Taliban regime. While in power, the Taliban imposed a strict interpretation of Islam that put severe curbs on the freedom of women.
For five years, the regime banned women from working and going to school, or even leaving home without a male relative. In public, all women were forced wear a head-to-toe burqa, which covers even the face with a mesh panel. Violators were publicly flogged or executed.
We will work on this law. We will bring it back
Since the U.S.-led invasion in 2001, women's freedoms have improved vastly, but Afghanistan remains a deeply conservative culture, especially in rural areas.
Saturday's failure of the legislation in parliament reflected the power of religious parties but changed little on the ground, since the decree is still the law of the land, however loosely enforced. Kofi said the parliament decided to send the legislation to committee, and it could come to a vote again later this year.
"We will work on this law," she said. "We will bring it back."
There's a real risk this has opened a Pandora's box, that this may have galvanized opposition to this decree by people who in principle oppose greater rights for women
Some activists, however, worry about potential changes to the law. Bringing the legislation before parliament also opened it up to being amended, leaving the possibility that conservatives will seek to weaken it by stripping out provisions they dislike — or even vote to repeal it.
"There's a real risk this has opened a Pandora's box, that this may have galvanized opposition to this decree by people who in principle oppose greater rights for women," said Heather Barr, a researcher for Human Rights Watch.
That's true for lawmaker Rahmani, who said President Hamid Karzai should never have issued the decree and wants it changed, if not repealed.
"We cannot have an Islamic country with basically Western laws," he said.
http://news.nationalpost.com/2013/05/18/bid-to-protect-womens-rights-is-against-islamic-law-afghan-lawmakers-argue-in-blocking-legislation/
-------------
In Jamia, underprivileged girls learn to teach a lesson to molesters
Faizan Haider
May 19, 2013
In a bid to utilise their summer vacation constructively, 1,000-odd underprivileged girls, mostly Muslims, are learning self-defense skills, including how to thwart acid attacks and beat up molesters.
In the training session organised by Delhi Police, burqa-clad women can be seen appreciating the defense skills displayed by their daughters, mostly from underprivileged Muslim families at the Jamia Sports Complex.
The Jamia Nagar police's effort has made a difference and girls, some of who were not allowed to even step out of their houses, are now coming forward for the training. The world-class facilities and training given to the girls is showing results.
"In our time, we were not allowed to come out of our house. The same thing was happening with our daughters as girls are only allowed to go to school and come back. This initiative has given us confidence and we are ready to send our daughters for training," said Naseem, who was cheering for her 8-year-old daughter, who was displaying martial arts skill.
"The self-defense training initiative is meant to empower women through exposure in techniques of martial arts. Not only does it help women protect themselves from attacks by eve-teasers and anti-social elements, it also helps in building self-esteem," said Ajay Chaudhry, additional CP (southeast).
The training programme was held in association with Shikhar NGO.
http://www.hindustantimes.com/India-news/newdelhi/In-Jamia-underprivileged-girls-learn-to-teach-a-lesson-to-molesters/Article1-1062384.aspx
-----------
Courageous Women Can Change the World: Malala Yousafzai
May 19, 2013
MP Fiamma Nirenstein
Last year an extremist tried to kill her on her way back from school. She was treated in the UK where she now lives, studies, and endeavors for freedom.
From Il Giornale, translated and sent to Arutz Sheva by the author
In order to fully understand why Malala Yousafzai, now fifteen years old, made an outstanding contribution to changing the world - and we hope she will continue to do so - it is important to take a look at the background of the following story.
It is a Dantesque background, where it is a challenge, as well as an act of courage against the blazing fires of hell, for a girl to go to school.
Malala's district, Swat, fell under the rule of the Talibans, who led by a certain Fazlullah, bombed the girls' school; the followers of this fanatic would flog the "apostates", with crowds gathering at the mosque to witness the floggings, while Fazlullah screamed "The government says we shouldn't, but we don't follow their orders, we follow the orders of Allah!"
The crowd would respond "Allahu Akbar!" as it would also yell when Fazlullah asked them "Are you ready for an Islamic system? Are you prepared to make the sacrifices?"
Meanwhile, Fazlullah banned television, movies, music, polio vaccinations, tapes, radios, dance, singing, and TV serials. He would, however, constantly broadcast his harangues from local television stations, while, he prohibited anyone, under pain of death, to approach a television station.
A famous dancer, Shabana, was murdered, one among many other artists and intellectuals, and her body was left on display. Arts were deemed evil, therefore ruthlessly punished. Freedom of speech became a remote memory in the province of Swat, "my Swat" as Malala calls it, a place once deemed among the most free and most creative in Pakistan, thanks to its skiing tourism's features.
That is, there was a certain degree of freedom until the invasion of the Talibans. This is a relative term. Female education, which has a peculiar place in the region, was deemed the worst among all perversions, worse than sympathy for the United States or tolerance of Christians and Jews.
We are writing about this as Malala's case, the girl who was almost killed by a shot in the head, causing much uproar; a 14 year old girl, who became the symbol of the fight for culture and freedom of Islamic women, who was almost murdered because she blogged on the BBC site; she repeatedly spoke on television giving insights about her country in polished and refined English, a rare skill for people in her area.
At times she was considered a victim rather than a hero, and a victim especially of her father, Ziauddin Yousafai. Ziauddin is an intellectual, an ex-professor at Peshawar University, a poet, and a passionate advocate of the Swat Valley, he even is the owner of the girls' school.
He learned about the attack on his daughter on October 9th 2012 while he was studying for a doctorate in Illinois. He had a serious crisis; he was afflicted by a terrible sense of guilt because he had been an ardent admirer and promoter of his little daughter's intellectual gifts, pushing her despite her very young age towards school, study, reading, encouraging her to talk on television and to blog also in the face of the death threats of al Qaeda's Talibans.
However, if you carefully read into Malala's life, who is now peacefully studying in Birmingham and who has been proposed for the Nobel Peace Prize, any doubts regarding possible pressure from her father will be dispelled. On the contrary, you will acquire the conviction that Malala surely enjoyed her family's support, but she, like an antenna which collected all the horror and all the courage, is the icepick of the Islamist condition of women. They find in her the magnificent will to break yjr terrible chains that are almost incomprehensible to us as Westerners.
Malala was born in 1997, in the city of Mingora in the Swat district. Although the Talibans formally left in 2009, their presence continued to torment the girls who dared to go to school in the following years. Malala was an already famous little girl in 2009, when she blogged on the daily invasion of the extremists into her life under a false name though.
In 2009 she wrote:
"I had a terrible dream yesterday with military helicopters and the Taleban [sic]. I have had such dreams since the launch of the military operation in Swat. My mother made me breakfast and I went off to school. I was afraid going to school because the Taleban had issued an edict banning all girls from attending schools. Only 11 students attended the class out of 27. The number decreased because of Taleban's edict. My three friends have shifted to Peshawar, Lahore and Rawalpindi with their families after this edict. On my way from school to home I heard a man saying 'I will kill you'. I hastened my pace and after a while I looked back if the man was still coming behind me. But to my utter relief he was talking on his mobile and must have been threatening someone else over the phone."
On Sunday January 4th she wrote:
"I heard my father talking about another three bodies lying at Green Chowk (crossing). I felt bad on hearing this news. Before the launch of the military operation we all used to go to Marghazar, Fiza Ghat and Kanju for picnics on Sundays. But now the situation is such that we have not been out on picnic for over a year and a half. We also used to go for a walk after dinner but now we are back home before sunset. Today I did some household chores, my homework and played with my brother. But my heart was beating fast – as I have to go to school tomorrow."
The following day Malala wrote:
"I was getting ready for school and about to wear my uniform when I remembered that our principal had told us not to wear uniforms – and come to school wearing normal clothes instead."
It is a diary of restrictions and persecutions against the education of girls, that Malala completes with television interventions, considered that she is often the only one available to answer the reporters' questions, while many people are afraid.
When the dancer got killed, Malala dared to say on- camera: "They cannot stop me. I will get my education if it is my home, school or any place. This is our request to all the world. Save our schools. Save our world. Save our Pakistan. Save our Swat."
The Talibans went on destroying all schools for girls in the area, after decreeing that they must close. Malala wrote: "Five more schools have been destroyed. I am quite surprised, because these schools were closed, so why did they also need to be destroyed?"
In solidarity, schools for boys decided not to open until February. The army gained back military control of the area in 2009, but by then no civilian facility was left, so Malala's family had to flee from the inhabited areas, the refugee camps filled up and Malala wrote that instead of being a doctor when she would grow up, she might choose politics.
The line of her thoughts is direct and simple, dictated by an underlying choice: "I want to go to school". And she did, when she eventually moved back to her home with her family.
But the worst was yet to come: last year a bearded gunman shot her in the head and in the neck on her way back from school. The Talibans claimed responsibility for the glorious action of attacking a little girl "because she was spreading lay ideas and was propagating against us. Moreover she idolizes the black devil Obama".
After a struggle between life and death, Malala was then transferred to England where she was successfully treated. The attack caused "a wave of indignation", as they say, even among local politicians. How nice would it be not only to see Malala being awarded the Nobel Prize, but to watch a scene where these politicians, taking turns, each take a little girl by the hand to her desk at school with her books in their satchel at 8 a.m. for a couple of years.
http://www.israelnationalnews.com/Articles/Article.aspx/13316#.UZjDvtLfCbs
-------------
Hijab Ban Troubles Nigeria Muslims
18 May 2013
CAIRO – A leading Nigerian Muslim group has condemned the ban on the use of Hijab by Muslim student across all Lagos public schools, calling it a breach of the fundamental rights of the students to practice their religion.
"As a Muslim alumni body, that cut across the country and beyond, we have not heard of any state or public schools where wearing of Hijab causes confusion or led to break down of law and order," the Obafemi Awolowo University Muslim Graduates Association (UNIFEMGA) said in a statement cited by Premium Times newspaper.
"If, the Lagos state Government, or the Ministry knows that the affected students need to wear Hijab when they go for prayers or read Qur'an, why not for all times," the statement signed by the group's National President, Prof. Wahab Egbewole and Abdur-Rahman Balogun, National Public Relations officer, added.
Lagos authorities have banned the wearing of hijab at schools. The Muslim outfit is also outlawed in most south-western states.
Muslims have sued the government on allowing Muslim students to wear the Hijab at schools.
Muslim leaders say that banning the headscarf violates the religious rights of Muslim students as spelt out in the Constitution.
"We want to say categorically that even in advanced democracies, this right is guaranteed to Muslim female students to dress in accordance with their faith''.
Islam sees Hijab as an obligatory code of dress, not a religious symbol displaying one's affiliations.
The Muslim outfit has been in the eye of storm since France banned it at public schools in 2004.
Since then, several countries have followed suit.
Government Claims
Muslim leaders rejected the government false claims that hijab might cause divisions in the society.
"It is unacceptable and laughable that wearing of Hijab will create confusion and break down of law as claimed by the commissioner during her press conference on Tuesday," UNIFEMGA said in the statement.
"It is actually an affront on our faith system to equate Hijab with confusion or break down of law.
They have also condemned calls for Muslims to enrol their daughters in private school if they want them to don the Islamic veil.
"It is also insulting to the collectivity of our faith to say that Muslims should send their daughters to private school if they want them to wear Hijab!" the statement added.
"It must be stressed that the public schools are maintained with our taxes and we have a right to benefit from its use."
"We hereby register our protest that banning Hijab in Lagos public schools is against the Muslim fundamental human right and we will not allow our fundamental right to be trampled upon with impunity.
"UNIFEMGA urge the Lagos State Government to reverse this unpopular and ungodly decision, in the interest of peace, unity, harmony, equity and justice."
Nigeria, one of the world's most religiously committed nations, is divided between a Muslim north and a Christian south.
Muslims and Christians, who constitute 55 and 40 percent of Nigeria's 140 million population respectively, have lived in peace for the most part.
But ethnic and religious tensions have bubbled for years, fuelled by decades of resentment between indigenous groups, mostly Christian or animist, who are vying for control of fertile farmlands with migrants and settlers from the Hausa-speaking Muslim north.
http://www.onislam.net/english/news/africa/462744-hijab-ban-troubles-nigeria-muslims.html
-------------
11 Ladies-Only Taxis Launched In Ajman
(Wam) / 19 May 2013
Women in Ajman will now have access to ladies-only taxis, similar to those that already run in other emirates.
The Ajman Transport launched the service called the Mahra Taxi on Thursday to open up services to a large segment of women in the emirate, it said.
There have been 11 taxis so far included in the fleet, though the company announced plans to expand to 50 taxis later.
Ajman Transport board member Ahmed Al Foora said at a Press conference that the new service is aimed to maintain the privacy of women who did not want to travel in a taxi driven by a man.
Initially, Mahra taxis shall be available at public places, women societies, markets and shopping centres which draw large crowds of women, while it will be offered over pre-booking or on demand at a later stage.
The taxi fare will start at Dh3.50, while the female drivers will draw a monthly salary of Dh4, 000 per month, plus a cut of the profits.
http://www.khaleejtimes.com/nation/inside.asp?xfile=/data/transport/2013/May/transport_May16.xml&section=transport
-----------
Samina Baig: First Pakistani Woman to Scale Mount Everest
May 19, 2013
Mountaineer Samina Baig has become the first Pakistani woman to scale Mount Everest, the world's highest mountain with a peak at 8,848 metres.
Baig completed the climb to the summit at around 7:30am local time with her brother Mirza Ali, who becomes the third and youngest Pakistani male to scale the mountain.
Nepal Mountaineering Department official Tilak Padney said that 35 foreigners accompanied by 29 Nepalese Sherpa guides reached the peak after climbing all night from the highest camp on South Col — the pass between Everest and a neighbouring mountain.
Full report at:
http://tribune.com.pk/story/551508/samina-baig-first-pakistani-woman-to-scale-mount-everest/
-----------
Kingdom Becoming More Tolerant — Saudi Woman Filmmaker
19 May 2013
Saudi filmmaker Haifaa Al-Mansour said yesterday that her country was becoming "more tolerant and more accepting."
Al-Mansour, the Kingdom's first woman film director, made her remarks after picking up an award at the Cannes Film Festival for her film "Wadjda."
The 2012 film explores the tale of a young Saudi girl who plots to own a bicycle in defiance of a ban.
Full report at:
http://www.arabnews.com/news/452145
-------------
Tension High as Imran Khan Party's Senior Woman Leader Murdered
19 May 2013
Gunmen on Saturday killed a Pakistani woman politician from cricket star Imran Khan's Movement for Justice (PTI) party in the southern port city of Karachi on the eve of partial election re-polling.
Zahra Shahid Hussain, 59, the vice president of PTI women's wing in the southern Sindh province, was targeted by three gunmen on a motorcycle outside her residence in the city's upmarket Defence neighborhood, Agence France Presse reported.
The Pakistan Election Commission has ordered re-polling on Sunday at 43 polling stations in Karachi after allegations of vote-rigging in the May 11 polls which marked the first democratic transition of power in Pakistan.
Full report at:
http://www.arabnews.com/news/452087
-------------
US Takes no stand as women barred from Iran elections
May 19 2013
WASHINGTON – The United States on Friday steered clear of taking a tough stand on reports that Iran's electoral watchdog appears to have barred women from running in the June 14 presidential elections.
Hardline cleric Ayatollah Mohammad Yazd, a top member of the Guardians Council which is vetting candidates, seemed to have dashed the hopes of some 30 women hopefuls saying "the law prohibits women from being president."
Since the 1979 revolution, women have not been allowed to run for the presidency in Iran although they can stand in parliamentary elections.
Full report at:
http://www.saudigazette.com.sa/index.cfm?method=home.regcon&contentid=20130519166330
-------------
Girl-Child Education Grim In North Nigeria
13 May 2013
THE Governor of the Central Bank, Mallam Lamido Sanusi recently alerted the country to a grim statistical reality that 93 per cent of girls in the North of the country are without secondary school education. If the fact that over 10million Nigerian children are out of school had bothered concerned citizens of the implication of having to contend with what the future portends for such a massive generation of bulk illiterates, this fresh revealing assertion can only further worsen the hopelessness of the situation.
Full report at:
http://tribune.com.ng/news2013/index.php/en/editorial/item/11702-girl-child-education-in-the-north
-------------
Put a Spotlight on African Women's Reproductive Rights
May 19 2013
NAIROBI, May 19 2013 (IPS) - Victoria J. married in 2009 at age 14, and became pregnant shortly after. "I started labour in the morning on a Friday …. The nurse kept checking and saying I would deliver safely. On Monday she said I was weak.
"The doctor decided to operate on me. (During the) operation they found the baby was dead. The doctor said the baby had died due to the long labour. After that, I found out that urine was coming out all the time," she said.
Full report at:
http://www.ipsnews.net/2013/05/op-ed-put-a-spotlight-on-african-womens-reproductive-rights/
-----------
Bangladeshi Woman 'strangled by in-laws' for dowry
May 19, 2013
A woman was strangled allegedly by her in-laws for dowry in Banguir village of Kaliakoir upazila early yesterday.
The victim is identified as Shirin, 26, daughter of Rahij Uddin of nearby Dhamrai village on the outskirts of Dhaka.
Shirin's husband Jashim Dewan and his family members went into hiding following her death.
They got married 10 years ago and have a six-year-old daughter.
Police said Shirin's body was sent to Gazipur Sadar Hospital for autopsy.
The victim's family members said Jashim and his family started torturing Shirin for dowry soon after their marriage. They strangled her at one stage of quarrel yesterday, they added.
http://www.thedailystar.net/beta2/news/woman-strangled-by-in-laws-for-dowry/
-------------
URL: https://newageislam.com/islam-women-feminism/bid-protect-women's-rights-'is/d/11635