New Age Islam News Bureau
16 Oct 2019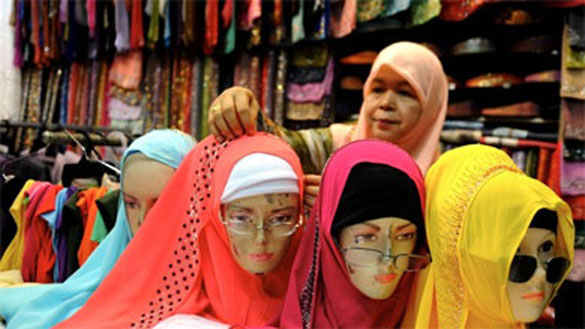 A whopping 88 per cent of Muslim women in East Malaysia felt that one can be a good Muslim even without wearing the hijab. ― Bernama pic
-----
• 1 In 5 Muslim Women in Malaysia Believe Husbands Have a Right to Beat Their Wives
• Wearing Tudung A Must For Muslim Women, But Going Without Is Fine Too, Survey Shows
• Palestinian Women Make History in Hebron's Truck-Driving, Restaurant Sectors
• Female Pilots Take Control of First Iranian Domestic Flight
• The Rise of Kenya's Female Cab Drivers
• Hazara Woman from Pakistan Named In BBC's 100 Women Of 2019
• Saudi Women Show up as Highfliers at Riyadh Falcon's Exhibition
• Row over Mothers Wearing the Muslim Headscarf On French School Outings Splits Emmanuel Macron's Cabinet
• High Court Rules Female Genital Mutilation Illegal In All Forms, NSW Court Erred In Quashing Convictions
Compiled by New Age Islam News Bureau
URL: https://www.newageislam.com/islam-women-feminism/bengal-first-feminist-women-rights/d/120009
--------
Bengal's First Feminist, Women's Rights Activist and Thinker Begum Ruqaiya Was Remembered In Turkey
Oct 16, 2019
The first feminist, women's rights activist and thinker of Bengal Begum Ruqaiya was remembered in a conference held in Kostamano near Istanbul, Turkey. For the first time, her contributions to women's emancipation of India was acknowledged and various faces of her personality were presented. The conference was organised by Begum Ruqaiya Foundation. Delegates from India, Bangladesh and China attended the conference and paid tribute to Begaum's services for women's emancipation, particularly the educational upliftment and political and economic empowerment of Muslim women. Foundation's patron Mr Zahid Pervez presented an overview of her works and said that the foundation will publish books on her life and works in different languages. Eminent Urdu playwright and critic Zaheer Anwar represented India. Some teachers from Turkey also expressed their views and said that they came to know of this revolutionary lady of India for the first time through this conference.
Begum Ruqaiya Sakhawat Hussain was a Bengali Muslim feminist, writer and political activist of Bengal during the British India. She struggled for Muslim women's education and launched movement for the political empowerment of Muslim women. She opened a girls' school in Kolkata and organised the first conference on women's issues in Kolkata. She also wrote books and fiction on women's issues, highlighting their plight, their dreams and aspirations and the obstacles in their way.
--------
1 In 5 Muslim Women in Malaysia Believe Husbands Have a Right to Beat Their Wives
October 16, 2019
A new survey by non-profit group Sisters in Islam has found that as many as 21 per cent (or around one in five) Muslim women in Malaysia believe their husbands have a right to beat them.
"Muslim women have been so thoroughly indoctrinated to obey that it takes a mufti to issue a declaration that women who have been assaulted or violated by their husbands are allowed to leave their homes," the group wrote on Twitter.
Sisters in Islam
@SistersinIslam
Findings from a survey conducted by @SistersinIslam:
21% of Malaysian Muslim women believe that their husbands have the right to physically harm them.
You don't need to assault a woman to be a complete man.
#riseagainstextremism #muslimwomenspeak
28
1:46 PM - Oct 15, 2019
Twitter Ads info and privacy
18 people are talking about this
The survey of 675 women also found that 70 per cent of Muslim women believe polygamay is a man's right. However, only 32 per cent said they would accept it in their own marriage.
In a series of Tweets, Sisters in Islam revealed that 97 per cent of Muslim women in Malaysia identified their primary Islamic responsibility as obedience to God. Almost all (96 per cent) said that obeying their husbands was their responsibility, and 88 per cent said that "marriage means they are under the care of their husbands".
Many of Malaysia's Muslim women also feel the pressures of moral policing and public shaming, with 59 per cent saying they are subject to these. Up to 84 per cent also feel they are judged on how they raise their children.
Worryingly, more than half (57 per cent) feel they do not have adequate social support, and 54 per cent feel they have no legal support.
Funded by the European Union, the study titled "Perceptions and Realities: The Public and Personal Rights of Muslim Women in Malaysia" showed that the nation still has a ways to go for Malaysia's Muslim women to achieve parity at home and in society.
According to South China Morning Post (SCMP), the same survey found that 32 per cent of women also feel they have no right to decide on sexual relations in their marriage.
The majority – 62 per cent – of respondents also said it was not acceptable for wives or mothers to be the home's breadwinner, SCMP reported.
On Twitter, Sisters in Islam said that the study found that Muslim women think inequality is "part and parcel of their roles as wives".
"Muslim women feel that they are expected to bear the injustices imposed on them (as they are 'worldly trials') and not complain or ask for a change in the status quo," the group said.
Urging for equality in the family to be recognised under Islamic family law, the group said in a tweet: "Equality for women brings positive effects to all members of society…Recent developments have proven that legal reforms do change not just the situation of women for the better, but also shifts the mindset of Malaysian society about women's rights."
Sisters in Islam
@SistersinIslam
Empowered women will result in improvements at home, in the workplace, the economy, and in society at large.
Equality for women brings positive effects to all members of society.#riseagainstextremism #womenagainstextremism #sistersinislam
11
5:22 AM - Oct 16, 2019
Twitter Ads info and privacy
See Sisters in Islam's other Tweets
Activist and Sister of Islam member Marina Mahathir was quoted by SCMP as saying that there was a "disconnect between what Muslim women expect and what actually happens in real life to them.
Marina, who is also the daughter of Prime Minister Mahathir Mohamad, added that "people have come to think that this is the way things should be".
https://www.businessinsider.my/1-in-5-muslim-women-in-malaysia-believe-husbands-have-a-right-to-beat-their-wives/
--------
Wearing Tudung A Must For Muslim Women, But Going Without Is Fine Too, Survey Shows
Tuesday, 15 Oct 2019
BY ZURAIRI AR
KUALA LUMPUR, Oct 15 ― Over 60 per cent of Malaysian Muslim women believe they can be good adherents of the faith without covering their heads.
At the same time, the survey by rights group Sisters in Islam (SIS) on Muslim women's realities in Malaysia published today found that the respondents' views of hijab can be contradictory.
"The data showed that 83 per cent felt they had a right to choose whether or not to wear a hijab 62 per cent of the respondents felt that it is acceptable for a Muslim woman not to wear a hijab.
"In a different set of questions on the issue of right and wrong under the religion, 90 per cent felt that wearing a hijab is mandatory for Muslim women," said the report titled "Perception and Realities: The Public and Personal Rights of Muslim Women in Malaysia".
A whopping 88 per cent of Muslim women in East Malaysia felt that one can be a good Muslim even without wearing the hijab.
East Malaysia also had the lowest proportion of respondents who felt that hijab is compulsory, at 74 per cent, compared to 97 per cent in the East Coast and the North.
The survey was implemented by research firm Ipsos between 2018 and 2019 through two phases, with the quantitative phase involving 675 Muslim women across the country aged between 18 and 55.
There are differing views among Muslim scholars as to whether it is obligatory for Muslim women to cover their hair as part of the aurat, or "intimate parts".
Speaking to Malay Mail in 2016, SIS said the Muslims' holy book Quran does not specifically mention hair as part of a woman's "aurat".
SIS said the interpretation of the "aurat" in Malaysia has become increasingly influenced by Arab culture since the 1980s, noting that most Malay-Muslim women did not wear the tudung during the 1950s and 1960s, including the wife of the then Kelantan mufti and the spouse of Indonesian ulama, Prof Dr Haji Abdul Malik Karim Amrullah, better known as Hamka.
In March this year, three women were investigated by the Selangor Islamic Religious Department (Jais) for a forum on Malay women and discarding the hijab.
The event organised by publisher and book store Gerakbudaya received backlash from some Muslims on social media, after positively presenting the perspectives and opinions of several Malay women who "dehijab", or no longer cover their hair.
Muslim women celebrities also face intense demonisation after they discard their hijab, such as actress Emma Maembong who revealed that Malaysians online have left harsh comments on her social media accounts, including wishing hell for her.
In 2016, local celebrity Uqasha Senrose also came under intense fire from fans after going bareheaded after covering up her tresses three years ago.
https://www.malaymail.com/news/malaysia/2019/10/15/wearing-tudung-a-must-for-muslim-women-but-going-without-is-fine-too-survey/1800403
--------
Palestinian Women Make History in Hebron's Truck-Driving, Restaurant Sectors
15 October 2019
As the 30-ton truck weaves through the crowded Palestinian streets, groups of men stop and gawp at the diminutive figure of Dalia al-Darawish in a purple headscarf seated behind the wheel.
Darawish is preparing for an exam to become one of only a handful of qualified female Palestinian truck drivers, a test the 26-year-old sees as about more than just driving.
"It is symbolic," she told AFP. "It shows we can do anything -- that as a woman you can work, drive a trailer or whatever."
The mother-of-two is among several Palestinian women pushing boundaries in the traditionally conservative city of Hebron in the Israeli-occupied West Bank, amid a growing assertiveness of women's rights.
Darawish said she had faced criticism from both sexes as she trained, but the men were far more vocal.
"They are some who supported, a minority," she told AFP. "But then there are people shouting in the street, 'No, why are you driving a trailer?!'"
"Whenever I made any mistake you would find men shouting, 'It's impossible (for you)'"
At the driving center, she shakes slightly as her black-mustached examiner Issam Bedawi explains the test.
After briefly demonstrating her ability to detach and re-attach the trailer, the two clamber up into the carriage and drive off.
Recent months have seen protests in the West Bank after a 21-year-old woman was allegedly killed by her family members after posting a photo with her soon-to-be fiancé on Instagram.
The demonstrators are demanding more protection for women, but also a more prominent political movement for women's rights.
Palestinian women still often give up their careers to care for children.
A World Bank study last year found that 58 percent of skilled women between 25 and 34 were unemployed, compared to 23 percent of men.
The general unemployment rate for women (44 percent) is double that of men, according to official Palestinian statistics.
Wafaa al-Adhami had long dreamt of being an artist, but didn't have the opportunity to study growing up.
But five years ago and with the kids older, she returned to her passion, studying hours of videos about artists on YouTube.
"Painting and art courses are expensive and I had no time," she said. "So I loved educating myself."
"Every artist has their own style, and I wanted to find mine," she said.
From her living room table with an array of children passing through, she developed a specific layering technique for her work, pouring the paint onto the canvas before sculpting and manipulating it.
The result is a 3D texture that she says is unique among Palestinian artists.
Her inspiration ranges from Palestinian icons such as the Dome of the Rock mosque in Jerusalem to more Jackson Pollock-inspired surrealism.
A recent 40-work exhibition was a big hit.
Elsewhere in the city, 31-year-old Asia Amer has set up what she believes is Hebron's first women-only restaurant.
The idea behind the Queen Restaurant, she said, is to give women a space to feel at home.
Those who normally wear the hijab can remove the headscarf if they wish.
"I felt that it was the right of women to have a place they can relax in -- where there are no restrictions or people watching her," she said.
"I am proof that Palestinian women don't just stay at home to cook and look after the children."
Back at the driving test center, Darawish pulls the trailer to a stop and waits nervously as Bedawi tallies up the score.
"I'm happy to say she passed," he announces. "Everything I asked of her during the test she did fantastically."
Darawish doesn't even know if she will work as a truck driver, as right now she is still looking after her children.
But she said she wanted to help drive change in attitudes.
"(Society) has changed a little. There have been some developments, but not enough," she said.
"If there had been big movement, men who see a woman driving a trailer would be happy or they wouldn't say anything at all."
https://english.alarabiya.net/en/perspective/features/2019/10/15/-Braking-boundaries-Palestinian-women-seek-new-chances.html
--------
Female Pilots Take Control of First Iranian Domestic Flight
Oct 15, 2019
Reports in the Iranian media shows a female captain and her co-pilot have flown a passenger plane, a first in the history of the country's aviation industry.
The reports published on Tuesday showed photos of the two pilots taken from the social media showing them before and after the two-way flight between the capital Tehran and the second largest city of Mashhad, located east of the country.
The pilots were identified as Neshat Jahandari and Forouz Firouzi, both of them apparently working for low-budget airline Zagros, although there was no official confirmation from the carrier.
The reports said that it was the first time in Iran's aviation history that female pilots had taken control of a flight totally on their own.
"My feelings were unexplainable. This historic incident was unprecedented in Iran's aviation industry, and for a first time a domestic flight in Iran was carried out by two women," said Jahandari, 29, who became captain just two months ago after working as co-pilot for five years.
There was no official statement detailing the aircraft flown by the pilots. However, information released on social media about the weight of the plane and the number of passengers travelling suggested it was one of several MD-80s operated by Zagros Airlines.
Unverified reports suggest Iran has fewer than a dozen female pilots. Flag carrier Homa allowed them only last year when a former female chief executive said it had become a policy of the company to hire more women for key positions.
Female pilots recruited by Homa, known internationally as IranAir, have yet to take control of a plane as they continue to work as co-pilots.
https://www.presstv.com/Detail/2019/10/15/608757/Iran-female-pilots-first-ever-domestic-flight
--------
The Rise of Kenya's Female Cab Drivers
15 Oct 2019
Grace Mutuota never imagined herself making money from her vehicle as a taxi driver. The social worker lost her job in 2016 while working for a non-governmental organization in Nairobi.
"I was at a point where I could not start looking for jobs. I felt like I needed something else," says the 49-year-old mother of three.
Her former colleagues, who shared morning commutes to work together, motivated her to sign up for Uber, which was attracting thousands of drivers in Kenya and beyond at the time. Mutuota went ahead and joined Uber to take advantage of the flexible working hours.
Like in many other countries and cities, before the launch of ride-hailing apps, the taxi business in Kenya used to be considered "a man's job" and unsafe for female drivers.
Since 2014, Nairobi has experienced a surge in taxi apps, both local and international, including Uber, Taxify, Little Cab and Mondo. They have quickly become one of the important ways for residents to cope with the city's poorly managed public transport system. The expansion of the city's middle class population, armed with smartphones and affordable internet, has been a boon for these apps.
But even these apps didn't make it completely safe for female drivers or female passengers, even in a slightly less male-centric business. While access to the driver's seat improved with most apps, the perception of safety did not necessarily change very much. For one thing, in the early years there were numerous attacks on ride-sharing drivers in Nairobi, particularly by drivers from the traditional taxi industry, angry at the shrinking of their business. There have also been reports of female passengers being attacked by drivers.
All these factors encouraged Mehnaz Sarwar, 33, to launch An-Nisa Taxi, an e-taxi app launched last September exclusively for women and children passengers in Nairobi. Sarwar, a Muslim woman who wears a full length niqab when in public, had previously run a family restaurant business. Her concerns about riding with a male driver pushed her to look into developing a female-focused app. With $10,000 from her previous business and other funds from family she started work on what became An-Nisa, which means "women" in Arabic.
"My experiences motivated me to start this app. I always feared, as a Muslim woman, and I wanted to be driven by a fellow woman which was rare to find," says Sarwar, founder of An-Nisa, which launched in September 2018. Many women, Sarwar says, feel much safer and comfortable when driven by a fellow lady.
Unlike others in the market, which take up to 25% of the driver's earning, An-Nisa charges 10% of what the drivers earn from trips "as a way of empowering women who mostly go through unique challenges and need financial freedom," Sarwar adds.
The low deduction makes Mutuota, who recently registered as a driver for An-Nisa, means she will earn about $300 after deducting all her expenses. Within the first week of service, she managed to register 100 women drivers and there were a thousand downloads of the app. There are now 300 female drivers on her roster.
But An-nisa doesn't have the female-focused market to itself, as a gesture of attracting female drivers, Taxify introduced vehicle financing for drivers who cannot purchase upfront; giving priority access to women.
"One in every 50 drivers is a woman. A lot of women on the Taxify platform are sole breadwinners in their households, They go out of their way working for longer hours to maximize their income," said Shivachi Muleji, Taxify East Africa general manager.
Mondo, which launched in 2016 registered 200 women drivers. Little Cab, owned by Kenya's largest mobile network, Safaricom, has registered 500 female drivers up from just 27 when they launched in 2016. Little Cab has an option for a passenger to choose either a male or a female driver.
Maureen Chege, Little Cab's head of sales and marketing says that they are attracting more women by "enabling a safety feature for women drivers in case they find themselves in danger while dropping off riders."
While these numbers look high, many drivers like Mutuota are registered to two or more taxi apps. "This enables me to have riders all the time," she says. There is no official data on the total numbers of women registered to all the taxi apps in Kenya.
According to the Kenya National Bureau of Statistics (KNBS), only a third of the 2.5 million people employed in the formal sector are women. With a low number of women in the employment sector, Sarwar hopes An-Nisa will immensely contribute to the narrowing of gender gap by making women employ themselves.
"I want women to have an option of thriving in this male-dominated field," Sarwar says."That's my vision."
https://www.weforum.org/agenda/2019/10/there-are-more-female-cab-drivers-on-nairobi-roads-than-ever-before-and-more-are-coming/
--------
Hazara Woman from Pakistan Named In BBC's 100 Women Of 2019
Oct 16 2019
Jalila Haider, a Hazara woman from Pakistan, was on Wednesday named in the 100 women of 2019 list compiled by United Kingdom-based news outlet British Broadcasting Corporation.
Haider, who is a human rights lawyer, specialises in defending women's rights in Pakistan, and provides free legal services to women in poverty across the country.
She is also the founder of We the Humans, a non-profit organisation working with local communities to provide opportunities for vulnerable women and children.
According to the BBC, she is the first female lawyer from the Hazara community, and in 2018 she went on hunger strike demanding protection for her people.
Taking to social networking platform Twitter, Haider expressed profound joy at being being named in the list, and said it was an honour for her to represent Pakistan on the list.
"Wow, This is an honor for me that I am among the @BBC100women list 2019 from Paksitan. I want to congratulate Parveen Ahanger @_APDP also to be the among the list. More power to the brave women of Kashmir," she wrote on Twitter.
Jalila Haider
@Advjalila
Wow, This is an honor for me that I am among the @BBC100women list 2019 from Paksitan. I want to congratulate Parveen Ahanger @_APDP also to be the among the list. More power to the brave women of Kashmir.@nighatdad @mariaItarana @BBCWorld @BBCUrdu @IsmatShahjahan https://twitter.com/TahirImran/status/1184370735793483776 …
Tahir Imran Mian ✈
✔
@TahirImran
2 great women I strongly admire are on this year's @BBC100women list.
Parveena Ahanger of @_APDP & Jalila Haider @Advjalila.
In the 21st century we had to send a footman to Praveena Ahangar's home in Srinagar to get details. And share the information.https://www.bbc.co.uk/news/amp/world-50042279 …
View image on TwitterView image on Twitter
182
1:10 PM - Oct 16, 2019
Twitter Ads info and privacy
79 people are talking about this
"Looking back into the past leads to the realisation that the politics of conflict, war and destruction is interconnected with Patriarchy. This is the time now that the world should accept the future as female," Haider said.
Other woman on the list include Precious Adams from the United States, Parveena Ahanger from Indian-occupied Kashmir, and Jasmine Akter from the Rohingya community.
https://www.geo.tv/latest/251423-hazara-woman-from-pakistan-named-in
--------
Saudi Women Show up as Highfliers at Riyadh Falcon's Exhibition
15 October 2019
Often seen as a male dominated sport, a handful of Saudi women are showing up as highfliers at this year's falcon exhibit in the Saudi capital.
Six young Saudi women falconers took part in the Falcons and Hunting Exhibition in Riyadh which celebrates the expensive hunting birds.
(SOUNDBITE) (Arabic) SAUDI FALCONER, KHOLOD ALOTHMAN, SAYING:
"The thing that drew me to falconry is that falcons are a symbol of strength and women are strong by nature. Falconry is a very meaningful hobby, it changed my personality, it made me stronger, more patient and I challenged my fears."
The group of friends visited the exhibition's first edition last year.
Dazzled by the experience and surprised by the lack of women participation, they formed a falconry team.
Falconry is an important part of the cultural desert heritage of the region and goes back thousands of years.
The women want to send a message to others that the hobby is not limited to men.
https://uk.news.yahoo.com/saudi-women-show-highfliers-riyadh-164416944.html?guccounter=1&guce_referrer=aHR0cHM6Ly93d3cuZ29vZ2xlLmNvbS8&guce_referrer_sig=AQAAAJYjfqVQYpjy32HkxJ0B7rJD-PMUurSyQI9hCZ-vz9yteI9uZew9SoS9q4ioAu5Ce-WdeggFIqm6IHKNeSU9hLWxZhitqELIwud6yfPbKmo5Qq7RdFaDhmNj_TTLrrLfM9LRLI56dGzraC5-YZvs7du_XvkSbfnKJX8TZOuZcauX
--------
Row over Mothers Wearing the Muslim Headscarf On French School Outings Splits Emmanuel Macron's Cabinet
Henry Samuel, paris
15 OCTOBER 2019
Arift has emerged within President Emmanuel Macron's ruling majority over whether women who wear the Islamic headscarf when accompanying children on school outings are contravening France's strict rules on secularism.
The separation of Church and State is enshrined in a 1905 law in France, where ostensible signs of religion are banned from state schools among pupils and teachers in the name of secularism.
However, nothing in the law stipulates that mothers are not allowed to wear the garment in or outside school gates whilst accompanying classes on outings.
But the issue sprung to the fore this week after the head of the far-Right group of a regional council in Burgundy-Franche-Compté, central France, called for a mother wearing a headscarf to take it off "in the name of the principles of the Republic".
"It's the law," Julien Odoul of Marine Le Pen's National Rally, or RN, told the mother who was accompanying her child on a school trip to the assembly. When the council president declined, he and other RN councillors walked out then posted the incident online.
The government condemned the public humiliation of the mother and education minister Jean-Michel Blanquer said no law had been infringed.
However, Mr Blanquer then added that it was "not desirable" for headscarves to be worn on outings."It's not something to be encouraged. What it says about woman's role in society is not compatible with our values, quite simply," he said.
Several other centre-Right ministers of Mr Macron's centrist government backed his stance, with finance minister Bruno Le Maire saying: "The headscarf in itself is not desirable in our society."
But several disagreed, saying that such discourse precisely tramples on the religious tolerance that "laïcité" (French secularism) is supposed to defend.
Government spokeswoman Sibeth Ndiaye, said having such mothers take part in outings was "positive".
As a mother in a high-immigrant Parisian suburb, she said: "The outings I took part in were always rather positive moment because women like me and women with headscarves who don't necessarily live in the same worlds, can come together and exchange."
Digital minister Cédric O said he had also taken part in such outings and "they never posed any problems."
"I never saw any sign of proselytism. We lived together and each respected the other. That's secularism, in no way the small-minded racism of Julien Odoul."
Aurélien Taché, an MP from Mr Macron's ruling LREM party, added: "It is not desirable for ministers to set themselves up as theologians or to start dictating the moral or spiritual choices of our fellow citizens."
The incident sparked prompted a group of 90 mainly Muslim public figures, including the actor Omar Sy, to post an op-ed in Tuesday's Le Monde asking: "How far will we let the hatred of Muslims go?"
They called on Mr Macron to "publicly condemn the attack against this woman and her son; to say forcefully that Muslim woman, whether or not they wear the headscarf, and Muslims in general, have their rightful place in our society...The future of our country depends on it."
The cabinet split has prompted calls for Mr Macron to speak out on the issue. During his electoral campaign, he said he was against "hounding those who wear religious signs during school outings".
Presidential aides say he intends to make a speech on secularism soon.
One cabinet minister, however, warned against giving any impression that such a speech would be directed solely to "the Muslims of France". "Otherwise by mixing the two, one risks creating a form of confusion."
An Ifip-Fiducial poll this week suggested that two-thirds of French people support a ban on women wearing the headscarf during school outings.
https://www.telegraph.co.uk/news/2019/10/15/row-mothers-wearing-muslim-headscarf-french-school-outings-splits/
--------
High Court Rules Female Genital Mutilation Illegal In All Forms, NSW Court Erred In Quashing Convictions
By Elizabeth Byrne
Oct 16, 2019
Three people charged with female genital mutilation offences against two primary school-aged sisters could face further punishment after the High Court ruled the New South Wales Court of Criminal Appeal erred in quashing their convictions.
Warning: This story contains graphic details that may confront some readers.
In 2015, the girls' mother and a former nurse Kubra Magennis were found guilty of two counts each of breaching the ban on female genital mutilation in NSW.
Dawoodi Bohra community leader Shabbir Mohammedbhai Vaziri was convicted of being an accessory.
All were sentenced to 15 months in jail but, while the women were allowed to spend the sentence out of custody, Mr Vaziri was jailed.
It was Australia's first female genital mutilation prosecution.
But the charges were quashed by the NSW Court of Criminal Appeal last year, after the trio argued the ceremony was only ritualistic and new evidence showed there was no visible physical damage to either girl.
Today, in a divided ruling, the High Court found the law did cover the circumstances in the case and that it was meant to criminalise the practice in its various forms.
'Skin only sniffs the steel' in ceremony
The religious ceremony of Khatna is said to involve a girl's clitoris being nicked or cut in the presence of elders.
The girls were believed to be aged six or seven when the ceremony was carried out at their homes, one in Wollongong and the other in Sydney, between 2009 and 2012.
At the original trial the eldest child had given evidence describing Khatna, saying "they give a little cut … in your private part" using a tool similar to a pair of scissors.
However, Ms Magennis said the ceremony had used forceps, not a blade, and the "symbolic" form of Khatna involved a "ceremony of touching the edge of the genital area … allowing the skin to sniff the steel".
After the trio were convicted, a medical examination showed the tip of the clitoral head was visible in both girls, allowing them to argue successfully that the genitals were not mutilated.
The convictions were set aside but prosecutors sought an appeal to Australia's top court, arguing the actions of the three had still breached the NSW law.
Today the majority of the High Court bench found in the NSW prosecution's favour, deeming the trio's actions illegal.
Retrial may cause girls psychological harm: Chief Justice
The case has been referred back to the NSW Court of Criminal Appeal for further consideration about whether the jury's verdict was unreasonable.
In a joint judgement with Justice Patrick Keane, Chief Justice Susan Kiefel said normally a new trial would be ordered, but in this case that may not be appropriate.
"[The victims] C1 and C2 were children when they were interviewed by police and when they gave evidence at a trial which took place in 2015," she said.
"The trial judge, in considering whether C1 and C2 were compellable to give evidence against their mother, accepted that there was a likelihood that psychological harm might be caused to them.
Justices Virginia Bell and Stephen Gageler differed from the rest of the court taking a narrower view of the offence and argued that the Court of Criminal Appeal made the correct decision.
"The Court of Appeal was right to hold that superficial tissue damage, which leaves not physical scarring and which on medical examination is not shown to have caused any damage to the skin or nerve tissue, is not in law capable of amounting to mutilation," they said.
The case has been listed for a call over in the NSW Court of Criminal Appeal next week.
https://www.abc.net.au/news/2019-10-16/high-court-rules-female-genital-mutilation-illegal-in-all-forms/11606396
--------
URL: https://www.newageislam.com/islam-women-feminism/bengal-first-feminist-women-rights/d/120009
New Age Islam, Islam Online, Islamic Website, African Muslim News, Arab World News, South Asia News, Indian Muslim News, World Muslim News, Women in Islam, Islamic Feminism, Arab Women, Women In Arab, Islamophobia in America, Muslim Women in West, Islam Women and Feminism