New Age Islam News Bureau
27 Sept 2012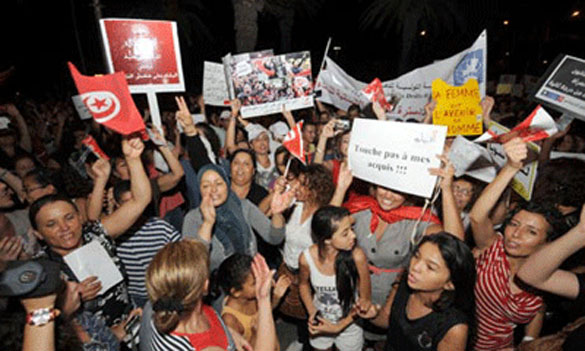 • Women Suffer Behind Veil of Silence in Mali's North
• Tunisia Woman Accused of Indecency after Police Rape
• 'Under-Age Marriage' Husaini Islamic Centre Cleric Quizzed
• Afghan Burqa Opponent Wins Swedish Rights Prize
• Islamic Sydney Doctor, Wife Deny Genital Mutilation of Daughters
• Nazaria-I-Pakistan Trust Chairman Wants Women's Role for Progress
• Indian Woman found killed in Bur Dubai flat
• Pakistani Women Continue To Fight Gender Inequality
• Bangladesh Man Gets Life for Killing Wife
• Ten Per Cent Women's Participation in Polls Impracticable: PML-Q
• University Of Missouri Students Speak On Women's Role in Islam
• Wife of the Ruler of Sharjah Receives WISE Delegation
• Spy Princess in Celluloid
Compiled by New Age Islam News Bureau
Photo: Protesters march through Tunis urging respect and protection of women's rights
URL: https://newageislam.com/islam-women-feminism/being-publicly-called-prostitute-led/d/8803
------------
Being Publicly Called a Prostitute Led To Suicide in Aceh
By Elisabeth Oktofani for Khabar Southeast Asia in Jakarta
September 27, 2012
Publicly called a prostitute, teen girl apparently chose death to escape the humiliation.
The girl and a friend were arrested as they attended a concert in Langsa, East Aceh on September 3rd. Three days later, she was found dead in her room. Her family later found a suicide note in her school bag.
"Father, forgive me, for I have brought shame on you and others, but I swear that I've never sold myself to others," the note said, according to excerpts printed in Indonesian media. "That night, I was just watching a concert in Langsa, and I was sitting on the field with a friend."
Three local tabloids ran articles the next day about the arrest of "teenage sex workers" at the concert without verifying the claims, according to the Banda Aceh chapter of the Alliance for Independent Journalists, The Jakarta Post reported.
In Jakarta, activists called for greater protection of children and an end to local laws they said discriminate against women and girls.
"The public arrest process will certainly make people feel humiliated," Feri Kusuma from the Commission on Missing Persons and Victims of Violence (Kontras) said at a press conference on September 13th.
"The procedure for the implementation of Sharia law for juveniles must be differentiated from adults," said Maria Ulfah Anshor, former chairwoman of the women's wing of Nahdlatul Ulama, the largest Islamic organisation in Indonesia. "The implementation should refer to the 2002 Children Protection Regulation, which requires a children-specific approach."
"It needs to be understood that teenagers or children accept negative labels in different ways than adults," agreed M. Ihsan, co-ordinator of the Task Force for the Protection of Children (Satgas Perlindungan Anak). "It is very important to use a children's perspective for cases involving juveniles."
He regretted that Sharia police arrested a juvenile in a public place and directly accused her of violating Sharia law without further investigation.
Many juveniles who have a public encounter with the Sharia enforcers do not want to go back to school because of the stigma – regardless of whether their actions were right or wrong, he said.
According to the National Commission on Violence Against Women (Komnas Perempuan), the case is not the first in which a public-shaming based on morality laws had led to death. "PE's case is actually not the first time it happened," Komnas Perempuan Commissioner Andy Yentriyani said, using the initials of the girl who hanged herself.
She pointed to the case of Lilis Lisdawati, a housewife from Tangerang, Banten arrested and incarcerated in 2007 on charges of being a prostitute. With no access to judicial recourse, unable to regain her good name, Lilis sank into a depression and died.
Komnas Perempuan has identified 282 regional regulations (Peraturan Daerah/Perda) that discriminate against women, including 207 that directly target women, Andy said. For example, 60 local laws regulate how a woman dresses, and 38 limit a woman's freedom of movement.
Many such regulations are established to promote religious values and morality. But their implementation tends to violate human rights that are protected by the Constitution, she said.
Komnas Perempuan has identified 15 discriminatory regulations in Aceh. Violations can lead to cruel and humiliating punishments such as beatings, canings, being bathed in sewage water, being paraded and forced to marry, the group said.
"Even though Aceh implements Sharia law, the implementation must be in accordance with --and follow-- our Constitution," Andy told reporters.
http://khabarsoutheastasia.com/en_GB/articles/apwi/articles/features/2012/09/27/feature
------------
Women suffer behind veil of silence in Mali's north
By Serge Daniel
It was just six months ago that Toula, a young woman from Gao in northeastern Mali, could swim and do her laundry in the nearby Niger River.
Not anymore.
Since late March, her dusty desert town and others like it across Mali's massive north have been under the control of hardline Islamists who have imposed tough sharia law.
"These barbarians have refused everything. They don't want to see girls bathing," says Toula who, like other residents, asked her last name not be used.
The freedoms formerly enjoyed by Toula and other women in Gao, previously one of the region's most cosmopolitan and lively towns, disappeared almost overnight.
Most noticeably, women are now forced to wear the hijab, a broad scarf that covers the entire head and neck but leaves the face exposed.
"I can't stand how I am at the moment, covered in a veil from head to toe. It's as if I was in prison," 15-year-old Aicha said.
Toula and Aicha were part of a group of girls and young women who recently spoke to AFP in Gao, one of the key cities to have been seized by the country's Islamist advance after a March 22 coup in the capital Bamako left Mali's army in disarray.
"We are no longer free. That's all there is to it. Nobody for the moment wants to free us," Toula said.
"I don't want sharia. Mali is a secular country and should stay that way."
Mali this week asked the United Nations for authorisation for a West African-led military force to seize back the massive north, an area larger in size than France or Texas. When that mission could begin has not been agreed.
All the girls who spoke to AFP said they have been living a nightmare since the introduction of sharia law.
Among the many new restrictions: They cannot smoke or drink alcohol and anything considered "haram", or against Islamic law, is forbidden, including publicly listening to Western music or having sex outside marriage.
Transgressors have suffered punishments unthinkable in the West.
Suspected robbers in Gao have had hands and feet amputated. In the small town of Aguelhok, the armed Islamist group Ansar Dine (Defenders of the Faith) publicly stoned an unmarried couple to death, and have whipped smokers and drinkers.
Three main Islamist groups control northern Mali, though other armed rebels are also playing a role.
Gao is ostensibly under the control of the Movement for Oneness and Jihad in West Africa (MUJAO), an offshoot of Al-Qaeda in the Islamic Maghreb, but is under the de facto control of another Al-Qaeda-linked boss from Algeria.
Ansar Dine and Al-Qaeda in the Islamic Maghreb (AQIM) itself are the other main players, but delineations between the groups are often porous.
"We are totally against the implementation of sharia. But we can't say that in public, for security reasons," says Mimi, her eyes hidden behind a black veil.
Her neighbour fled town "because she could no longer handle the situation. Even at 45 degrees (Celsius, 113 Fahrenheit), we have to dress up as if it was cold. It's just too much," Mimi said.
Another of the girls, Fatoumata, said they send supportive texts to each other as they endure the new regime.
"Keep well, thanks to God this will end," one message states.
"Our brothers from the South must soon free us," reads another.
Another of the group, Amina, said just a few months ago she would go to the hairdresser and show off her latest styles in the street. Not now, thanks to the veil.
Residents must express their anger in private, for fear of raising the ire of their new Islamic overseers.
"I've told my friends that we must have the courage to march with our heads uncovered to protest all this. But we are afraid," one resident said, asking her name not be used.
In June, at least one person was shot dead and 10 or so were wounded during a march against the Islamists.
The demonstrators were protesting against the killing of a local official who had been slain by armed men.
External observers have accused the Islamists themselves of summary executions of Malian soldiers, rapes, massacres of civilians, the enlistment of child soldiers and torture as well as the destruction of state buildings, churches, mosques and mausoleums.
http://za.news.yahoo.com/women-suffer-behind-veil-silence-malis-north-054413117.html
------------
Tunisia Woman Accused of Indecency after Police Rape
2012-09-26 22:26
Tunis - Tunisian civil society groups expressed outrage after a young woman was accused of indecency on Wednesday by two policemen jailed for raping her, amid criticism of the Islamist-led government on women's rights.
The woman and her fiancé were summoned by a magistrate to face the two policemen, both found guilty of rape and jailed, who accuse her of "indecency," a group of Tunisian NGOs said in a statement.
The crime is punishable by six months in prison.
The hearing was adjourned until 2 October, according to the NGOs, with social media networks calling for a demonstration outside the court in Tunis on that day.
The interior ministry said the woman and her boyfriend were apprehended by three policemen on 3 September, when they were found in an "immoral position".
Two policemen then raped her, while the third held the fiancé handcuffed.
All three policemen were imprisoned.
The NGOs, which include the Tunisian Association of Democratic Women and the Tunisian League of Human Rights, slammed the summons for indecency, which they described as a procedure that "transforms the victim into the accused".
It "is designed to frighten and to force her and her fiancé to waive their rights," they added.
Repression
They also questioned "the seriousness of the government's commitment to applying the national plan to combat violence against women".
A coalition of leftwing opposition parties also condemned the actions of the police.
"Rape as a means of repression is still practised in Tunisia," they said, calling for a law to protect "Tunisian men and women against all forms of physical, moral and sexual violence."
MP Karima Souid, who belongs to Ettakatol, a centre-left group that partners the Islamist party Ennahda in Tunisia's ruling coalition, denounced her party's support for the government in protest at the proceedings against the rape victim.
"I completely dissociate myself from this government. The rape case and the summoning of the victim this morning is the last straw," she wrote on Facebook.
Interior ministry spokesperson Khaled Tarrouche told AFP that the ministry "had nothing to do with" the proceedings against the young woman, emphasising that the decision to summon her was taken by the magistrate.
"In this case, we acted as was required of us. What had to be done was done, and the three police agents were arrested straight away," he said, insisting that cases of police assaulting women were "isolated".
"We shouldn't read into this anything organised, or generalised," he added. "The police are also citizens first and foremost, and when they commit crimes, the law is applied unequivocally."
Justify police crime
The justice ministry was not immediately reachable for comment.
But the Tunisian NGOs dismissed Tarrouch's comments, accusing him of trying to "justify" the crimes of the police.
"We consider unacceptable the statements by the interior ministry spokesman justifying the violence, and believe they have multiplied the violence suffered by the victim, which breaches the most basic human rights.
Since the Islamists' rise to power after last year's revolution, feminist groups have accused police of regularly harassing women, by challenging them over their clothing or if they go out at night unaccompanied by family members.
Ennahda also provoked a storm of protest for proposing an article in the new constitution that referred to the "complementarily" of men to women rather than their equality.
Many saw the proposed article, which was abandoned on Monday, as a ploy by Islamists to reverse the principle of gender equality that made Tunisia a beacon of modernity in the Arab world when it was introduced six decades ago.
http://www.omantribune.com/index.php?page=news&id=128389&heading=Middle%20East
------------
'Under-Age Marriage' Husaini Islamic Centre Cleric Quizzed
26 September 2012
A panel of experts is to look into the conduct of a Peterborough Muslim cleric accused of offering to preside over marriages of girls as young as 12.
Mohamed Kassamali, a Husaini Islamic Centre imam, "stepped aside" over the accusations by a Sunday Times reporter.
The centre said an independent panel of cross-community experts had met and was now considering the imam's case.
Police said that following a voluntary interview with Mr Kassamali no further action would be taken.
The possibility of underage marriage was reported in The Sunday Times newspaper on 9 September after an undercover reporter interviewed the imam.
He was asked if he would preside over the marriage of a girl as young as 12.
The reporter claimed that Mr Kassamali said it was possible.
No illegal marriages
The seven independent panelists looking in to the case include a former senior police officer and specialist in child protection.
Other members are an Islamic scholar and inter-faith specialist from the Muslim Council of Britain.
A specialist in Arabic and Islamic education, a former BBC head of religion, a local social worker and a local human rights lawyer make up the rest of the panel.
"They will consider all aspects surrounding the case, and make their recommendations to the management committee of the Husaini Islamic Centre in the coming weeks," a spokesman said.
The centre said when the claims were published that a British civil marriage certificate was required for any Islamic marriages it conducted.
It said no illegal marriages had taken place at the centre.
"We find the practice of forced marriages to be abhorrent, reprehensible and totally un-Islamic," the spokesman said.
http://www.bbc.co.uk/news/uk-england-cambridgeshire-19725822
------------
Afghan burqa opponent wins Swedish rights prize
September 27, 2012
STOCKHOLM: Afghan human rights activist, ex-minister and burqa opponent Sima Samar on Thursday won the Swedish Right Livelihood Award honouring those who work to improve the lives of others.
Samar, 55, was honoured "for her longstanding and courageous dedication to human rights, especially the rights of women, in one of the most complex and dangerous regions in the world," the jury said in a statement.
A medical doctor by training, Samar fled to Pakistan in 1984 when her husband disappeared following his arrest by Afghanistan's communist regime.
She returned in 2001 to become her country's first minister of women's affairs, but had to resign after just six months after she criticised sharia law in an interview in Canada.
Full report at:
http://tribune.com.pk/story/443319/afghan-burqa-opponent-wins-swedish-rights-prize/
------------
Islamic Sydney Doctor, Wife Deny Genital Mutilation of Daughters
By Vittorio Hernandez | September 27, 2012
A doctor and his pharmacist-wife from Sydney, New South Wales, denied participating in the genital mutilation of their two daughters. The couple, who belong to a small Islamic sect, appeared on Wednesday at the Parramatta Local Court to face two charges of female circumcision.
Court records said that the first procedure was in metropolitan Sydney and the second in the NSW south coast which took place the past two years when the girls were only six- and seven-years-old then.
The couple, ages 42 and 35, has several co-accused including a 58-year-old sheikh who was charged with being an accessory to the genital mutilation. Court records said the sheikh told locals in the past months to lie to investigators about the practice of female circumcision in their community.
Full report at:
http://au.ibtimes.com/articles/388460/20120927/islamic-sydney-doctor-wife-deny-genital-mutilation.htm#.UGQjxJjMgl9
------------
Nazaria-i-Pakistan Trust Chairman wants women's role for progress
By: Javed Iqbal | September 27, 2012
LAHORE - The Nation Editor-in-Chief and Nazaria-i-Pakistan Trust Chairman Majid Nizami on Wednesday urged the women to work with the same passion for development of Pakistan as Pakistan Movement women did at the time of independence.
He was addressing a sitting at Aiwan-e-Karkunan Tehrik-e-Pakistan on "Women and Democracy", jointly organised by the NPT and Pakistan Movement Workers Trust.
Begum Suraya KH Khurished presided over the event. NPT Vice-Chairman Dr Rafique Ahmed, Begum Mehnaz Rafi, Dr Salman Abid, MPA Ghazala Saad Rafique, MPA Amna Ulfat, MPA Nighat Nasir Sheikh, Dr Rashida Quraishi, Dr M A Sufi, Dr Ajmal Niazi, Shahid Rasheed and Rifaqat Riaz and people from different walks of life attended the sitting.
According to Majid Nizami, without participation of women the establishment of Pakistan would have been a distant dream.
Full report at:
http://www.nation.com.pk/pakistan-news-newspaper-daily-english-online/lahore/27-Sep-2012/nizami-wants-women-s-role-for-progress
------------
Indian Woman found killed in Bur Dubai flat
Amira Agarib & Sajila Saseendran / 27 September 2012
A young Indian woman was found murdered at her apartment in Bur Dubai on Wednesday. Her throat was slit and she died of heavy bleeding, a police source confirmed to Khaleej Times.
The body of the housewife was found lying at the doorstep of her flat and the assailant has spared her two-and-a-half-year-old child who was also present in the house at the time of attack.
The source said the police received information about the crime around 1pm. "We are still on the crime scene and we are conducting investigation. It looks like she opened the door to a stranger," he said in the evening. However, he ruled out robbery as a motive as nothing has been found missing in the preliminary investigation.
Full report at:
http://www.khaleejtimes.com/kt-article-display-
------------
Pakistani Women Continue To Fight Gender Inequality
27 September 2012
More and more women in Pakistan are fed up with gender inequality. They have started to demand more rights. In 2006, a law was passed to improve their situation, but the legislation has yet to be implemented.
When women in Pakistan open a bank account, apply for a visa or want to buy a house, they are asked to provide information about their father, brother or husband.
"That has become part of our life," Zavi Fatima, a young news anchor from Pakistan, told DW. She has more rights than other young women in Pakistan because she is from a well-to-do and educated family. Having a career is almost normal for women from the upper classes. Successful female politicians such as Fatimah Jinnah, sister of the country's founding father Mohammed Ali Jinnah, and Benazir Bhutto, the first head of government of an Islamic country, speak for that.
Full report at:
http://www.dw.de/dw/article/0,,16264593,00.html
------------
Bangladesh Man gets life for killing wife
September 27 2012
A court here on Monday sentenced a man to life term imprisonment for killing his wife in 2007.
The convict, Abdul Malek, 36, son of Abu Hossain Sarker of Khudromonohara village of Ullapara upazila, was also fined Tk one lakh, in default, to suffer one more year in jail.
According to the prosecution, Malek beat up and set on fire his wife Marium Khatun, 30, mother of two children, causing her death on April 3, 2007 as she protested his extramarital relation with a woman.
http://www.thedailystar.net/newDesign/news-details.php?nid=251478
------------
Ten Per Cent Women's Participation in Polls Impracticable: PML-Q
Sept 27, 2012
ISLAMABAD: Coalition partners in the government, the Pakistan Muslim League – Quaid (PML-Q) on Thursday ruled out the Election Commission's proposition of at least ten per cent women's votes in the upcoming general elections, terming it impracticable.
The EC on Wednesday, in a step towards curbing the trend of women's disenfranchisement, had unanimously approved a draft bill providing for re-poll on polling stations where less than 10 per cent of women votes were polled. The draft bill meant to increase women participation in the electoral process and to prevent certain groups and parties entering into agreement restraining women of a particular area from exercising their right to vote.
Full report at:
http://dawn.com/2012/09/27/ten-per-cent-womens-participation-in-polls-impracticable-pml-q/
----------
University Of Missouri Students Speak On Women's Role in Islam
By JANESE SILVEY
September 26, 2012
Two University of Missouri students urged peers yesterday not to judge their religion based on what they might see on television and described the Muslim faith much like one might describe Christianity.
Muslims believe in one God, prayer, a holy text and prophets, including Abraham and Noah, said Arwa Mohammad, a medical student. And while Muslims are supposed to align everything they do with their submission to God, people aren't perfect and sometimes misinterpret the rules.
Full report at:
http://www.columbiatribune.com/news/2012/sep/26/students-speak-on-womens-role-in-islam/
------------
Wife of the Ruler of Sharjah Receives WISE Delegation
September 27, 2012
SHARJAH: Sheikha Jawaher Bint Mohammed Al Qassimi, Wife of the Ruler of Sharjah and Chairperson of the Supreme Council for Family Affairs, has received a delegation from Women's Islamic Initiative in Spirituality and Equality (WISE), a programme of the New York-based American Society for Muslim Advancement.
The meeting discussed co-operation between foundations sponsored by Sheikh Jawaher and WISE, a New York-based global programme, social network and grassroots social justice movement led by Muslim women.
http://gulftoday.ae/portal/60be84e5-d121-4434-a2b8-bdd2fc7e4cf9.aspx
------------
Spy Princess in Celluloid
Sept 27, 12
Shrabani Basu's acclaimed novel, Spy Princess: The Life of Noor Inayat Khan, will soon be made into a film, with New York-based film-makers Zafar Hai and Tabrez Noorani acquiring its film rights.
"Hai and Noorani are set to make a film with an international cast for a world market. They are shortly scheduled to visit London for talks with leading British screenwriters," says a release.
Full report at:
http://www.thehindu.com/news/national/spy-princess-in-celluloid/article3939210.ece
---------
URL: https://newageislam.com/islam-women-feminism/being-publicly-called-prostitute-led/d/8803