New Age Islam News Bureau
23 Dec 2019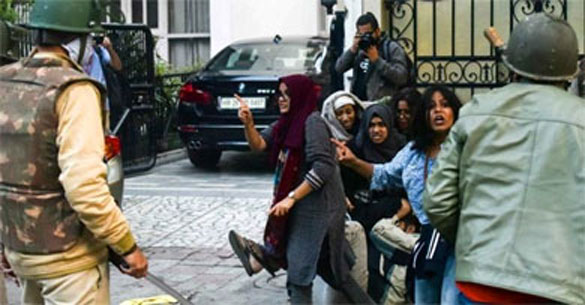 Aysha Renna is a 22-year-old history student at Jamia Millia Islamia who stood up to the Delhi policemen as one of her male friends, was being pulled by the collar and assaulted.
-----
• Behind The Face of Courage and Resistance, a 22-Year-Old Woman, Ayesha, Fighting Stereotypes
• Hindus Join Mass Marriage of Muslim Girls, Whose Parents Were Unable To Marry Them Off Due To Financial Constraints In Odisha
• Germany Charges Woman as Member Of Islamic State Group
• 9 Inspiring Muslim Women Shattering Stereotypes
• Tokyo Court Awards Damages to Female Journalist in Rape Case
• Supermodels Jet to Riyadh for Inaugural MDL Beast Festival
• As A Muslim Woman, I Find the Praise Lavished Upon Nike's Modest Swimsuit Patronising
• U.S. Rep Rashida Tlaib, One of First Two Muslim Women in Congress, Coming to Portland
• Activist Says 'Mass Rape' Committed Against Uighur Women In China
• Muslim Women Protest against CAA and NRC in Hapur, Apprise DM of Their Worries
Compiled By New Age Islam News Bureau
URL: https://www.newageislam.com/islam-women-feminism/behind-face-courage-resistance-22/d/120602
------
Behind The Face of Courage and Resistance, a 22-Year-Old Woman, Ayesha, Fighting Stereotypes
Shweta Sengar
Dec 22, 2019
Walking through the narrow streets of Souutheast Delhi's Ghaffar Manzil area, we stop at a building. Aysha and her friend, Thashreef, show us the way to the apartment where they are staying currently.
"We keep moving. We stayed in a hotel for a few days and now we are here. I don't think we can stay in one place for a long duration. The situation for students, especially us, isn't the best," Thashreef explains while we remove our shoes and enter their room.
The room is just like that of any other student who came to Delhi for studies.
Clad in Shalwar-Kameez and Hijab, Aysha is calm as she figures out where we can sit. She helps in clearing the room.
"It's really cold all of a sudden. And then you have water cannons aimed at protesting students," she smirks.
Aysha Renna is a 22-year-old history student at Jamia Millia Islamia who stood up to the Delhi policemen as one of her male friends, was being pulled by the collar and assaulted. She, along with two other women, faced up the police undeterred and formed a shield to safeguard him.
Aysha's photo in maroon hijab, right index finger raised to warn a policeman not to hit her friend stooping behind her became the emblem of protests that have taken the country by storm.
She was among the few women to lead the first protests at Jamia against the contentious Citizenship Act in the campus on the evening of December 12, a march from the old girls' hostel to the new one.
When asked if she ever thought of this, Aysha says:
"I'm just another girl"
Behind the extraordinary display of valour and endurance, Aysha is just another woman in the country fighting stereotypes and standing up for her rights.
I'm just another girl who does not study the entire year but a day before exams, she laughs as she narrates how the incident has impacted her life. She says she is the old Aysha, the old Renna as she was before the protests.
"I'm the old one. The viral video of me has not made much difference in my personal life. I acted because I was worried about my fellow citizens who will be affected by the Act."
She only fears that now people have started to recognise her and she may not be able to raise slogans and protest with the same intensity as I did before.
When asked about how she found courage at that moment, she says, "I think it was the need of the hour for us to raise our voice. It came from within. I knew what I had to do. For years, we've only heard that Muslim women work behind the shadows of men – their fathers, brothers and husbands and that they lack identity. There could not have been a better time to smash this stereotype."
Aysha doesn't want to take any credit for the exemplary display of courage. "There were numerous other students who were beaten up, several other girls raising their voice against the injustice being carried out, hundreds of students protesting inside and outside of Jamia; it wasn't caught on the camera. I was not alone. What we did, we did it together. Everywhere. That's what makes the student community stronger. Every student, girl or boy, acted courageously and fearlessly in that moment of need."
She says there were many other students, more courageous than her, doing more courageous things than what she did. "I am just a minute part of it."
"I was destined to be there"
Ayesha firmly accepts as true that whatever happened was designed by Allah.
"I believe that my God gave me courage in that moment. Every time I think about the incident when I was out there fighting for my friend, my belief gets stronger. It was Allah who had put me there. He had planned everything, that I'll be going to the protests… everything happened according to his plan. I believe that he chose me to be there and he gave me the courage to act bravely," she says adding that this was one-of-a-kind protest.
She tells she was overwhelmed when the entire community of students, transcending religions, came and stood together for each other. "People were offering help, they offered accommodation to those in need. There was so much good that came out of the protests.
"My parents and my husband supported me throughout. They, in fact, pushed me to be out there and stand up for our rights. Hundreds of women showed up in solidarity in protests because they watched us being attacked. My parents were not scared and neither was I."
This is the time to act
Aysha believes that students are more logical than the lawmakers we chose. That's what makes student protests unique. The government finds it difficult to counter logic.
She says the students and youngsters of this country are done with this government, its hollow claims and its acts of fear-mongering.
"We know we must act now or it will be too late. We don't want what happened in Kashmir to happen anywhere else. People should never be stripped off their rights."
https://www.indiatimes.com/news/india/behind-the-face-of-courage-resistance-a-22-year-old-woman-fighting-stereotypes-502818.html
------
Hindus Join Mass Marriage Of Muslim Girls , Whose Parents Were Unable To Marry Them Off Due To Financial Constraints In Odisha
23rd December 2019
SAMBALPUR: In a noble gesture, city-based social organisation Alla Hazarat Welfare Committee solemnised the marriage of four Hindu and 13 Muslim girls at Sunapali here on Sunday.
All the girls belong to economically weaker sections and their parents were unable to marry them off due to financial constraints.
Alla Hazarat Welfare Committee has been organising mass marriage of poor Muslim girls for the last three years.
Secretary of the committee Atif Alam said the objective of the organisation is to help poor girls, irrespective of their religion, who find it difficult to tie the knot due to monetary problems.
Needy families select grooms for their daughters and apply with the committee for help to organise their marriages.
The committee members then visit the houses of the applicants. If they find that families are poor, the necessary steps are taken to arrange the marriages.
All expenses of the marriages are borne by the committee by collecting money from its members, Alam said.
While the marriages of Muslim brides were performed as per Islamic rituals, the Hindu girls exchanged garlands and rings with their grooms during the mass wedding ceremony on the day.
The committee gifted household articles, including refrigerator, washing machine, air-cooler, grinder, steel almirah, furniture, utensils and clothes to the newly-wed couples.
A community feast was also organised after the mass marriage at the venue.
Manasi Pradhan, a Hindu girl whose marriage was solemnised at the event, said her family had applied for help to the committee.
"I am thankful to the organisation for arranging my marriage," she said. While Manasi's father is bed-ridden, her mother is a domestic help.
https://www.newindianexpress.com/states/odisha/2019/dec/23/hindus-join-mass-marriage-of-muslim-girls-in-odisha-2079886.html
------
Germany charges woman as member of Islamic State group
BERLIN (AP) — German prosecutors have filed terrorism charges against a German woman who allegedly joined the Islamic State group in Syria.
Federal prosecutors said Monday that the indictment against the woman, identified only as Sibel H. in line with local privacy laws, was filed with the Munich state court on Dec. 6. She is accused of membership in a foreign terrorist organization as well as war crimes against property.
Prosecutors allege that she traveled to Syria with her husband in early 2016 to join IS, and ended up in Iraq. They say the couple lived in homes seized by IS, and she ran the household to support her husband's work for the extremist group.
Sibel H. returned to Germany in April 2018 after being thrown out of Iraq by Kurdish security authorities, prosecutors said. She was arrested in August, but released pending trial in September.
https://apnews.com/662a49714b42852d714f648984680613
------
9 inspiring Muslim women shattering stereotypes
Now more than ever we need to elevate the diverse and vibrant art and voices of Muslim women from around the world to emphasize Muslim people cannot be defined. Trump's executive order banning immigrants from Syria and seven other predominantly Muslim countries, which also establishes a religious test for refugees from Muslim nations, has led to increased hate crimes, discriminatory language, and damaging stereotypes about Muslims. We cannot allow this hate to hold. Muslim women and men are bold, creative, courageous, diverse, and dynamic. Muslim people are doctors, teachers, mothers, fathers, human rights activists, artists, journalists, dancers, and so much more.
Together, let's get loud to shatter damaging stereotypes about Muslims in the United States and worldwide. Explore some of the powerful work and words from Muslim women artists, activists, photographers, and leaders through work featured in our Muslima: Muslim Women's Art & Voices campaign.
These 9 Muslim women are challenging negative images and portrayals, defying labels and definitions, and breaking down harmful walls—just by being themselves.
LaRita Dixon, USA
"In this work, I wanted to show the fun side of Muslims, to show people that we are just like everyone else."
Haafiza Sayed, UAE/India
"My Muslim woman is amongst the millions of unsung and often ignored Muslim women in global societies. These are women that are strong, liberated, awakened in all senses, exercising their rights, voicing their opinions; they are the leaders, educators, doctors, writers, artist, activists and so on."
Nadia Helmy Ahmed, Denmark
"I try to challenge the cultural discourse about what Muslim women should act like. And exhibit leadership through my sport and encourage other women to be strong norm breakers."
Rajae el Mouhandiz, Morocco/Algeria/The Netherlands
"I have had to deal with Muslim music labels not wanting to promote me because I am a woman and didn't wear hijab… I believe that pop culture and songwriting in Muslim culture—just like in all other cultures—are great vehicles to use as a way to express yourself, your search for your unique character and identity, and to share ideas with your peers and the world. Pop culture has always be a catalyst, and has proven to be very effective tool for cultural diplomacy or cultural rebellion."
Soufeina Hamed, Germany
"Being Muslima in a western city is not as bad as some people think. In my experience, it makes you somehow more conscientious, more sensitive, and more self-confident at an early age. When I started to cover myself with a hijab, I felt that from then on, I was representing something bigger than me. I was representing a whole community—a community that is diverse as the humanity itself."
Kelly Izdihar Crosby, USA
"I'm still touched by the diversity of the Islamic global community and that idea developed into this piece. I decided to create a montage of women in different headscarves and different complexions. I have depicted Muslim women wearing turbans, Turkish hijabs, "traditional" hijabs, stylish wraps, niqabs (face veils) and no hijab. I want to show the audience our beauty and also our diversity in terms of how we outwardly reflect our faith. The mainstream image of Muslim women is quite one dimensional and I think this piece can offer the viewer to an alternative to the current monolithic stereotype."
Senna Ahmad, USA
"I looked through the crowd and noticed such a variety of people there, all with different backgrounds and stories, all different races and different ages. What I thought before I took this picture was how amazing it is that this one belief could unite so many of us, no matter what differences we had. It was while having this thought that I saw this little girl sitting on the floor staring right at me. "Purity" was the only word that came to mind when her piercing eyes met mine. A child's thoughts are so unsullied by the world around them and the less-than-twenty-second interaction I had with this girl made me believe that our hope truly does lie in hands of those younger than us. They are the ones with big dreams and hopeful thoughts. If ever faith is lost in you, look into the eyes of a child, you will find your faith there."
Zainab Khan, USA/Afghanistan/Pakistan
"I firmly believe that through peace, love, respect, and mutual understanding, we will be able to provide a helping hand that will empower each woman to reach out like a sister to one another. In today's world, where our chances of connectivity are much higher, it truly is possible to create a culture of sisterhood and unity. As we share our experiences and voices interactively throughout the globe, we receive the chance not just to bring visibility, but to breathe life into our stories."
Saba Chaudhry Barnard, USA
"For years, I tortured myself trying to blend in, trying to stand out, trying to "find myself" within these little boxes. But it's impossible. Instead, I make art that is, I hope, less categorized and reductive, reflecting that the boundaries we create between us and inside of us are, in fact, an illusion. So my work is not so much about defining Muslim women, or anyone, but undefining them. About undefining ourselves and connecting to that universal something that exists within all of us."
Together, let's do some undefining. Share these powerful pieces of art and words from Muslim women to stand with them as they shatter stereotypes and challenge discrimination.
Explore more voices and art from Muslim women around the world in MUSLIMA.
https://www.globalfundforwomen.org/9-inspiring-muslim-women-shattering-stereotypes/
------
Tokyo court awards damages to female journalist in rape case
December 18, 2019
TOKYO: A Tokyo court awarded damages to a freelance journalist Wednesday in a high-profile rape case that involves an attacker known for his close ties with Prime Minister Shinzo Abe and his ultra-conservative supporters.
The Tokyo District Court ordered former television newsman Noriyuki Yamaguchi to pay ¥3.3 million ($30,150) to freelance journalist Shiori Ito for physical and psychological pain resulting from his sexual assault.
Ito filed a civil suit in 2017, demanding ¥11 million ($100,540) in damages for her suffering and seeking an explanation why Yamaguchi was never arrested and prosecutors dropped the criminal case.
Yamaguchi has denied any wrongdoing in published articles and on social media, saying they had sex by consent. He filed a countersuit this year, demanding she pay ¥130 million ($1.2 million) for allegedly damaging his reputation and trust by publicizing him as a rapist.
The court entirely dismissed Yamaguchi's claims.
The #MeToo movement is still only beginning to catch on in Japan, where speaking out often draws criticism rather than sympathy, even from other women.
In Ito's case, ultra-conservative supporters came to Yamaguchi's defense.
Ito and her supporters said they hope her victory would be a step toward promoting awareness in a society where sexual victims like her wouldn't have to feel intimidated and isolated.
Judge Akihiro Suzuki said Ito's attempt to seek the truth in the case and how it was handled, and to promote awareness about social and legal issues surrounding sexual assault victims, is based on her intent to serve public interest and does not constitute defamation against the defendant.
Ito said that after she became dizzy and passed out in a restroom, Yamaguchi took her to his hotel room and raped her in April 2015 while she was incapacitated. She said that he continued the assault even when she woke up and told him to stop.
Ito visited the women's clinic the next day to get treated and filed a criminal complaint with the police, though it took weeks to get them to accept it and start investigating. The prosecutors eventually dropped the case, without explaining to her why.
She held a news conference a month later announcing that she had requested a court-appointed citizens' panel to review the decision to drop the case. The panel in September agreed with the decision not to indict.
https://www.arabnews.com/node/1600681/media
------
Supermodels jet to Riyadh for inagural MDL Beast Festival
December 21, 2019
DUBAI: Over the weekend, Saudi Arabia's capital attracted international supermodels, influencers and It girls who gathered in Riyadh for the inaugural MDL Beast Festival.
Instagram feeds were flooded with images and videos of supermodels Imaan Hammam, Irina Shayk, Stella Maxwell, Joan Smalls and Cindy Bruna living it up in the supermodel-packed Kingdom over the weekend.
Naturally, the jet-setting fashion set made sure to document their trip to the Middle Eastern nation on their social media platforms.
Hammam, who is of Moroccan and Egyptian descent, uploaded a snap of herself in Riyadh wearing a black cap by Jeddah-born womenswear designer Arwa Al-Banawi, which was inscribed with the text: "We are a Kingdom" in Arabic and English, over her hip-grazing braids.
"Jet lag is hitting but we're not going to let that take over!!!" she captioned the image. "Excited to be here for @mdlbeast can't wait to see my girls @simihaze and my favs!! @richforever @therealswizzz @realblackcoffee (sic)," she added, referring to Rick Ross, Swizz Beats and DJ Black Coffee.
In another clip, which she shared with her 811K followers via Instagram Stories, Hammam revealed that she was "so happy" to be in Saudi Arabia.
Russian model Irina Shayk also took to her Instagram page to upload a photograph of herself and fellow model Stella Maxwell backstage at the three-day festival.
In addition to jamming out to electrifying sets from the likes of Palestinian DJ duo SimiHaze and J Balvin, the A-list festival goers — which also included Egyptian actress Salma Abu Deif, Lebanese fashion bloggers Karen Wazen and Nathalie Fanj as well as American influencer Olivia Culpo — also headed to the desert.
From getting their hands decorated with intricate henna designs to enjoying leisurely camel rides — Victoria's Secret model Elsa Hosk revealed it was her first time on a camel — the fashion set appeared to be having a blast in the Saudi desert.
Also in attendance were models Alessandra Ambrosio and Sofia Richie, as well as Victoria's Secret Angels Romee Strijd and Nadine Leopold.
They were joined by "Gossip Girl" actor Ed Westwick, rising star Luka Sabbat, blogger Negin Mirsalehi and Somali-American beauty Halima Aden who also jetted to the Saudi capital for the region's biggest music event.
https://www.arabnews.com/node/1602076/lifestyle
------
As A Muslim Woman, I Find the Praise Lavished Upon Nike's Modest Swimsuit Patronising
Sarah Afaneh
Dec 23, 2019
Growing up as a Muslim in the United States, dressing modestly wasn't always easy. I witnessed my mum struggle with the clothing norms of a new country, and because I felt insecure in my own fashion choices as a teenager, shopping for modest clothes, which come with their own stigma, was a dreaded task.
With the recent release of its Victory Swim collection, Nike has added new options to the market for women who choose to cover up. This is a great step, but I resent how Nike is being praised as if they're the only player in the game (and the brand that should represent me).
Martha Moore, the collection's designer, says her team found "a problem to solve" for Muslim women and that it is "enabling their participation in sports". Athlete Manal Rostam, the first veiled ambassador to be featured in a Nike Middle East campaign back in 2015, says the company is "making history" and "changing everything through [its] embrace of diversity and inclusivity". She said the collection is groundbreaking, and said she had been waiting 18 years for this.
But, you know what, we don't need a big American company to represent us, and remember, Nike is not the first brand to make modest options accessible.
Yes, Nike's Pro Hijab and new swimwear collection provide Muslim athletes with specialised attire to participate in sports. Emirati figure skater Zahra Lari, who reviewed the line, thanked the company for supporting Muslim athletes, while sports activist and writer Shireen Ahmed agrees that Nike is expanding the normalised idea of what swimwear is to include modestwear.
And yes, it is empowering to witness further representation of a marginalised community in the fashion industry and in athletics (swimming, in particular, is regarded as a barrier for Muslim women due to clothing restrictions). However, the over-the-top praise lavished upon this one collection is something I personally find offensive.
Nike claims to be catering to the needs and demands of the Muslim community. "Opening the door to female athletes worldwide" states the marketing copy that comes with the suit. That's quite the overstatement, when the fact is, Nike is likely just another major company looking to stamp its brand as diverse and inclusive.
A western company declaring that it has solved the problems I face as a Muslim woman who chooses to veil, and the expectation that I should do nothing but applaud it, is patronising. Muslim-owned brands such as Ahiida, Raqtive and Asiya Active made athletic gear to fit the needs of a modest community long before Nike launched the Pro Hijab.
Rostom didn't really have to wait 18 years for this release; she could have found it 15 years ago when Ahiida launched in 2004 as a full sportswear brand, and became the originator of the modest swimwear solution. It also created the "hijood", a hijab and a hood, which was worn by Ruqaya Al Ghasara, Bahrain's Olympic short distance running champion, in 2006. Nike is most definitely not the saviour Muslim women have been waiting for, nor should it be treated as such.
We also cannot ignore that the growing modest market is another means to rake in profits. The Washington Post projects that the modest fashion industry will be worth $373 billion (Dh1.37bn) by 2022. Despite Moore's claim that "this is not an elite performance suit", the premium version of it costs up to $650 (Dh2,387) and the second version, sold as separate pieces, adds up to $188. Compared to the Dh100 modest swimsuits my mum buys, these numbers are mind-boggling. It certainly cannot be branded as "accessible", especially when compared to Nike's own non-­modest performance swimsuits, which are about $100, and much less from many other brands.
Brands too often use religious beliefs as a capitalist means for profit and marketing, they are praised for "introducing" modest options, but I see it as a tokenistic effort. I know that modest options have been available for a long time, because I've been buying them. The company's claim of opening doors for Muslim athletes – by creating a product and highly profiting by doing so – is far from a game changer. Conversation has been sparked globally, normalising the presence of Muslim athletes in a sporting context, and of modest clothing in general. I see that this is a positive step. While Nike's new collection has contributed to the conversation, in reality, a $600 swimsuit will have little impact for many ordinary Muslim women.
As a Muslim woman myself, I choose to opt out when my friends go to the beach, a list of excuses ready at my disposal. When they understand why, they encourage me to wear a burkini. I refuse nonetheless. Throughout my childhood, I watched my mum and her friends sit on the sidelines, dipping their feet into the pool as their children played around, but never getting in.
This isn't because we don't have access to modest swimwear, I guarantee they are folded in drawers in our closets. Why? Well, remember 16-year-old Noor Abukaram, who was disqualified from a cross-country race for wearing a hijab in Ohio? And remember, women who wear burkinis in France are at times harassed and even fined.
A recent report in The Huffington Post revealed that women who swim in a hijab are mocked, humiliated and discriminated against in many parts of the United States. Branding a costume with the Nike swoosh will not, in itself, change the discriminatory reality that Muslim women, both athletes and otherwise, face on a daily basis.
Is Nike's modest collection a step towards better representation? Most definitely. Should we go overboard with praise for this bare minimum of inclusions? I don't think so.
https://www.thenational.ae/lifestyle/comment/as-a-muslim-woman-i-find-the-praise-lavished-upon-nike-s-modest-swimsuit-patronising-1.955084
------
U.S. Rep Rashida Tlaib, One of First Two Muslim Women in Congress, Coming to Portland
By Nigel Jaquiss
U.S. Rep. Rashia Tlaib (D-Mich). is coming to Portland Jan. 24 to give the keynote address at the first annual banquet of the Oregon chapter of the Council on American-Islamic Relations (CAIR-Oregon).
Tlaib made history last year when she and U.S. Rep. Ilan Omar (D-Minn.) became the first two Muslim women elected to the U.S. House of Representatives.
As a rookie, Tlaib, a Palestinian-American from Detroit, earned a lot of attention along with three other highly progressive colleagues: U.S. Reps. Ilhan Omar (D-Minn.), Ayanna Pressley (D-Mass.), and Alexandria Ocasio-Cortez (D-N.Y.).
Tlaib set the tone for her service early when she told a supporter around the time of her inauguration that she hoped to play a part in taking down President Donald Trump. "We're gonna go in there and we're going to impeach the motherfucker," Tlaib said, according to multiple media reports.
She will address CAIR-Oregon's gathering at the newly opened Hyatt Regency Portland at the Oregon Convention Center.
The theme of the evening is "Faith Led, Justice Driven," but there will also be some jokes—the comedian Mohanad Elshieky, a Portland favorite, will also be performing.
https://www.wweek.com/news/2019/12/22/u-s-rep-rashida-tlaib-one-of-first-two-muslim-women-in-congress-coming-to-portland/
------
Activist says 'mass rape' committed against Uighur women in China
Mark Quinlivan
An activist says "mass rape" is being committed against China's ethnic Uighurs as details of mistreatment continue to unfold.
UN experts and activists say at least one million Uighurs and members of other largely Muslim minority groups have been detained in camps in Xinjiang since 2017 under a campaign that has been condemned by the US and other countries.
Beijing says it is providing vocational training to help stamp out separatism and to teach new skills. It denies any mistreatment of Uighurs.
But Uighur activist Rushan Abbas, who has family members inside the camps, has described what she calls "mass rape" against ethnic Muslims.
Global media outlets, including Fox News in the US and various UK tabloids, last month reported about a "pair up and become family" program, where Han Chinese men are allocated to observe the homes of those Uighur women whose husbands were in detention camps.
Officials from the Communist Party stayed in their homes and slept in their beds, Radio Free Asia (RFA) reported, citing two anonymous officials.
"The Government is offering money, housing, and jobs to Han people to come and marry Uighur people," Abbas told news.com.au.
She said Han Chinese have been "raping Uighur women in the name of marriage for years".
One of the anonymous officials told RFA last month that the families are helped "with their ideology, bringing new ideas.
"They talk to them about life, during which time they develop feelings for one another."
Claims about the detention camps themselves are hard to verify as China only allows periodic supervised visits and gives little information on their operations.
In July, a Xinjiang official said most people had returned to society from the camps.
Human rights groups and former detainees have said conditions in the camps are poor, with inmates subject to psychological and physical abuse.
Earlier this month, Governor Shohrat Zakir hit out at Western criticism of the camps and said the US had launched a smear campaign against Xinjiang.
China has repeatedly denied any mistreatment of Uighurs and says the camps provide vocational training. It describes detainees as students.
"With the help of the government, stable employment has been achieved and their quality of life has been improved," Zakir told a news conference in Beijing earlier this month.
Newshub/Reuters
https://www.newshub.co.nz/home/world/2019/12/activist-says-mass-rape-committed-against-uighur-women-in-china.html
------
Muslim women protest against CAA and NRC in Hapur, apprise DM of their worries
Dec 22, 2019
S.Raju/ Utkarsha Tyagi
For the first time ever, hundreds of Muslim women, many donning burkhas and hijabs, came out on the streets of Hapur on Sunday afternoon to register their protest against the Citizenship (Amendment) Act (CAA), 2019 and the National Register of Citizens (NRC).
These women, claiming to be a part of no group or organisation, marched through the old city area with placards. They also raised slogans against the CAA and the NRC.
District magistrate Aditi Sharma met the protesters and received their memorandum. The protesters also presented roses to the district magistrate while apprising her of their worries.
"There are no leaders leading our procession. We women ourselves prepared these placards," said a protester.
They described the CAA and the NRC as draconian measures that could adversely affect the unity and integrity of the country.
To recall, Hapur witnessed violence after the Friday namaz when protesters took to roads and marched towards Churaya tehsil. A confrontation took place between the protesters and the police when the latter tried to stop the procession. Protesters pelted stones on cops and in retaliation, the police lobbed tear gas shells and lathi-charged the violent mob.
https://www.hindustantimes.com/cities/muslim-women-protest-against-caa-and-nrc-in-hapur-apprise-dm-of-their-worries/story-VnWYSyhwQvQ4yP1k01YVPJ.html
------
URL: https://www.newageislam.com/islam-women-feminism/behind-face-courage-resistance-22/d/120602
New Age Islam, Islam Online, Islamic Website, African Muslim News, Arab World News, South Asia News, Indian Muslim News, World Muslim News, Women in Islam, Islamic Feminism, Arab Women, Women In Arab, Islamophobia in America, Muslim Women in West, Islam Women and Feminism