New Age Islam News Bureau
21 Sept 2019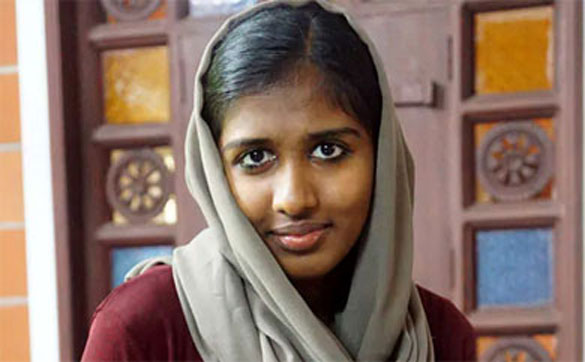 Faheema Shirin is a second-year student of Sree Narayanaguru College in Kozhikode.
------
• Sisters in Islam: Malaysia Can't Keep Condoning Child Marriage as It Perpetuates Poverty and Is Counter-Productive to Children's Health and Intellectual Development
• Kuwaiti Woman to Pay KD 5,001 For Illicit Relationship
• Group Floats Separate Swimming for Men And Women At Williamsburg Pool
• Woman Collapses after Being Whipped By Cruel Sharia Police For 'Behaving Amorously'
• Indonesian Activist Seeks Rights, Equality and Gender Justice for Women
• Women in finance bring ESG benefits to Mideast
• Pakistan's Female Creative Leader Makes It To 'Spikes Asia See It Be It 2019'
Compiled by New Age Islam News Bureau
URL: https://www.newageislam.com/islam-women-feminism/behind-landmark-verdict-that-right/d/119801
--------
Behind Landmark Verdict, That Right to Access Internet Is A Fundamental Right Has Been The Fight Of An 18-Year-Old Girl, Faheema Shirin
by Shaju Philip
September 21, 2019
Behind Kerala High Court's landmark verdict that right to access Internet is a fundamental right has been the fight of an 18-year-old girl and her family.
On Thursday, a single bench of the high court was hearing a petition by Faheema Shirin, a degree student at Sree Narayana College, Chelannur, in Kozhikode district. She had questioned the restriction on the use of mobile phone to access internet at the hostel from 6 pm to 10 pm.
Daughter of photographer Haksar R K, Shirin was the lone girl who decided to walk out of the hostel instead of surrendering her smartphone with hostel authorities in the evening.
"When the new restriction was imposed in June, all other inmates of the girls' hostel informed the authorities their willingness to abide by it. I was not ready to surrender the right to use mobile phone. Hence, I had no option but to vacate the hostel,'' said Shirin.
Since leaving the hostel on July 15, Shirin has been travelling 150 km between her home at Vadakara and her college at Chelannur. Shirin said she is not a member of any political party, but "is more interested in parallel Left movement''.
"It was a collective decision of my family to fight against this restriction. I have been accessing Internet using the mobile phone. Being a student of English literature, a lot of details have to be gathered from the web. Textbooks and traditional libraries are not enough. When readings have become interactive and study materials can be downloaded by scanning QR codes, this restriction has to be fought against," she said.
An official at the college, run by Sree Narayana Trust of prominent Hindu leader Vellappally Natesan, said a restriction on use of mobile phones at the hostel from 10 pm to 6 am was introduced last year. The ban was lifted in this session, but was reinstituted following a demand from a section of parents — this time from 6 pm to 10 pm, the official said, adding that further action would be taken after they receive the court order.
https://indianexpress.com/article/india/behind-landmark-verdict-18-year-old-who-left-hostel-over-curbs-on-phone-use-6015124/?utm
--------
Sisters in Islam: Malaysia Can't Keep Condoning Child Marriage as It Perpetuates Poverty and Is Counter-Productive to Children's Health And Intellectual Development
20 September 2019
BY IDA NADIRAH IBRAHIM
KUALA LUMPUR, Sept 20 — Malaysia cannot afford to prolong child marriage as it is a practice that perpetuates poverty and is counter-productive to children's health and intellectual development, says Muslim women rights advocacy group Sisters in Islam.
The group said today that the country cannot afford to deprive any child from the opportunity to achieve her highest potential for the country.
"SIS is concerned that continued delay in amending laws to end child marriage comes at the expense of hundreds of children who continue to be exposed to this vulnerability.
"...while efforts by JAKIM to amend the Islamic Family Law (Federal Territories) 1984 (Act 303) to increase the marriageable among Muslims age to 18 years old is commendable, we are disappointed that seven states have expressed their objection to increasing the age of marriage in their states," SIS said in a statement.
The group listed Sarawak, Pahang, Terengganu, Perlis, Negri Sembilan, Kedah and Kelantan as the seven states that must explain to Malaysians why they insist on compromising the futures of children by continuing child marriage.
It said while the marriage applications involving minors under the Law Reform (Marriage and Divorce) Act 1976 (Act 164) had been tightened, the adopting standard operating procedures (SOPs) are still left with loopholes that is open to abuse.
SIS had also cited a fatwa issued by al-Azhar University against child marriage and Indonesia's move to ban the practice by raising the age of marriage in the country as exemplary.
"The fatwa explicitly states that the age of 18 marks the stage at which a woman can validly express her will to marry. The fatwa also states that marrying after the age of 18 will guarantee that she can enjoy her fundamental rights to childhood, education and the capacity to assume the responsibility of marriage.
"Just this week, Indonesia became the latest Muslim-majority country to ban child marriage by raising the age of marriage in the country to 19 years. Other Muslim-majority countries that have banned child marriage are Egypt, Kenya, Pakistan, Iraq and Jordan.
"As such, we reiterate our call that the minimum age of marriage must be raised to 18 years old for both boys and girls, Muslim and non-Muslims, with no exceptions," the statement read.
https://www.malaymail.com/news/malaysia/2019/09/20/malaysia-cant-keep-condoning-child-marriage-says-sis/1792748
--------
Kuwaiti Woman to Pay KD 5,001 For Illicit Relationship
Sep 21, 2019
KUWAIT CITY, Sept 18: The Civil Section in the First Instance Court has instructed a Kuwaiti woman to pay KD 5,001 compensation to her ex-husband for the damages he incurred when she engaged in an illicit relationship before their divorce.
Lawyer for the ex-husband, Attorney Abdulaziz Al-Enezi, said his client found messages and information from his exwife's telephone when he had it repaired while they were still married.
The messages revealed the affair of his ex-wife with an unidentified man. Al-Enezi disclosed he will demand for KD 100,000 final compensation
https://www.arabtimesonline.com/news/kuwaiti-woman-to-pay-kd-5001-for-illicit-relationship/
--------
Group Floats Separate Swimming for Men And Women At Williamsburg Pool
SEPT. 18, 2019
Some Williamsburg residents are asking for more women's-only hours at a local public pool, but with a compromise: Give men some alone time, too.
A group of local women — of various ethnicities and religions — got unanimous approval last Tuesday from Brooklyn Community Board 1 for three additional hours of women-only swimming at the Metropolitan Pool on Bedford Avenue. Also okayed: creating men-only hours.
The Parks Department, which did not respond to a request for comment, will have the final say.
"It's not a contentious issue in our neighborhood," said Jan Peterson, the chair of CB1's Women's Issues committee. "White, black, Hispanic, Polish — all the community leaders support this issue."
Still, the vote threatened to reignite the controversy over the decades-old, single-sex swimming sessions that surfaced in 2016 after an anonymous tipster alerted the City Commission on Human Rights.
That triggered a review and spurred the Parks Department to shut down the women's-only sessions, which were eight hours a week at the time.
The Commission reversed course a few months later, however, and the no-men-allowed swim times were reinstated, on a limited four-hour schedule that remains today.
The practice, which notched national attention, was widely criticized by everyone from The New York Times Editorial Board to the New York Civil Liberties Union, which argued the decision to keep any restricted hours violated the Constitution.
The Parks Department shut down a request in March 2017 for the return of the full eight-hour schedule. The Williamsburg women believe now is the chance to reclaim their time — with a nod to offering men some privacy as well.
"We polled women of all ethnicities of women of all religions, of all ethnicities, ages: Jewish women, Muslim women, Hispanic women, Italian women, pregnant women, who just don't want to swim with men," said Maria Aragona, a lawyer who is behind the proposal.
"If I had a young daughter, I wouldn't want to bring her to a pool where there might be a child molester," added Aragona, a Williamsburg resident for 23 years.
Aragona, other members of CB1's Women's Issues Committee, non-board members of the committee, and representatives of at least two local elected officials will meet next week to draft a letter to the Mayor's Office and the Parks Department with their revised proposal.
'It's a Disgrace'
The women's-only sessions, also available at the St. Johns Recreation Center in Crown Heights, are open to all women. They largely serve the neighborhoods' Hasidic population, whose beliefs forbid women from swimming with men.
Bella Sabel, a Hasidic woman in her mid 70s who has lived in Williamsburg since the early 1960s, said the women-only pool hours should never have been reduced.
"It's a disgrace," she said. "Something in the city functioning for so many years for the health of the women, and it's just taken away from them for no good reason whatsoever."
The women want three additional hours a week: one more hour each on Mondays and Wednesdays, and an additional hour for women and children on Sundays, for a total of seven. They are proposing the same amount of time for men, according to Aragona.
Aragona balked at the notion that the taxpayer-funded pool shouldn't allow separate schedules for men and women on Constitutional grounds. "There are charter schools that are just for boys — those receive public funding," she said.
Victoria Cambranes, a local activist who is running for City Council in the 33rd District, says the partitioned hours would benefit everyone from religious practitioners to survivors of sexual assault.
"Because it's a city-funded pool, it should be open to all New Yorkers," she told THE CITY. "We're not trying to glorify women or put them on any kind of pedestal. We want to make sure everyone who wants to use the pool is comfortable doing so, and that includes men as well."
https://thecity.nyc/2019/09/segregated-williamsburg-pool-time-for-men-and-women.html
--------
Woman Collapses after Being Whipped By Cruel Sharia Police For 'Behaving Amorously'
By REBECCA PERRING
Sep 20, 2019
The sickening punishment was carried out by the nation's Sharia police in front of a baying mob, who watched on as the woman cried out in pain. She was part of a group of "canoodling couples", including six men and women, whose backs were whipped more than 20 times each in the humiliating act of punishment.
They had allegedly broken the strict Sharia law in the province of Aceh in Indonesia - a popular sunny getaway for many Britons - for showing affection in public.
A masked officer beat them with a rattan cane for behaving amorously after they had already been in jail for several months, according to Gulf News.
Wincing in pain, the woman had to be helped off the stage at the Bustanus Salatin Park.
One man was so badly injured that paramedics tried to take him off the stage on a stretcher - but he refused and was pictured being carried away by police.
Sharia guards often dole out cruel punishment for violating Islamic law.
Sharia law is the legal system of Islam which is derived from both the Koran and the rulings of the religion's scholars.
Animulla Usman, the Mayor of Banda Aceh, said the lashings carried out in public was to "make them repent".
He said it was not to encourage people to mock the couples but rather "to serve as a lesson to us all".
Islamic laws have been strengthened since the Aceh province struck a peace deal with the central government in 2005.
Banda Aceh has also banned women from entertainment venues after 11pm unless they are accompanied by a husband or male family member.
More than 90 per cent of Indonesians identify themselves as Muslim.
Homosexuality, alcohol and gambling are listed as crimes under the barbaric Islamic laws.
Amnesty International said: "The Aceh authorities' decision to cane unmarried couples and sex workers, in front of hundreds of spectators, is an act of utmost cruelty.
"The provincial administration of Aceh must immediately remove this abhorrent form of punishment from its law books.
"It is also high time for the international community to press Indonesia to provide a safer environment for everyone in Aceh.
"The situation risks deteriorating rapidly unless the local administration is pushed to take its obligations to respect human rights seriously."
https://www.express.co.uk/news/world/1180503/sharia-law-sharia-police-indonesia-Banda-Aceh-sharia-court
--------
Indonesian Activist Seeks Rights, Equality and Gender Justice for Women
by Paolo Fossati
Sep 21, 2019
Jakarta (AsiaNews) - After raising the minimum age for women to marry, the next step to be taken in Indonesia is a law on gender equality and justice, said Dian Kartikasari, general secretary of the Coalition of Indonesian women for justice and democracy (Koalisi Perempuan Indonesia, KPI), speaking to AsiaNews.
Founded in 1998, the KPI has contributed decisively to the historic decision by the Indonesian parliament to raise the minimum age for brides from 16 to 19 years.
According to KPI's data, 27 per cent of Indonesian children are involved in child marriages. The number of females is higher than that of males. In the world, Indonesia ranks 7th for this kind of union in the world; second only to Cambodia in Asia.
For Kartikasari, "The reasons behind the phenomenon are above all cultural. For many people, a girl who gets married soon ceases to be a burden on the family." Hence, "Poverty also plays an important role.
"Among the more conservative Muslim communities, early marriage is also as a way to avoid the sexual activity of young women. Fortunately, the raising of the minimum age will affect not only civil authorities but also religious courts, which have so far contributed to the practice."
"The campaign for raising the minimum age began in 2010, when we asked the government to change the Marriage Law, in force since 1974," Kartikasari explained.
"At the time, the government told us that doing it would be too complicated. We therefore turned to parliament, where, however, we failed to overcome the opposition of more conservative religious groups.
"In 2014 we changed strategy and called on the Constitutional Court to express itself on Article 7, the one that set the minimum age limit for marriage.
"Faced with a first failure, we realised that it was necessary to collect more data and information, to better highlight the importance of the issue."
"We have been confronted with members of the Coalition who were victims of the practice in the past. We asked them if they were willing to tell their experience to the judges of the Constitutional Court. Finally, in December 2018 the Court accepted our request and urged lawmakers to change the law.
"The stories we brought to court are really tragic. There is that of Mariati, who was forced by her father to marry a family friend at age 13 because he contracted a debt with him after losing money gambling. Shortly thereafter the girl became pregnant, but the child she was carrying died during childbirth.
"Another story is that of Rahmina. The mother of the young woman is very poor, so she thought that with her daughter's marriage she would solve all her problems. Rahmina married four times: the first at only 12, then at 16, 18 and finally at 26.
"During the second marriage, she was used to prepare food for farmers who worked for her husband. One day she was bitten by a snake. The infection caused by the poison cost her the amputation of a leg. Faced with her disability, the husband decided to abandon Rahmina."
The parliamentary vote on Monday is a great victory for the Coalition. However, general secretary of the KPI notes "there is still a lot of work to do. The next step to be taken is a law on gender equality and justice. This will be hard to achieve, especially because of conservative Islamic movements.
"By promoting interpretations of Islam inspired by the Middle East, radicals reject our demands because in their view they represent a threat to the authority and power of man in society.
"Still, we are not alone in this battle, because we are supported by several progressive and moderate Muslim leaders who stress that gender equality is part of Islamic teachings. Other religious communities are also on our side; Christians, Buddhists, Hindus are with us."
http://www.asianews.it/news-en/Indonesian-activist-seeks-rights,-equality-and-gender-justice-for-women-48063.html
--------
Women in finance bring ESG benefits to Mideast
MATTHEW WINKLER
September 20, 2019
When Lubna Olayan, CEO of the Olayan Financing Co., was appointed chair of the newly merged Alawwal Bank and Saudi British Bank (SABB) last year, she became the first woman at the top of a publicly traded Saudi financial institution. About 36 years after joining J.P. Morgan as an analyst in New York, Olayan is proving the value of diversity in the Middle East, a region belatedly coming to grips with the benefits of environmental, social and governance (ESG) data.
Unlike other parts of the world, most countries in the Middle East lack ESG regulations. But such an impediment hasn't prevented regional companies for the first time to be eligible for inclusion in the Bloomberg Gender-Equality Index, measuring the performance of global companies recognized for their commitment to transparency and policies supporting gender equality. That's because the number of regional companies willing to disclose such data increased to 210 from eight in 2005 and their Bloomberg ESG disclosure score advanced 194 percent during the past decade, when the comparable score for their much more transparent global peers in the MSCI World Index rose 39 percent. Not only does the data speak for itself, but we've seen the strong appetite companies in the Middle East have for gender diversity initiatives firsthand, through events and roundtables Bloomberg has organized in the region.
Middle East companies have an incentive to catch up because investors increasingly favor ESG. The trend is reflected in the iShares MSCI KLD 400 Social Index ETF, the largest exchange-traded fund investing in ESG companies. Net inflows since the ETF's 2007 inception increased more than 26 times when net inflows into the largest ETF tracking the S&P 500 index, gained 109 percent. The ETF tracking technology stocks saw an outflow of 1 percent, according to data compiled by Bloomberg.
When almost 900 major companies disclosing the number of women in management are divided into four groups based on several categories of performance, the results show why ESG is so important to investors. Companies with the greatest total return (108 percent) during the past three years had the highest percentage of women executives (23 percent). Companies with the worst share performance (minus 26 percent) had the fewest women executives (13 percent), according to data compiled by Bloomberg.
As Olayan would appreciate, women are proving to be effective communicators, which is a significant aspect of leadership in the financial markets. Companies with the narrowest fluctuations of their share prices (17 percent) have the highest percentage of women executives (17 percent) while the group with highest volatility (47 percent) during the past 200 days have the lowest female executive ratio (12 percent). The group with the fewest earnings surprises (1.3 percent) have the highest percentage of women executives (19 percent) and the group with the most negative earnings surprises (minus 45 percent) have the fewest women executives (13 percent).
Such data is especially meaningful in the $13 trillion market for US government debt, where the average volatility of US Treasury bonds fell 35 percentage points since Janet Yellen succeeded Ben Bernanke as the first woman chair of the Federal Reserve in its 100-year history. It remains 69 points below the volatility that prevailed under Alan Greenspan, who led the Fed for two decades, according to data compiled by Bloomberg.
The Bloomberg Gender Equality Index is the world's only comprehensive investment-quality data source on gender equality. As more investors seek ESG-related investments, the Bloomberg GEI represents an opportunity for corporations to attract new capital and widen their investor community. Since 2016, the Bloomberg Financial Services Gender-Equality Index gained 41 percent while the global benchmark, MSCI World Financial Index returned 26 percent.
That's another way of saying shareholders get richer with the most transparent companies.
• Matthew Winkler is co-founder and editor-in-chief emeritus Bloomberg News.
https://www.arabnews.com/node/1557396
--------
Pakistan's Female Creative Leader Makes It To 'Spikes Asia See It Be It 2019'
September 20, 2019
'Spikes Asia, the Asia Pacific Festival of Creativity' and the region's most prestigious awards for the creative branded communications industry, has announced the first ever 'See It Be It' in Asia, a Career Acceleration Programme designed for women in creative roles who face diversity challenges in the industry.
For the See It Be It programme, the festival has selected 10 women who are part of the branded communications industry — advertising, marketing, film-making, innovation, editorial, design, PR or a related discipline. Amongst the 150 applications received, Pakistan's Sidra Salman also got shortlisted for her excellence in communication creativity.
Sidra Salman works as an Associate Creative Director at Synite Digital and is proud to represent Pakistan on a global platform.
Sharing her thoughts over this feat, Sidra Salman said, "I am grateful for this once in a lifetime opportunity and look forward to joining the company of some of the most inspiring women in the creative industry from around the globe. I feel honored that I will be representing Pakistan on such a prestigious global platform."
The Spikes Asia creativity festival - scheduled to take place from September 25-27 in Singapore is a distinct event that provides female leaders with executive training, mentoring and exclusive networking opportunities, creating a nurturing community of like minded ambassadors who are encouraged and supported to bring the learning back.
The 10 female future leaders selected for the programme are:
Hannah McElhinney, Senior Creative, VICE APAC, Australia
Hui Chong Yon, Senior Planning Manager, S.E.A, ADK, Singapore
Mai Kaneda, Senior Copywriter/Senior Experience Designer, McCann Health Japan
MeyviWedelia, Associate Creative Director, Toaster Ltd, Singapore
Nikki Sunga, Creative Director, BBDO Guerrero, The Philippines
Paige Lee, Senior Art Director, Leo Burnett, Singapore
Priyanka Joshi, Creative Controller, Ogilvy, Mumbai, India
Rica Facundo, Cultural Strategist, Iris Singapore
Sidra Salman, Associate Creative Director, Synite Digital, Pakistan
Zara Kok, Creative/Art Director, 72andSunny, Singapore
Overview:
See It Be It was launched in 2014 at the Cannes Lions International Festival of Creativity and at Dubai Lynx festival two years ago, before launching at Spikes Asia this year. Their goal is to drive equal representation of female and male creative directors across the industry and since its inception, has grown to become one of the most competitive global development initiatives in the industry.
Jang Media Group is proud to be the Official Country representative of Spikes Asia and represents Pakistan internationally on a creative platform.
https://www.thenews.com.pk/latest/529458-pakistans-female-creative-leader-makes-it-to-spikes-asia-see-it-be-it-2019
--------
URL: https://www.newageislam.com/islam-women-feminism/behind-landmark-verdict-that-right/d/119801
New Age Islam, Islam Online, Islamic Website, African Muslim News, Arab World News, South Asia News, Indian Muslim News, World Muslim News, Women in Islam, Islamic Feminism, Arab Women, Women In Arab, Islamophobia in America, Muslim Women in West, Islam Women and Feminism