New Age Islam News Bureau
21 February 2022
• Hijab Isn't A Choice But An Obligation In Islam, Says Former Actor Zaira Wasim
• Karnataka: Muslim Women Students Face Case, Suspension for Wearing Hijab, Protesting
• Increasing Islamic Conservatism; Battle Erupts Over Women's Rights In Kuwait
• Three Zamfara Women In Court For Staining, Throwing Qur'an Inside Toilet As A Ritual To Make Money
• Football Legend Pele Congratulates Saudi Arabia Women On First International Victory
• The Ongoing Fight Against Child Marriage And 'Bride Kidnapping' In Kyrgyzstan
• Over 490 Lower Dir Women File Nominations For LG Polls
Compiled by New Age Islam News Bureau
URL: https://www.newageislam.com/islam-women-feminism/beheading-teenage-wife-custom-ahwaz-iran/d/126417
--------
Beheading Of Teenage Wife Reignites Debates Over 'Outdated' Custom Of A Bereaved Family Of A Tribe In Ahwaz, Iran, Agreeing To Forgive The Killer In Court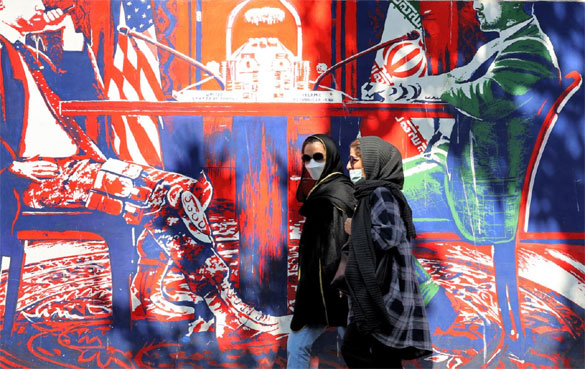 "Honour" killings of women make up 20 percent of murders in Iran, according to official statistics, which roughly translates to around 350 such cases annually (AFP)
----
19 February 2022
On 5 February, a video was posted on Iranian social media. It showed a man brandishing a knife and a woman's decapitated head, with him smiling as he walked along a busy street in the southwestern city of Ahvaz, in Khuzestan province.
The man, Sajjad Heydari, was arrested. The Ahvaz prosecutor later said that the murdered woman was Heydari's 17-year-old wife, identified by the media as Mona "Ghazal" Heydari.
The video provoked outrage in Iran, reopening the debate about violence against Iranian women and girls and their lack of legal protection.
Ghazal was reportedly 12 years old when she married Heydari, her cousin. According to her father, they obtained a judicial certificate of physical fitness and maturity so that she could marry.
At the age of 14, she gave birth to a son.
Leaving Iran
A few months before her murder, Ghazal reportedly left Iran for Turkey, to marry a Syrian man she had met online.
The Syrian man repeatedly sent pictures of himself with Ghazal to Heydari, who is said to have been enraged and humiliated as a result. The story spread among friends and neighbours.
Based on the statements of Ghazal's father, the Syrian man had told Heydari that Ghazal, who had a miscarriage prior to leaving the country, had in fact had an abortion.
According to both families, Ghazal later regretted her decision to leave and wanted to return to Iran. But she was afraid of her husband.
Eventually, both fathers of the couple - who are brothers - travelled to Turkey to bring Ghazal back to Ahvaz, where they were supposed to hand her over to the police to protect her from Heydari.
"My son had threatened to kill Ghazal, so Ghazal's father and Sajjad's father tried to hide her until she was handed over to the police because they were afraid of Sajjad's threats," Heydari's mother told Fars news agency.
The day after they returned to Iran, while Ghazal's father was not at home, Heydari's father convinced Ghazal to go to the police station earlier than arranged. En route, Heydari and his brother stopped the car and he allegedly beheaded his wife.
Heydari's mother said her son walked into his neighbourhood parading the head of his wife.
In a departure from traditional norms, Ghazal's father said he had filed a lawsuit against his son-in-law and would not forgive him in court.
Both Ghazal and Heydari's fathers belong to a tribe in Ahwaz which would usually try and convince the victim's family to forgive the killer because the crime was allegedly committed in a fit of ghayrah, or zeal. This custom often involves a bereaved family agreeing to forgive the killer in court.
Lawless against femicides
The murder of Ghazal is only the latest example in Iran's string of femicides, where a woman is murdered by her spouse or family. Official statistics categorised 20 percent of murders in Iran as "honour" killings, which roughly translates to around 350 such cases annually.
One killing in 2020 sparked wide public outcry in Iran, when 14-year-old Romina Ashrafi was decapitated with a sickle by her father.
Romina had run away from her home in the northern Gilan province with her 35-year-old boyfriend, after her father objected to their marriage, local media said. The pair was found by police, and Romina was sent home despite reportedly telling them that she feared for her life.
According to Iranian law, if a man or a woman is found guilty of murdering a human being, the individual is to face the punishment of death. But if a father kills his child, he will not be executed. Instead, he will be sentenced to imprisonment for up to 10 years, as well as paying a fine.
In the event, Romina's father was sentenced to just nine years in prison for his crime.
At the time, Masoumeh Ebtekar, vice president for women and family affairs under then-Iranian president Hassan Rouhani, proposed a bill to increase the punishment for fathers who murdered their children. Two years later, parliament still has not discussed the bill, despite promises from MPs to put it on their agenda.
Ebtekar's predecessor, Shahindokht Molaverdi, said at the time that such murders would continue "as long as the law and dominant cultures in local and global communities are not deterring enough".
Who will protect the women?
Meanwhile, another bill, entitled "Protecting Women from Violence" and first tabled in parliament more than 10 years ago, still hasn't been passed.
The bill proposes the establishment of a fund by the government to protect women who have been abused or subjected to violence.
It outlines the formation of a fund by the judiciary to support victims of violence, provide teachings on "life and job skills" to imprisoned women, and contributing to the payment of blood money to families of women murdered by men.
If someone helps a woman to flee a home where she faces sexual, physical and psychological dangers, that person will not face any punishment.
The bill was finally approved by Iran's government in January 2021 after many debates and submitted to parliament. Parliament, however, refused to study the bill, referring it to the legal and judicial commission. There is still no news of the bill being passed.
Journalist Marjan Laghaee said in a tweet that parliament's hesitation to pass the bill prohibiting violence against women, combined with the law's passivity about such murders and child marriage, were among the reasons behind the Ghazal murder.
Taboo subjects
The issue of violence against women and the so-called "honour" killings are sensitive issues for the authorities in the Islamic Republic.
The 2012 Kianoush Ayari film The Paternal House, which focussed on such killings, was banned for nearly a decade and its creators were prosecuted.
The murder of Ghazal has not only reignited Iranians' fury about such killings but has also reopened the debate around child marriage.
Shabnam Eskanadari, a social activist, called on the Iranian state to designate child marriage a crime. She tweeted that the law didn't offer protection to women and girls.
Mazyar Baalaei, a reformist political activist, wrote on Twitter: "The reality is that culture cannot be blamed unless an urgent and legal [action is taken] to deal with phenomena such as child-marriage or murders similar to what happened to Ghazal.
"The wrong traditions dating back hundreds of years ago must be restrained by law," he added.
These killings are usually carried out by fathers or other family members, said Nousha Mir Jafari, a lawyer.
"If the husband or brother is the killer and the father is the guardian of the victim, he easily forgives him and the murderer is then subject to article 612," she told local media.
According to article 612, anybody committing murder in these circumstances can expect a prison sentence of three to 10 years.
Ali Motahari, an outspoken former MP, described Ghazal's murder as a test for the judiciary, urging them to execute her husband immediately.
'Ignorant customs' in modern times
Some people blame the culture of certain tribes in southwestern Iran for the murder of Ghazal.
"Honour killings have been common among some tribes since ancient times. However, today it is receiving more attention due to its media coverage," a sociologist, who asked to stay anonymous due to fear of repercussions from authorities, told MEE.
"Unfortunately, girls in these areas are under the full control of their father, brother and cousin. If a rumour against a girl who is related to a person spreads in the neighbourhood, whether it's true or false, her death sentence would be issued by her own family."
"Terrible crimes" like this have nothing to do with poverty, the sociologist argued, as the murderer's tribe will pay the blood money to save him from persecution.
"[As in the case of Romina] that we saw two years ago, when a father who killed his teenage daughter was sentenced to only nine years in prison, it proved that the law alone is not enough, and we must fight culturally against these ignorant customs."
The number of "honour" killings in Iran may reach over 500 yearly, with a higher average taking place in the south of the country, said a criminal lawyer who asked to stay anonymous.
Parts of Iran, especially in the south of the country, report a higher number of "honour" killings.
"We know that most of the motives for honour killings are due to beliefs, patriarchal misconceptions and gender inequality. This adherence to a series of traditional beliefs has led us to witness so many honour killings every year," he told MEE.
"In these types of communities and tribes, a woman does not have her own identity. Rather, she is defined by her husband or her brother or her father, who consider themselves as the absolute owner of her," said the lawyer.
"On the other hand, we should not forget the difficult living conditions and economic problems that have contributed to physical and verbal violence, which account for a high percentage of premeditated murders in the country," he added
According to the Centre for Human Rights in Iran, at the core of this crime are "two unaddressed issues in Iran - the lack of protections for violence against women in Iran, and the widespread practice of child marriage. As such, these individual acts of murder are closely tied to government policies."
In addition to lenient punishments for fathers and husbands for violence against girls and women, other aspects of Iranian law compound the problem.
"For example, a woman can't leave the marital home without proof that she's endangered, and, if a woman does flee, she forfeits financial maintenance. Orders of protection do not exist, and shelters for abused women are woefully absent in much of country. In general, the police consider violence by family members to be a 'family matter,'"the group said in a statement released last week.
Meanwhile, a Qom-based cleric who did not want his name disclosed told MEE that many religious concepts have been misunderstood, including the concept of "zeal".
""Religious ghayrah does not allow us to attack our daughters, sisters and wives and risk their lives for the mistakes they have made, even if their mistakes are great and heavy.
"On the contrary, religious ghayrah speaks of honour. It tells us to provide a means of protecting these people who you care for a great deal, not to kill them if they make a mistake."
Source: Middle East Eye
https://www.middleeasteye.net/news/iran-beheading-teenage-wife-femicide-violence-women
--------
Hijab Isn't A Choice But An Obligation In Islam, Says Former Actor Zaira Wasim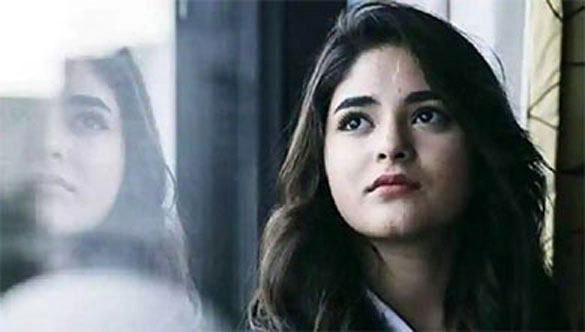 Zaira Wasim of 'Dangal' fame
----
20th February 2022
SRINAGAR: Former actor Zaira Wasim of 'Dangal' fame has expressed her disappointment over the hijab row and said it is an unjust choice to make between education and hijab, which is an obligation in Islam. The hijab row began last month when six students at Government PU College in Udupi, who attended the class wearing the headscarf were prohibited from entering the college as it was in violation of the stipulated dress code.
Wasim penned a lengthy note on social media, which she posted on her Twitter and Instagram accounts, voicing her opinion on the backlash hijab-wearing girls and women are facing in the country.
"The inherited notion of hijab being a choice is an ill-informed one. It's often either a construct of convenience or ignorance. Hijab isn't a choice but an obligation in Islam. Likewise, a woman who wears the hijab is fulfilling an obligation enjoined upon her by the God she loves and has submitted herself to,"" the National Award-winning actor, who had announced her disassociation from acting in 2019 as it interfered with her faith and religion, wrote in the note.
The 21-year-old said she wears hijab with gratitude and humility but resents those who harass and prevent women from wearing it.
"I, as a woman who wears the hijab with gratitude and humility, resent and resist this entire system where women are being stopped and harassed for merely carrying out a religious commitment," the Kashmir-born former actor said. She said that an 'agenda' is being manufactured where women are being asked to make a choice between hijab and education.
"Stacking this bias against Muslim women and setting up systems where they should have to decide between education and hijab or to give up either is an absolute injustice," she said.
"You're attempting to compel them to make a very specific choice that feeds your agenda and then criticising them while they're imprisoned in what you've constructed. There is no other option to encourage them to choose differently. What is this if not a bias with people who confirm it acting in support of it?"" she added.
Wasim said she is saddened that the issue is being labelled as one about empowerment. On top of all this, building a facade that all this is being done in the name of empowerment is even worse when it is quite exactly the opposite of that . Sad," she concluded.
There have also been reports of similar instances of students turning up at educational institutions with either hijab or saffron shawl in Ramdurg PU College in Belagavi and a college in Hassan, Chikkamagaluru and Shivamogga, and also a group of girls staging demonstration at Bannimantapa (Mysuru) in favour of the hijab.
The issue snowballed into a major controversy and the matter is being heard at the Karnataka High Court. Wasim, who also starred in the 2017 film 'Secret Superstar', was last seen in 'The Sky is Pink'(2019).
Source: New Indian Express
https://www.newindianexpress.com/entertainment/hindi/2022/feb/20/hijab-isnt-a-choice-but-an-obligation-in-islam-says-zaira-wasim-2421770.html
--------
Karnataka: Muslim Women Students Face Case, Suspension for Wearing Hijab, Protesting
21 Feb 2022
New Delhi: Women and girl students in many parts of Karnataka were denied entry into their respective educational institutions on Saturday as they arrived in hijabs.
Chief minister Basavaraj Bommai has blamed 'outsiders' for the problem and said the issue would be resolved soon. "The problem is being created by outsiders. The issue would be resolved by the principal, students and the parents. The atmosphere needs to be calmed. I am getting all the information about the happenings in the state," Bommai told reporters in Bengaluru.
According to the information received, as many as 15 Muslim girls have been booked in Tumakuru and 58 students were suspended in Shivamogga for staging demonstrations outside their colleges.
Based on a complaint by S. Shanmukha, the principal of Empress Girls Pre-University College in Tumakuru, the police registered a case against 15 students who staged demonstration outside the college campus. In his complaint, the principal stated that despite Section 144 of the CrPC that was in force in and around the college, 10 to 15 Muslim girl students of the college staged a demonstration.
The hijab-wearing students were adamant that they should be allowed inside the college with their headscarves.
According to the FIR, the girls also created an atmosphere of fear among other college students and obstructed the daily functioning of the college. The girls also violated the High Court interim order and the prohibitory orders under Section 144 of the CrPC.
At Shiralakoppa in Shivamogga district, 58 students who had refused to remove their hijab and staged a demonstration against the government pre-university college administration were suspended.
They were suspended on Friday and were told that they should not come to the college, a student told reporters. On Saturday too, they came to the college, raised slogans and demanded their right to wear hijab. However, they were not let in.
"We came here but the principal told us that we have all been suspended and there is no need for us to come to the college. Even police told us not to come to the college but we came here. Today, no one spoke to us," the students complained.
Despite a government order and the Karnataka High Court's interim order restricting the students from wearing hijab or saffron scarves inside classrooms, the girls came to schools and colleges donning the headscarf.
In the SJVP College at Harihar in Davangere district, girls wearing hijab were denied entry. The pupils refused to go inside without the scarf, stressing that it was as important as education and they cannot give up their right.
In Vijay Paramedical College in Belagavi district, students complained to the reporters that a holiday was announced by the institution for an indefinite period due to the hijab issue. "We will not sit without headscarves. Let the college realise how it affects our education. The principal is not listening to us," a student told the media.
In Ballari, a group of girls were not allowed inside the Sarala Devi College, which has been witnessing protests from the day the controversy erupted and the government had ordered that no one should wear clothes that could disturb peace, harmony and, law and order.
The government college at Gangavathi in Koppal district too faced a similar situation where girls were not allowed inside the college.
In Kudur village in Ramanagara district, some students staged a demonstration on the college ground after they were not allowed to enter the classrooms.
Meanwhile, the pontiff of Jagadguru Murugharajendra Vidyapeetha Swami Dr Shivamurthy Murugha and Moulana Shabeer Ahmed Nadvi of Naasih Foundation appealed for peace and harmony in the educational institutions as well as the society following the hijab row.
"I appeal to everybody to establish peace and social harmony, which is very important. Wearing the type of cloths (Hijab or saffron scarves) is secondary," the seer said in a joint press conference.
Moulana Nadvi said students of different faith were getting education together but there was no hijab or saffron scarves issue till now.
"The only objective was that the Indian child should become competent by getting good education to serve the motherland. I appeal to everyone not to focus on these things and concentrate on your studies," the Moulana said.
He also said all the Ulemas (Islamic religious heads) will go through the court order once it comes and then they will come before the media again.
On January 1, six girl students of a college in Udupi attended a press conference held by Campus Front of India (CFI) in the coastal town protesting against the college authorities denying them entry into the classroom by wearing hijab.
This was four days after they had requested the principal permission to wear hijabs in classes which was not allowed. Till then, students used to wear hijab to the campus and entered the classroom after removing the scarves, the college principal Rudre Gowda had said.
The institution did not have any rule on hijab-wearing as such since no one used to wear it to the classroom in the last 35 years. The students who came with the demand had the backing of outside forces, Gowda had said.
The Karnataka High Court in its interim order has restricted the use of hijab and saffron scarves on the school-college campuses till its final order.
Source: The Wire
https://thewire.in/communalism/karnataka-muslim-women-students-face-case-suspension-for-wearing-hijab-protesting
--------
Increasing Islamic conservatism; battle erupts over women's rights in Kuwait
21st February 2022
KUWAIT CITY: When an instructor in Kuwait this month advertised a desert wellness yoga retreat, conservatives declared it an assault on Islam. Lawmakers and clerics thundered about the "danger" and depravity of women doing the lotus position and downward dog in public, ultimately persuading authorities to ban the trip.
The yoga ruckus represented just the latest flashpoint in a long-running culture war over women's behaviour in the sheikhdom, where tribes and Islamists wield growing power over a divided society. Increasingly, conservative politicians push back against a burgeoning feminist movement and what they see as an unravelling of Kuwait's traditional values amid deep governmental dysfunction on major issues.
"Our state is backsliding and regressing at a rate that we haven't seen before," feminist activist Najeeba Hayat recently told The Associated Press from the grassy sit-in area outside Kuwait's parliament. Women were pouring into the park along the palm-studded strand, chanting into the chilly night air for freedoms they say authorities have steadily stifled.
For Kuwaitis, it's an unsettling trend in a country that once prided itself on its progressivism compared to its Gulf Arab neighbours.
In recent years, however, women have made strides across the conservative Arabian Peninsula. In long-insular Saudi Arabia, women have won greater freedoms under de-facto leader Crown Prince Mohammed bin Salman.
Saudi Arabia even hosted its first open-air yoga festival last month, something Kuwaitis noted with irony on social media.
"The hostile movement against women in Kuwait was always insidious and invisible but now it's risen to the surface," said Alanoud Alsharekh, a women's rights activist who founded Abolish 153, a group that aims to eliminate an article of the country's penal code that sets out lax punishments for the so-called honour killings of women. "It's spilled into our personal freedoms."
Just in the past few months, Kuwaiti authorities shut down a popular gym hosting belly dance classes. Clerics demanded police apprehend the organizers of a different women's retreat called "The Divine Feminine," citing blasphemy. Kuwait's top court will soon hear a case arguing the government should ban Netflix amid an uproar over the first Arabic-language film the platform produced.
Hamdan al-Azmi, a conservative Islamist, has led the tirade against yoga, accusing outsiders of trampling on Arab heritage and bemoaning the aerobic exercise as a cultural travesty.
"If defending the daughters of Kuwait is backward, I am honoured to be called it," he said.
The string of religiously motivated decisions has touched off sustained outrage among Kuwaiti women at a time in which not a single one sits in the elected parliament and gruesome cases of so-called honour killings have gripped the public.
In one such case, a Kuwaiti woman named Farah Akbar was dragged from her car last spring and stabbed to death by a man released on bail against whom she had lodged multiple police complaints.
The outcry over Akbar's killing pushed parliament to draft a law that would, after years of campaigning, eliminate Article 153. The article says that a man who catches his wife committing adultery or his female relative engaged in any sort of "illicit" sex and kills her, faces at most three years in prison. There also can be just a USD 46 fine.
But when it came time to consider the article's abolition, Kuwait's all-male parliamentary committee on women's issues took an unprecedented step. It turned to the state's Islamic clerics for a fatwa, or non-binding religious ruling, about the article.
The clerics ruled last month that the law be upheld.
"Most of these members of parliament come from a system in which honour killings are normal," said Sundus Hussain, another founding member of the Abolish 153 group.
After Kuwait's 2020 elections, there was a marked increase in the influence of conservative Islamists and tribal members, Hussein added.
Before activists could absorb the blow, authorities called on clerics to answer a new query: Should women be allowed to join the army?
The Defense Ministry had declared they could enlist last fall, fulfilling a long-standing demand.
But clerics disagreed. Women, they decreed last month, may only join in non-combat roles if they wear an Islamic headscarf and get permission from a male guardian.
The decision shocked and appalled Kuwaitis accustomed to government indifference to whether women cover their hair.
"Why would the government consult religious authorities? It's clearly one way in which the government is trying to appease conservatives and please parliament," said Dalal al-Fares, a gender studies expert at Kuwait University. "Clamping down on women's issues is the easiest way to say they're defending national honour."
Apart from the defence of what social conservatives consider women's honour, there is little on which Kuwait's emir-appointed Cabinet and elected parliament can agree. An anguished stalemate has paralyzed all efforts to fix a record budget deficit and pass badly needed economic reforms.
Nearly two years after parliament passed a domestic violence protection law, there are no government women's shelters or services for abuse victims. Violence against women has only increased during the pandemic lockdown.
"We need a complete overhaul to address the flaws of our legal system when it comes to the protection of women," said lawmaker Abdulaziz al-Saqabi, who's now drafting Kuwait's first gender-based violence law. "We are dealing with an irresponsible — and unstable — system that makes any reform almost impossible."
Some advocates attribute the conservative backlash to a sense of panic that society is changing. A year ago, activists launched a groundbreaking #MeToo movement to denounce harassment and violence against women. Hundreds of reports poured into the campaign's Instagram account with harrowing accusations of assault, creating a profound shift in Kuwaiti discourse.
Organizers in recent months have struggled to sustain the momentum as they themselves have faced rape and death threats.
"The toll it took was massive. We became immediate clickbait. We couldn't go out in public without being constantly stopped and constantly harassed," said Hayat, who helped create the movement last year.
Hayat has little faith in the government to change anything for Kuwait's women. But she said that's no reason to give up.
"If there's a protest, I'm going to show up. If there's someone who needs convincing, I'm going to try," she said, while women around her pumped their fists and held signs aloft.
Source: New Indian Express
https://www.newindianexpress.com/world/2022/feb/21/increasing-islamic-conservatismbattle-erupts-over-womens-rights-in-kuwait-2422041.html
--------
Three Zamfara Women In Court For Staining, Throwing Qur'an Inside Toilet As A Ritual To Make Money
21 Feb 2022
Three women in Gada community of Bungudu Local Government Area of Zamfara State have been arraigned before a Sharia court in Gusau, the state capital, for desecrating the Holy Qur'an.
Some accused, Rabi Bello, Hazira Bello and Hafsatu Isah, who were brought before Sharia court judge Garba Sahabi Gusau, were charged with desecrating the Holy Qur'an by staining it with blood collected after child birth and throwing it inside a toilet.
The evidence tendered before the court included the stained Holy Qur'an, 77 syringes full of blood collected after child birth, other Islamic books, a paper bearing the name of one of the suspects and many other things related to the alleged crime reportedly sanctioned by a necromancer identified simply as Tukur.
The women were said to have carried out the ritual to make money, according to the prosecutor.
The judge adjourned the case to March 3.
In 2019, cases of dumping pieces of the Holy Qur'an in public toilets surfaced in Gusau, prompting security operatives to make arrests and prosecutions on the order of Governor Bello Mohammed Matawalle.
Such acts are widely believed to have been masterminded by ritualists.
Some clerics have said such acts had direct linkage with the calamities that had befallen communities in the State.
Source: Daily Trust
https://dailytrust.com/3-zamfara-women-in-court-for-staining-throwing-quran-inside-toilet
--------
Football legend Pele congratulates Saudi Arabia women on first international victory
John McAuley
Feb 21, 2022
Pele has offered his congratulations to the Saudi Arabia women's national football team after they won their first international fixture.
The side, managed by German coach Monika Staab, made their international debut on Sunday night in the Maldives, where they defeated the Seychelles 2-0 in a friendly in Male.
Al Bandari Mubarak opened the scoring at the Maldives National Stadium to become Saudi women football's first international goalscorer, with Maryam Al Tamimi doubling the lead from the penalty spot four minutes into the second half. The Saudis round off the brief tournament against hosts Maldives on Thursday.
Reacting to the win on Sunday, three-time men's World Cup winner Pele's official Twitter account read: "I want to congratulate the [Saudi Arabian Football Federation] and their Women's National Football Team for their first ever official Fifa match. Today is a historic day not only for you, but for everyone who loves football."
In November, the kingdom established the 16-team Regional Football League, with eight teams then advancing to the National Football Championship, which was contested last month.
Speaking before the trip to the Maldives, Staab told the Saudi Arabian Football Federation's official site: "Our goal is for the players to gain the experience necessary to play international matches, in addition to that we seek to officially join the Fifa classification.
"Since last September, we have started searching for players through whom we can start the national team's journey and compete in its official and international competitions.
"The establishment of the first official Saudi league through the regions league and then the Kingdom's championship played a major role in the selection process, and helped us a lot as a technical staff with the players playing competitive matches ... We hope that the team will be fully prepared when participating in its first official tournament."
Source: The National News
https://www.thenationalnews.com/sport/football/2022/02/21/football-legend-pele-congratulates-saudi-arabia-women-on-first-international-victory/
--------
The ongoing fight against child marriage and 'bride kidnapping' in Kyrgyzstan
February 21, 2022
BISHKEK — Although child marriage and "bride kidnapping" are illegal in Kyrgyzstan, both practices still exist in parts of the country. An initiative from a UN-backed program is finally leading to a change in attitudes and a decline in these harmful practices.
Every year, according to official government figures, between seven and nine thousand very young girls get married in Kyrgyzstan, and about 500 girls aged 13 to 17 become mothers.
Girls still run the risk of falling prey to such practices as "ala kachuu", which literally means "pick up and run away" in Kyrgyz. In other words, they are kidnapped and forced into marriage.
"The problem of early marriages in Kyrgyzstan is very acute", says Byubyusara Ryskulova, a psychologist, and the director of 'Sezim' ('Trust' in Kyrgyz), the country's first crisis centre, established 25 years ago to protect the rights of women and girls in difficult life situations, and provide them with temporary shelter, as well as legal and psychological assistance.
In the 25 years since the establishment of the center, more than 45,000 women have used the hotline, and about 35,000 have received legal and psychological advice.
According to Ms. Ryskulova, the continued existence of these practices can partly be explained by the growing influence of religion, and unemployment and poverty, particularly in rural areas.
"The legal age of marriage is 18, and kidnapping of girls is criminalized. Unfortunately, these laws are not always respected. Instead of an official marriage, people often hold a religious ceremony in a mosque, which is called 'nikah'."
"Families in the villages no longer have seven or eight children, but it is not easy for parents to raise four or five children. Many of them seek to give their daughters to wealthier families. As a rule, the parties agree among themselves, and everything happens quietly".
"However, later on life, when they're no longer able to withstand domestic violence, women turn to us for help. That's when we find out that they were married against their will, stolen and married secretly," says Ms. Ryskulova.
The law allows the rite of "nikah" to be held in mosques only after the couple reaches the age of 18, and if they are underage, the penalty is imprisonment for a term of three to five years. As for bride kidnapping, the law states that the punishment is a ten-year jail term.
Even so, it is extremely rare that all the participants in such a "deal" are brought to justice. "It's easy to write a law, but it must also be implemented," says Ms. Ryskulova. "Currently, we are monitoring about eight criminal cases related to the rape of young girls".
Most of the cases are concentrated in three, mainly conservative, regions in the south of the country: Osh, Jalabad and Batken. Darika Asylbekova, the head of the Ak Zhurok (Pure Heart) crisis center in Osh, says that the number of early marriages has grown since 2010.
"Parents marry off their daughters from the ninth grade. They are afraid that, after graduating from school, and leaving for the city, their daughters will "spoil" and, then, will not be able to get married."
As a result, girls, having plunged into family life, cannot attend school. Household duties fall on their shoulders, then pregnancy, and childcare. Any chance of getting an education or a profession disappears and, as housewives, they are completely dependent on their husbands.
This year alone, about 1,500 young women turned to Ak Zhurok for help. They ask not only for temporary shelter, but also for support with employment, property division of property, and receiving alimony, because, as a rule, those who have not formalized the marriage are left with nothing.
However, even in the south, attitudes are changing. In rural areas, there are about 154 divorces per thousand marriages, while in cities this figure is 2.4 times higher.
The author of the popular Kyrgyz blog "A Girl's Dream", 24-year-old Aigerim Almanbetova belongs to the modern generation of Kyrgyz women who are trying to understand the situation in which many of her peers find themselves.
"In my opinion, another reason for early marriages, apart from religion, is family upbringing. We have the mentality that a girl should get married as early as possible because, by age, she is already considered an old maid. So, women are under psychological pressure from childhood.
"Girls are constantly told that they will go to live with their husbands, that they must build a family, give birth to children. In which case, why spend money on her education," Ms. Almanbetova continues.
She adds that they also have to contend with the cultural notion of shame, which leads many of them to stay with abusive husbands, and endure physical abuse for years. According to the blogger, there is a long overdue need in Kyrgyz society to change the ways that men are raised, starting from early childhood.
However, more recently, there has been a decline in the number of early marriages, thanks to the preventive work of NGOs and government agencies, with the assistance of international organizations.
In January 2020, in partnership with the government of Kyrgyzstan, the European Union and the UN launched a multi-year country program as part of the global Spotlight Initiative to eliminate all forms of violence against women and girls.
The program includes a set of measures in the field of policy and law-making: strengthening institutions, preventing violence, providing services to victims of violence, collecting quality data, and supporting the women's movement and civil society.
For empowered women such as Ms. Almanbetova, this is the right direction in which Kyrgyzstan should be travelling: "I am not against starting a family and I dream about it in the future. But the approach must be primarily the desire of the girl herself, and not her parents.
"The times when a woman is treated as a second-class person must be a thing of the past. This has become a serious brake on the development of our society". — UN News
Source: Saudi Gazette
https://saudigazette.com.sa/article/617339
--------
Over 490 Lower Dir women file nominations for LG polls
February 20, 2022
LOWER DIR: Over 490 women have submitted their nomination papers for the women councillors' seats in total 198 village councils in Lower Dir, showing people's interest in the local government elections to be held on March 31.
According to a list issued by the district election commissioner's office, a total of 89 candidates submitted their nomination papers for the tehsil chairman slots in all the seven tehsils and 4,099 candidates for 198 village councils' general, peasant, women, youth and minority councillors' seats in Lower Dir.
A total of 2,309 candidates submitted nomination papers for the general, 495 for women, 869 for peasant, 810 for youth and 16 for minority councillors' seats.
Meanwhile, the office of Pesco sub-divisional officer, Chakdara, informed the Adenzai returning officer through a letter that three of the candidates, including Farooq Rehman, Imtiaz Khan and Azizullah Khan, were its defaulters.
DRIVING LICENCE: Regional Transport Authority secretary Ubaidullah Khattak said on Saturday that the provincial government had planned to make easy the process of getting the driving licence.
He visited the Lower Dir district after assuming charge of his duties in Malakand division and supervised the ongoing physical test of applicants seeking the driving licence.
Mr Khattak said the applicants were being provided with the computerised driving licence. He said the system had been centralised with the directorate of transport under which an online test would be conducted.
He said the applicants were given the licence after the written and physical tests. He said he would visit all districts of Malakand division.
Source: Dawn
https://www.dawn.com/news/1676039/over-490-lower-dir-women-file-nominations-for-lg-polls
--------
URL: https://www.newageislam.com/islam-women-feminism/beheading-teenage-wife-custom-ahwaz-iran/d/126417
New Age Islam, Islam Online, Islamic Website, African Muslim News, Arab World News, South Asia News, Indian Muslim News, World Muslim News, Women in Islam, Islamic Feminism, Arab Women, Women In Arab, Islamophobia in America, Muslim Women in West, Islam Women and Feminism