New Age Islam News Bureau
25 Nov 2019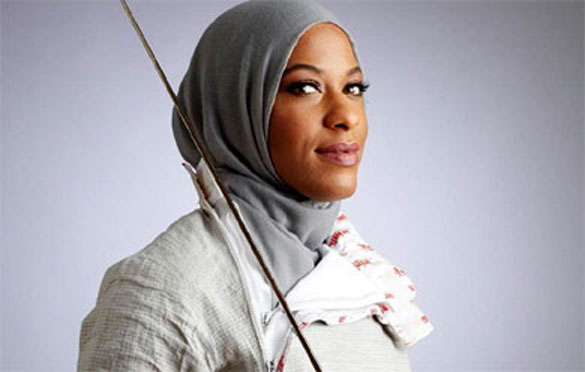 Ibtihaj Muhammad is a woman on a mission.
------
• Be Proud Of the Hijab, Says Ibtihaj Muhammad, an Olympic Winner
• How This Young Woman Broke the Glass Ceiling Through Sheer Hard Work And A Little Bit Of Luck
• 'Women on Wheels' Kick-Starts in Karachi
• British Women 'Being Forced Into Polygamous Relationships' Because Law Lets Them Down, Campaigners Say
• The Sydney Attack on A Pregnant Woman Is A Symptom Of Islamophobia
• Man, Family Members Booked For Triple Talaq in Manapparai
Compiled By New Age Islam News Bureau
URL: https://www.newageislam.com/islam-women-feminism/be-proud-hijab-says-ibtihaj/d/120357
------
Be Proud Of The Hijab, Says Ibtihaj Muhammad, an Olympic Winner
Monday, November
SHARJAH: Ibtihaj Muhammad is a woman on a mission. One which is greater than what drove her to be the first Muslim African-American to win a medal while wearing the Hijab (Islamic headdress) in the 2016 Olympics in Rio.
Four years on, she has become the poster woman for Muslim women donning the Hijab everywhere but feel oppressed or ridiculed as well as toys and apparel makers.
When Mattel – makers of the erstwhile blonde-and-brunette Barbie dolls she once adored as a kid signed her on to include a version in Hijab and Nike billboards displayed her in Islamic sports attire – Ibtihaj knew she had come full circle.
That she, more than anyone else, was that agent of change and it took the route of sports and an Olympic medal in order to get there. For two African American Muslim women won medals in Rio that year. The bronze by Ibtihaj for fencing for Team America was followed a week later by Dalilah who took the gold in the 400m hurdles.
It was a first for American Muslim women. But only Ibtihaj Muhammad stepped onto the podium wearing a Hijab. Dalilah Muhammad did not.
The decision Ibtihaj made at age six to don the Hijab back in New Jersey, USA, had yielded dividends but in a way she never imagined. The first in her family to do so and not being apologetic about it in the face of taunts and insults that followed her from school days right into the sports arena had finally paid off. She still remembers those moments.
"To have someone refer to you in a Hijab as a curtain, towel or tablecloth…even saying those words out loud gives you chills in a way. These bullies and the words they said, you don't forget them because words have a lot of power and can hurt," she told the audience at the recently-concluded International Book Fair, here.
She said the discrimination she endured was not just by the white community, but even within her own who felt that she was not black enough or not Muslim enough.
Hence, she found herself floating between the spaces until she discovered herself through sport.
"Sports teaches you about failure, about how to pick yourself up in difficult moments. I have learned that when it rains and it seems like its pouring, the sun always comes out."
Ibtihaj said she got bullied a lot as a kid, but not always for wearing the Hijab. Sometimes, it was for being the only kid of colour. "I felt ostracised, excluded and cried a lot because I would absorb the words other people said.
"My mum was the first to help me understand that you have to learn not to be a sponge. Don't absorb the words that people say," she would console me. And as an adult she had to endure harassment and bullying even from team mates and coaches who hoped that by making her feel unwelcome, she would eventually decide to drop out of the team. It took the form of not including her in the emails, not being invited to dinner, among others.
"They were hoping that mentally I would be so broken that I would not come back. I attribute so much to my resilience, to just holding on to my faith. I felt it was all I had.
"No one thinks that that an athlete who competes for the US can face such hardship in order to qualify for the team. Just in my existence as a black woman in Fencing which was predominantly historically white and to wear a Hijab," she said, adding that it was coming not just from people on the sidelines but people in power from the national coaches to the USA Fencing directors and even my team mates.
She said it was sports that helped her to believe in herself as well as taught her to be "unapologetic about who I am."
"Even though I wore Hijab and a mask, it was about how good I was as an athlete. And after I learnt about sports, people could say what they want but they cannot beat you.
"It was an opportunity for me to exist as a woman of colour and a Muslim woman who very much identify myself with my Hijab."
Yet for two years she was depressed because there was no awareness to ask for help. "Had I not done so, I wouldn't be here today. I literally felt I was drowning," she said.
A sports psychologist helped her understand "that your words, the things that you tell yourself can be very meaningful. If you start your day with negativity, you say 'I don't think I can do this', then you start to doubt yourself that will manifest physically.
"She helped me understand that even saying something positive benefits me…it's the words that you feed yourself that are important."
She said many African American athletes draw inspiration in (late boxing champ Muhammad) Ali mantras and the paths created by other black athletes like late athlete Jackie Joyner-Kersie and tennis ace Serena Williams.
"So you have to learn how to be your own Ali. You choose to love yourself and tell yourself, 'I'm going to be successful whatever I do today'."
Asked how she got introduced to fencing, she said it happened by chance on the way to school when she was 12 when her mum decided to stop for a drink at a café and they saw a group of youngsters in long jackets, white pants with swords in their hands.
"My mum said I don't know what that is but when you get to high school I want you to try that out. She played a lot of different sports growing up and each of these sports, if wearing a Hijab it was really hard. "You have to figure out what to wear. It was so difficult but now I think it's a lot easier than when I was growing up."
She started as a scrawny 13-year-old in a Hijab and is eternally grateful to an ageing Italian talent spotter who believed that she would go far in the sport.
"When even my team mates never cheered me, he was there and his presence was so encouraging," she said. "Where would I be without this guy who just helped kids believe in themselves."
Ibtihaj who decided last month not to chase another Olympic medal, said she had no intention of being a professional athlete until she was 20. She has decided to focus her attention to empowering Muslim women.
"You don't know how transformative this piece of fabric is for our community. It has changed the way that we as Muslim women, we as young girls made this conscious decision to be active.
"We need more women of colour, more women in Hijab in the space. There is more to Muslim immigrant communities than being a doctor or lawyer.
"We need more people on the side of publishing and sports. We need us to be part of the conversation in order to make sure we are as inclusive and diverse as we need to be."
When told that in Malaysia and Indonesia, celebrities have been criticised for cashing in and minting millions through their range of branded Hijabs, she said:
"I don't see it as negative for someone to start a company or work with a company to encourage Muslim women to do so (wear the Hijab).
"For too long, it has been demonised even within our (Muslim) community. To have a person that people look up to and say, 'despite wearing a Hijab, look at her as being proud of herself and appreciating everything that Islam comes with'."
Ibtihaj, who now has her own fashion line, said in her case it was to fill a void in the US market and born out of necessity.
http://www.dailyexpress.com.my/news/143864/be-proud-of-the-hijab-says-olympic-winner/
------
How This Young Woman Broke The Glass Ceiling Through Sheer Hard Work And A Little Bit Of Luck
November 25, 2019
KARACHI: Javeria Farrukh, a public speaker, graduated from one of the top-ranked universities of Pakistan, the Institute of Business Administration (IBA) in Karachi. Yet, after completing her BBA, she found herself at a crossroads – she was presented with many career options but none to her liking.
To add to it, she found herself at the receiving end of "unwarranted advice." Recalling that period of her life, she said she was advised to get admission into a MBA programme, opt for a profession from a selected few considered "suitable" for females and if nothing else, then get married.
"By that time, I seriously doubted whether I will ever be able to choose the right profession," she said. But she did, and even so an unconventional one, opting to work in the largely male-dominated field of information technology, which eventually led her to help other students, particularly females, fight a similar battle she had fought – of making the right career choice.
Making the switch
Farrukh completed her undergraduate degree in 2013, following which she worked at a healthcare company for three years. Later, she switched her job and moved to a digital media company where she worked in the administration department.
While working for these companies did little to help Farrukh achieve her aspirations, according to her, the experience increased her self-confidence and helped her realise her talent as well as what she actually wanted to do.
"Consultancy, technology, business strategy, healthcare, education and enterprising interested me, particularly in terms of their impact on the society and economy," she said. Whereas the thought of "wasting time behind a computer screen, dealing with numbers and making excel sheets" was nothing less than nightmarish, she said.
The realisation, though dawned a little late, sufficed to spur her to switch to a profession of her liking.
Challenging norms
However, making the switch meant challenging multiple norms.
Farrukh aspired to work in the healthcare and education sectors, "but back then, the idea of an IBA graduate opting to work in these fields was peculiar to many," she said.
Technology too appealed to her and it was one of the areas she wanted to make a mark in, however, Farrukh was expressly told by many that technology is not for women.
"Few women worked in the technology sector back then and people told me that opting for the field would not be practical," she recalled. They warned her of slow career growth and doubted that she would be able to succeed working the field, Farrukh said.
Speaking in a broader perspective, Farrukh said it is not only her. Many women aren't able to showcase their talents and abilities due to restrictions as a consequence of social norms, and they end up choosing the wrong profession, she lamented.
She, however, realised that all that mattered for her to succeed was having confidence in her talent and abilities. "That is the only way for a woman to make a place for herself in an otherwise male-dominated field, considered unsuitable for women," she said.
Speaking about her decision, Farrukh said, "I had a choice- whether to trust myself or let others' words shake my confidence. It was hard and took me some time but I eventually made the right choice."
Carving out destiny
Firm in her decision to make a career change, Farrukh had started looking up opportunities for enrolling in a Masters programme at a university abroad. It was then that she stumbled upon an advertisement by IBA's Career Development Centre, seeking applications for participating in a training programme by a Germany-based software company, SAP.
Farrukh, who was intrigued by the advertisement, finding it strange that a software company would seek applications via a varsity, anyhow, applied for the programme. Some days later, she received a call from the company and was informed that she had been selected to partake in a boot camp, which was to be held in Islamabad.
It was a fresh start for her, though a scary one. She feared that she would fail miserably in competing with her peers, most of whom had a technology background. However, once she began enjoying the learning experience at the boot camp, she gradually overcame her apprehensions. By the end of the camp, she was confident about working in the technology sector more than ever.
In March 2017, she got another call for a final interview and a few days later she was flying all the way to California, where she was to receive further training under the banner of SAP.
During her time in California, Farrukh met people from different nationalities and cultures, which broadened her horizons. Also, working for an international organisation helped her shape her personality as she realised how being presented with opportunities of career growth can help individuals, particularly women, build their self-confidence.
In her words, "It was a life-changing experience."
Giving back to society
After she returned from California, Farrukh began working in the health and education sector, but more so in the latter.
She believes that all students should be presented with good opportunities for career development and growth and in order to facilitate them, she approached her alma mater, offering her services for counselling and consultation.
Since 2018, she has been giving guest lectures at the varsity, not only imparting knowledge to the students but sharing her experience with them, ensuring that they receive the guidance that she was deprived of as a student. Moreover, she has founded the 'Business Women Network Pakistan', in affiliation with SAP, with the objective to increase women's participation in the technology sector.
Farrukh has come a long way, in a relatively short period of time, paving her way to success and today she leads the way for many others, helping them make courageous choices and achieve their dreams.
This story is part of a weekly series that seeks to bring to light the unsung heroes of Karachi – the hawkers, traders, doctors, teachers, engineers, lawyers and daily-wage labourers. It is they who make Karachi the city of lights.
https://tribune.com.pk/story/2105877/1-young-woman-broke-glass-ceiling-sheer-hard-work-little-bit-luck/
------
'Women on Wheels' kick-starts in Karachi
November 25, 2019
KARACHI: The launching ceremony of the 'Women on Wheels' campaign, aimed at making women self-reliant by training them to ride motorcycles, was held at Frere Hall on Sunday. The campaign has been launched by the Salman Sufi Foundation, in collaboration with the Sindh government.
Speaking on the occasion, Salman Sufi Foundation Chairperson Salman Sufi said, "Everyone has the right to be self-dependent but women in Pakistan are deprived of this right." The campaign, initiated to teach them how to ride motorcycles, will make them independent, he added. Sufi said that initially, the campaign will be limited to Karachi but he plans to expand its reach to rural Sindh in the future.
He informed the audience that 10,000 women will be taught motorcycle driving as part of the campaign and they will also be provided assistance to get driving licences. In addition to driving, they will be imparted training for maintaining safety and dealing with harassment, he said.
Sufi appreciated the provincial government for extending its cooperation in establishing and running the campaign and said that a similar campaign has been successfully run in Punjab in the past.
Adviser to Sindh Chief Minister on Law, Environment and Coastal Development Barrister Murtaza Wahab too spoke on the occasion. He said that the campaign will enable women to travel to schools, universities and workplaces on their own, terming the initiative "a milestone in women's journey of achieving self-reliance." Wahab added that 'Women on Wheels' campaign will make life easier for women in the province.
"I assure that I will facilitate the provision of all possible assistance for running this campaign on behalf of the Sindh government," said Wahab. He said he will also try that women trained under the programme are issued licenses for free. "It will be a small gift for them from the government," he added.
He said, "Pakistan Peoples Party follows a democratic ideology and condemns discrimination on the basis of gender, religion, colour or creed." The party chose a woman as the prime minister, he said, adding that it was Benazir Bhutto's dream that women in the country are empowered. "We are working towards achieving this dream of hers," said Wahab.
Addressing the ceremony, Sindh Women Development Minister Shehla Raza said that she has also registered for the campaign and the government plans to expand the campaign to Sukkur and Nawabshah. She further said that 'Women on Wheels' is one in the series of many programmes aimed at empowering women, initiated by the Sindh government, and these will be strengthened via legislation.
A motorcycle rally was carried out at the end of the ceremony, during which Wahab and Raza rode motorcycles along with others.https://tribune.com.pk/story/2105870/1-women-wheels-kick-starts-karachi/
https://tribune.com.pk/story/2105870/1-women-wheels-kick-starts-karachi/
------
British women 'being forced into polygamous relationships' because law lets them down, campaigners say
British women are increasingly being pressured into polygamous relationships or left without child support when relationships break up because UK law does not offer adequate protection to spouses in religious marriages, campaigners have warned.
Activists say there is a growing problem of men "marrying" women in religious ceremonies but refusing to legally register the unions – and subsequently avoiding the financial and other duties owed to a spouse.
Women are being left to go through religious courts, which make rulings that force them to stay with their partners even when they are unhappy, or rule them unable to claim money or property from their de facto husbands after marriages dissolve.
The warnings come after the government intervened via the attorney general in a landmark case last week in an attempt to overturn a family court judge's decision that a woman was entitled to apply for maintenance payments despite the fact they were not legally married.
Nasreen Akhter had a nikah, which is an Islamic marriage ceremony, that led to a Muslim marriage contract between herself and Mohammed Khan.
The couple, who were married for 18 years and have four children together, were deemed to be married in the UK and the United Arab Emirates, where they lived from 2005 to 2011, for tax reasons and other purposes.
Ms Akhter, a 47-year-old solicitor, said she was keen to have a civil marriage and presumed they would do so, but her husband refused. She alleges their relationship dissolved after he said he wanted to take another wife.
Mr Khan, a businessman who is also 47, implied he did not owe his wife anything by claiming their nearly two-decade-long relationship constituted a "non-marriage".
However, Mr Justice Williams' ruling at the High Court in London in July 2018 led to Ms Akhter being entitled to apply for maintenance.
"The wife's evidence of how the husband put her under pressure saying that Islam permitted polygamy and that she was a bad Muslim and was rejecting the word of God shows a degree of emotional manipulation that is most unattractive," he said in the judgement.
The government intervened in the case, with lawyers for attorney general Geoffrey Cox arguing the verdict should be overturned. A final ruling is expected within a few months.
Southall Black Sisters, which supports black and minority ethnic women, decided to get involved in the case as they believe it has wider public importance.
Pragna Patel, the organisation's director, said: "We are absolutely flabbergasted and staggered that the government has stepped in. We are at a loss as to why the government feels it needs to intervene in a just judgement. The first court case judge came to the right conclusion in finding a remedy for a woman in her situation.
"We come across lots of women in similar situations. It is a growing and widespread problem. It also impacts on Hindu and Sikh women.
"When women go to sharia courts or religious 'courts', they often make rulings to the detriment of women and try and force women to stay in marriages. These institutions are misogynistic, patriarchal and anti-democratic. These institutions are more and more governing women's rights. If the law goes against us, it will lock women out of the criminal justice system."
Ms Patel argued "growing fundamentalist norms" in the Muslim community and other minority groups were making the problem worse – saying "religious power" is at the centre of the issue, and the problem also rests with the wider community, who are fostering a climate in which people feel obliged to follow religious, rather than civil law.
Muslim couples getting married in the UK should be legally required to civilly register their union before or during the Islamic ceremony and obstacles stopping Muslim women from accessing justice must be removed, the Council of Europe said in January.
Olive Craig, a solicitor who specialises in family law that gives legal advice to women on the Rights of Women family law advice line, said there are increasing numbers of cases like Ms Akhter's.
She said: "It is a growing and prevalent problem. When women are not able to access courts in England and Wales, there are many different ways perpetrators are able to manipulate the system to disadvantage women – whether that is failing to expose financial assets or failing to comply with family court financial orders to pay maintenance.
"There has been a history of the courts being able to grant this type of assistance when it was the intention that the marriage would be recognised but the formalities were not completed."
Maryam Namazie, of campaign group One Law for All, said: "The government is always perfectly happy to relegate minority women to kangaroo courts and faith-based parallel legal systems in order to manage minority communities at the expense of women's rights. If the appeal is upheld, it will further discrimination against minority women."​
A survey in 2017 discovered almost all married Muslim women in the UK had a nikah and almost two-thirds had not had a different civil ceremony.
Vivienne Hayes, chief executive of the Women's Resource Centre, the leading national umbrella organisation for the women's sector in the UK, backed campaigners.
She said: "The law and human rights for all women must be honoured and our society should ensure all citizens enjoy the protections of our laws. Religion should not become a barrier to justice."
https://www.independent.co.uk/news/uk/home-news/nasreen-akhter-mohammed-khan-case-marriage-divorce-a9212731.html
------
The Sydney Attack on a Pregnant Woman is a Symptom of Islamophobia
November 24th, 2019
Victim Rana Haidar was attacked without provocation by a man in a Sydney cafe.
The attacker was then apprehended by others nearby and arrested by police.
A series of viral surveillance videos capture the moment a man shouting anti-Islam slurs launched a vicious and unprovoked attack on a Muslim woman at a cafe in the Australian city of Sydney.
The videos show the man approaching a group of women wearing the Islamic head covering, known as hijab, then appear to berate the group before throwing punches at one of the women sitting at a table.
Rana Haidar said the attack, which happened on Thursday while she is 38 weeks pregnant, revealed "weakness" and a lack of "basic human empathy".
The attacker was apprehended by those in the cafe after the other women sitting with Haidar tried to stop his attack. He was later arrested by Australian police and charged with assault.
In a Facebook post, Haidar wrote: "I am a Muslim. I have experienced occurrences of verbal abuse and hate from other Australians in the past but I have never thought that physical abuse of this nature could happen to me."
"This man verbalised his hatred of Muslims prior to hitting me. He decided that he was going to take it in his power to act upon his hatred and he neither knows me, nor my religion.
"I want to see a world where people defend one another against cowardly acts like this and band together to protect the victims."
The footage of the attack caused outrage on social media with many users pointing out it was just the latest instance of anti-Muslim violence in Australia and the wider Western world.
One Twitter user named Avril wrote: "Islamophobia is rampant in Australia and must be condemned by religious and political leaders."
Most infamously, it was an Australian who launched the March 2019 terror attack in Christchurch, New Zealand, which killed 50 worshippers at two mosques in the city.
Anti-Muslim hatred has become normalised at the public and government level in many western states.
Media outlets routinely carry stories vilifying Islam and Muslims that are either falsified, misrepresentations, or exaggerated.
Anti-Muslim polemicists are also given prominent platforms by state broadcasters and social media platforms. Some have also been syndicated by large broadcasters, as was the case with far-right commentator Katie Hopkins at British radio station LBC.
Conversely, when Muslims are subject to discrimination or violent attacks, their religious identity is often omitted from headlines.
Journalist and presenter Mehdi Hasan pointed out that in its coverage of the attack on Haidar, News.com.au did not mention the fact she was a Muslim in its headline, which read: "Pregnant women 'stomped on' in horror Parramatta cafe random attack."
It was only in the summary of the article that the anti-Muslim nature of the assault is referred to.
Hasan wrote: "Weird that the clear evidence this was a horrific anti-Muslim attack, down under in Australia, was buried in the second half of the piece. Western media continues to downplay Islamophobia. Sigh."
Besides terror attacks and anti-Islam violence, Muslims, especially women, have had to deal with discriminatory measures introduced by Western governments.
France and several other Western states have banned the wearing of the face veil and have placed restrictions on the wearing of the hijab and other coverings.
After initially targeting just students, French politicians are now looking at ways to exclude parents wearing the hijab from taking part in school activities with their children, such as school trips.
Far-right anti-Islam groups also poll well or have participated in government in a number of European countries, such as Hungary, Italy, and Austria.
https://www.albawaba.com/editors-choice/sydney-attack-pregnant-woman-symptom-islamophobia-1323080
------
Man, family members booked for triple talaq in Manapparai
Nov 25, 2019
TRICHY: A man and three of his family members were booked under the Muslim Women (Protection of Rights on Marriage) Act, 2019, for giving triple talaq to his wife on Saturday. They were also booked for subjecting the victim to cruelty and abuse, apart from Dowry Prohibition Act.
The man identified as I Asarudeen, 31, from Manapparai, married A Sirin Alima, 21, in April this year. Asarudeen was working in Bengaluru and used to visit Sirin, his parents and elder sister in Manapparai every weekend. Sirin started living with her parents in the last few days following differences with her in-laws.
Sirin, a few days back, lodged a complaint with the Karur DSP with a copy of a letter that claimed to prove her husband gave her triple-talaq. It also allegedly had the signature of Asarudeen's father and a witness. However, Asarudeen has denied sending any such letter, according to the police.
During inquiry, it was found that Sirin was harassed by her in-laws demanding pending dowry that her parents had assured to give. Asarudeen and his family members have denied all the charges including the demand for dowry.
Manapparai all women police station inspector Rashia Suresh who probed the case said that Asarudeen and three of his family members have been booked under section 3 r/w 4 of protection of Muslim Women (Protection of Rights on Marriage) Act, 2019, under which he can be imprisoned for up to 3 years along with fine.
Since Asarudeen moved the Madurai high court seeking anticipatory bail, police are yet to arrest Asarudeen and his family members.
https://timesofindia.indiatimes.com/city/trichy/man-family-members-booked-for-triple-talaq-in-manapparai/articleshow/72215005.cms
------
URL: https://www.newageislam.com/islam-women-feminism/be-proud-hijab-says-ibtihaj/d/120357
New Age Islam, Islam Online, Islamic Website, African Muslim News, Arab World News, South Asia News, Indian Muslim News, World Muslim News, Women in Islam, Islamic Feminism, Arab Women, Women In Arab, Islamophobia in America, Muslim Women in West, Islam Women and Feminism